There's no doubt that the West Coast of the USA is an awesome place full of diverse people, sights and nature.  The cities of the West Coast are really progressive and each gives a totally different experience.  We're going to share with you how you can get the full West Coast road trip experience from the Canadian border to Mexico and have an incredible time.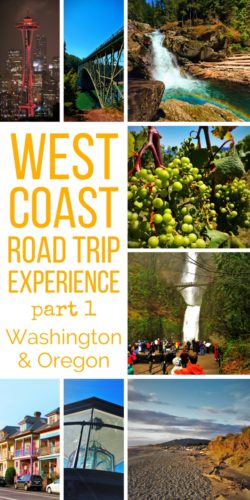 A West Coast road trip is great for families or couples, or even a really awesome solo journey.  It was actually our first road trip as a couple (just Chris and I) as well as our first road trip with kids back when Oliver, our oldest, wasn't even a year old.  Some of our best memories come from this West Coast road trip plan; maybe you can find some great stories of your own!
Note:  we recommend a dedicated two weeks to be able to experience the full West Coast from tip to tip, and in light of that have broken the entire trip into two sections: Washington/Oregon and then California.  If you can spend more time on your West Coast road trip, do it, but know that whatever you can conquer will be awesome!
How to pack for a West Coast road trip
Before you even get in the car and head out, be sure that you're prepared for whatever may befall you. The West Coast can have strange weather that both can impact travel and basic road conditions, so take stock of your supplies to be successful on your West Coast road trip. And if you're doing a trip in southern Canada, like from Calgary to Vancouver, the same packing and planning principles apply.
Here's an easy checklist to be sure you and your traveling buddies are all set for an epic adventure even if you're not camping your way down the coast:
Phone and camera chargers – car and wall
A printed itinerary or highlighted map – GPS sometimes fails
Flashlights
A few blankets
Chains – if you're heading into the mountains any time of year
Proper spare tire and tools
Cash – you're traveling to small towns and remote places, so be ready
West Coast Road Trip Part 1:  Seattle and the Puget Sound
We always recommend people to begin their West Coast road trip in Seattle.  SeaTac International Airport is a great hub to start at and you can get a direct flight here from almost anywhere in the USA or Canada, and now there are more international flights to Seattle than ever before.
Exploring the Seattle Area
Take some time touring the Emerald City and getting out on Puget Sound.  Pike Place Market is the prime attraction in Seattle and why wouldn't it be?  Fish being thrown through the crowds, the diner where Tom Hanks and Rob Reiner ate clams in Sleepless in Seattle, and the original Starbucks store?  It's a must stop.
Volunteer Park on Capitol Hill is also another fun activity to add to a day in Seattle.  Volunteer Park is home to a beautiful conservatory, the Seattle Asia Art Museum, countless festivals throughout the year, and an antique water tower that you can climb for a 360 degree view of the city and water.
Tip:  if you'll be spending more than two days in Seattle, be sure to get the CityPASS.  It it an awesome deal for the big attractions of Seattle, including the Space Needle, EMP/MoPOP, the Seattle Aquarium and more.
Stay:  we recommend the Hyatt Olive 8 in downtown (book it here!).  It's centrally located for activities in the downtown core or in the outlying neighborhoods.  This is a great place for a longer Seattle visit as well if you're touring without a car. There are plenty of high end and family friendly hotels around Seattle, but the city tends to book out and get expensive at the last minute, so book in advance.  Check out our other favorite Hyatt Hotels in Seattle.
The Puget Sound area
Beyond Seattle there are several adorable towns and destinations that will give you the true taste of Pacific Northwest life.  Bainbridge Island is a ferry ride away and is full of good food, beautiful views, breweries and the Bloedel Reserve (the Downton Abby of the Puget Sound).  
Tip:  we actually have an itinerary specifically for touring the Puget Sound area if you want to experience the whole region.
Continuing off Bainbridge and you can easily head to Poulsbo (little Norway basically) and onto Port Gamble, Port Ludlow and Port Townsend.  Each of these towns is picturesque with its own unique vibe, all with great food.  Port Townsend is our favorite for its Victorian design and incredible Fort Worden State Park (including a lighthouse).
The Olympic Peninsula, where Port Townsend is, is home to Olympic National Park and the Dungeness Spit.  You'll have tons of opportunities for experiencing Pacific Northwest nature on the OP and may even decide that you need to move here (we love living here!).
Tip:  make time for hiking when you're on the Olympic Peninsula. There are tons of great kid friendly hikes you can easily add to a West Coast road trip.
North of Seattle you'll find Anacortes and Whidbey Island.  Both areas are charming and thrive off the sea that surrounds them.  Anacortes is also where you'll start a trip through the San Juan Islands, which are their own vacation that'll take you more than a week of trolling and island hopping.  The San Juans may not be a part of a West Coast road trip, but they're worthy of your time at some point in life.
Tip:  if you want to experience the San Juan Islands with a shorter trip, book a seaplane flight out of Seattle up to Orcas Island or San Juan Island.  You can see more beautiful clear water, spot orca whales and dine like a king.  Awesome side-trip!
Stay:  if you can book it (very popular destination), find a nice bed and breakfast on the Olympic Peninsula.  We recommend Domaine Madeleine in Port Angeles for an itinerary that includes Olympic National Park.  And in the Anacortes/North Sound area, the Majestic Inn is comfortable, pretty and is a perfect spot to launch loads of day trips (book it here!).
Mt Rainier National Park
While we prefer to camp at Mt Rainier National Park, a day trip from Seattle is also a choice, or you could even stay at one of the National Park lodges.  Mt Rainer National Park is known for its accessibility and hikable mountainside, but it's also the best place in the Pacific Northwest to go waterfall hiking.
Our favorite easy hike with kids is out of the Ohanapecosh Visitors Center through the woods to Silver Falls.  Hiking through mossy forests and crossing a raging gorge on a log bridge, it's the perfect hike to relax and re-energize you for the rest of your West Coast road trip, and the series of waterfalls at the end is beautiful unlike any other.  Also nearby is the Grove of the Patriarchs, which is an awesome old growth forest.
Tip:  if you want to camp at Mt Rainier, you typically need to make reservations at least two months in advance.  It's a very popular National Park and space is limited.
Stay:  there are several lodging options in the towns of Packwood or Ashford, but camping in Mt Rainier National Park is really special.  Cougar Rock campground is our favorite for its location in the Park.
Columbia River Gorge
As we continue our West Coast road trip southward, the Columbia River lies between Washington and Oregon.  The scenery here is incredible and you wont see anything similar this close to the coast.
Highway 14 on the North side
Jutting off from Interstate 5 is Highway 14.  It's a narrow, winding highway that takes you along the northern banks of the Columbia River.  Surrounded by buttes and sweeping views, the road is actually really distracting… so know that it's dangerous if you're not paying attention.  Along the way though, you'll find loads of great wine tasting and small hikes to break up a day's drive.
Tip:  the Klickitat River meets up with the Columbia River in the town of Lyle, Washington.  The town is tiny, but the beauty is awesome.  You can head up the Klickitat to check out its beautiful gorges and the smaller waterfalls feeding it, or just spend an hour at the Balfour-Klickitat picnic area having lunch and watching eagles.  FYI:  bald eagles love to hang out at the confluence of two rivers wherever that may be.  
To get a break from the winding road, head up the hill toward Underwood (use your GPS) and stop into AniChe Cellars.  It's one of our favorite wineries in Washington, both for its really delicious and unusual wines AND because it's totally kid friendly!  From outdoor toys and games to cool wine making stuff, kids will enjoy a stop just as much as adults.
Stay:  the Skamania Lodge is located in Stevenson, Washington and it's got a fantastic spa, the Waterleaf Spa.  If you're on a budget though, stay on the Oregon side of the Columbia Gorge over in Hood River where there are tons of choices.
Columbia Gorge Waterfall Area
We spend so much time here in general that when we do our own West Coast road trip we skip these spots, but that's only because we visit them so frequently.  If you're not from the Pacific Northwest, you'll want to be sure to start in Hood River and drive west on Interstate 84 until you see a sign directing you to Historic Oregon Highway 30 (can approach from Portland too).
This tiny two lane road winds you around the cliffs and hillsides, allowing stops for hiking or general waterfall viewing, including a stop at Multnomah Falls, which may be the prettiest waterfall in the Columbia Gorge.
Most of the hikes in the Columbia Gorge waterfall area are kid friendly, but not all are.  The prettiest spot you can't really do with tiny kids:  the Oneonta Gorge.  This narrow cut through the cliffs is covered in moss and lichens and the hike is done IN the creek.  It's really fun and beautiful, but scaling slippery logs and huge boulders isn't for everyone.
Stay/Tip:  make Hood River your home base for your time in the Columbia Gorge, as it's got lots of lodging options and is a cute town in general.  Mt Hood is easily accessible if you're staying in Hood River and if you didn't hit up AniChe Cellars on the Northern side, the winery has a family friendly tasting room in Hood River too.
Visiting Portland aka Portlandia
It seems like Portland has tripled in popularity in the last ten years.  It's such a cool city and shopping is TAX-FREE!  It's tough to tell you what you have to check out in Portland beyond just saying "Go for walks and explore downtown and the neighborhoods."  Portland is all about being a city of neighborhoods.  
The Pearl District is loaded with cool shops and great food.  If you want to get away from the walkable spots, drive or rail over to Northeast Portland.  The vibe is still super cool/hip but with less tourists.  From a Finnish spa day to cutting edge Laotian food, Northeast Portland sealed the deal for us on why the City of Roses is such a gem and worth at least a day's stop on a West Coast road trip.  The diversity is incredible with a food scene to match.
Stay:  the Hotel Vintage is cool (book it here!).  It's cooler than us, so staying there made us feel like we were doing Portland right.  Great location and Kimpton is great at making guests feel welcome.  It's a nice splash of class on your West Coast road trip.
Oregon Coast Lighthouses
There are so many lighthouses on the Oregon Coast.  Starting in Cannon Beach and heading south to the California border you'll be able to check out nine beautiful lighthouses on the coast.  You cannot visit all of them due to some being located out from the beach, but you can see them all.  
Tip:  the Cape Meares Light in Oceanside, Oregon is really easy to access and you can get really close to the lens.  It's a favorite of ours.
Besides the lighthouses, you can do tons of hiking along the Oregon Coast.  While we tend to do the hikes that bring us down to the beach or out to a head in the water, there are several state parks that have trails leading up through the coastal forests.  Cape Kiwanda has some beautiful hikes (Cannon Beach) as does Pistol River (Gold Beach).
Florence and Newport are both good sized towns that really capture the Oregon Coast vibe.  Newport actually hosts the largest wine event in Oregon, the Newport Seafood and Wine Festival.  It's pretty new but after two years it's already gotten some great success and press.  And you cannot forget Sea Lion Caves!!  This is a must-stop if you've never taken an elevator through a cliff to a huge seaside cavern full of sea lions.
Stay:  you know we're going to tell you to camp, and preferably do it in Seaside (or grab a hotel here).  If you want to keep it easy, Cannon Beach is really built up for tourism and you'll be able to find a hotel to book quite easily.  If you would prefer to stay to the South (we do!) check out the Pacific Reef Hotel in Gold Beach (book it here!).  We loved our two story beachfront condo that was perfect for our family of four!
This is enough to get you started on planning your West Coast road trip.  There are so many side trips you can take as you head south from the Seattle area, but just sticking to our plan is also a great way to guarantee an incredible experience.  Check back for Part 2 of our West Coast road trip plan, as that'll get you from the Redwoods all of the way to sunny San Diego!
…and for your Pinterest planning…