One of the most popular places or topics we cover is Olympic National Park. We've created so many articles and shared so much because it's a dream destination for so many. It was our backyard for the longest time, so allow us to guide you and help you have an incredible time exploring.

What began as Olympus National Monument until President Franklin Roosevelt was able to turn it into Olympic National Park (established in 1938), it's one of the most fascinating National Parks to visit.
Is there any other National Park where you can explore a rainforest and then go lay on a beach in the same day? Can you think of a place that's completely unspoiled with turquoise waters and then drive up the hill to see a mountain river in recovery following the most successful dam removal project in the USA?
LOCATION OF OLYMPIC NATIONAL PARK
With entrances on all side, Olympic National park is roughly two hours from Seattle at its closest access point. You can easily drive to the Staircase entrance in that time, or you can take a ferry to Bainbridge Island or Kingston to get you closer to the northern portion, near Port Angeles. If you're planning to visit the Quinault Rainforest or Queets, you may want to drive the southern route to access these parts.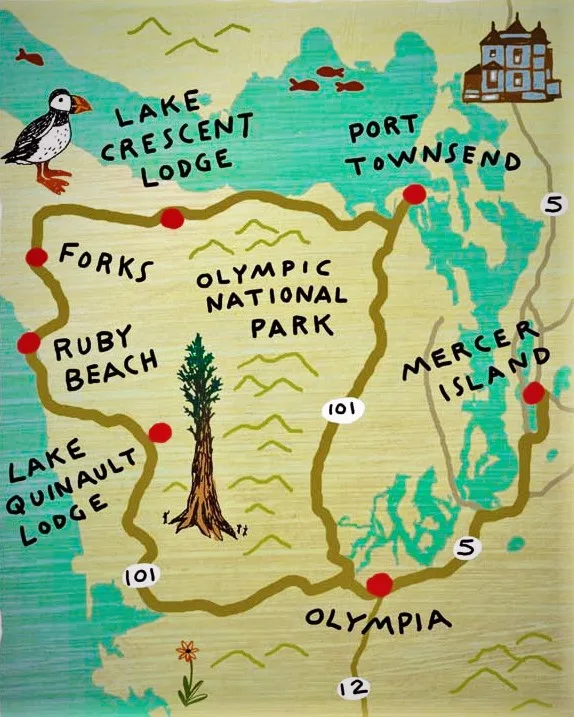 OLYMPIC NATIONAL PARK TRAVEL GUIDE
You'll never be at a loss for activities in Olympic National Park. These are our top recommendations, particularly for visiting with kids. Summer is kind of the only time for (nearly guaranteed) good weather since the Olympic Peninsula is directly on Pacific Ocean and it's subject to weird ocean driven weather, but if you're around in the fall or spring, it'll still be gorgeous in its own way.
See what's on our Olympic Peninsula bucket list of the best things to do!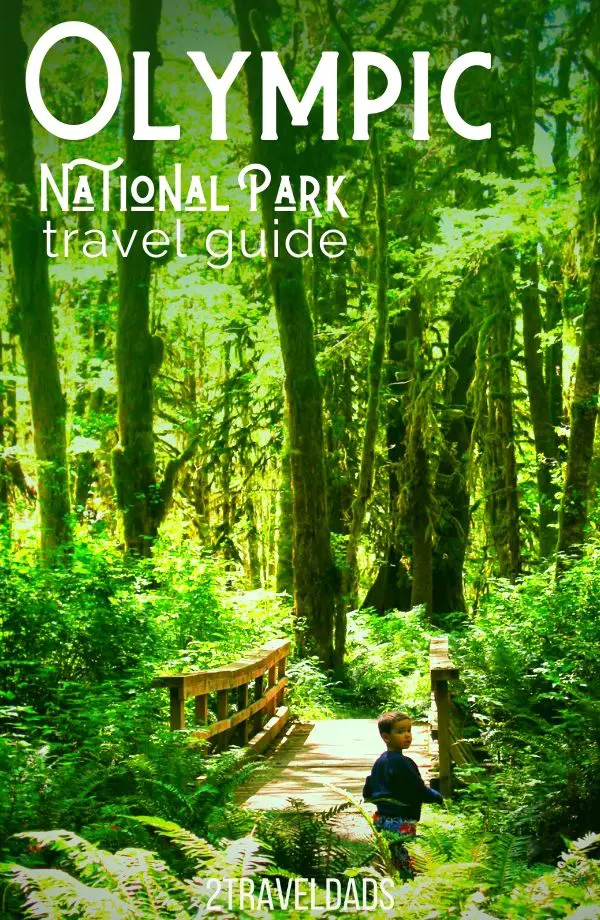 HIKING IN OLYMPIC NATIONAL PARK
There are three different types of hiking for you to experience in Olympic National Park: alpine hiking, forest hiking, and beach hiking. Depending on the weather and what your hiking motivation is, you can choose from a variety of trails. There are many great trails for year-round hiking in Olympic National Park, so consider the weather and then pick a handful of hikes for your trip.
ALPINE HIKING IN THE OLYMPIC MOUNTAINS
Hurricane Ridge is the spot to go for alpine hiking if you've got kids or aren't in prime hiking shape. There are many trails, including some that go deep into the Olympic Range, offering views of the mountains, lakes, glaciers and even all of the way to Victoria BC.
Dosewallips and Staircase, both very near Lake Cushman, have more intense trail systems that will take you directly up from near-sea level into the alpine areas of the Olympics. While some trails have very fast elevation gains, there are some great ones with kids. At Staircase, although you can plan for alpine hiking to Mount Rose, you can also do the Staircase Rapids loop, which is fairly level and stays in the forest. Deer Park also has some wonderful, elevating trails if you're in the mood for some awesome hikes at the end of a long dirt road.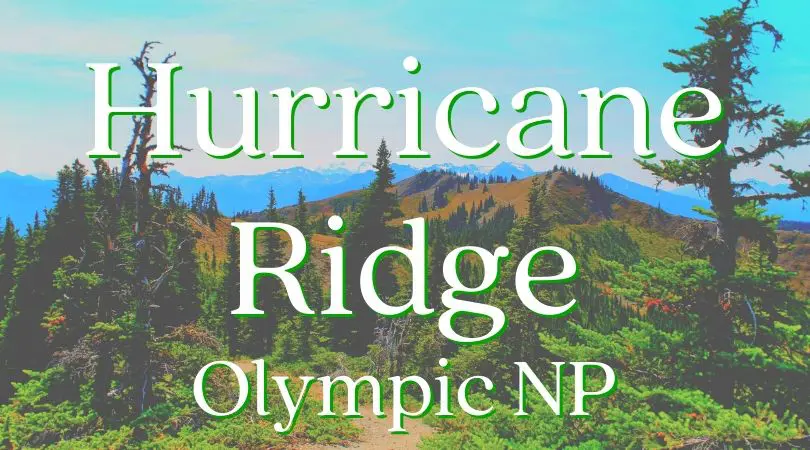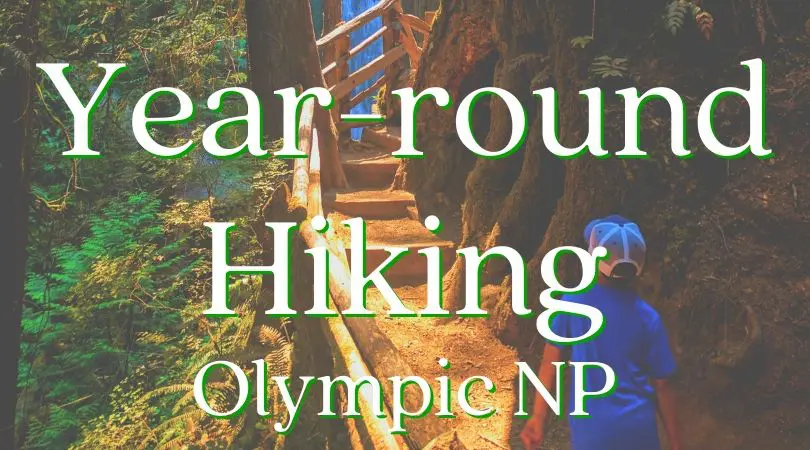 EPIC TREES AND THE RAINFOREST
The Hoh Rainforest is one of our favorite places to bring out of town visitors. If you want to experience the ultimate in old grown forest covered in moss moss moss then this is the spot for you. There is a variety of hiking to experience in the Hoh Rainforest, so visiting multiple times throughout the year is recommended.
Tip: fall is the most beautiful time for the changing colors in the Hoh.
On the southern edge of Olympic National Park are a few other spots with enormous trees. The Quinault Rainforest (article to come) is also incredible, but not as dripping and deep green as the Hoh. Full of level, easy trails, the Quinault Rainforest is a great place to visit with kids. Nearby Kalaloch also has some epic trees, from the Big Cedar to the cave tree, so check it out too!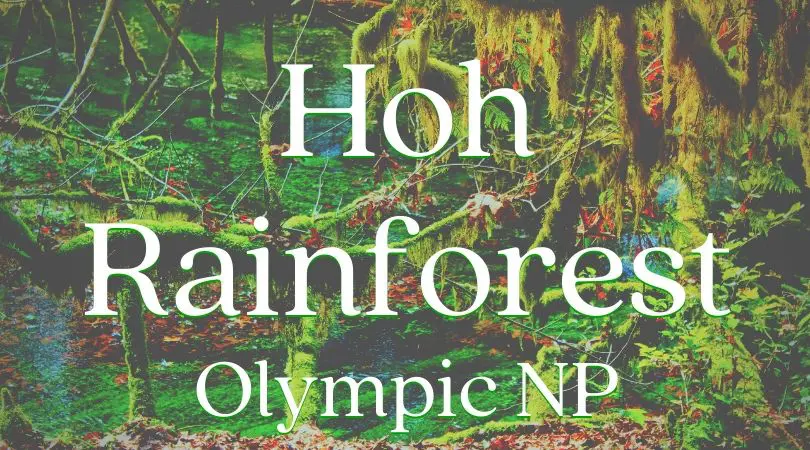 OLYMPIC NATIONAL PARK BEACHES
When it comes to beaches, the prettiest beach in all of Washington State is a part of Olympic National Park: Ruby Beach. You'll find tide pools, wildlife, and stretches of perfect sand. To the north of the Hoh Rainforest you'll also find the beaches of La Push, including beaches 1-3 and Mora Beach. They're gorgeous, and La Push is also great for kayaking.
Also a beautiful beach and the ideal camping destination at Olympic National Park, Kalaloch is an iconic PNW beach area.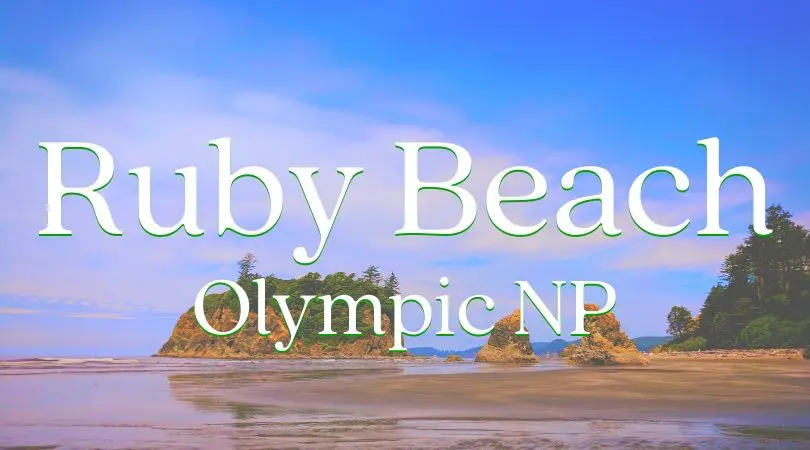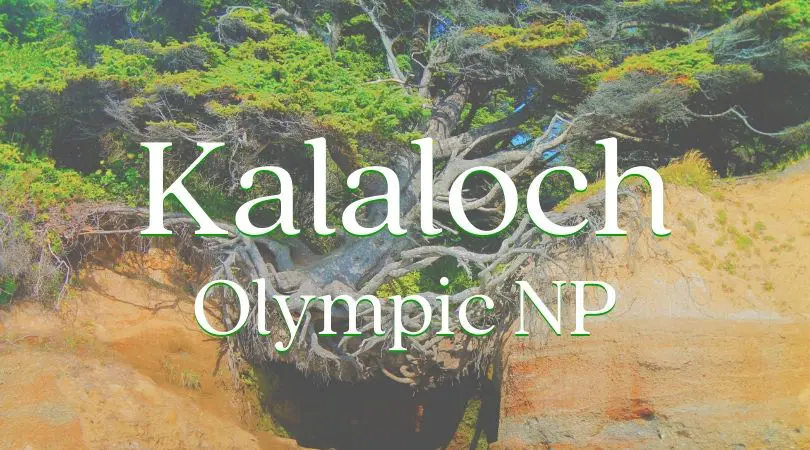 WATERFALLS IN OLYMPIC NATIONAL PARK
Did you know that waterfalls are kind of the best thing ever with kids? It's true, and thank goodness because both Olympic National Park and Olympic National forest are absolutely loaded with them. Sol Duc Falls is the perfect hike to experience both a gorgeous waterfall AND epic mossy forests. We call it one of the must-see sites/hikes in the Park.
Marymere Falls, out of the Storm King area of Lake Crescent, is another hike that's great with kids. It's easy (for the most part) and there is a nice spot to enjoy the river. A bit away to the east you'll find the Elwha Valley area. Here you'll find both Madison Creek Falls, which is tiny but pretty, and the actual Elwha River. The Elwha is special for lots of reasons, but the primary one being that it's the site of a successful dam removal and now the restored habitat of salmon runs. (articles to come)
Lake Quinault near Kalaloch also has several waterfalls on its south shore. We've yet to hike all of them so cannot make official recommendations, but know that they are there and the hikes are not very long.
If you are on the east side of Olympic National Park we have two solid recommendations for great waterfalls. Murhut Falls is just outside of the national park in the Olympic National Forest. Both it and Rocky Brook Falls are crazy pretty and give some tropical falls we've visited a run for their money.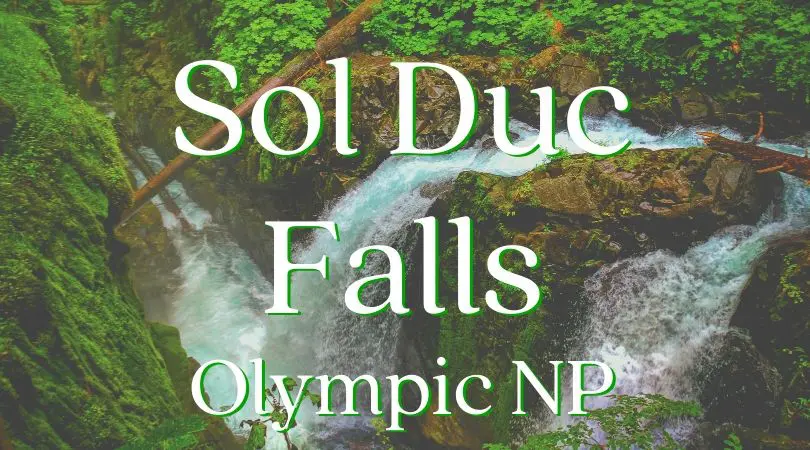 LAKES AND KAYAKING ON THE OLYMPIC PENINSULA
Olympic National Park has quite a few lakes within it's borders, as well as rivers flowing from it. This makes the Olympic Peninsula a prime destination for kayaking and boating of different sorts. Whether you're looking for a paddling getaway from the city or if you want to plan a camping weekend with speedboats, there are options!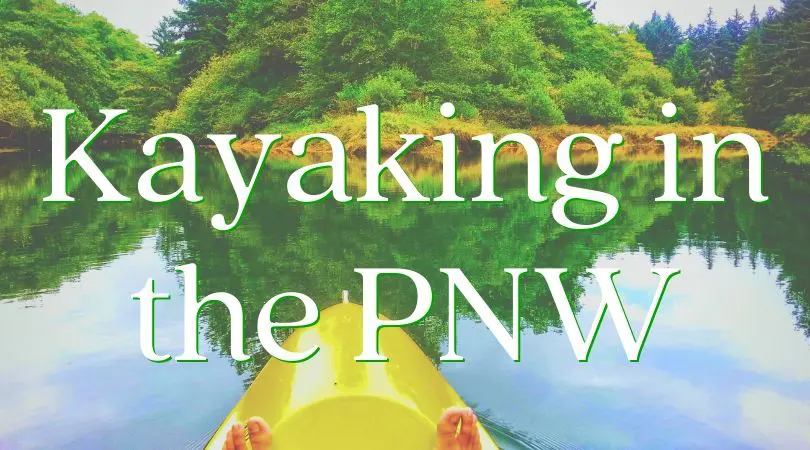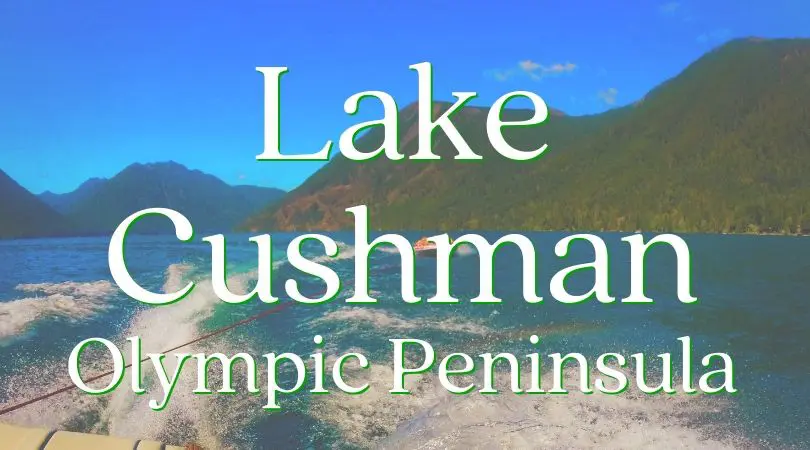 ACCOMMODATIONS AROUND OLYMPIC NATIONAL PARK
When you're planning your trip to Olympic National Park there are three different approaches you can take for your lodging. Depending on your time at the park and overall itinerary you can really have an unusual experience.
Camping – Sol Duc, Kalaloch, Heart O' the Hills, Hoh… you've got several options. Check the recreation.gov site for availability at Kalaloch and Sol Duc, but for the other campgrounds they are first come, first served.
Lodges – the Lodges of Olympic National Parks and an assortment of other hotels peppered around the Olympic Peninsula can provide an easy option if you want to bounce around.
BNBs and Online booking – with lots of interesting lodging choices ranging from actual Bed and Breakfasts to AirBNBs, you'll find some good spots. Things to think about if you're leaning towards Glamping Hub, VRBO, or HomeAway sites include minimum number of nights, proximity to your daily plans and if kids/pets are allowed.
Use the map below to find YOUR unique accommodations on the Olympic Peninsula!
For a truly unique and charming experience, we really enjoyed our stay at Domaine Madeleine just outside of Olympic National Park. The setting is beautiful and the accommodations are perfect for a summer or winter getaway.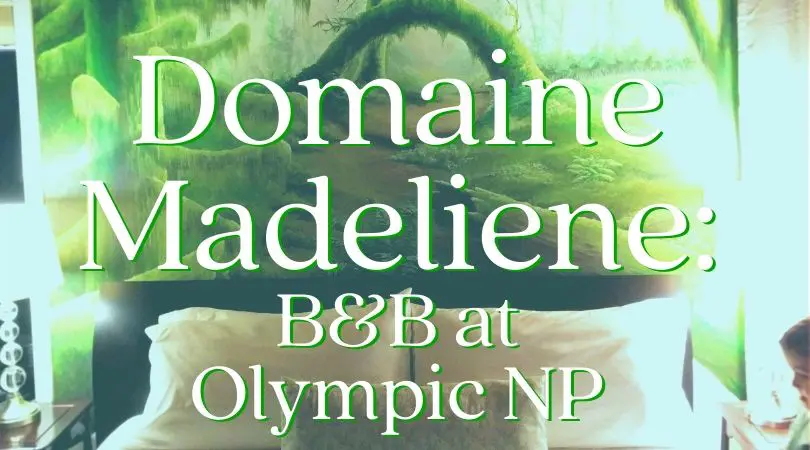 So now, are you ready to go tackle Olympic National Park? It's one of our favorite places to escape for a week or a weekend, so please don't hesitate to reach out with any questions about Olympic National Park or how we can assist you in planning your visit!