Olympic Peninsula Road Trip: mountains, rainforests and beaches
The Olympic Peninsula is known around the world for its beautiful mountains, its beaches and the Twilight Saga. Well, there's more to it than that. We've spent countless days exploring the OP and not just visiting our old favorite haunts we've known all our lives, but also exploring places that are new to all of us. That's the joy of the Olympic Peninsula and why we've got a handy guide to get you familiar with our favorite region of the Pacific Northwest.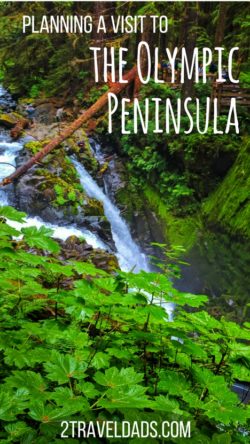 So, why visit the Olympic Peninsula over the Oregon Coast or the Eastern Seaboard? Well, quite simply there are fewer tourists here and more opportunities to be in the middle of nature with nobody around. The quietest place in the on earth (in nature) is on the Olympic Peninsula. The original metropolitan center of the Puget Sound area is on the OP. The largest successful dam removal project in the USA is on the Peninsula. So many reasons to visit!
Locale of the Olympic Peninsula
You can drive to or take a ferry to the Olympic Peninsula depending on your starting point. If you're visiting Seattle and want to explore the OP you can hop a ferry from either downtown Seattle or from Edmonds. You'll have to drive about a half hour to cross the Hood Canal Bridge and from there either head south along Hood Canal towards Lake Cushman and the Pacific Ocean or head north to loop around the Olympic Mountains on Highway 101. The other option from Seattle is to drive around through Tacoma, but that takes forever with Tacoma's awful traffic.
If you're coming from the north, such as Victoria or Vancouver BC, you'll also need to take a boat. From Victoria BC, you can drive onto the Blackball Coho Ferry for an hour and a half boat ride into Port Angeles. From Vancouver BC you'll need to cross the border into the US up near Blaine/Bellingham and then drive south towards Whidbey Island. Head through Anacortes and across Whidbey to the Port Townsend ferry. Boom! You're on the Olympic Peninsula!
Tip: for either the Coho (Victoria) or WSF boat (Whidbey Island) you can make reservations for your preferred sailing. We highly recommend reservations for either otherwise you're at the mercy of every other traveler.
When to do an Olympic Peninsula road trip
The obvious answer of when to do an Olympic Peninsula road trip is in the summer, but the actual best time to visit is late spring. Those of us that live in Washington State know that May is our best month. In May, the sun shines 80% of the time, we randomly get days over 80 degrees (26 C), and it's 80% less crowded than the summer time. This is also before road repairs and construction are under way on Highway 101. Shoulder season on the Olympic Peninsula is heaven on earth, basically.
Our Olympic Peninsula road trip plan
Since we live here and also vacation here on the Olympic Peninsula, we are happy to provide a great road trip plan for exploring and enjoying everything about the OP. Our road trip plan will take you through our favorite towns, show you the best of the Peninsula's nature, and ensure an unforgettable time exploring our backyard.
Stop 1: Port Ludlow
Any road trip should begin with good food and relaxation. Since most travelers will be coming from the Seattle area to start their Olympic Peninsula road trip, the first stop we have is for a perfect PNW activity and lunch. The Resort at Port Ludlow is set on the most quiet, beautiful little bay with a marina, Inn and the Fireside Restaurant. If the weather is great, pull into Port Ludlow for a little kayaking with seals and otters, watch for bald eagles, then enjoy a meal at the Fireside. If you're totally in love with the place, stay the night (based on availability).
Note: Port Ludlow is a favorite PNW local getaway, so if you happen through on a weekend in the spring or summer, it may be buzzing with locals having their own weekend trips on the Olympic Peninsula. Book early if possible.
Where to stay in Port Ludlow
The Inn at Port Ludlow is a part of the Resort at Port Ludlow. We haven't stayed there ourselves, but it's very beautiful and is often full with a strong return guest clientele, which means that it is a great place.
Stop 2: Port Townsend
The next stop on our Olympic Peninsula road trip is a day in Port Townsend. Established in the 1800s as the primary seaport for the Puget Sound (prior to the railroads declaring Seattle as such), the town was built to be beautiful and have all of the features of a keystone city: Victorian downtown, mansions uptown, amazing courthouse complete with looming bell tower…and a castle. Eventually Fort Worden was built and then eventually decommissioned… but then became the backdrop for the movie An Officer and a Gentleman.
Today, it's got everything that a tourist could want. Local beer (PTBrewing), local wine (Fairwinds Winery) and cider (Alpenfire) are available throughout the town. The Northwest Maritime Center is right on the water and ready to pull you into wooden boat culture. Fort Worden State Park has beaches, woods and WWII bunkers for exploring, as well as the Point Wilson lighthouse, the Marine Science Center and the most amazing field for flying kites. I won't get into all of the shops in downtown Port Townsend, because that's its own day, but hit up what I just mentioned and kids and adults are set for fun.
Tip: if you can set aside two days for the Port Townsend area you'll be good to go. It's the perfect seaside town for relaxing and exploring, and weekends really are best. Check out this cool food tour of Port Townsend.
Where to stay in Port Townsend
There are several adorable Victorian hotels in the downtown area of Port Townsend, and then several cute bed and breakfasts in Uptown, but our pick for PT is actually staying at Fort Worden, either in the barracks or in the Officer's Quarters. We've stayed in both and loved the unique accommodations.
Stop 3: Sequim – the sunniest place in Western Washington
Sequim is a hidden gem in Washington. Everybody has heard of it and yet few have made the trip with the intent of exploring and enjoying Sequim. It's actually the sunniest place in western Washington due to the rain shadow effect and being located alongside the Olympic Mountains. This awesome weather means that strolling downtown Sequim or visiting lavender farms is nearly guaranteed to be a fun, beautiful experience.
For some great escapes into nature, the Dungeness National Wildlife Refuge is our top pick. It's gorgeous. An enormous sandbar stretching out from the Olympic Peninsula, the Dungeness Spit stretches 7 miles out into the Strait of Juan de Fuca, punctuated with a perfect lighthouse. It's one of the best beaches on the peninsula and even in the winter, it's a favorite destination for locals.
Besides the Dungeness Spit, the historic downtown and the lavender farms, our other favorite highlight of Sequim is Carrie Blake Park. Located at the east end of town, it's the perfect stop for families. With two play grounds, ball fields, a wetland walk, Japanese garden, amphitheater, and our favorite, the dahlia garden.
Where to stay in Sequim
We always enjoy the ease and consistency of Holiday Inn Express locations (we love IHG properties), of which there is one in Sequim. There are a number of B&Bs as well, but as we haven't stayed in any of them we cannot specifically recommend one. Do a quick Sequim hotel/B&B search for more recommendations.
Stop 4: Port Angeles for Whale Watching and hiking
Visiting the Pacific Northwest, whale watching is a must. Port Angeles is an ideal place for it due to its position on the bottleneck of the Strait of Juan de Fuca. There are a few approaches to whale watching.
Set up a chair on a bluff or beach and wait for the whales to swim by, hoping to catch a glimpse
Hire a random guide in a marina in Sequim or Port Angeles to take you out on a small boat and hope that they are whale-wise and responsible
Spend the extra money to go on a whale watching expedition with a company that guarantees sightings.
It sounds weird that they can guarantee sightings, but here's why: the reputable companies all work together to share whale locations as they're spotted, thus making for quicker sighting and more positive guest experiences, thus building their businesses and awareness of whales and their plight. It's a great set up/system that they have. Since the tour companies are regulated and the Fish and Wildlife rangers are out in their boats monitoring, the whales are treated well and given wide berth for going their own way. The experience is great and there's nothing like seeing the wonder in your child's eyes when an orca jumps out of the water in front of them.
Tip: excursions are typically 4-5 hours, but it's worth the time to be on the water and see such amazing sea life and sights. And there's no shame in being prepared with a little entertainment for younger kids, as boat travel isn't always the most exciting part of the day.
Going from the sea up to the mountains, Port Angeles is the gateway to Olympic National Park. Directly up the hill from the town is the Hurricane Ridge entrance to the park. Here you'll find some incredible, breathtaking views and hiking trails. Wildlife and wild mountains make it the perfect contrast to the city below. In the winter Hurricane Ridge is open for sledding and cross country skiing, so if you're doing your Olympic Peninsula road trip off season, you may find yourself having the time of your life in snow.
Where to stay in Port Angeles
We loved our weekend at Domaine Madeleine, a perfect bed and breakfast in Port Angeles. It's a quiet spot that's spacious, homey and has a gorgeous view.
Stops 5 & 6: the wild coast of the Olympic Peninsula
Something wonderful about the OP is the mix of landscapes, and that includes the wild coast. The Olympic Peninsula has an even mix of beaches and rocky coastline, much like the Oregon Coast.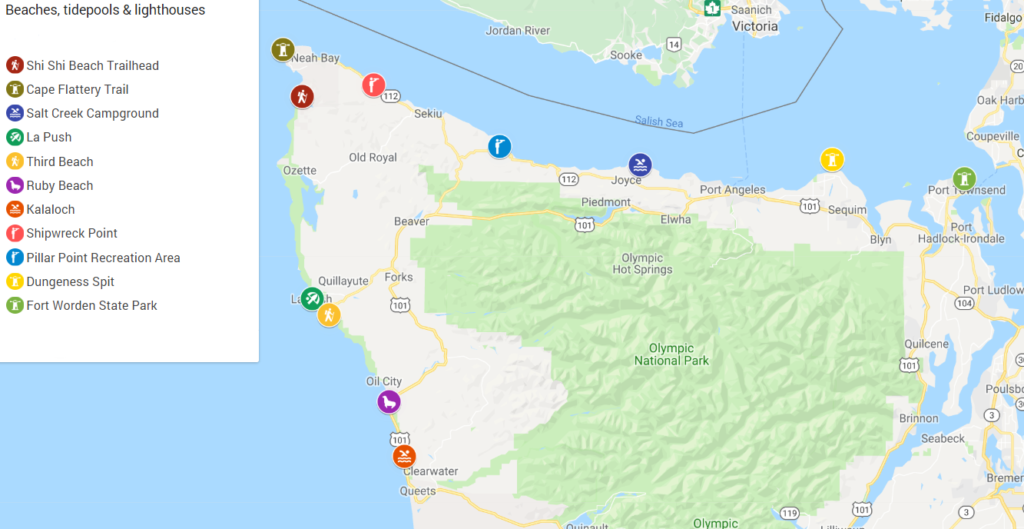 Best wild beaches on the Olympic Peninsula
We live by a beach, but we are really far into the Puget Sound, so there aren't actual ocean waves. Also there's not a ton of sand. Cue the wild coast of the Olympic Peninsula… Such cool beaches: enormous drift wood at LaPush or the Dungeness Spit, the softest sand at Salt Creek, endless flat beach and cool features at Kalaloch and Ruby Beach. What makes the beaches here so different and fun is that they are playable with kids. The sand isn't dry and blasting your eyes with from the wind. The shore is gradual, so there's lots of sandy space. The waves aren't the size of tsunamis straight from Japan so you can actually play in them when it's warm.
The beaches of the Olympic Peninsula are great for spotting wildlife too. We get a lot of seals all around the Puget Sound area, and the sheltered beaches on the Peninsula are prime places for raising young seal pups. Also, we've seen grey and humpback whales just from the shore on several occasions; you just have to keep a look out.
Tip: bring binoculars year round to watch for passing grey, humpback and orca whales. We've been able to see whales with the naked eye in the Strait of Juan de Fuca and off the beaches of Olympic National Park.
Tide pools and jagged coast
We're a bit obsessed with the ocean and not actually being a mer-family we have to enjoy it in ways other than living underwater. Luckily, our kids are just like us dads. They love to play in the water and sand, but now they've been exposed to something even better: tide pools! Tide pools, for those who don't know, are the low spots in rock outcroppings that are full of water after the tide goes out. This means that there is an environment that can hold life even at low tide.
For a child who loves the sea, this is the perfect spot to see all of the tiny friends that normally are out in the water. We often see hermit crabs, anemones, sculpin (fish), chitons, huge barnacles feeding, limpets, mussels… Also, the rocks are home to many pelagic seabirds, so it's great for bird watching at low and high tides. The tide pools on the Strait of Juan de Fuca are really fantastic. They are easy to traverse as an adult or child, or as a parent wearing a baby in a pack (with caution). The two best tide pool areas we've found on the Olympic Peninsula are Salt Creek Recreation Area and Ruby Beach at Olympic National Park.
RULE: do not take anything from a tide pool. Example: an empty snail shell might actually be a hermit crab's home. Would you want somebody to take yours?
Tip: the best shoes for tide pooling are sandal-type shoes with a little traction. They'll provide good footing on the rocks and then dry fast.
Alternative plan: if the Olympic Peninsula isn't close enough when you're visiting Seattle or Portland, check out Whidbey Island's tide pools, or if you're south, the Oregon Coast has a plethora of opportunities for them.
When it comes to the most gorgeous jagged coastline, you have to hike to Cape Flattery. This is totally out of the way as it's quite far off Highway 101 but it really is stunning. Never have I seen water as beautiful as at Cape Flattery. The hike out to the cliffs is easy and goes on boardwalks through the coolest moss-covered coastal forest. And if you've driven all the way out to Neah Bay, you can also set aside a few hours (in summer) to hike out to Shi Shi Beach. Such unique rock formations!
Where to stay for beach days
You have options ranging from small B&Bs and roadside motels to lodges within Olympic National Park, so depending on your budget you'll no doubt find something that will work. We prefer camping at Kalaloch or Salt Creek when we getaway to the Olympic Peninsula, but if you're coming from out of state, that might be too complicated. If you do opt for camping, know that YOU NEED RESERVATIONS. There are usually a few first come first served campsites, but don't risk it.
Stop 7: rainforest hiking in Olympic National Park
The Olympic Peninsula is where the mountains literally meet the sea. What this means is that you can either hike hike or walk hike. For hardcore folks they can traverse the Olympic Mountains from all sides, climbing Mt. Rose or heading up out of Staircase by Lake Cushman or doing Hurricane Ridge out of Port Angeles (see above). For those of us with kids or that want the best experiences without straining ourselves, we've got two great recommendations.
The hike to Sol Duc Falls is rather easy and is immensely beautiful. All mossy from start to finish and fairly level, it's about an hour's hike in and the falls at the end are one of a kind. Rushing from the dense forest into a mossy gorge, Sol Duc Falls has no match in Washington State. It's a must.
The Hoh Rainforest is one of our favorite places because it makes us feel like we're walking with gnomes. I know, silly, but when you've got little kids to entertain along the way, it's nice to be able to look for gnomes. The Hoh is so dense with moss and fallen trees that it's almost like another planet. The streams are full of algae and other plants; they look like alien rivers. The Quinault Rainforest is also absolutely incredible for the lush forests and totally PNW experience in Olympic National Park.
Tip: despite being called a temperate rainforest, the Hoh can actually be rather hot and dry. Be prepared with lots of water and the energy to carry little people, as the mugginess can be draining.
And another tip if you want to go hiking with toddlers and younger children: for little kids, having an actual hiking child-carrier is very helpful and will make you all feel much better about your adventure when you realize how much more comfortable it is than just a standard baby pack, such as a Bjorn or Ergo. Kelty Kids and REI both make great child-carrier hiking packs if you need to invest in one.
Where to stay for hiking the rainforests
The Kalaloch Lodge is kind of rustic and wind-beaten, but it's in a great location right between both the Hoh and Quinault Rainforests. There are lodge rooms or cabins, so depending on your length of stay and number in your party, you'll have several options. RESERVE IT HERE.
More ideas for an Olympic Peninsula road trip
There is, of course, far more to do and see on the Olympic Peninsula. Native American culture thrives in several areas, so watch for totem poles. The Twilight Saga was filmed on the OP and going out of Port Angeles and Forks, you can go on Twilight themed tours. There are some beautiful National Park lodges to visit or stay at from Lake Quinault or Kalaloch up to Lake Crescent. And camping! Everywhere! Seriously, you could do a two week vacation here easily and everybody in the family will have an amazing time.
We have all kinds of other ideas for visiting the Olympic Peninsula including more hiking recommendations and options for where to stay. If we were to break down the must-see sights for a tight vacation schedule, here's what we'd say to do:
Port Townsend – Victorian charm, great food, local beers
Hurricane Ridge – hiking and epic views across the mountains
Sol Duc Falls – the most lush waterfall trail on the Olympic Peninsula
Cape Flattery – the Northwestern-most point of the continental USA, incredibly beautiful
Ruby Beach – sea stack, tidepools, beaches, driftwood, eagles…
Hoh Rainforest – between the elk and the epic moss-covered trees, it's a must.
So are you totally ready to explore the Olympic Peninsula? If you ever have any questions, we know our way around the OP really well and have tons more to share. Send us a note if you need hiking, kayaking, lodging, dining, or just relaxing recommendations. We've got you covered!
Go ahead and save that nifty infographic above or something from below so you don't miss the must-see sights when you come for a visit. And feel free to pin this for later too!