In this episode we cover the hidden pockets of geysers that are really easy to get to but that most people just drive by. Some of the best sights in Yellowstone National Park are right under everyone's noses, and we'll help YOU experience them! These are our top picks and tips for visiting the most overlooked geysers in Yellowstone National Park.
Be sure to check out our complete Family Guide to Yellowstone and our other podcast episodes!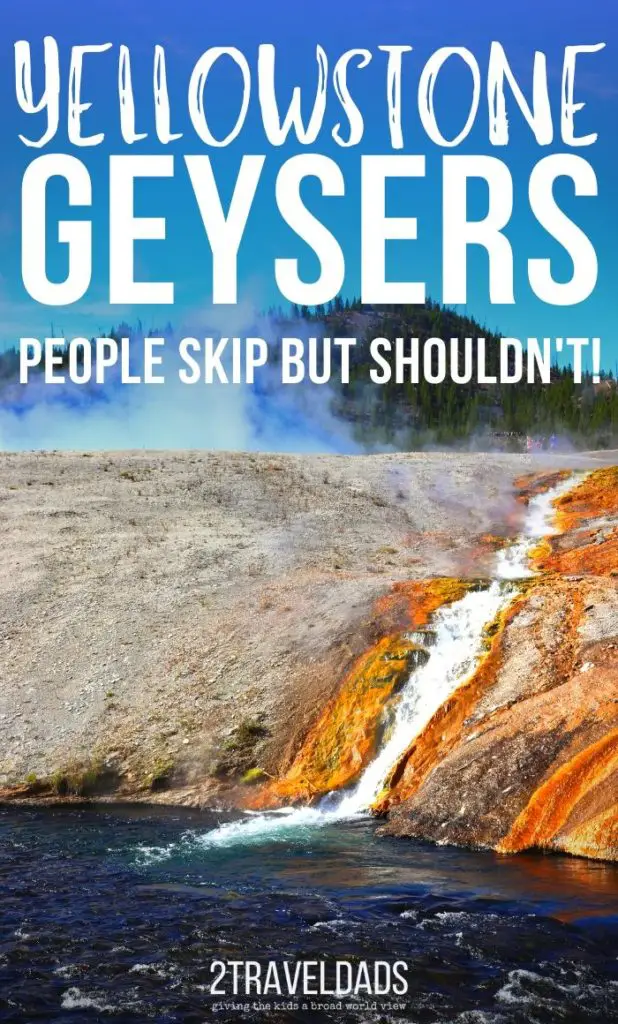 Listen to our Best Geysers of Yellowstone Podcast
Most Overlooked Geysers in Yellowstone
In this episode… [time in playback of episode noted on the left]
2:00 – Starting with photography tips for getting great geyser pictures, our best tip for getting clear photos into the colorful Yellowstone hot springs and geysers is to understand the amount of steam that rises in cold weather. Being at a geyser early will mean there is a TON OF STEAM blocking your view.
3:15 – Visiting Grand Prismatic Spring is incredible. Found at Midway Geyser Basin, Grand Prismatic Spring is so colorful that the colors are actually reflected into the rising steam. To get to the overlook to see the Grand Prismatic Spring from above, you have to drive our and head south to the Fairy Falls Trailhead. The hike is a mile to the overlook, and except for a small sign, there is no indication that this is how you get to the overlook.
6:40 – As a reminder, the use of drones in National Parks is illegal. DON'T EVEN THINK ABOUT IT!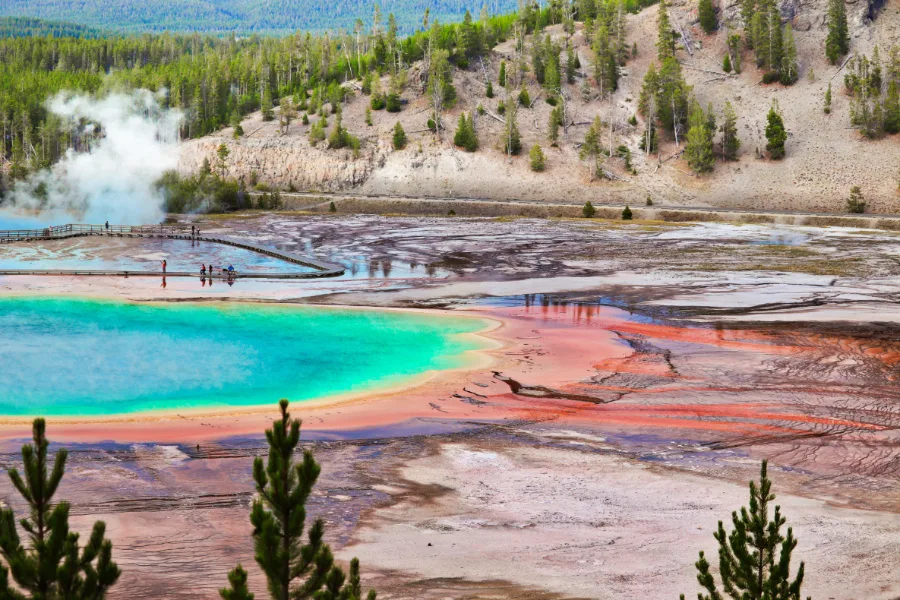 7:30 – the best overlooked geyser area in Yellowstone: Firehole Lake Drive. You can't tell that it's going to be cool and full of hot springs and geysers, but it is and most people just drive by it. Firehole Lake drive has some really beautiful sights unlike any other geyser basin. Great Fountain and White Dome Geysers are just two of the cool sights on Firehole Lake Drive.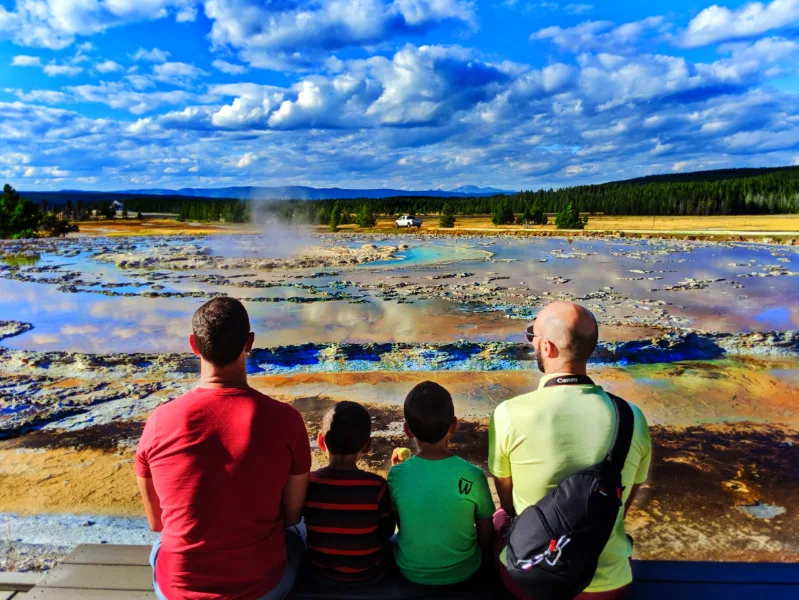 11:30 – Bonus sights on Firehole Lake Drive include several small geysers, the Boiling Cascades and the Hot Lake. Seriously, this place is just amazing and has the BEST PHOTO OPS in Yellowstone. It's totally overlooked.
14:15 – Funnest and funniest of the geyser basins: Fountain Paint Pots Geyser area. Between gorgeous, colorful springs and muddy paint pots, there is also a set of geysers that are crazy and all go off together. The Jelly, Jet and Fountain Geysers are incredible and the most fun spot in Yellowstone. Chris votes that if you're pressed for time, skip Biscuit Basin to visit Fountain Paint Pots.
19:00 – The Mud Volcano area is really cool and totally different from any other geyser area. Because there aren't colorful, beautiful hot springs or tall geysers, Mud Volcano is an overlooked geyser area in Yellowstone. Everything is names after dragons and it's such an active area that new pits and vents show up every year. I think this is one of the most unique things to do in Wyoming, not just in Yellowstone.
23:30 – Mammoth Hot Springs for the most epic hot springs terraces. A lot of people just see the main view of the Minerva and Cleopatra Terraces and don't do the boardwalk all the way up and around to the colorful springs. You can park by the Visitor Center, drive the Upper Terrace Loop, or park and hike. On the back side overlooked geysers and hot springs are everywhere!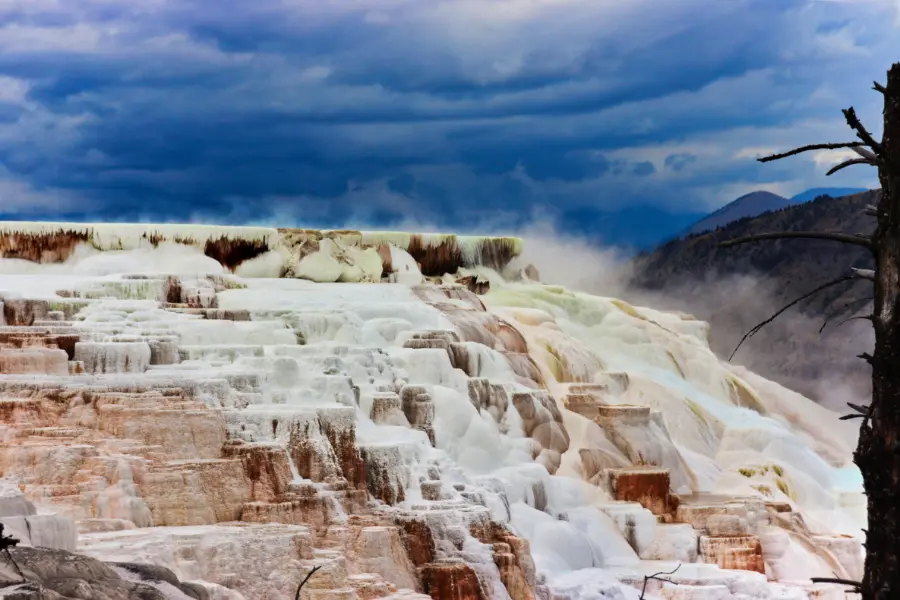 27:45 – Final thoughts about geyser safety: STAY ON THE TRAILS. The earth's crust is super thin in Yellowstone, so obey the rules for your own safety and the preservation of the National Park. Also, Mammoth has tons of elk but DO NOT APPROACH THEM! Wildlife safety is something to think about in all areas.
Listen to our Painted Hills podcast episode for more info about staying on trails in National Parks!
29:00 – Our secret to being able to work on the road, and specifically in Yellowstone National Park: there is wifi in the basement of the Mammoth Hot Springs Visitor Center. If you need to take a call once or twice to allow you to break away and have a vacation with your family, THAT IS OKAY!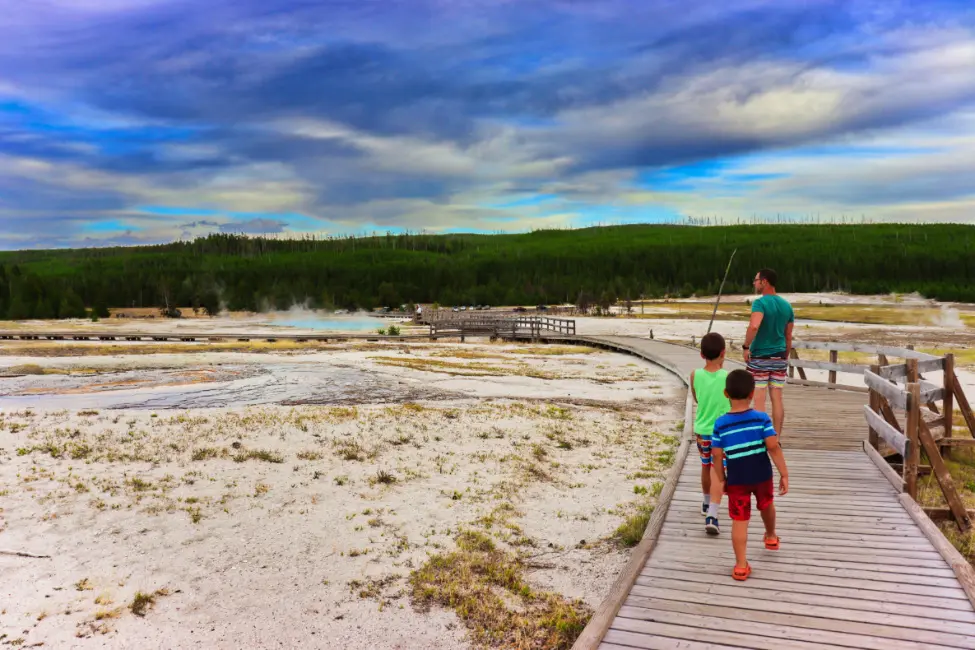 Thanks for hanging out with us. I think it's pretty clear that we love all of the geysers in Yellowstone, but particularly the overlooked and often skipped geysers. Be sure to read all about the Biscuit Geyser Basin near Old Faithful too! You could spend weeks visiting them all, but if you're short of time, just plan on hitting these great ones!
Please let us know if you have any questions!
What do you want to hear about from us on our podcast? Please leave us a comment below or send us a note with your questions and what you'd like to hear. We are excited to share!
If you'd like to visit our specific podcast host page, feel free! There are lots of options to subscribe to the 2TravelDads Podcast.