Following several incredible trips around Yellowstone National Park we've seen that it's actually really important to understand what's at each of the geyser basins. This guide is all about the Biscuit Basin, a lesser known and pretty awesome geyser area very near Old Faithful. We're sharing what geysers are at Biscuit Basin, photography tips, and how to add it to your time in Yellowstone National Park.
Be sure to check out our other Yellowstone National Park geyser guides too!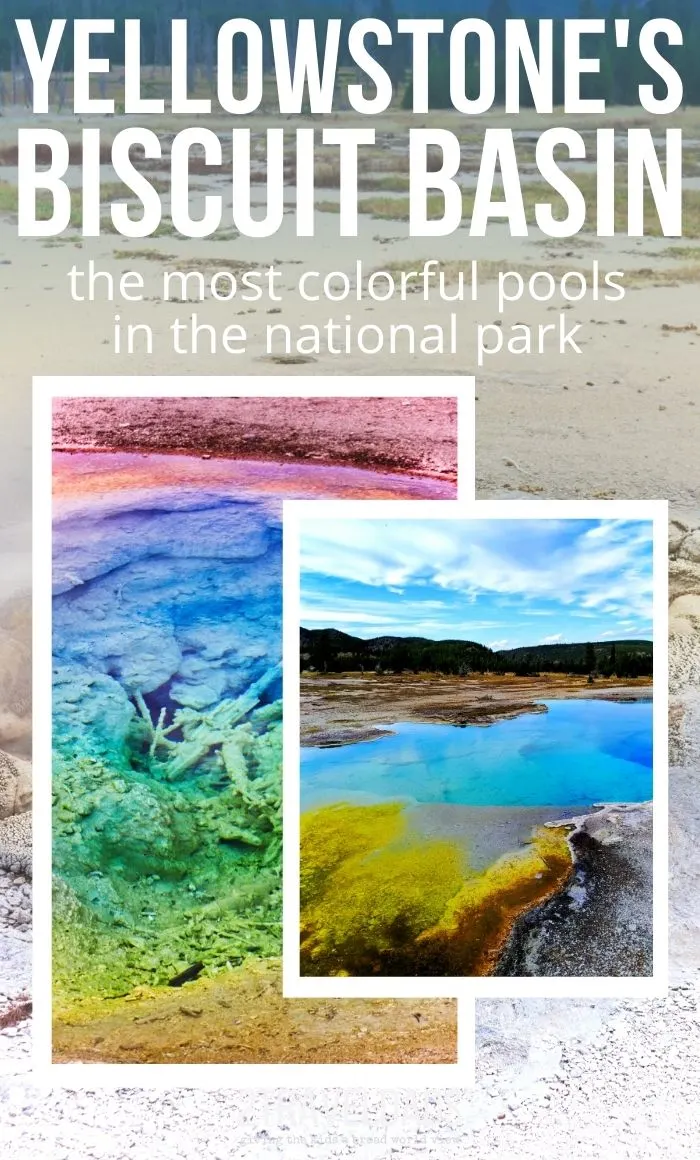 Where is Biscuit Basin
As you're driving the Yellowstone Grand Loop Road, you'll pass many geysers and steam vents just off the road. You'll also see a lot of larger geyser basins with TONS of visitors. The Biscuit Basin is very near the Old Faithful Geyser Basin, just about ten minutes driving time shy or past Old Faithful. This is a great place to enjoy a calm, quiet geyser experience.
Located on the west side of Grand Loop Road, it's at the base of a tall hill. The geysers here are accessible from the main parking area of Biscuit Basin, the epic Continental Divide Trail and the Artemisia Trail which begins at the Old Faithful Geyser Basin.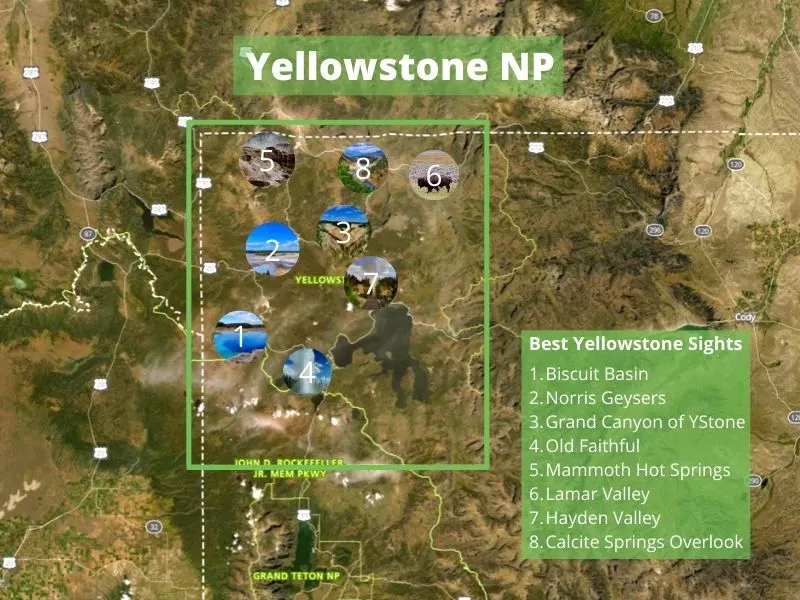 When to visit Biscuit Basin Geyser Area
Any time of day is good at the Biscuit Basin, but we recommend early morning on a sunny day for the best colors and fewest people. Many people will pass by the Biscuit Basin because they would prefer to visit Old Faithful, but you're not one of them! Visit here first and enjoy the quiet and wonder before you join the crowds.
If you're visiting in the late afternoon, it still won't be crowded like Old Faithful, but there are more people, as it's a small basin and easy to add onto a day in Yellowstone without taking up too much time. The colors will be just as beautiful, but photography may be tricky (see below).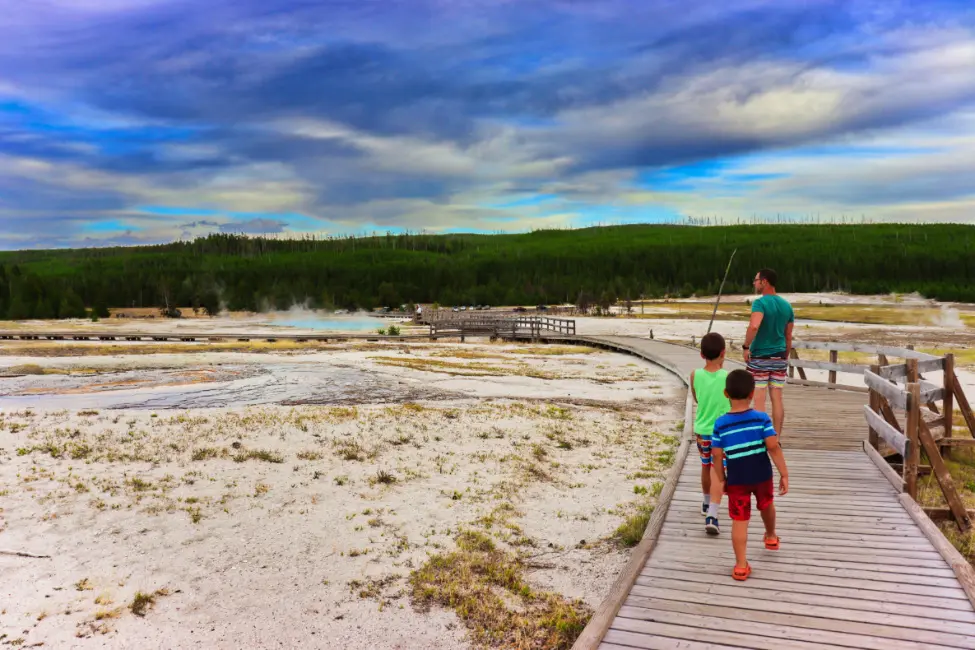 Hikes at Biscuit Basin
As I mentioned, you can either park at the Biscuit Basin lot or hike to the basin from the Old Faithful area via the Artemisia Trail. Once here, there are a few other hikes that leave from this trailhead. Summit Lake is a long trail at nearly 15 miles, but Mystic Falls is a pretty easy 2.4 mile (4.8 mile round trip) hike.
The Mystic Falls Trail is pretty and goes through the forest up to the Biscuit Basin Overlook and then onto Mystic Falls itself. The falls is 69 feet tall and really pretty. To make this hike last and get even more of a view, continue onto the steep trail to turn it into a loop. The loop is 3.5 miles and includes the falls, the overlook and a peak, nearly at 7800 feet.
The Mystic Falls or Biscuit Basin Overlook portions of the loop are fairly easy, but if you do the full loop you'll come across some switchbacks and steep spots that small kids might struggle with.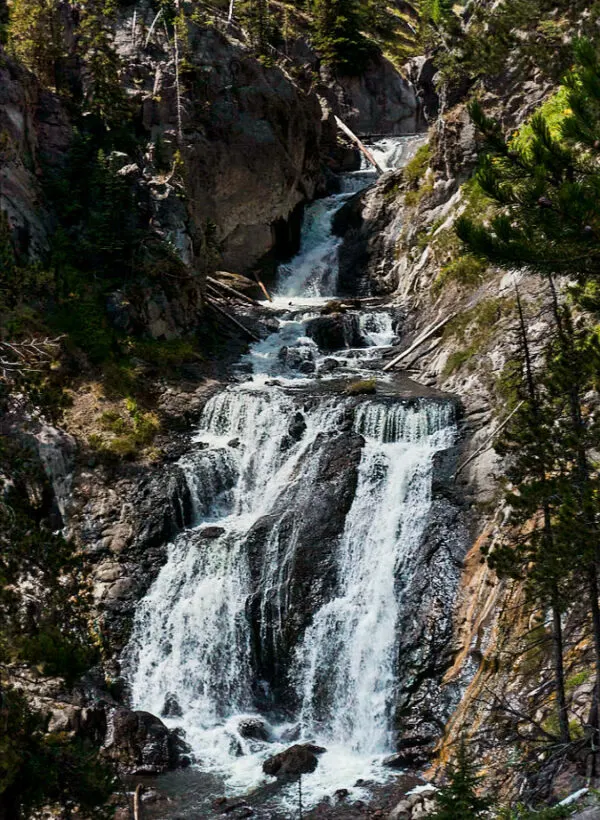 Geysers in the Biscuit Basin
There are not many geysers in the Biscuit Basin, but what is there gives a great show. The primary geyser visible from the designated boardwalk is Jewel Geyser. Consistently running every ten minutes or so, you're sure to see it spout off during your visit. It's located at the intersection of the loop and main trail, so as you tour Biscuit Basin you'll pass it twice.
Other geysers at Biscuit basin are very small and look to be no more than bubbling springs, but each of special in its own way. Because the geysers here are smaller than at Old Faithful or Norris Geyser Basin, the paths can be closer to them, making them fun for small kids.
Another small geyser that our kids enjoy is the Silver Globe Cave Geyser. Again, it's not big, but it's spitty and fun and really visible.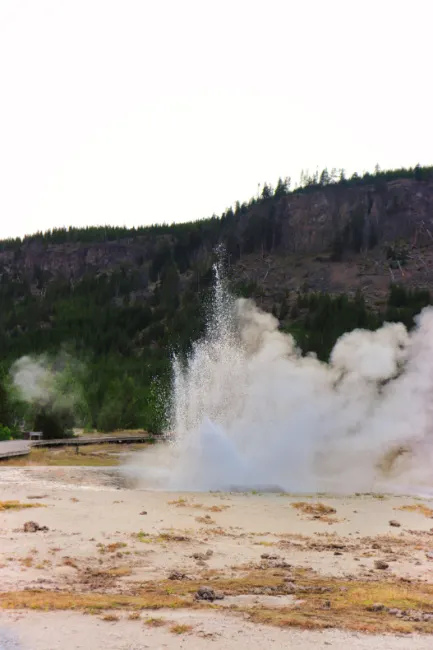 Most colorful springs in the Biscuit Basin
This is why WE LOVE Biscuit Basin. The springs here give Mammoth Hot Springs a run for their money. True, they aren't as grand as Mammoth, but their color and flows are amazing. Many don't consider Biscuit Basin to be one of the best things to do in Yellowstone, but I wouldn't miss the colors here.
The Black Opal, Black Diamond and Sapphire Pools are breathtaking (not just because of the smell). Starting with the Black Opal pool, the color and clarity are in a class of their own due to the very hot temperature of the pool. Next to come to the Black Diamond pool which is very similar, but larger and perhaps a bit more cool.
These Biscuit Basin springs are connected by a vibrant yellow stream, full of thermophiles. I think the flowing, steaming streams are what make this geyser basin so interesting. Yes, they're beautiful, but other basins do not have such colorful streams or do not have them as close to the path as the Biscuit Basin does.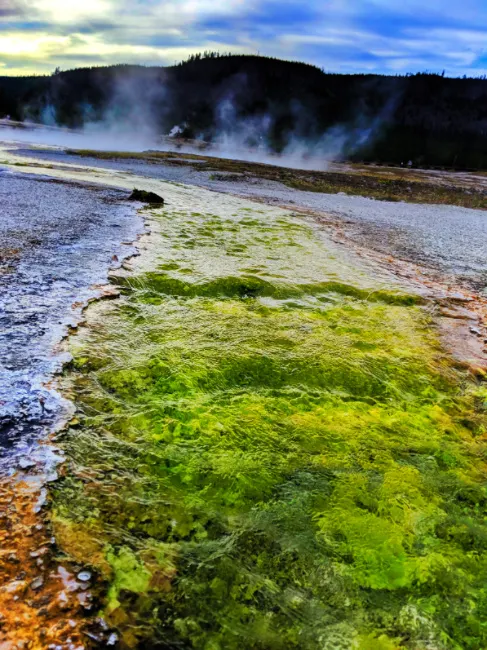 The Sapphire Pool like what Biscuit Basin is known for, but it's the transition between them all and the collection together that is so marvelous. So much color!!
The Mustard Spring is also located here, but it's not as beautiful as the others in terms of cookie. When it comes to steam and sulfuric smell, it takes the cake. Just beyond the Mustard Spring is an unnamed pool that is lonely and beautiful. Be sure to pay it your photo respects when you're there too.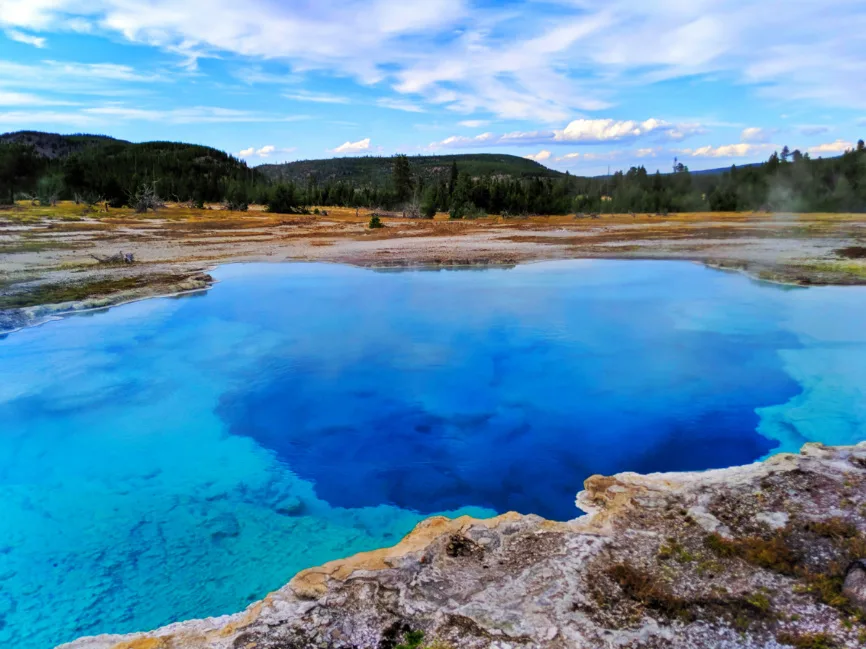 Geothermal photography tips
I love photographing geysers. How to photograph geysers depends greatly on the time of day and the air temperature. Being pools and stream of hot water, particularly streams at the Biscuit Basin, if your photography goal is to catch the colors of the springs, the best geyser photography needs to happy on a hot day with the sun lower in the sky.
I really enjoy photographing geysers on cold mornings because you get layer upon layer of steam. That steam will often reflect the strongest color of the geyser it's coming from, showing off really beautiful and interesting colors.
Here are the best tips to take cool photos at the Biscuit Basin:
Visit in the heat of the day for the best colors
Visit in the cool of the morning for the best steam
Photograph geysers with the sun BEHIND YOU
Get low for amazing reflections on the stillest pools
Biscuit Basin is small but remarkable. It's worth taking an hour out of your time in Yellowstone National Park to enjoy the colors and the beautiful walk.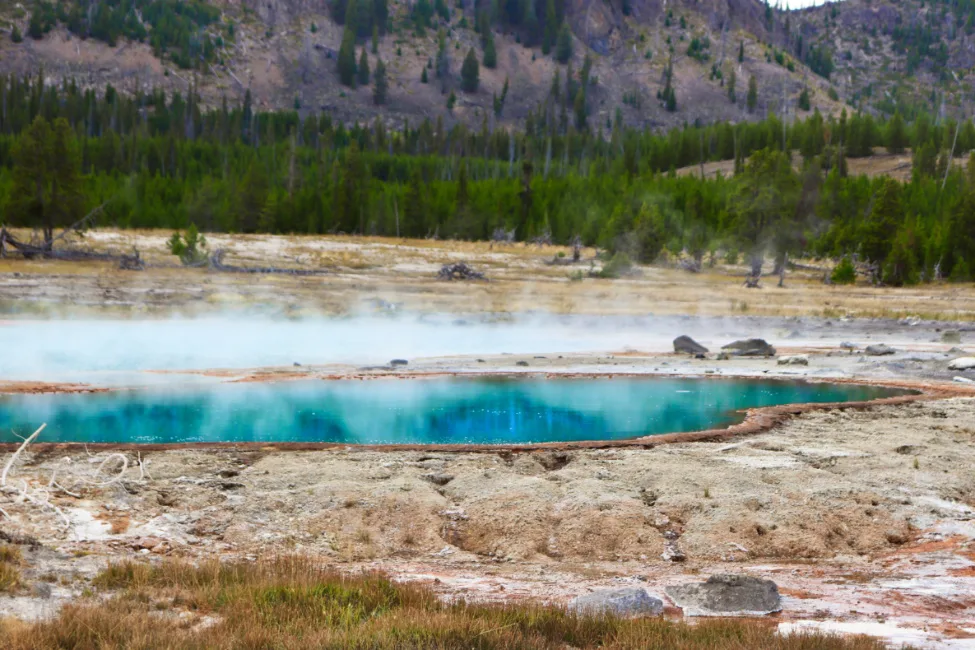 ---
More Yellowstone Geyser Areas to Visit
I think it's safe to say that people visiting the park are either looking for the best wildlife viewing in Yellowstone or to see unique geysers. If geysers are your primary plan, we recommend visiting the following spots for the best geothermal activities:
Biscuit Basin – best for color
West Thumb – small geysers and gorgeous springs ON LAKE YELLOWSTONE
Norris Geyser Basin – best geothermal landscape
Firehole Lake Drive – most unique geyser features (small but amazing)
Fountain Paint Pots – the geyser trio on the backside of the loop is incredible
Mammoth Hot Springs – do the walk from the upper drive to Canary Spring and down
Old Faithful is cool too, but it is also the busiest of Yellowstone's geyser areas. Old Faithful has a great visitor center and lodges for services and food, but it's crazy busy. Although is it so famous and the actual Old Faithful geyser is impressive, we'd actually recommend skipping the Old Faithful Geyser Basin if you're short on time or want to enjoy some unique hiking in Yellowstone.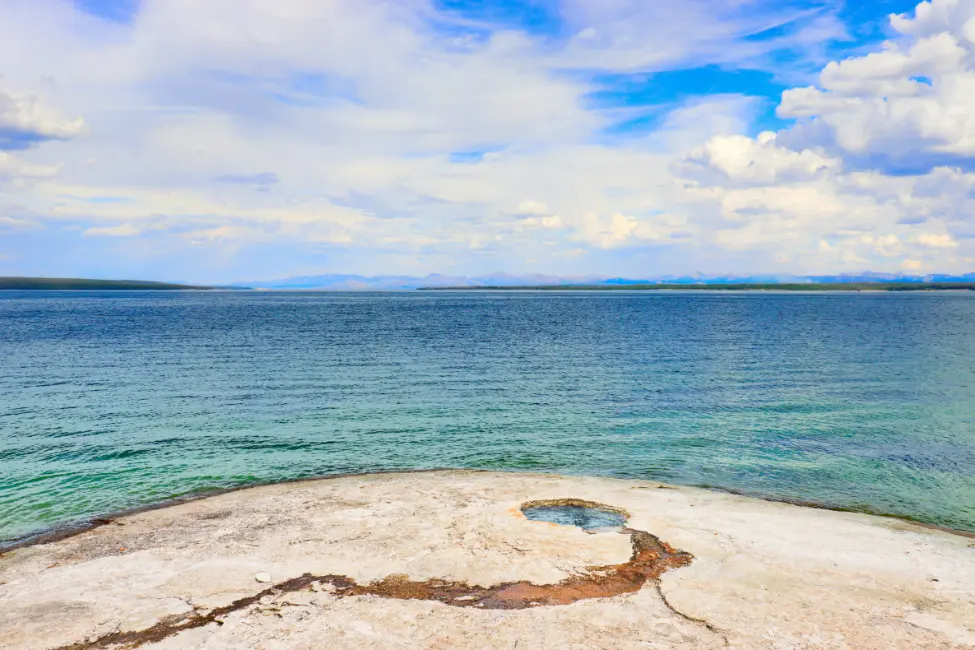 ---
Check out our other articles about visiting geysers in Yellowstone:
As always, if you have any questions about geysers or visiting Yellowstone National Park, please let us know by leaving a comment or sending us a note. We love to talk about our many visits and share our experiences!