Have you ever really wanted to visit a bucket list place and we're sure how to plan your time for the best visit? That's why we've created four days worth of travel plans for Yellowstone National Park! We have been many times and on our last visit we really planned out everything so that we could see the best sights and most wildlife.
Below you'll find our second podcast covering Yellowstone National Park itineraries AND the actual travel plan to get it done and have the most fun! If you haven't listened to our first Yellowstone Itinerary Podcast (days 1 & 2), be sure to download it and let us know what questions you have!
Be sure to check out our complete guide to Yellowstone National Park!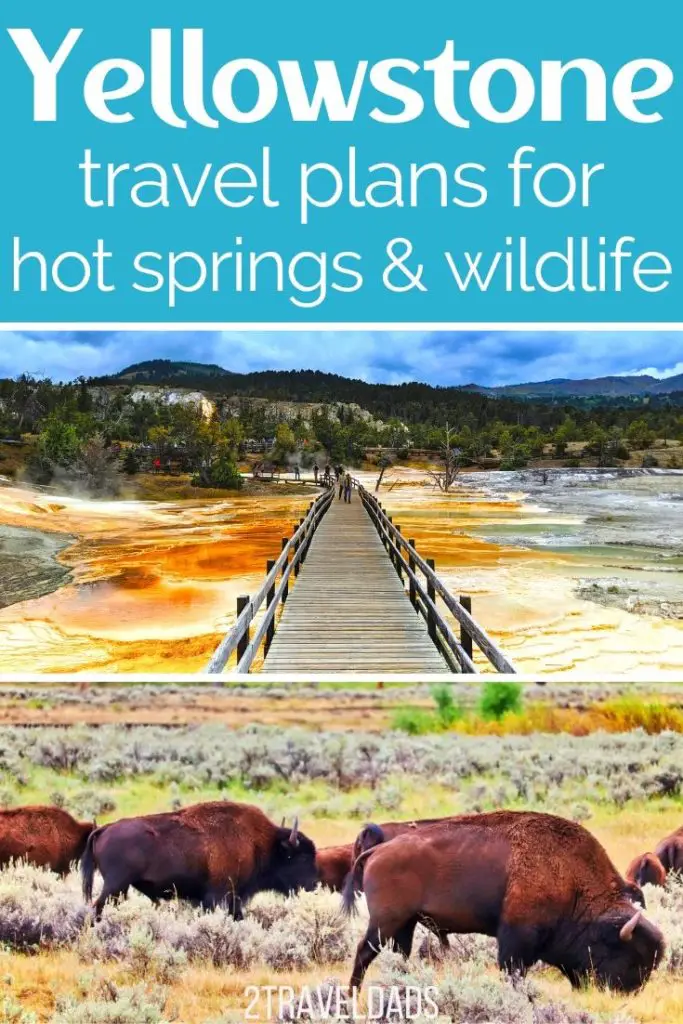 Listen to our Yellowstone Wildlife and Hot Springs Podcast Episode
Awesome Yellowstone Travel Plans for Wildlife & Hotsprings
In this episode…
1:00 – Recap of first Yellowstone Itineraries Episode – Madison, Grand Canyon of Yellowstone, Norris, Old Faithful, West Thumb and more! If you haven't listened to the Yellowstone Itineraries Day 1 & 2 podcast episode yet, you should, because we really get into the geysers and some great hiking spots.
Travel Plan for Day 3 / Route 3 – Norris to Mammoth to Tower
Museum of the National Park Ranger
Roaring Mountain
Swan Valley
Mammoth Hot Springs
Boiling River
Undine Falls
Black Tail Plateau drive (6 miles of dirt road)
Petrified Tree
Calcite Springs
Tower Falls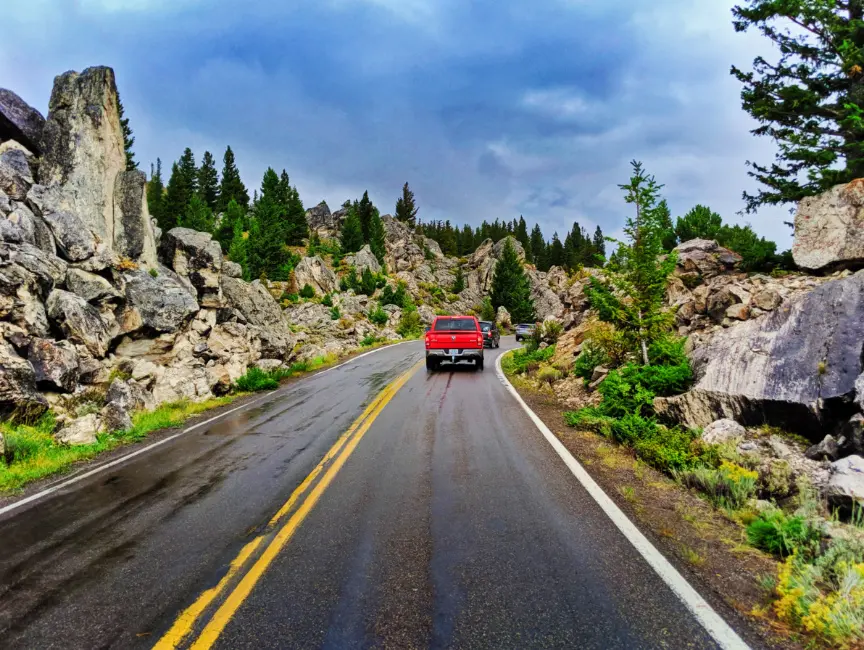 2:10 – Museum of the National Park Ranger – great small museum with cool historic exhibits and lots of rangers on staff to help you!
3:20 – Roaring Mountain – this geothermal spot is in the middle of the forest and it's completely unexpected. The hillsides are colorful and unique, and even with all of the cool and interesting sights around Yellowstone National Park, no other place is like this. It's an easy and awesome stop to add to your Yellowstone travel plans.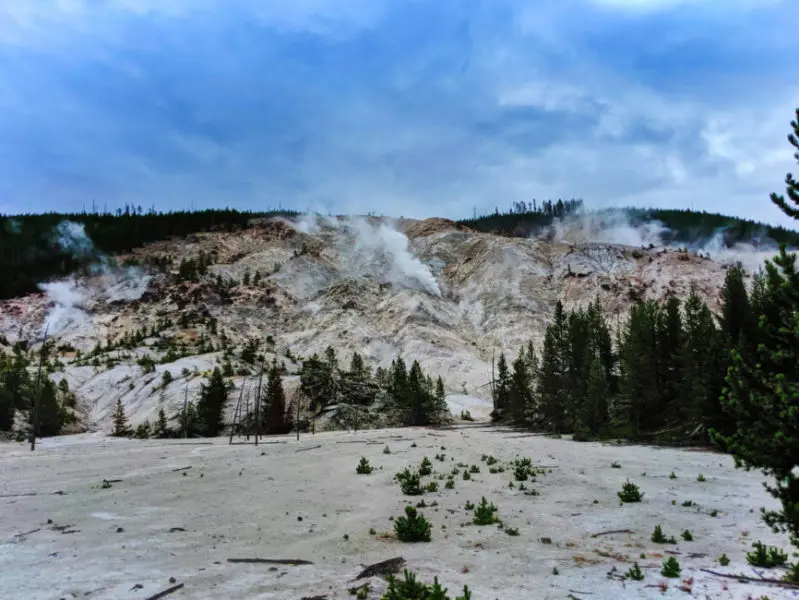 4:55 – Swan Valley – great spot for wildlife viewing, from trumpeter swans to bison. Going out of Swan Valley, watch for bighorn sheep. Cool road, very similar to parts of Joshua Tree National Park.
Experiencing the best of Mammoth Hot Springs
6:30 – Mammoth Hot Springs – don't miss Upper Terrace Drive and the boardwalk hikes down through the hot springs. Great lunch options. Chris recommends the chili. (OMG). Also TIP: the Mammoth Visitor Center has WiFI!!
7:35 – DON'T GET INTO THE HOT SPRINGS but if you really want to, the Boiling River is a place you CAN get in! Check out YTravelBlogYTravelBlog for more info on their trip to the Boiling River! If swimming in the Boiling River is a part of your Yellowstone travel plans, be sure you have swimwear and towels before you head out for the day.
The Rugged Side of Yellowstone: Roosevelt to Tower
8:50 – Heading to Tower Falls, the road is very windy but there are lots of sights to see, including the Petrified Tree (not as cool at Petrified Forest State Park in Utah)
11:20 – Calcite Springs – This is the prettiest view in all of Yellowstone National Park and a MUST STOP! You get the yellow walls of the Canyon, the turquoise Yellowstone River, and steaming geysers ON the river. Beautiful! And because the view looks up the valley where there's a convergent zone, this is one of the best views in Yellowstone National Park!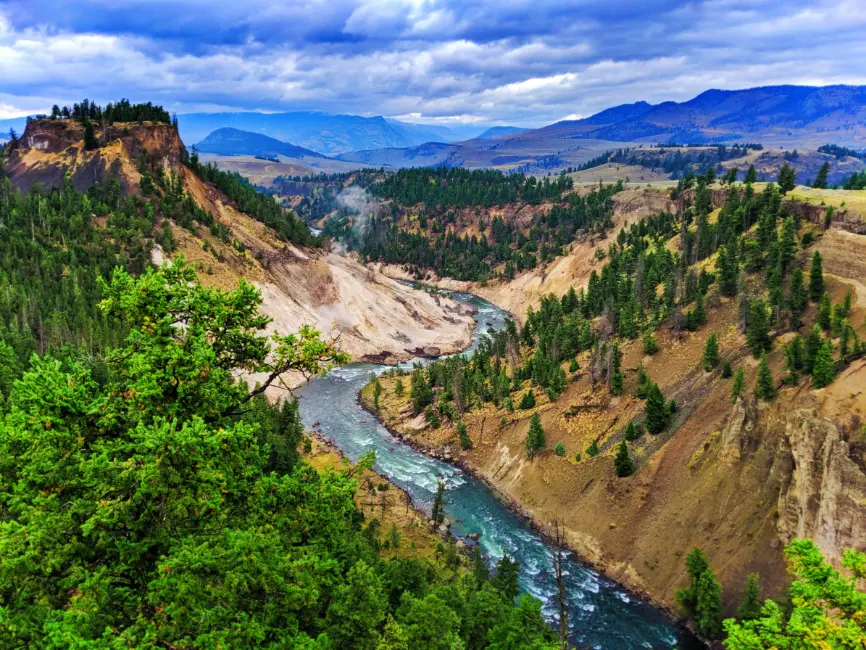 13:30 – Tower Falls – it's an easy hike to the first viewpoint and a kind of difficult and dusty going down to the lower view point. Cool view of hoodoos (just like in Bryce Canyon National Park) This stop is another great spot for ice cream! Ice cream is integral to anyone's Yellowstone travel plans.
15:40 – Final amazing views of Day 3 on your Yellowstone road trip. Mt Washburn is the highest point in Yellowstone and is the best place to see bears in the park. Take Chittenden Road to the top or hike Dunraven Pass to climb Mt Washburn. This is where you get the best view of the Yellowstone Caldera.
16:55 – Do we recommend bear spray? Well, yes if you are going hiking away from tourist areas. It's not required but is helpful if you're going to the backwoods. Be sure you understand how to operate bear spray because it is a dangerous tool. Tip: if you want, you can rent bear spray at Canyon Village.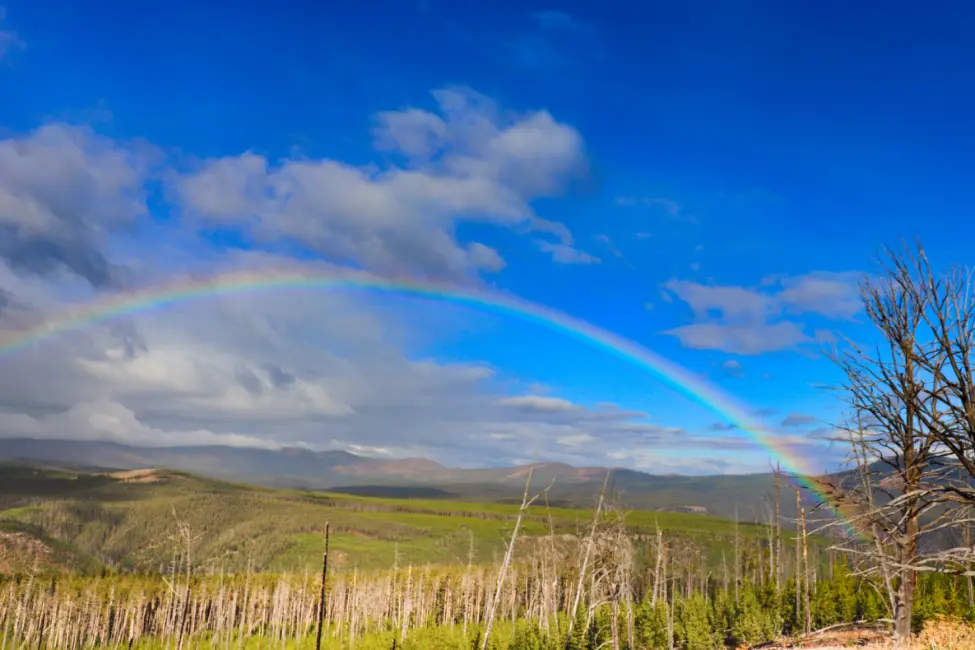 Route 4 / Day 4 – Wildlife and the Hayden and Lamar Valleys
This is your LAST DAY in Yellowstone! I know, time flies when you're having fun. This is one of my favorite Yellowstone travel plans because it's the most relaxing and there is so much wildlife involved. There aren't a ton of geothermal sites on this day, but the views and experiences are great. What to expect in this day's itinerary:
Madison River for elk herds – they're always around and are extra active in the morning
Yellowstone River for swans and pelicans
Hayden Valley for bison herds
Mud Volcanoes
Option for Bridge Bay Visitor Center
Mt Washburn
Lamar Valley
Hike at Trout Lake
20:00 – Yellowstone River – you'll drive along the Yellowstone River for a good while and there are often trumpeter swans and white pelicans on the river. They're gorgeous!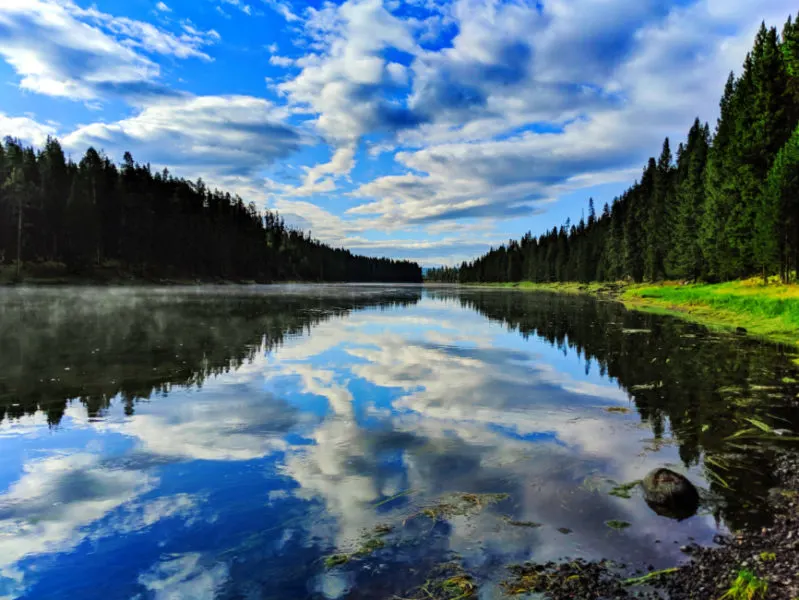 Sights in the Hayden Valley
20:50 – Hayden Valley – the best place to observe the bison herds any time of day. The views are sweeping and incredible. One of the best spots for wildlife photography in Yellowstone National Park.
22:20 – Mud Volcanoes – the stinkiest place in Yellowstone and one of the coolest, the Mud Volcanoes are a collection of mud pits, steaming lakes, and roaring steam vents. Everything is named after a dragon and it's awesome. There ARE bathrooms at the Mud Volcano area!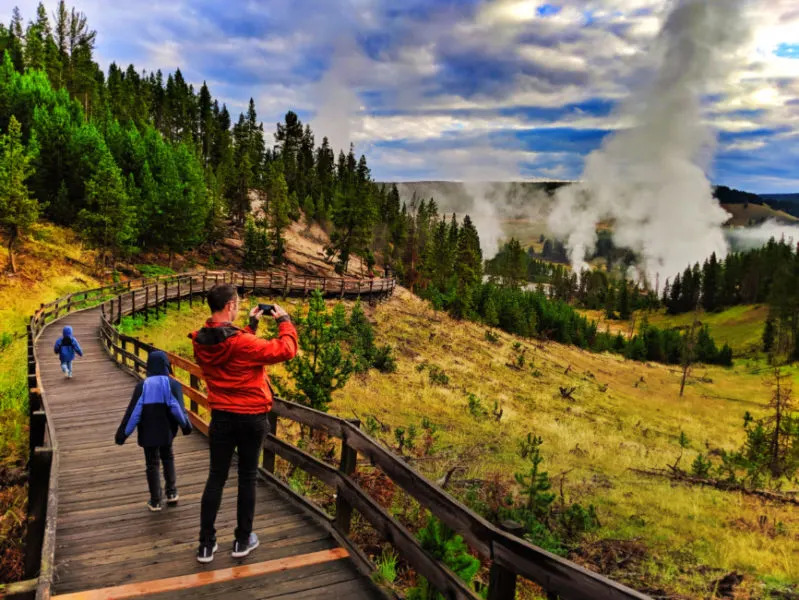 23:40 – Bridge Bay is farther to the south and has an incredible collection of taxidermy birds. The kids LOVE this Visitors Center / Museum and as an adult, I have to say it is one of the coolest in any National Park.
Exploring the Lamar Valley: bison and wolves
24:00 – the Lamar Valley – this is THE place for wildlife in Yellowstone National Park. Between the wolf pack, the bison herds, the roaming pronghorn antelope, and the bighorn sheep on the cliffs, this is a great spot!
25:55 – Trout Lake Trail is an easy hike (tough start though) on a lolipop shaped trail. Trout Lake is wonderfully still, beautiful surrounding forest.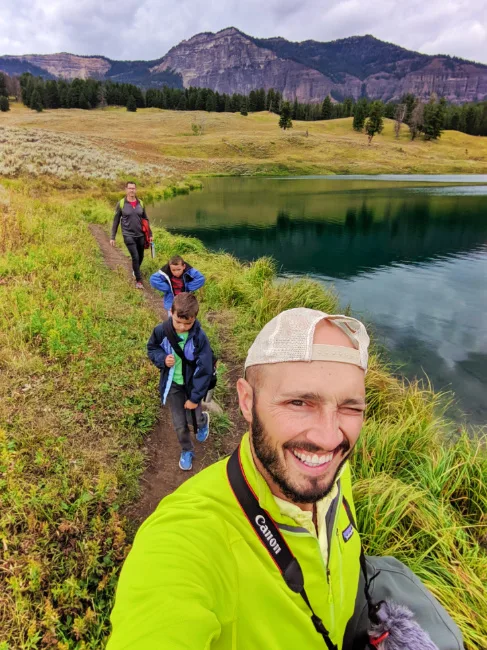 26:45 – Soda Butte – this is an easy stop on the side of the road, it's a mostly dormant geyser and is a really cool backdrop for spotting wildlife. There's a bison path that goes from the Butte along the road and into the valley. This is what you'll see referred to as the Soda Butte Trail, but it's not a well maintained path. The Lamar Valley Trail is nearby and is a much better hiking trail (6 miles out and back).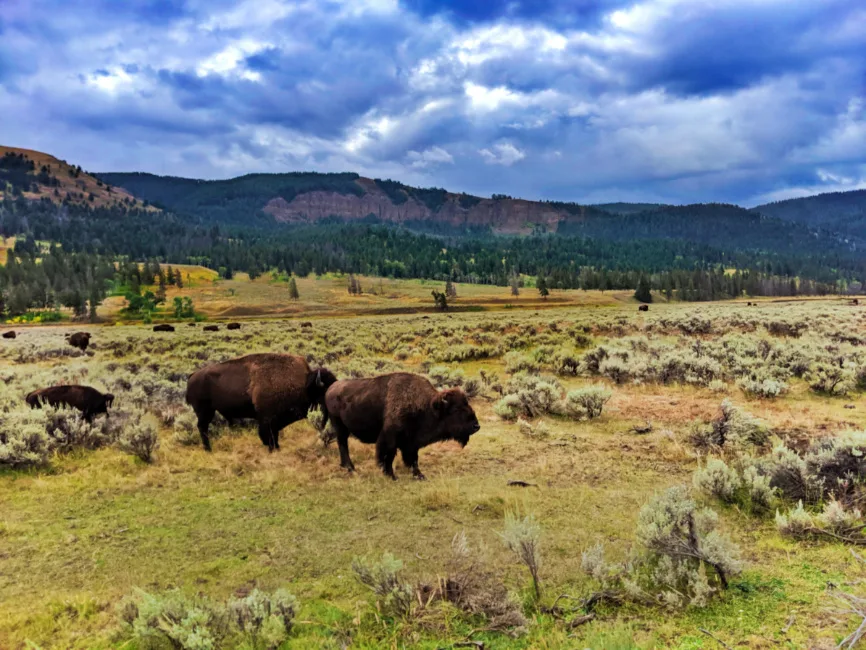 27:15 – Top Tips for a Yellowstone Road trip:
If you get a rental, be sure to have a sunroof
Download podcasts before hand
Stop wherever it's safe and you're interested
If others are looking at something, stop too!
Enjoy the park at your own pace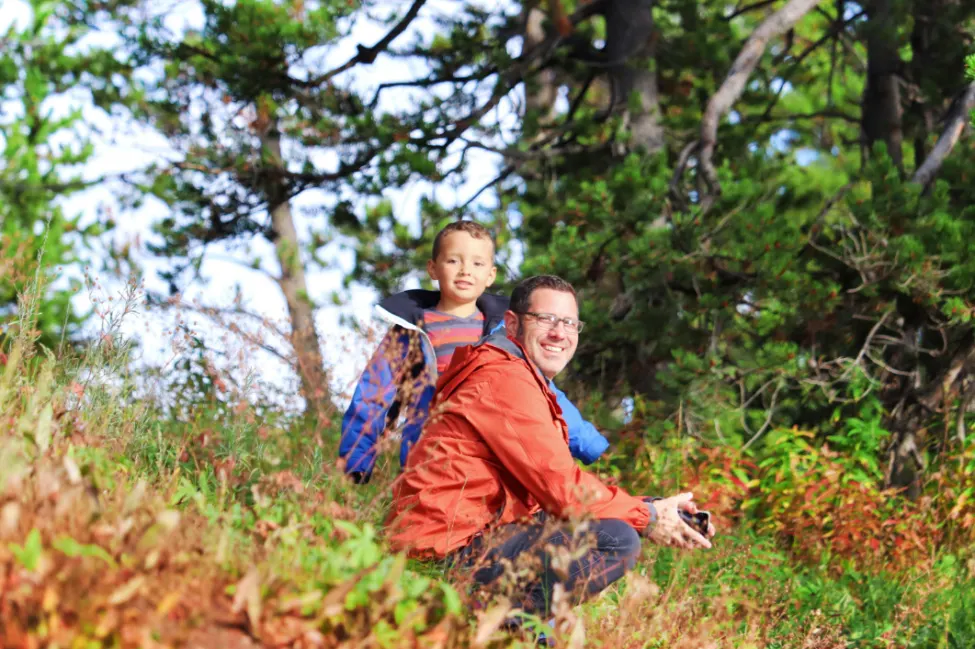 Thanks for hanging out with us. Hopefully after these two podcast episodes you feel like you've got some great Yellowstone travel plans under your belt. There's a lot of ground to cover, so with a little planning and energy, you'll have an unforgettable trip. And like always, please let us know if you have any questions!
What do you want to hear about from us on our podcast? Please leave us a comment below or send us a note with your questions and what you'd like to hear. We are excited to share!
If you'd like to visit our specific podcast host page, feel free! There are lots of options to subscribe to the 2TravelDads Podcast.