In this podcast episode we get into how to spend your time exploring Yellowstone National Park. We get asked quite often about how many days to spend in Yellowstone, where to stay, or just what our favorite sights are. We've created itineraries for Yellowstone National Park that cover four days of hiking, geysers and more.
This is the first of a two part series, so be sure to check out part 2 as well!
And don't forget to review our complete guide to Yellowstone National Park, as we update it frequently with the freshest information!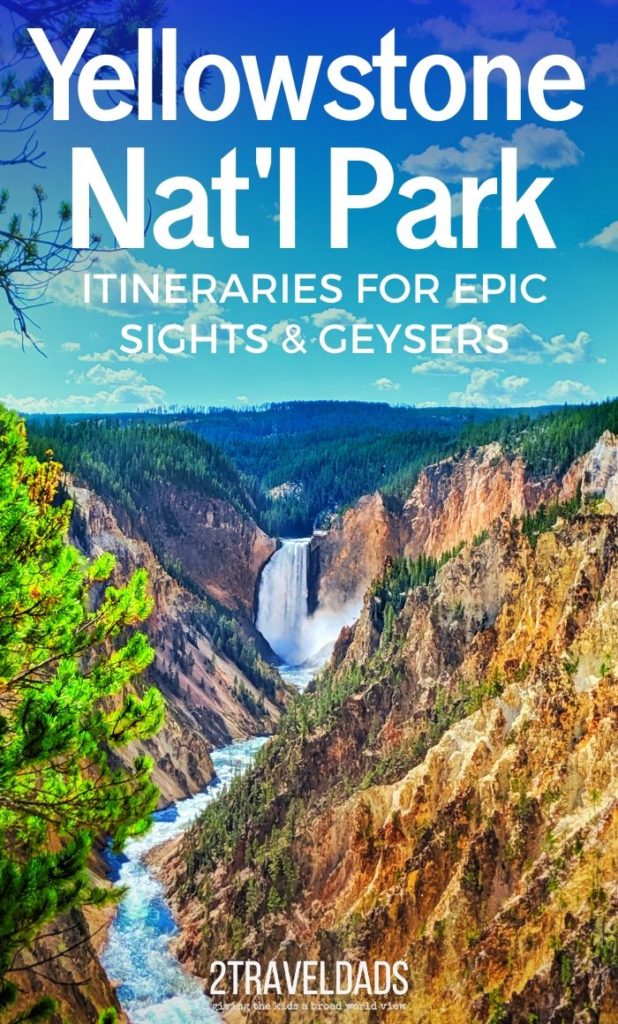 Yellowstone National Park Itineraries: days 1 & 2
In this episode…
Remember, you can adjust your routes and starting points based on where you're staying each night. The Grand Loop road will take you around the whole park, so our Yellowstone National Park itineraries are flexible based on your time available and where you need to sleep at night.
3:50 – Awesome Road Trip Travel Tip: Chris's top tip for making a road trip fly by: Download podcasts and audio books for long driving days. We recommend Wow In the World and But Why? and, of course, 2TravelDads Podcast!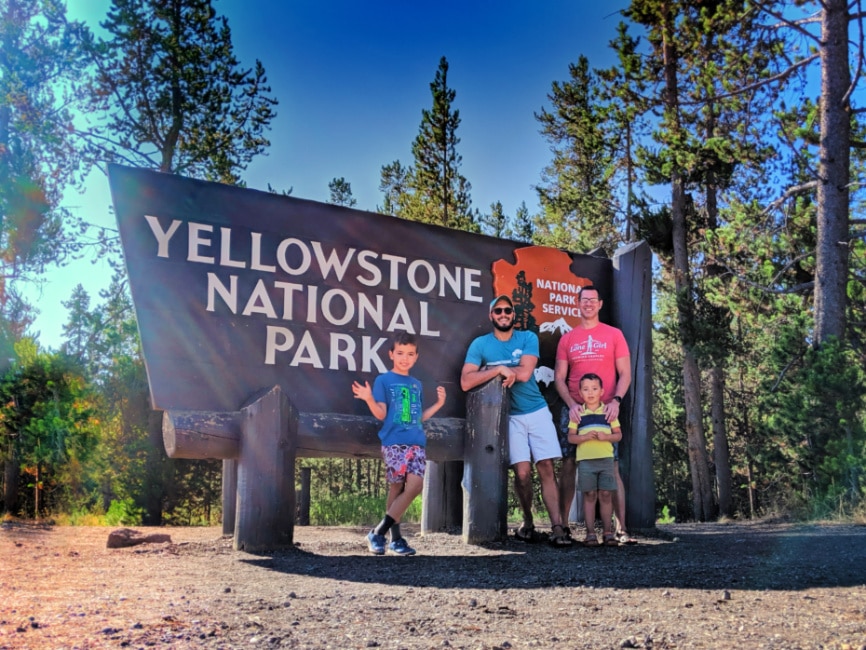 Itinerary Day 1 / Route 1 – Grand Canyon of the Yellowstone.
Fun stops along the way:
Beryl Spring – pretty, super stinky, great first geyser spot to stop!

Gibbon Falls – easy stop with parking, pretty falls and short trail to view point

Artist Paint Pots – there are bathrooms here, cool paint pots

Canyon Village – Visitor Center and groceries with grab-n-go lunch. Best ICE CREAM value in the park!

Yellowstone Falls and Canyon
6:20 – How geysers work – I let my inner geology geek escape for a moment
Listen to our Geysers of Yellowstone Part 1 podcast episode!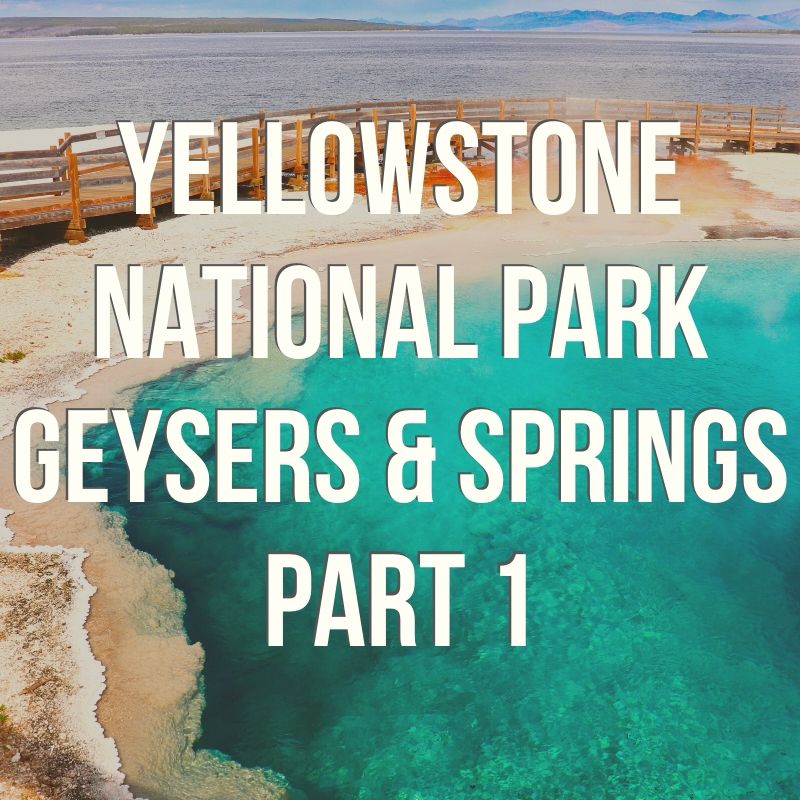 8:35 – Can you get into the hot springs in Yellowstone National Park? NO! They are hot, acidic pools. No, you can't swim in them. Listen to Yellowstone National Park Itineraries Part 2 for where you CAN enjoy hot spring soaking in Yellowstone. Don't worry, we'll tell you how to add the experience to your Yellowstone itineraries.
Exploring the Canyon Area of Yellowstone
11:25 – Yellowstone Falls Viewpoints – Brink of the Upper Falls, picnic area and the trail head for Uncle Tom's Trail are all accessible from . This is also where you can climb the crazy staircase down into the Grand Canyon of Yellowstone. Note: This trail/staircase has been under construction as of summer 2019.
14:25 – The best view of the Canyon and Lower Falls is NOT at the main Artist Point, but on the way to it on the staircase down. This is a good spot for a photo and you'll not have to wait through a big line just to get one. Really, the platform at Artist Point is a bit crazy with tour groups.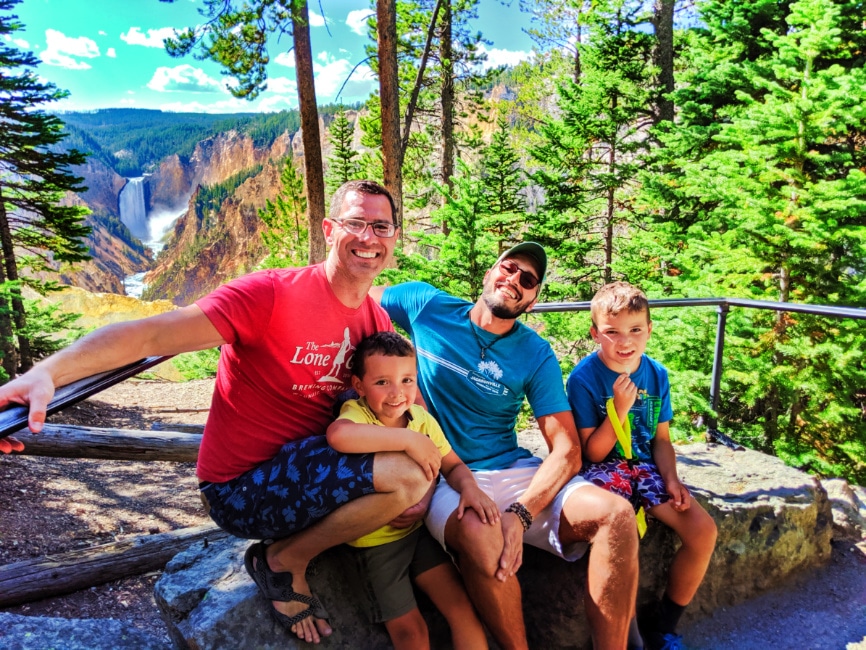 Evening sights in Norris and Madison Valley
15:25 – End your day at Norris Geyser Basin – the lighting is amazing and great for photographing geysers. The Porcelain Basin is our favorite! You'll find that there are never-ending trail options as you go, but follow the map and you'll be sure to see the best of Norris. It's a must for you Yellowstone itinerary.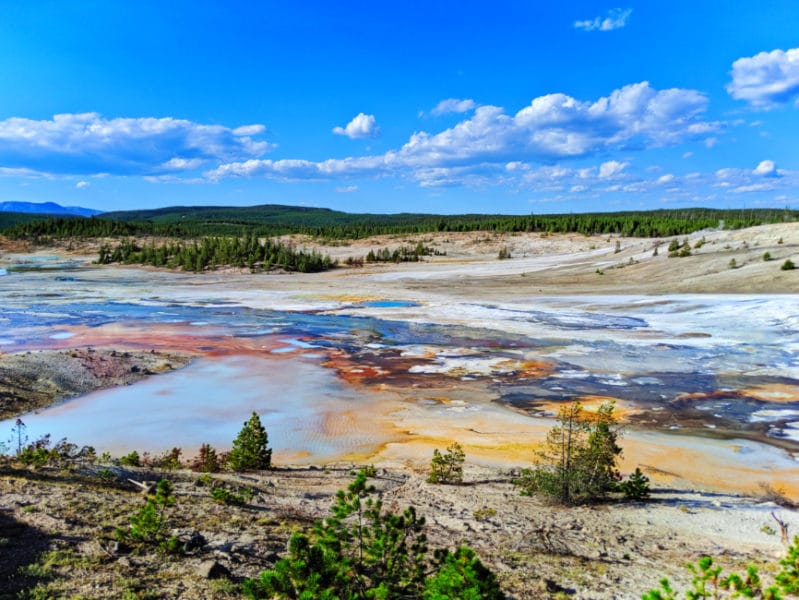 16:00 – Riverside Drive on the Madison River is a spur road that runs parallel to the main road. It's the best place to see sunset in Yellowstone. If you're not staying in West Yellowstone, this is very out of the way, but if you really want a gorgeous sunset it is worth the drive. Tip: because of wildlife traffic delays, if you want to watch sunset in Yellowstone here, you do need to leave early and pick your spot on the river before sunset starts.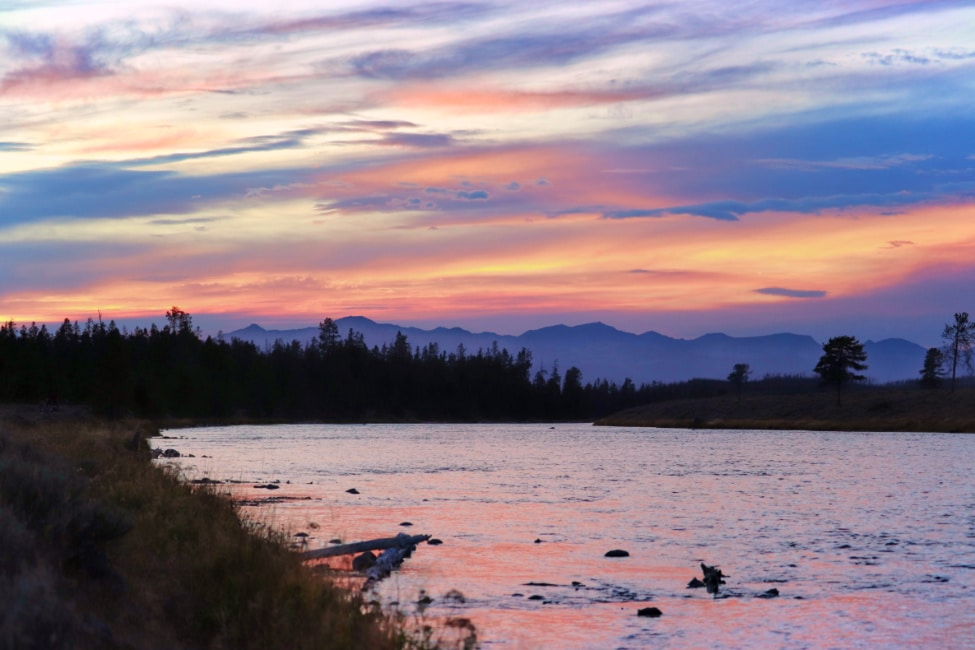 Route 2 / Day 2 – Madison to West Thumb Geyser Basin.
This day really focuses on hitting the geothermal areas of Yellowstone. This Yellowstone itinerary takes you to both the most famous and the most overlooked geyser in Yellowstone. I LOVE this particular driving day!
This is the ULTIMATE geyser day!:
Firehole Canyon – beautiful sights, waterfalls and a sanctioned swimming hole!

Midway Geyser Basin – home of the Grand Prismatic Spring

Fairy Falls Hike and Grand Prismatic Overlook

Old Faithful Geyser Basin

West Thumb Geyser Basin and Grant Village

Biscuit Basin

Firehole Lake Drive

Fountain Paint Pots
Quick stops on the Yellowstone Grand Loop Road
17:50 – Firehole Canyon Drive is a one way road that travels north to south on the way between Madison and Midway Geyser Basin. It's very easy to add to your Yellowstone itinerary and is just a beautiful drive. If you are driving Firehole Canyon on a hot day or in the afternoon, there is a beautiful swimming hole that is NPS sanctioned. It's one of the only swimming spots in Yellowstone.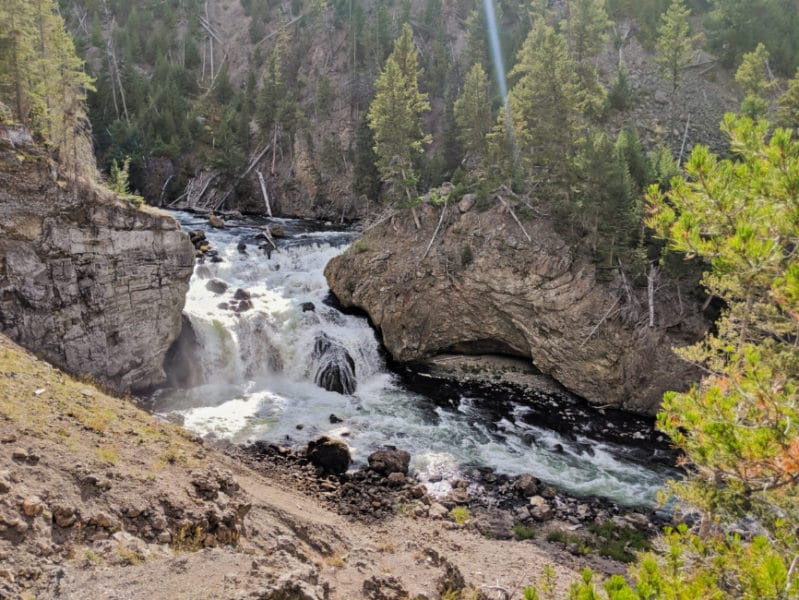 19:00 – Midway Geyser Basin is small but beautiful. This is home to the Grand Prismatic Spring and several other beautiful pools. It's a must-see stop and you MUST plan for it!! The main Midway Geyser area is just a boardwalk loop, so it doesn't take a long time, and this will take you by the Grand Prismatic Spring. TO VIEW FROM ABOVE: hike the Fairy Falls Trail head to get to the overlook. This is a really easy 1.2 mile round-trip hike. Allot 1.5 hours because the view really is spectacular!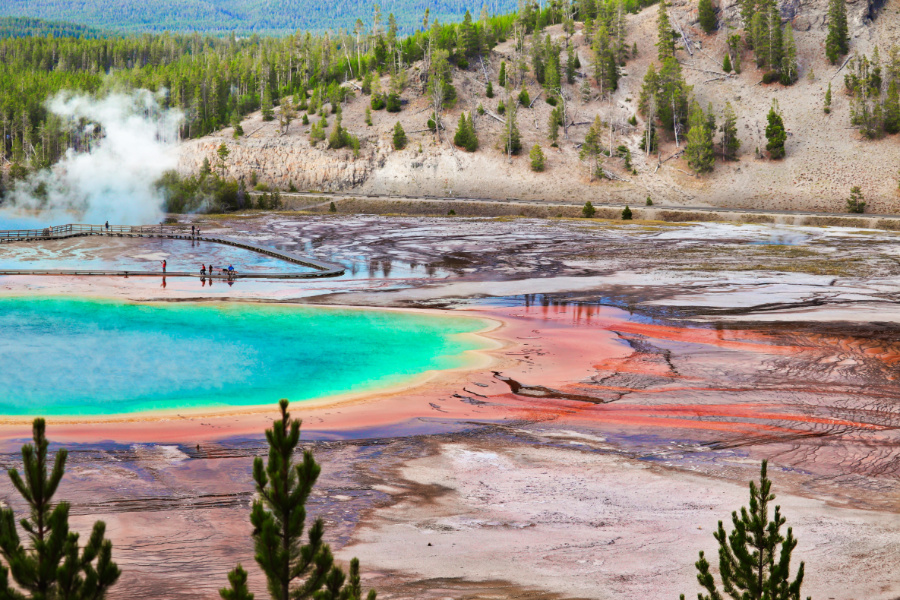 Best Geysers and Hot Springs in the Upper and Lake Basins
21:00 – Old Faithful Geyser Basin – you need to make the stop and enjoy the tall spout of Old Faithful (and you have several lunch options) but it really isn't the most impressive place to put on your Yellowstone National Park itinerary. If you have a bike, you can actually ride bikes all the way to the Morning Glory Pool, but the eastern board walks.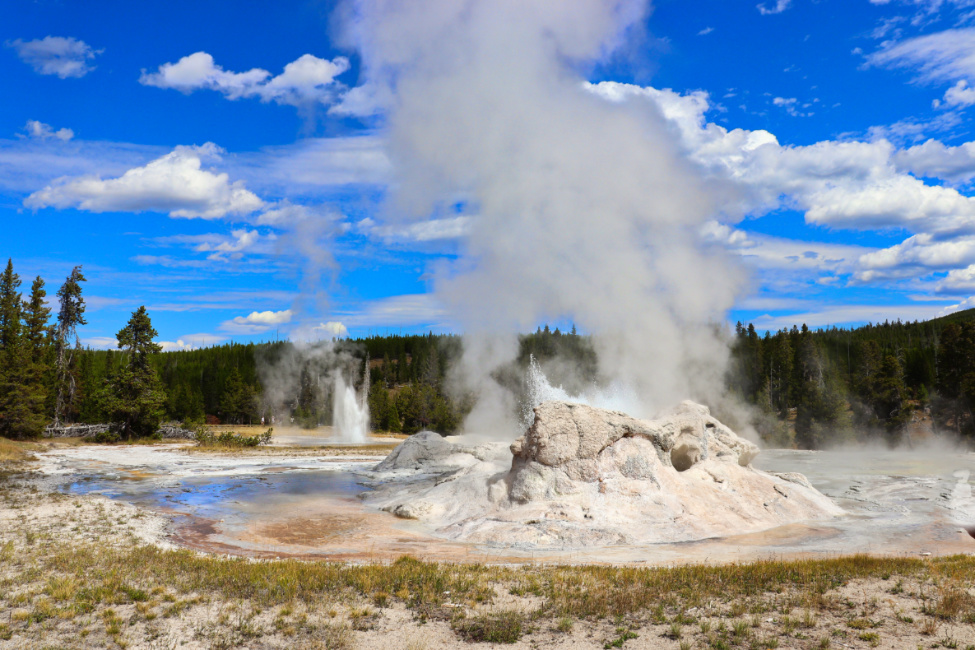 23:05 – West Thumb Geyser Basin – This is a really beautiful spot right on Yellowstone Lake and needs to be on your Yellowstone itinerary. It's really exposed so on a hot day you'll want to bring an umbrella for shade. I know that sounds silly, but it's really necessary. Also, Grant Village is very close and has great ice cream for cheap!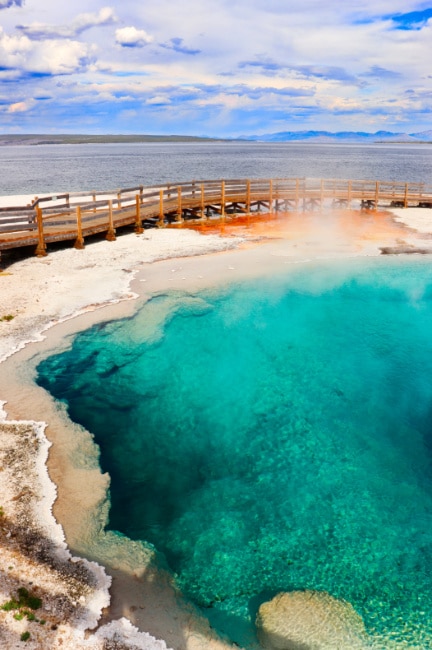 24:00 – Stop at the Biscuit Basin and Firehole Lake Drive – Both of these stops are great on a Yellowstone Itinerary. There are very few people in these areas and they're really beautiful. Biscuit Basin is a half hour stop unless you do the long hike into the hills. Firehole Lake Drive is a one way road heading north with amazing sights and hardly any people! Really active hot springs, geysers and the Hot Cascades make this spot super cool.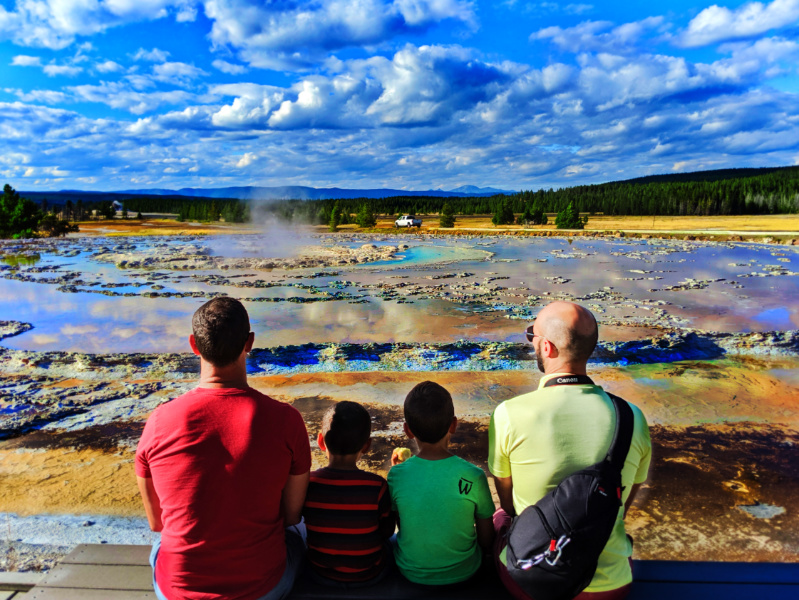 25:00 – Last stop of the day is at Fountain Paint Pots. It's beautiful and is one of the most active geyser areas. This is where you'll see both gorgeous hot springs and crazy geysers. The Fountain Geyser is THE BEST geyser in Yellowstone and HAS TO BE on your itinerary.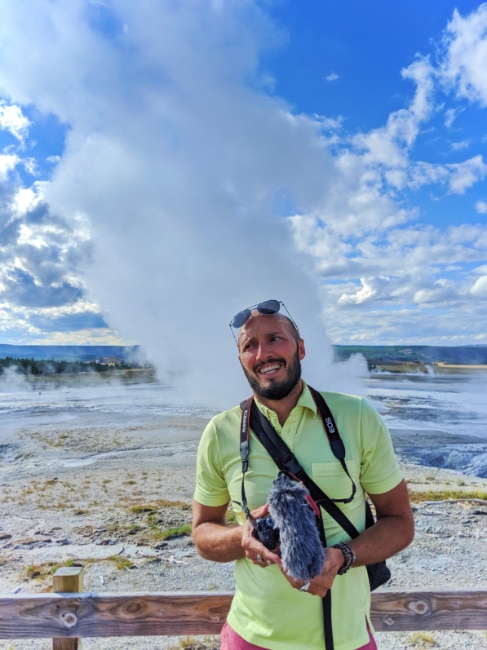 26:00 – TIP: Fountain Flat Drive is just a bit north and it has one of the few bathrooms off this Yellowstone road trip route. You'll find that as you continue on your Yellowstone itinerary there are very few bathroom stops along the Grand Loop road. If you're doing Yellowstone with kids, take advantage of the quick stops for the bathroom.
Tune into our next episode to get our next two days of Yellowstone Itineraries. In the next episode we cover the Northwest corner of the park, including Swan Valley, Mammoth, Tower, Lamar and Hayden Valleys. So much to explore!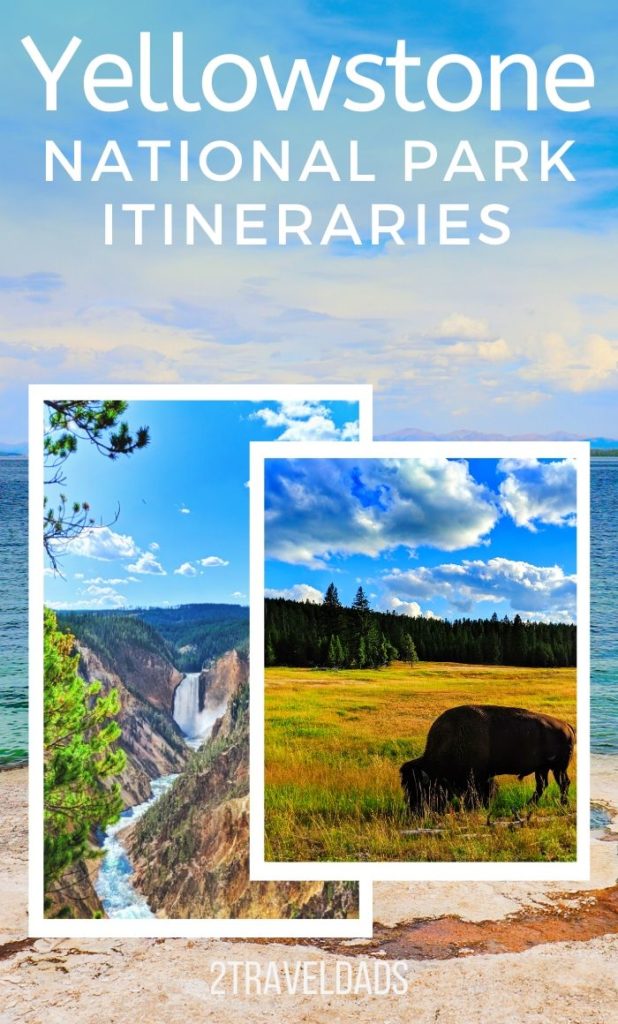 If you enjoyed this episode and its topics, we also recommend…
If you'd like to visit our specific podcast host page, feel free! There are lots of options to subscribe to the 2TravelDads Podcast.