You know how when you go to Vegas it's blazing hot all day and you think you might die, and then you roll out at 4am and you're frozen?  The same thing happens in Yellowstone.  The elevation mixed with the crazy weather patterns of the Rocky Mountains makes for a hit and miss battle with the elements.  I remember as a kid being woken up in the middle of the night because our tent was flooding and then a few hours later we were in 4 inches of snow…in July.  Drastic.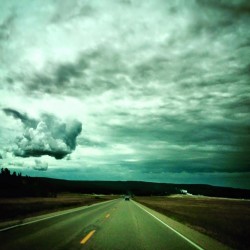 Well, we didn't have an experience quite like that this last time, but the nights and mornings sure were cold.  Luckily, we're not new and were prepared, but in case you are just now plunging into the world of high elevation vacations, here are our tips and tricks for Yellowstoning like a pro…in the summer.
Dressing in Layers for Yellowstone's weather
Duh.  Everybody everywhere knows that you should always dress in layers no matter where you are or what you're doing.  We start here because it's of paramount importance and so easy to forget.  Our kids run warm, so it can be 40 degrees F outside and you see bare legs and a tank top.  These same kids also run cold and I hear "I'm getting cooooooldd" when it's 75 out.
What this means in the wilderness:  don't let your kids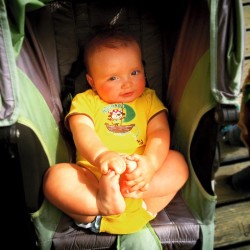 overrule you about what clothes they want to wear or what spare clothes you bring.  Bring options.  While it's true that you're not in your kids' bodies and can't tell 100% how they feel, don't listen to them when they say "I'm fine.  I don't want to bring a coat."  Sweating in the sun one moment, shivering in the shade the next.  True story.
Tip:  wearing layers also goes for sleeping; I don't know about your kids, but our can't stay IN a sleeping bag for anything, so wearing extra clothes at night is a must.

Bonus tip:  if you wake up in the night, check if your kids are still snuggled into a warm blanket or sleeping bag.  It's better to move a sleeping child back into bed than have them freeze.
Being prepared with fuzzy things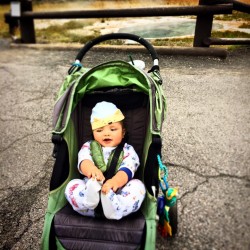 Hats, gloves, scarves, jammie suits, blankets, extra sleeping bag…  These things are necessities for family camping.  If you're lodging it or have a cabin for the duration of your stay, congratulations, but you still need a few fuzzy things for when you're out and about.  Something that is a real life saver for kids puffy fleece.  Puffy over sleek because it breathes well and also insulates well.  If you've got the hot/cold kid, this is your ticket to happiness.  You know, this is good for adults too.
Gloves, hats and scarves might seem like overkill when you're packing at home in 80 degree weather, but when you get up early to see if there are bears in the nearby meadow, you'll be really glad you could keep away the chill, especially knowing that you can ditch these items later.
Tip:  the extra sleeping bag reference is for those with younger kids.  Nobody likes to go potty in the middle of the night, let alone a chilly child.  I'd be lying if I said that we hadn't had a few accidents across our camping trips due to somebody not wanting to get out of bed to pee in the cold night.  It's an unfortunate truth.
Leverage National Park staff
There is no shame in asking for help from Park staff.  That means that if you don't know how to actually build a campfire, ask a camp host or ranger for instructions or help (one time is enough).  If you're frozen and need something more than a blanket to warm you up, ask at the store if they've got hand-warmers.  They may have to pull them fr
om storage, but chances are they've got them.
Tip 3:  camp hosts are present in almost every campground everywhere, including outside of National Parks.  They are great resources for help, recommendations and up-to-date information about what's happening in the area.
Purchasing souvenirs for warmth
P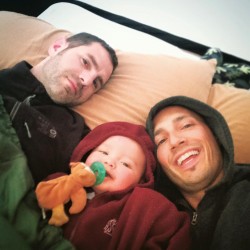 reviously we'd written about bringing back
thoughtful souvenirs
, such as postcards, local art or shells.  Another good souvenir is a token of warmth:  a blanket, sweater or stocking cap.  When you're camping in the Rocky Mountains, no matter how you plan, the chances are good that you'll purchase something like this.  If you're going to buy something, take the time and spend the extra dollars to get a blanket that you'll also use at home.  Get a sweater that's not tacky and you'll enjoy in the fall and winter.  Buy a stocking cap that you can take skiing or use on a future hiking trip.  Be thoughtful about your purchase.
Tip:  in places like Wyoming and Montana, there are many sheep ranches, so it's not difficult to find high quality, locally sourced wool products.  Support the local community by opting for these over a tacky blanket that was made in China.
What other ways do you and your family ensure that you're prepared for less than perfect weather?  Leave tips in the comments or email us and we'll add them.