Colorado is full of all kinds of wonderful small towns, from old mining towns to ski villages, the prairie and the mountains. Our favorite Colorado mountain town is Estes Park. It's cute, surrounded by epic landscapes and is the gateway to Rocky Mountain National Park. We escaped the bustle of Denver for four days and have come up with our best activities for families planning to do Estes Park with kids.
If you aren't into lounging by the pool, Estes Park is going to be your new favorite getaway (and I know there are a few pools to lounge by there too). Check out our top things to do in Estes Park with kids.
Where is Estes Park, Colorado?
Let's just say this now, no matter what day you're heading to Estes Park with kids (or for a grown up getaway) be sure to leave early in the day before rush hour. You'll no doubt be coming from Denver, and while traffic isn't half as bad as LA or Seattle, driving on the 25 during peak traffic hours is a lengthy, irritating experience. If you can do the drive against traffic or in off-hours, it should take less than 1.5 hours to get to Estes Park.
Estes Park is set just up into the foothills of the Rocky Mountains. The Big Thompson River runs through the town as several small forks, converging just east of the city. This makes getting your bearings in town a little tricky at first, but once you've driven through a few times you're good to go.
Tip: pay attention to where the visitors centers for Rocky Mountain National Park are, as that'll help you understand where you are and what you're close to. Driving from one place to another in Estes Park often includes what feels like back-tracking, so taking note of key landmarks and potential stops will save you time.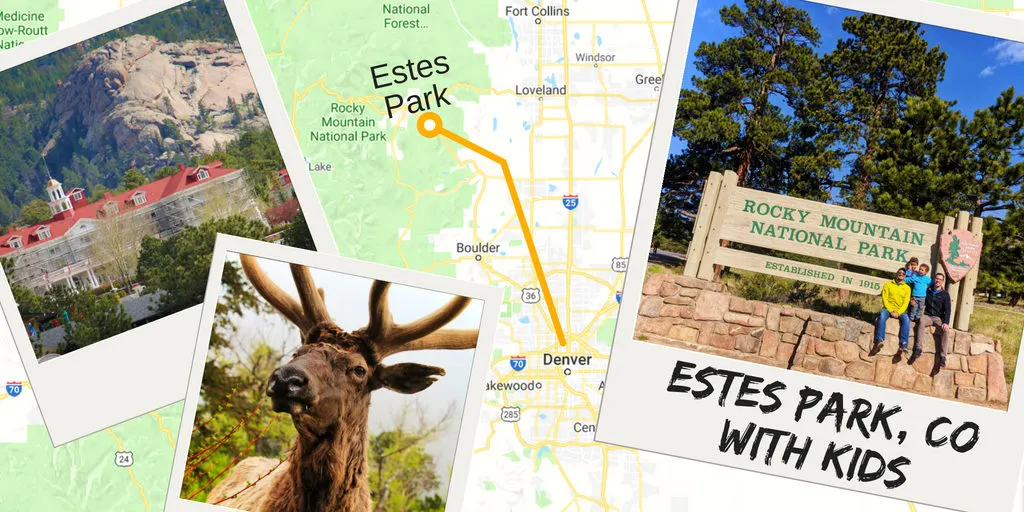 Exploring Downtown Estes Park with Kids
In Washington State we have a great town called Leavenworth that's really great to wander through and explore, and it's done up in a Bavarian style which just adds to the fun. Estes Park is a little like that in that it's been built and designed to echo some of the picturesque mountain villages of Europe while still being characteristically Colorado. And Estes Park with kids is great.
All through the cute downtown core there are pathways and art installations, including 12 bronze pikas (rodents). Stopping into the visitors center at the east end of town, you can pick up a map of downtown showing where to find the pikas, including clues, and then let the scavenger hunt begin. From the park by the old waterwheel to the benches along the Big Thompson River, you'll get to explore the whole town of Estes Park!
Also great in downtown Estes Park are the fun shops. Several vintage candy shops, complete with taffy pullers, are open for sampling and buying sweets.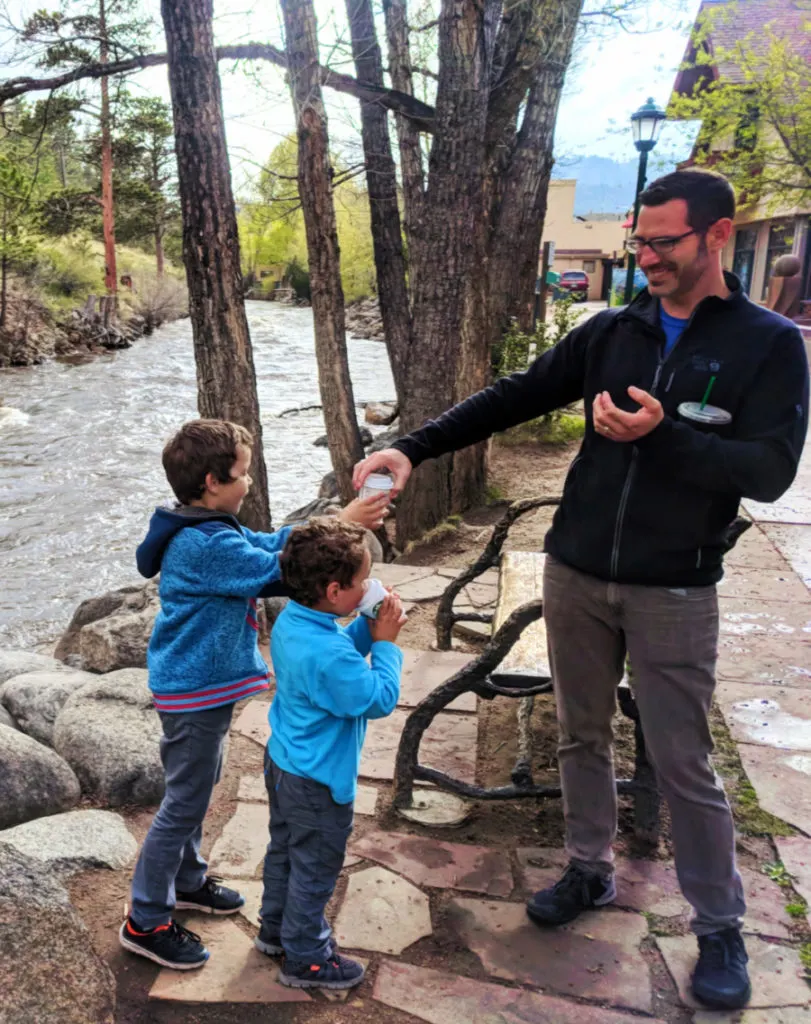 Where to Eat in Estes Park
Restaurants cater to both the seasoned traveler and to the Denver native that knows about great food and cutting edge cuisine. Our favorite spots for dining in Estes Park with kids were Smokin' Dave's BBQ and Brew and Ed's Cantina, where we found the awesome blend of Mexican and Coloradoan.
When it comes to the most delicious spot for adults (and kids too, I guess) Bird & Jim took the cake. Where else can you get a great selection of vegetarian options as well as the ultimate Rocky Mountain carnivore meal? Seriously, wild boar sausage and elk with a tart cherry sauce. Estes Park's Bird & Jim may be my favorite restaurant in the Rockies (and we've been to so many!).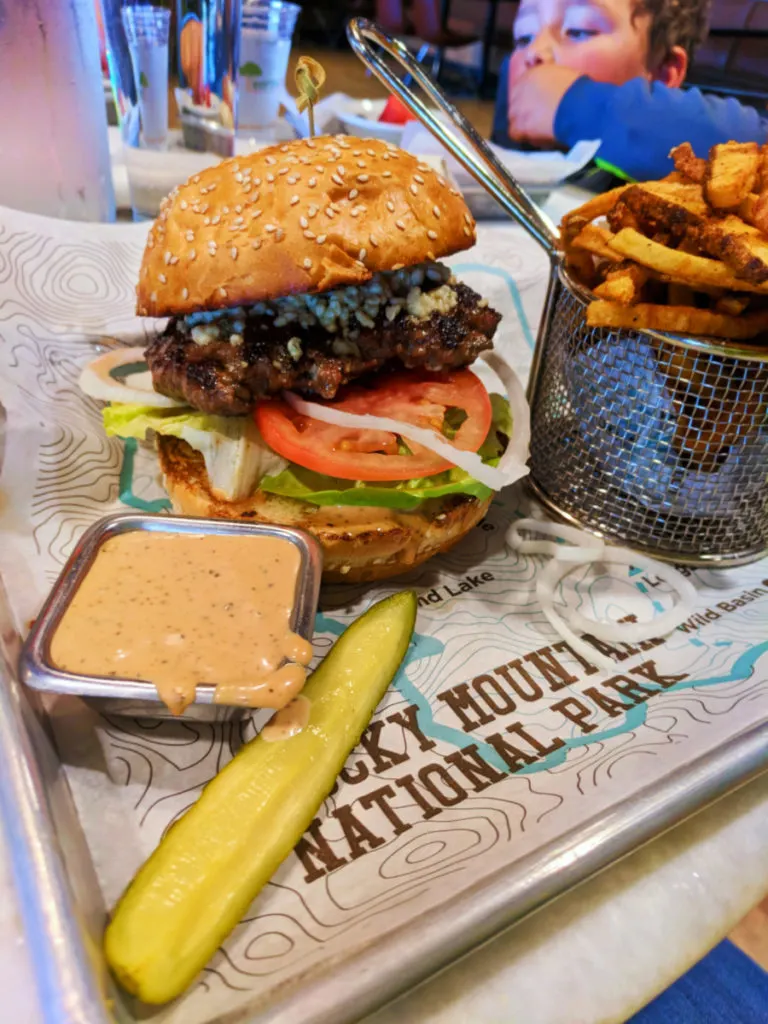 Outdoor Things to do in Estes Park with Kids
Colorado is such an outdoorsy state. Estes Park, being up in the hills at the edge of Rocky Mountain National Park, is for sure one of the best towns to visit for outdoors activities. Visiting Estes Park with kids is perfect in early summer as the snows melt and the Rockies turn into their beautiful, hikeable mountains. This is also one of the best places in Colorado for fall colors.
With more and more ecotour operators and guide services opening up, there are lots of great tours of Rocky Mountain National Park and the surrounding area of Estes Park.
Visit Rocky Mountain National Park with Kids
How can you even begin to tell somebody about Estes Park without talking about Rocky Mountain National Park? Rocky Mountain National Park reminds me very much of Glacier National Park on the east side (Many Glacier / St Mary Lake). It's beautiful, but not blatantly epic. One of four National Parks in Colorado, it's worth visiting for sure.
Although there are plenty of trail heads directly around the downtown area of Estes Park, going into the National Park will provide some wonderful, iconic views and even more wildlife viewing. While visiting in the off-season is a great way to experience the Park with fewer tourists, the main road through the park isn't fully open to the west side. There are still lots of options for enjoying time in RMNP though. Easy east side hikes include:
Alberta Falls

Bear Lake

Cub Lake (valley)

Adams Falls
Be sure to ALWAYS keep your eyes peeled for elk, deer, moose, bighorn sheep, bear and bobcats. Being a National Park, Rocky Mountain is a protected area where animal populations have flourished in recent years, so for both enjoyment and wildlife safety be sure to always pay attention to your surroundings.
Tip: stop into either the Beaver Meadows or Fall River Visitors Center to check about road closure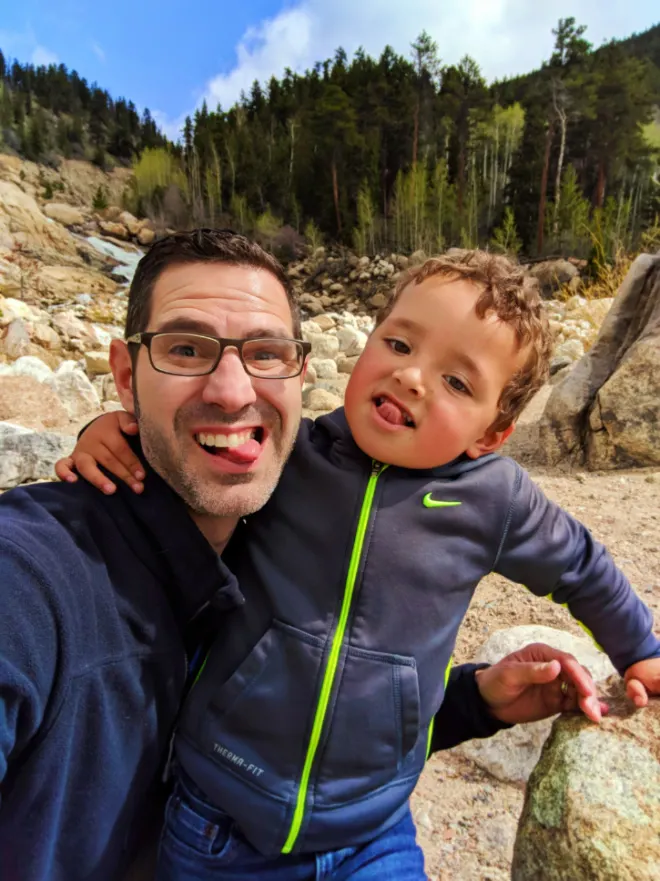 Green Jeep Tours of Rocky Mountain National Park
We don't do a lot of guided tours in National Parks as we love to explore and hike on our own. We've done the Yosemite Valley tram tour, but that's about it. The Green Jeep tour of Rocky Mountain National Park was awesome!
Starting downtown Estes Park, we got to hear all about the town, the National Park's history and all kinds of cool stories about animals and hiking in the Park. Being the one who typically drives, I really appreciated the tour for being able to enjoy the scenery and watch for wildlife without having to watch the road.
The jeep is able to be uncovered and open air, or with the top on. Also, it is stocked with blankets and snacks for the whole family just in case anybody gets cold or hungry. Really, it is a great family experience and one we'd recommend to guests of any age.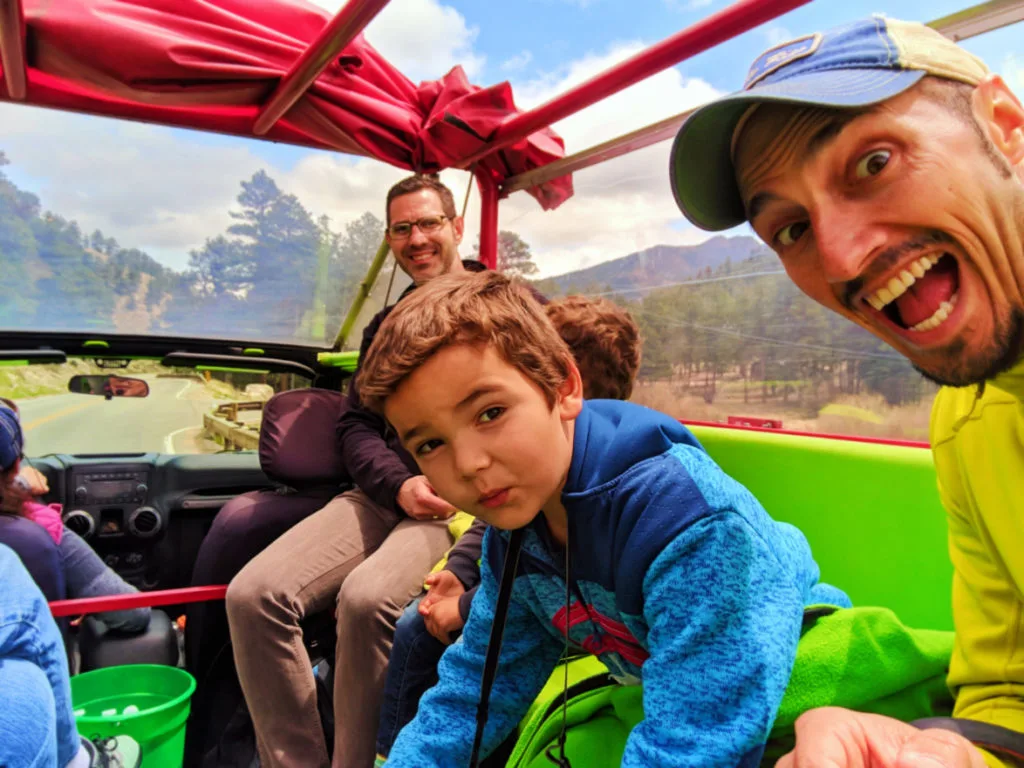 Take an outdoors survival class as a family
You read that correctly. We had a great afternoon at the YMCA of the Rockies learning about outdoor survival with the kids. Situated right on the border of Rocky Mountain National Park, YMCA of the Rockies is a huge property with lots of great family accommodations and activities, one of which is a family survival class.
Led by one of the summer counselors, we started our class in the rec center to get the kids focused and interested and then made our way into the wood to practice building natural shelters and campfires. With all of the fun stuff we did and saw in Denver and Estes Park with kids over the course of a week, I think this was the kids' favorite activity. We'd do it again in a heartbeat.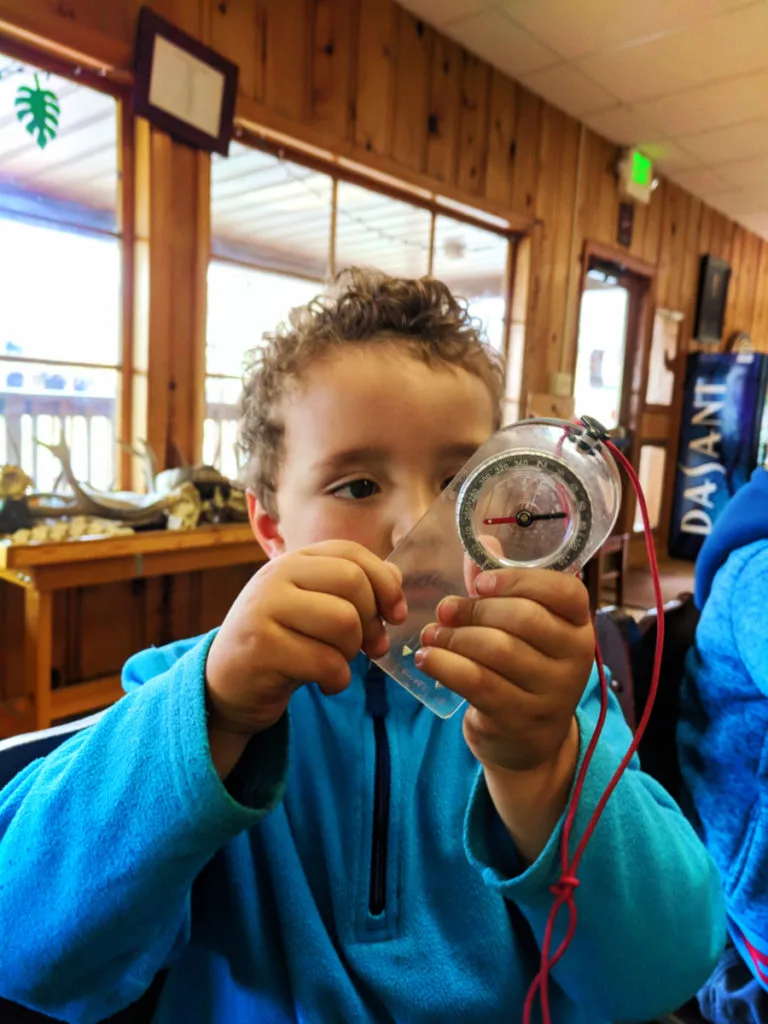 Where to stay in Estes Park with Kids
Depending on your taste and budget, you'll find several great options for staying in Estes Park with kids. From hotels to vacation rentals, they've got it all, but you need to book your stay as far in advance as you know you'll be visiting Estes Park.
The Stanley Hotel of Estes Park
Ask anybody who's heard of Estes Park and yet hasn't been and they can tell you exactly why Estes Park is famous: Stephen King checked into the Stanley Hotel one day after suffering from writer's block and was so creeped out and inspired by the spooky old hotel that he wrote The Shining. Yep, the Stanley Hotel is considered one of the most haunted hotels in America and its fame was only flamed by The Shining. My aunt stayed there and reported that her faucet kept getting turned on while she was in her room. Spoookkyyy!!!
Note: if you want to stay at the hotel where The Shining was actually filmed, that would be the Timberline Lodge at Mt. Hood in Oregon. Creepy too.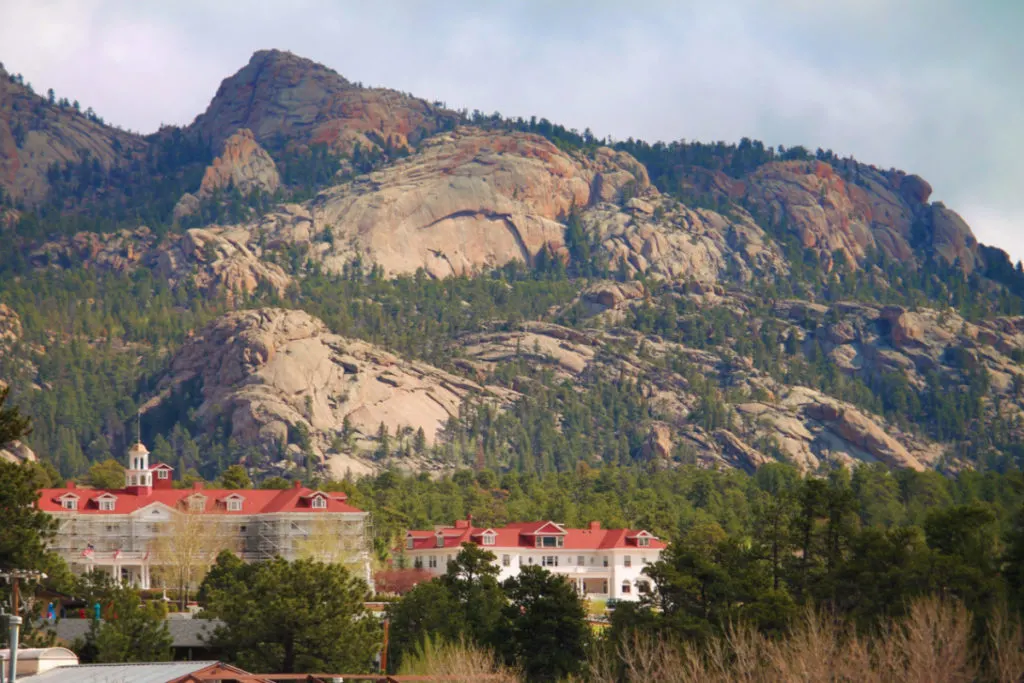 The McGregor Mountain Lodge with Kids
The McGregor Mountain Lodge was our choice in Estes Park. What an awesome property! A collection of 19 cabins set on the mountainside, it's just what you'd want to find at the entrance to one of the most visited, pristine National Parks.
We stayed in a two bedroom cabin at the McGregor Mountain Lodge which was perfect for our family of four. Equipped with a pullout sofa as well, we could've comfortably had two more in our group and been set. Highlights of our cabin include a full kitchen, fireplace, patio w/ BBQ and picnic table and elk outside our windows. We'd happily return anytime!
Note: we love when we get to support LGBT business when traveling and at home, and the McGregor Mountain lodge is one of those places. We enjoyed dinner with the owner and his husband and they are genuinely the coolest, kindest inn keepers we've had the pleasure of meeting.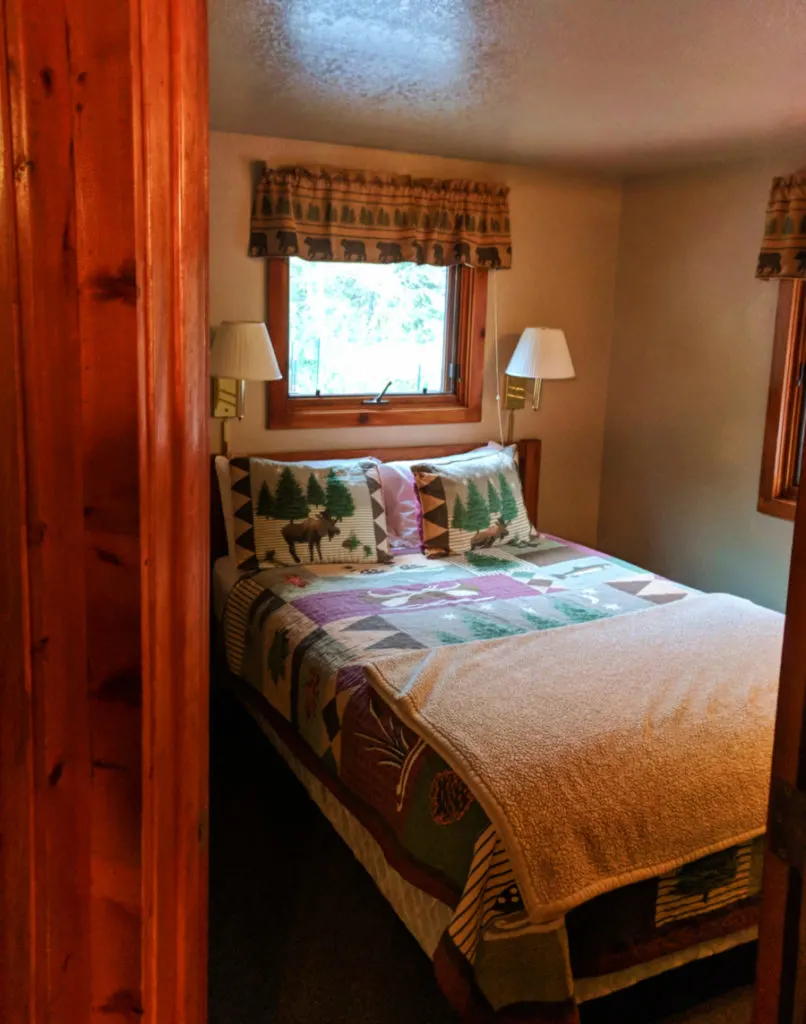 Vacation Rentals in Estes Park
Like with any destination, vacation rentals can really offer a cool and different type of stay in Estes Park. We checked out the options via VRBO/HomeAway and there were quite a few options ranging from budget ($100/nt) up to grand mountain homes (ummm, out of our budget). One particularly cool location for a vacation rental we came across was an upstairs apartment looking over the river right in downtown Estes Park. We didn't stay there, but the location and atmosphere looked awesome. Next time…
Tip: when you looking for a vacation rental, pay attention to minimum nights stay, pet policies and cleaning fees. The additional fees may surprise you, so looking for one with a small cleaning fee or low mid-week prices can help save money on a vacation rental.
Estes Park with kids is such a great weekend getaway out of Denver or an easy add-on to a work trip to the Mile High City. We'll be back again at the end of summer most likely and we aim to visit in the winter too. No matter the time of year, Estes Park established itself as the favorite Colorado mountain destination for our family.
Want to pin this for you own travel planning to visit Estes Park with kids? Go for it!