We get a lot of questions about the best things to do in Leavenworth, Washington, as it's kind of a mystery to people who haven't grown up here. Leavenworth is the perfect destination for enjoying the mild PNW summers in the mountains, the beautiful snowy season along the Wenatchee River, and for getting your Oktoberfest on in the fall. There are countless things to do in any season, but this is the ONLY guide you'll ever need for planning an amazing trip
Leavenworth, WA is a top destination for Seattleites and people visiting the Pacific Northwest.  There are lots of reasons to love it and even more for why you should visit, so we'll help you find one that suits yours or your family's travel style. These are the best things to do in Leavenworth in every season.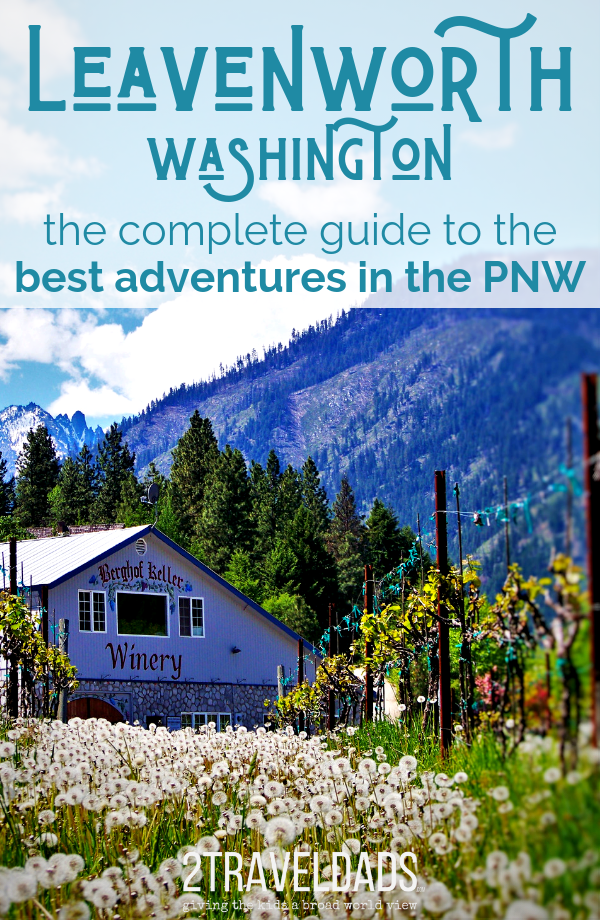 Leavenworth's History (real quick!)
It's cute.  It's quaint.  It's manufactured.  Huh?  Yep!  There's a great story behind the small Bavarian village at the foot of the Cascade Mountains.  
Once upon a time, Leavenworth, WA was a logging town that was failing.  As the jobs left and economy fell, the town hired a PR firm to save it from turning into a ghost town.  They all worked together, refaced most of the buildings with stereotypical Bavarian façades, added lots of fun character touches, changed many business approaches and created a new destination:  Little Bavaria.  It's amazing.  The town is adorable and had you not known the history, you might think that it was historically an actual Bavarian settlement.  
Not too far away was a train stop and also Washington's Highway 2 ran right through the town.  Boom!  Two easy ways to market getting to Leavenworth to experience the new-found Bavarian hospitality.  And do you know what?  It completely worked.  
Initially the town didn't have the consistent quality you'd want regarding its created character, but as the years have gone by, and very much so recently, the town has truly embraced its role and does a wonderful job at transporting tourists to another time and place.  And it's just fun.
Tip: if you're traveling through Georgia, the town of Helen is very similar, including being located on a mountain river. Check out the Georgia Waterfall Trail for more info!
The Weather in Leavenworth
If you've ever visited Seattle in the summer, you probably got rained on.  More than once.  Do you know what's amazing about traveling the two hours that it takes to get to Leavenworth?  In those two hours you cross from moist Western Washington to the dry, hot, beautiful land they call Eastern Washington.  It'll be 50 degrees and raining in the city and 85 and sunny in Leavenworth.  Swim shorts and sunglasses.  It's amazing.
If you think that's awesome, know what else is cool?  When it's 50 degrees and raining in Seattle in the winter, it's 20 degrees with two feet of snow in Leavenworth.  Scarves, gloves and snow boots.  I know!  You get the best of both worlds.  Having a go-to destination like this makes enjoying actual seasons easy and fun, and there are so many things to do in Leavenworth!
Tip:  Leavenworth is still in Washington State, so if you go during the summer time, still bring a raincoat… because it's Washington and you still might get rained on without any warning.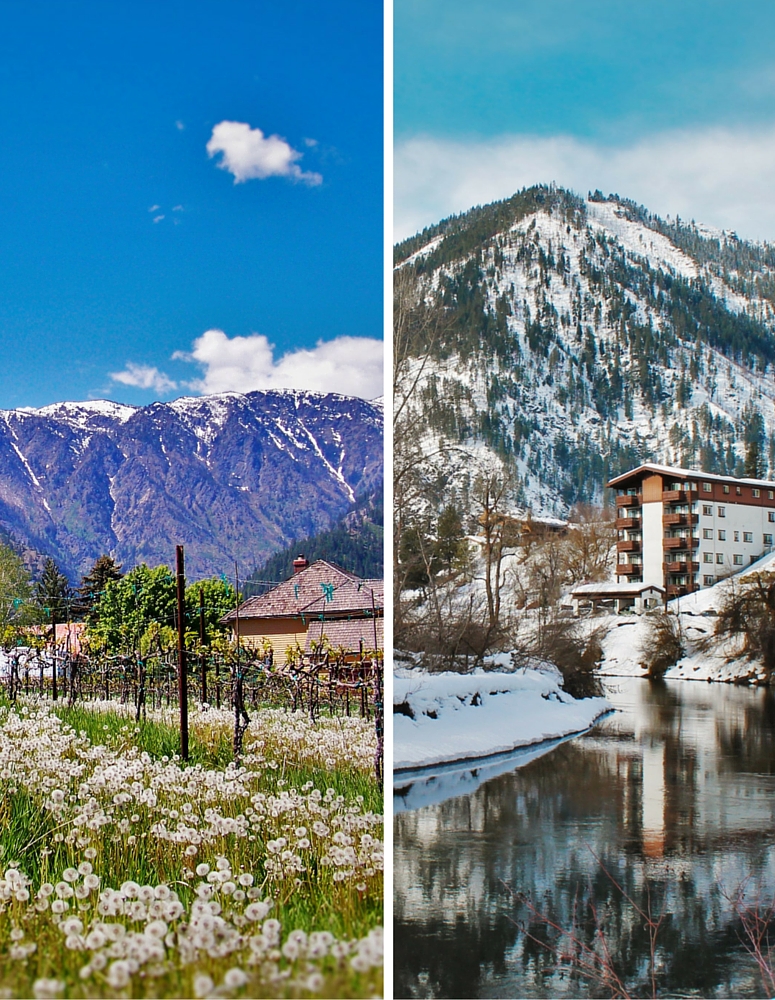 Where to stay in Leavenworth
There are so many options, either directly in the town or just outside.  We love camping and like to be either up Icicle Road, just off the river or way out of town at Lake Wenatchee.  There are a wide variety of hotels within the town of Leavenworth, WA though as well. Between Bavarian chalets and more common travel brands, there is a wide selection.  Look for a Leavenworth hotel here!
Top recommendation: Sleeping Lady Resort
When we're not camping, we do have a favorite:  the Sleeping Lady Mountain Resort.  It's a beautiful collection of well appointed, clean, green, cozy cabins.  There is a hot pool and a cool pool, a play barn with ping pong and a puppet theater, the Grotto Bar, Kingfisher Restaurant, and art walk on property…  It's an amazing place and the perfect retreat for couples, families, groups, singles, travel writers who need a weekend away….
We wrote two whole articles about the Sleeping Lady and the Kingfisher Restaurant because they were both so top notch.  Actually, I think the word we used was "stellar".
Tip:  Leavenworth is the go-to destination for people from Seattle, so know that it books up fast.  If you want to visit, be sure to plan at least three weeks out so you can get the accommodations you want.
All the things to do in Leavenworth
Having incredible weather and a variety of terrains, there is no shortage of activities in Leavenworth.  Typically, we enjoy visiting in the summer as we're big on camping and hiking, but we've recently discovered that the middle of winter is incredible in this tiny town!
Wine Tasting
There are several tasting rooms in the town, but know that once you cross the mountains, you're in wine country, so it's easy to stop into Leavenworth, continue on through Cashmere for wine and cider, move onto Wenatchee and Chelan for more wine tasting… and then head south to Yakima and Walla Walla for more wine tasting…  Yes, you can easily build an entire week of local, Eastern Washington travel just on wine tasting.  If you are just hanging in town though, you've got several options that are walk-able or just right downtown.
Tip:  our favorite winery with a tasting room in Leavenworth is Kestrel Vintners.  They're the producer of the Lady in Red and Lady in White wines, and they do a great tasting with knowledgeable staff.

Festivals
Throughout the year Leavenworth hosts a variety of activities, ranging from music festivals to beer fests and other art celebrations.  Depending on when you're visiting, you may get swept up into who knows what kind of fun.
January – Leavenworth Icefest and Timbrrr, Bavarian Bruisefest (roller derby) 
February – Full Moon Ski and Snowshoe Party and International Fly Fishing Film Festival
April – Taste Leavenworth and Leavenworth Ale Fest

May – Maifest (SCA)

June – Leavenworth International Accordion Celebration and Wenatchee River Bluegrass Festival
July – Kinderfest
August – Leavenworth Summer Theater
September – Oktoberfest
December – Christmas Lighting Festival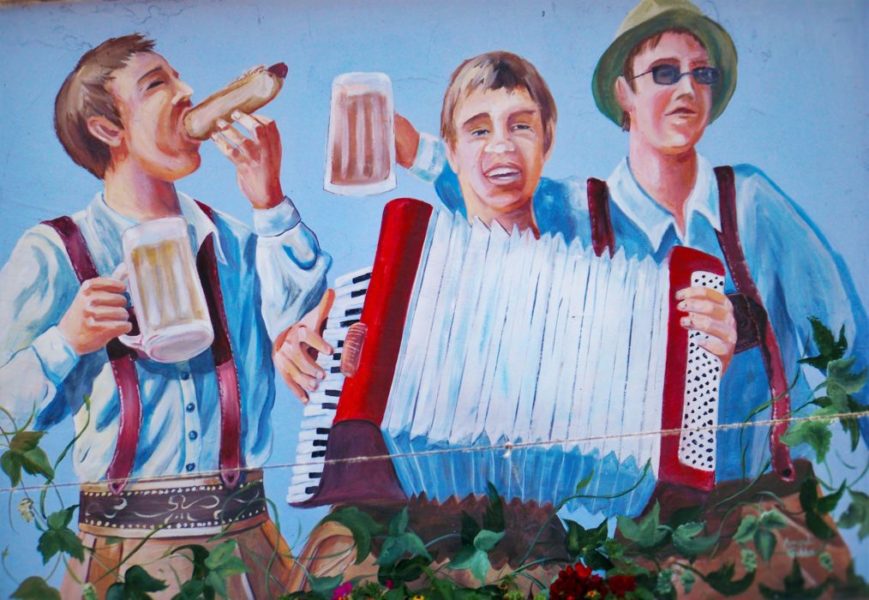 Drink Beer
The Icicle Brewing Company is incredible, offering award winning microbrews, good food and some quick behind the scenes tours for interested beer drinkers.  They've got some brews that sound weird until you try them, like the Dark Persuasion which is basically German Chocolate Cake in a pint glass, but it's actually brewed with real cocoa and coconut.  That's what they have:  Real beer.  Good beer.  As we said in our article about Icicle Brewing Company, it's microbrew heaven.
Tip:  summer or winter, they have a huge patio that has a fire table.  If you just need to chill, hang out here.
Tip 2:  if you love their beer (and you will) buy some to take onto your next destination with you, as they only distribute locally and you'll be hard-pressed to find it anywhere else.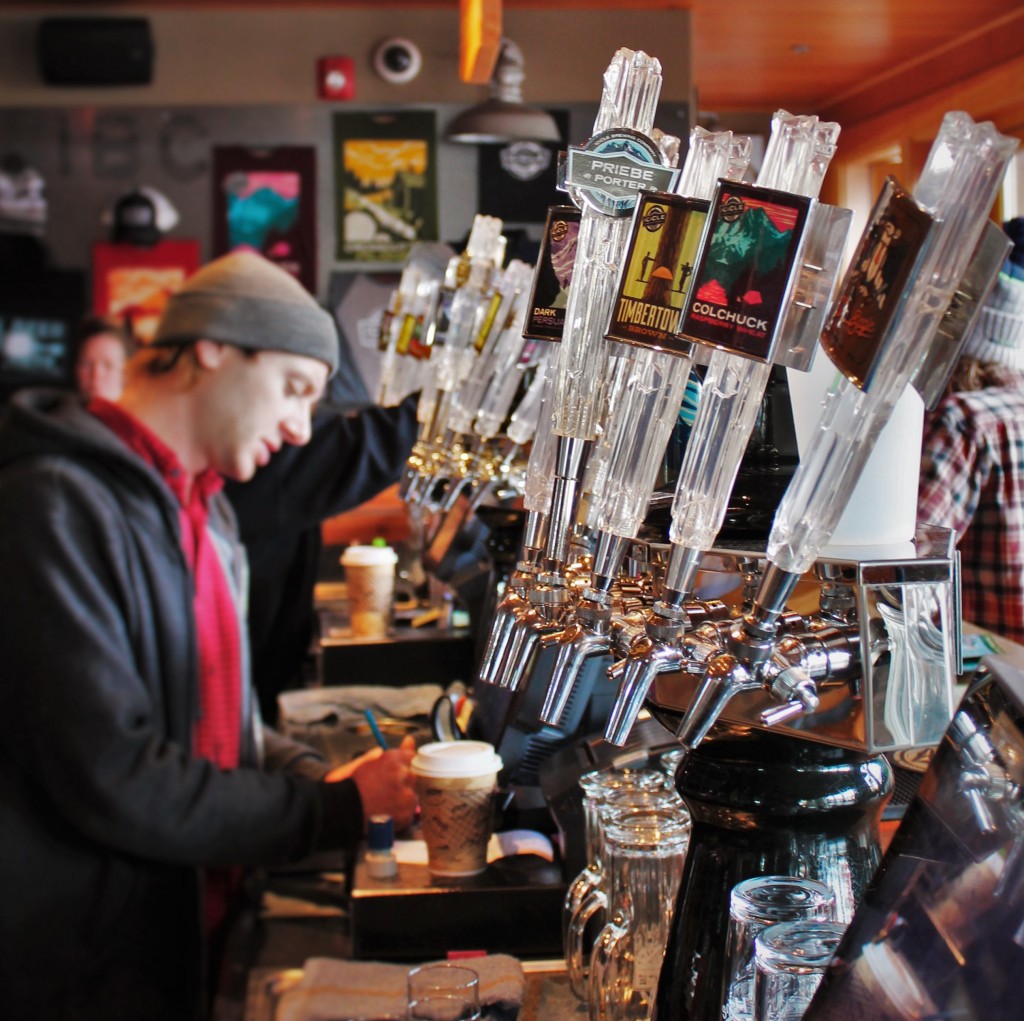 Eat Sausages (meat and veg!)
Two great choices, and they're across the street from each other, are Munchen Haus and Sausage Garten.  Both have a variety of sausages/wursts and a heaven of mustards.  Each also is 100% outdoor dining in both summer and winter.  They are both covered and have heaters for when it is actually cold out.  
There are other chow spots too with great food, of the Bavarian variety and not.  Andreas Keller is good for a some German cuisine; the weinkraut is great.  South is a great Pacific Northwest take on Mexican cuisine…  And then there's the Danish bakery and the pretzel bakery and more sausages…
Tip:  it's arguable that the purpose of bratwurst is to take a back seat and act as a vessel for mustard and sauerkraut, not the other way around.  If you're in Leavenworth for more than one day, be sure to have more than one sausage so you can try  a variety of mustards.
Tip 2:  Washington State prides itself on doing everything locally, including the beers and brats.  Icicle Brewing's tagline is "Beer From Here"… and they happen to own Munchen Haus too… and Sausage Garten pours their beer, so enjoy all of the localness that's happening in Leavenworth.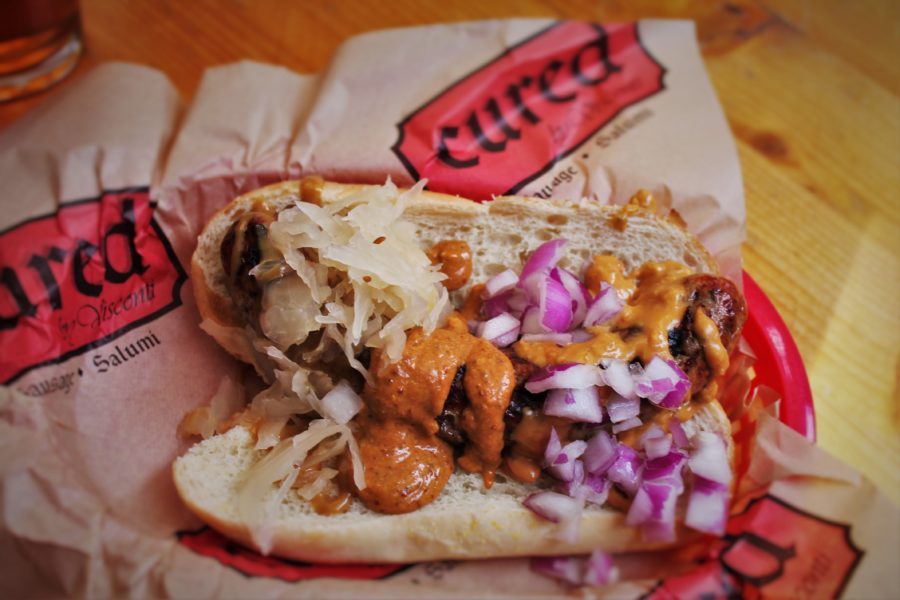 Pretend It's Christmas any time of year
Between the Nutcracker shop, the Nutcracker museum, and then the countless ornament and kitschy shops, you can get into the Christmas spirit even when it's 90 degrees outside.  While Christmas isn't solely a Bavarian celebration, a few of the shops maintain the seasonal decor and spirit year round, which does indeed add to the quaint feel of the town.
Tip:  when it's actually the Holiday Season, Leavenworth is great about making the most of the cold and celebrates with a tree lighting and lot's of holiday activities.  It also books up quickly, so plan your visit and find your lodging in advance.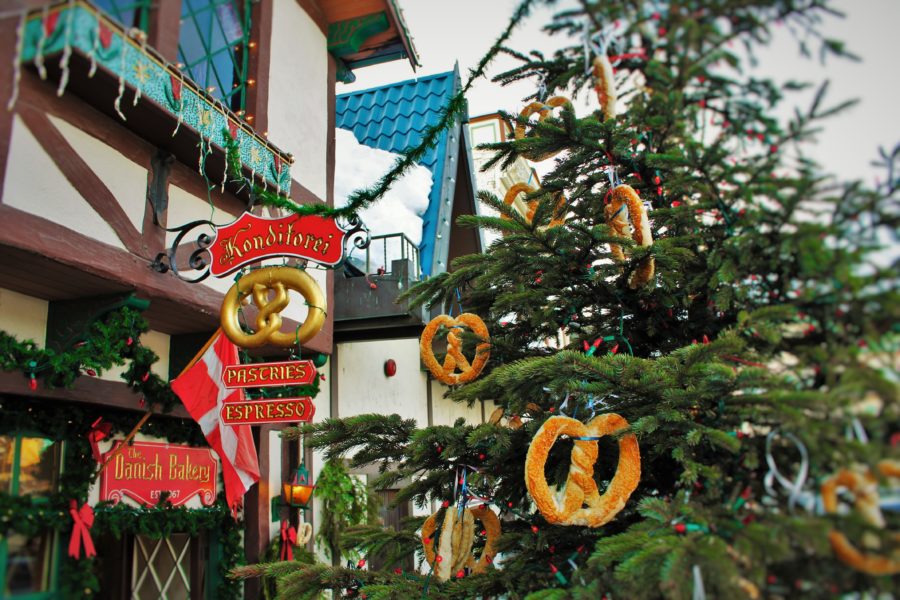 Raft/float/Jump in the Wenatchee
The river that winds through Leavenworth is so chill.  I've rafted, kayaked and floated it.  It's best to work with a guided service to ensure the most safety, since there are a few spots with up to class 2 rapids, but there are parts of the river that are perfect for floating with a cooler and eating lunch on the river. Check out our other favorite places to kayak here in the Pacific Northwest.  
And if you're more of a landlubber, you can always just walk down into the park and wade in.  There are several options for river access and lots of places to make yourself comfortable on the shore.
Tip:  remember that the river starts in the mountains and is fed by melting snow… so it's cold.  True, it gets warmer as summer progresses, but never have we jumped in and said "Wow, I could stay in this warm, lovely, relaxing water forever…"  It does become tolerable to pleasant in August, but be wise about what's good for your body and try not to catch cold.
Tip 2:  the waterfront park that you walk to from the downtown area is our favorite spot to jump in if we're only driving through and not spending the whole day.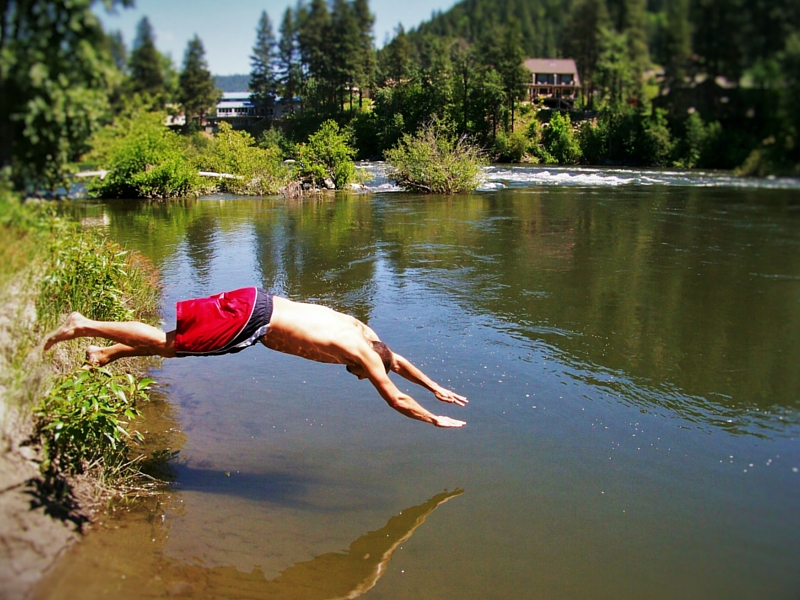 Go Hiking outside of Leavenworth
There are oodles of places to hike, including up the mountain to the east of the town along a really nifty aqueduct, but our favorite is hiking along the river, off Icicle road just past the Sleeping Lady Resort.  There are several camping areas that serve as trail heads around the Upper Johnny Creek area, and you can choose to go up the mountain or along the river.  If you ask a local, they can direct you to some good, hidden trails that are very different than what you'd expect, such as trekking through orchards or strolling along irrigation canals to amazing viewpoints.
Tip:  check out the trail guide created by the town of Leavenworth for some great options, descriptions and guidelines for hiking out of town.
Go Skiing
Directly in Leavenworth (adjacent to the Sleeping Lady) is the Leavenworth Nordic Trail System.  That's ideal for cross country skiing.  If you want more hardcore downhill skiing and snowboarding, head west on Highway 2 up to Steven's Pass.  It's a great ski area with wonderful facilities, a smooth chair lift and a variety of slopes for all levels of skiers.  And there's a nice, warm lodge to relax in too.
Tip:  to save driving time, cross country trails and the Leavenworth Ski Hill are both just outside of the town, so it's an easy way to incorporate some snow sports.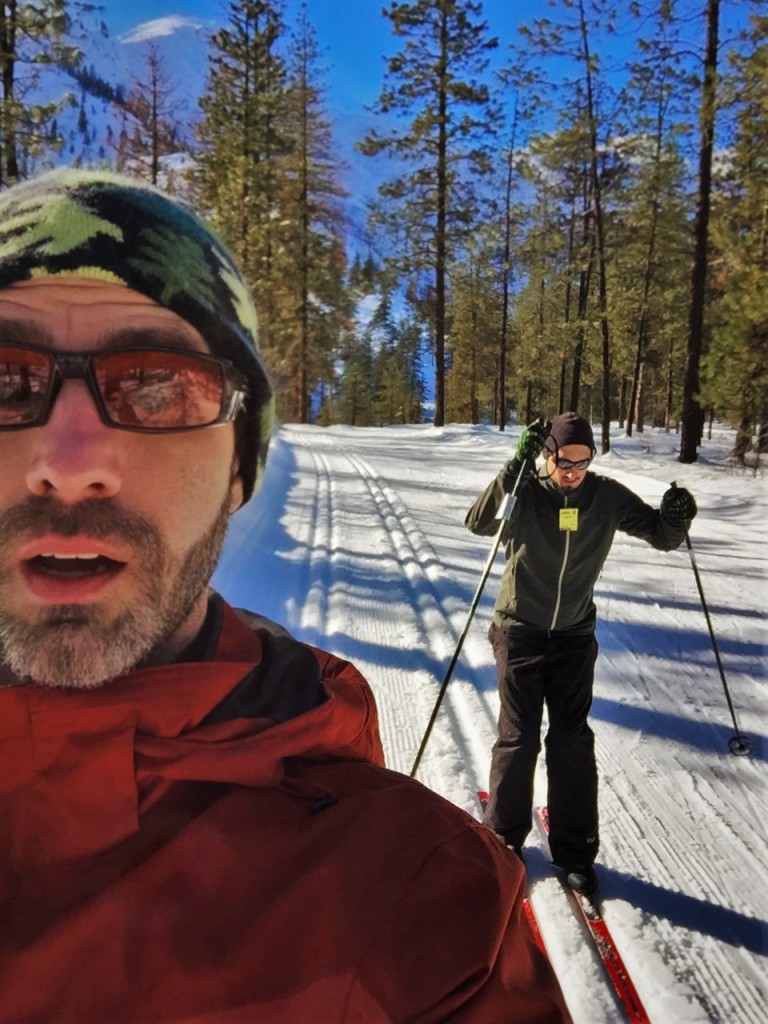 Have a Sleigh/Hay/Carriage Ride
This is the activity for when you're like "um, what should we do?"  It's the perfect way to relax, be in the fresh air and see the outskirts (or even downtown) from a different point of view.  Sleigh rides are of course limited to the winter… when there's snow.  But hay rides and carriage rides can occur almost any time.  Check with individual lodging facilities to see if they offer their own ride or you can book one through an independent tour company.
Tip:  this is a great family travel activity!  Kids get to have fun doing something different and there are horses to meet.  What's not to love?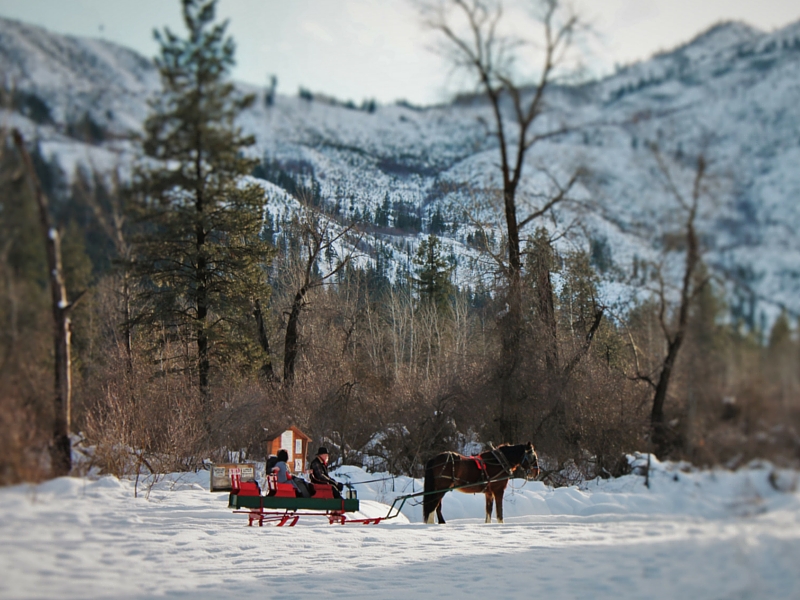 Whether you're visiting Seattle or doing a round-the-USA trip, Leavenworth is an awesome stop to build into your itinerary, no matter the season.  Do you have another small town that you think is pretty amazing that we should go explore?  Leave a comment and make a recommendation!