We get a lot of questions about the best things to do in Leavenworth, Washington, as it's kind of a mystery to people who haven't grown up in Washington State. Bavarian Leavenworth is the perfect destination for enjoying the mild PNW summers in the mountains, the beautiful snowy season along the Wenatchee River, and for getting your Oktoberfest on in the fall. There are countless things to do in any season, but this is the ONLY guide you'll ever need for planning an amazing trip.
Leavenworth, WA is a top destination for Seattleites and people visiting the Pacific Northwest. There are lots of reasons to love it and even more for why you should visit, so we'll help you find one that suits yours or your family's travel style. These are the best things to do in Leavenworth in every season.
If you feel like we're missing a key element to what YOU enjoy in Leavenworth, please leave a comment or send us a note. We're always happy to share more!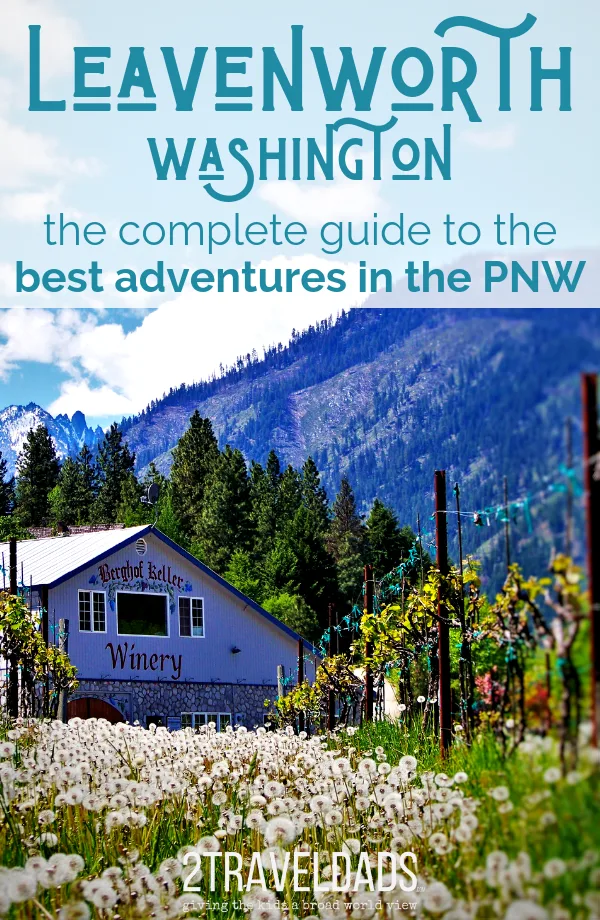 Updated March 2023.
What to Expect in Leavenworth
Expect the weekends any time of year to be significantly busier than weekdays, as Leavenworth is a very popular destination to visit from Seattle or Spokane. Even with the weekend influx though, there is plenty of space to roam and explore and more than enough bratwurst to go around.
Tip: if you're traveling through Georgia, the town of Helen is very similar, including being located on a mountain river. Check out Awesome Small Towns Near Atlanta for more info!
Where is Leavenworth, Washington?
Leavenworth is located just on the east side of the Cascade Mountains, with Highway 2 running directly through the town. It's about 2 hours and 20 minutes from downtown Seattle, either via I-90 and Highway 97 or via I-5 and Highway 2. In winter, we always take the Highway 2 route because of snow on Blewett Pass (highway 97), but in summer, either route is great and really pretty. Continuing eastward on Highway 2 to the next leg of 97, you'll come to Lake Chelan, which is another favorite family getaway.
If you want to take the train to Leavenworth, the Empire Builder Amtrak route to Chicago via Glacier National Park makes a stop at the Icicle Train Station. When it's not crazy snowy, you should be able to get a shuttle very easily. To and from the station, Leavenworth Shuttle & Taxi provides inexpensive transportation. If you need to get to the station, reservations are required as the train usually rolls through very early and they need to plan your pick up the night before.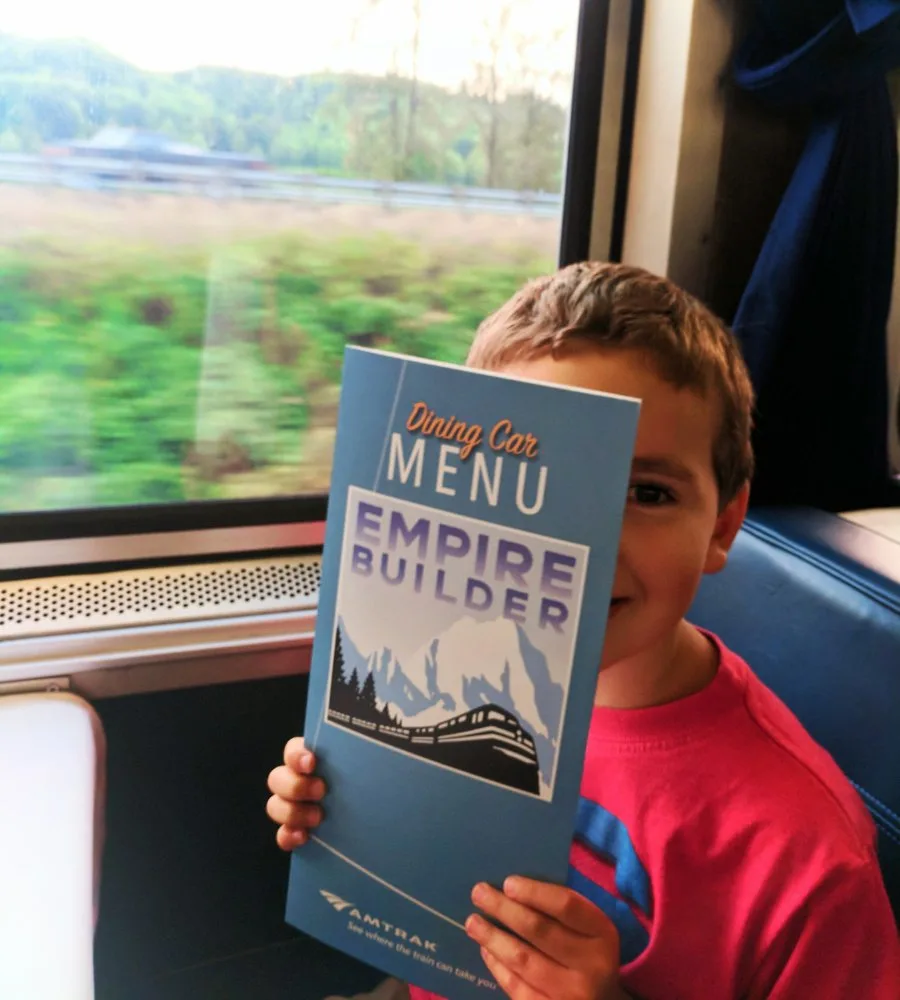 Leavenworth's History (real quick!)
It's cute. It's quaint. It's manufactured. Huh? Yep! There's a great story behind the small Bavarian village at the foot of the Cascade Mountains that we love so much.
Once upon a time, Leavenworth, WA was a logging town that was failing. As the jobs left and economy fell, the town hired a PR firm to save it from turning into a ghost town. They all worked together, refaced most of the buildings with stereotypical Bavarian façades, added lots of fun character touches, changed many business approaches and created a new destination: Little Bavaria. It's amazing. The town is adorable and had you not known the history, you might think that it was historically an actual Bavarian settlement.
Initially the town didn't have the consistent quality you'd want regarding its created character, but as the years have gone by, and very much so recently, the town has truly embraced its role and does a wonderful job at transporting tourists to another time and place. And it's just fun.
Check out our list of the Best Bavarian Things to do in Leavenworth!
Not too far away was a train stop and also Washington's Highway 2 ran right through the town. Boom! Two easy ways to market getting to Leavenworth to experience the new-found Bavarian hospitality. And do you know what? It completely worked. Note: there were 30 years without a train stop, but the town made it through and now has service again!
Today, Leavenworth is a fun destination that both exudes Bavarian charm AND has its own unique culture and activities. What might've been a sad town with no jobs has become a wonderland of outdoor adventure and the portal to Washington wine country.
How's the Weather in Leavenworth?
If you've ever visited Seattle in the summer, you probably got rained on. More than once. Do you know what's amazing about traveling the two hours that it takes to get to Leavenworth? In those two hours you cross from moist Western Washington to the dry, hot, beautiful land they call Eastern Washington. It'll be 50 degrees and raining in the city and 85 and sunny in Leavenworth. Swim shorts and sunglasses. It's amazing.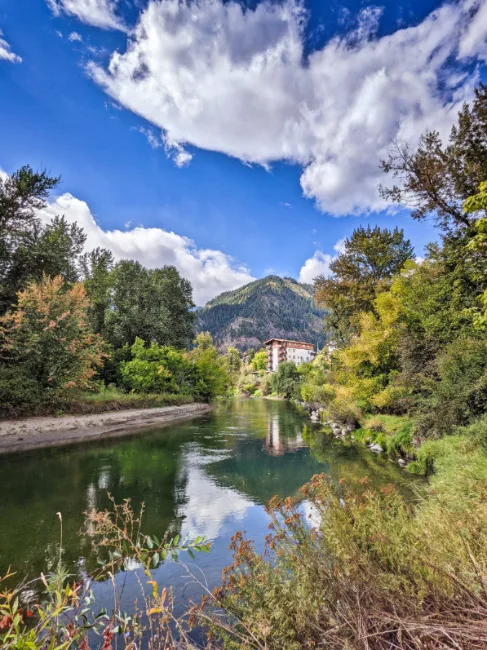 If you think that's awesome, know what else is cool? When it's 50 degrees and raining in Seattle in the winter, it's 20 degrees with two feet of snow in Leavenworth. Scarves, gloves and snow boots. I know! You get the best of both worlds. Having a go-to destination like this makes enjoying actual seasons easy and fun, and there are so many things to do in Leavenworth!
Tip: Leavenworth is in Washington State, so if you go during the summer time, still bring a raincoat… because it's Washington and you still might get rained on without any warning.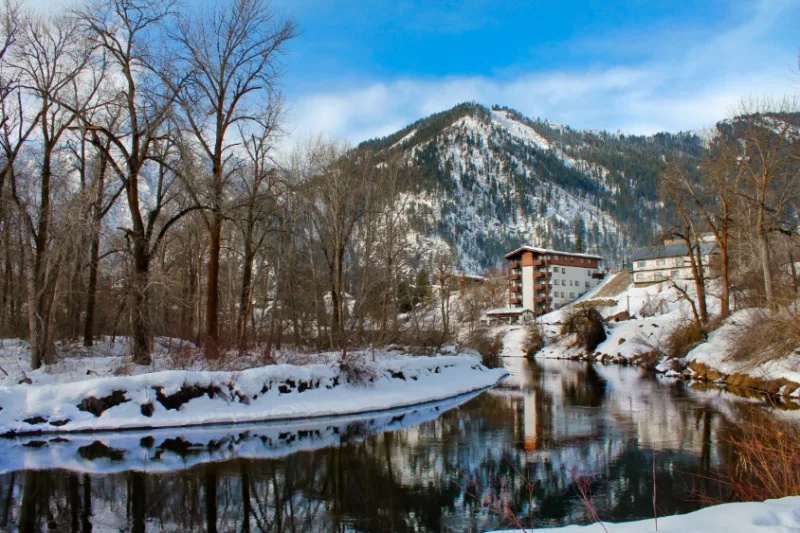 Where to stay in Leavenworth
There are so many options, either directly in the town or just outside. We love camping and like to be either up Icicle Road, just off the river or way out of town at Lake Wenatchee. There are a wide variety of hotels within the town of Leavenworth, WA though as well. Between Bavarian chalets and more common travel brands, there is a wide selection.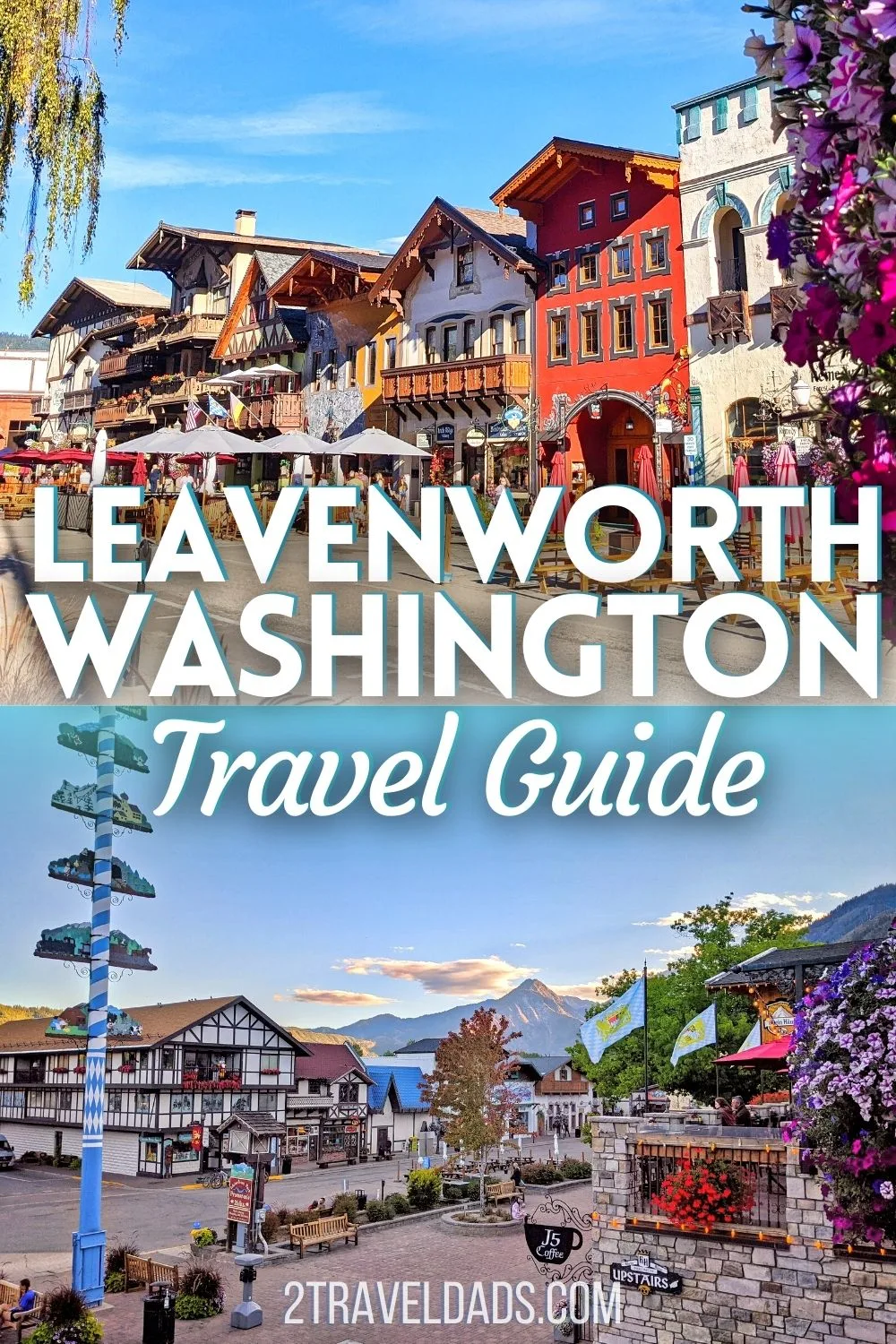 Top recommendation: Sleeping Lady Resort
When we're not camping, we do have a favorite: the Sleeping Lady Mountain Resort. It's a beautiful collection of well appointed, clean, green, cozy cabins. There is a hot pool and a cool pool, a play barn with ping pong and a puppet theater, the Grotto Bar, Kingfisher Restaurant, and art walk on property… It's an amazing place and the perfect retreat for couples, families, groups, singles, travel writers who need a weekend away….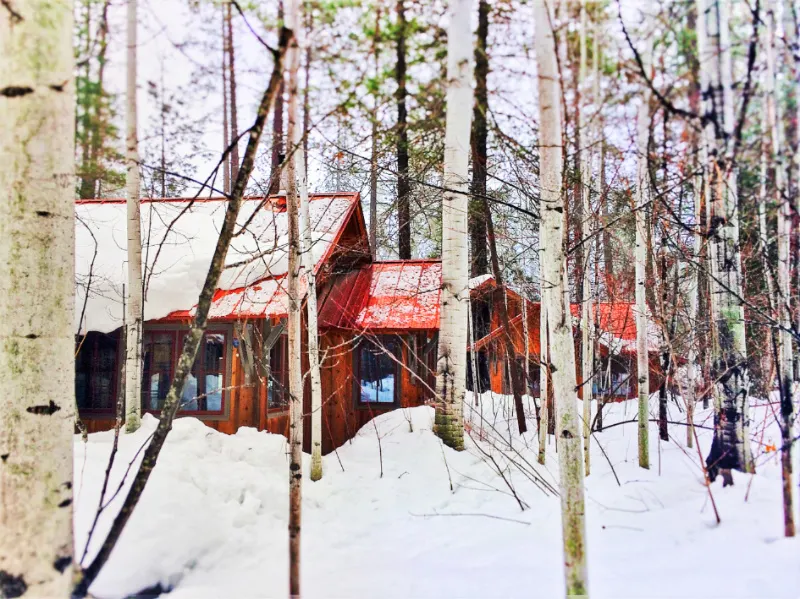 We wrote two whole articles about the Sleeping Lady and the Kingfisher Restaurant because they were both so top notch. Actually, I think the word we used was "stellar". Note: the Kingfisher is still not fully operational since the beginning of the COVID pandemic. Hopefully that'll change soon.
Tip: Leavenworth is the go-to destination for people from Seattle, so know that it books up fast. If you want to visit, be sure to plan at least three weeks out so you can get the accommodations you want.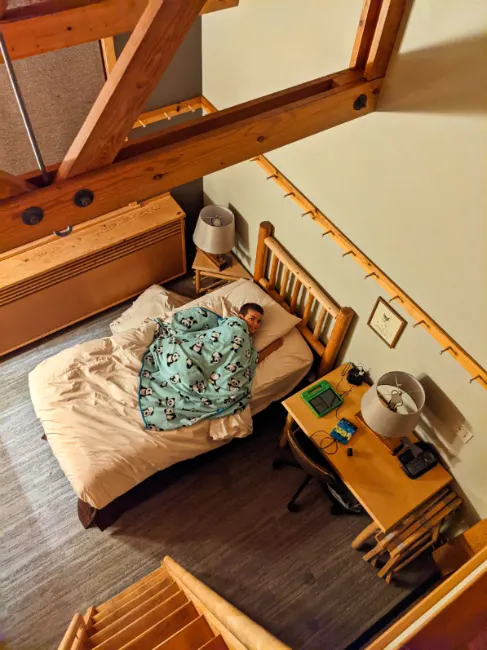 Staying at LOGE Camps Leavenworth
There are actually two locations in Leavenworth if you want to stay at LOGE Camps. We love LOGE and have stayed with them in both Westport, WA and in Bend, OR. And now we've enjoyed LOGE in Leavenworth! LOGE Camps are an awesome concept because they are accommodations, but with the purpose of inspiring you to Live Outside Go Explore. The rooms or cabins are always decked out with hardy outdoor gear to borrow or purchase, they operate with sustainability in mind, and fun is at the center.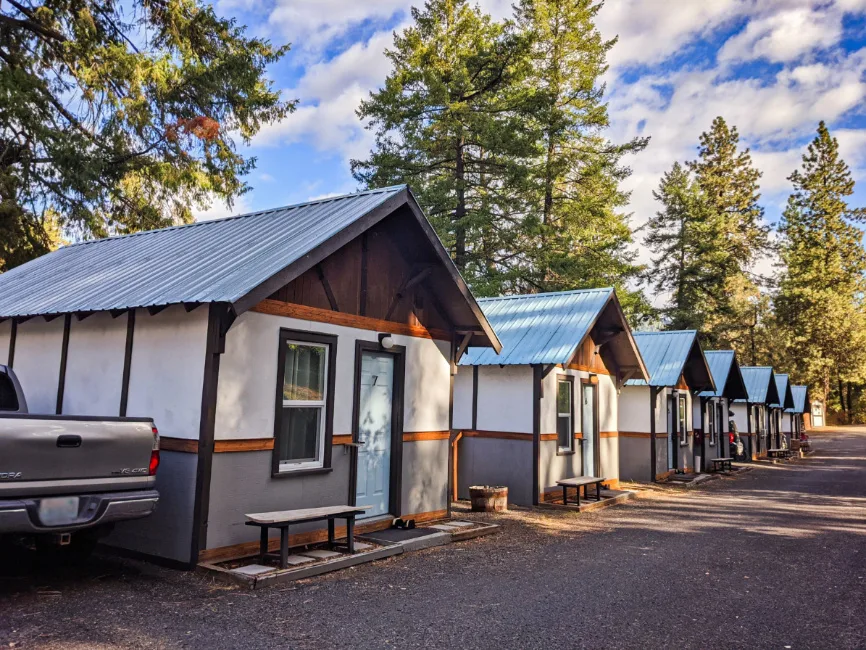 The kids love staying at LOGE Camps. In Leavenworth we stayed at LOGE Riverside, which is a collection of cabins on the Wenatchee River with lots of great community space for barbecuing and hanging out with others. The other location here is LOGE Downtown. Located on 9th Street, it's just feet from everything you want to do in downtown Leavenworth, and just a few blocks from the park on the Wenatchee River. They even have a cafe / bar at LOGE Downtown.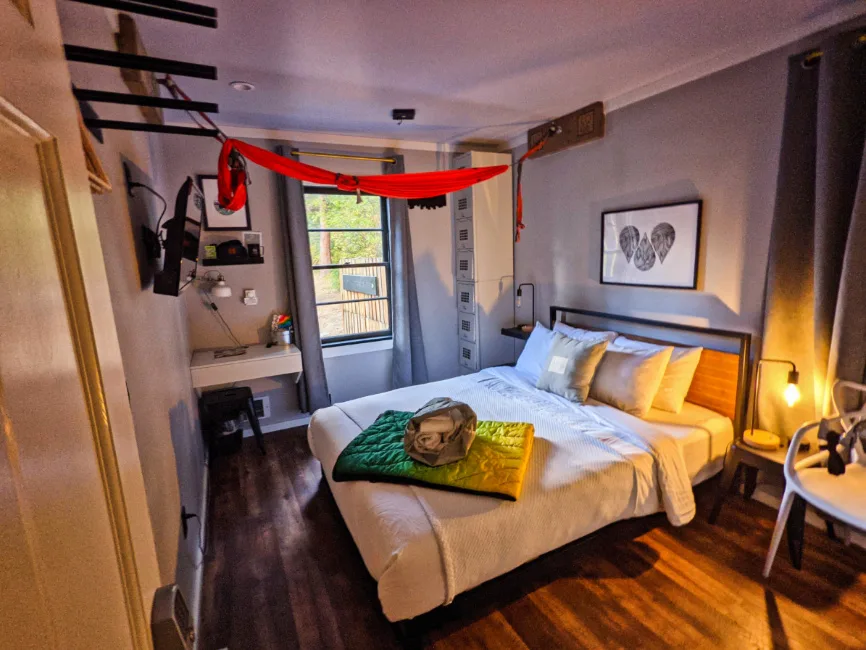 Linderhoff Inn Downtown Leavenworth
When you first drive into Leavenworth on Highway 2 you'll immediately start to pass Bavarian themed hotels and resorts. Drive a tiny bit closer to downtown and you'll come to the Linderhoff Inn. Sister property to the more well known Enzian Inn next door, the Linderhoff Inn is quiet and simple. The rooms are not fancy, but they are very clean and comfortable. There is a balcony stretching the length of the hotel with furniture for relaxing and taking in the view. The Linderhoff also has a heated outdoor pool, which is great, especially in spring and fall.
The real bonus of staying at the Linderhoff Inn is the homemade continental breakfast. Eggs, breakfast meats, and so many types of breakfast cakes and pastries make this one of the best hotel breakfasts we've come across.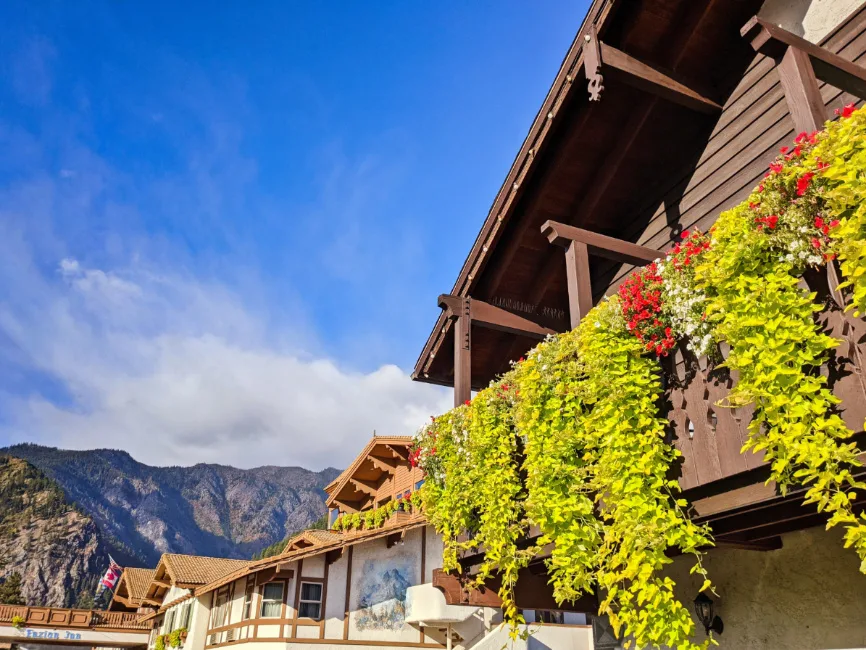 Vacation Rentals in Leavenworth
Yes! There are some wonderful vacation rentals in Leavenworth! We really loved the lakefront cabin we had on Lake Wenatchee, but there are so many different sorts of options. Our particular cabin slept 8, had two decks and direct access to the shore of Lake Wenatchee from the campfire area below the house. Amazing!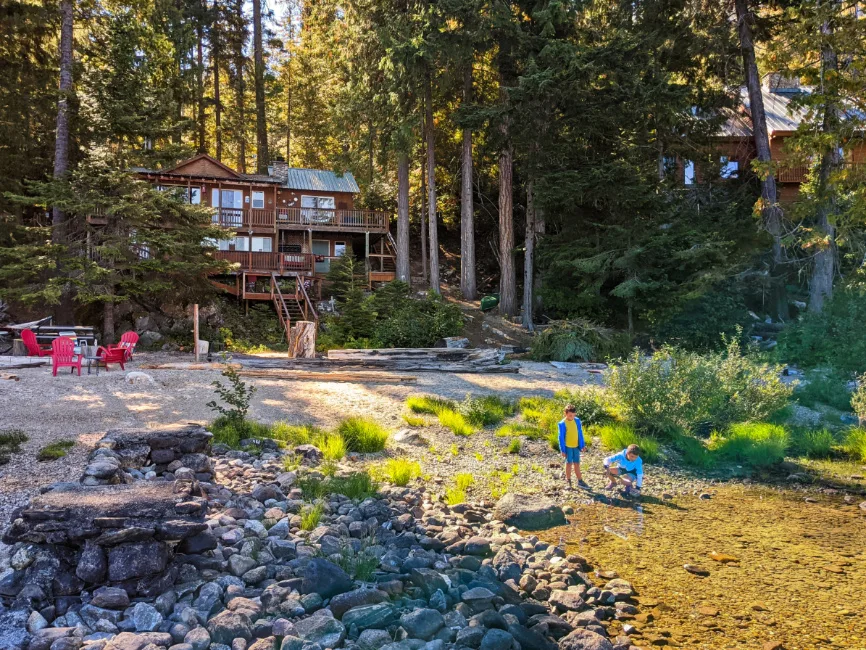 If you're looking for something unique, just outside of the downtown area you'll find quite a variety, including cabins, tiny homes and even yurt style lodging. It's amazing what's available when it comes to vacation rentals in Leavenworth! Things to look for when booking a vacation rental in Leavenworth:
proximity to downtown or Lake Wenatchee
does it have a hot tub?
is it pet friendly?
number of guests allowed, including day visitors
With all kinds of options, you'll easily find a great vacation rental for any season.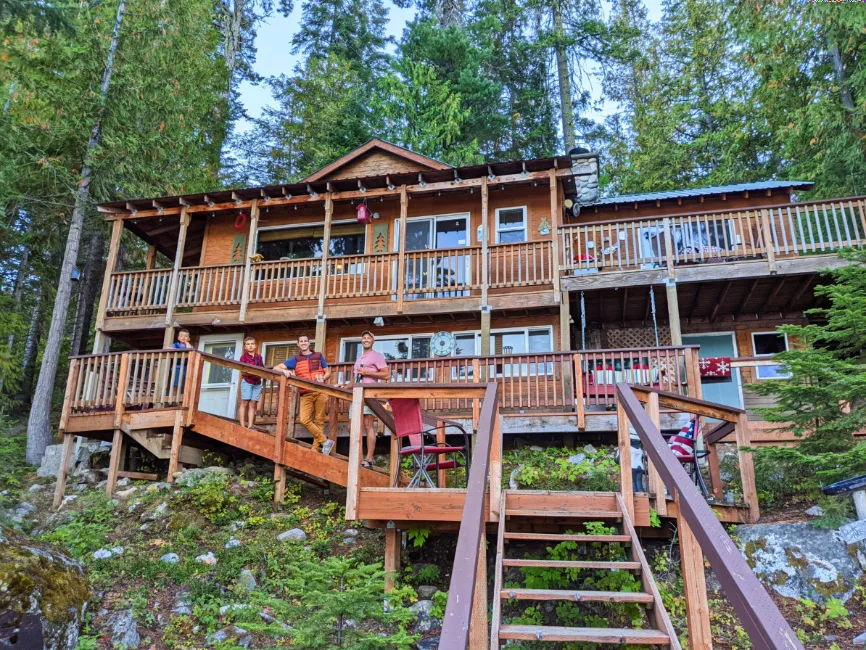 Best Things to do in Leavenworth in Summer
Having incredible weather and a variety of terrains, there is no shortage of activities in Leavenworth. Typically, we enjoy visiting in the summer as we're big on camping and hiking, but we've recently discovered that the middle of winter is incredible in this tiny town!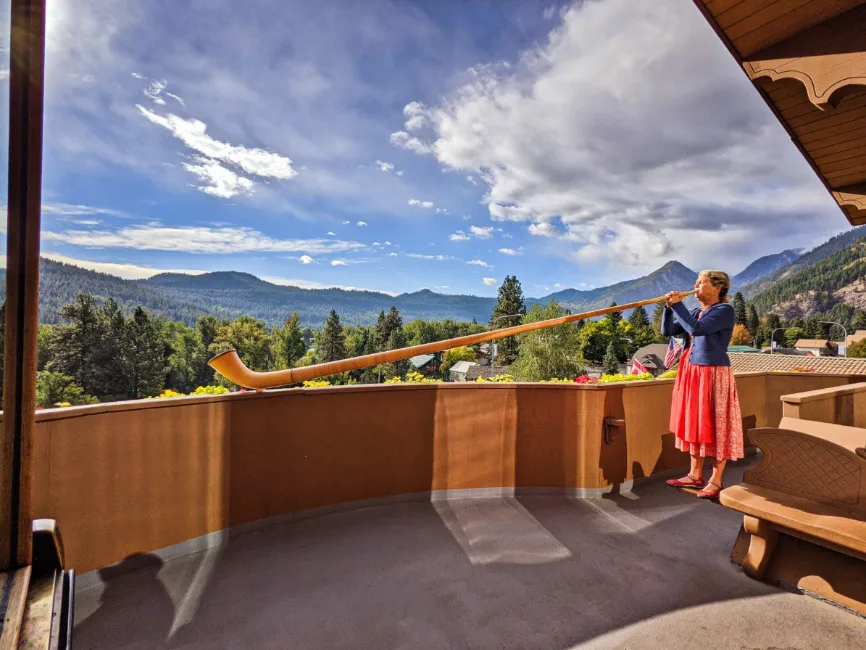 Wine Tasting in Downtown Leavenworth
There are several tasting rooms in the town, but know that once you cross the mountains, you're in wine country, so it's easy to stop into Leavenworth, continue on through Cashmere for wine and cider, move onto Wenatchee and Chelan for more wine tasting… and then head south to Yakima and Walla Walla for more wine tasting… Yes, you can easily build an entire week of local, Eastern Washington travel just on wine tasting. If you are just hanging in town though, you've got several options that are walk-able or just right downtown.
Here is a wine crawl list for downtown Leavenworth starting at the West end of town:
It's really easy to wander from tasting room to tasting room in Leavenworth. Many of the wine spots will have some sort of snack or charcuterie, so plan an afternoon of patio relaxation and enjoyment. Enjoy responsibly; do not drive under the influence of alcohol.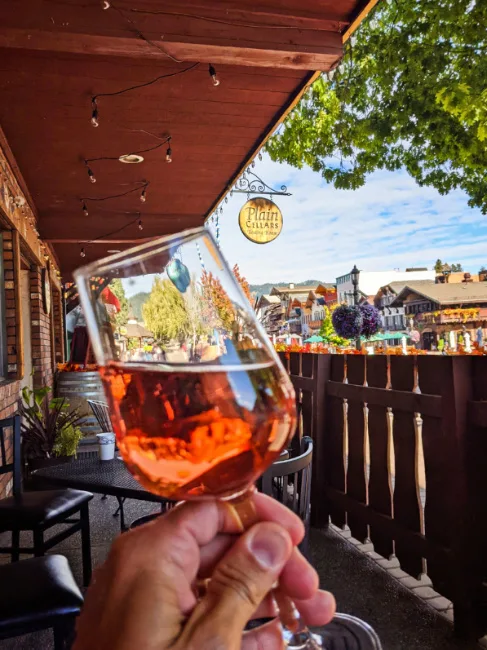 Festivals in Leavenworth
Throughout the year Leavenworth hosts a variety of activities, ranging from music festivals to beer fests and other art celebrations. Depending on when you're visiting, you may get swept up into who knows what kind of fun. Check the Visit Leavenworth website for the most up-to-date event information.
January –

Leavenworth Winter Karneval / Icefest and Timbrrr, Bavarian Bruisefest (roller derby)

February –

Full Moon Ski and Snowshoe Party and International Fly Fishing Film Festival

April –

Taste Leavenworth and Leavenworth Ale Fest

May –

Maifest (SCA)

June –

Leavenworth International Accordion Celebration and Wenatchee River Bluegrass Festival

July –

Kinderfest

August –

Leavenworth Summer Theater

September –

Oktoberfest

(in Wenatchee starting 2022)
December –

Christmas Lighting Festival
Something to keep in mind when you're looking for things to do in Leavenworth is that how events and public happening take place has changed a lot with the COVID pandemic. Be sure to confirm activities are going off as scheduled and WHERE they are taking place before adding events to your itinerary.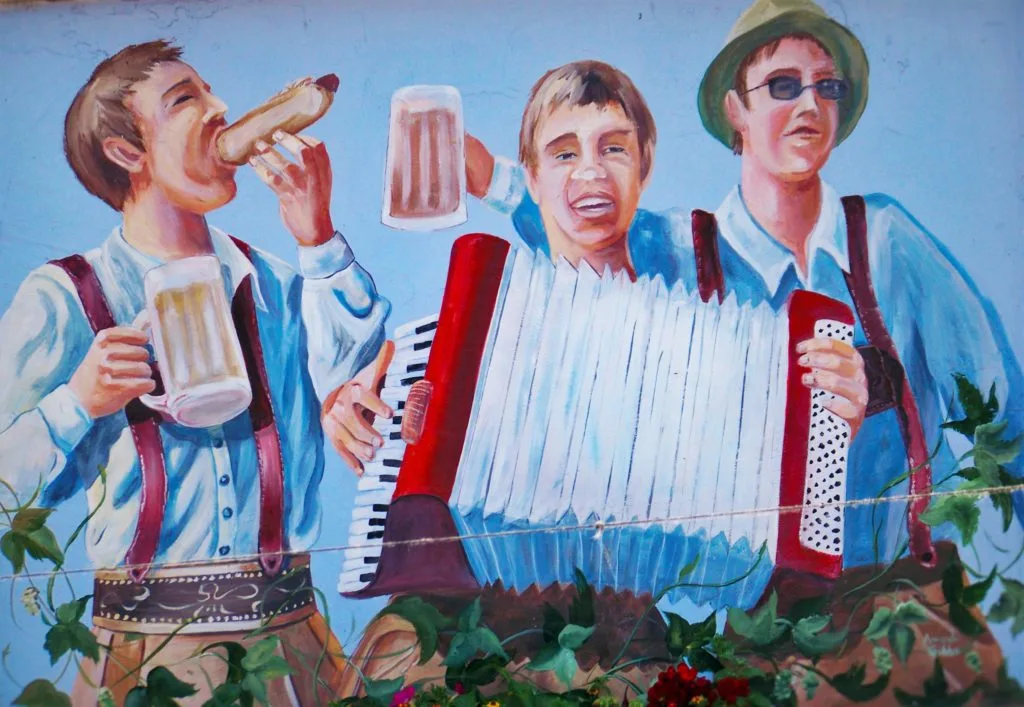 Enjoy Local Microbrews in Leavenworth
Washington State offers so many great beers, and one of the best things to do in Leavenworth is to try some of them at the source. There are two breweries in town now, so if wine isn't your thing, you can enjoy microbrews!
Along Highway 2 you'll find Bushell & Bee Taproom where they offer beers from all over the Pacific Northwest. Stop in for either beer or local ciders, as Bushell & Bee taps from the best of Washington's apple country!
In the core of Leavenworth you'll find Icicle Brewing Company. This spot is incredible, offering award winning microbrews, good food and some quick behind the scenes tours for interested beer drinkers. They've got some brews that sound weird until you try them, like the Dark Persuasion which is basically German Chocolate Cake in a pint glass, but it's actually brewed with real cocoa and coconut. That's what they have: Real beer. Good beer. As we said in our article about Icicle Brewing Company, it's microbrew heaven.
Tip: summer or winter, Icicle Brewing has a huge patio that has a fire table. If you just need to chill, hang out here.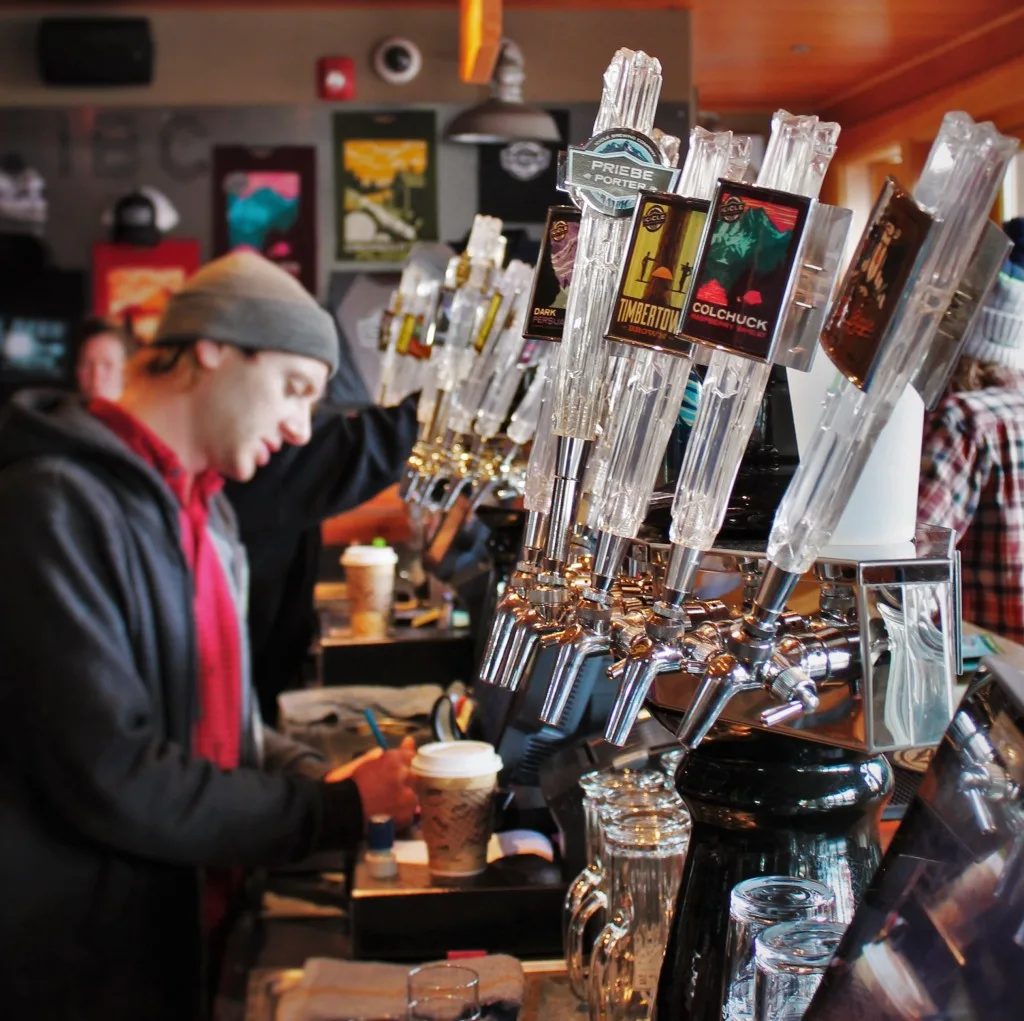 Another fun stop is Blewett Brewing. It's just a block down on Commercial Street, so doesn't see as much foot traffic as Icicle, but it's just a good. Also, Blewett Brewing has really good pizza, so pop into the tap room to try a flight and then order some woodfired pizzas and you have your night set.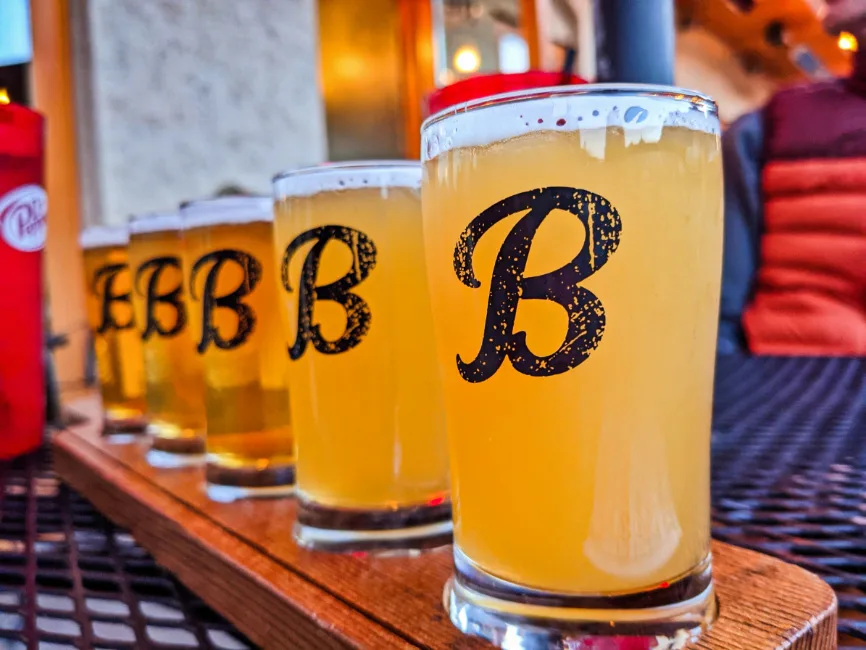 Eat Bratwursts of All Sorts (meat and veg!)
One of the best things to do in Leavenworth in any season is to enjoy bratwursts. Two great choices, and they're across the street from each other, are Munchen Haus and Sausage Garten. Both have a variety of sausages/wursts and a heaven of mustards. Each also is 100% outdoor dining in both summer and winter. They are both covered and have heaters for when it is actually cold out.
Opinion: it's arguable that the purpose of bratwurst is to take a back seat and act as a vessel for mustard and sauerkraut, not the other way around. If you're in Leavenworth for more than one day, be sure to have more than one sausage so you can try a variety of mustards.
Washington State prides itself on doing everything locally, including the beers and brats. Icicle Brewing's tagline is "Beer From Here"… and they happen to have a beer counter at Munchen Haus too… and Sausage Garten pours their beer, so enjoy all of the localness that's happening in Leavenworth.
There are other chow spots too with great food, of the Bavarian variety and not. Andreas Keller or King Ludwig's are good for a some German cuisine; the weinkraut is great at Andreas Keller. South is a great Pacific Northwest take on Mexican cuisine, as is Pavz Tacos, both on Front Street. And then there's the Gingerbread Factory, the Danish bakery and the pretzel bakery and more sausages…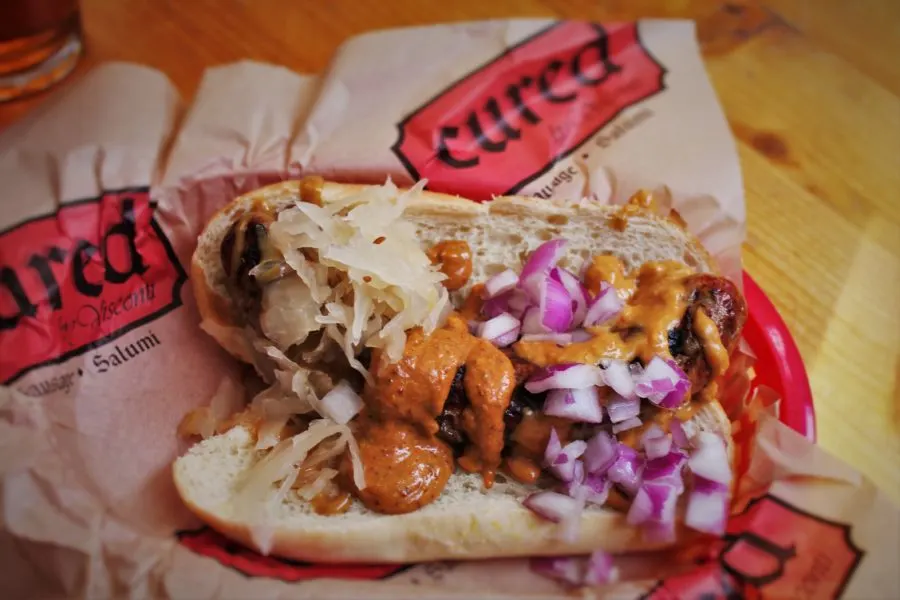 Enjoy Christmas Any Time of Year
Between the Leavenworth Nutcracker Museum, the Gingerbread Factory and then the countless ornament and kitschy shops, you can get into the Christmas spirit even when it's 90 degrees outside. The absolute best, the MUST VISIT is the store, Kris Kringl. Our family can spend hours window (or actually) shopping for Christmas decorations.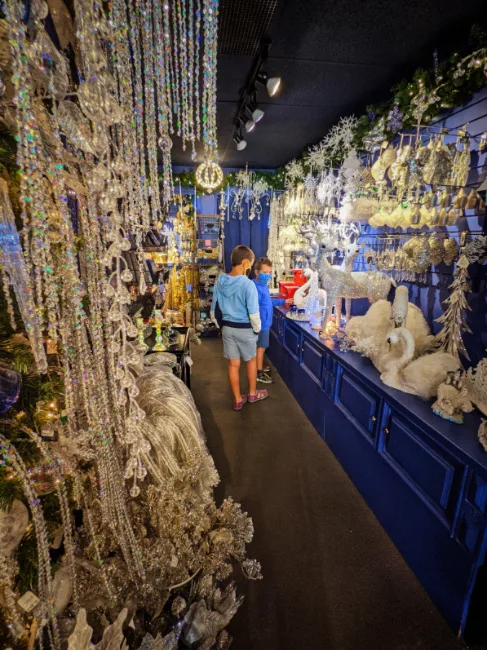 While Christmas isn't solely a Bavarian celebration, a few of the shops maintain the seasonal décor (or section) and spirit year round, which does indeed add to the quaint feel of the town. Even at night in downtown, there are a fair number of holiday lights creating the perfect glow, even in the summer. Finding your out-of-season holiday spririt is one of the best things to do in Leavenworth!
Tip: when it's actually the Holiday Season, Leavenworth is great about making the most of the cold and celebrates with a tree lighting and lot's of holiday activities. It also books up quickly, so plan your visit and find your lodging in advance.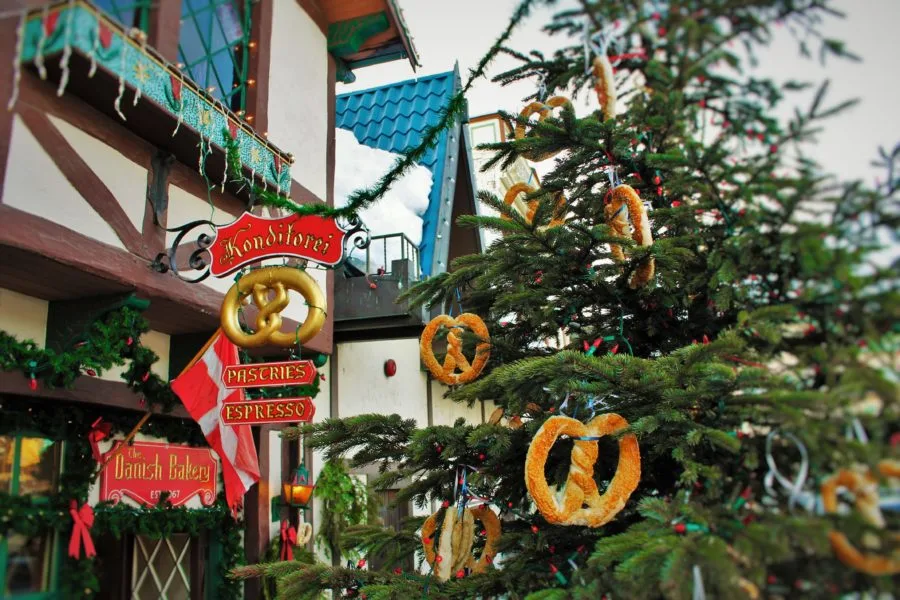 And do you know what is really cool to do in any season and is totally Christmassy? Visiting the Leavenworth Reindeer Farm is awesome! You can reserve a visit nearly any day of the year, with lots of tour times during the holiday and mid-summer. When you're there, expect to get some great photos with reindeer, meet other farm animals, and even enjoy Christmassy hot cocoa out of season.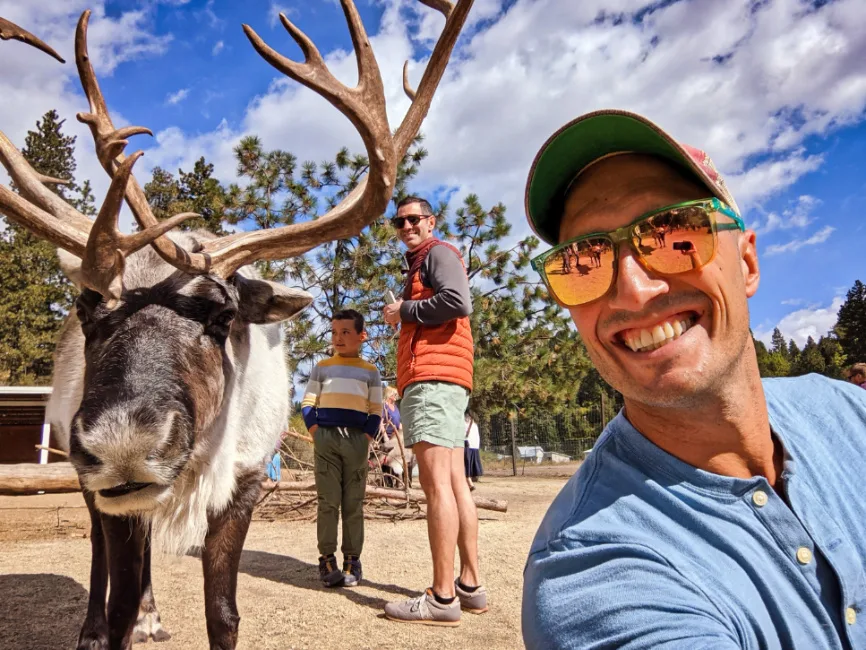 Play on the Wenatchee River
The river that winds through Leavenworth is so chill. I've rafted, kayaked and floated it. It's best to work with a guided service to ensure the most safety, since there are a few spots with up to class 3 rapids, but there are parts of the river that are perfect for floating with a cooler and eating lunch on the river. Check out our other favorite places to kayak here in the Pacific Northwest.
For rafting the wild parts of the Wenatchee River, be sure to go with a local company that rafts the river often. Wildwater River Guides, Osprey Rafting, and Alpine Adventures all do the Wenatchee through or near Leavenworth.
And if you're more of a landlubber, you can always just walk down into the park and wade in. There are several options for river access and lots of places to make yourself comfortable on the shore. Floating on an innertube is also a great option, but you need to be careful to not drift too far.
Tip: remember that the river starts in the mountains and is fed by melting snow… so it's cold. True, it gets warmer as summer progresses, but never have we jumped in and said "Wow, I could stay in this warm, lovely, relaxing water forever…" It does become tolerable to pleasant in August, but be wise about what's good for your body and try not to catch cold.
For easy access at a mellow point in the river, Waterfront Park that you walk to from the downtown area is our favorite spot to jump in if we're only driving through and not spending the whole day, or if we just want to wade a bit.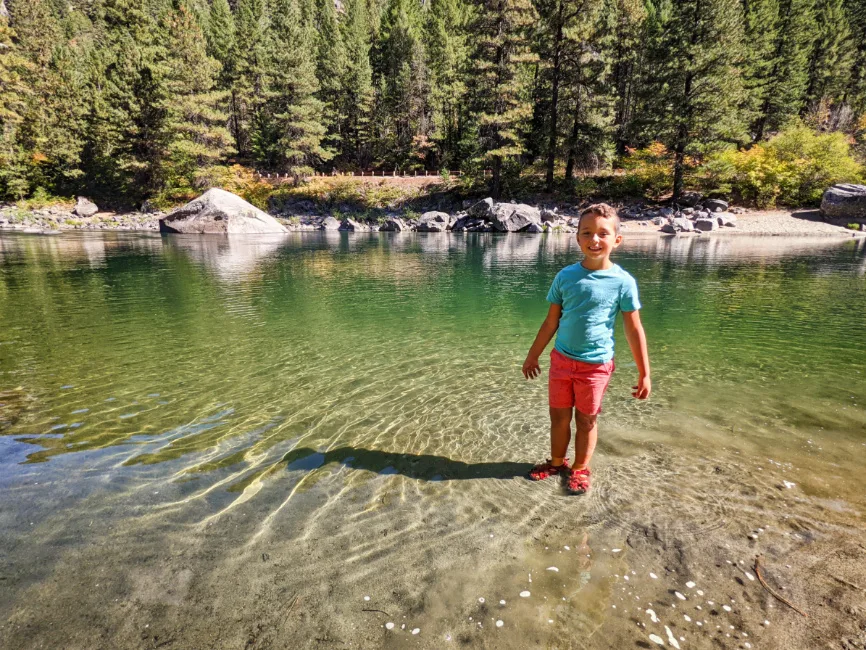 Great Hiking Trails Near Leavenworth
There are oodles of places to hike, including up the mountain to the east of the town along a really nifty aqueduct, but our favorite is hiking along the river, off Icicle road just past the Sleeping Lady Resort. There are several camping areas that serve as trail heads around the Upper Johnny Creek area, and you can choose to go up the mountain or along the river. If you ask a local, they can direct you to some good, hidden trails that are very different than what you'd expect, such as trekking through orchards or strolling along irrigation canals to amazing viewpoints.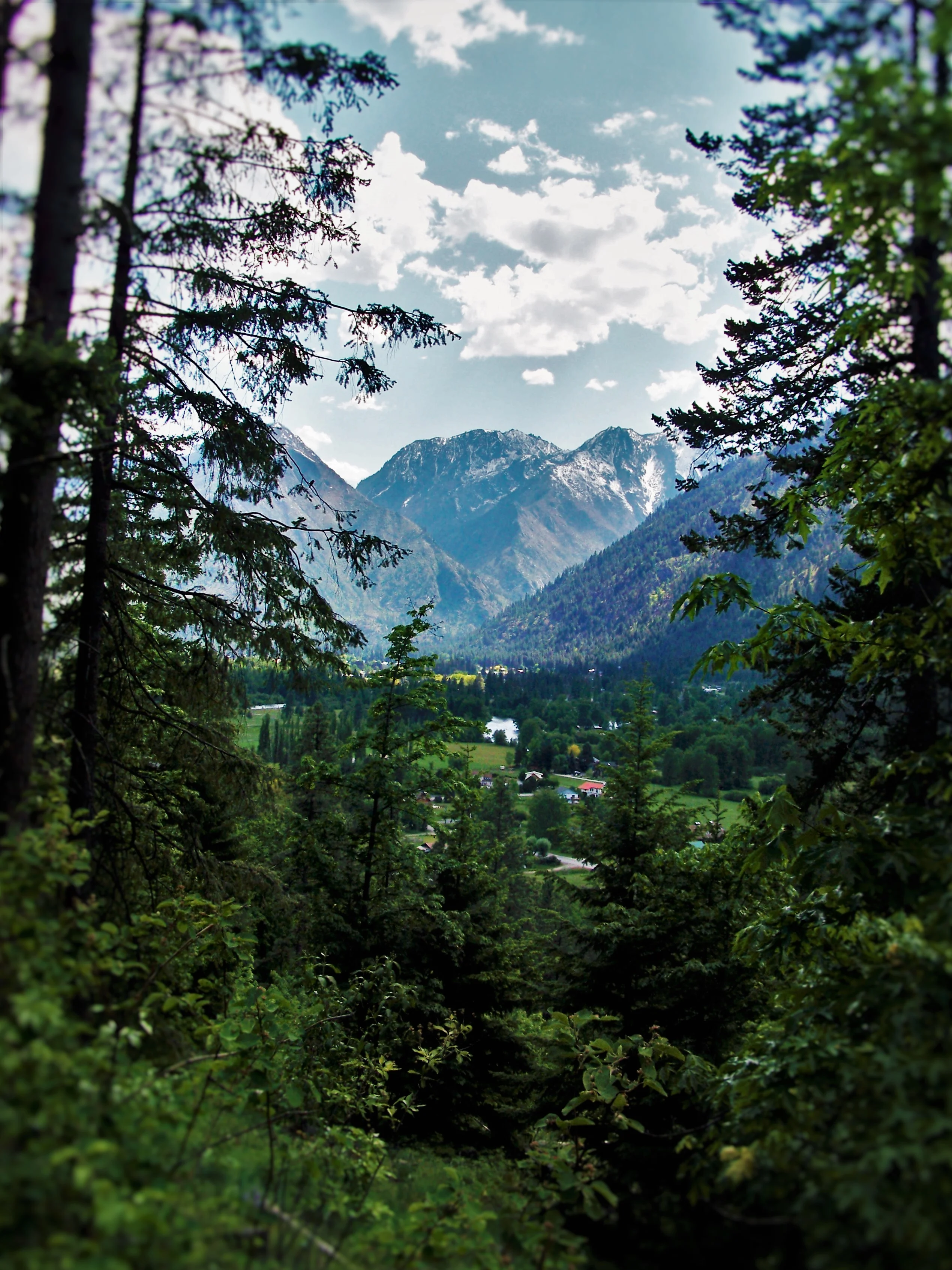 A favorite trail for our family is the Pipeline Trail that goes along the Wenatchee River. It's an easy hike and is great with kids. Do the hike in fall for beautiful fall colors on the river.
Tip: check out the trail guide created by the town of Leavenworth for some great options, descriptions and guidelines for hiking out of town.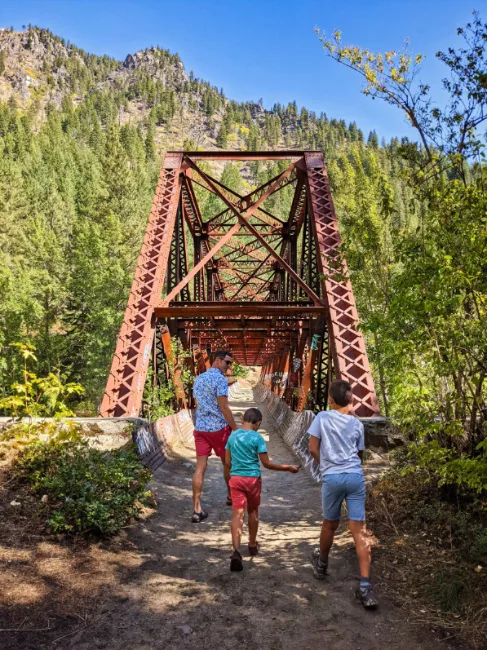 Winter Things to Do in Leavenworth
Yes, summer in Leavenworth is really wonderful, but let's be real: Leavenworth is the most magical in the snow. Between the snowcapped mountains, snow drifts in front of the Bavarian building facades, and the unique things to do in winter, Leavenworth is an incredible winter destination.
Enjoy Cross Country Skiing in Town
Directly in Leavenworth (adjacent to the Sleeping Lady) is the Leavenworth Nordic Trail System. That's ideal for cross country skiing. If you want more hardcore downhill skiing and snowboarding, head west on Highway 2 up to Steven's Pass. It's a great ski area with wonderful facilities, a smooth chair lift and a variety of slopes for all levels of skiers. And there's a nice, warm lodge to relax in too.
Tip: to save driving time, cross country trails and the Leavenworth Ski Hill are both just outside of the town, so it's an easy way to incorporate some snow sports. You don't even have to head up into the pass to get some snow time.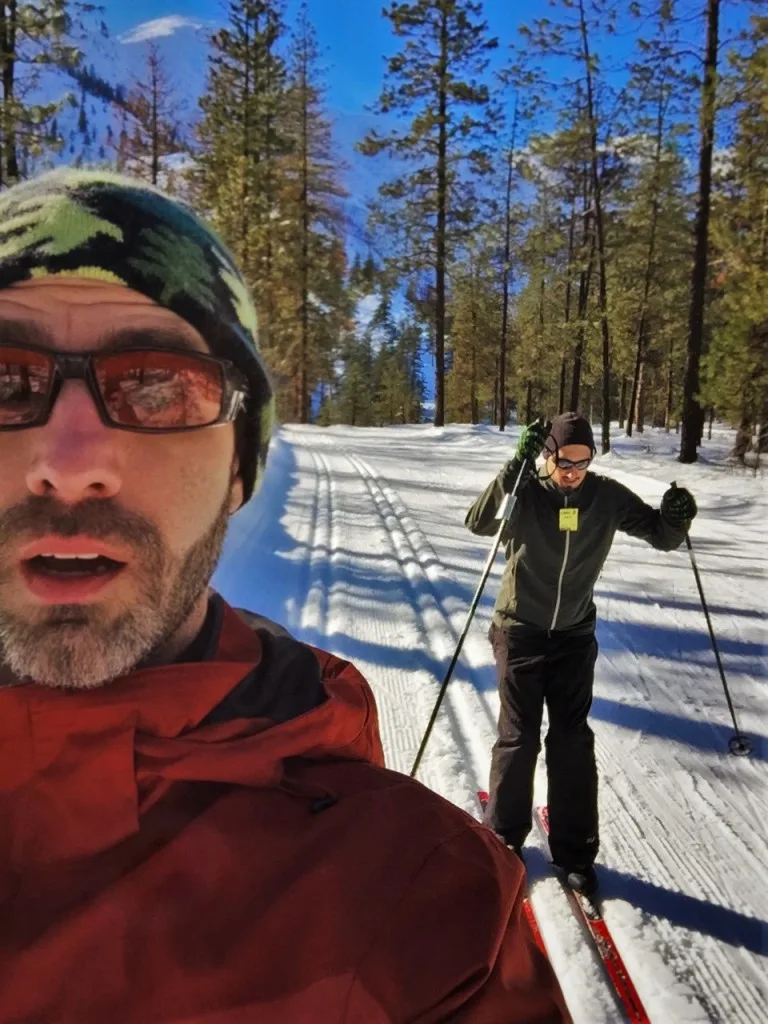 Downhill Skiing and Snowboarding at Steven's Pass
If you're more into speed and adventure, it's easy to take a day trip up to Stevens Pass, the nearby downhill skiing destination. At less than 40 minutes from Leavenworth, it's easy to plan a day for skiing or snowboarding, or even snow tubing, which is our jam.
If you plan to head up to Stevens Pass from Leavenworth, keep in mind the changing road conditions. While the Department of Transportation is great about plowing, you'll still need to have the appropriate traction tires for safe travel up the mountain. Also, plan your time appropriately, as snow driving can be pretty slow sometimes…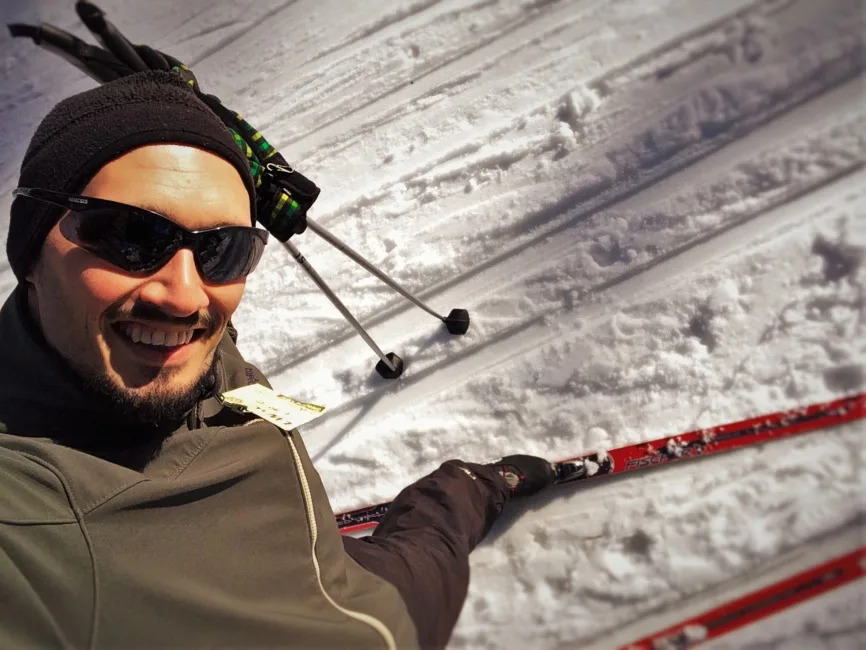 Have a Sleigh/Hay/Carriage Ride
This is the activity for when you're like "um, what should we do?" It's the perfect way to relax, be in the fresh air and see the outskirts (or even downtown) from a different point of view. Sleigh rides are of course limited to the winter… when there's snow. But hay rides and carriage rides can occur almost any time.
Check with individual lodging facilities to see if they offer their own ride or you can book one through an independent tour company.
This is a great family travel activity! Kids get to have fun doing something different and there are horses to meet. What's not to love? Also, if you're like me and don't absolutely love being knee deep in snow, this is one of the best things to do in Leavenworth in winter because you don't have to be IN the snow, but you're on it.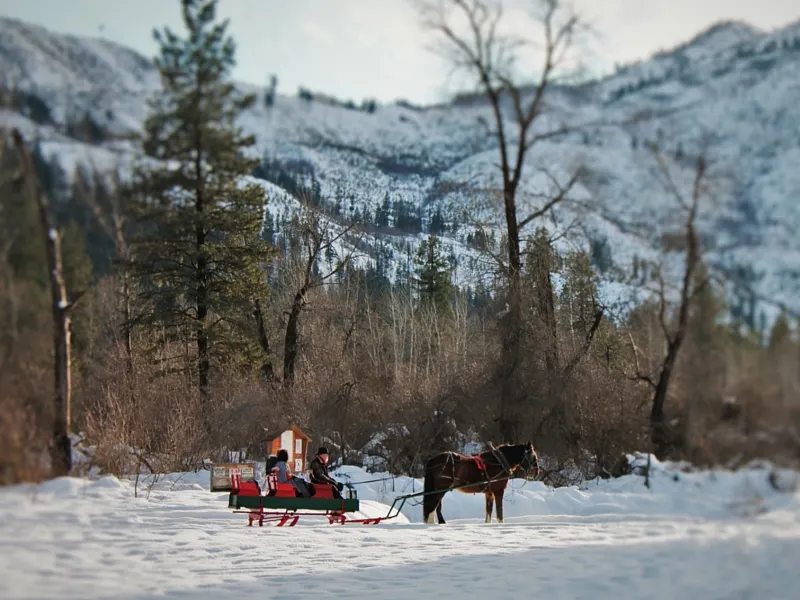 Hot Tubbing in the Snow
While this may sound odd, enjoying a hot tub surrounded by snow, or even better, when it's snowing is really wonderful and unique. We've had vacation rentals in Leavenworth with hot tubs, we really love the hot pool at the Sleeping Lady Resort… There are lots of ways to enjoy snowy hot tub time.
When you're booking your lodging in Leavenworth, take hot tubs into consideration. Between being out under a starry sky or having snow fall while you enjoy the bubbling warmth, you'll be so glad to have a hot tub.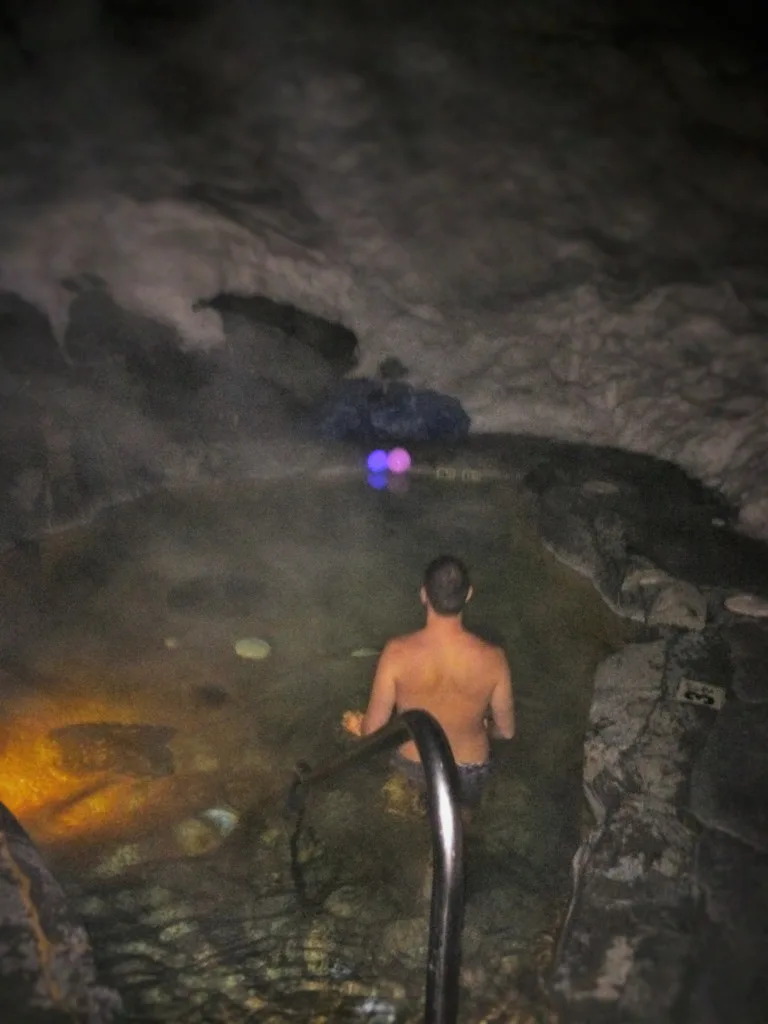 Whether you're visiting Seattle or doing a round-the-USA trip, Leavenworth is an awesome stop to build into your itinerary, no matter the season. Do you have another small town that you think is pretty amazing that we should go explore? Leave a comment and make a recommendation.
Be sure to check out our other articles about Leavenworth too. There are so many things to do and unique experiences to have that we've written about MANY topics and can help YOU plan an awesome visit!