Having lived in Seattle for the majority of our lives we know the city like the back of our hands. It's been fun to discover new things and see things from a different perspective now that we have kids. Also, as more and more friends from around the world come to visit us, we've had to really consider what are both the most iconic sights and the most fun with kids. So here you go! Here's our guide to exploring Seattle with out of town guests.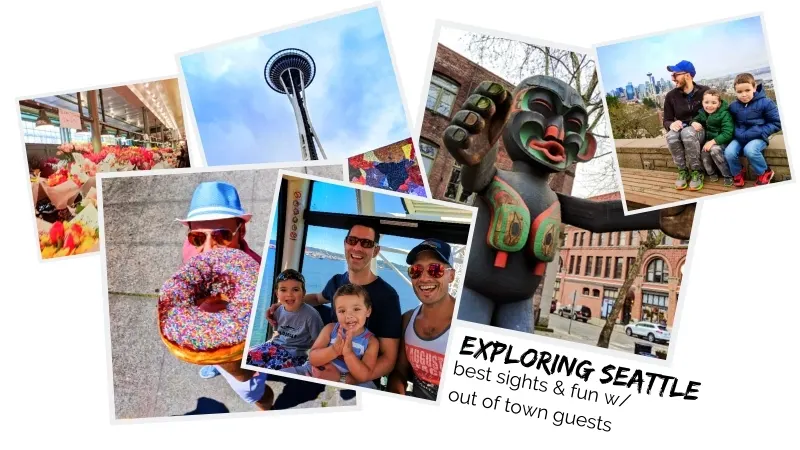 Best of Downtown Seattle with guests
Spending time in any city's downtown can be stressful, but it can also be awesome. Seattle is no exception. These are our favorite activities to do in downtown Seattle with out of town guests any time of year.  We consider "downtown Seattle" to be the downtown core, the waterfront, and Belltown to the Space Needle. If it's farther than these spots, it's not downtown.
Note:  Seattle bike sharing is available if you're interested. It's a great way to explore the city, especially with guests that you want to have the full Seattle experience.
Also, if you want to book a hotel downtown, we have lots of recommendations. Check out some of our favorites if you want details about where we like to stay when we do a city break weekend in Seattle, including how to keep fit while in Seattle.
Exploring Pike Place Market
Let's start by saying this aloud together: "PIKE PLACE MARKET". It is not freakin' called "Pike's" or "Pike's Place" and if you say that out loud, you're going to get the fiercest Seattle freeze. Yes, Pike Place Market is completely a tourist attraction, but it also is really an amazing place. It's one of our favorite activities to do in Seattle with out of town guests. And we actually enjoy doing the Market ourselves and go regularly on our own.
If you're visiting Pike Place Market, be a respectful tourist and take the time to actually do a little shopping there in the market. It's one of the oldest established farmers markets in the USA and the only way it continues to run is by visitors purchasing directly from the farmers, fishermen and artisans. In addition to finding a cool souvenir or a delicious Seattle lunch, you'll be supporting the local communities that make Seattle such a fun, vibrant city.
Top sights in Pike Place Market
The market is set up into many areas and levels. If you only have a short time, these are the top sights and you should pick a few of them to get the best experience:
Rachel the Pig – inspiration for Seattle's colorful Pigs on Parade
Fish mongers – if you are buying a fish to have shipped home (they do that!) you can even catch it when they throw it
Flower stalls – year round there are flowers of some sort being sold, even if they are dried bouquets. So pretty

Note: do NOT just take a pic for Instagram and roll off, actually buy a bouquet to enjoy (and snap more pics for the Gram around the city)

Lunch from a counter or walk-up window – love the bows from Mee Sum Pastry!
Visit the original Starbucks cafe –  the actual original Starbucks is no longer around, as it was just a coffee/tea seller, not a cafe
Be gross as add gum to the world famous Seattle Gum Wall in Post Alley
Visit after the vendors close down and check out all the cool neon signs
Pike Place Market really is our favorite sight in Seattle, particularly with out of town guests, so make sure that you do indeed visit. There is plenty of cheap parking and it's easy to catch a Lyft to. There's no reason not to visit.
Playing tourist on the Seattle Waterfront
Playing tourist is actually one of our favorite activities. We totally own it. When you're exploring Seattle, on your own or with guests, walking along the piers down on the Seattle waterfront is another iconic activity in the Emerald City. There are lots of kitchy shops to check out, of course, but there are also some cool sights. Inside the Pier 57 building there is a faux-vintage carousel (totes not an antique like up in Victoria, BC), there's the Great Wheel which is really cool to ride in the summer (but WAY overpriced), outdoor dining at Elliott's is a favorite as soon as they open the patio seating (remember it's Seattle), and then the Seattle Aquarium is pretty awesome too. 
Tip: if you're playing tourist in Seattle and you see there is more than one cruise ship docked at Pier 66, avoid the waterfront. It is going to be insane and overcrowded. Instead, head up into the Market or Belltown for getting some good Seattle grub and grunge.
Best summertime dining on the Seattle Waterfront
We always like to support local, so our number one choice for summertime waterfront dining is actually getting 3 Sisters sandwiches or gyros from up in Pike Place Market and then walking down the Pike Street Hillclimb to find a good bench along the waterfront. If that's not your thing though, these are our favorite spots for waterfront dining from South to North:
Ivar's Acres of Clams & Chowder Bar – you can do the formal dining too, but just grabbing chowder or fish 'n chips and sitting outside under cover is great
Red Robin – I know, that's not something you'd expect from us, but it has a lot of outdoor seating and it's a Seattle original (the first one is closed now)
Elliott's Oyster House – TOP PICK – we love dining in the formal dining room or grabbing food at the outdoor cafe, Cafe 56 (currently closed). Also, they're Smart Catch compliant.
The Crab Pot – it's been years since we've dined here, but it continues to draw tourists, so they must be doing something great
Anthony's Pier 66 & Bell Street Diner – at the far end of the waterfront by the cruise terminal and the Victoria Clipper dock, this is a great option for a nice dinner or lunch. The Bell Street Diner has great outdoor seating in the summer and provides one of the only marina views in Seattle.
Seattle is such a foodie city that you're going to find great food and fresh fish everywhere, so go where suits you and has seating available, but these picks really are ideal for adding to exploring Seattle with out of town guests.
Hanging out at Seattle Center
FYI, this is NOT the center of Seattle. The Seattle Center is similar to Yerba Buena Gardens in San Francisco: it has museums, theaters, public space and restaurants.  The Seattle Center is also home to the Chihuly Garden and Glass, the Pacific Science Center, Seattle Children's Museum, Seattle Children's Theater, the Seattle Opera, Pacific Northwest Ballet, and of course, the Space Needle.
Note:  keep your eyes peeled for totem poles. Seattle has a ton of them all over, but if you're not paying attention you'll walk right past them. There are no fewer than four directly in the Seattle Center area.
We find ourselves at Seattle Center more often than we plan. Seriously, this year we have had a Pacific Science Center membership so we've visited frequently for homeschooling trips and to take guests from out of town. Also, on a cold Seattle day there is nothing quite like walking into the tropical butterfly house.  We may or may not just go hang out in there in the middle of winter…
In the summer, Seattle Center is home to countless festivals and events. Our favorites are the Bite of Seattle and Bumbershoot, but throughout the summer you'll find lots of activities. Even just hanging out by the musical fountain in the sunshine is a great use of time.  
Visiting the Space Needle: not recommend
The Space Needle is a part of the Seattle Center, but it's its own attraction. Built for the 1962 World's Fair, the Space Needle has been a part of the Seattle skyline for almost 60 years. I'll be honest, it's not that awesome and it's not worth the money to go up it. If you've purchased a CityPASS the you should use the Space Needle ticket that's a part of it, but if you want to go up in the Space Needle and pay the $28-$38 per person, that's your choice. 
Playing in Pioneer Square
The original Downtown Seattle, Pioneer Square is pretty darn cool. The architecture is clearly from the late 1800s and early 1900s, the store fronts are charming, and the collection of public art is the best in Seattle. Pioneer Square and Occidental Square both are wonderful public gathering places, particularly on First Thursday for the gallery walk. There are totem poles, the glass vestibule, and cobblestone streets.
Pioneer Square is a great addition to exploring Seattle with out of town guests because it showcases the Pacific  Northwest's native art both in the squares and galleries, as well as the Underground Tour and it's home to the Observation Bar, formerly the Chinese Room, at the Smith Tower. Basically, vintage Seattle is ALL in the Pioneer Square neighborhood. 
Top sights in Pioneer Square
Any time of day Pioneer Square can be a fun place to visit.  The afternoons are best for photography and enjoying cafes and shopping, and evening are best for strolling through the galleries and grabbing a drink before a Seahawks or Mariners game.
Note:  Early mornings a lot of transient population moves through Pioneer Square, as two of Seattle's most active homeless shelters and kitchens are in this neighborhood.
Having said that, our top recommendations for enjoying Pioneer Square are:
There is much more to do in Pioneer Square, but these ideas are great and easy if you're exploring Seattle with out of town guests. So much of the Square is kid friendly and it's all perfectly Seattle.
Olympic Sculpture Park
Located between the waterfront and Seattle Center, the Olympic Sculpture Park is an extension of the Seattle Art Museum. We love it in the summer, but in the winter it's also beautiful for catching a little green space and fresh air. I think this is one of the most Instagramable spots in Seattle, which makes it perfect to visit with out of town guests, but also to visit and remind yourself how cool Seattle is. And if you're lucky, you can even catch an outdoor yoga class.
Must-see Seattle neighborhood sights
Seattle is a city of neighborhoods; it's what makes living here so great. It's like Los Angeles in that way, that each neighborhood has its own vibe and features that are truly unique. If you're taking out of town guests around Seattle to get the full feel, you have to share the neighborhoods with them.  These are our tops pics for 
International District Chinatown
The International District is located right next to downtown Seattle and is an easy first stop. If you want to hit up the ID, also known as Chinatown, you'll find some really cool gems within the neighborhood, including the Wing Luke Museum and some of the coolest imported herb stores. Also, you can check out the Chinatown Gate, built in…wait for it… 2007, you can go on a dragon scavenger hunt and for an other-continently experience, visit Uwajimaya. 
Awesome eats in the ID
When it comes to food (because that's what you're looking for, I'm sure) take your out of town guest for some great dim sum in the early afternoon. Our favorites are the Jade Garden and the now-closed King Cafe (RIP King Cafe). For the best soup dumplings don't waste your time trekking to one of the Din Tai Fung locations, but hit up the Dough Zone Dumpling House. It's centrally located and absolutely bombdiggity delicious. If you head east, up the hill out of Chinatown into Little Saigon, you have an entirely new food adventure, including some epic markets. It's awesome!
Chinese New Year in Seattle's ID
To say that Seattle doesn't know how to celebrate is a lie. Our PRIDE celebration is epic, Mardi Gras usually brings out the police in riot gear, and Lunar New Year is the most fun, colorful time in the International District.  Starting at the end of January, Seattle many strong, Asian communities lead full celebrations and parades. There are dragon dances in the streets and sidewalks and special market days with music and festivities. We rely on The Stranger, Seattle's awesome independent newspaper, for the best tips every year (for Bumbershoot too!).
Celebrations in the International District (ID), Capitol Hill (CH) and Seattle Center (SC) include:
Mochitsuki – Japanese celebration – ID
Têt – Vietnamese – SC
Chinese New Year – ID, Wing Luke Museum celebration
Tawanese food celebrations – ID, CH – this year was BB6 Taiwanese Pop-Up
ID Lunar New Year Celebration – ID – this is the biggest open event to experience in the heart of Chinatown
If you are exploring Seattle with out of town guests anytime in February, you're likely to find some sort of celebration. Enjoy Seattle's mixed cultures and go have fun! Gung hay fat choy!
Alki and the lighthouse
West Seattle is basically its own town. You could live in West Seattle and never ever leave. Within the neighborhood there are neighborhoods. Our favorite for exploring and relaxing, especially in the summer, is Alki. When we were carefree with no kids and lived close we would bust out our rollerblades and skate the trail all along Alki beach, get coffee, and then skate back. Today when we visit, we grab lunch, play on the beach, visit the lighthouse and maybe ride bikes.
Being one of only three salt water beaches IN Seattle, Alki gets crazy busy in the summer on a nice weekend day. The best time to visit in midweek in the spring or fall so you can just enjoy watching the ferries go by and truly relax into the West Seattle vibe.
Awesome eats on Alki
We've got four solid recommendations on Alki. Each is actually a local chain We don't love chain restaurants, but these are great LOCAL options:
We love dining on Alki, especially with out of town guests, because it's perfectly Seattle and always delicious.
Capitol Hill and Volunteer Park
Capitol Hill is Seattle's gayborhood. We have lived here (before kids) and we visit frequently now (with kids). The neighborhood along Broadway is eclectic and fun, always something happening and interesting shopping. The hub of 12th and Pine is all about food and drinks… and sometimes drag. There are rainbow crosswalks, parks and some of Seattle's best vintage stores. And then there's 15th Ave for food, food and more food.
Volunteer Park is really the hangout though. Located at the north end of Capitol hill, Volunteer Park is home to the Seattle Asian Art Museum, the conservatory, the old water tower (which you can climb), an amphitheater, walking trails, rose gardens and more. This is where the annual PRIDE picnic is held, as well as other festivals throughout the year. Also, if you know of Seattle's grunge music past, you'll appreciate the Black Sun sculpture that proudly makes a window to the city. This sculpture was the inspiration for Soundgarden's Black Hole Sun.
Awesome eats on Capitol Hill
Even with the ever-changing restaurant scene in Seattle, there are a few standards that never disappoint. We have returned to them over and over through the years.
La Cocina & Cantina – I'm pretty sure we've eaten here more than anywhere else in all of Seattle. Great Mexican food.
Coastal Kitchen – our long time favorite for fun dinner and interesting seafood.
the Americana on Broadway – one of the most delicious breakfasts in the city with the, hands down, BEST BLOODY MARY.
HaNa – this was the very first place I ever had sushi. It is very basic, clean, and fresh. Perfect.
Dick's Drive In – it's a Seattle staple. The Dick's Deluxe is where it's at, paired with a vanilla shake.
We aren't even getting into the super late night food that you'll find on Capitol Hill. Just know this: if it's 2am and you see a hot dog vendor, get a Seattle dog and thank me later.
Fremont and the Troll
I fee like I just said that Capitol Hill has the best vintage shopping. Actually Fremont does; in fact, that's usually why we end up in Fremont. It's a really cute neighborhood and is perfect for strolling with your out of town guests. Fremont is a strange place with several notable (and controversial) sights:
the Fremont Bridge, aka the most active draw bridge in the USA
the statue of Lenin – always a hot topic with locals
Waiting for the Interurban – is there anybody that went to SPU or the UW that hasn't decorated this famous public artwork?
the Burke Gilman trail – perfect for walking or biking, stretching from Ballard all the way out to Marymoor Park in Redmond
the Fremont Troll – he lives under the bridge, has grabbed a passing VW Bug and is the sight of every Seattle kid's senior pictures.
There is actually even more to Fremont than this, but if you're playing tourist in Seattle with out of town guests, these sights are the easiest, most iconic, and most fun to visit. 
Awesome eats in Fremont
Being home to some great night life and performance spaces, Fremont also has great restaurants for the show-goers. Our favorites include:
The Flying Apron – a great vegan, gluten-free bakery. We took our son here (allergic to eggs) and he was amazed to get whatever he wanted
Schilling Cider House – Washington State is home to lots of awesome breweries but we have cideries too. Schilling is killing it in the best way.
There are actually a lot more places to dine, but nothing really stands out to us as places we cannot wait to return to. If you have a favorite Fremont eatery, send us a note so we can include it.
Kerry Park and the view from Queen Anne
Queen Anne Hill is the tallest hill in Seattle and it's one of the oldest neighborhoods. It's the hill you see from everywhere that has the three television towers on top. While there isn't a ton to do ON Queen Anne, it does have the most iconic view in all of Seattle, which is why it's a perfect idea with out of town guests.  Kerry Park is located on the South face of Queen Anne hill. There are benches, some public art, and an unobstructed view of Seattle with the Space Needle directly in front of it. Clear winter mornings, this is the best sunrise in Seattle. In the summer, sunset from Kerry Park is beautiful with the colors reflecting off the Puget Sound and downtown Seattle.
Tip:  this is a great spot to snap a family selfie, but there are usually plenty of other people around too for getting a good picture.  Check out our best travel photography tips here!
Another highlight of the Queen Anne neighborhood, particularly lower, is street art. Between all the cafes and wine bars keep your eyes peeled for some of the most beautiful, colorful street art in the city.
Awesome eats on Queen Anne
We're going to include Lower Queen Anne (Seattle Center area) in our food recommendations. There are so many great spots in both lower and upper Queen Anne.
McMenamins Queen Anne – a Pacific Northwest group of brewpubs and hotels, this spot it great for lunch and beers. The Ruby beer is amazing.
Dick's Drive In – we recommended it on Capitol Hill too. This location has actual indoor seating though.
The 5 Spot – on upper Queen Anne, it has a themed rotating menu and NEVER disappoints.
Take a Ferry Ride
We save the best for last. Riding a ferry when you visit Seattle is required. REQUIRED. We live across the water from Seattle so are fortunate to get to ride Washington State Ferries frequently. As a walk-on passenger, you only pay heading westbound, so for a roundtrip boat ride and sweeping views of Seattle and Puget Sound, $8 or so per person is a steal of a deal.
Note:  your best ferry ride option out of Seattle is the Bainbridge ferry. It's easy to walk off and explore the cute downtown area of Winslow and then hop back on after you check it out. The ride is only 35 minutes one way, so it's not going to eat up your whole day. If you're driving on, check out the Bloedel Reserve!
And I don't want to oversell a Seattle ferry ride as being this way all the time, but when the local pod of orcas (killer whales) is in Puget Sound, they are often seen from the ferry. More commonly, porpoises, sea lions, seals, bald eagles and otters are seen. Keep your eyes peeled and your camera ready, just in case!
3 great hikes with kids IN Seattle
These tips are from our friend and fellow two-dad team member, Andy.  His family loves living in West Seattle and has some great hiking tips for the city.
One of the benefits of living in the Pacific Northwest is that nature abounds. We are surrounded by evergreen forests, amazing mountain vistas, and scenic coastlines. With so many local, state and federal lands, it is easy to get out and enjoy mother nature in all her glory. When we can't make it out of the City of Seattle on the weekend for a hike, we have found three tried and true city parks that do the job quite nicely.
Discovery Park – Magnolia neighborhood
Discovery Park is located in the Magnolia neighborhood of Seattle. This park is the largest in Seattle boasting 534 acres of the former U.S. Army Fort Lawton. The park has over eleven miles of trails and includes forests, prairies, and beaches with spectacular views of the Olympics, Puget Sound, Seattle and Mt. Rainier. When we visit we usually park in the North Parking Lot. From here you can access several of the trails including the 2.8 mile Discovery Loop trail or the Hidden Valley Trail.
We love hiking all the way out to the beach to take in the views from the West Point Lighthouse at the tip of the Park as well as hoping to catch some glimpses of all of the Puget Sound marine life. Discovery Park is also home to the United Indians of All Tribes Daybreak Cultural Center, many of the original Fort Lawton buildings including officer housing and parade grounds as well as more blackberries than anyone can possibly pick in late July through the end of August.
Seward Park Peninsula – Lake Washington Blvd / Seward Park
The next park we like to hike is the 300 acre Seward Park located south of downtown along Lake Washington. With an old growth forest, views of Mt. Rainier,  a 2.4 mile bike and walking trail, and a summer swimming beach, Seward Park has a lot to offer. We typically walk the perimeter trail, however there are some 9 miles of trails to hike on the forested hill at the center of the park. Another asset of this park is the Audubon Center which offers a wide range of programming for toddlers to adults. Additionally, you can continue your walk along Lake Washington drive and on a clear day catch some great views of the Lake and Mt. Baker to the north.
Lincoln Park – West Seattle / Fauntleroy
Our favorite park happens to be across the street from our home. Located in West Seattle, Lincoln Park has 135 acres of old growth forests, 4.6 miles of trails, sweeping views of Puget Sound and the Olympic Mountains. Sunset is a great time to walk the 2 mile walking path along the water to catch views of seals, eagles, the occasional whale spout, and to watch the Washington State Ferry make runs between Fauntleroy, Vashon and Southworth. During the summer, you can swim at Colman Pool at the tip of the park, splash in the wading pool up on the bluff, picnic along the shore or up the woods, and learn about marine life from the Seattle Aquarium's Beach Naturalists. Our favorite year round hiking route is to start at the south end of the park, walk along the beach and then take the the switch-back trail at the northern edge of the park up the bluff. Once at the top we follow the trail through the forest along the edge of the bluff back to the south parking lot. Lincoln Park also offers two playgrounds which make a nice reward for a successful hike with kids.
There are over 400 parks in the city of Seattle. One of my favorite resources for information about our parks is the blog Year Of Seattle Parks. Here you can find information about each park the city has to offer from small neighborhood parks, to the large ones mentioned above. Linnea Westerlind recently published a handy book version of her blog called Discovering Seattle Parks: A Local's Guide which has information about over 100 parks. While I have focused on parks in our area, there are great parks in almost every city. Just because you aren't able to escape whatever city you live in on the weekend doesn't mean you can't get out and enjoy nature.
Bonus plan: day trip to Tacoma
About a half hour south of Seattle is the city of Tacoma. It's a more industrial city but it's seen a great resurgence in the last fifteen years. With several brewering, the Museum of Glass, the Lemay America's Car Museum and more, it's turning into its own destination… but it's still a great day trip for now.
Aren't you excited to explore Seattle with out of town guests now?! Or maybe you've just got inspired to play tourist on your own. Either way, please let us know if you think we've left any key sights off our list. Seattle is genuinely our favorite city on earth, which is why we live here. Visiting is a treat and will make you fall in love with the PNW life.
Want to pin this for planning your own visit to explore Seattle? Go for it!!!