As mainstream as working with influencers has become, a remarkable number of businesses, advertising firms, and destinations still haven't gotten on board. Why is that? Are they afraid that asking an influencer to use their influence to share their product or story isn't classy? Do they think leveraging individual authenticity doesn't pack a punch? What's the deal? Having worked under the titles of Influencer, Blogger, Writer, Photographer and more, I'm going to share the specific benefits of taking the leap towards paid influencer marketing campaigns and building long-term blogger and influencer marketing partnerships.
This is the first of a multi-part series on influencer marketing tactics and ROI. In this series you'll find case studies, business considerations, some challenges you may face, and a plan to get your team on board with the current and future state of marketing: influencers.
If you're looking for our workshops… (new 2023 dates will be announced in December 2022)
2 Day Workshop – Engaging Influencers for Good

For bloggers / influencers – Build a Better Blog, 2 day workshop
What is Influencer Marketing?
This is actually not a bad question on any level… and at least once every two weeks or so I explain to some sort of business professional, both in small business ownership AND in the national marketing space, what an influencer does. Here's my definition of what influencers are and do:
Does that make sense? An influencer is a non-corporate voice describing their views and experiences to their following, whether through a series of photos, a written article, a short video clip, or even, dare I say it, straight up real talk that's unfiltered on a Facebook page or Twitter feed.
Authentic, and often unfiltered, sharing has a deep impact on today's audiences. When an influencer creates and shares content that they're passionate about or really does stand behind, it shows. This in turn reflects on the brand or experience the influencer is sharing about.
Influencer marketing happens when a small time blogger who's very deep in their niche tells their devout following that a financial tool they're using has changed their life for the better. Influencer marketing happens when a world famous Instagram star is having dinner at a food truck and somebody recognizes them and tells their friends that they saw Person X at Place Y. Influencer marketing happens when a parent blogger breaks down on Facebook Live because they're sharing a story about their special needs child having a first-time life experience.
Anytime an influencer shares with authenticity, influencer marketing is having an effect.
What you'll find in 2TravelDads Influencer Marketing series
We've compiled several email chains, call notes, case studies and portfolios to build out what we're sure is the full vision of what successful influencer marketing partnerships look like. We address everything from budgeting for a partnership to measuring return of investment (ROI) on influencer marketing campaigns.
We demystify the roll of a blogger, influencer or content creator to make true to life comparisons of this genre of marketing work. As you go through our complete series on blogging and influencer marketing, please leave us notes and send us messages with your questions. Our goal in sharing this content is to lay the framework for new campaigns to launch in travel and product spaces where traditional print and large scale advertising is still looked at as the only real way to run a successful marketing campaign.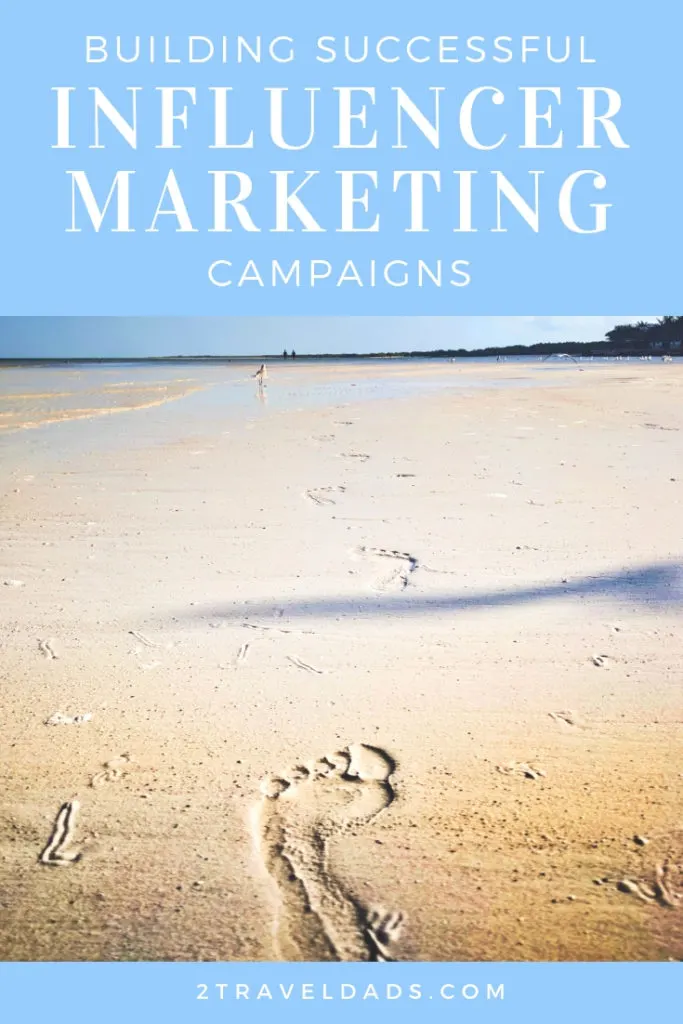 Outline of Building Blogger and Influencer Marketing Partnerships
The following outline is the base of the content as it now stands. This is a living outline and is subject to change as we receive feedback and more inquiries about our experience in influencer marketing campaigns and the process of creating these series of activations.
Why and How to budget for Influencer Marketing

Contract Negotiations and Ensuring Value – LIVE presentation available

Being the spokesperson as an influencer

– LIVE presentation available

Campaign case studies – provided to clients and workshop participants
We appreciate you sharing our Influencer Marketing series in whole or in part with colleagues, friends and leadership that you feel would either appreciate the insight or would benefit from the information. If you have any questions or feedback, send us a note. Also, if this is something you feel would be an ideal presentation at an upcoming meeting or team building event, I'm happy to talk about that too (check out my Speaking and Networking page).
Now, let's get to work and start effectively influencing!