You've started blogging (Woot Woot!) and you feel good about writing and creating content that you enjoy, so what are the next steps? Or maybe you've been blogging for a while and feel like you're stuck in the mud and don't know how to get inspired or create more engaging content. Or, I know, you've been blogging for a long time and you've decided that you want to do something more with it and don't know how to turn your blog into a business. It sounds like you need a workshop for new bloggers, even if you're a veteran.
Once you're REGISTERED for Build a Better Blog, please visit the pre-work page to be sure you're set up for success.
Build a Better Blog is our 2 day workshop designed for new and stagnant bloggers. We focus on the topics that are relevant to everyone at any stage of their blogging journey. With 5+ years of blogging and content experience, including a background in training and development, our program is ideal for both training the basics of blogging methodology AND honing specific skill sets needed to move a blog from a hobby to a trusted website.
Are you actually looking for a business-centric workshop re: building partnerships or initiating influencer marketing? GO HERE
What to expect from Build a Better Blog
Build a Better Blog is a comprehensive two-day workshop starting with blogging methodology and goals and ending with content planning and action items. Led by Rob Taylor, founder of 2TravelDads and Dad.Life.Travel., the workshop covers everything you need to know from holistic blogging approaches to strategic pitching.
Participating in the two-day Build a Better Blog workshop, you'll leave with knowledge, new content strategy skills, and a plan to either revamp your current approach to blogging or be setup for success as you up your game. Expect the following from our workshop for new bloggers:
gain an understanding of blogging channels/platforms
plan evaluating and updating current content
group discussion focusing on what DOES drive growth
action plan for pitching your blog for hired work
Build a Better Blog workshop itinerary
While we will form and update final workshop plans per the requests and experience of the participants, the following is the general schedule and subject matter of the Build a Better Blog workshop. Depending on the projected size of the workshop (no more than 20) or by request of the sponsoring entity, additional content creators or marketing specialists may present different parts of the workshop. It's always best to have diverse experience when running sessions focusing on the different level and aspects of blogging.
Here's the plan for the two-day workshop:
Welcome / Meet-and-Greet: open mingling time to connect with new faces and get comfortable
Blogging methods – from writing to vlogging, what content types are methods can you get into
Building answers – growing as a blogger means providing solid answers. How do you find the questions?
Whatcha got now – hands on session in small groups reviewing current live content

this is a hands-on session with OPEN DISCUSSION. Participants should be prepared to share 1 or 2 pieces of their content.

Wrap up – recap with Q&A, overnight assignment
End of day 1. Evening plan to be determined in partnership with hosting destination/sponsor. Typically there is a group event to encourage continued discussion and keep the momentum going!
Morning Mingle – check in with participants, workshop leaders available for quick-connects
Pitching your blog – how to write an effective pitch and bid
Building a campaign / content plan – defining your goals and creating a Scope of Work (SOW)

this is a hand-on session following the pitching presentation
be prepared with basic data re: current reach, readership / follower demographics, example of past campaign work you've done if applicable

Action planning – setting yourself up for success before you even leave
Closing event – last function together, time to connect with those you haven't met yet
Whether you're deep into blogging or just starting, please be sure you've read our article So You Want to Start Blogging. If you're already on track, please review the section specifically around honing your niche, as this is vital to our process of planning content and growing your blog.
Follow up to Build a Better Blog workshop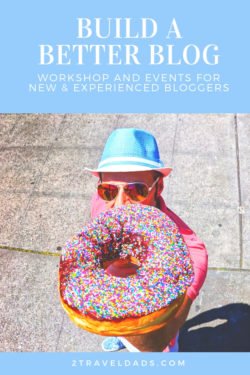 No doubt, after two intense days of learning and planning, you don't want that investment of time and money wasted. Following the workshop, we'll reach out to participants regarding support and next steps. If somebody would like to spend a few minutes clarifying anything that was covered in the Build a Better Blog workshop, we'll be happy to connect 1-on-1 within 30 days of the close of the workshop.
Should you need additional support or if you'd like to engage our consultation services, we're happy to discuss that as well. Part of running a workshop for new bloggers is creating a good support network and solid base, but NOT doing all the work for you. You should feel empowered and have gleaned the needed skills to level up your blogging after the Build a Better Blog workshop, but like we always tell our kids "if you need help, just ask!"
Booking or planning a Build a Better Blog workshop
Are you ready to participate in a workshop? Do you have a local blogging or WordPress group that would like to initiate a workshop? Great! Here's what we need to do next:
evaluate the group you would like to experience our workshop for new bloggers (and veterans)
contact us or email us Rob@2TravelDads.com to notify us of the intent to attend/arrange a workshop
expect follow up within 2 business days to discuss workshop dates, expectations and agenda planning
If you are looking to spearhead a workshop, know that any size group from 5 to 20 is good. Dedicate time in small groups is good, but tribal knowledge sharing has endless benefits. We've presented to as many as 200 and as few as five.
Event planning for Build a Better Blog workshop – being the host
As you review our Workshop Questionnaire form you'll see options for events in conjunction with the actual workshop. Hosting a series of small (or large) events provides an opportunity for you to market and share your brand or destination with those participating in the workshop. We do ask participants to actively share their experiences on social media and to create blog content if they're inspired. Creating an exciting event that proudly features the best of your brand or destination is very effective for getting in front of new and emerging audiences. The possibilities are endless!
Examples of events and activations that have been successful in the past, both with Build a Better Blog and other conferences we've participated in, are as follows:
pre-workshop dinner / evening out – catered event or hosted at local venue
morning activities – guided hikes, simple yoga sessions, location specific craft product course (think coffee roasters and artisan bakers)
lunch service – this is required for all workshops
event dinner – both plated dinners and collaborative dining experiences are great ways to encourage participants to engage with each other while experiencing the hosting destination/brand
product giveaways – we operate on a zero-waste basis, meaning that we do not distribute single-use plastics or paper products that will be immediately discarded. If you are procuring product or building "swag bags" please be conscious of this, as sharing knowledge and growing marketing strategies is developing skills and reach for the better of business and humankind. Creating trash is not a part of the workshop.
cocktail hour / evening – bringing in local producers of wine, microbrews, ciders, and spirits is always a hit, garnering the greatest bonus event turnouts. People love to both try and learn about locally crafted products.
We are happy to partner up in the planning and execution of any workshop events. Ultimately, these events are the responsibility of the hosting sponsor, but we have the skills and experience to plan and carry out these activities.
If you have questions, please don't hesitate to reach out. Once you've completed your Workshop Questionnaire, please email to Rob@2traveldads.com.
Looking forward to sharing, engaging, and learning with you and your team soon!