7 Reasons to Love and Hate Cross Country Skiing (but really love it)
I've had a few interviews in the last couple of weeks and been asked what sort of family travel we love to do. The answer is always so quick to come to my tongue: hot, sunny beaches. And it's true. We just aren't snow people. Snow is pretty but it's never our first choice, even in the winter. We decided to give a snow-cation a chance and left the kids with family. We even tried cross country skiing.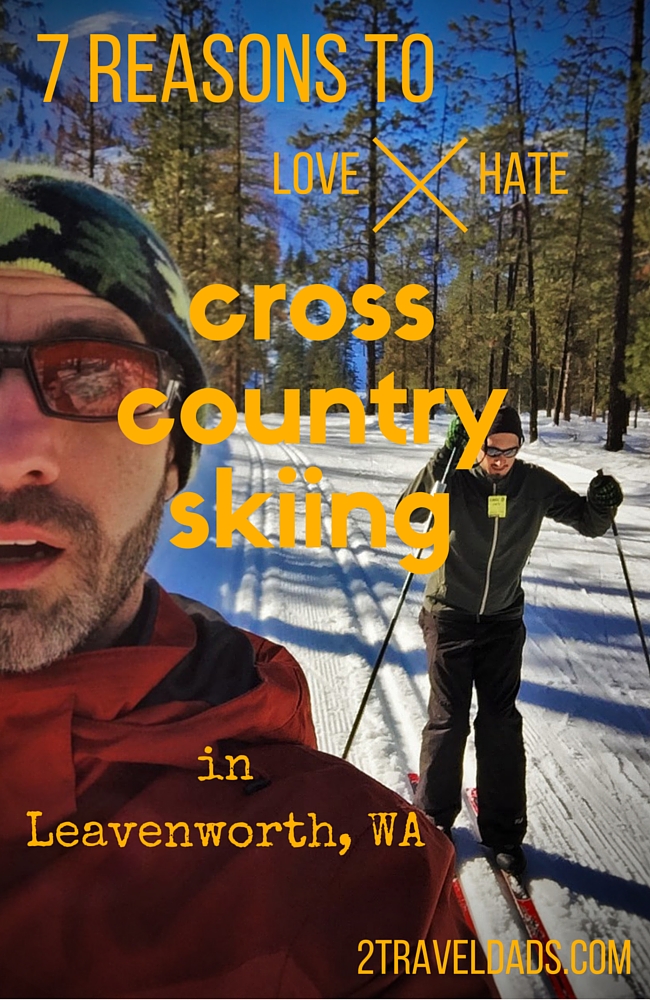 And that's what we must share with you now. What did we think of cross country skiing and spending a day trekking through the snow instead of the sand? We have some opinions…

We went to Leavenworth, Washington and had an awesome stay at the Sleeping Lady Resort. We enjoyed the hot pool and dining in the Kingfisher Restaurant and having drinks at the Grotto bar… and then they provided us with some trail passes, boots and cross country skis. So, I think we first need to say that we're both is pretty good shape with a long history and lifestyle of fitness and being active on vacation.
Having said that, Ohemgee. Cross country skiing was the most strenuous and challenging activity we've ever done. It was also incredibly beautiful. We were so torn about it…
7 Reasons to Love/Hate Cross Country Skiing
The view while skiing is amazing
Seeing the world from a set of skis is very different than going on a hike. Things move by faster and the landscape changes is a different way. Those mountains dead ahead of you get bigger in no time. That river you're heading towards quickly becomes your guide that you follow closely. Everything is a little more beautiful and a part of your ski-journey. That's why you should love the experience.
And what's so bad about this? When you're skiing you MUST keep your eyes where you want your skis to go. If you get distracted or want to look at something for too long you'll crash. That same speed at which you're traveling that makes it cool also makes you miss out on the little things. You have to pick which is more important to you: continuing on your trail or appreciating frozen pine cones.
Tip: it's okay to take breaks and enjoy the view, but get off the main skiing path. The Nordic Trail system we were on had clear tracks for other skiers to use, so if that's the case, really get clear of their path.
The challenge is awesome and tough

We love to learn new skills, especially when it's something physical. We love to push ourselves on challenging hikes or new biking destinations. Cross country skiing seemed easy and like we were taking the easy path for a morning of outdoor fun. Did you know that of all of the activities we've done while traveling, cross country skiing was the most difficult?
It's true and here's why: it takes a weird type of coordination that not all people posses AND it's not as easy as just strapping on skis and going. We had to ask for some basic help from the nice lady at the Leavenworth Winter Sports Club hut just to get moving. And then as we face our first downhills we had to talk about what worked for staying upright and what didn't.
Note: there are better options for skiing with kids than cross country skiing due to its difficulty, but old kids may really enjoy it.
We loved the new experience and we really got closer as a couple. Cross country skiing is a great way to be vulnerable and put yourself out there… and to see just how much your significant other does love you and how much they'll laugh at you.

Tip: ASK FOR HELP! Seriously, there is no shame in asking for help. Cross country skiing uses very long skis and if you're not well versed in moving on long, flat planks, you need to get help.
Tip 2: see when there are lessons. It may seem weird to get a lesson to move slowly in the snow, but there is great value in it, especially if they're teaching you how to get back up onto your skis.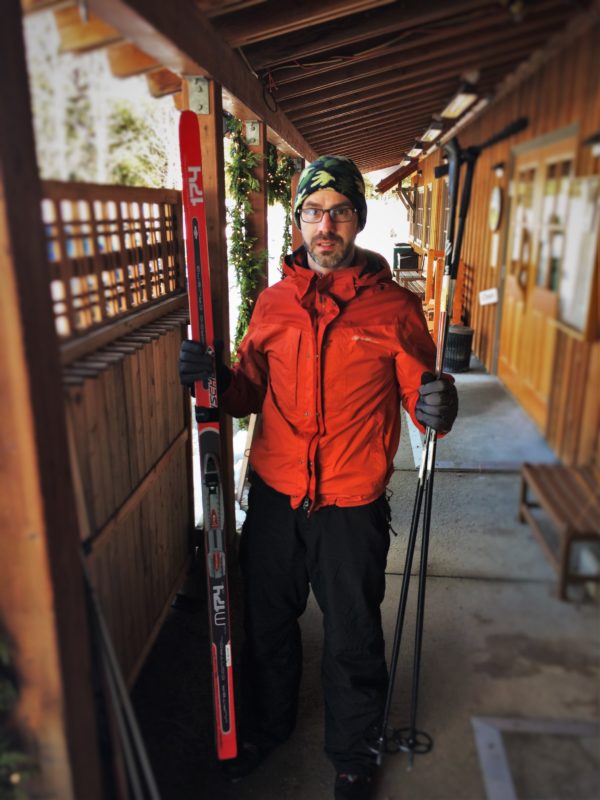 Fresh air cleansing your lungs
Ahh, it's always so exhilarating when you can gulp the freshest, cleanest air and feel it wake up your whole body. Cross country skiing is great for this because you're huffing and puffing and taking in so much of this wonderful oxygen… And it's freezing your lungs and if you're gulping too hard it burns a bit. Initially it's not bad, but after a half hour of it, you're in need of a break and some warm, moist air.
Ultimately you feel great with such a burst of wholesome, natural goodness, but it really can take its toll on you.
Tip: bring water with you because you'll need it. True, it's not like running a marathon in 90 degree heat, but the cool air does dry you out very quickly.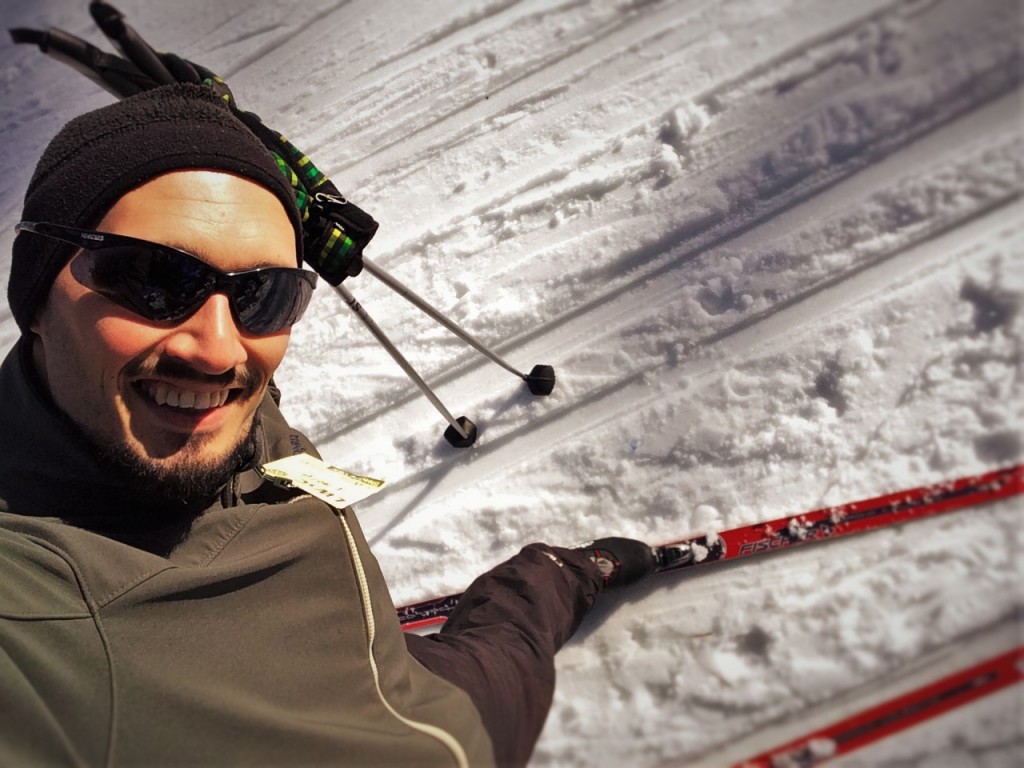 Cross country skiing: the best snow exercise
Yes, exercise. We love it. Cross country skiing is definitely exercise. Like we said, we didn't expect to be so challenged with the coordination side of things… or the physically exhausting bit either. We're both in good shape. Great shape even. Cross country skiing is a workout unlike any other. You're using your groins, hips, hamstrings and everything so differently that you normally would.
Yes, we loved this aspect and No, we didn't consider how tired this would make us for the rest of the day.
Tip: like with any exercise, stretch afterwards. You'll be glad you did. Also, like we just said above: WATER. Drink loads of it following a strenuous day on the snow.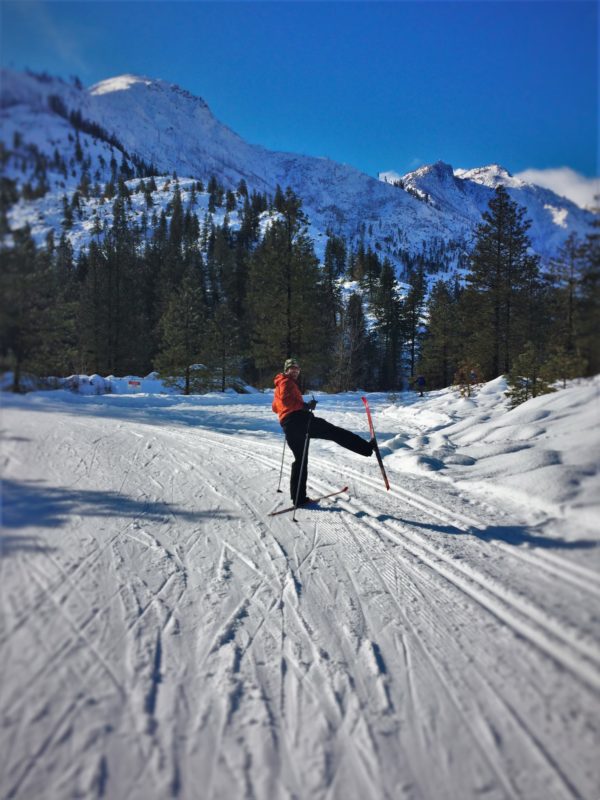 Sights you can't see from the road
Cross country skiing takes you places you don't normally get to go. We talked about how the view is different from skis, but now we're talking about the sights you get to see. When you're on a Nordic trail you're getting away from the main road and buildings.
You're gliding through the woods and along the river. We were able to experience the remoteness of the area without any man-made objects or sounds impacting our experience. Amazing!
This also makes it really tough to gauge where you are in terms of the loop (if you're on a loop) and when you should make the decision to head back. Yeah, man-made landmarks are helpful to guide you and show you just how far you've come. We didn't love being lost in the snowy wilderness (albeit on a well worn trail) and unsure of how long it would be until we were home.
Tip: smartphones have GPS. Before you're too far into the woods, be sure you've downloaded the map of the area. Using an app like MyTracks or your favorite running program can help you create a map of your route and show you both what you've accomplished and how much farther until you're done.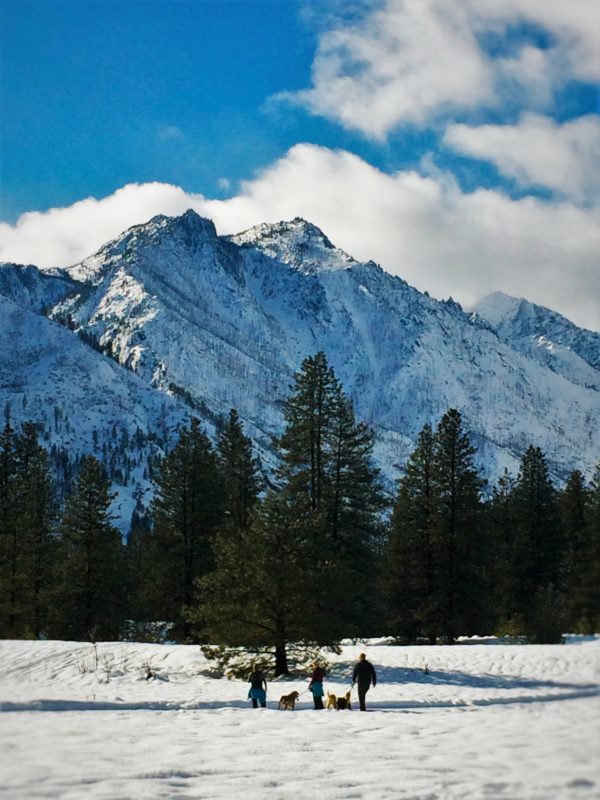 How you feel the day after cross country skiing
When you wake up the next day, you'll remember the amazing time you had yesterday while you were cross country skiing, swishing through the snow and experiencing nature in its winter grandeur… and then you go to get out of bed and you're like "OMG, can I do the hot pool before breakfast?!"
Yeah, we were sore the next day. It definitely shaped the relaxing approach we took to the rest of our weekend getaway activities, but not in a bad way, just in a more relaxing way.
Tip: take advantage of an excuse like this to enjoy a hot tub in the morning or to have a Bloody Mary with breakfast. Why not?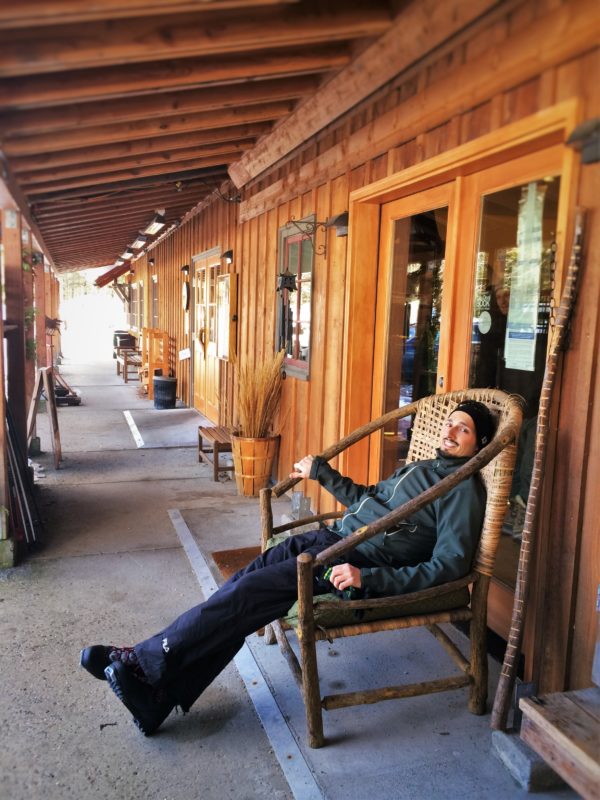 Cross Country skiing stories are hilarious
If you follow our blog regularly, you might notice that we don't incorporate a lot of video. We don't remember to take videos of each other or the kids because we're having too much fun enjoying each other's company. Well, just get to the top of a short but steep hill while cross country skiing. That'll give somebody the chance to take a video, and gosh, wouldn't it be great if it ended with a crash? Of course.
Yes, it's a tiny bit embarrassing but I don't care. I owned that hill and I owned that fall. And gosh do need need a better video solution than a camera phone.
Tip: buy a GoPro
camera. We didn't have one yet, but now we do and really wish we would've had it. A new gadget is a great way to gain a new skill… and like cross country skiing, a new skill like filming people falling while skiing could be fun to do more often.
So yeah, we loved cross country skiing together for the overall experience and having fun as a couple. Having a weekend without kids showed us that we can still have fun as just the two of us and that we still have things to learn and explore. We loved skiing together and getting a surprise, tiring workout on a Saturday morning.
We also hated getting so worn out and being so shocked at how unskilled we were. That's okay though, we did it together and ultimately loved it!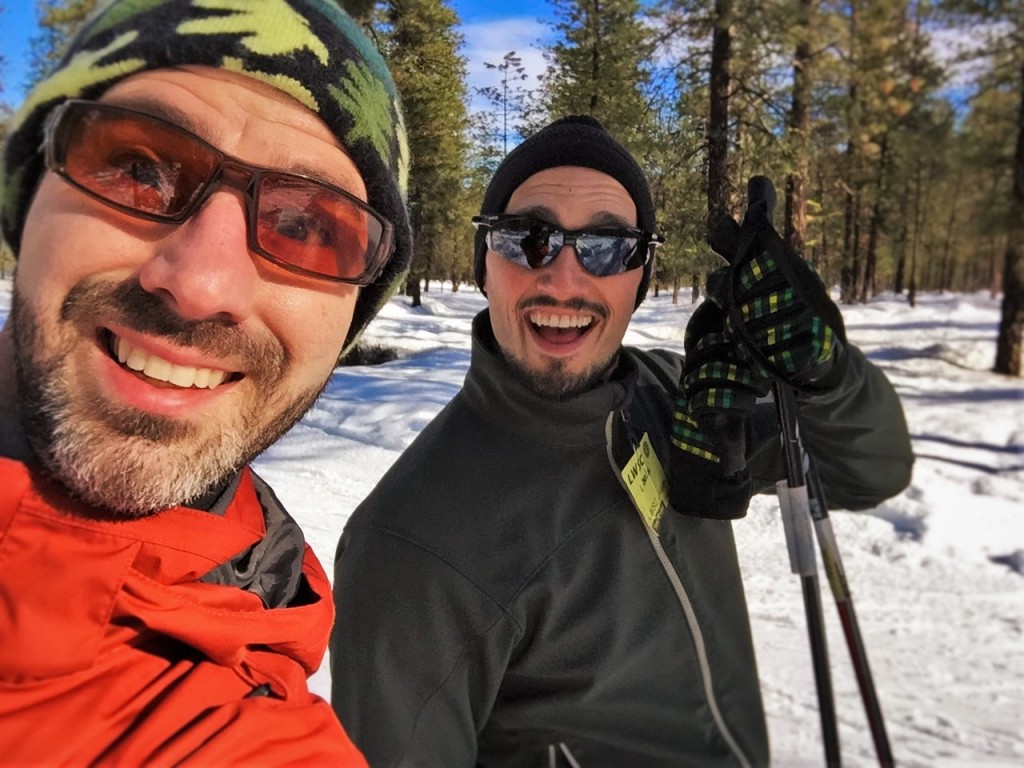 Thinking about some cross country skiing now? You should! We're heading to Colorado soon and may actually attempt it there too, we'll see. Do you have any tips for enjoying the nordic experience of cross country skiing? If so, share your tips below.