Hiking in National Parks can be epic, but have you ever just enjoyed the drive? We've picked our favorite Scenic Drives in National Parks that make getting the park experience easy and relaxing from your vehicle. I'll be honest, there are times when we're on a big road trip and we don't have time to spend several days or even stop for a short hike, so enjoying the scenic drives in National Parks is all we get. And we fully appreciate them.
In addition to the beautiful drives through National Parks, we've included a few epic roads through state parks or national forests, because beauty is beauty and if you have the chance to explore a little extra you should. Some of these stops are further off the main interstates than you might expect, but then they can also work as wonderful alternative routes if you're doing a cross country move or road trip.
If you have additional National Park scenic drives that you think are amazing that we didn't include, be sure to leave a comment or send us a note. We're happy to include more if you have great ideas!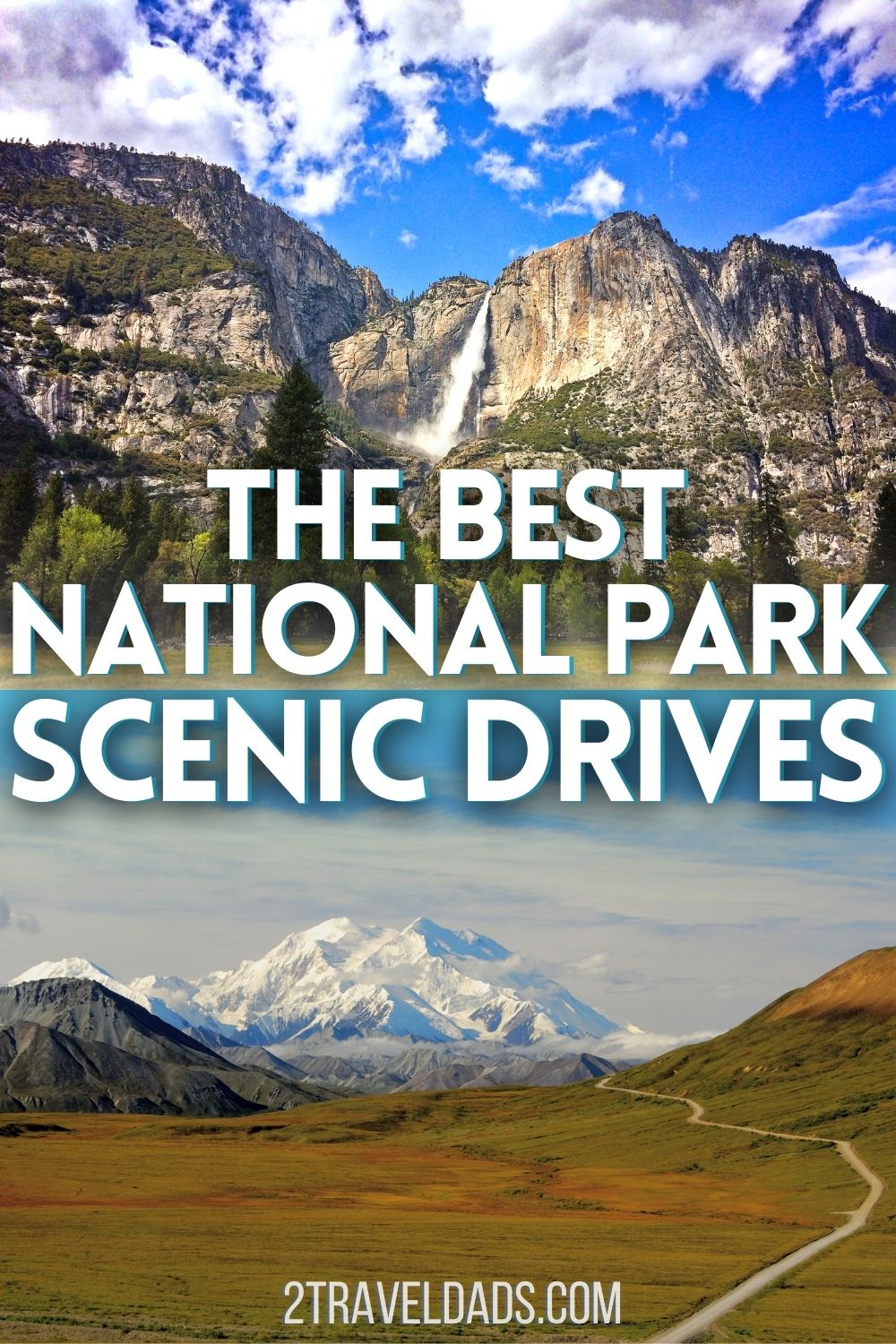 East Coast National Park Scenic Drives
From Maine to Florida, you'll find such wildly diverse scenery that you can barely believe that it's on the same continent, let alone the same coast. The National Park scenic drives on the east coast include incredible fall colors, views all the way to Canada and driving safely to NOT run over alligators. Could you imagine such a mix?!
Acadia National Park, Maine: Park Loop Road
As I wrote our guide to Acadia National Park the thing that kept coming to mind was how spread out the park was and how I didn't even understand what we'd be seeing when we visited, so my goal was to make an easy guide/plan so others enjoy Acadia NP to the fullest. Well, a part of that is taking in the scenic drive around the National Park as best you can. Acadia, located in the Down East portion of Maine, is quite spread out. The Park Loop Road is a beautiful drive around most of Mount Desert Island, and it'll bring you to a fair number of the best sights in Acadia.
Plan three hours or more to drive the Park Loop Road. This will allow you enough time to make stops along the way, getting down to the water and taking in some of the beautiful views from the pullouts. To add to this scenic drive, add the short drive to Bass Harbor Lighthouse to your day and you'll have a fairly complete Acadia National Park experience!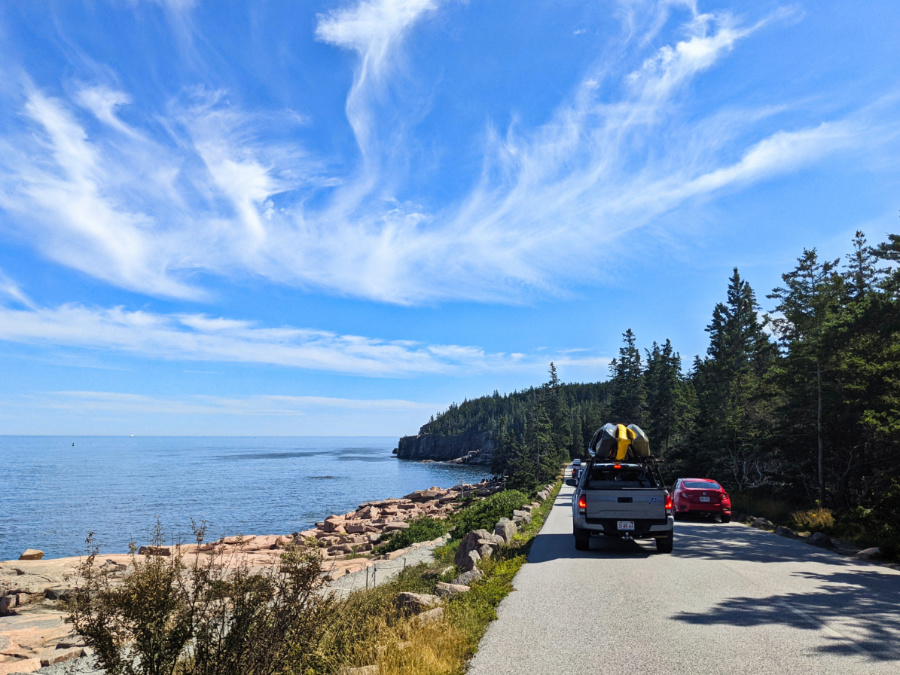 Cadillac Mountain in Acadia NP
One of the ways the National Park Service manages crowds in parks is through a reservation system for entry. It's not always active, but for the busiest times of year, it certainly is important. Access to the Cadillac Mountain scenic drive in Acadia National Park often requires a reservation through the NPS via recreation.gov, and it's worth booking. This is one of the best things to do in Acadia National Park.
The views as you wind around the granite peaks of Acadia are breathtaking, especially in October during fall colors or mid-spring when the brilliant green starts to take over Mount Desert Island. When you do the drive to the top of Cadillac Mountain, you'll find a visitor center, shop, easy hiking trails and plenty of spots for a nice picnic.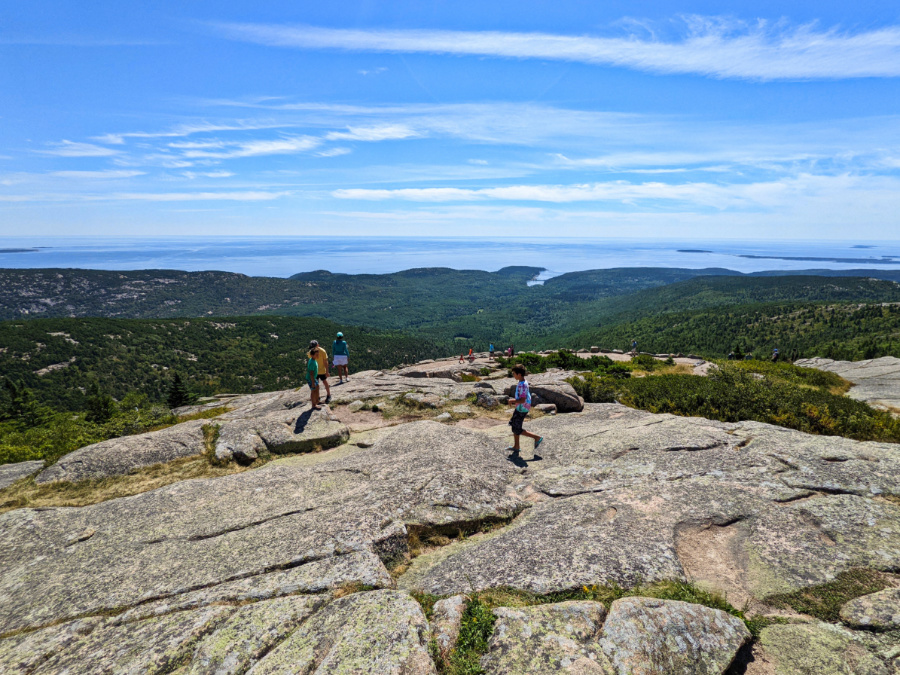 Great Smoky Mountains National Park, NC and Tennessee: Foothills Parkway
While on the surface it doesn't seem like Great Smoky Mountains National Park has anything truly astounding about it, it actually is remarkably beautiful. Yes, like with Acadia, fall colors in the National Park are a highlight, but year round the scenic drive  on Foothills Parkway is beautiful. Viewpoints along the drive give plenty of opportunities to see the blue smoky haze roll through the hills.
One of the highlights of driving through Great Smoky Mountains National Park is visiting Clingman's Dome and walking the pathway high above the trees, but that's closed in winter. If you happen to be doing the drive through the park after December 1, which is a great idea if you're doing Bryson City at Christmas, plan to stop at the many iced over waterfalls or nature trails along the way. It's an easy park to enjoy!
Tip: visit in the first week of June to experience the synchronous fireflies during their mating season. Firefly density can vary by location, and timing is a little different every year, but watch for firefly entry lottery to open in late winter each year for a chance to see them in their greatest concentration.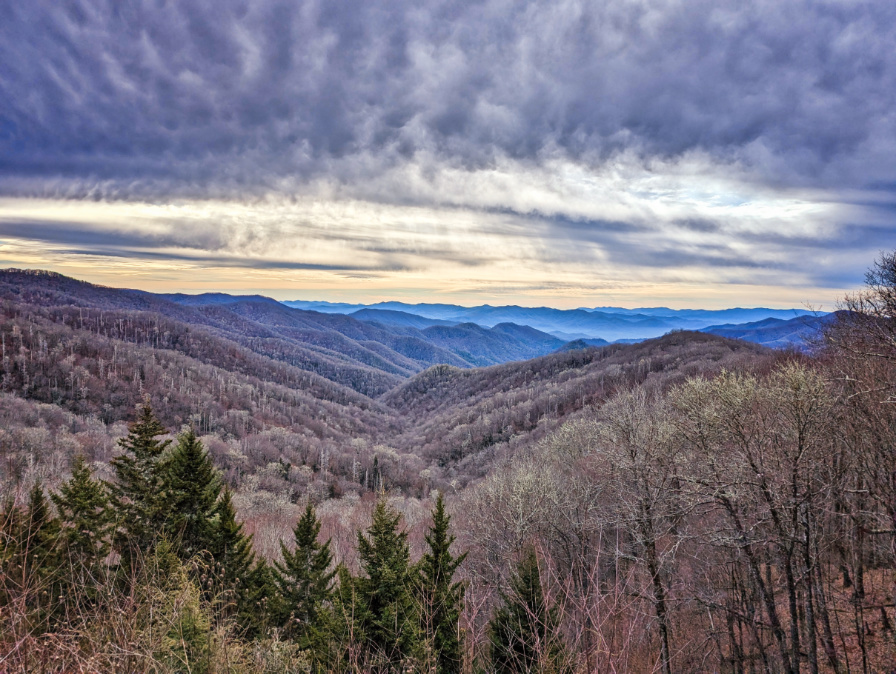 Big Cypress National Preserve, Florida: Loop Road
I love Big Cypress National Preserve for wildlife viewing. Whether you're doing the designated scenic drive through the National Park space or if you're just driving the Tamiami Trail (Highway 41) through the park, you'll be amazed by the wildlife.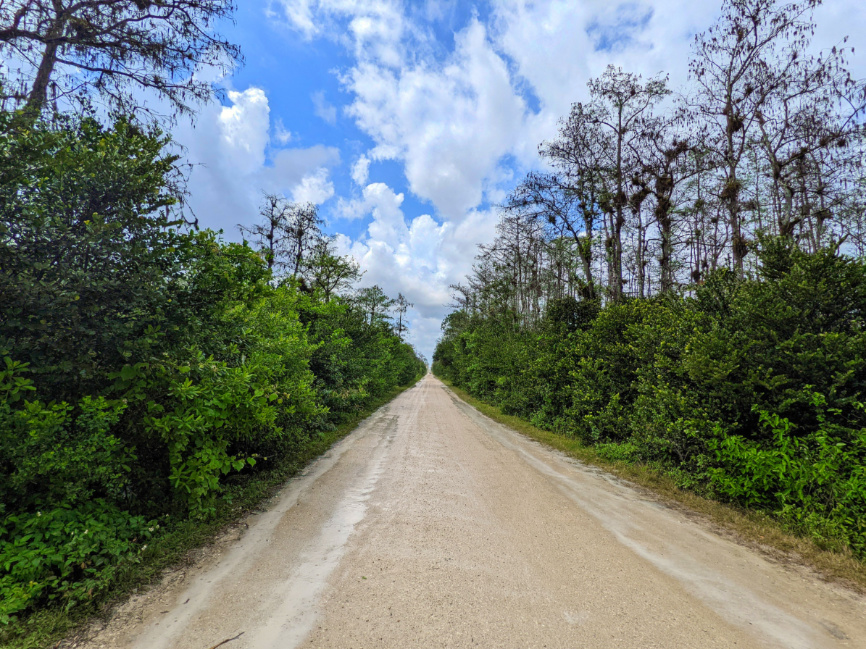 Big Cypress doesn't offer epic views on its scenic drive the way other National Parks do, but the Loop Road is all you need to get your authentic Florida experience. Alligators literally lay beside the road or just off it, making it easy to watch them and countless large bird species from the comfort of your car. There are easy walks and long hikes coming from the Big Cypress Loop Road also, so if you do have time and the weather is right, hike Gator Hook or one of the boardwalks!
Note: there is a lot of wildlife in Big Cypress. Be sure you're familiar with all of our wildlife safety tips before getting out of your car on this scenic drive.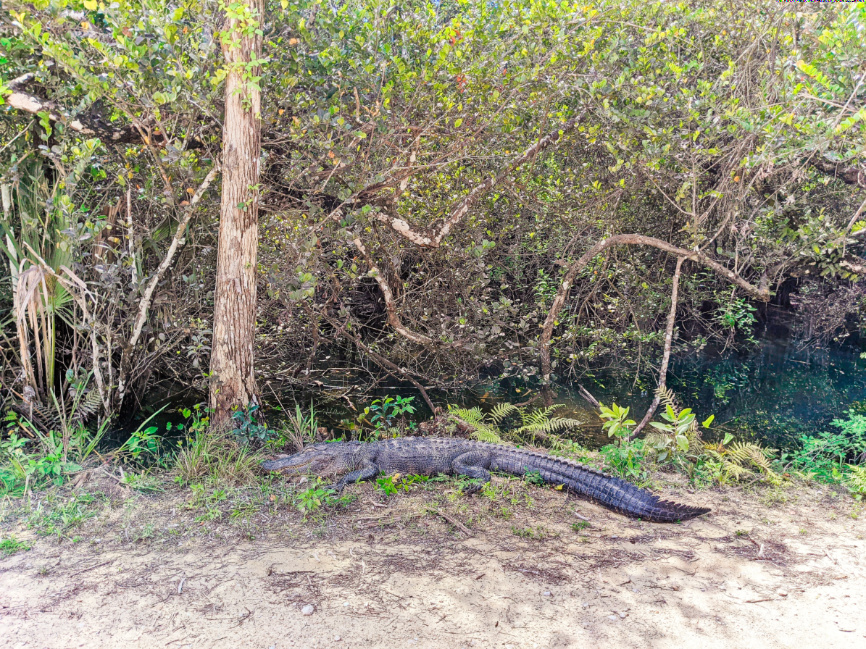 Everglades National Park, Florida: Flamingo / Main Park Road
It's not as easy to do a scenic drive in Everglades National Park as you might expect, but it's possible, via car, bike or boat! I know, I'm a bit off-topic here, but really, you can have so many different types of experiences in Everglades National Park. We visit this area often, so have explored it deeply.
For those that specifically are looking to see the Everglade from the car, the road to the Flamingo Visitor Center is the best for seeing the different ecosystems and sites. If you want to bike, Shark Valley has an amazing bike path that leads to a lookout to  survey all of the Everglades. If you want to ride the water-highway, the 10,000 Islands and Gulf Coast part of the park is where you can easily hop on a boat to see all that Everglade National Park has to offer. So many wonderful scenic National Park "drives" to enjoy here.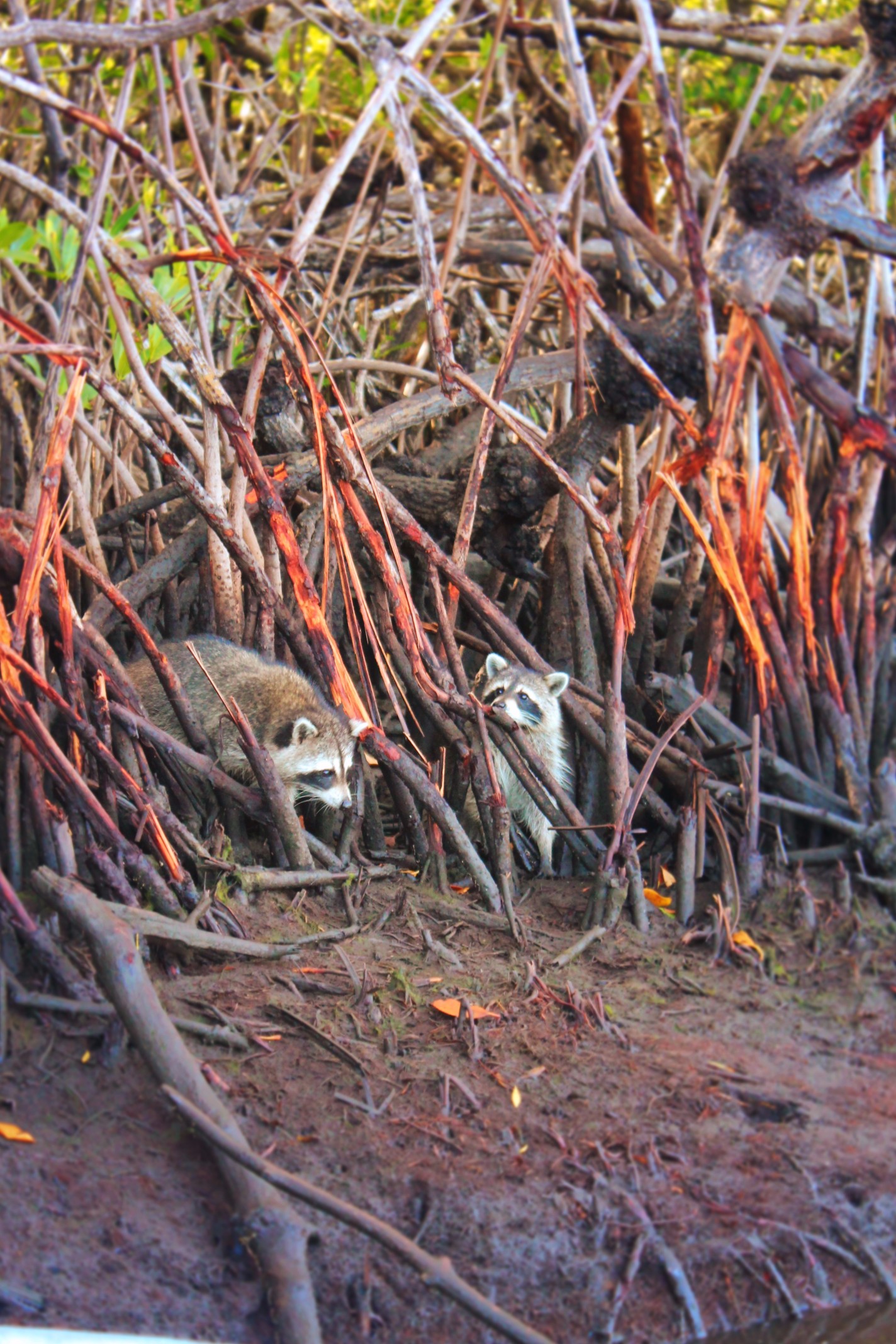 Scenic Drives in Rocky Mountain National Parks
I will never tire of having to cross the Rocky Mountains. With each cross-country drive or rugged vacation we take, we find ourselves in the Rockies, hiking and riding horses along the way. But there are some really gorgeous scenic drives in and around the National Parks of the Rocky Mountains. Whether you're looking for geysers or crossing your fingers hoping to see a moose, you'll love these epic National Park roads!
Glacier National Park, Montana: Going to the Sun Road
I can remember the first time I ever was on the Going to the Sun Road in Glacier National Park. Even as a little kid I knew this was one of the most scenic drives I would ever experience. Starting in West Glacier and going all the way to St Mary Lake on the eastern side, the Going to the Sun Road is open from late June to the beginning of October (weather dependent).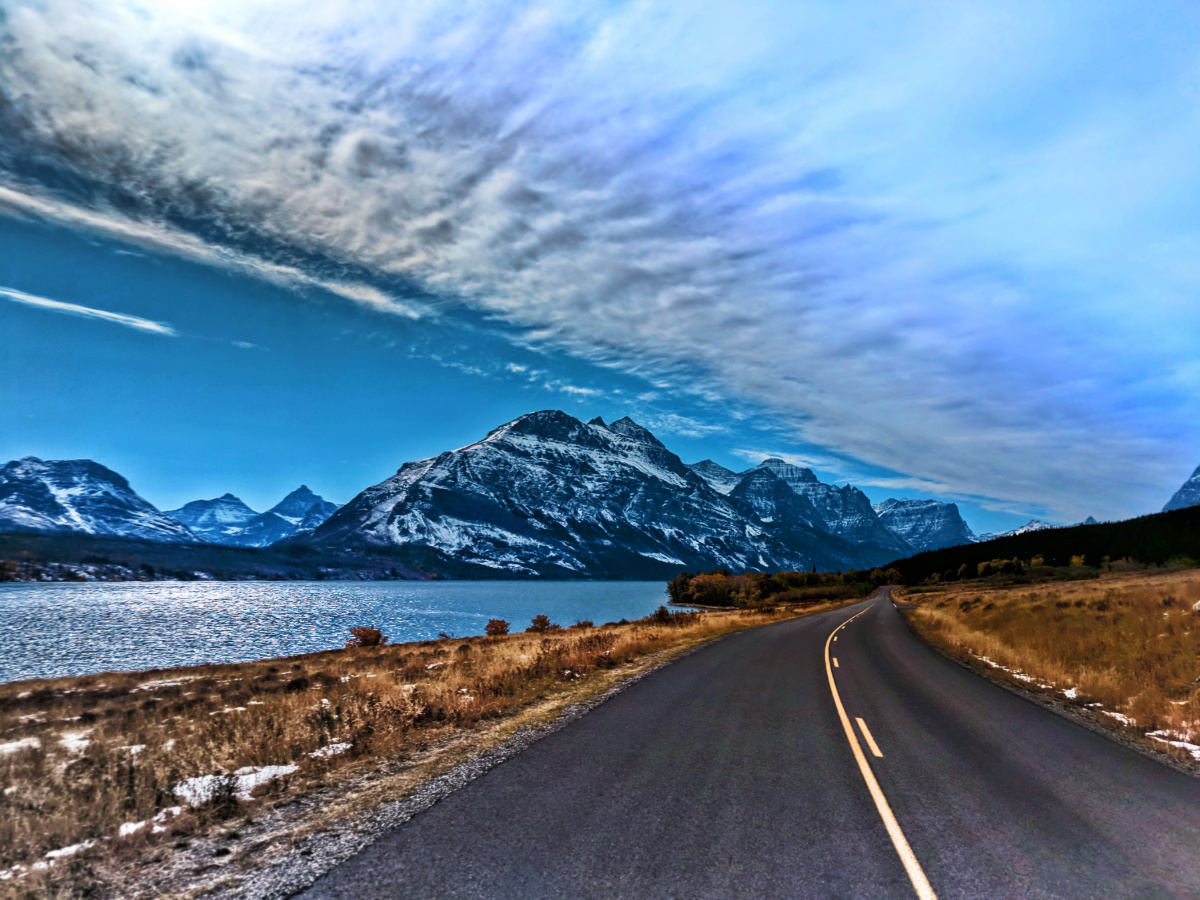 This scenic drive has the MOST EPIC views you can imagine. The jagged peaks and worn valleys of the Rocky Mountains make for some dramatic sights, for sure. Stop at Logan Pass for both easy and really intense hiking. As you wind down the east side you'll see waterfalls and mountain lakes, finally ending at one of the prettiest bodies of water in the Rocky Mountains: St Mary Lake. Take a scenic boat tour in Glacier National Park while you're there, and make plans to return for a more in-depth visit.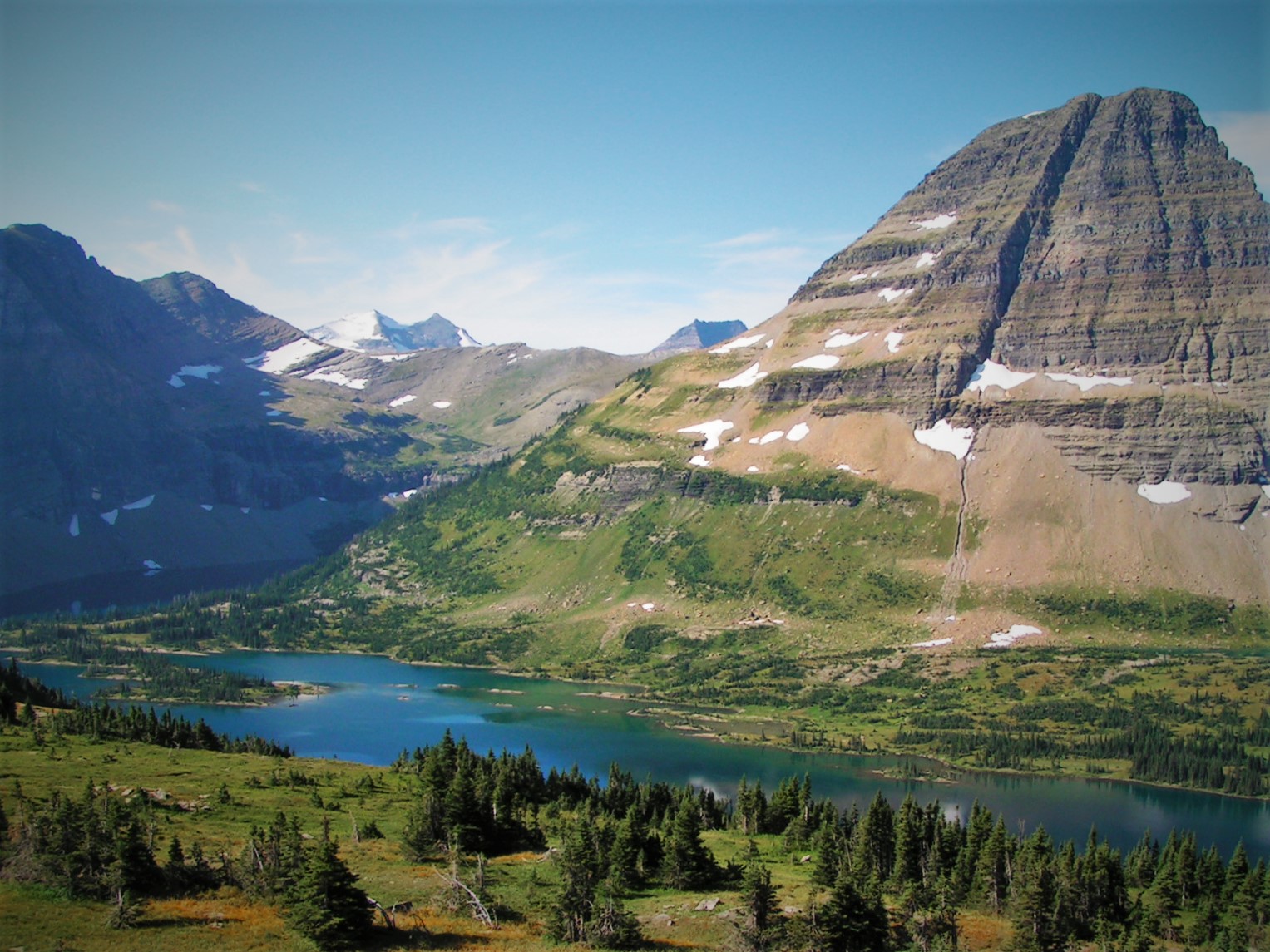 The Beartooth Highway in Custer Gallatin National Forest, Montana and Wyoming
What an extreme road! I didn't know what to expect from the Beartooth Highway, but I'd heard that it was the most beautiful scenic drive and if you're going to Yellowstone National Park, you should try to add it to your itinerary. The Beartooth Highway is the route to the Silver Gate park entrance from Billings, MT via Red Lodge, and this is how you get into Wyoming.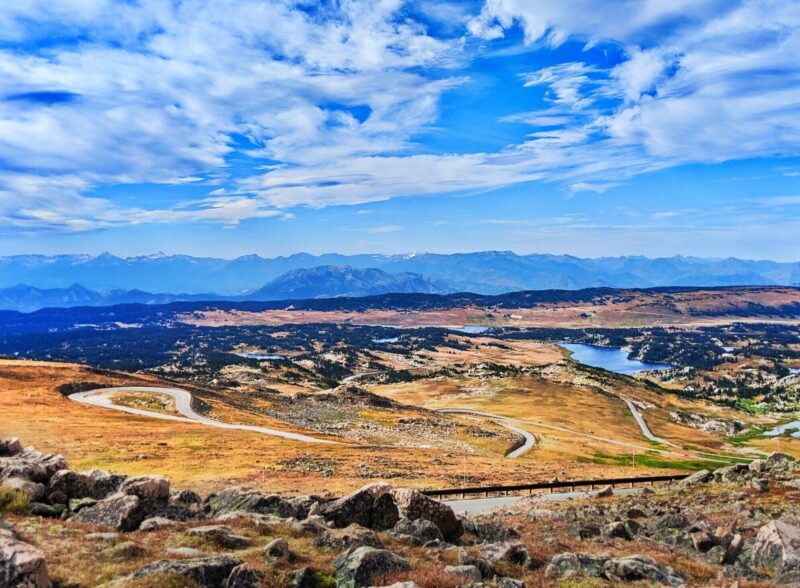 What makes the Beartooth Highway so amazing is the elevation gain as you go. A series of hairpin turns leading to the summit keep you on your toes as the landscape becomes more and more alpine and bare. At the top you'll look across glaciers, icy blue lakes, valleys and into the distant plains. The Beartooth Highway is one of the most elevated scenic drives leading to a National Park. You'll love it.
Note: the Beartooth Highway is closed in winter. It reopens in late spring, so check with the Montana and Wyoming highway services before planning this route into Yellowstone National Park.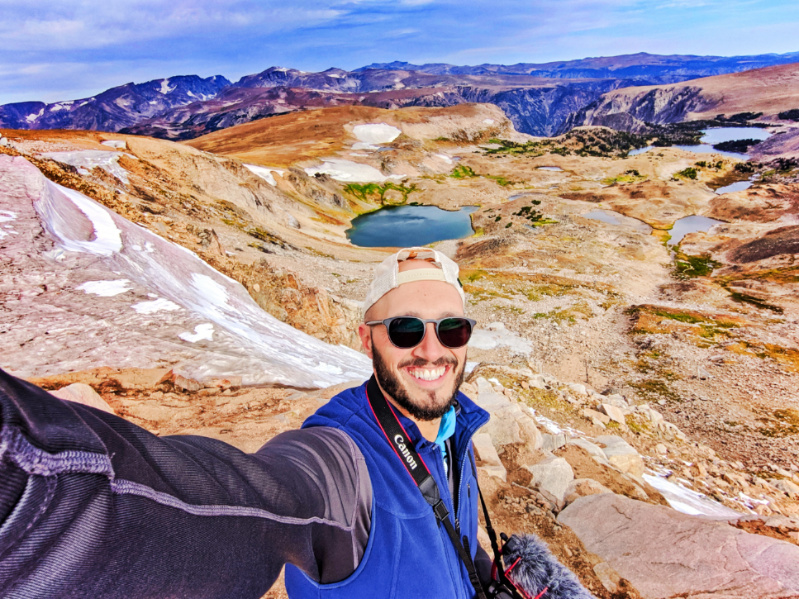 Yellowstone National Park, Wyoming: Grand Loop Road
Yellowstone National Park has several scenic drives within its borders, but the most comprehensive is the Grand Loop Road. Open fully from late spring to early fall, the Grand Loop Road includes stops at Mammoth Hot Springs, Tower Falls, Yellowstone Lake, the Lamar Valley (bison!), the Grand Canyon of Yellowstone, Old Faithful Geyser Basin, Biscuit Basin, Gibbon Falls and Norris Geyser Basin.
Check out our Guide to Yellowstone Geysers!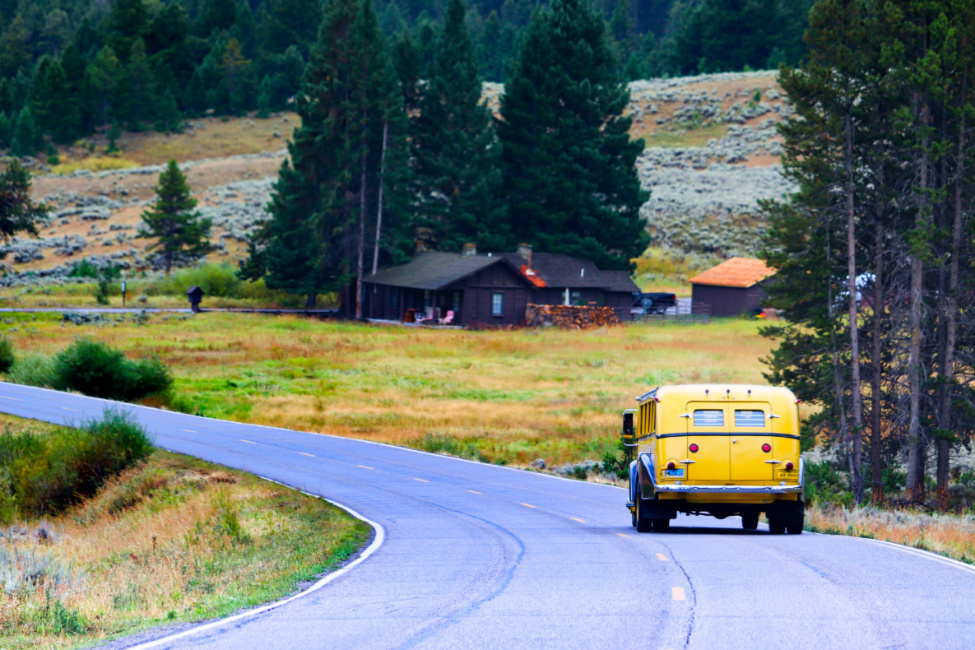 You can do the Yellowstone Grand Loop Road in a day or you can break it into portions to have a week of exploring all that Yellowstone National Park has to offer. If you are planning on doing all or part of the Grand Loop Road in one day, keep in mind that the highway is narrow and any traffic delays due to Yellowstone wildlife or construction will have an impact on the rest of your day.
For those looking to add the scenic drive through Yellowstone to a larger cross-country road trip, or if you're just heading to the Tetons, the western portion of the Grand Loop Road will get you the most geysers, while the eastern side has the most wildlife potential. Choose wisely, and then come back again to see more of Yellowstone National Park.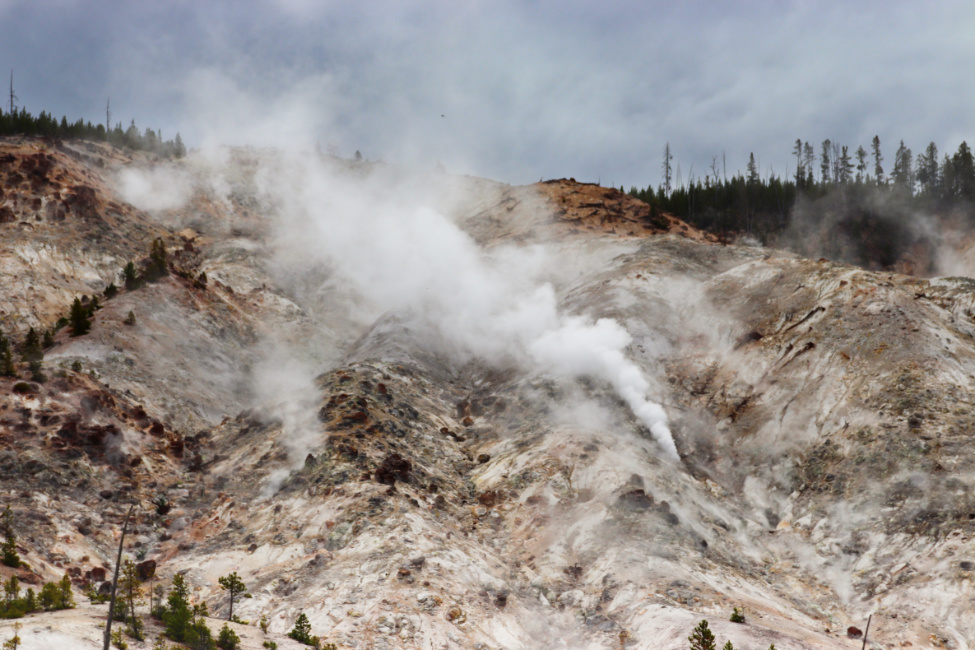 Grand Teton National Park: John D. Rockefeller Jr Parkway
The Tetons have become such a popular winter destination because of ski resorts in Jackson Hole, Wyoming, but Grand Teton National Park is actually a beautiful place to visit in any season. One of the most popular scenic drives in National Parks due to its connection between Yellowstone and Grand Teton NP, the John D. Rockefeller Jr Parkway is a beautiful place to drive and take in the wonder of the Rockies.
With lots of pull outs for viewpoints and hiking trails, the John D Rockefeller Jr Parkway is the perfect introduction to the Tetons if you're coming from the north. This is also an awesome place to see wildlife, including moose, bighorn sheep and bears. If you have time, plan for some kayaking while you're in Grand Teton National Park, as the lakes are dreamy.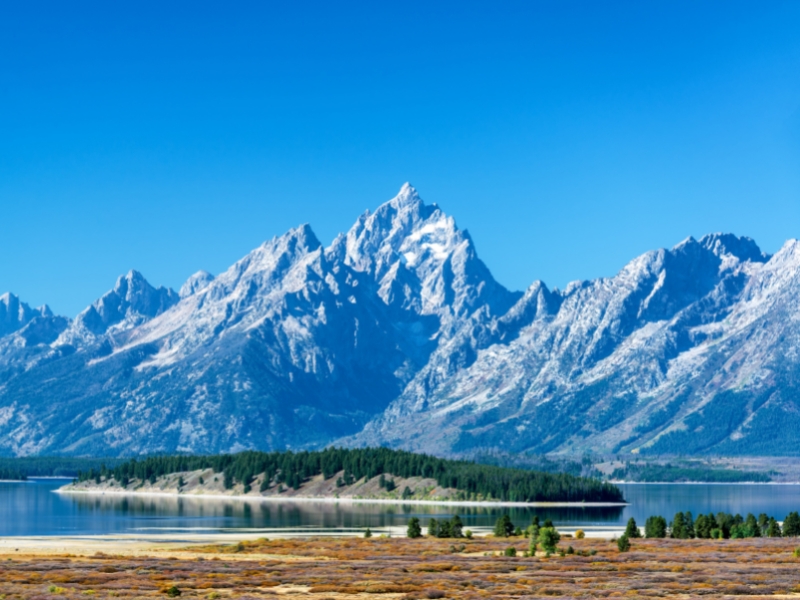 Utah National Parks Loop Scenic Drive
No, this isn't a cop out so I don't have to write about each of the National Parks in Utah, but here's the thing: you just need to do a Utah National Parks road trip and you'll see that the breathtaking landscape isn't just on the roads within the National Parks, but the drives between them are just amazing.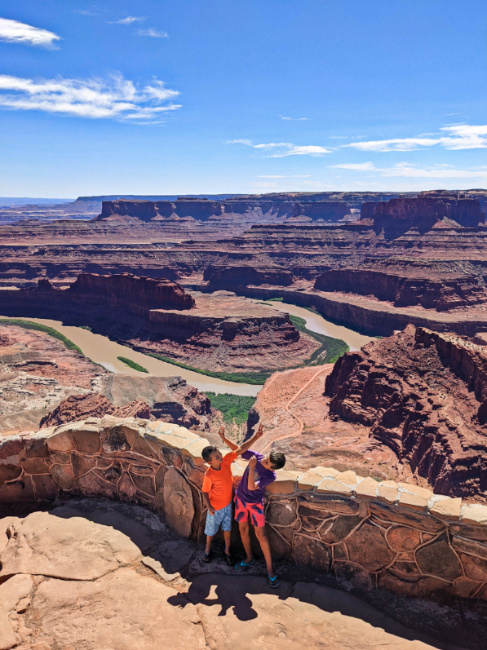 From Aches National Park to the Needles District of Canyonlands National Park is just epic. Windows in the sandstone cliffs, and then winding roads to viewpoints you won't believe. And from Canyonlands National Park to Capitol Reef National Park, wow! Purple, gray and red rocks make it one of the most unique drives. Moving onto Bryce Canyon National Park, the epicness of driving through Grand-Staircase Escalante is incredible.
After you drive along the rim of Bryce Canyon you'll wind along the Dixie National Forest highway to Zion National Park. In Zion NP you can't drive along the valley floor like you can in Yosemite, but the road through the Mt Carmel Tunnel to Springdale is marvelous with lots of great stops to make. Ultimately, there are so many unique sights in Utah and its National Parks that you'll just need to plan to do them all!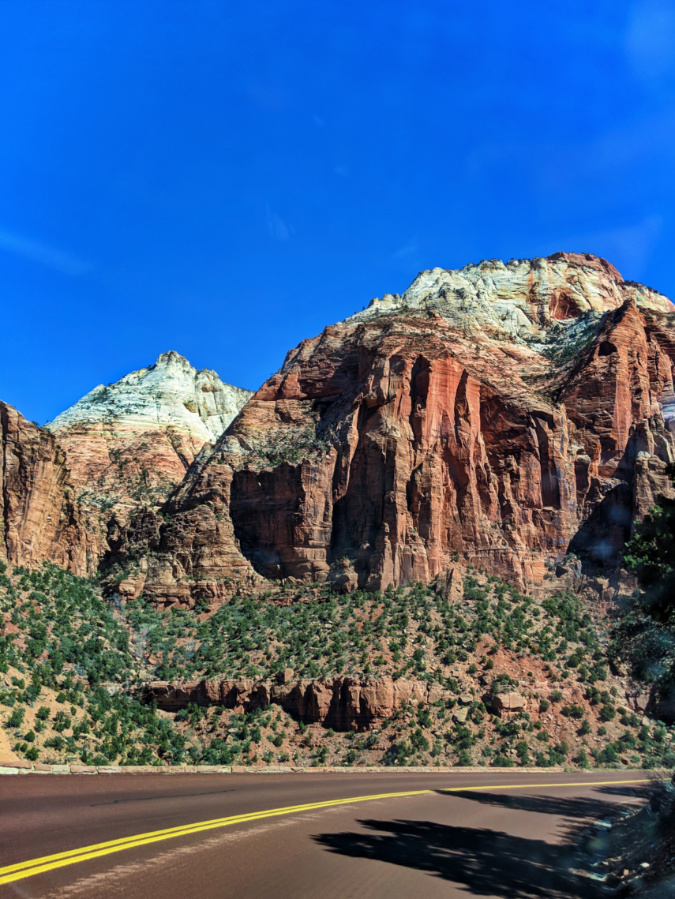 West Coast National Park Scenic Drives
Just like the east coast has some diverse landscapes and wildly different scenic drives in National Parks, the west coast can totally match it! Thanks to the Cascade Mountains, the Pacific Ocean and the arid climate of the Southwest, west coast scenic drives are astounding!
Check out our epic West Coast Mountain National Parks Road Trip itinerary!
Crater Lake National Park, Oregon: Rim Drive / Volcanic Legacy Scenic Byway
It takes something special to become a National Park and Crater Lake absolutely is that. The deepest lake in the United State (9th deepest in the world), Crater Lake National Park is the site of Mount Mazuma. This now extinct volcano erupted last approximately 7,700 years ago and has since filled its caldera with water.
Drive the Scenic Rim Drive and Volcanic Legacy Scenic Byway to see nearly all of what Crater Lake National Park has to offer. Keep in mind that the park will close when the weather says it must, so keep that in mind for your planning. It's very possible to do Crater Lake's Scenic Rim Drive in the snow, but the conditions must be right and the Park Service must be able to access all parts of the road.
For a really epic scenic drive, complete our 10 Day Oregon Road Trip. You'll be amazing at the sights and diversity of the state.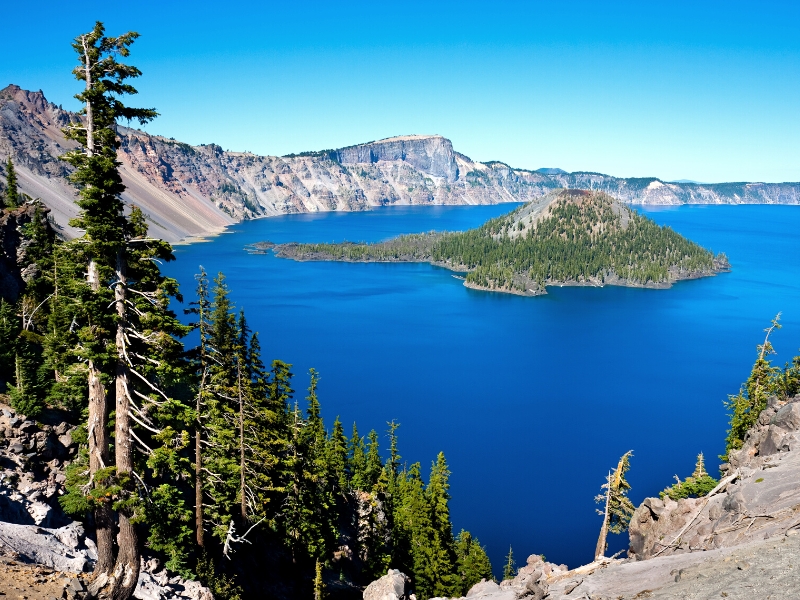 Olympic National Park, Washington: Hurricane Ridge Road
Like Acadia National Park, Olympic NP is broken into several units that are all relatively close together. While the drive around the Olympic Mountains on Highway 101 is beautiful (and goes through the town I grew up in) it's not the scenic drive we recommend for Olympic National Park.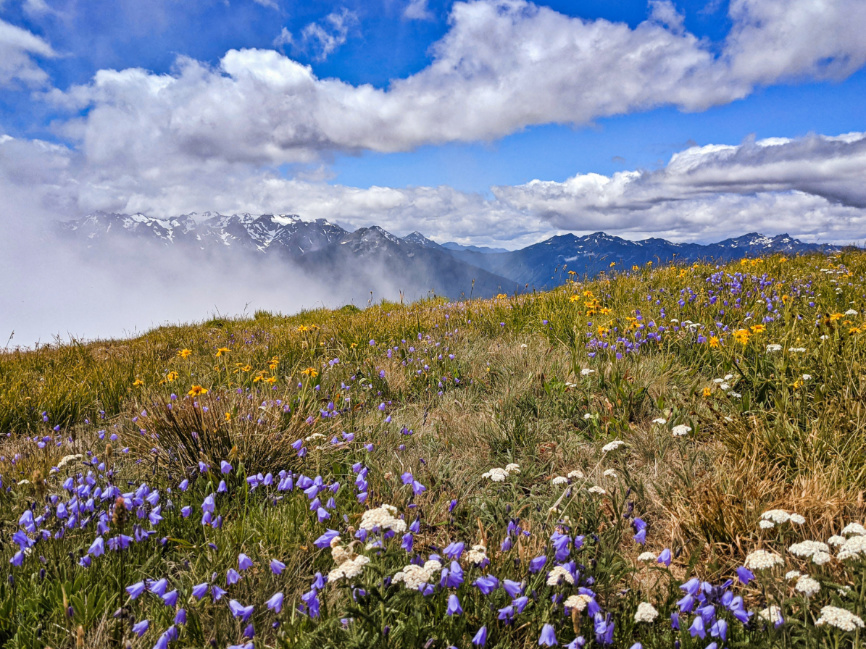 Going out of Port Angeles on the northern edge of the Park, Hurricane Ridge Road climbs from sea level to 6,772 feet. When it's a beautiful sunny day down in PA or Sequim, by the time you're at the top of Hurricane Ridge Road it may be blustery (like a hurricane) and thirty degrees colder. The views along the scenic drive are into the valleys of the National Park and of the rugged peaks of the Olympic Mountains.
Once at the top, enjoy the views from the visitor center or do a hike. There are both easy and VERY difficult hikes going from Hurricane Ridge, so plan your visit appropriately. Check out our Guide to Hurricane Ridge for all the details!
Tip: if it's open when you're there, the Obstruction Point Road offers even more astounding views… but it's also known as the most dangerous road in any National Park, so proceed with caution and only if you have the appropriate vehicle.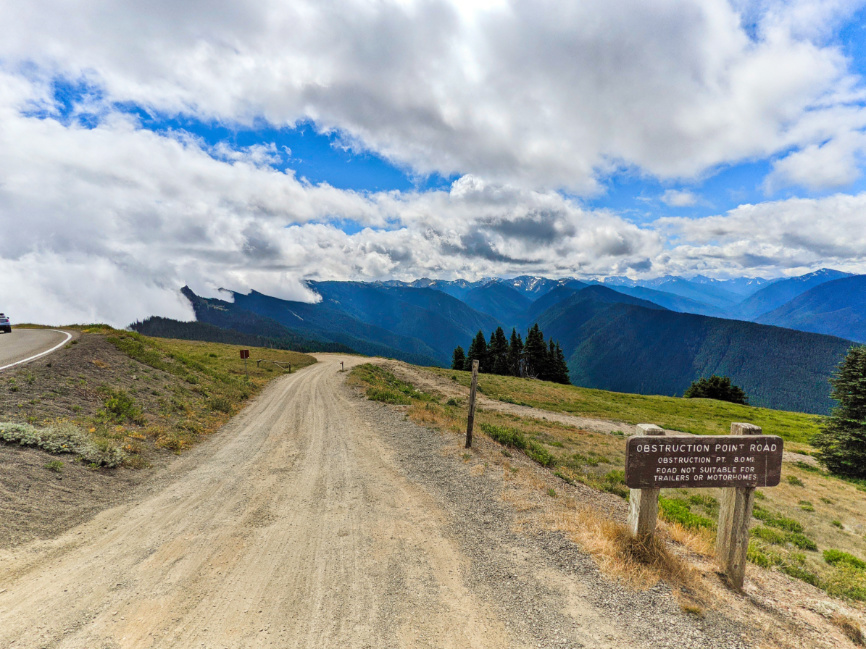 Mount Rainier National Park, Washington: Sunrise Road
Everybody thinks that the Space Needle is the most iconic sight in Washington State, but it's not. Mount Rainier is. While not the view you tend to see of the mountain or even the hiking destination most people recommend, the Road To Sunrise on the east side of Mount Rainier National Park is one of the best scenic drives on the west coast. Kind of like the Beartooth Highway by Yellowstone, Sunrise Road has its fair share of switchbacks and viewpoints.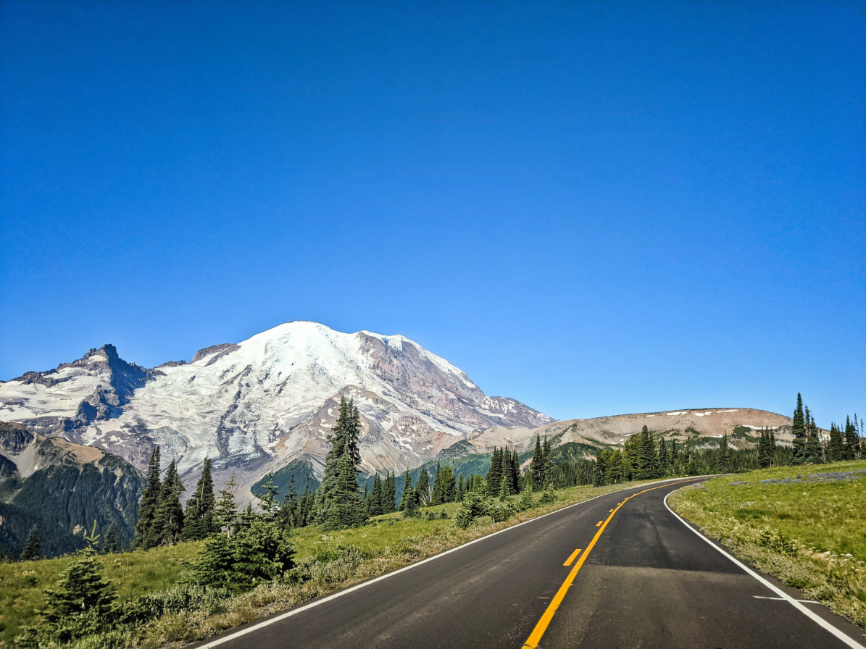 Climbing the eastern face of Mount Rainier, take in views toward Washington wine country, the Tatoosh Range and north to Mount Baker in Bellingham. The scenic drive is wonderful enough, but once at the top there are some EPIC hikes. Did you know that you can hike Sourdough Ridge to Dege Peak and see Mounts Adams, Hood, St Helens, Baker and Glacier Peak? Or if you hike to Frozen Lake, did you know that you'll probably come across mountain goats and get the most up-close and personal view of Mount Rainier possible? Sunrise is the best part of Mount Rainier National Park.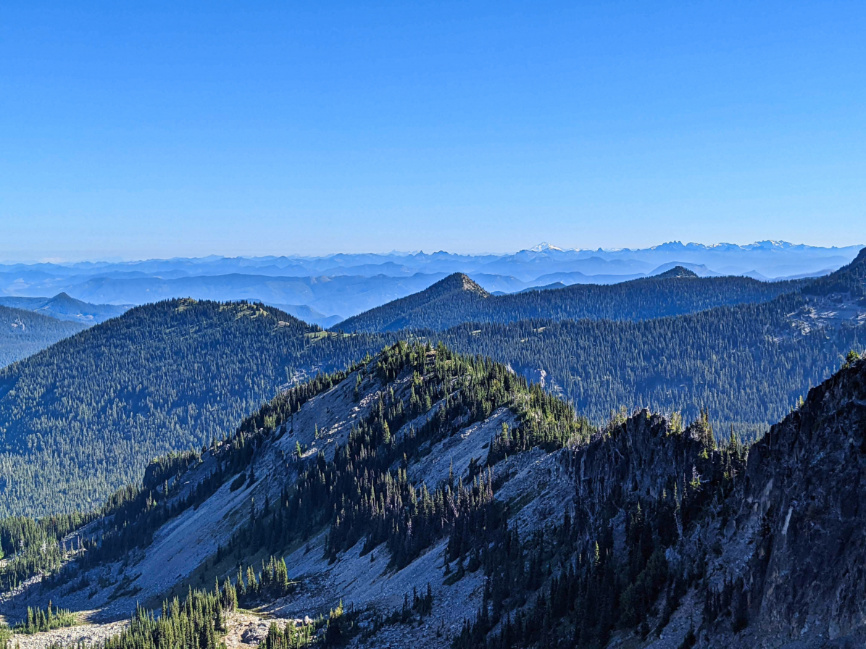 Mount Rainier National Park: Paradise Road to Ohanapecosh
Paradise Road Scenic Drive is the most popular part of Mount Rainier National Park. This drive takes you along the raging Nisqually River and past many of the waterfalls of Mount Rainier National Park, leading up to the Paradise Inn, one of the coolest National Park lodges.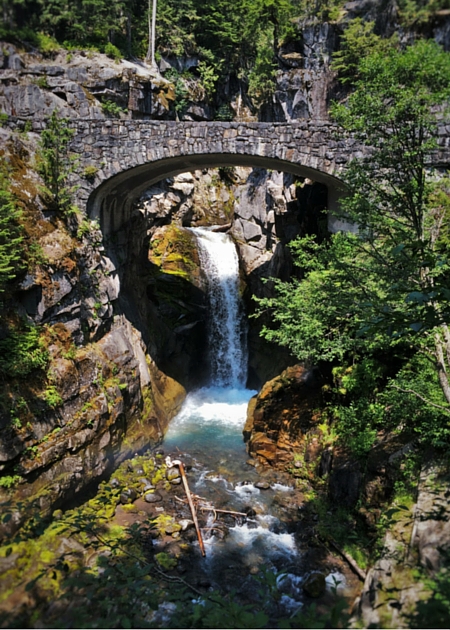 The views will wow you and the stops will keep you entertained. Once you get to Paradise though, you're not done. You need to keep going and winding past Reflection Lakes and through Stevens Canyon untill you're down in the old growth forests of Ohanapecosh. Continuing on you can hike at Mt Rainier's Silver Falls and the list just keeps going.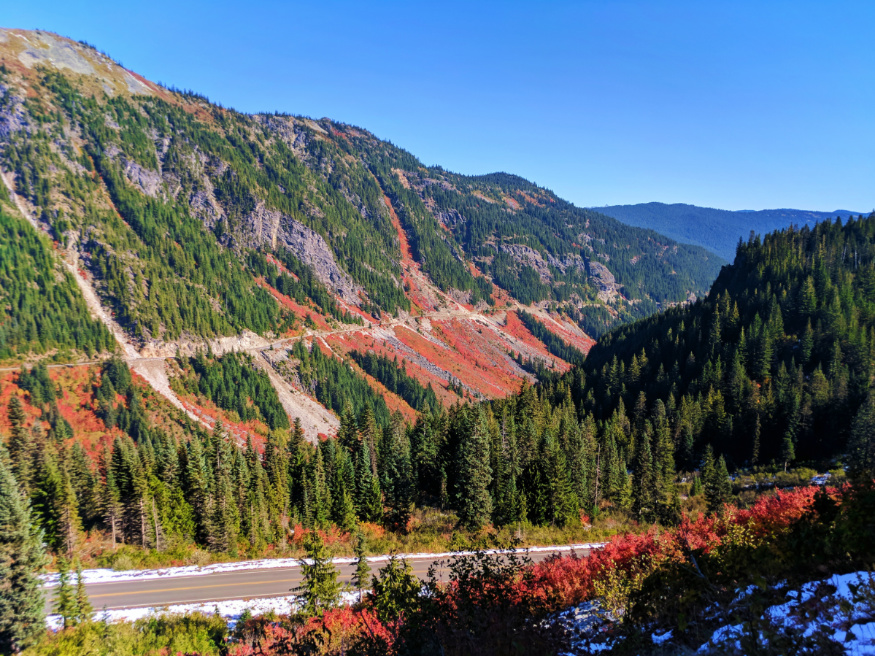 Yosemite National Park, California: Tioga Pass Road
Yosemite National Park has some of the most epic views of any National Park, and they aren't just in the Yosemite Valley. One of our favorite National Park scenic drives is actually on Tioga Pass from the Yosemite Vally to Mammoth Lakes, California. Full of overlooks and hiking trails, this road is only open seasonally, and it's such a treat to drive.
Make stops at the Tuolumne Grove of giant sequoias, at the Tuolumne Meadows, Olmstead Point and Tenaya Lake to capture the full splendor of this amazing scenic drive.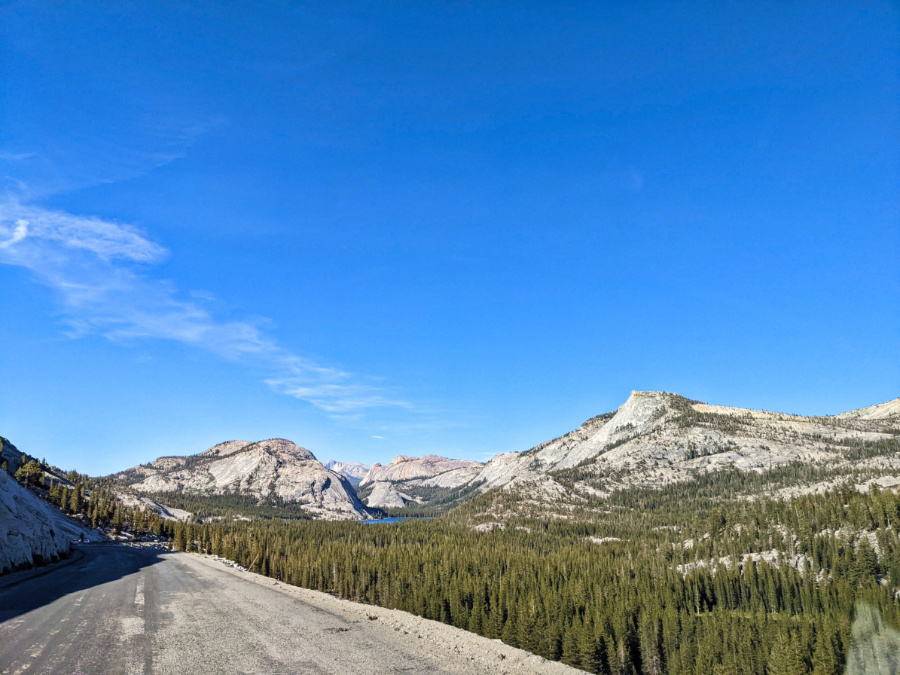 Yosemite National Park: Yosemite Valley Road
And yes, we have to call out how beautiful and jaw-dropping the drive along the Yosemite Valley floor is. With views from the base of the astounding granite cliffs, you'll get to see the Sentinel Dome, Half Dome, El Capitan, and countless waterfalls. This scenic drive is easy to make in any season, as the National Park service diligently clears the road on both sides of the Merced River through the Valley.
If you are easily distracted when you're surrounded by beautiful views, plan to do the Yosemite Valley Tram Tour instead of using the drive as your sightseeing. It's awesome and safer than being distracted.
Note: during peak visiting times, the Yosemite Valley can be stopped up with traffic. The best times to enter to avoid traffic are in the early morning or mid-afternoon. The closer to sunset, the more people will be in the park, as reservations for entry end in the afternoon and then anyone that wants to can come into the park. Also, sunset on the valley is amazing.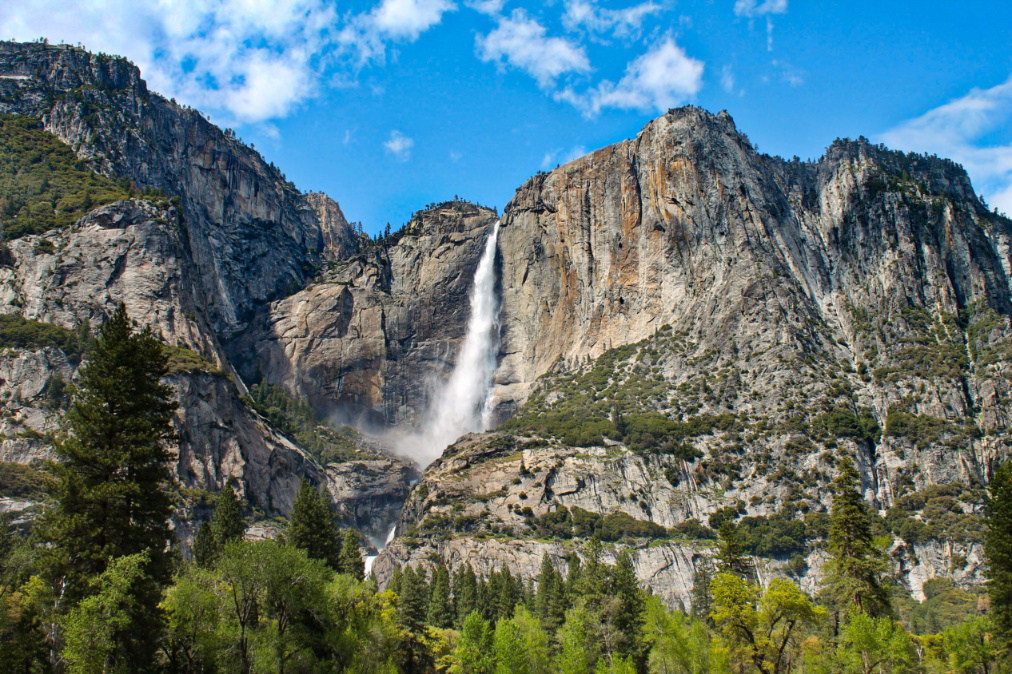 Sequoia and Kings Canyon National Parks, California: the General's Highway
The General's Highway is THE road for getting to most of the best sights in Sequoia and Kings Canyon National Parks. Quite the winding road, the General's Highway is rather unpredictable for weather as you go. Even in summer months, this highway leads through a convergent zone in the Sierras, so random rain or snow are possible (although less likely mid-summer).
Note: you can't say I didn't warn you about how crazy of a road the scenic drive through Kings Canyon and Sequoia National Parks is. Just look at the map and try to count the hairpins and jackknives. It's amazing though!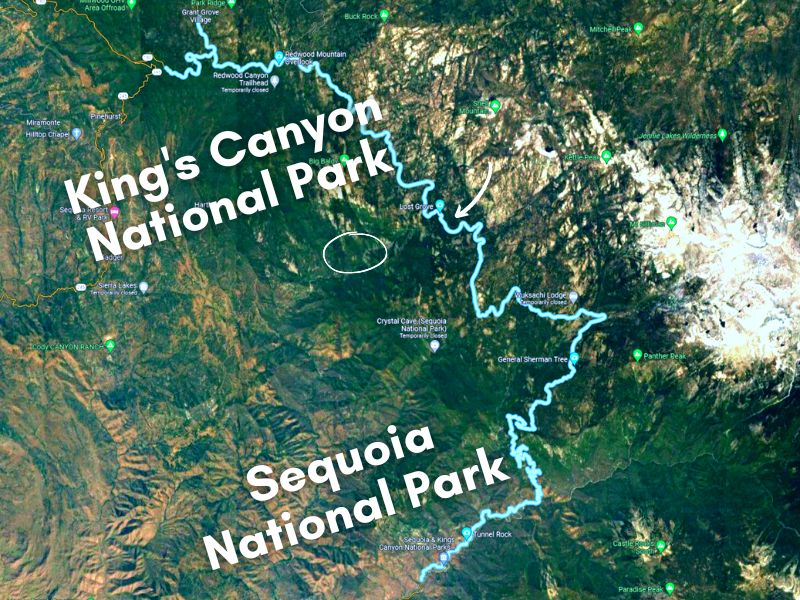 Make stops at the Grant Grove in Kings Canyon and then the Giant Forest in Sequoia National Park, do hikes or just stop into the visitor centers, either way is a great way to easily experience the beauty of each park, including the absolutely incredible giant Sequoia trees.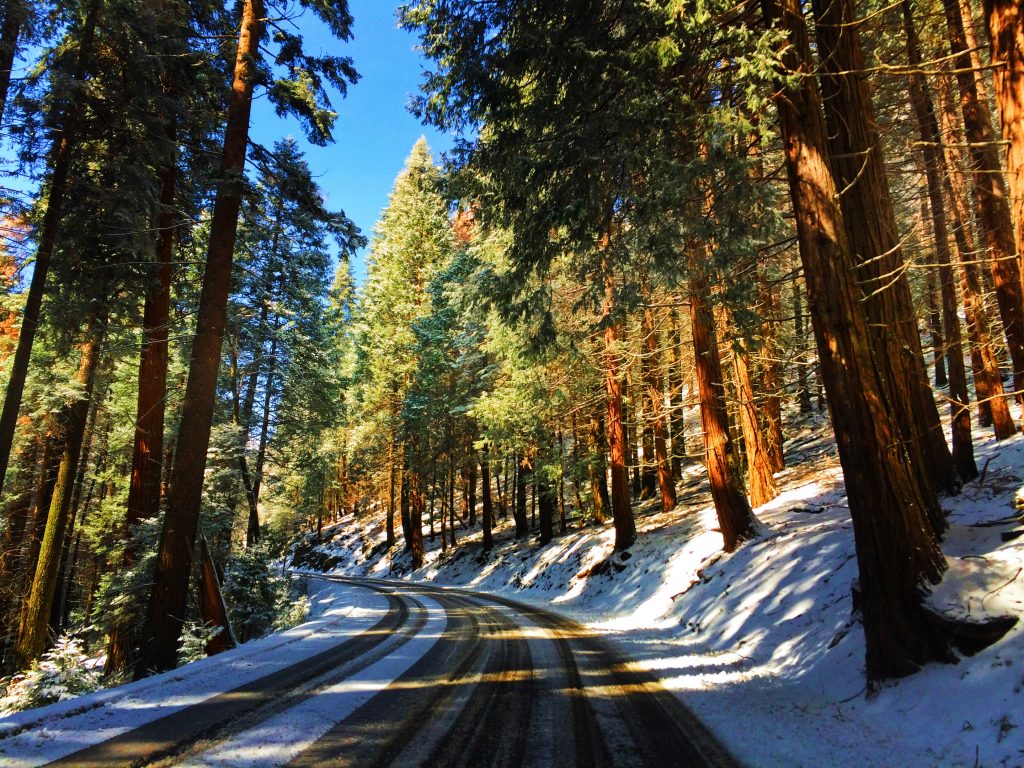 Cabrillo National Monument, California: Cabrillo Road
Yes, I know this is a very short scenic drive, but it's beautiful and totally worth driving from downtown San Diego over to Cabrillo National Monument. Located just twenty minutes from the San Diego waterfront or Balboa Park, Cabrillo National Monument is the perfect place to go for beautiful views and is a wonderful day trip.
One of the best things to do in San Diego, Cabrillo has a very nice scenic drive to the tide pools and Cabrillo Coastal Trail. Whether you're in the mood to hike along the bluffs and crashing waves or if you just want to see some lighthouses (there are two here!), the drive into Cabrillo will be the icing on the cake of your San Diego trip.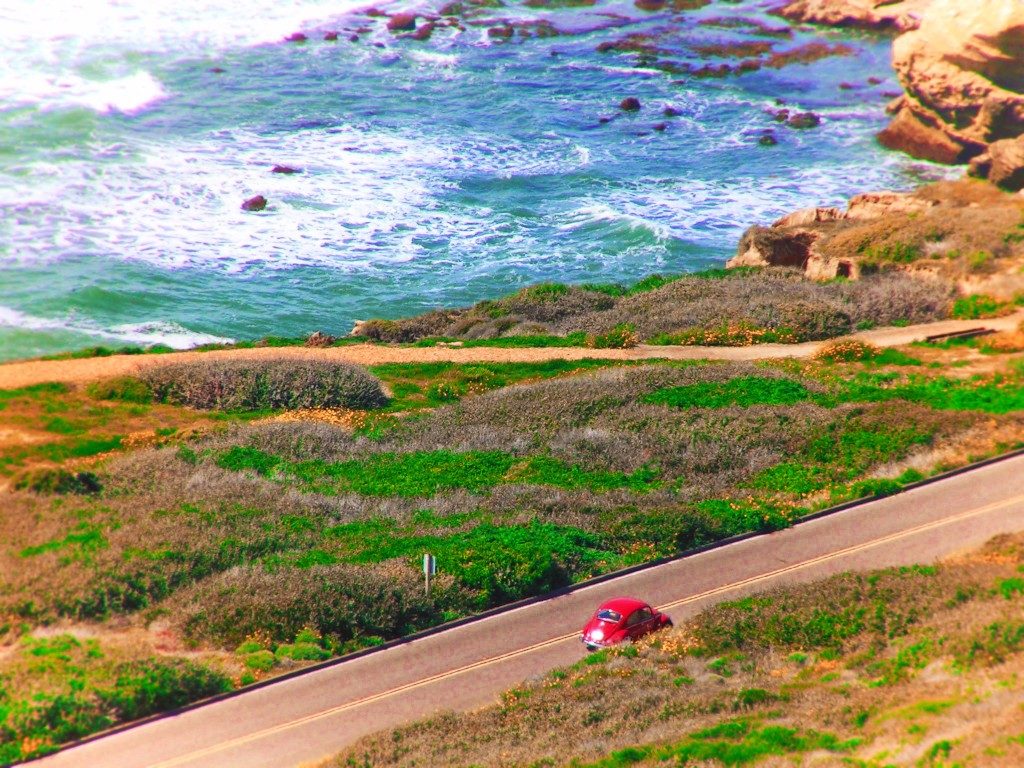 Joshua Tree National Park: Park Boulevard
I'm not the biggest fan of being in the desert (that's why we live on an island in Florida) but driving Park Boulevard in Joshua Tree National Park is one of the most striking scenic drives I've ever done. Just a half hour from town, this is the perfect addition to a Palm Springs getaway. Before we get into the sights that make this drive so beautiful, know that there is NO WATER in the park so you must have full water bottles and water for your vehicle before entering.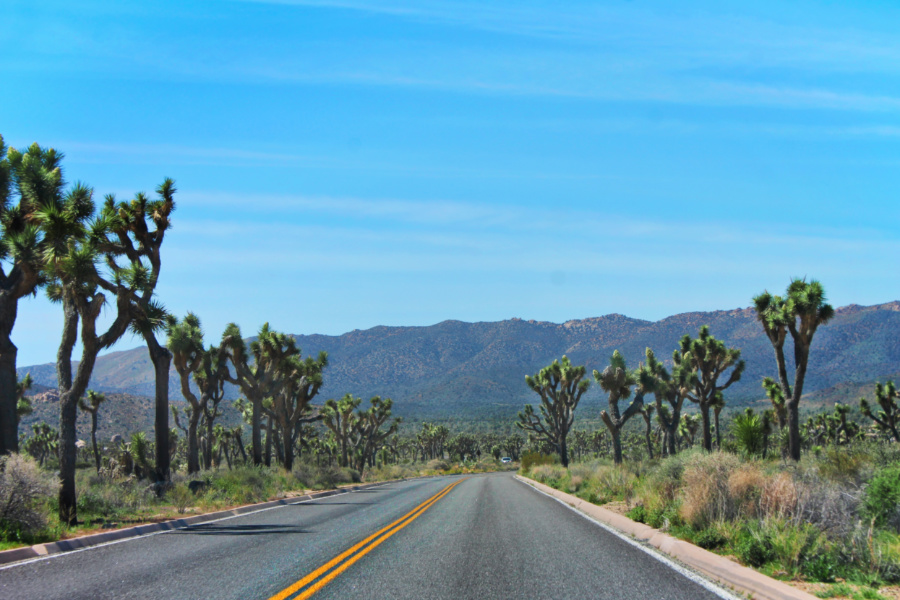 Now, whether you enter from the Indio side or the 29 Palms side doesn't matter, Joshua Tree's Park Boulevard goes all the way through the park, so you can make it a loop by entering one side and exiting towards the highway to Palm Springs on either side.
As you explore Joshua Tree's beautiful scenic drive, stop at the Cholla Cactus Garden (natural, not planted), the epic fields of poppies if you're there during the Super Bloom, and any of the rocky pullouts to explore the boulders (the Live Oak area is great!). An easy way to get up close to the Joshua Trees without exhausting yourself on a crazy hike is to stop at the Cap Rock Botanic Nature Trail. It's beautiful, bizarre and amazing.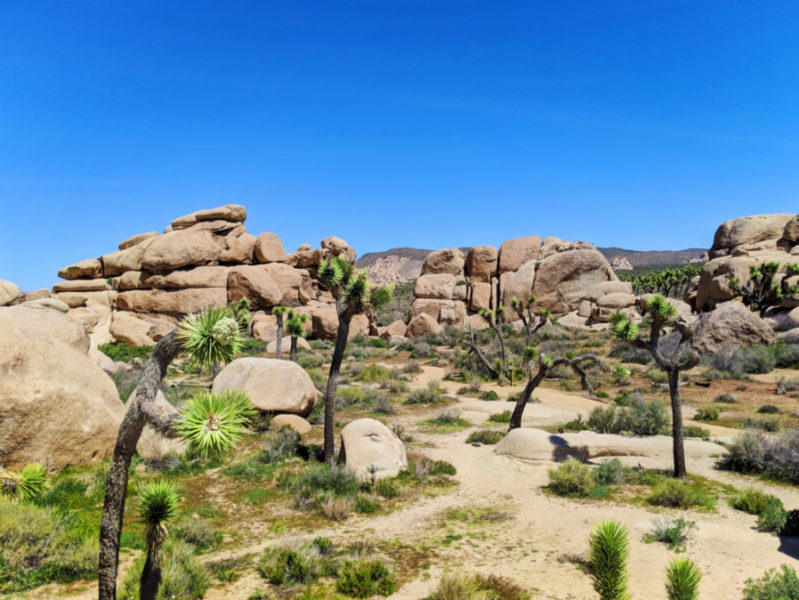 More National Park Scenic Drives to Plan
As you leave the mainland USA and venture out, there are actually more National Park scenic drives to take. True, you legit have to be planning a trip to the Big Island of Hawaii or to Alaska, but if you're going to be there, you should for sure try to work in the epic sights along these beautiful National Park roadways.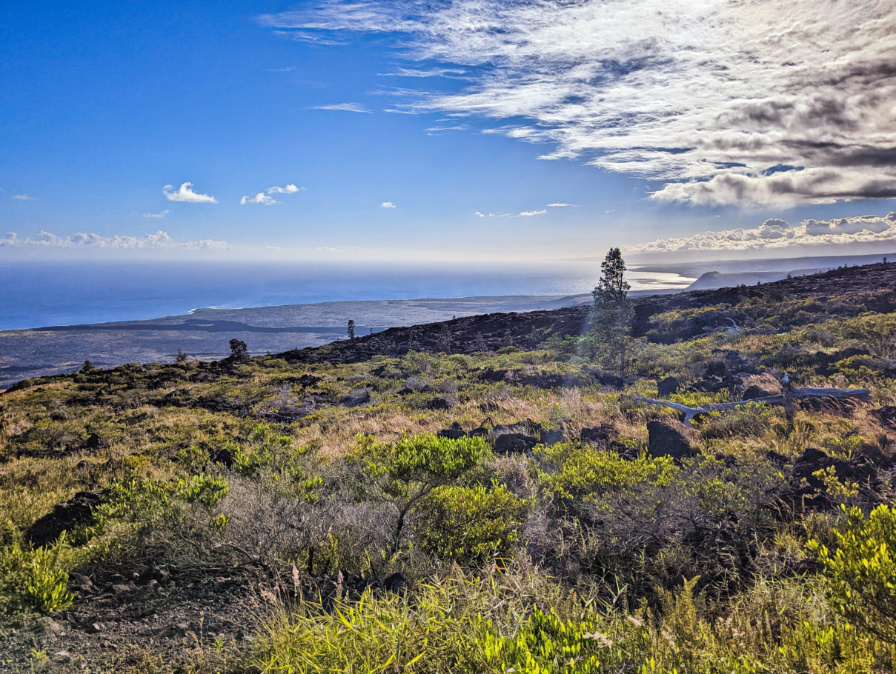 Chain of Craters in Hawaii Volcanoes National Park
I can't stop writing about Hawaii Volcanoes National Park. It's my favorite. There are actually three different scenic drives in Hawaii Volcanoes NP, but our top pick is the Chain of Craters Road. Heading towards the Pacific Ocean from the Kilauea Crater, Chain of Craters Road is one of the most unique National Park scenic drives.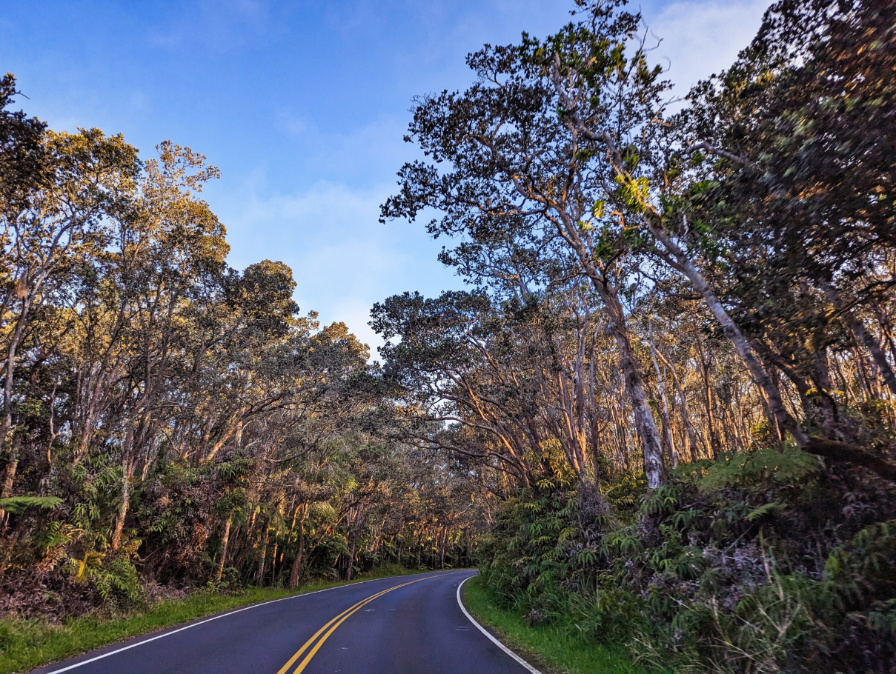 You begin your drive in a dense, rainforest full of giant ferns and koa, then you get into a scrub forest as massive craters, some recent and some extinct, start to appear on either side of the road. Making stops at lookouts and trailheads, you can spend all day just exploring this portion of the road. But it gets better!
Listen to our podcast episodes about the Big Island of Hawaii and Hawaii Volcanoes National Park!
Continue down the mountain toward the ocean and you'll come across countless lava flows, of both the a'a and pahoehoe types. Picnic areas and overlooks allow you to get a comprehensive view and understanding of the active volcano that is the heart of the Big Island of Hawaii. At the end of the road is the Holoe Sea Arch, getting continually smashed with waves. Enjoy sunset from Chain of Craters Road and it'll easily become your favorite scenic drive ever.
Tip: after your day of exploring and enjoying the scenic drives in the National Park, do the Crater Rim Drive at night. Hawaii Volcanoes National Park during lava glow is unlike anything else you can imagine!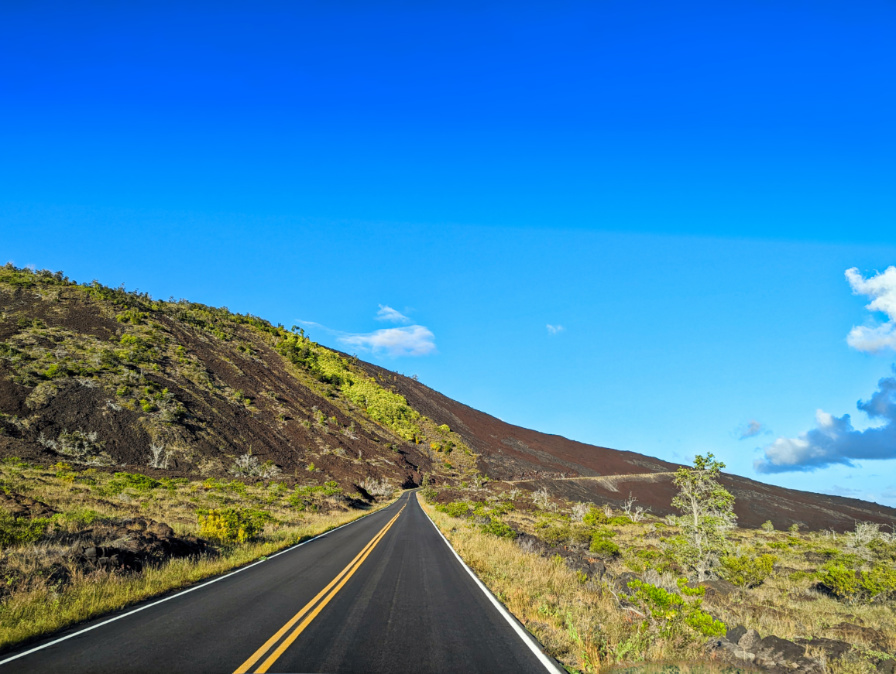 Denali National Park, Alaska Scenic Drive and Drive-in Lottery
I used to work at Denali so it's a very special place to me. Driving into Denali National Park isn't as easy as showing up and driving all the way to Wonder Lake. While this is one of the best scenic roads in any National Park, it's not accessible to everyone. Driving into Denali is possible as far as the Savage River, which really does give you astounding views of the tundra, wildlife and, on a clear day, Denali (formerly Mount McKinley).
To get ALL of the amazing views and go as far into the park as allowable, you actually need to do the bus into Denali. This is great though, because you can focus on enjoying the views and stops along the way instead of having to worry about driving safely. Ride the bus all the way to Wonder Lake if you've got all day, and then you must turn around with that bus due to the great distance you travel.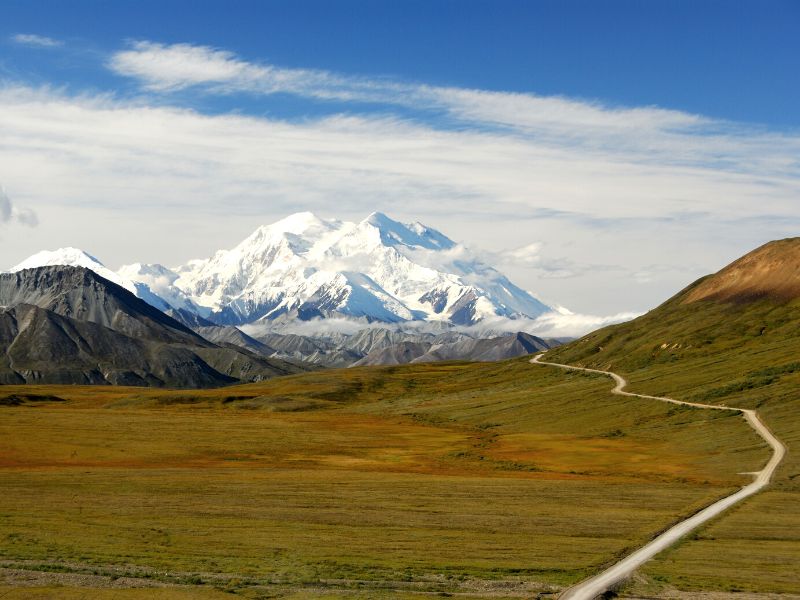 You can either do a transit bus or a tour bus on Denali Park Road. The difference is that the transit bus isn't narrated and its purpose is to get visitors into the park to do their own hiking adventures, vs the tour bus that is narrated and makes lots of stops, including for wildlife watching.
Note: as of February 2023 going beyond mile marker 43 on Denali Park Road isn't possible due to continued landslide problems. With that, there will be no Road Lottery in 2023.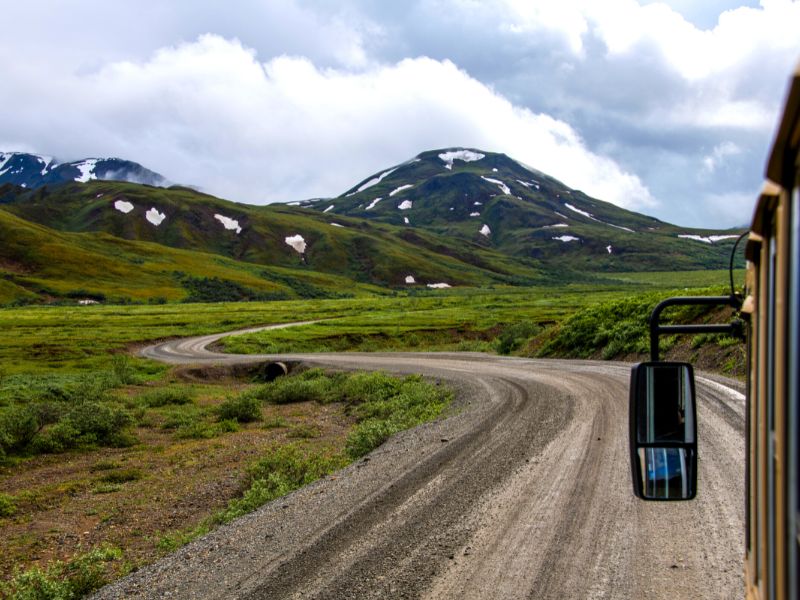 What is the Denali Road Lottery?
When the Denali National Park road is fully open, at the end of the summer season, usually early to mid September, visitors can put in for a road lottery ticket to be able to drive their own vehicles into the park as far as the road is open. Usually, because of September snowfall, you can't drive all the way to Wonder Lake, but you might be able to drive your own car as far at the Eielson Visitor Center, or at least as far as the erratics.
Normally, visitors can only do the scenic drive as far at the Savage River and then they must park or turn around. When road lottery happens, Denali visitors can go much further and are fully responsibly for their own hiking plans and safety. Road Lottery isn't for everyone, and the number or permits is very limited, so I prefer to enter the park on the transit or tour bus.
Again, Road Lottery for 2023 is CLOSED and hopefully we open for 2024.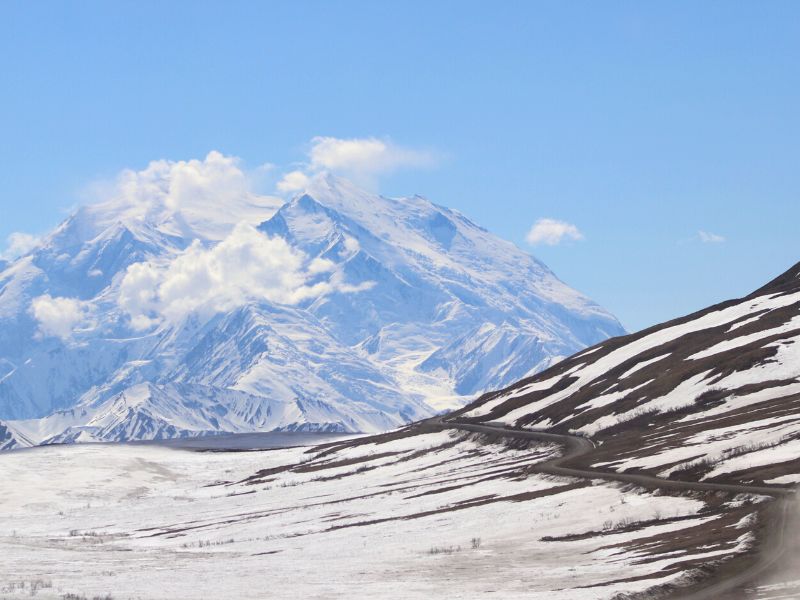 And there you have it! Those are our favorite National Park scenic drives. I know, we didn't include the Grand Canyon or North Cascades National Park, but maybe if we go back to each and have better experiences than our most recent ones we'll come back and include them. For right now, I think that these are really the best drives the National Park system has to offer.
If you have any questions or would like to leave your own recommendations, please feel free to comment or send us a note. We love to share from others, so tell what YOU love!