San Diego is worth both a leisurely vacation and a quick trip. Any amount of time will be fun, but never quite enough. This plan for 3 days in San Diego is absolutely ideal if you're visiting with kids or on your own. With a blend of outdoors, culture and history you'll love this three day itinerary for the best of SD!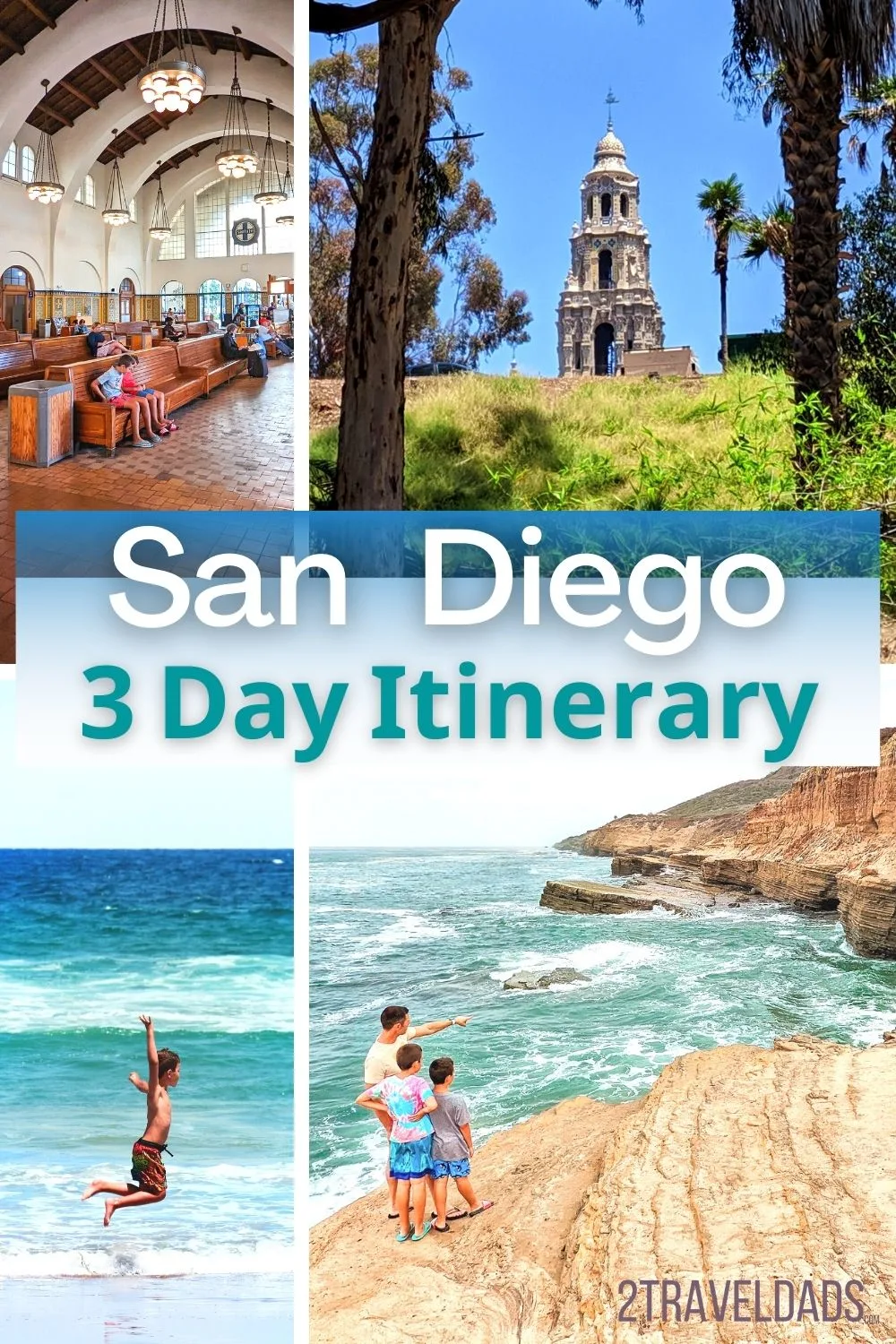 3 Day San Diego Itinerary
So, what do you include in a three day visit to San Diego? How can you possibly choose what to leave out? We've got you covered, and even though it's not everything this amazing city has to offer, it's the perfect mix.
Day 1: the San Diego Coastline
Let's start by exploring the coastline of San Diego. Did you know that there are more than beaches to enjoy when you visit SD? It's true! You'll find 70 miles of golden coastline, cliffs and tidepools, and even a National Park Service gem!
Cabrillo National Monument
One of the prettiest places in San Diego, Cabrillo National Monument, can take up all or part of your day. Visit on a summer weekend to see historic reenactments and enjoy a ranger talk, or explore Cabrillo in the middle of winter to watch for migrating gray whales. We enjoy doing the Coastal Trail hike and visiting the Old Point Loma Lighthouse as well, which is great with kids of all ages.
Tip: if you're here on a weekend, have breakfast at Liberty Station and then make your way to Cabrillo National Monument early to beat the crowds. The park closes late afternoon, not at dusk.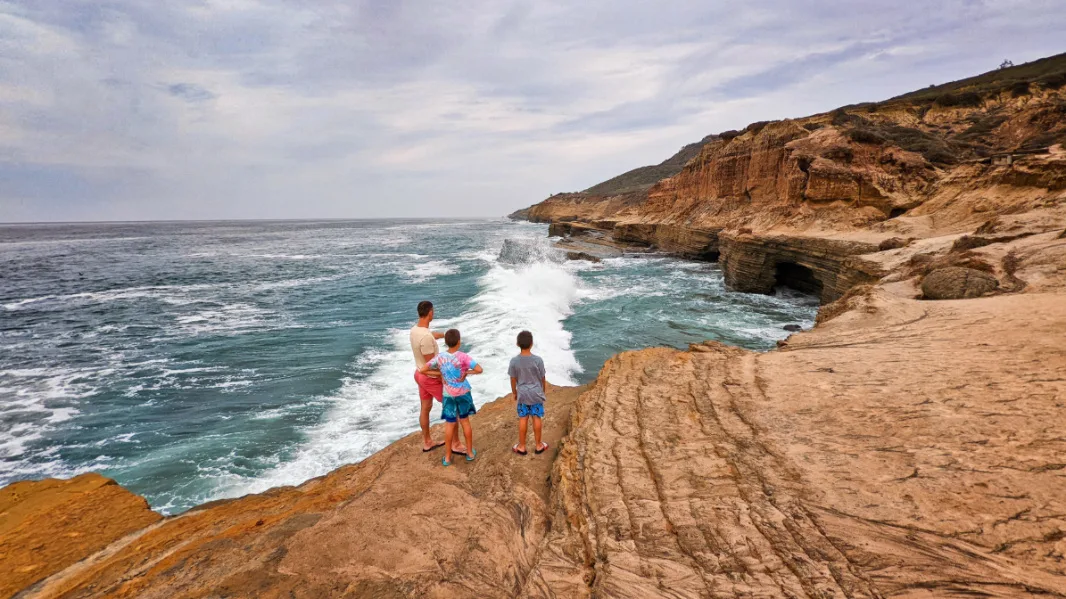 Sunset Cliffs Natural Park
Another wonderful place to go walking and take in the Pacific Ocean views, Sunset Cliffs Natural Park has walking trails along the bluff and away from the water. It's a wonderful place for birdwatching, having a picnic and watching surfers below, or climbing the stairs down to water level for tide pools at low tide.
Tip: there is parking in a lot by the main trail area, but also there is plenty of street parking if it's a busy day.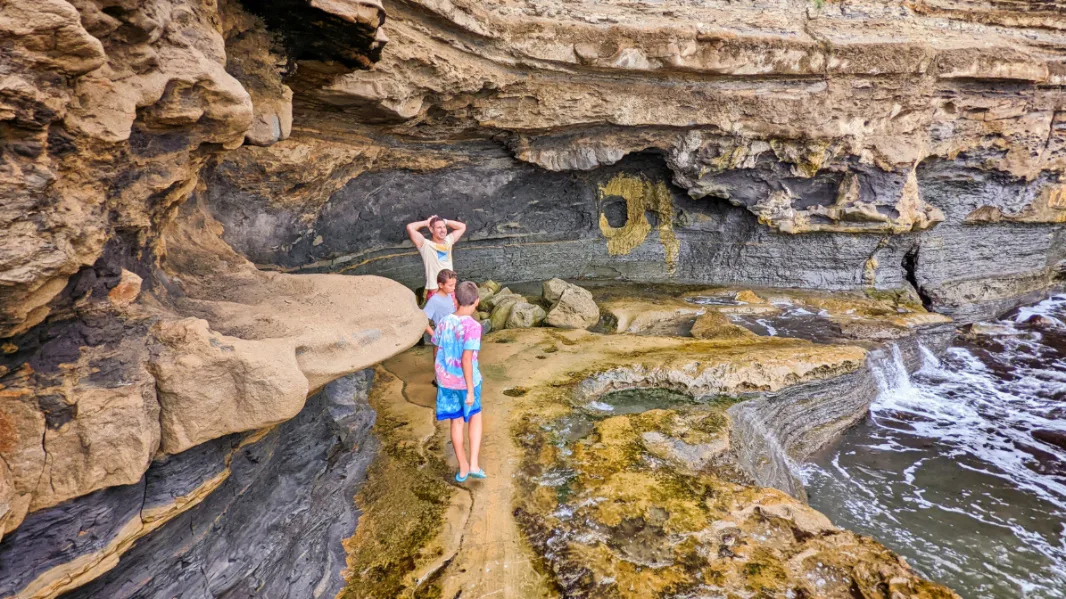 Mission or Pacific Beaches
And of course you have to have beach time when you come to San Diego. Both Mission Beach and Pacific Beach are beautiful with that medium fine California sand. The water is just the right temp from mid May until October, and even outside of those months is the perfect place to go for a nice walk or just hang out.
Tip: parking is very limited in Mission Beach. If you've got an e-bike or a scooter at your disposal, that will make it much easier to park and access the beach.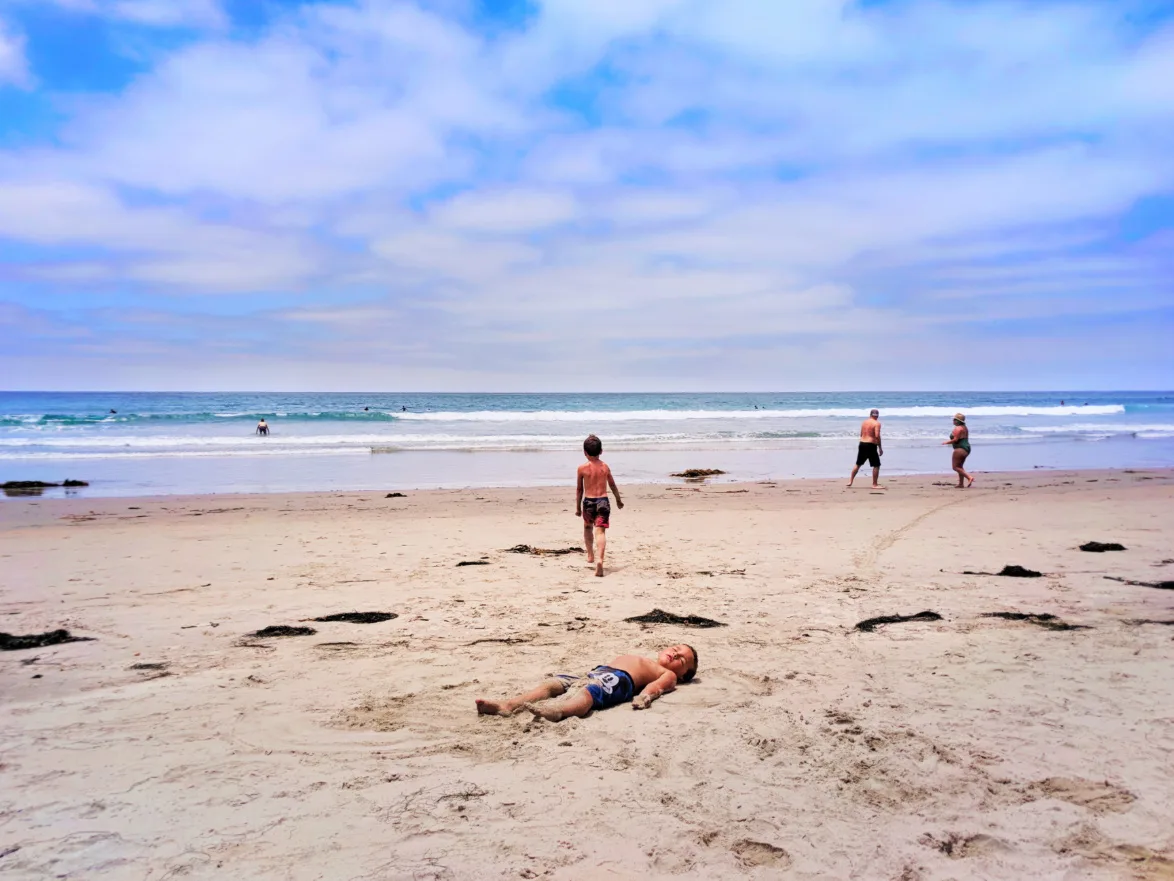 La Jolla Cove and Beach
While it's always nice to go to La Jolla and check out the many galleries, visiting with kids is great for watching wildlife. Seals and California sea lions populate the cove most of the year and can be observed from a safe distance. There are ample opportunities for kayaking and other on-the-water experiences. When it comes to the beach in La Jolla, there are plenty of services and public parking areas to be able to easily visit most days.
Tip: La Jolla Shores (a nearby beach) is known for its calm waves making it a great place for kids to learn to surf, body board and swim.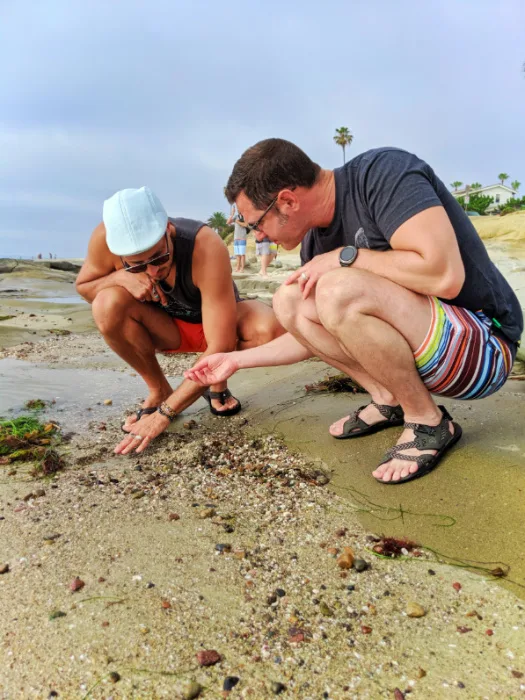 Day 2: the Best of Balboa Park
I'll be honest, we never visit Balboa Park just once. We usually spend at least two different days there, either doing museums in the morning and the San Diego Zoo in the afternoon, or we will just visit multiple times to see what's happening during our time there. You never know what's happening with all the artists who are going to be painting in the park.
If you're planning to visit several museums or go back across a few days, the Balboa Park Explorer Pass is a great value. With the pass you gain admission to nearly everything in the park except the San Diego Zoo. We recovered the value of our passes before the end of just one day visiting museums in Balboa Park, so over three days in San Diego…
Balboa Park Cactus and Rose Gardens
There are so many wonderful gardens all throughout Balboa Park. Across Park Blvd you will find both the cactus and rose gardens. If you aren't parked on Park boulevard, you can easily take the walkway overpass from the end of the Prado to the gardens. Countless varieties of cactus and interesting desert trees make it a fascinating place to visit with kids. The rose garden, with a beautiful fountain at the center, is also great to explore and sit in as roses in San Diego bloom for most of the year.
Tip: if you visit the cactus and rose gardens in the late afternoon, the sun is lower with prettier light for photography.
Bonus: if you're getting deep into Balboa Park on your visit, check out the Old Cactus Garden as well, as it's very well established and beautiful.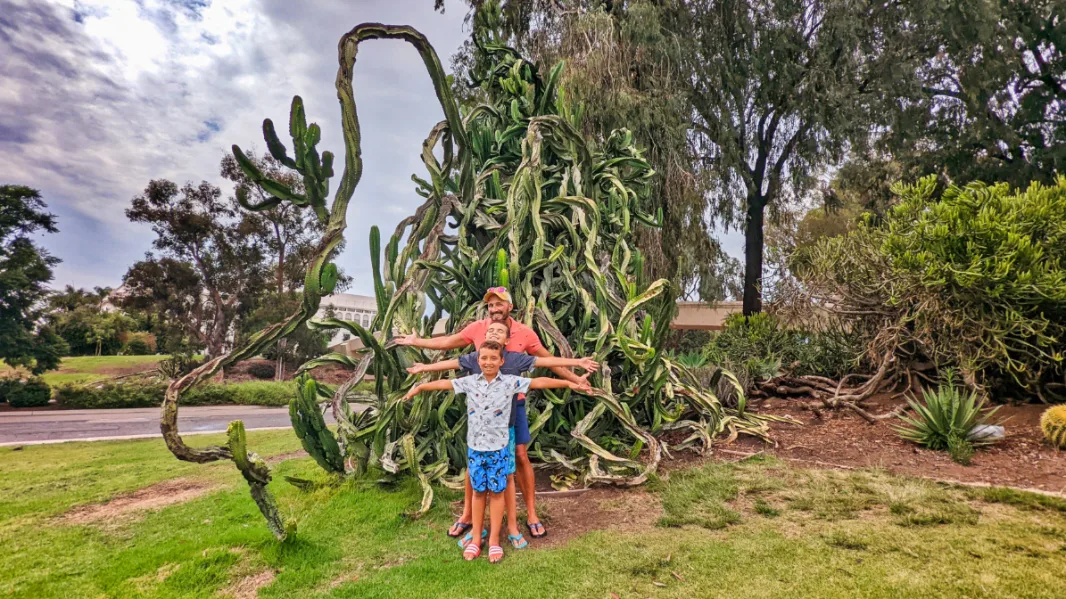 San Diego Natural History Museum
Between dinosaur fossils and gemstones, natural history museums are always a hit with our family, but there's something special at the San Diego Natural History Museum. Digging into their 150-year history of preserving and sharing the past, the NAT has an amazing collection of taxidermy specimens for study. From preserved parrots to epic butterfly cases, you can see it all.
Highlight: there is also an active paleontology lab onsite at the San Diego Natural History Museum. It isn't behind glass so if you have questions, you can actually interact with the scientists!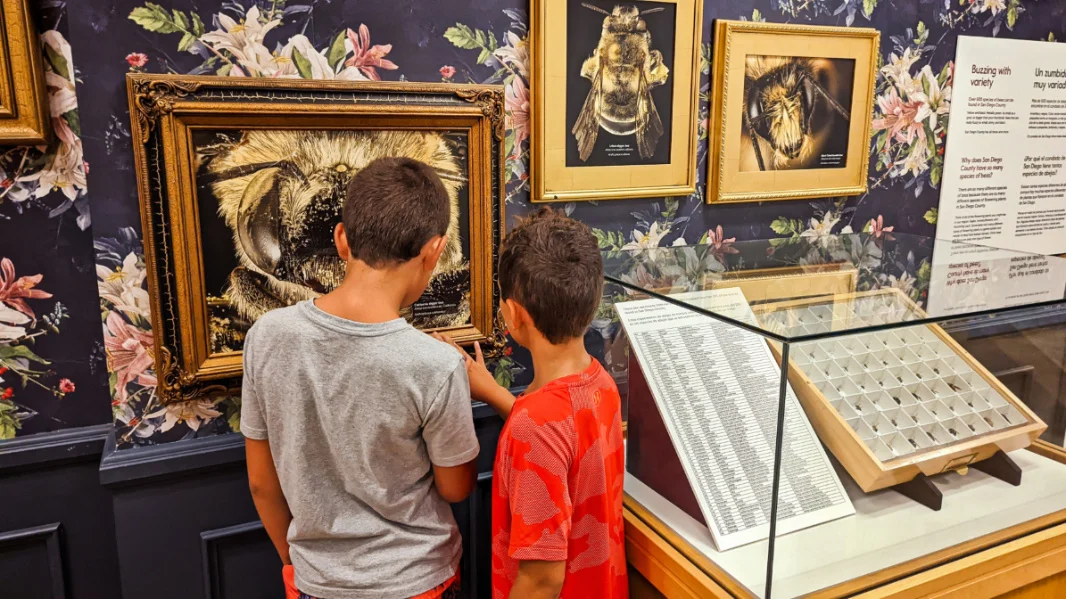 Lunch at the Prado
Set in the historic Prado buildings of Balboa Park, the Prado restaurant is the perfect break in a day at the park. Local, healthy and unique food makes lunch at the Prado a special experience that captures the joy and sense of place in Balboa Park. Dine inside or out on the patio, you'll love the atmosphere either way.
Tip: they do take reservations and I'd recommend making one if you're visiting during the prime lunch hours or on the weekend.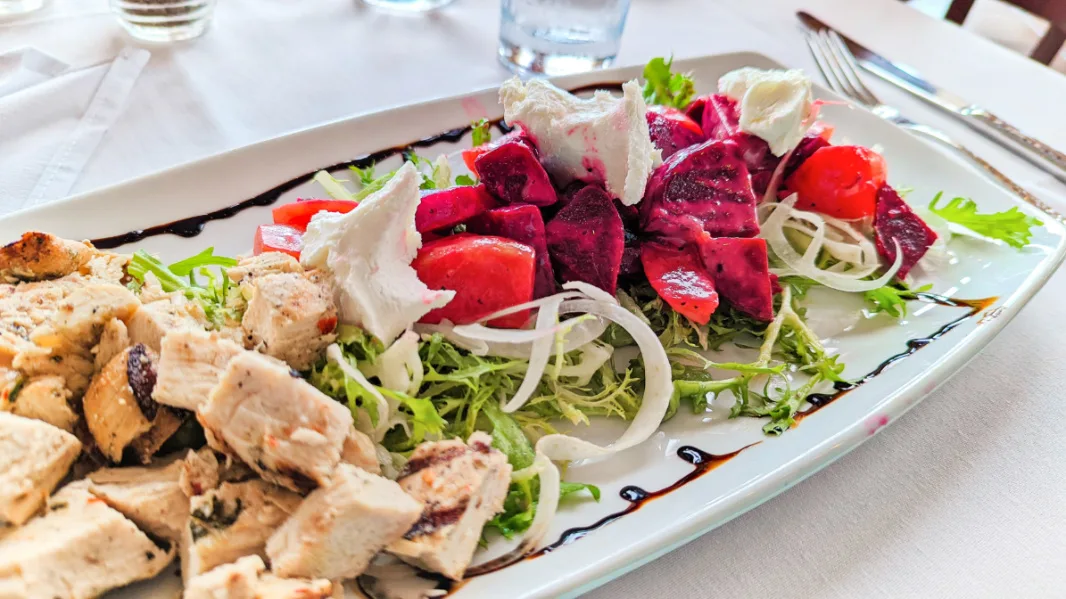 San Diego Museum of Art
Visiting art museums with kids can be hit or miss, depending on the children and the type of art museum. The San Diego Museum of Art is just the right size for nearly any attention span or level of interest in art. With most pieces being pre-Impressionism, you can see a wide range of styles and mediums, including a wonderful collection of Asian art.
Tip: if there is a special exhibition going, it's worth the extra ticket fee, as the curators do a wonderful job with both the temporary installations and the educational elements of the exhibitions. We just experienced the Impressionist exhibition and it was phenomenal, all very well tied together.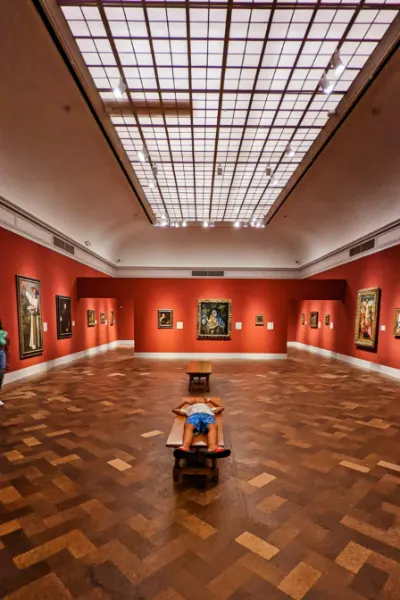 OPTION: Full or Half Day at the San Diego Zoo
Don't worry, the San Diego Zoo is a part of this three-day itinerary. Because the zoo is so large and all-encompassing of the world's animal life, you can easily be here from open until closing. You can also plan a half day visit and just catch the highlights or whatever interests you most. There are lots of dining options within the San Diego Zoo, so if you are doing the full day, you don't have to leave for meals and snacks.
Our recommendation for a shorter visit to the zoo includes doing the free tram tour around the whole zoo, as you'll get both a bird's eye view of many of the animals, but you'll also learn about the zoo and its inhabitants. Once you've done your tram tour, make your way to the exhibits you're most interested in. The hummingbird habitat and Wildlife Explorers Basecamp were favorites on our visit, but the koalas and the whole Africa Rocks portions really showcase why the San Diego Zoo is such a special place to visit.
Tip: besides the guided tour around the whole zoo, there is also shuttle service via the hop-on-hop-off kangaroo tram. The San Diego Zoo is VERY hilly and at the end of a long day or if you are mobility-challenged the transportation is welcome back up to the top of the hill.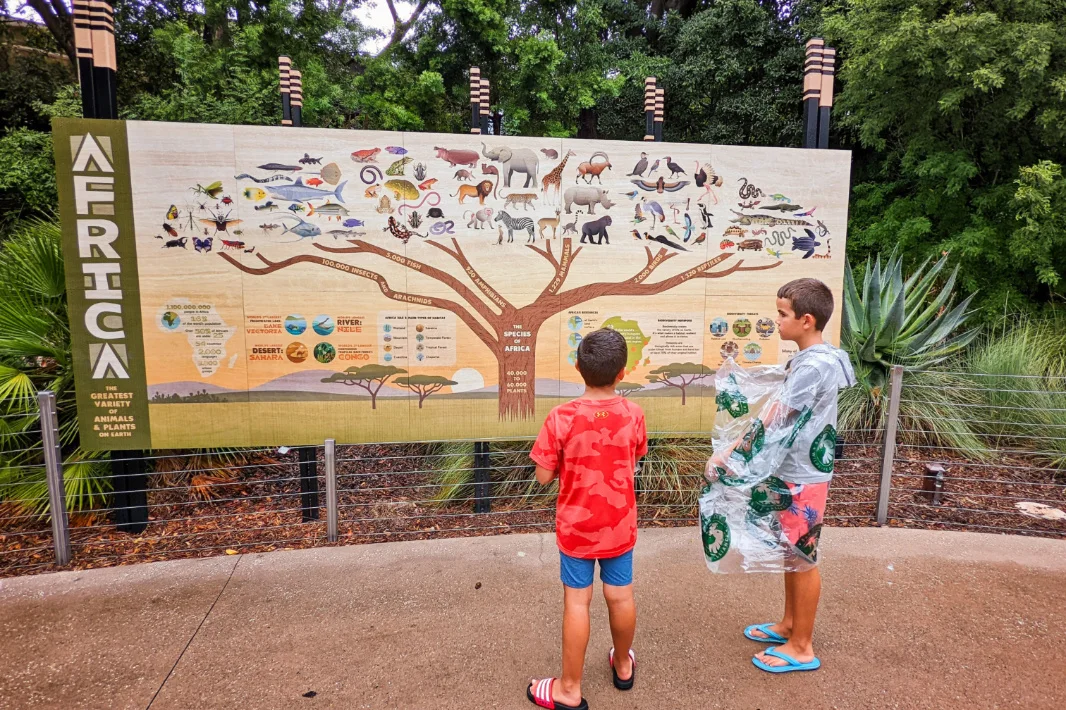 Day 3: San Diego History
Being at the heart of California history as the Spanish moved into the area, as well as being a hub for Western expansion in the 1800s, San Diego is full of history. We've picked our favorite historic sites to round out this three-day San Diego itinerary. You'll get to experience culture, history, San Diego's efficient transportation system and beautiful places.
Historic Santa Fe Depot Train Station
Even when we're not taking the train, I love visiting the old Santa Fe Depot train station downtown. From the beautiful antique tilework to the vaulting and woodwork doors, it's a snapshot of when train travel was THE thing to do. While it only takes a few minutes to visit, the Santa Fe Depot is a great spot to start your day, as you move from the historic station onto the trolley line to take you to your next stop: Old Town San Diego Historic State Park.
Tip: if you're visiting San Diego as part of a larger Southern California trip, it's very easy to arrive in SD via train and then not need a car for the duration of your visit, depending on your plans.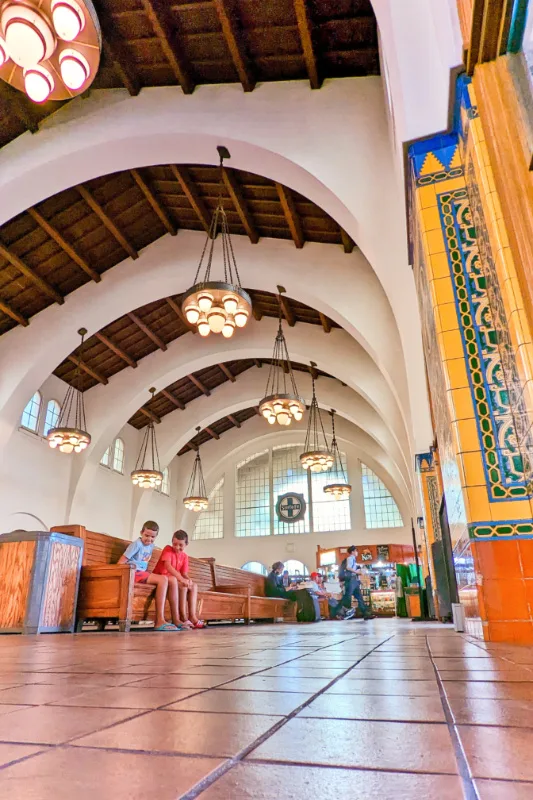 Explore Old Town San Diego
Old Town San Diego State Historic Park is really fun and interesting, especially with kids. The site is an incredible collection of museum buildings, artisans, shops of all sorts and restaurants. Often you can even catch performances or demonstrations of skills and cultural practices you might not see anywhere else in California. It's a fun and educational visit.
Bonus things to catch in Old Town:1) Live Entertainment + Folklorico Dancers at Fiesta de Reyes; 2) Old Town Urban Market – a curated food hall experience featuring local businesses and eateries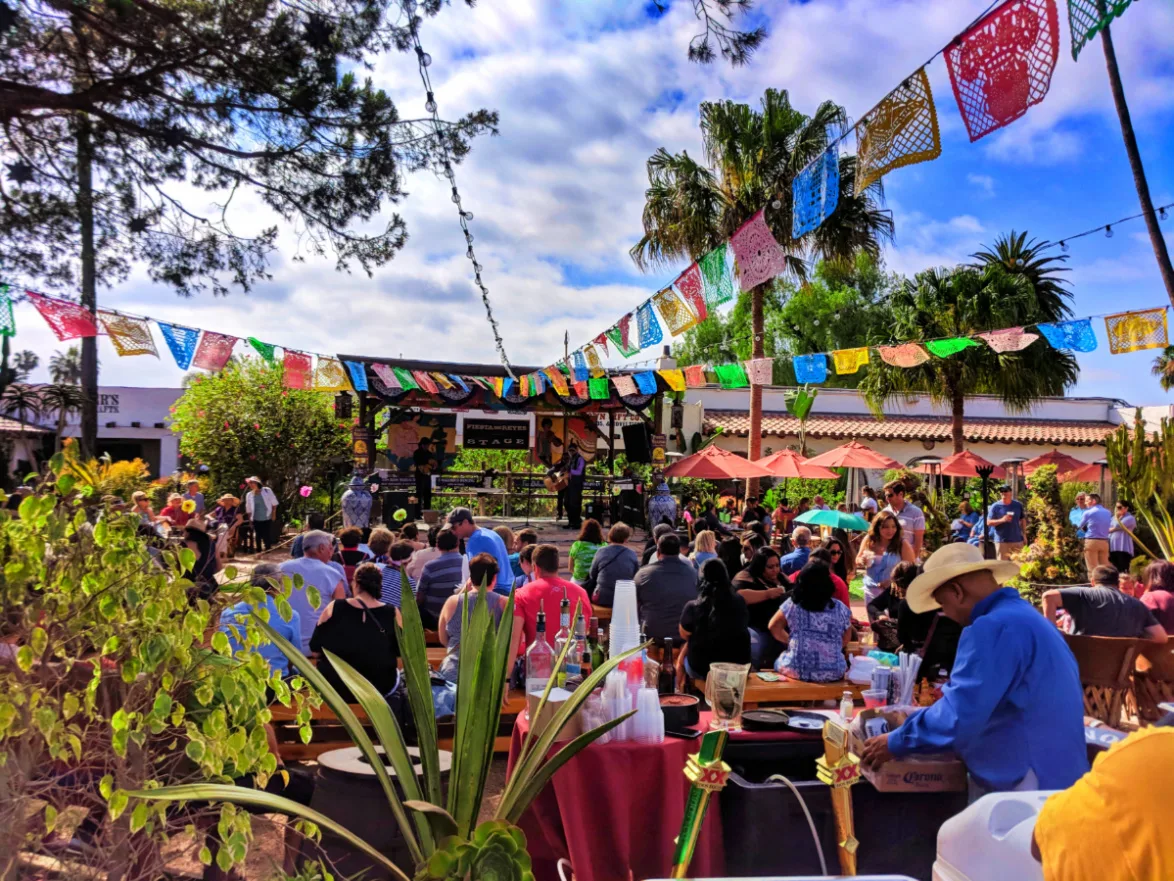 Visit Mission San Diego de Alcala
Traveling along El Camino Real is its own fantastic California itinerary, but if you want just a taste of the historic missions, visit Mission San Diego de Alcala. About 15 minutes from Old Town San Diego State Historic Park, it's a natural stop to add to your day of San Diego history. The beautiful gardens and historic chapel are lovely to visit, but the small museum and the active archaeological dig make Mission San Diego de Alcala a very special place to visit.
Tip: if you would like to attend a religious service, mass is open to the public and happens daily.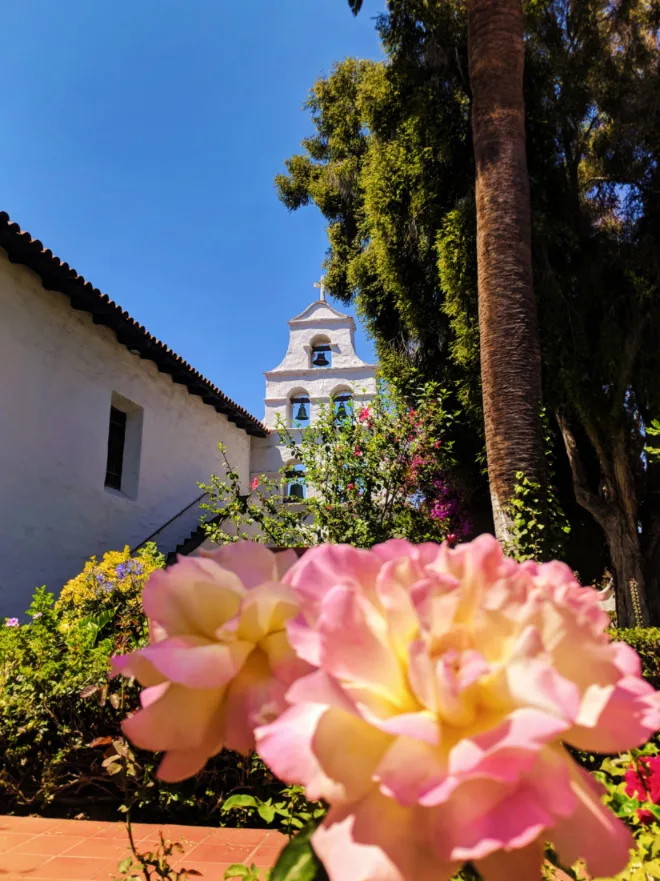 San Diego History Center
One more history stop to include on your visit to San Diego is back in Balboa Park. The San Diego History Center is full of exhibits, both permanent and rotating, all about the different elements of San Diego's evolving history and culture. A combination of art and individual stories, this museum is great to visit with kids or adults. It's the perfect way to round out your 3 days in San Diego!
Tip: in the same building in the Prado of Balboa Park are the Model Railroad and Photographic Arts Museums. They are also included on the Balboa Park Explorer Pass (if you've gotten it).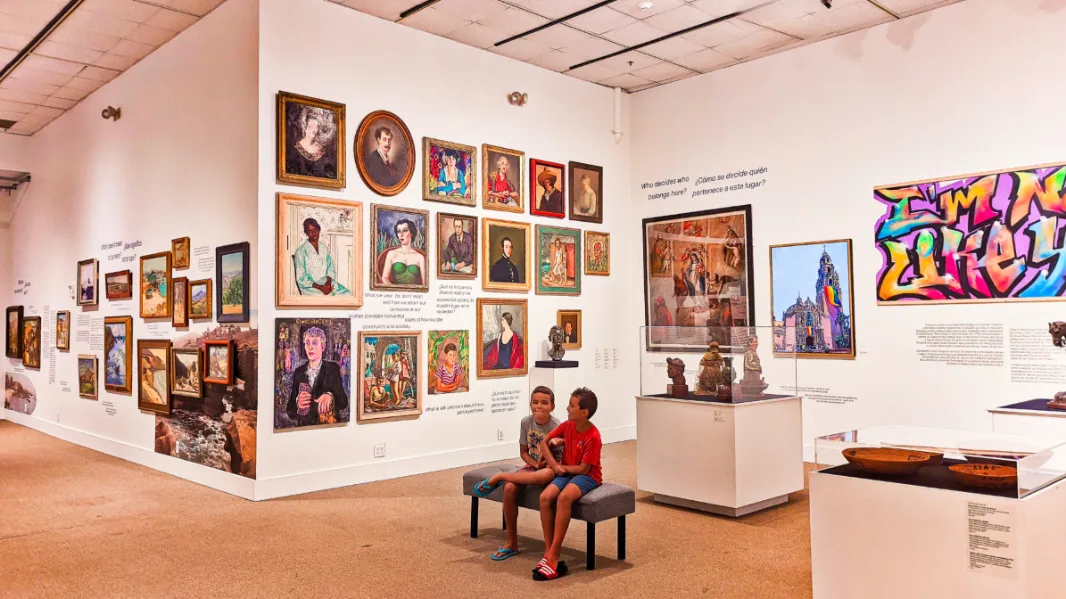 I hope you're excited to visit San Diego and have three very different and very fun days. You'll be ready to plan your next trip back before you've even left!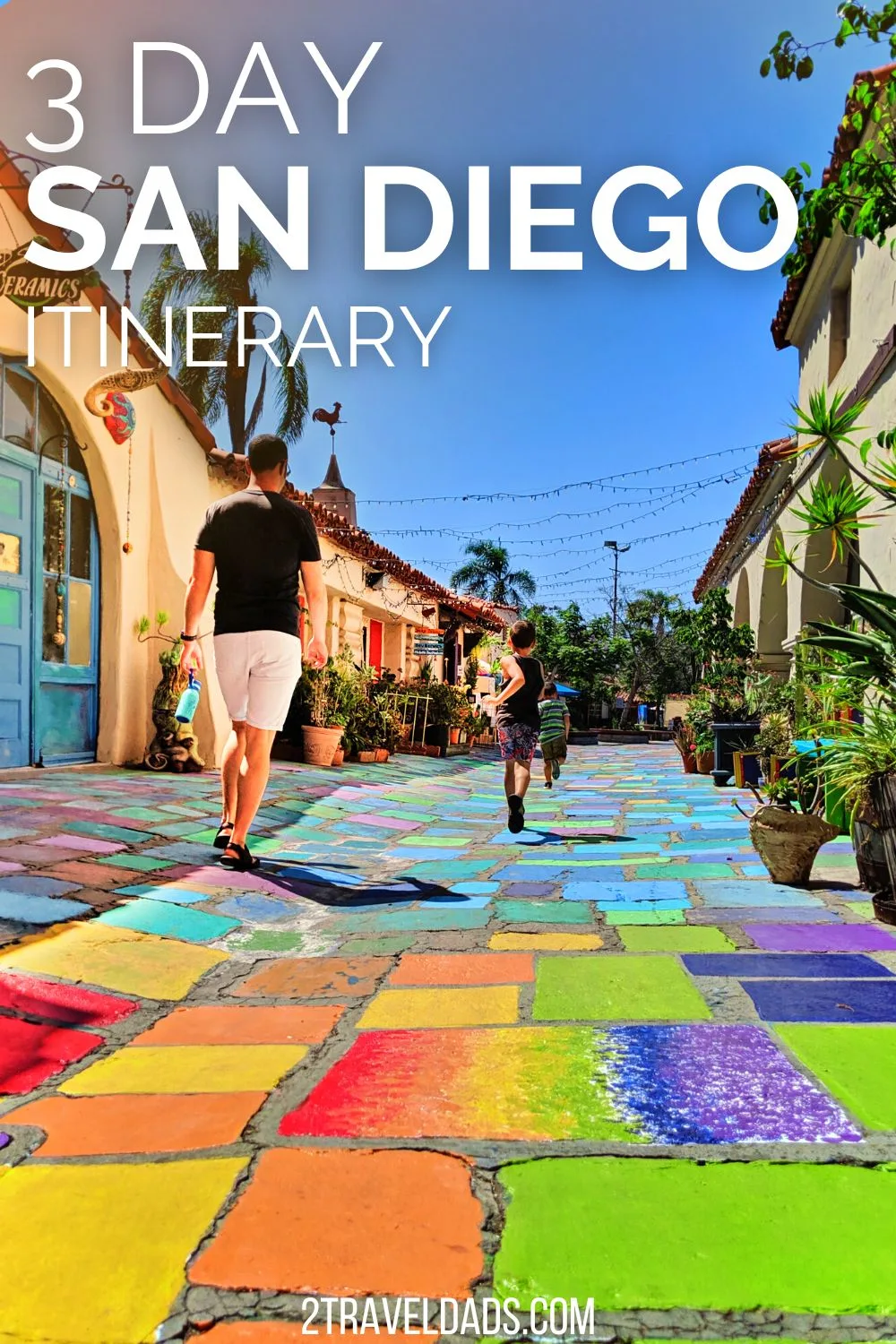 ---
Want to see more of our SD adventures beyond these awesome three days in San Diego? Check out these other articles: