I love when you can find a vintage spot when you're traveling. The Lafayette Hotel, Swim Club and Bungalows in San Diego is SO VINTAGE. It's a slice right out of old Hollywood times, but in SD. Built in 1946 it's got the charm and style that became Bob Hope and Bing Crosby…
Realness here though: the common areas are great and well maintained, but some of the rooms need a lot of updates. If you want to stay at the Lafayette Hotel, Swim Club and Bungalows and you know what you're signing up for, you'll love it. If you're expecting elegance and 5 star touches, that's not this place. I loved it here and would totally stay again, but yeah, updated requested, please.
NOTE: the Lafayette is getting a makeover from Oct 2022 through Spring 2023. We will be popping back in to check out the updates, and we'll update our article after then too.
Check out our 3 Day San Diego Itinerary!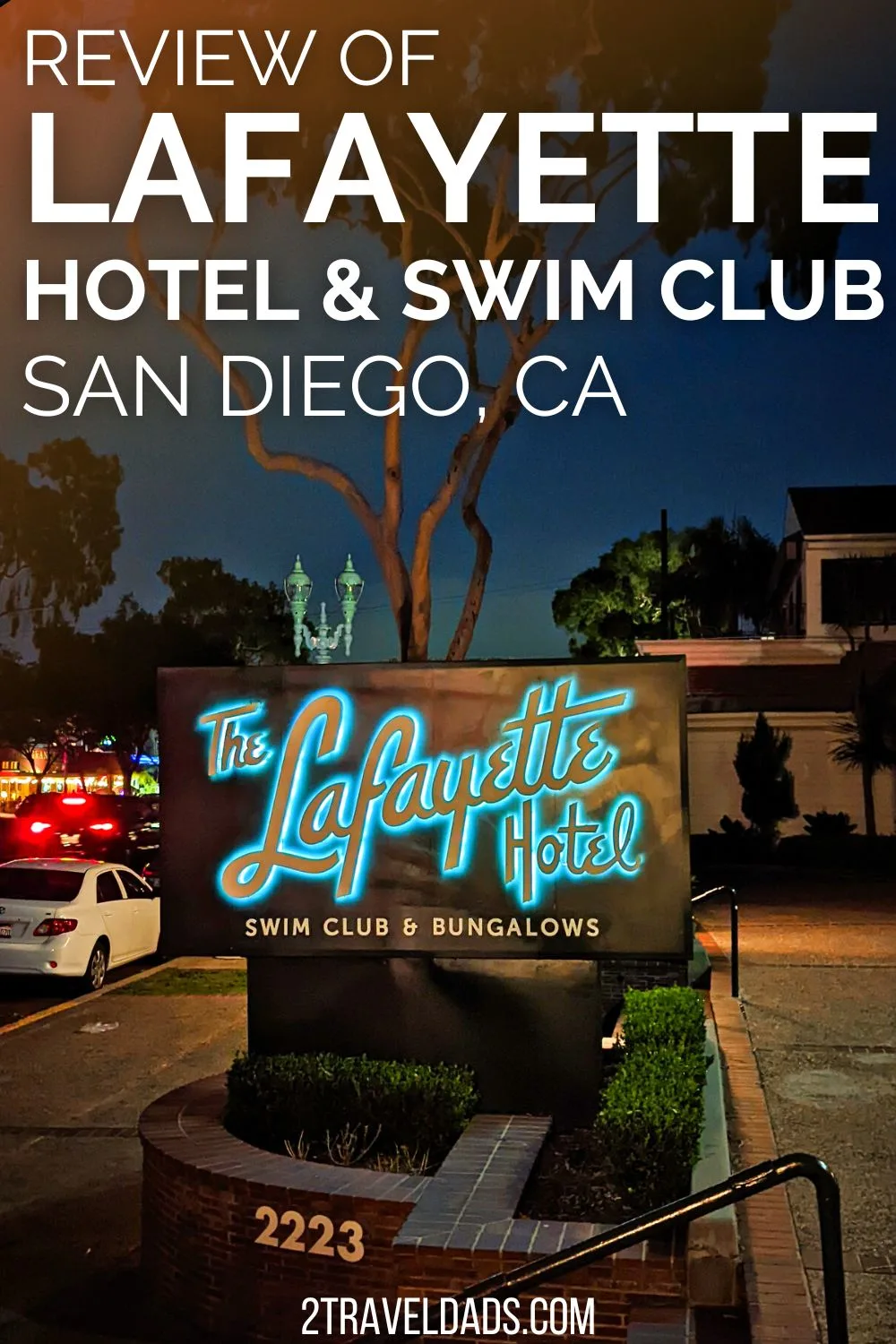 Staying at Lafayette Hotel in San Diego
So you want to know the full scoop on what to expect at the Lafayette Hotel Swim Club and Bungalows in San Diego? I've got you covered. The long and short of it was that we had a great stay, but overall the rooms could use some updates. I think the value is there, for sure, and I would even say that the rates are a good deal for San Diego, but yes, updates are needed. Read on…
What Are the Accommodation Options at the Lafayette Hotel?
There are three main room types at the Lafayette Hotel, Swim Club and Bungalows. You've got the poolside / balcony rooms with two queens, the Suze Suites (for families), Manor rooms, and bungalows.
The Manor Rooms are in the main lobby building of the Lafayette Hotel and can be booked with either two queen beds or one king bed.
The Suze Suites are a great layout with a king bedroom and then a bunk room, each with their own bathroom. There is plenty of space with both a small desk and a table, as well as closets.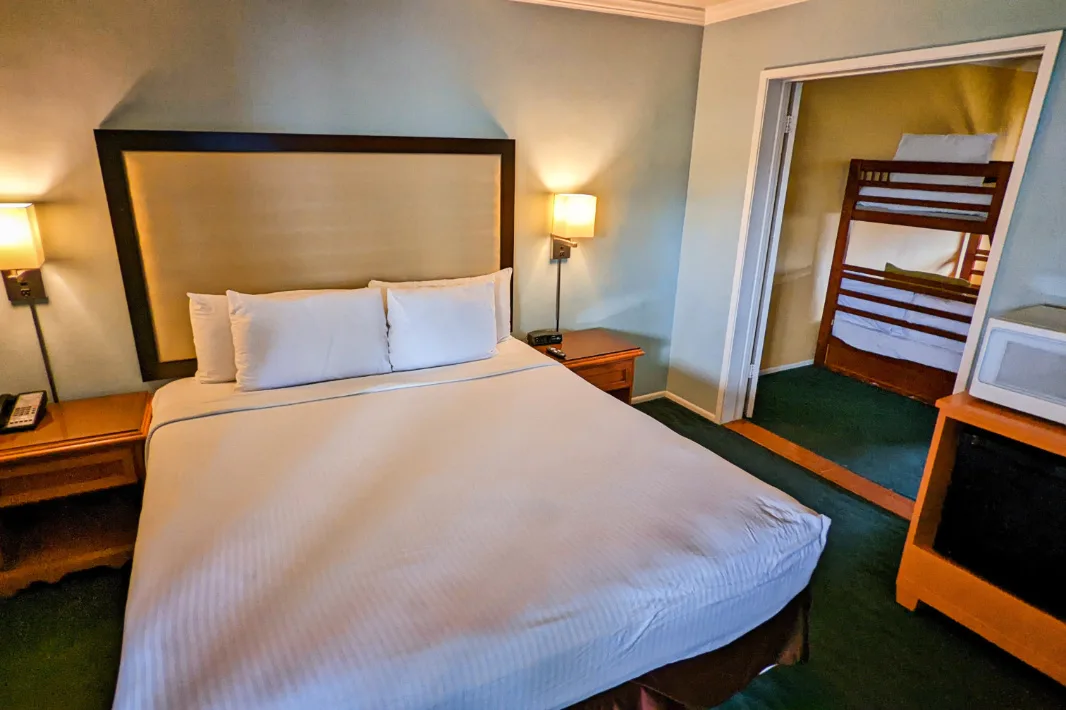 The bungalows are kind of like townhouses, built with multiple rooms per unit, and great for bigger families or friend groups

Poolside Queen rooms have two queen beds and either a balcony or patio doors leading out to the pool.
There are lots of options, and depending on the purpose of your stay and how many are in your group, you'll find the right room.
Book the Lafayette Hotel, Swim Club and Bungalows!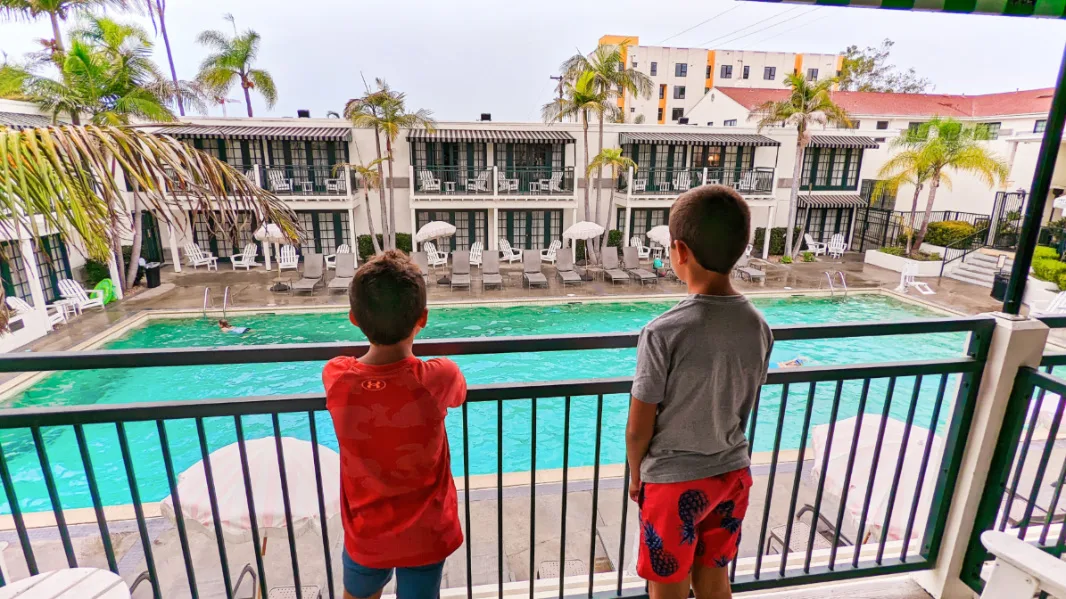 Top Pick: Poolside Two Queen Room w/ Balcony
The two queen balcony rooms are my favorite, and (as of fall 2022) they are the most updated. With the main room being very large and there being a vanity area separate from the bathroom, there is plenty of space to sprawl out. Add to that either a balcony or patio, and you've got one of the largest hotels we've been in that wasn't a suite.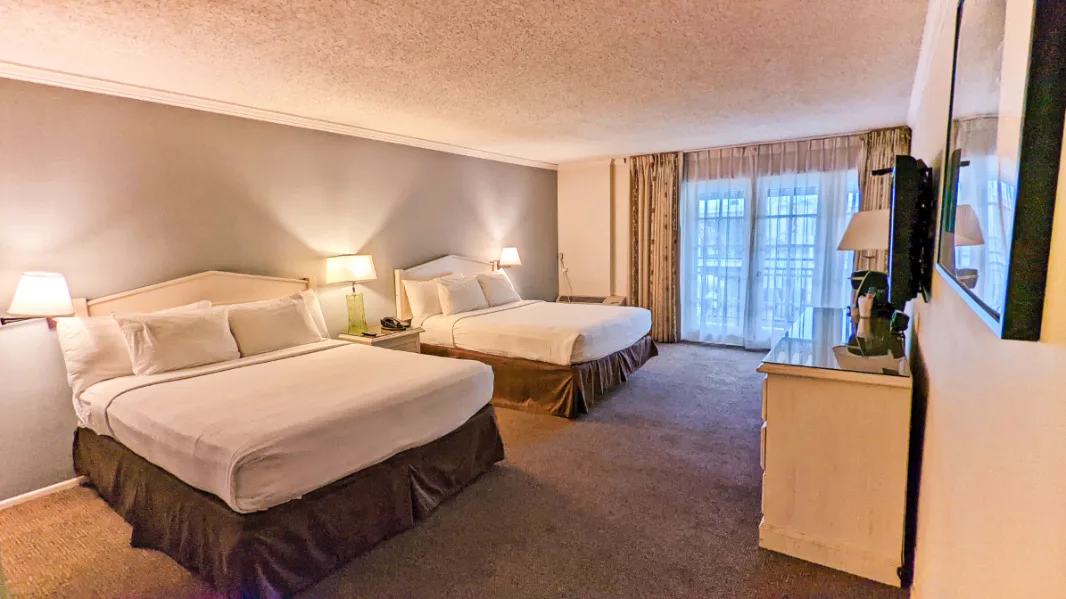 Check in / Check Out at the Lafayette Hotel and Swim Club
As you arrive at the Lafayette Hotel, there is a pull-through driveway for quickly running inside for check-in. Enter the truly vintage lobby where there may or may not be live piano music, get checked in and away you go. Currently, the hotel is still on a key card system, but as renovations and technology advance, hopefully we'll see a switch to keyless entry in the future.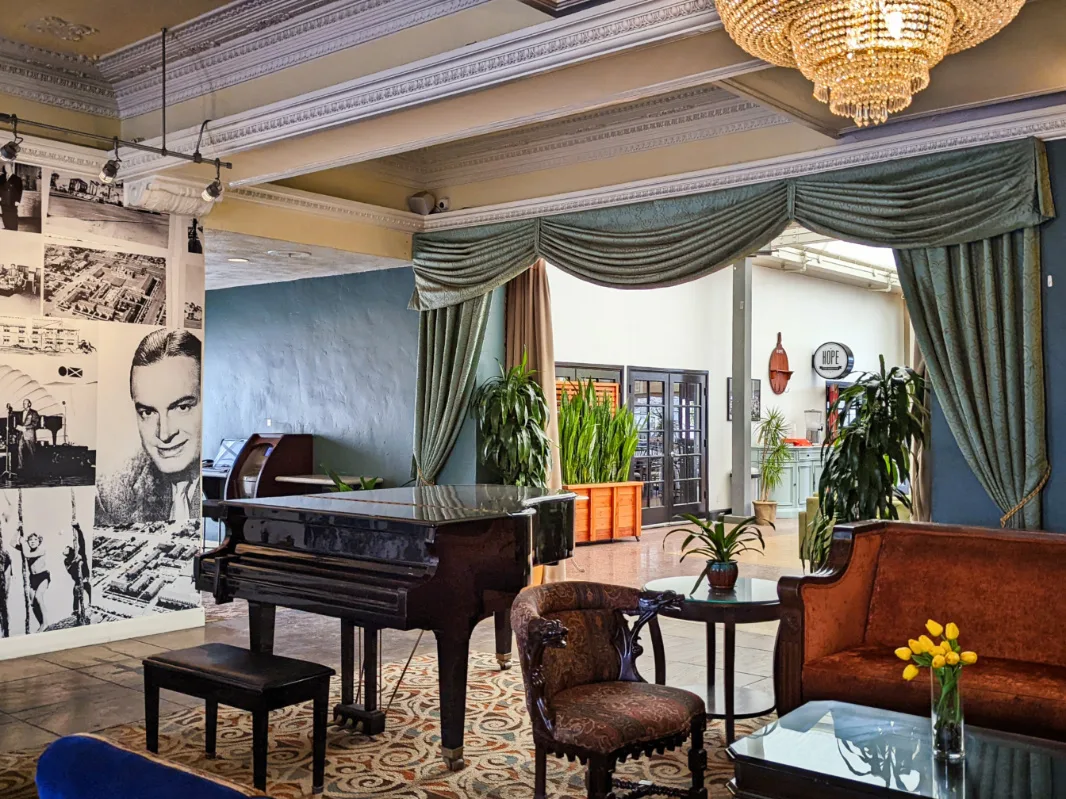 Lafayette Hotel Amenities
Pool at the Lafayette Hotel
It's in the name: Lafayette Hotel and SWIM CLUB. Yes, the pool is awesome! It reminds me a bit of the vintage swimming pool at the Shelborne Hotel in South Beach, Miami in that it's a very large, very antique style pool. The Lafayette pool has a very deep end (10') and is 2 inches shy of being Olympic length.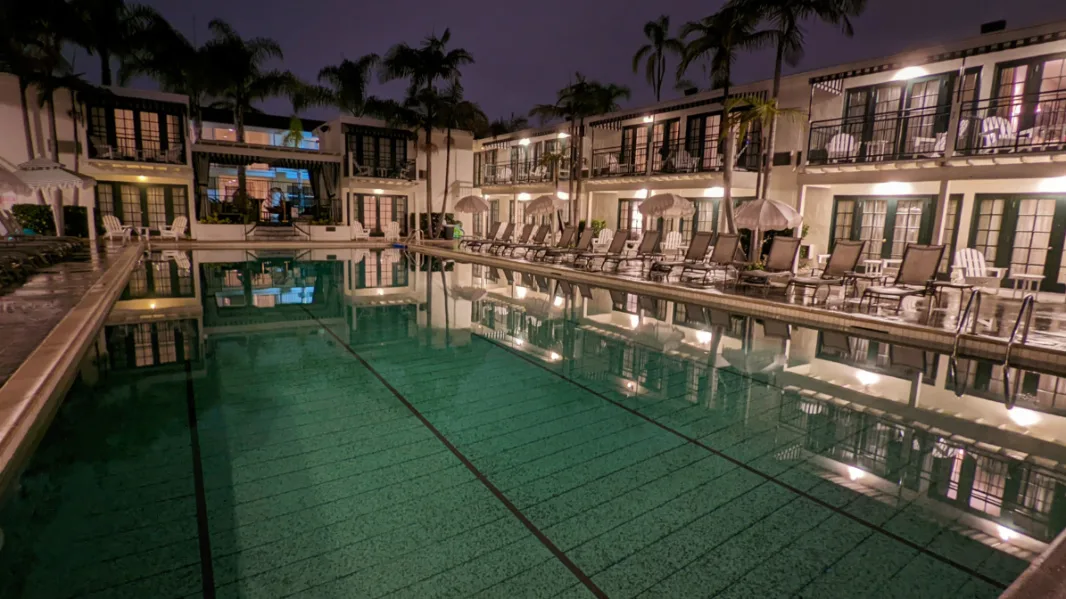 Lafayette Swim Club Details
You see the name, "Lafayette Hotel, Swim Club and Bungalows" and you're not fully certain what this means. Well, it's a hotel (covered above), it's got some bungalow-style accommodations, and it's a swim club. The "swim club" element comes in for local San Diego residents. If you live locally, you can purchase a six month or one year Swim Club membership to access the Olympic size pool from 7:00 am to 7:00 pm.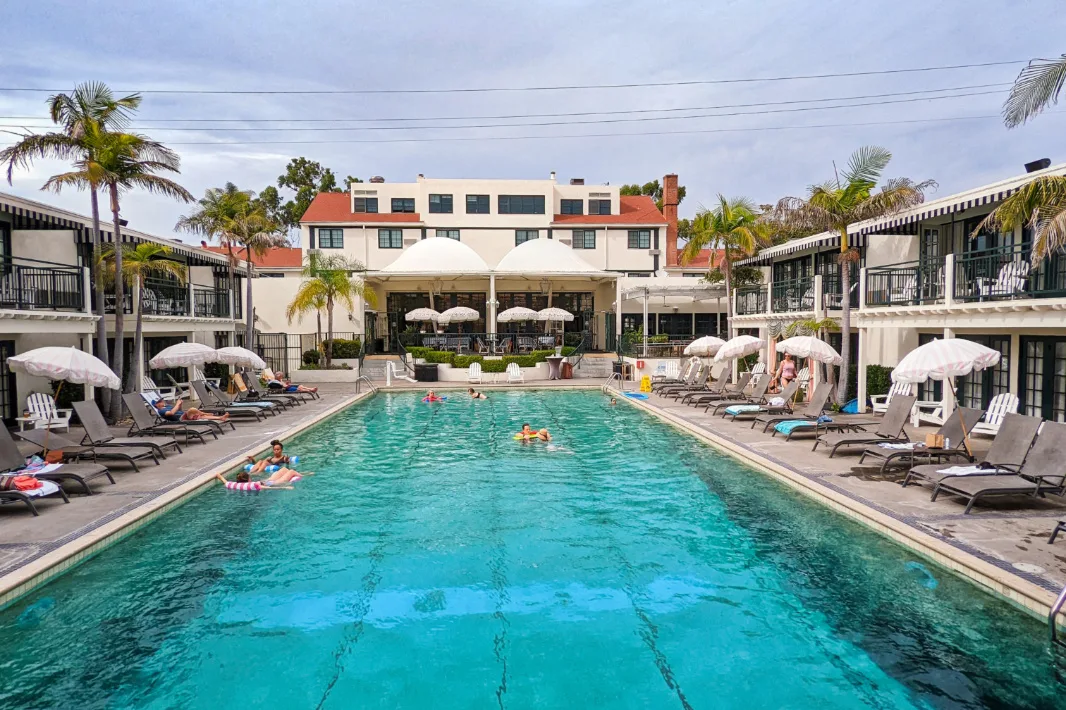 Fitness Center and Spa
There is a fitness center on property, but it's nothing special. You've got a few cardio machine options and some vintage free weights. For sure, if you need to get in a workout, the fitness center will get the job done, but like with many of the rooms, if could stand for an update. You're not staying at the Lafayette Hotel for its gym though, so don't let it turn you off from staying here.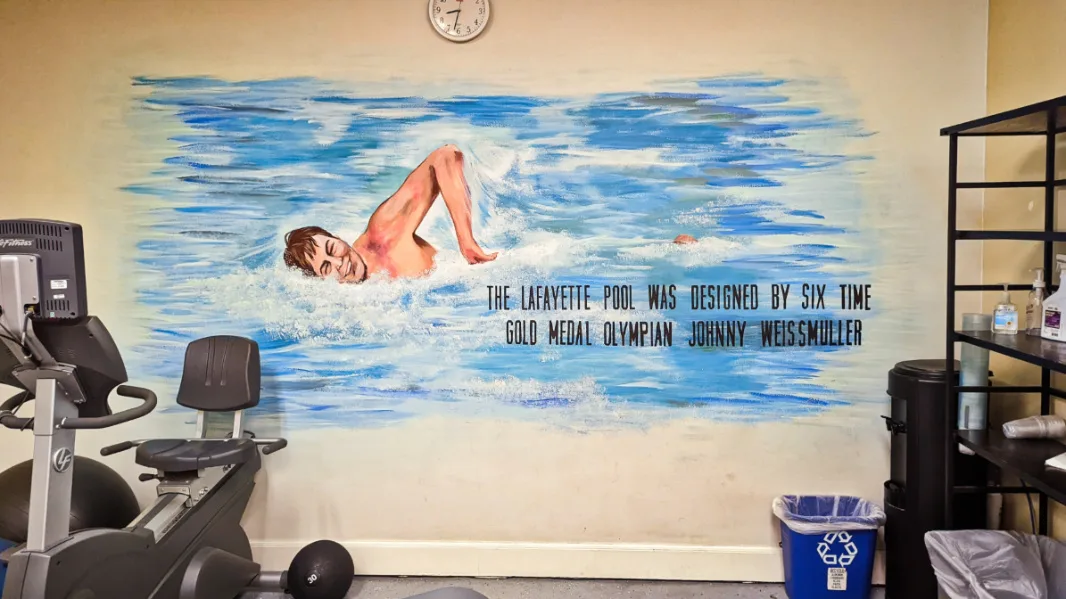 Dining at Hope 46
There is one restaurant onsite at the Lafayette Hotel, and it's called Hope 46. Hope is in reference to Bob Hope and 46 relating to 1946, which is the year the hotel opened. It's open for breakfast, lunch and dinner, with brunch on the weekends. You can dine in the vintage, dark wood dining room or in the light and airy atrium off the lobby. The atrium is also where morning coffee service is available.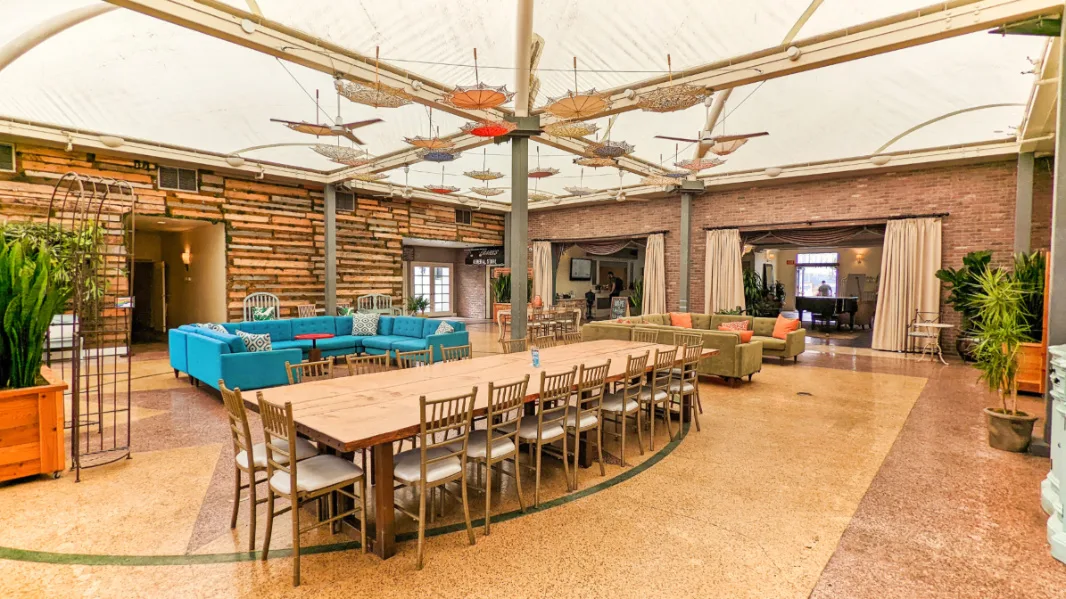 Cocktails Just off the Atrium
The bar at Hope 46 is pretty great. From the blood orange margaritas to the vintage old fashion recipes, the bartenders are great at their craft. You can enjoy drinks in the bar, in the atrium or out on the patio.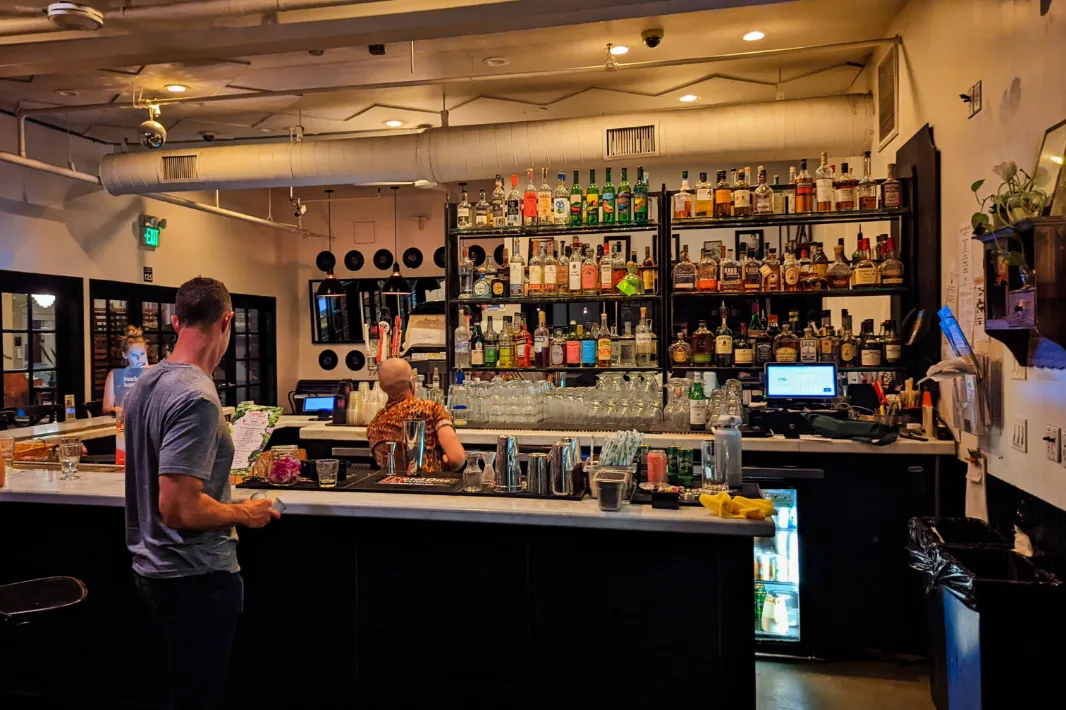 Pool Bar Service from Hope 46
The patio off the atrium overlooks the beautiful swimming area. Set up your workspace or have lunch, it's up to you. There is plenty of shade, and in the event it rains, it's well covered. The same service available on the patio carries down to the poolside lounge space. Poolside service is available in the afternoons, and then most of the day on the weekends.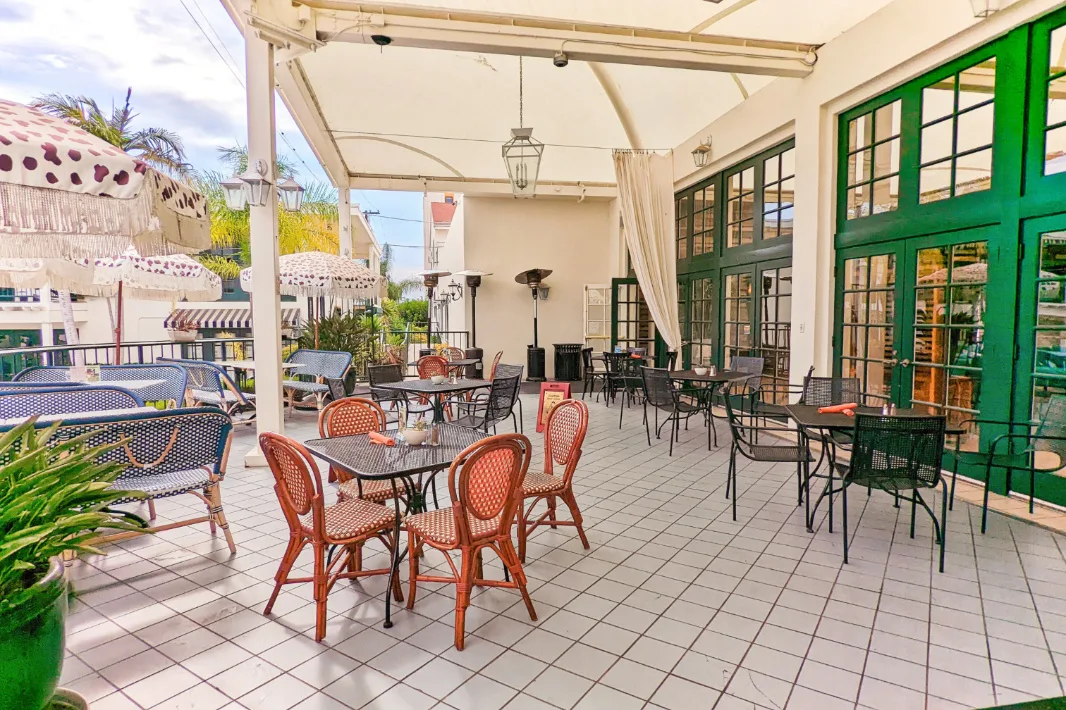 Stores on Site at the Lafayette
While there isn't a full convenience store onsite at the Lafayette Hotel and Swim Club, there is a convenience nook. Henry's is available just off the lobby, and here you'll find toiletries, snacks, postcards and you can get pre-bagged ice if needed.
Book the Lafayette Hotel, Swim Club and Bungalows!
Where is the Lafayette Hotel, Swim Club and Bungalows?
The North Park neighborhood is pretty fun to explore. It's loaded with great restaurants and is very near Balboa Park. You'll love how easy it is to get to downtown or all around the city, as El Cajon Blvd runs right through North Park.
If you need to make a map in your mind, picture the San Diego waterfront, then head east up the hill to the park and Hillcrest Neighborhood (home to the San Diego Pride Festival). Make a left and you'll wander towards the North Park Neighborhood. A great spot!
Check out our Guide to Balboa Park!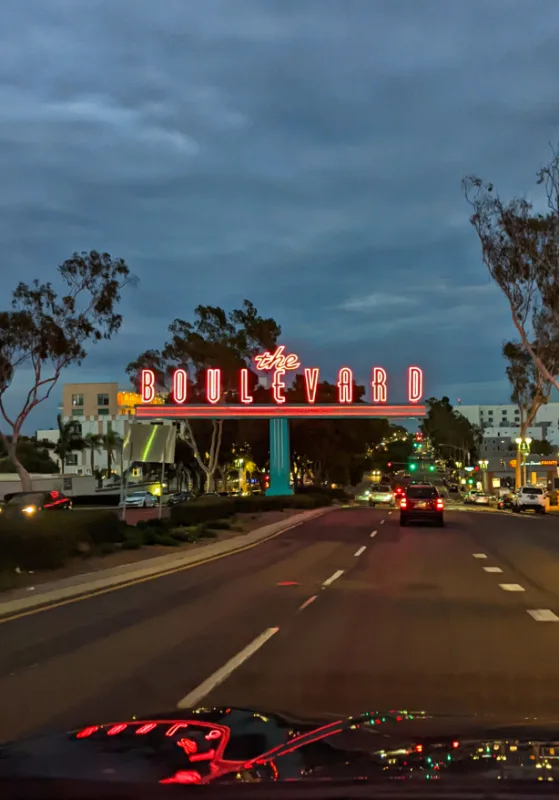 Transportation To and From SAN or Amtrak
If you're arriving in San Diego via airplane, it's about a 20 minute Uber or car ride from SAN assuming there's not bad traffic. If you're coming into town on the train to the Amtrak station downtown, it's about 15 minutes to the Lafayette Hotel.
Note: there is not a car rental location at the train station, so if you do want to have a rental car while you're in San Diego, you will still need to pop to the rental car center near the airport. You don't need a car really, but if you want to have one…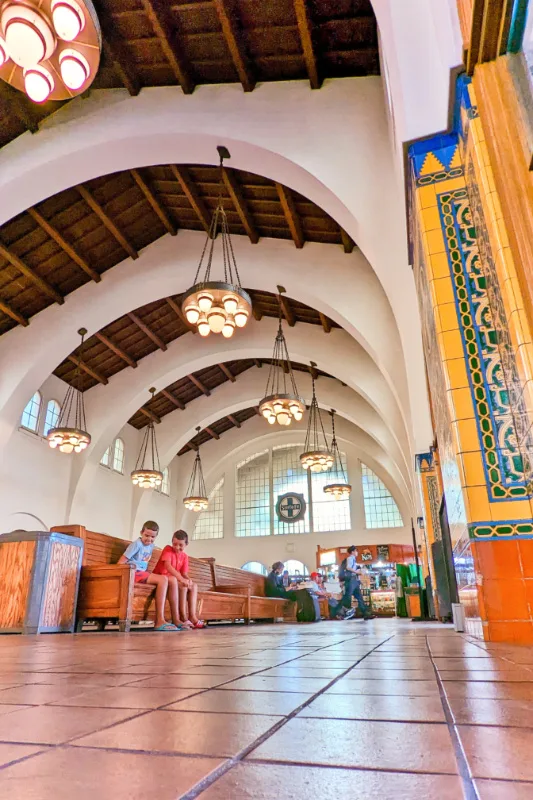 Can I Walk from the Lafayette to Balboa Park?
Can you walk to Balboa Park from the Lafayette Hotel, Swim Club and Bungalows? Well, yes, but it's about a half hour walk to the San Diego Zoo, and then another 10 minutes+ into the main museum areas of Balboa Park. If you enjoy walking or if you have a bike, it's super easy to get to. If you would rather take an Uber, it's about an 8 minute ride. Super easy!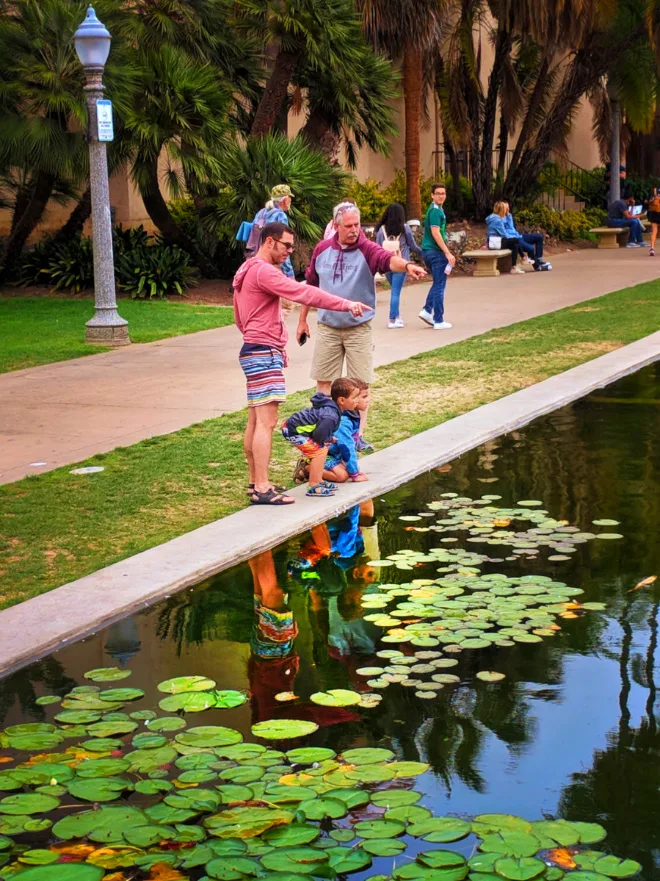 Parking Details at the Lafayette Hotel
There is parking onsite at the Lafayette Hotel and Swim Club. It is $25 per day (2022 price) and is self-park. There are two small lots on the property and below ground parking too. If you don't want to pay for onsite parking, there is street parking available as well, but there are time restrictions to pay attention to before committing to it for overnight parking.
Ten Fun Things to do at/near the Lafayette Hotel
Here are 10 fun things to do within 15 minutes of the vintage Lafayette Hotel. Remember that downtown, Hillcrest, Balboa Park are easy to get to nearly any time of day. It's when you need to get to the airport or Point Loma and beyond that it can take a bit longer.
All things LGBTQ in the Hillcrest neighborhood
the San Diego Zoo
San Diego Museum of Art
Cactus Gardens, Japanese Garden and Conservatory in Balboa Park
Biking on the Waterfront
Walking through the Gaslamp District
visiting Mission San Diego de Alcala (the oldest California mission)
have a meal an enjoy the public market at Liberty Station
drive out to Cabrillo National Monument (25 minutes away)
Enjoy the many beaches of San Diego (20 minutes away)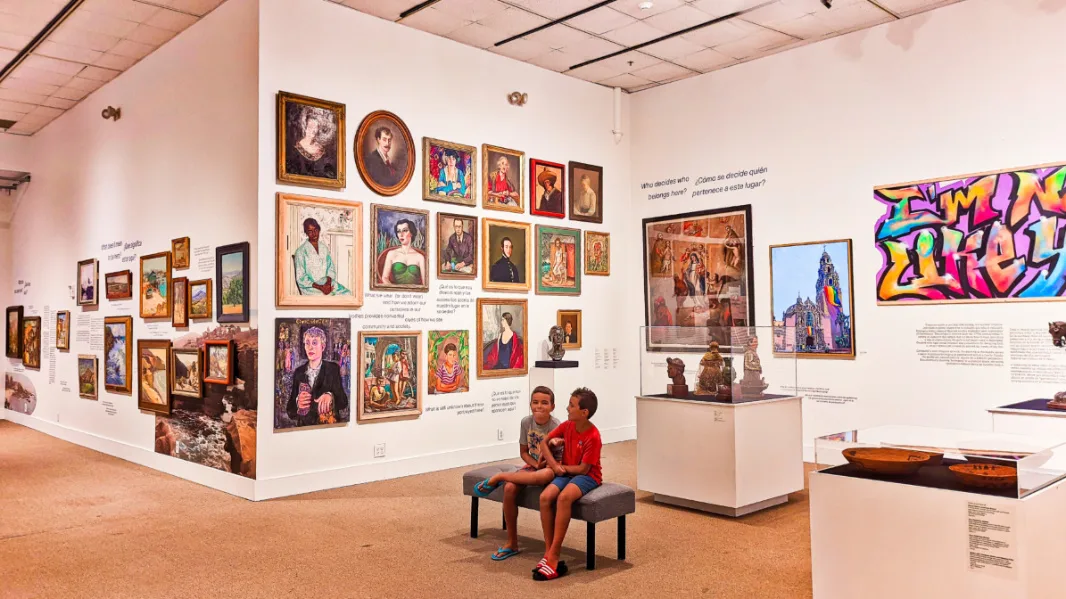 We really did love our stay at the Lafayette Hotel, Swim Club and Bungalows. Yes, there are lots of opportunities for renovations but I think those will mostly be addressed with the fall '22 / winter '23 renovation. We'll update this article as soon as we can pop back by.
If you have any questions about planning a San Diego trip, staying at the Lafayette Hotel or anything else related, please leave a comment or send us a note. We're happy to help!