Getting to travel for a living has its perks for sure, but we also are really careful and deliberate about how we do it. We love SD and have some great recommendations for how to have a budget friendly San Diego family vacation. Curious how we make the most of traveling on points and planning an ideal, budget savvy trip? Of course you are! 😉
When we first started thinking about a location that the whole family would enjoy and that we haven't been to recently, us Dads both said "San Diego!" aloud. Chris was stationed in San Diego when he was in the Navy, so he has lots of great memories from SD and the kids and I love beaches, so we started plotting out right away. Something great about Southern California is that if you want to visit on a budget, it's very doable. And now, commence our San Diego family vacation plan.
Check out our Awesome 3 Day San Diego Itinerary here!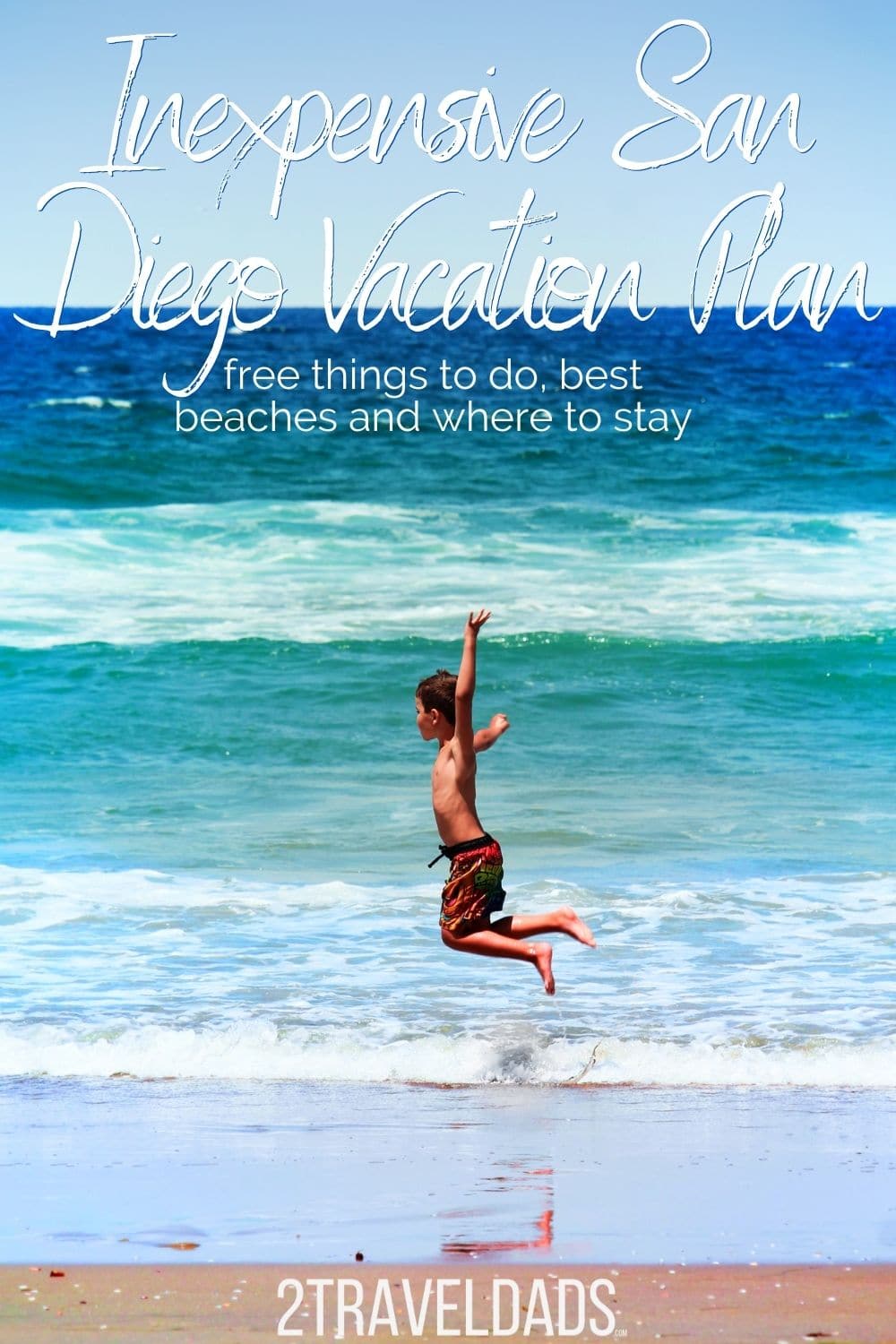 Do we actually use rewards points to travel? Yes.
Every now and then people question if we're sharing from the heart or just working with sponsors to do fun trips. We are totally sharing from the heart and telling it like it is, including how we travel the way we do. Between our Best Western, World of Hyatt and IHG Rewards Club points, they've made many of our trips possible and kept us budget savvy. Just to lend some real-life trip examples to our tips below for planning a San Diego family vacation, check out some of our past rewards points stays.
These stays, along with others, have been made possible by the rewards points we've earned over time. See? We totally stand by our methods and points usage plans. Now, check out how we planned and executed a really great San Diego family vacation using/earning IHG Rewards Club points.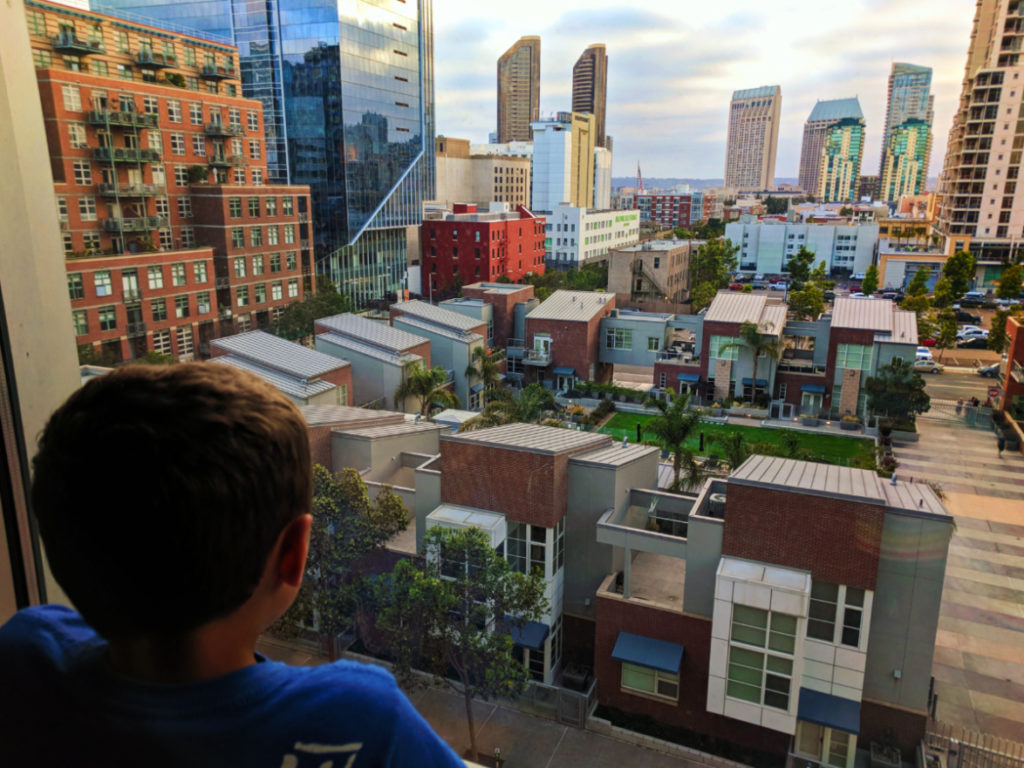 ---
Choosing the right hotel for our San Diego family vacation
Before summer of 2018 we hadn't done a San Diego family vacation yet, so all of our experience in SD was in our younger, carefree years when we just wanted to stay close to the action and play tourist. From our memories and what we could recall of fun neighborhoods in San Diego, we went with the Gaslamp District for our hotel locale. We figured this would be perfect for whatever activities we did, especially if we were able to take the kids to a Padres baseball game.
Well, the Gaslamp District turned out to be a bit more hoppin' than we expected. It's great for San Diego with teens. We were glad to have some really great restaurants close by, but it also meant that it was really busy on Friday and Saturday nights with the many bars and clubs in the neighborhood too. That was something we hadn't fully thought through when we were choosing a neighborhood for our home-base on our family vacation to San Diego. It worked out fine though!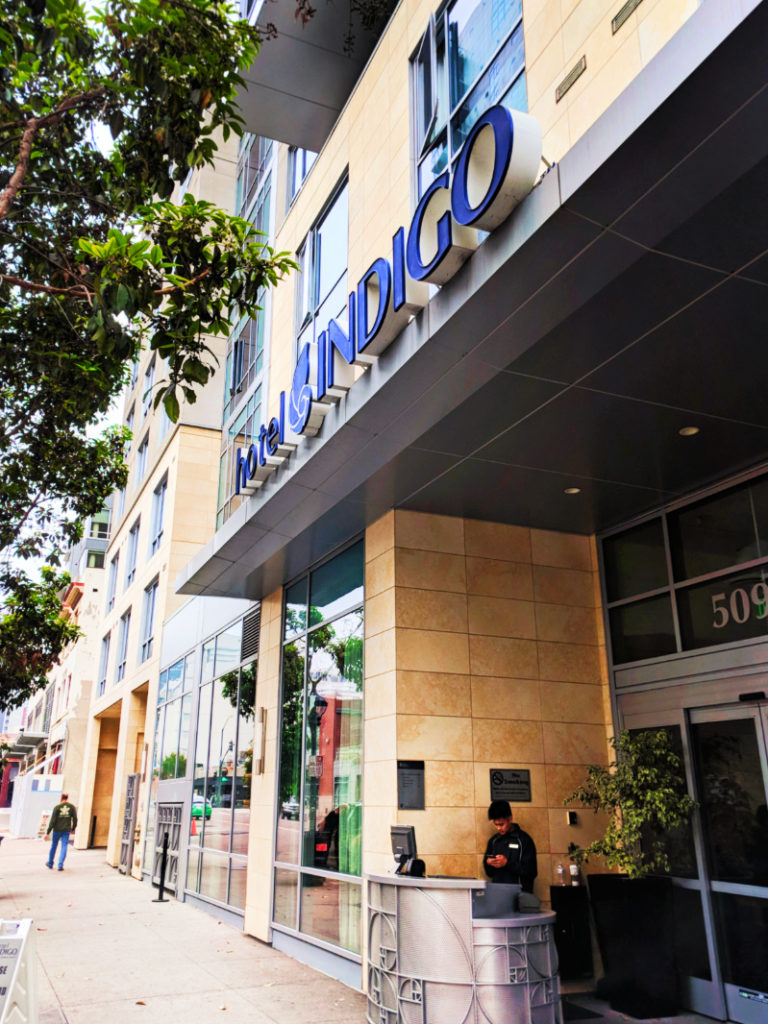 We ended up booking at IHG's Hotel Indigo San Diego Gaslamp. Our room was nice and big with very nice fixtures and furnishings. We had a view looking out across the neighborhood and plenty of dining options right outside our door. Our room rate was competitive and better than similar properties in the neighborhood, and we were really pleased with our hotel for our San Diego family vacation.
We didn't really have any needs while staying at the Hotel Indigo, but all of the staff we interacted with in the course of our stay were very kind and willing and able to help with anything. They even provided parking alternatives since we didn't want to do valet during our stay, which was awesome and a great money saver for us.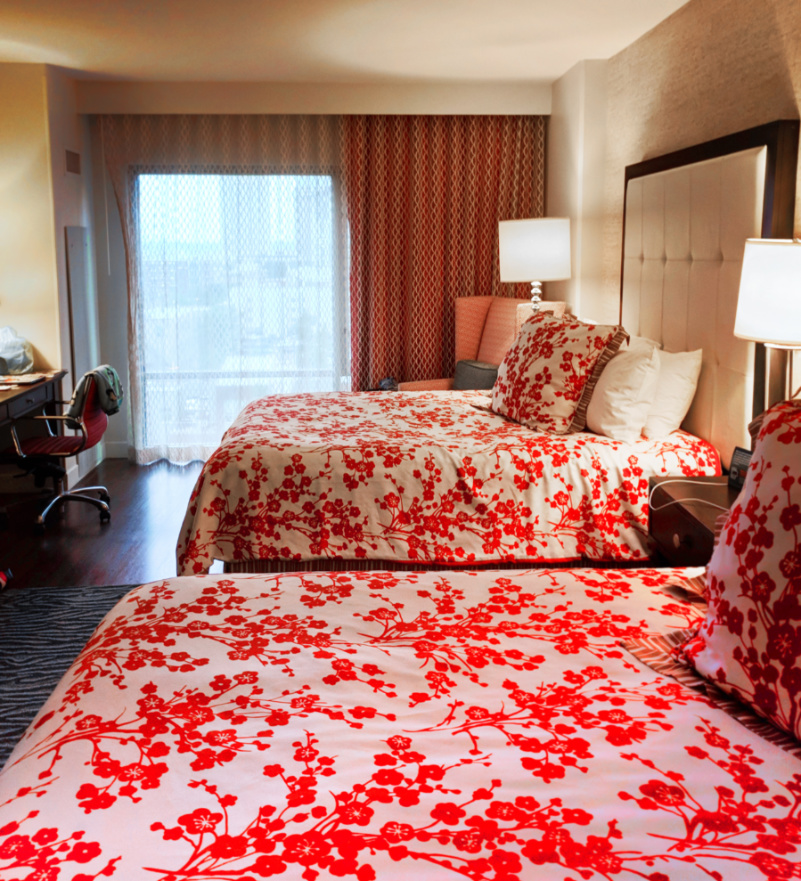 ---
---
Booking travel for a San Diego family vacation
If you're on the West Coast and as far inland as Denver, traveling to SD for family vacation is pretty easy. Why don't we do it more often?! We were able to line up our San Diego family vacation with a quick trip to Disneyland so we looked for flights going into LAX and returning home out of San Diego. I know, you're thinking that multi-city plane tickets are totally expensive and not a cost-effective/savvy way to travel. Not true though.  Here's exactly how we book a family's worth of tickets for a great deal.
Book directly through the airline when it's just one carrier to ensure reservations are exactly what you need, including kid travel info
Be flexible with flight times – busier flight times cost more, but very early or even very late flights are often $75 to $150 less per ticket (one way)
Book shortest flights possible – layovers add stress and delay starting your vacation. You can usually find a direct flight for the same cost and less travel time
Use miles when available – we are often able to get one or more flights with miles, and West Coast routes usually are available for smaller quantities of miles
So yeah, that's how we manage booking flights on a budget, even if we can't follow each of our tips every time. We most frequently fly with Alaska Airlines, so our status also often gets us upgrades. It's all about using points for travel all the time!
Bonus: with many credit cards you often get a either Global Entry or TSA Pre-Check credit to be used towards applying/enrolling in either security program. HUGE time-saver for us, particularly with kids in a busy airport. We recently added CLEAR and now it's the FASTEST SECURITY EVER.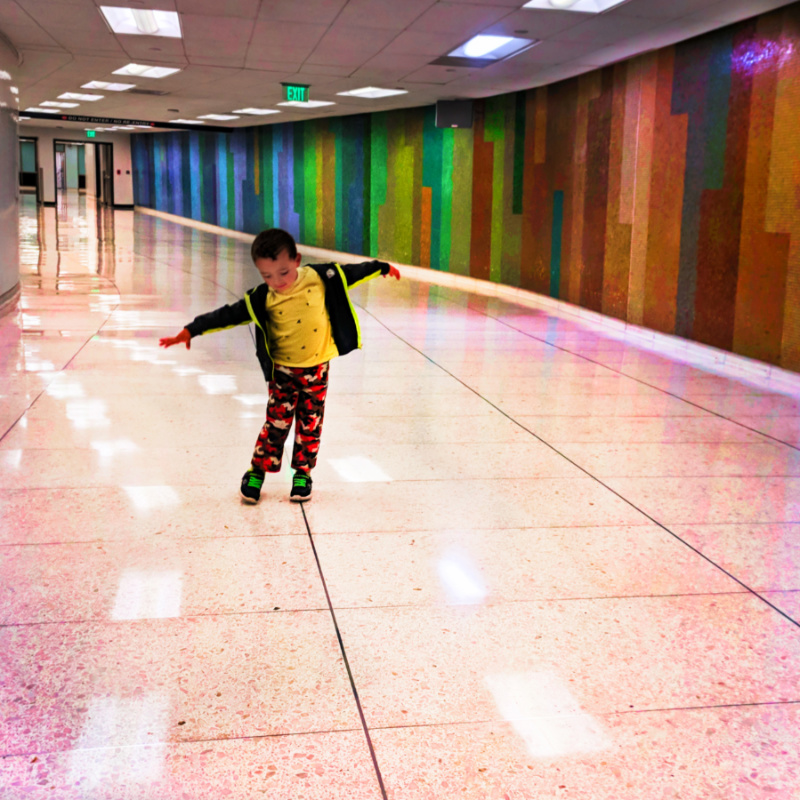 Taking Amtrak between LA/OC and San Diego
The other handy tip we have for doing a trip like this (LA/Anaheim to San Diego) is to take the train between your destinations. This might sound odd or not a budget savvy travel choice, but it really is. Renting a car from one airport and returning it to another incurs a whole bunch of fees and taxes you don't need to pay. Here's the breakdown of how we saved on travel between the Los Angeles area and San Diego:
Cost of rental car for five days – $780, this includes taxes from both airports/cities, 5 days of use AND a drop fee for returning the car to a different location (and tax on that)
Cost of train tickets from Anaheim to San Diego – $120
Cost of rental car for three days in SD only – $140
Total ground transportation cost – $260, A savings of $520 due to less days of rental, no drop fees and fewer taxes.
The combination of smart flight booking and budget savvy ground transportation made the combo trip of a Disneyland AND San Diego vacation completely within our means.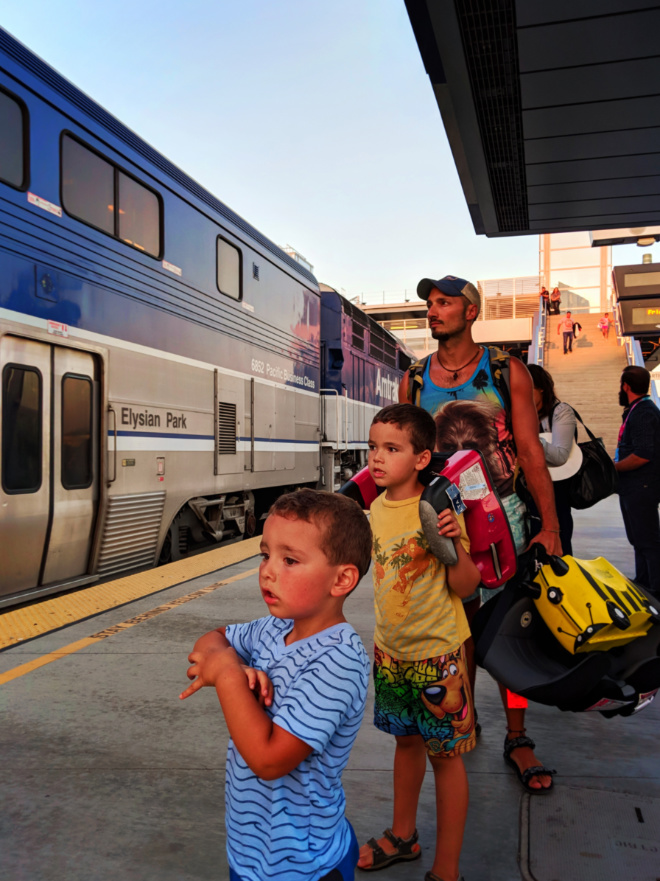 San Diego Family Vacation itinerary
So, that's how we planned out everything ahead of our trip to San Diego, making sure we were rewarded with points as we went. And now for creating an ideal weekend plan that's fun for the whole family.
Fun nature in San Diego
One of our favorite places to visit when we lived in SoCal was Cabrillo National Monument. Located on Point Loma on the north side of San Diego Harbor, it's the only National Park site in the area. We love it for the lighthouses (it has two!) and the tide pools. Seriously, say the phrase "tide pools" around the kids and they get really excited. The weather was a bit of a bummer initially, but we hunted for crabs and sea life just the same.
The other dose of nature we were able to score was a visit to the La Jolla tide pools and La Jolla Cove. Between tiny sea creatures in some of the most uniquely formed tide pools around and the plethora of seals at the La Jolla Cove, it was the perfect addition to our San Diego vacation.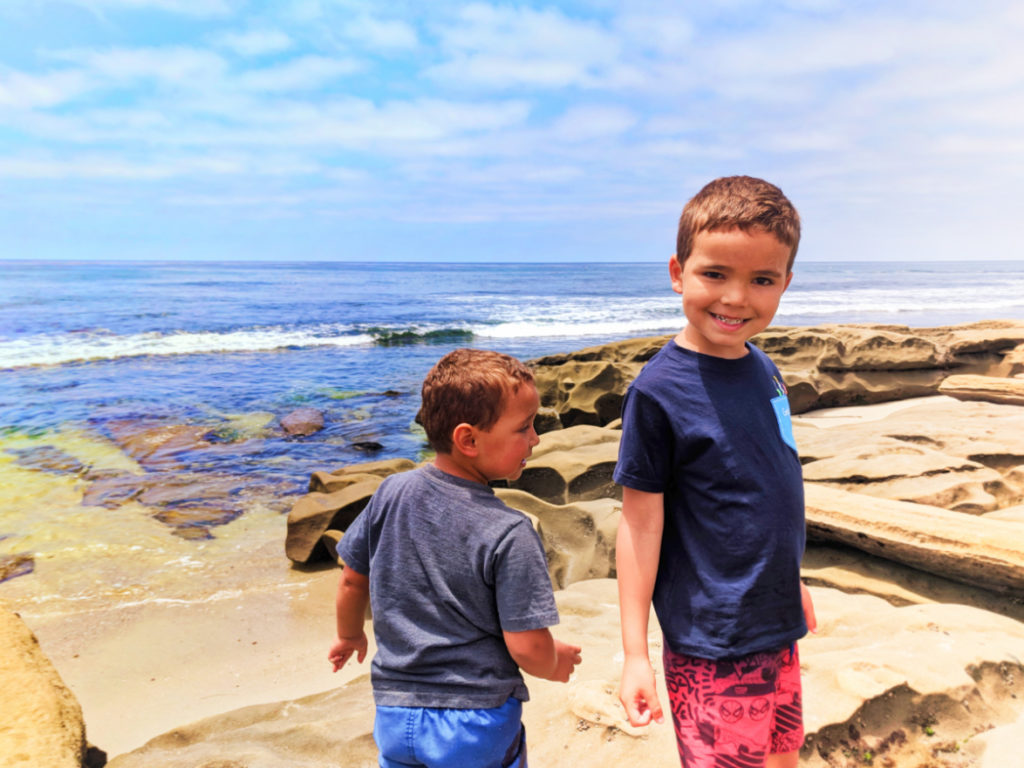 History and culture in San Diego
Yep, we got a little dose of history already with our visit to Cabrillo, but we're never going to turn down more fun learning opportunities. We made sure to visit Mission San Diego de Alcala while in town too. It's a beautiful site and is a great way to show kids a different side of California history. Mission San Diego was the first mission built along El Camino Real so is actually a key piece in the story of California's development.
Tip: for a fun road trip plan, drive El Camino Real from SoCal to the Bay Area. Lots of cool towns and missions to visit! And there are enough national brand hotels that using points to book rooms is actually pretty easy.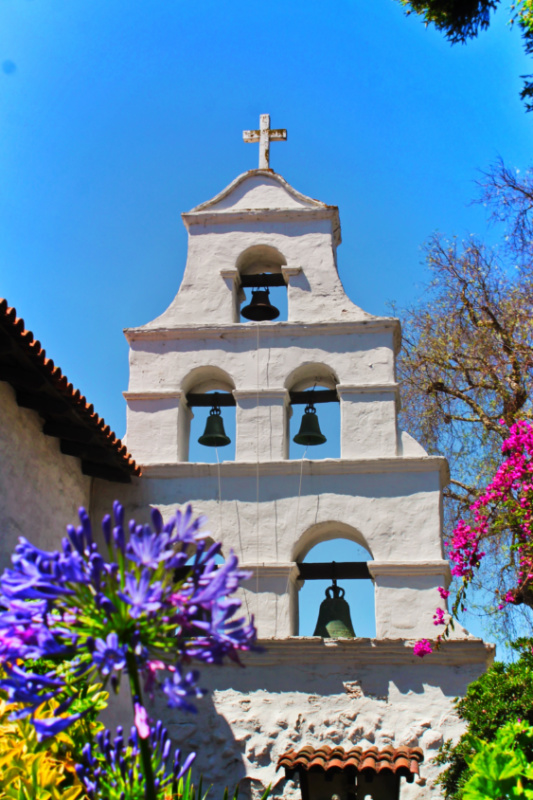 Balboa Park was our next stop to get a little culture. We hit it a bit late in the day so didn't get to do the art or natural history museums, but we did enjoy checking out the conservatory, the gardens, lily pods, fountains, did a little hike in the jungle-like valley area, and even took in a short organ concert in the amphitheater.
And you can't visit San Diego without a stop in Hillcrest, the known hub of the LGBT community in SD and where the San Diego Pride Festival happens!. We try to visit neighborhoods like this whenever we travel so the kids see more couples like us Dads and more families similar to theirs. Hillcrest is the perfect spot to feel at home and have great food, so we made sure to have an afternoon relaxing and enjoying the vibe of our favorite gayborhood. 🙂
Tip: if you like to plan out your dining or even just make reservations on the fly, Hillcrest and other popular neighborhoods may get pretty busy for dinner time. Using Open Table to make reservations is both efficient AND can earn you rewards club points, specifically IHG points. Who knew that booking dinner reservations was also a budget savvy thing to do!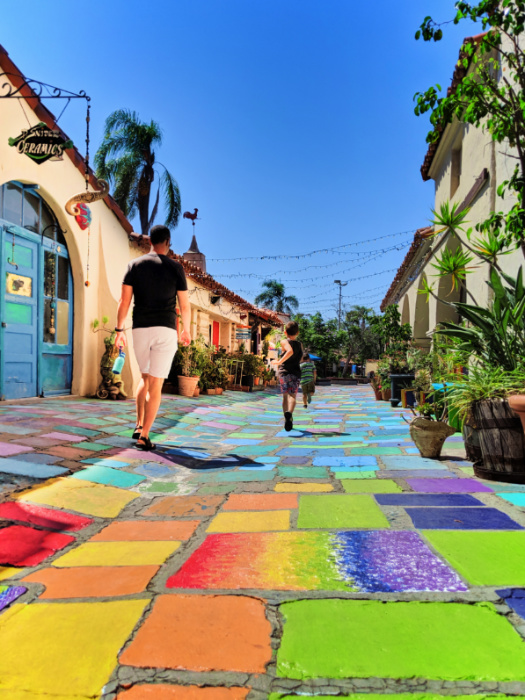 Beautiful beach days in San Diego
Let's be honest: the purpose of planning a San Diego family vacation is for the beaches. From Coronado to La Jolla, there is plenty of sand and surf for everybody. Parking though, that's another story. We had the most perfect plan for visiting a different beach each day, but San Diego's parking problem foiled us. Our day at Ocean Beach was spoiled when there was no parking within 100 blocks of the beach due to the OB Street Fair & Chili Cook-off. Then our first attempt to do Baymont Park and Mission Beach was scratched after failing to find parking again… We learned that you must head to the beach as early as you can to be able to find parking.
Tip: drive to the relative neighborhood of the beach you want to hang out at and then get dropped off at the actual beach. A ride service like Lyft or Uber is great for getting a ride to the beach from wherever you were able to find parking.
We eventually were able to have an incredible day at Mission Beach enjoying the waves and swimming with the kids, and then the next day scored a great spot at Pacific Beach. Really, we did end up having awesome San Diego beach days that were just what we'd been hoping for, it just took a few tries. Once that sun came out and we were playing in the sand, we were golden! And FYI, there are lots of dog-friendly beaches in San Diego if you happen to be traveling with a pup!
Tip: check out our article on sun protection for the family for our best tips for keeping kids burn-free on San Diego beaches (including bringing a beach tent).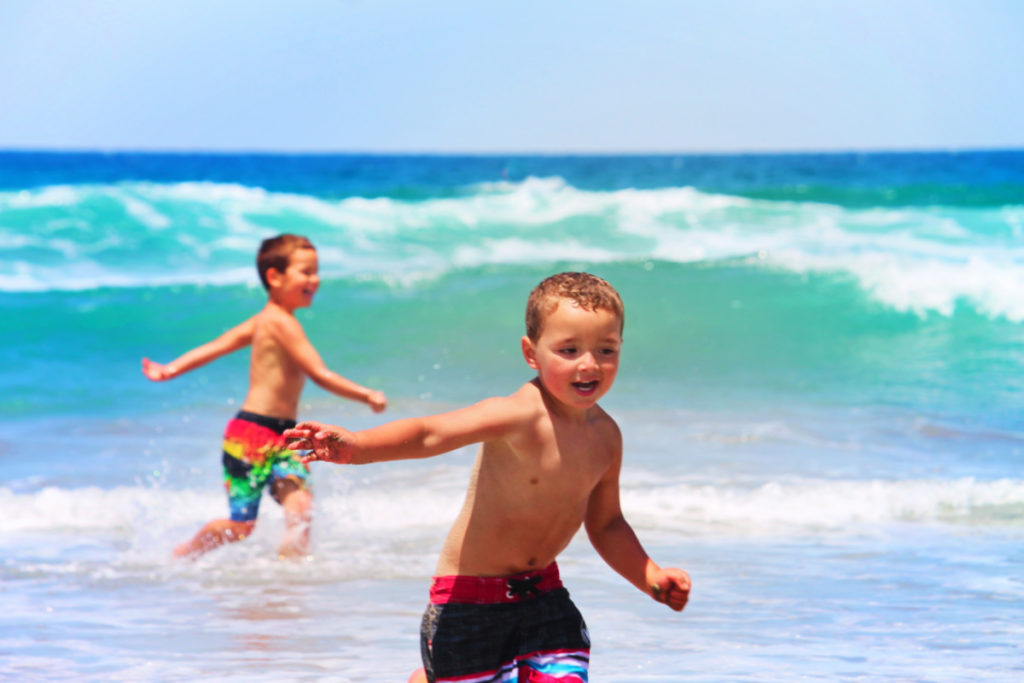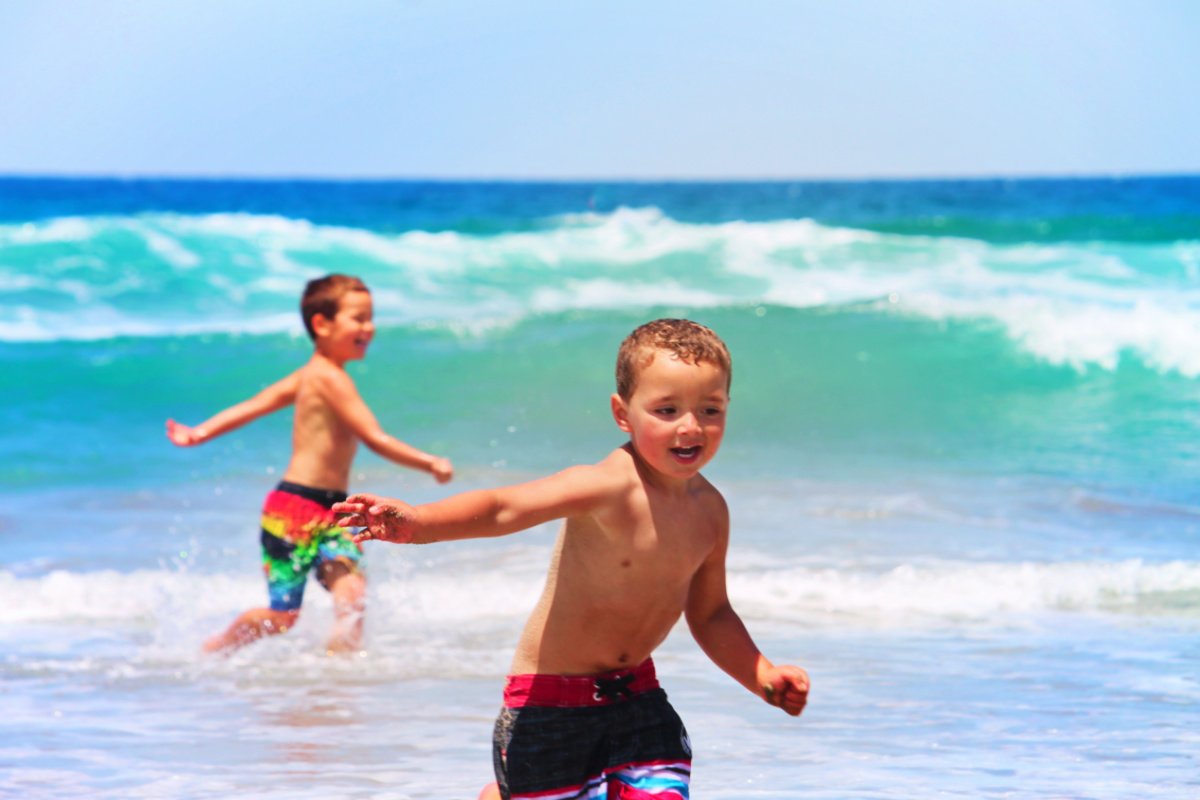 Planning a budget savvy San Diego family vacation definitely paid off. We got some great time together and had a nice recharge. The extra effort to be budget conscious and use rewards points for travel and hotels made it so we didn't spend an arm and a leg for the fun in the sun. 
We hope this is helpful in building and having some fun trips with your own family. We have learned how to accumulate and leverage points and it's worked out well, so please let us know how our tips help you too!
Want to pin this for later when you're working on planning a budget savvy trip or San Diego family vacation?  Go for it!
For more great San Diego travel ideas: