It's no secret that we love the weekends.  I mean, who doesn't? With or without the kids we try to break away to a new city or visit one of our old favs whenever possible. There are loads of West Coast weekend trips you can take for a great recharge on life, so here are our top five that'll help you relax and while discovering some place new.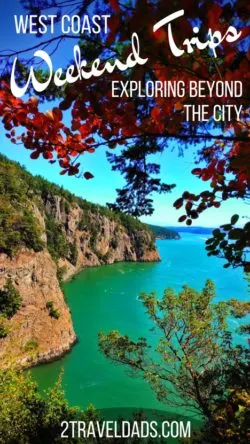 Also, if you're plotting and planning a larger trip, feel free to use our ideas as a guide to creating an awesome road trip.  We are passionate about the West Coast (#WestCoastBestCoast) and are always happy to spin the compass for travelers towards our most visited and most interesting getaways, either in Washington and Oregon or all the way down the California coast.  So many ideas!
West Coast Weekend Trips to Remember
Yeah, you can take two days to chill at home and get caught up on laundry or binge watch a new show or something, or you can head out and see what's just beyond your front door.  That's what the concept of being a Seekender is all about.  We're totally behind it and are excited to inspire others to do it too!
Puget Sound Area weekend trips
Depending on the time of year there are several awesome weekend trips you can do in the Puget Sound area.  One of our favorites, which says a lot because we've lived in the area most of our lives, is hitting the North Sound.  A little over an hour north of Seattle you'll find a totally different world that's interesting and easy to explore.
Anacortes and Whidbey Island
For the longest time we would pretend Anacortes wasn't a town, but just a place to catch the ferry or drive through to get to Whidbey Island, but then we went and explored it on a weekend and fell in love… and then have since returned several times.  We found the downtown area to be hoppin' with lots of great local beers and a whole lot of park fun for the kids.
Right next door to Anacortes is Whidbey Island, which could be good for a few weekend trips itself.  Whether the plan is hiking in Deception Pass or wandering through the retired bunkers of Fort Casey State Park, you'll have oodles of outdoor options for exploring and relaxing.  And then there are also plenty of wineries on the island.  And the sleepy little town of Coupeville where Practical Magic was filmed.  Tons to explore.  
Both Anacortes and the towns of Whidbey Island have a calm, quiet feel even in the height of their many festivals, so you'll have ample opportunities to relax and regroup.
San Juan Islands
Who needs to fly across the country to find pristine beaches and turquoise waters?  Not us because we can take a weekend trip to the San Juan Islands.  Or we could even just visit one of the many islands for a day.  
Ferries leave several time each day out of Anacortes, so planning a weekend trip or a day of dining and nature is totally doable.  Orcas Island is our favorite to visit with San Juan Island being a close second.  Towns like Eastsound, Friday Harbor and Roche Harbor make the San Juans quite picturesque and relaxing.  Great food and rolling farms paired with historic hotels and lighthouses… The San Juan Islands are a wonderfully unique experience to consider for one of your upcoming weekend trips.
Tip:  check out the ferry schedule before starting your day in the San Juan Islands.  Don't get stuck or miss your boats.
Skagit Valley Tulip Festival
Okay, this is totally date-driven, but if you can work it out, weekend trips in April and May can put you in tulip country at just the right time.  The Skagit Valley Tulip Festival happens every year and the amount of color is overwhelming.  
La Conner is the main drag for getting into the spirit and exploring a vintage fishing village.  On a weekday it's pretty sleepy, but on the weekend you'll find lots of local art in the galleries, bottomless fresh seafood straight outta Puget Sound and local brews too.  You can't go wrong spending a weekend touring tulip fields and getting a dose of Pacific Northwest history.  The combo is perfect.  And can you think of any better way to recharge than sitting in a field of flowers?  No.
Movies to inspire PNW weekend trips:  Practical Magic (Coupeville/Whidbey Island), An Officer and a Gentleman (Pt Townsend, ferry from Whidbey), The Ring (San Juan Islands) – yes, I said to watch a creepy movie.
Portland Area weekend trips
Portland, Oregon itself is a cool city.  We've escaped to the City of Roses for a weekend on more than one occasion and have come to appreciate Portland for the weird wonder that it is.  If you haven't explored it yet, make sure one of your summer or fall weekend trips lands you in Portland.  The food scene is probably the most vibrant take-away from a Seekender weekend in PDX, but when you add the side trips out of the city, you'll see why we keep heading back for more.
Northern Oregon Coast
"Goonies never say die!!"  True story.  Astoria and Cannon beach are just outside of Portland and are also known as the Goondocks.  If you were a child of the 80s you know exactly what I'm talking about.  If not, go find a VCR and an older friend who still has The Goonies on VHS tape.
If you have not clue what we're talking about but love the idea of rugged coastline and lighthouses, that's an easy weekend trip too.  Relaxing on a bluff watching the sun set behind the Tillamook Rock Light…  Walking the streets of Astoria and checking out the Victorian era architecture… Hiking to the Cape Meares lighthouse to get up close with the Pacific Northwest's nautical past… There are so many opportunities to have new experiences just outside of Portland.
Columbia Gorge Waterfall Area
We actually just returned from the Columbia Gorge where we stayed in Hood River at the Hampton Inn and Suites directly on the water.  Whether you're staying in Portland or Hood River, the Columbia Gorge is a must-visit.  The moss covered hiking trails and iconic Multnomah Falls are unforgettable, especially with kids.  Spring is the best time to plan a weekend trip to the Waterfall Area due to lots of rain and snow-melt, but even in the heat of summer it's amazing.  Take a look at our full account of this truly unique place.
Movies to inspire:  The Goonies (Astoria, Cannon Beach), Kindergarten Cop (Astoria), Free Willy (Astoria), Maverick (Columbia River Gorge), Grimm (series set in Portland), Portlandia (because.)
San Francisco Bay Area trips
With airfare to the Bay Area being much cheaper from other West Coast destinations than, say, places like New York or Miami, it's really a great option for exploring and seeing a new side of California.  Having lived in SF exploring the city is merely wandering on a different walking path than normal.  Or it's taking the MUNI out to Ocean Beach instead of driving.  But you know, if you're local to the Bay Area, there is more to explore beyond the city.
A day in San Jose
Ever since I was a kid I wanted to visit the Winchester Mystery House in San Jose, California.  All it took was moving to San Francisco and exploring the larger city to the south to finally get to visit.  OMG, what a weird and kinda creepy place, but really cool!  Yes, it's totally a tourist trap and rightfully so: it's iconic, bizarre, and unique among historic sites.  But it is also a new and fascinating way to learn some history.  If exploring on the weekends doesn't include a bit of history of some sort, well, how can it not?
San Jose is actually a city of neighborhoods and smaller cities, so after you've been sufficiently creeped out by the Winchester Mystery House, you can go explore… or shop.  Santana Row is super close if you're in the shopping mood or entertainment sounds fun.  Also nearby is the Children's Discovery Museum and the San Jose Museum of Art.  
Funny story:  the first time I ever saw one of the inflatable, flappy car lot balloon men was at the San Jose Museum of Art.  An artist was displaying the concept as part of a modern installation… and now the flappy dudes are everywhere as advertising beacons.  #CuttingEdge.
Across the Golden Gate Bridge
When you talk to people who live in San Francisco or around they can tell you all about the cool neighborhoods, like Telegraph Hill or The Mission, but not a ton of them have explored the Golden Gate Bridge or gone north to Muir Woods.  
First of all, if you don't have a National Parks Passport yet, go get one.  Once you do, head out of the bustle of downtown San Francisco and head to the Golden Gate National Recreation Area.  Here you'll find Fort Mason, Crissy Fields, some awesome old bunkers and the Golden Gate Bridge.  Get your National Park Passport stamped and find some new history and fascination in SF.  And then cross the bridge.
Just north of Sausalito you'll come to Muir Woods National Monument.  This is a quiet place you'll love… and it'll feel really familiar.  When you get there, close your eyes, listen, when you hear a twig snap DROP!! No doubt you'll realize that this is where the Storm Troopers chased Luke and Leia on speeders in Return of the Jedi.  The woods are absolutely beautiful and the trees enormous.  This is a great spot to relax during a weekend trip, with the forest being so dense you'll lose yourself immediately.
Movies to inspire:  Return of the Jedi (Muir Woods), Star Trek IV (Golden Gate & SF), So I Married an Axe Murderer (SF), and in 2018 Winchester (I can't wait!)
Los Angeles weekend trips
We love Los Angeles for lots of reasons, but one primary driver for use continually going back for weekend trips is for the countless things we can do with or without the kids all around LA and Southern California.  We shared a whole article about the fun and free things to do in Los Angeles, but there's a whole world beyond the city too.
Palm Springs
Planning a weekend trip to Palm Springs is genius.  So much of LA heads to the beaches on the weekend, and rightfully so, but not as many head east to Palm Springs.  What we love about weekend trips like this are that we can find cool and unusual activities while everybody else is doing the shopping/dining thing.  Hiking the Indian Canyons of Aguas Calientes is so unusual and amazing.  Did you know that you can have a relaxing getaway to a palm oasis in the desert just beyond the traffic of Los Angeles?  #TrueStory.  Before we even had heard the concept of being a Seekender, this was our favorite place to relax and getaway on a weekend when we lived in SoCal.
Disneyland
I know, you're thinking "Aren't you sharing relaxing ideas?"  Yes, totally.  Have you ever been to Disneyland without kids?  It's amazing!!  True, you spend the whole time thinking about how much you wish your kids were with you, but it's such a great adult getaway.  I think the prime relaxation comes in the magic of it all and being swept out of yourself, with or without kids.  
And if you're doing Disneyland with the kids as part of a weekend trip, here are our tips:
Arrive early and stay late
Know that it's okay to not do everything
Take time to enjoy the incredible stage of the overall Disneyland show
Be at the entrance to CarsLand AT SUNSET to watch the neon light up.  Pure magic.
And single-rider – if one of you wants to do a major attraction, ask if you can go as a single
Movies to inspire:  La La Land (vintage Los Angeles), Romy and Michelle's High School Reunion (LA beach vibe), Oceans 11 (Palm Springs vibe), Cars (because California Adventure…), anything with Bing Crosby (vintage SoCal)
San Diego weekend trips
Whether you're heading to San Diego for a weekend trip or you live there and need to explore beyond your front door, you've got some wonderful options to surprise you and get you excited about the SD life.  And if you aren't inspired by our two favorite day trips, just head to Mission Beach or Pacific Beach; let the sand and surf relax you.
Cabrillo National Monument
We've been asked by a few friends "if you could live in one National Park, which would it be?"  Both Chris and I said Cabrillo National Monument in San Diego.  Without even having to go far from San Diego itself Cabrillo is a total gem.  We love our lighthouses and tidepools, and that's exactly what you'll find here.  Cabrillo National Monument is set across the bay from San Diego so it's quiet and beautiful with a stellar view.
If you are thinking about weekend trips with kids, Cabrillo National Monument is actually ideal for that because you'll be able to experience living history within the park on most weekends.  Adding history to a beautiful escape is like finding an incredible cheese to serve with… more delicious cheese.
Mission San Juan Capistrano
I'm always surprised how few people have been here.  I grew up reading the story of the swallows of Mission San Juan Capistrano, so on a weekend trip out of San Diego we headed just north to the town and mission.  It was so beautiful and really perfect for taking a break from life.  Mission San Juan Capistrano is full of history and has been restored really well to showcase it, but it also is full of flowers and art and bells and birds…  It's a total Seekender thing to do to visit an all but forgotten historic mission.
West Coast weekend trips are just the best.  We could go on and on and never stop making suggestions and sharing stories about the places we've discovered.  Being a Seekender and finding new ways to relax and explore just beyond your front door is something anybody can aspire to.  We always have, and thanks to partnering with Hampton by Hilton, we're doing it more and more!
What do you think?  Ready to plot and plan a weekend trip to explore one of our favorite West Coast cities and get a recharge on life?  Where are you heading next?  Leave a note below to share or to point us towards our next adventure.