It's rare that we ask anybody else to share anything via our website, but we've made some new friends in the online travel community that we think are pretty awesome.  Jackie and Daryl are two adventurous ladies that we stumbled across on Instagram and we really wanted to share them and their unique perspectives with everyone.  They've been sharing via their Instagram and are adding content to their new blog Lesbians Who Travel.  We asked them about their top destinations for LGBT travel and they gave some great ideas.
We've been to a few of these beautiful locations which are perfect for outdoor experiences but still need to visit some.  We'll let them be our guides any day.  And since you're going to love what they're sharing (trust me, you will), you'll want to give them a follow too.  I can't wait to see where they go next and what destinations for LGBT travel they share with us!
An introduction to our LGBT travel friends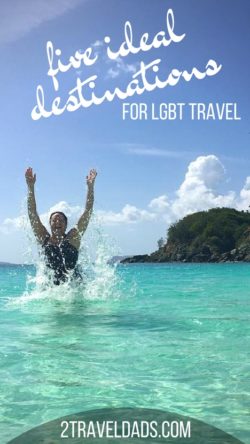 Jackie is a Miami native, and Daryl, is a native of Philadelphia. They're newlyweds and are perpetually nomadic (lucky gals). They've been traveling the world together for their careers ever since they met on OKCupid while living in New York City in 2012.  From there, it's been mountains, beaches, sunshine and mud baths.  Amazing women!
And a note from Jackie and Daryl about why they share their travels:
Travel enables us to learn more about ourselves as we navigate the world around us. By sharing our experiences as a same-sex couple, we aspire to inspire others in the LGBTQ+ community to grow by exploring their world.
This is precisely why we invited them to share via our own blog:  we want to inspire others to step out and visit someplace new, knowing that we won't be well received everywhere we go, but we also aren't going to help change that for anybody else if we stay home.  Lesbians Who Travel is totally on our wavelength.  And now for their travel ideas from their own experiences…
Five of the Top Destinations for LGBT travel (and everyone else too!)
Something we love about Lesbians Who Travel is that they share everything from tropical beaches to rural America.  They totally get it that there is more to finding great outdoors experiences than booking a ticket to Cancun and calling it good… even though Cancun and Playa del Carmen are amazing. Not knocking them because we love visiting Mexico, but just pointing out that there is so much more to explore than your standard getaways.
The other reason we love these two ladies and how they share their travels is because they don't preface everything with "as a gay couple" or "for LGBT travelers…" but present their view as though it's just like anybody else's in the world.  Like us, they're all about just being a part of where they are and wanting to explore and feel welcome like anybody.  Anyways, and now their favorite activities in their top destinations for LGBT travel (and everyone else too)…

Santa Fe, New Mexico – Hot Air Balloon Ride
I surprised Daryl with a hot air balloon ride for her 30th birthday. Johnny of Santa Fe Balloons picked us up around 5:15 am with his co-pilot, Jeannie. Once we reached a designated deserted area, he and Jeannie began to inflate the balloon. Before we knew it, they asked us to hop in the basket and we started to float up, up, and away! It was a feeling we had never experienced before, full of weightlessness and silence. We floated high above the mountains, and saw wildlife running about in the desert.
Johnny and Jeanie were so knowledgeable, and they taught us all about balloons and the history of the hot air balloon. Daryl and I chatted with the duo, and smiled from ear to ear the entire ride. Once we touched down, our pilots provided us with champagne, cheese, and snacks, as is customary after balloon rides, and Daryl and I were presented with a certificate. Johnny and Jeannie have varying sizes of balloons to accommodate different size groups. We think this is a must-do activity when visiting Santa Fe.
Tip:  our friends Caz and Craig over at yTravel Blog also loved Santa Fe and have some great ideas for activities and enjoying the area.
 Vieques, Puerto Rico – Bio Bay Tour
We went on Abe's bio-luminescent bay kayak tour late in the evening. As we waited in the parking lot for our tour guides, a handsome herd of white wild horses meandered by. Once everyone arrived, we boarded a bus to the bay. It was almost pitch black out, but the moonlight provided all the light we needed. Daryl and I donned our life vests and got in a double kayak.
We paddled in a pack of 10 boats, following our guide down the bay into pitch darkness. We remember hearing every sound of nature as we quietly found our way into the bay. We felt like we were traveling back in time with a nomadic pack of comrades. Once we reached our spot, our paddle movements began to light up the water around us. Our guide described to us that bio-luminescence is phytoplankton that emit a flash of light when the water is agitated, so as our hands and paddles glided through the water, it looked like we were in a fairy tale. It was simply magical.
Tip:  the crew at GoNomad have even more ideas for a visit to Vieques, and know what?  They ALSO recommended Abe's for a getting out on the water.  Must be good. 🙂
Hawley, Pennsylvania – Spa Resort in the Pocono Mountains
We spent our honeymoon at a getaway in the great outdoors of the Pocono Mountains of Pennsylvania. The Lodge at Woodloch is an all-inclusive spa resort, and Woodloch's family friendly resort located down the road actually beat out Disney as the country's best family friendly resort!
We stayed at the Lodge for a more relaxing, romantic, luxury spa experience. The amenities, rooms, food, service, and experiences at this resort were out of this world. The spa and massages were amazing, and we were also provided with countless activities; biking, kayaking, stand up paddle boarding (SUP), archery, fly fishing, wine tastings, garden and beehive tours, art classes, hiking and more. To top it all off, we roasted s'mores by the campfire and star gazed through a telescope. A stay at The Lodge at Woodloch can be a splurge, but well worth it to have such an incredibly luxurious experience in a perfectly gorgeous location!
Tip:  we don't talk a lot about winter destinations for LGBT travel, but Hawley seems to be a nice snowy escape too.  We started researching it once Jackie and Daryl recommended it and it looks awesome.
Cinque Terre, Italy – Hiking
Cinque Terre translates to "five towns" in Italian. Guest what: there is a hiking trail that allows people to hike through those five colorful, picturesque seaside towns! While we were visiting, one of the trails between two of the towns was shut down due to a landslide. That was no issue for us as we took a ferry with stunning storybook views of the colorful towns, and continued on with our hike at the next town. We took a rest at a mountaintop restaurant a few hours into the hike where we had some drinks while enjoying the views from the beautiful outdoor seating area covered in hanging grapevines.
Note:  we have also done the hike through all five towns of the Cinque Terre and can 100% confirm that it's the most incredible, unforgettable place.  It was the Italy we'd always heard about but hadn't seen until we were actually there in the hills off the coast.  Totally amazeballs.
St. John, U.S. Virgin Islands – Snorkeling
St. John is where the party is at for snorkeling! It is easy to rent snorkel gear from St. John Beach Bum before heading to the beaches. We swam and snorkeled alongside giant schools of tarpon, sea turtles, sting rays, a nurse shark, an eel, thousands of colorful fish, and more! Most of the time we were around other snorkelers, but we did have some moments of solitude in the beauty of the deep blue sea.
We loved snorkeling through the underwater snorkel trail on Trunk Bay Beach. Francis Bay Beach was great for snorkeling next to sea turtles and stingrays. Waterlemon Cay is the best snorkeling on the island, but we saw a nurse shark there that got us a little anxious, though was apparently not a concern.  Incredible.
Note:  the areas Jackie and Daryl recommend partially fall within Virgin Islands National Park, so be sure to set aside some time to pop into the Visitors Center for your National Parks Passport stamps.
Do you see why we asked Lesbians Who Travel about their top destinations for LGBT travel?  They visit such a range of places and cover territory we've never stepped foot in.  Hopefully they'll have more to share with us soon, as we know that they aren't going to stop traveling and will only have more and more beautiful experiences to share with the LGBT travel community.