Hiking the Cinque Terre: finding our perfect Italy
It's been a while since we were in Italy, but we had some amazing adventures.  We loved Venice and its canals, and getting completely soaked when a monsoon hit.  Florence was awesome despite being there during the week that EVERY museum closed for maintenance.  And then Pisa was such a whirlwind that we could only love it, no time for anything else.  And then Cinque Terre.  Hiking the Cinque Terre and wandering through orchards, abandoned train trestles and vineyards climbing into the clouds… it was our perfect Italy.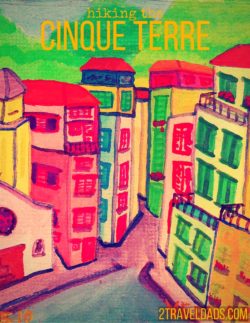 We spent several days in the Cinque Terre region of Liguria and could've spent many more.  We had found a campground in the town of Deiva Marina, Camping La Sfinge, and enjoyed sleeping in a yurt amidst the loudest Italian families we'd ever seen.  So perfectly and stereotypical Italian. Not everybody has the same experience as us, but exploring Cinque Terre is amazing any way you do it.
In the morning we'd walk down into town, find something soaked in pesto and then go lay on the beach.  In the afternoon we'd watch the random emu wandering the river bed and then sit at the corner cafe in Deiva Marina and drink beer.  At night, we ate anything pesto we could find.  It was amazing.
And then there was the actual act of hiking the Cinque Terre which didn't start out all wine and roses…
Let's start with a snapshot of our days prior as we chilled out in Northern Italy, appreciating the Mediterranean for all that it is.  Gaw, I'm ready to go back.
Hiking the Cinque Terre
If you're not staying in one of the five towns of the Cinque Terre, you can still get the full experience of each perfect little village that is lost in time.  For realz.  Lost in time.  We had just come from Nice, France and enjoyed the amazing, fancy Frenchness of it all, but after a long few days of travel and heat (and stony beaches) we were tired and looking forward to the quaint world that lay before us, but also, we were spent.
Starting in Riomaggiore
Because Italy.  That's why we had to get up early and hop on a train to head a few towns down to hike in scorching heat.  Hiking in the sweltering Mediterranean sun is everyone's idea of a fun travel activity, right?  No.  When we started our day heading out on the Via dell'Amore in Italy's Cinque Terre we were tired… of each other.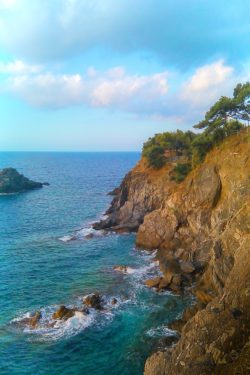 Was going on a walk along a cliff the best idea?  Nope, but then if a pathway of love can't take you out of yourself and make you thankful for being on the Italian coast, nothing will.  So we hiked.  We started a silent walk out of the Riomaggiore train station and almost immediately forgot why we were upset with each other.  We instantly were wowed by the sight ahead of us.
Tip:  always start your day on a good foot, especially when you're traveling and want to make the most of your time and experience.  Whatever is bugging you, leave it at the door… or in the yurt.
Looking out across the Mediterranean with the water even more blue than the sky, we completely were captivated with our experience.  True, the second we were done with the cliff portion of the Via dell'Amore we both got stung by bees and were jolted back to reality, but that was just Italy welcoming us.  We continued on and came to our first town, Manarola.  So thirsty.  So thankful to find gelato early in the morning.  
Manarola:  it's a movie set, for sure.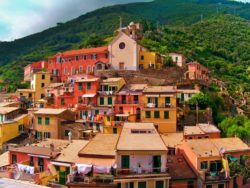 We strolled the quiet streets of Manarola and realized that the towns of the Cinque Terre were exactly the Italy we were hoping for.  Just a few steps up from the church, we were climbing a staircase and heading into a vineyard (I don't think we were supposed to be there…).  The view was incredible and also was a reminder that we had three more towns to hike to, but not before we scaled the stone steps down into the marina and jumped into the perfect water in that magical little cove.  Oh, Italy!
Note:  the church we mentioned is San Lorenzo.  It was constructed in 1338 and you can tell.  It's small and gorgeous, just like everything you see when hiking the Cinque Terre.
We climbed back up the cliff and continued on, hiking through olive groves.  We never thought twice about how our day had started.  Every sight was more beautiful than the last.  There were cats strolling through the orchards and lounging on the trail.  There were agave in bloom along the edge of the cliff and lizards scampering into the underbrush.  The problems of the morning… what problems?
Tip:  even though you want to really plunge into the experience of hiking from town to town, remember that time passes.  That 15 minute dip into the cove can easily turn into more than an hour and before you know it you'll not be able to complete the hike through all five towns of the Cinque Terre.
Hiking Cinque Terre just got serious:  Corniglia's stairs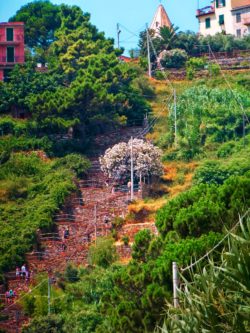 Corniglia, the next town.  Now that was something to conquer.  Have you ever been having a lovely day of hiking through magical orchards and swimming in warm, crystal clear waters when all of the sudden there are 382 stairs right in front of you, blocking your path.  After a moment we decided to just man up and start climbing; we tackled the steps.  From the base to the top there were local artists painting, tomato gardens spilling over the rails and plenty of spots to take in the view.  Most beautiful workout ever, or at least in all of Italy.
The town of Corniglia itself is a wonder.  It's a hilltop maze of awesome.  We were so glad to find calzones and ice cold beer and then a shady corridor to sit in.  We did have to use our spotty Italian to find our way because we got a little too turned around in Corniglia, but eventually we did it and continued on our hike.
Tip:  just like we warn you to not get too carried away and lose track of time, still be sure to do a little wandering.  The small stairways leading away from the main paths are so cool and uber magical to wander through.
Vernazza and its perfection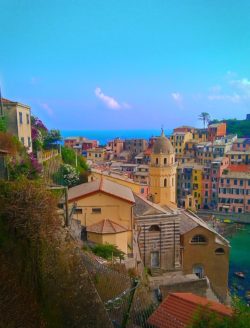 After a nice rest, it was onto Vernazza.  Vernazza:  the most beautiful town you'll see when hiking the Cinque Terre.  The narrow streets are what picturesque Italian dreams are made of.  We loved trekking out to the point and climbing Castello Doria.  We relaxed on the bulkhead of the marina and listened to the buzz of the tiny town.  The church was a gem to visit, with priceless art and stories covering its walls.
Note:  for more cool regional history, Portovenere has the grande castle of the Doria family and can be easily added to your Italian Riviera itinerary.  It's not far from La Spezia which you'll have to go through at some point.
But, like all good things, our time in Vernazza had to end and we had to make it to the last of the five towns of the Cinque Terre, Monterosso.  We were tired, just like how we'd started our day, but in the best way and so thankful for having experienced the amazing villages along the cliffs of the Mediterranean, but we still weren't done.
The final stretch into Monterosso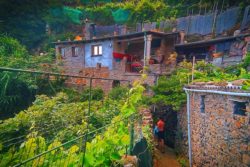 Just when we thought we weren't going to make it over another hill or around another cliff, we found ourselves in yet another vineyard.  It was beautiful and the sunset was just ramping up.  The vines turned to lemon trees and then woah!!  As our senses were worn out and we could only think of finding dinner, we were startled with a loud "Limoncello!?!?"  A tiny Italian man was hiding in the lemon grove peddling bottles of limoncello, having a great night.  Since our hearts were now racing from being startled, we had a seat and struck up a great conversation, half in Italian and half English.  
We sampled some limoncello and talked politics with the limoncello guy.  His best comment besides his limoncello pitch was about US politics: "Obama, great man. And he's the first US president in a long time to have sex with his own wife in the White House."  That totally caught us off guard.  You know somebody is being genuine with you when they can talk serious politics and be human at the same time.  Limoncello was great to find, but so was this character of a salesman… hiding in a lemon grove.
We enjoyed the last stretch of our epic day of hiking the Cinque Terre as the town of Monterosso started to glow with sunset.  The final descent is a long, cliff-side pathway above crashing waves.  It's the perfect end to an amazing journey.  With just a short wander through town and a few moments inside the most beautiful barrel vaulted Romanesque church, we found dinner on a patio and relaxed.  What a day!
Tip:  dinnertime is crazy.  You're not going to get bad food, so just find a place that looks cute and has OUTDOOR seating and enjoy your dinner.  This actually goes for almost any dining situation in Italy (except breakfast, because Italy…).
Thinking about our day and how it started, it was the full progression of travel emotions until that last moment that we got back onto the train.  We loved every moment from the scary walkways on cliffs to resting in the shade of olive trees.  Hiking the Via dell'Amore, getting lost in centuries old mazes, wandering through lemon groves, visiting the villages of the Cinque Terre, it was all amazing and really, it was our perfect Italian experience.