You've made it this far, which means that you're either confirmed for sailing Croatia with 2TravelDads or you're reallllly interested. We don't blame you for wanting to get more details and information.
Sailing Croatia: the boats and sailing company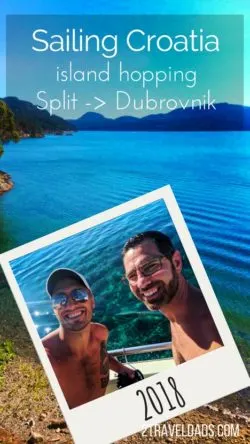 Firstly, the company that we're partnering with as ambassadors for our Croatian sailing adventures is Med Sailing Holidays. They are a few years old and have successfully been running private sailing charters for LGBT travelers, yoga adventurers and just people who want to explore by boat in the Mediterranean. We're excited to be a part of their 4th summer in the Dalmatian Isles.
PS: if you're not familiar, the Dalmatian Isles is another name for the islands off the coast of Croatia. They are beautiful… and yet not full of 101 dalmatians.
Our boats/accommodations
Our primary vessel for sailing Croatia will be the Oceanis 48. We will be running two boats per sailing, so we may also have the Sun Odessey 49i in our fleet. You can check out the sleeping quarters layouts via the links to the boats. It's very important that anybody joining us complete the INTAKE FORM so that we can properly allocate passengers to appropriate sleeping layouts.
Also, regarding luggage and what to bring and space inquiries:
it'll be warm/hot and beautiful. You should plan on bringing shorts, skirts, swimwear, tanks…
bring appropriate walking shoes, sandals/flipflops. No need to be fancy.
know that boats are limited-space vessels. Don't pack like you're staying in a hotel suite for a week…
restrooms are shared, dining space is shared, we'll all become quite close. 🙂
And here's a video from Med Sailing Holidays to give you a better glimpse into what lies ahead. To say that we cannot wait is an understatement. Literally laying awake at night thinking about it…
Itinerary for Sailing Croatia
So, how does sailing through the Dalmatian Isles actually work? Simple!!
leave port in the morning and sail to our next port of call
breakfast is on board, as is lunch.
we'll stop off in some beautiful coves or beaches for play time, maybe drop anchor and chill before ultimately pulling into our nightly marina
each afternoon we'll get to our port of call and be on our own for dinner with the exception of a few group meals
when in port your time is your own. You're absolutely welcome to join 2TravelDads as we also explore each town and island, but you're encouraged to be adventurous.
each night you return to the boat for bed (no curfew)
Ports of call while sailing Croatia: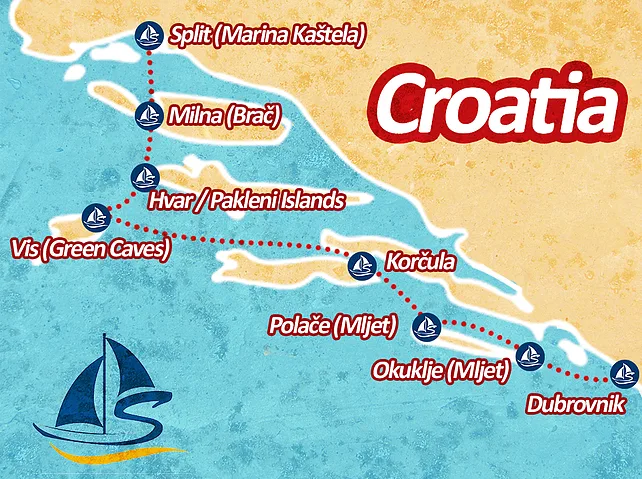 Day 1 (Sat) Split – Milna (Brač)
Day 2 (Sun) Milna – Hvar / Pakleni Islands
Day 3 (Mon) Hvar/Pakleni Islands – Vis (Stiniva Bay)
Day 4 (Tue) Vis – Korčula
Day 5 (Wed) Korčula – Polače (Mljet – National Park)
Day 6 (Thu) Polače (Mljet) – Okukje (Mljet)
Day 7 (Fri) Okukje (Mljet) – Dubrovnik (ACI Marina)
Day 8 (Sat) Dubrovnik (Disembark 8am)
*for the September 1, 2018 sailing our itinerary will be in reverse.
Activities and attraction on each of the isles will vary and what you participate in is fully to your own discretion. Here are our tops activities for each of the planned stops:
Split
This is where our journey begins (or ends for the Sept 1 sailing). Split has a beautiful Old Town and is surrounded by the Adriatic Sea. With wanderable streets and hillsides, it's a tourist friendly place to explore on your own or with 2TravelDads before we set sail.
Optional excursion: if you're joining us for a land tour before the June 2 departure or after the September 8 arrival in Split, we'll be heading upcountry to check out a few more towns as well as Plitvice Lakes National Park. Please let 2TravelDads know ASAP if you plan on joining us for this.
Milna
A smaller town than Split, Milna is an idyllic old town. This is a great spot to chill and experience Croatian wine and watch the sunset.
Hvar
Another wonderful town, it's one of the more famous of the Dalmatian Isles. This is also the spot where you could actually party all night if that's your thing… or you can explore and relax. I'm thinking that a sunset swim and then dinner and drinks in the Old Town sounds perfect.
Vis
Sailing to Vis is an early day as there are several stops to make before to get into port in the afternoon. The highlight is the sea caves. This is going to be a great opportunity for snorkeling, cliff jumping and beach time as we'll be visiting either the Green or Blue Caves. We'll pop into Stivina Bay for an afternoon relax and then sail into port. Vis itself is also just gorgeous with highlights being CHEESE. And another perfect little town.
Korčula
Korčula is a stonewalled city and the birthplace of Marco Polo. It'll be a great place to start our day, loading up on history and ice cream. Of course, like with any of our stops, you can dip into the perfect Adriatic Sea.
Note: if you don't get the concept of swimming right in town, check out our time in Cinque Terre where there were spots to swim below the medieval towns just off the marinas.
Polače / Mljet
Hooray! An international National Park! We love those! This is where the nature of the Dalmatian Isles gets to sparkle. From the beach to the forest, there are several totally different experiences you could have. Also, on the way here, our captains will pull into whatever coves or beaches we want, so you know, awesome.
Okuklje (pronounced "o-kook-yeah")
More of the beautiful island of Mljet, but when we get into port we get to do a special dinner just off the marina all together. While not officially a Dark Sky Preserve, its small population and remoteness makes it a little extra magical at night.
Kings Landing aka Dubrovnik
We'll pull into Dubrovnik on our last day of sailing. We'll have been exploring different spots throughout the day and then when we get into Dubrovnik we'll get to go explore. From the ancient walled city to the marina level, it's perfect. Although this is our final port, we're not done. Exploring all night and returning to the boat for our final night's sleep at sea.
In the morning, we'll make our goodbyes with the crew and say Doviđenja (bye) to the friends we've made. From here, you can continue to explore the city, catch a flight home, or continue onto a land tour.
Optional excursion: we'll be spending some extra time here exploring the city of Dubrovnik. We are also planning on taking a day trip down to Mlini. If there is interest, we weren't planning on making the 2 hour trek to the south to Kotor, but would consider it. Because it's not part of the EU there is a full border crossing process both there and back to consider. Kotor is an incredible place, but not officially in our plans.
If you have any other questions or concerns don't hesitate to reach out. We're here to be ambassadors, leaders, and friends as we all experience Croatia together. Now, let's go sailing!!