We grew up in a great period in film history, where there were movies like the Land Before Time, Ferngully and, from even before we were born, The Gnome-Mobile
.  On our way to California's North Coast and the Redwoods, the boys got to watch The Gnome Mobile in the car and they loved it!!  If you're not familiar, the movie takes place in a Redwood forest, and we were visiting Redwood National Park, so it was a perfect fit.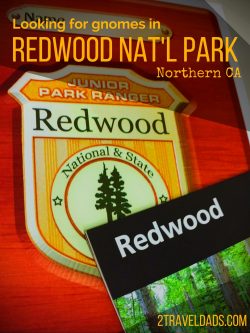 Just a week before jaunting into Redwood National Park we had explored Sequoia National Park.  It was all part of our epic #2TDgoparks2016 road trip.  After seeing the hugeungous trees in Sequoia and Kings Canyon National Parks, we thought we might not be thrilled about visiting Redwoods National Park, but we were very happy to be there!
The difference between Redwoods and Sequoias
Both trees are super big, true story.  They're very different though.  Sequoias are the largest trees on earth by volume, meaning that they are super tall AND really huge around.  It takes, like, a gazillion blue whales to equal the weight of a giant Sequoia tree.  
Okay, that was an exaggeration.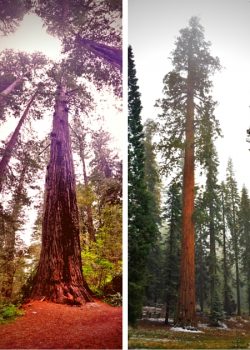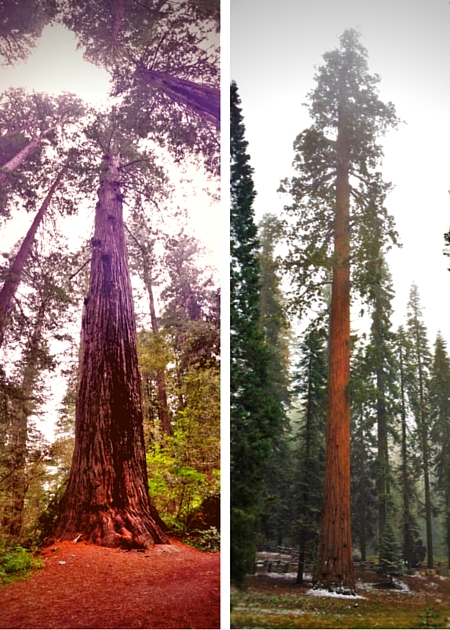 Redwoods are the tallest trees in the world.  At the Giant Forest Museum in Sequoia National Park there is a great display comparing the two trees.  OMG, Redwoods are sooooo tall.  Oliver, our oldest, would say "They're so tall, you don't even know."  Their branches and needles are very different too, both in pattern and texture.  And then their cones aren't at all alike, with Sequoia cones being larger and harder.
The most noticeable difference is the bark.  Both Redwoods and Sequoias live for thousands of years, and as they grow they experience forest fires… and live to tell about them.  When you see either type of tree you'll notice countless fire scars; they're really something to behold.  The bark is very different when you compare them though, with the Sequoia being much softer and vibrant red, while the Redwood is a darker red and can be up to two feet thick.  Seriously cool to analyze.  Moving on…
Stopping at the Redwood National Park Visitors Center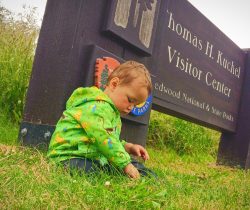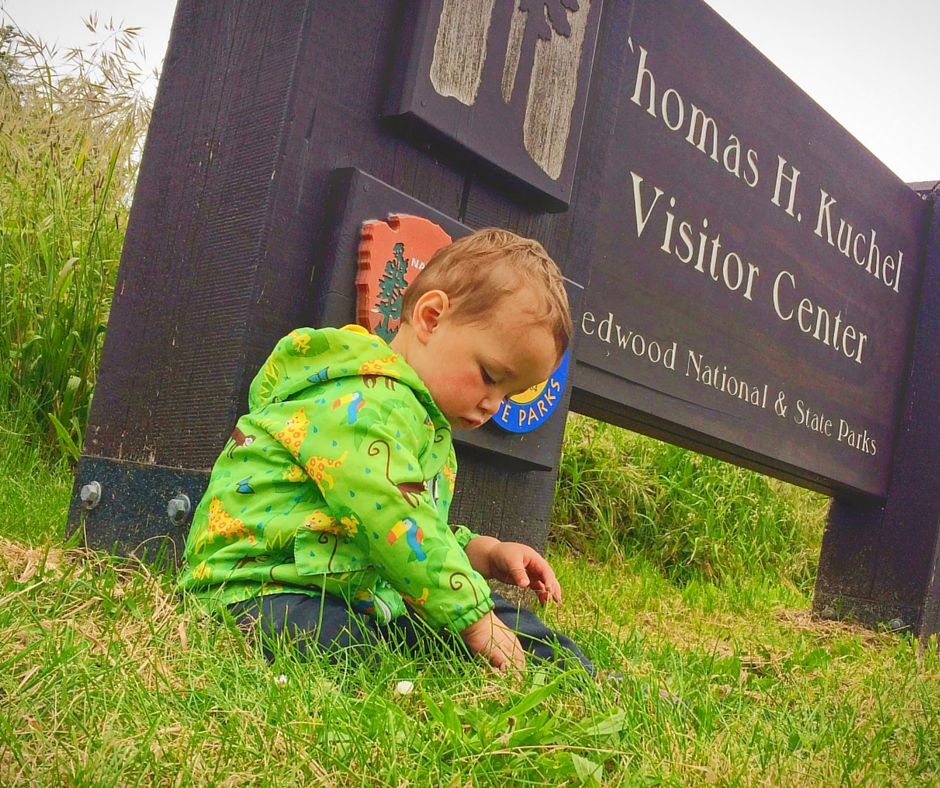 First off:  don't forget to bring your National Parks Passport.  You knew we were going to remind you.  Secondly:  they have a Junior Ranger program at Redwood National Park that is pretty cool.  We opted not to complete it on this trip because it was more complex than other Junior Ranger programs we've done and, well, somebody didn't have the patience to complete it with his daddy and papa.
The Kuchel Visitors Center is a pretty cool one.  It's got lots of great displays teaching about the Redwoods, the ecosystem and the wildlife you'll find on California's North Coast.  Also, it's totally on the beach.  Walking directly out from the Visitors Center you get to stroll directly into the Pacific Ocean.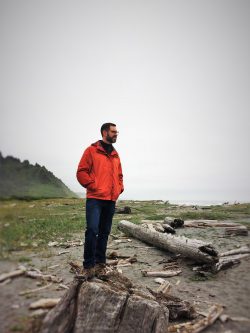 Well, you don't have to get in, but you can explore the beach and check out the awesome Redwood driftwood that lines the shore.  
There are also some great informational displays that share local legends about the beaches and forests.  Kids love informational displays!!  It's worth reading the stories aloud so you can see their little minds spinning and thinking.
Reminder:  the beach is part of Redwood National Park.  That means that it's not a beach for combing and collecting.  Leave only footprints and take only photographs… (take a look at our tips for smart souvenirs).

Tip:  use the restroom here AND use their filtered water station.  The water stations in National Parks aim to reduce the number of plastic bottles that get produced continually and end up in rivers and oceans.  Help reduce that amount by refilling your water bottle.
Driving through the Redwoods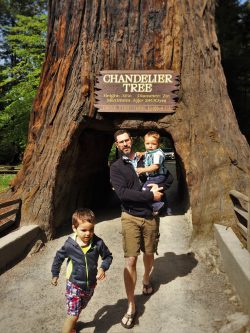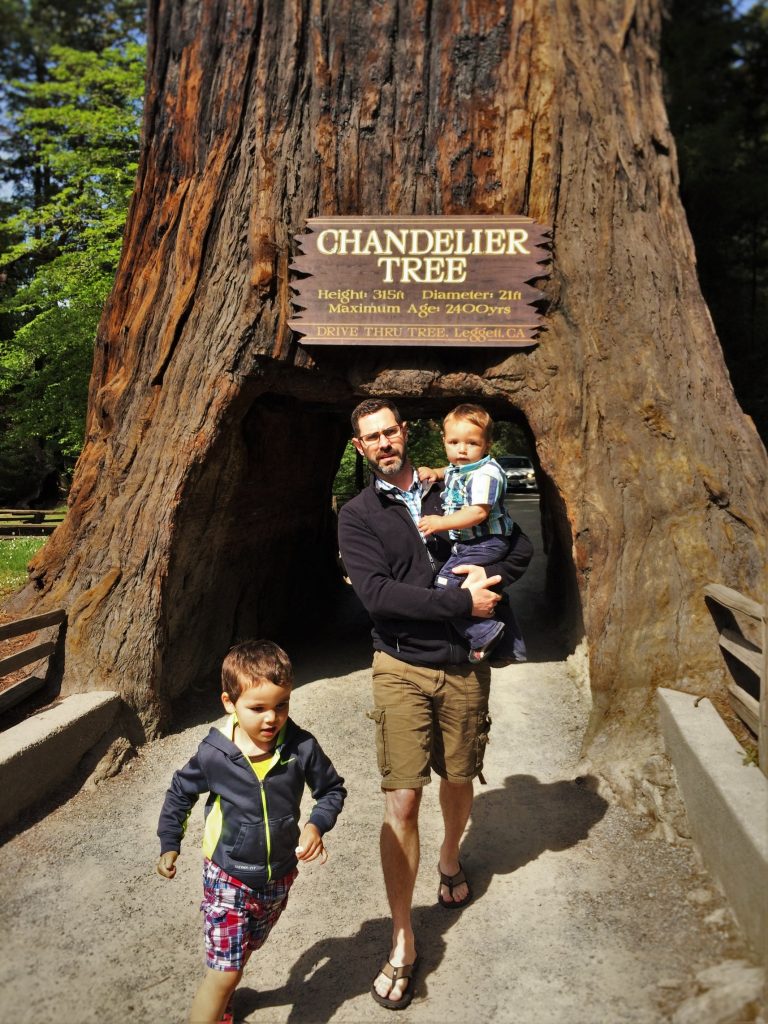 Before you get to Eureka, California (if you're coming from the south), you'll get to see something totally weird:  a drive-thru tree.  Leggett, California is home to one of the many trees in Northern California that are so big they have tunnels going through them and are still living, health trees.  
Totally strange but really fun to experience with kids.  Check out the Drive Thru Tree Park.
Further north, beyond the Kuchel Visitors Center and the Lady Bird Johnson Grove lie the Trees of Mystery.  Here, you can pay to wander through a Redwood forest and then ride a gondola through the tree tops.  We didn't pay and do the grand tour, but we did stop for something just as important:  a photo with Paul Bunyan and Babe the Blue Ox.
Cute story:  Oliver got his words mixed up or just didn't understand us and he kept referring to the legendary characters as "Babe the Yak and Paul the Blue Onion."  He will never stop being adorable.
Oh, and a big FYI about the Redwood Highway:  it's the windiest, most tiring road you'll drive in all of California.  The road between Bodega Bay and Eureka is pretty intense, as is the Pacific Highway through the Big Sur Coast, but the Redwood Highway is just ridiculous.  Every quarter mile or less is another jackknife turn, slowly taking you up through the coastal mountains.  Seriously, it'll drain you and make you want a nap.
Tip:  remember that windy roads make kids have to pee… and adults too.  Luckily the Redwood Highway isn't crazy busy, because chances are you're going to have to pull over and become one with nature for a few moments.
Lady Bird Johnson Grove in Redwood National Park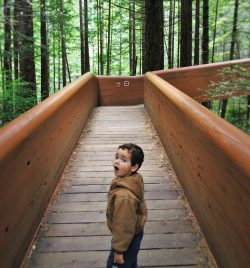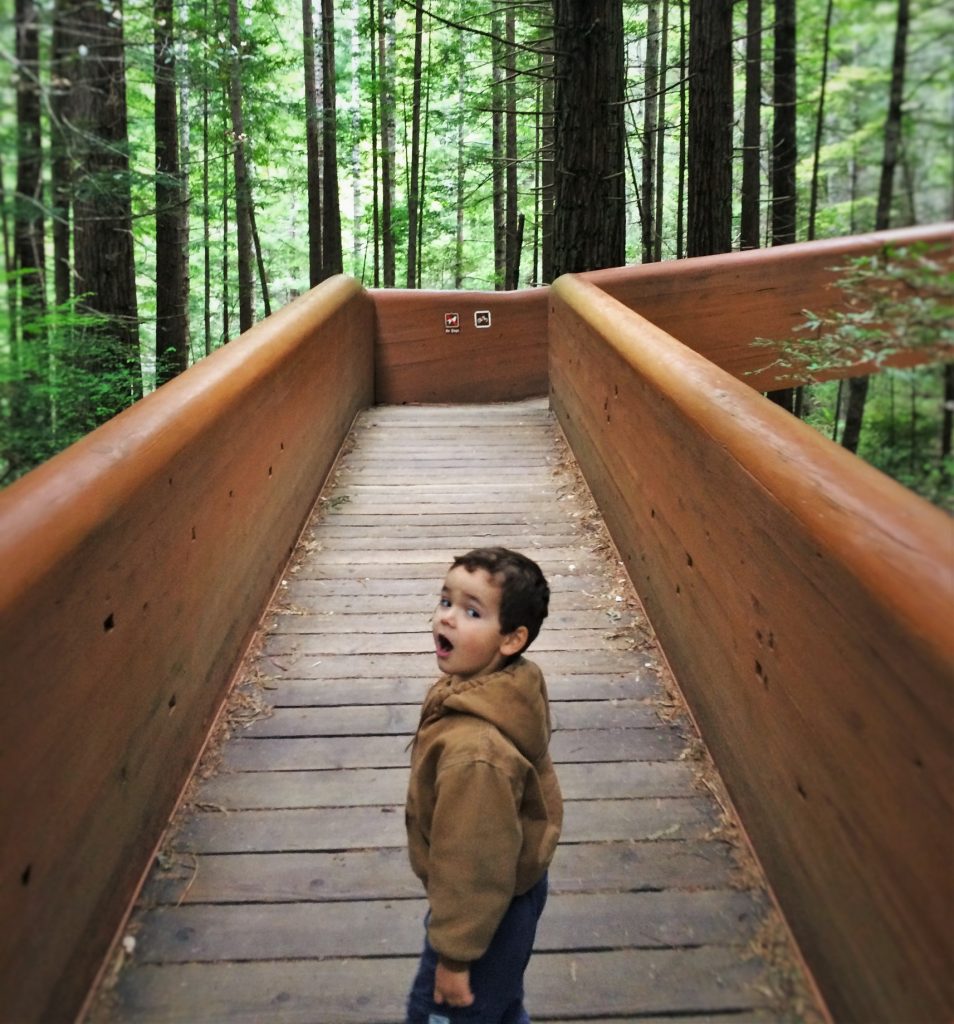 There are many hiking trails in Redwood National Park, and in the State Parks too, but we only did one, and that was through the Lady Bird Johnson Grove.  Like the Grant Grove in Kings Canyon National Park or the Giant Forest in Sequoia, the Lady Bird Johnson Grove is a special place with exceptional examples of Redwood trees.  
Tip:  get the trail guide at the start of the path, as the features and trees as you go have numbers and the trail guide helps to teach about the environment you're exploring.
Besides the huge trees here, there are wonderful paths through the shrubs and winding in and out of hollow trees.  There are rhododendrons blooming in the forest and oxalis or sorel covering little gnome houses.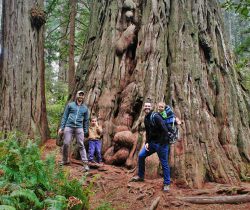 Oh yeah, gnomes!  We used the idea of gnomes and hunting for them as a way to keep the kids excited and engaged.  The trail through the Lady Bird Johnson Grove is a loop, but it's a long loop.  Making a game out of finding gnomes and following the guide is a sure way to keep kids interesting and moving through the amazing forest that is Redwood National Park.
Funny story:  on our hike, we met a lady who asked us all to pose with one of the giant trees to show scale.  Yeah, we were quite tiny in comparison.
Yes, we've seen some huge trees.  A lot of them.  Yes, we have the Hoh Rain Forest at home in Washington and we love hiking there too, but visiting Redwood National Park was a very special stop for us.  Strolling through the groves of ancient giants and looking for gnomes with the boys was so much fun and we got to make some great memories.  Each time we visit a National Park or even just go explore nature at home, we're helping the kids learn to appreciate the world around them.  
If you haven't seen The Gnome Mobile, go find it and watch it.  You'll see how even back in the 60s when it was made, the theme was saving the forest and teaching the kids to appreciate it.  Hopefully that's what our little guys are taking from all of our adventures… and hopefully they'll get to find a gnome someday.