Unless you grew up in the Pacific Northwest you probably think right away of tropical destinations when you hear the term "rainforest." We actually have several protected, temperate rainforests here in Washington State. Exploring the Hoh Rainforest in Olympic National Park is our favorite with the kids and we bring a lot of out-of-town guests here too. It's just so cool!
Since we're talking about hiking in the Hoh Rainforest and not the Amazon or something, know that everything you think of is going to be different. This isn't a tropical rainforest filled with toucans and poison dart frogs. This is a temperate rainforest, filled with hemlocks, firs and maples. And Elk. Everything is moist and covered in moss; mushrooms and other fungus are EVERYWHERE. Pretty sure that gnomes live there. No vampires or werewolves though; they stay in Forks.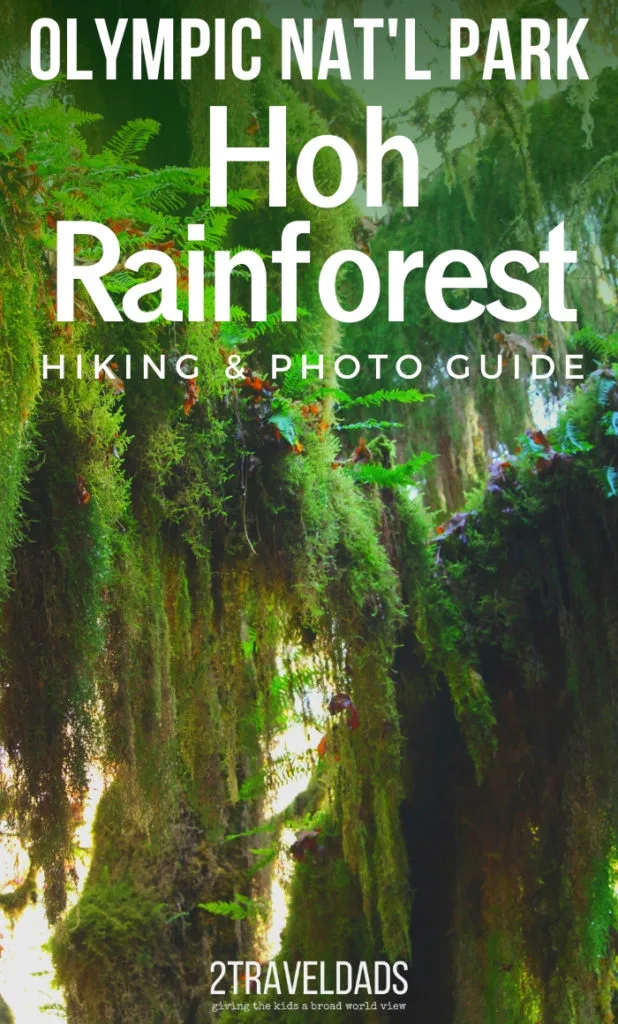 Locale of the Hoh Rainforest
We're not even going to pretend like the Hoh Rainforest is close to any major city. From Seattle it'll take at least four hours to drive to, but that's not a bad thing. It just means that you need to plan on spending a few days away from civilization in Olympic National Park. You can make an awesome road trip out of a visit to the Hoh by adding stops in Olympia (the state capitol) and Kalaloch (National Park beaches) if you drive the southern route.
If you want to take the northern route, you can easily add a trip to Port Townsend or a stay at a BNB in Port Angeles to make the trip more relaxing. You also will be traveling past Lake Crescent, Sol Duc and Forks, which are all fun, beautiful stops. And if you're a Twilight Saga fan, Forks is the setting and if you head towards La Push you have to cross the "treaty line"… if you're into that. 😉
Tip: people visiting Seattle and playing tourist without a car can book a private tour to Olympic National Park. Check it out here!
Exploring the Hoh Rainforest
First thing you must do when exploring the Hoh Rainforest is picnicking. There is a picnic area just inside the Park entrance, but there's also a great big lawn that just needs a blanket and you're good to go. Just like with anywhere else, clean up after yourself and adhere to the National Park Service guidelines around food storage. Seriously.
So now, you've had lunch and you're ready! If you're not up for a crazy 17 mile hike (the Hoh River Trail), you've got two great options and it's easy to do both.
Hoh Rainforest Spruce Trail
With virtually no elevation gain, this path is easy-peasy. Not quite ideal for a stroller, but you could bring one here if you were really determined. The trail winds through the woods as giant old-growth trees tower above you and mushrooms peek out from all kinds of places.
Some of the nifty things about this trail are the various clearings and fascinating changes in light. When you break out of the dense woods you see light filtering through the trees and casting the most interesting shadows across the lower vegetation. There are some great places to let the kids run free on the trail and snap some cool shots.
Tip: check out our 5 simple steps to better travel photos, including capturing kids in wonderful environments like mossy forests in the afternoon.
And then there's the river. This part of the Spruce Trail is wonderful because you actually get to walk along the Hoh River and see how it's shaped the land. The river is COLD so it's not good for swimming, but it sure is pretty. You'll notice how flat and expansive the area around the river is, which is the perfect causeway for elk herds.
As you finish the loop (the trail is a circle) you come across some small swampy streams surrounded by nursery logs and more towering giants. It's a perfect sight to finish this very diverse trail. And since this trail is so mellow, you'll still have energy to move onto the next path.
Hall of Mosses in the Hoh Rainforest
Not the Hall of Moses, but mosses. Plural of moss. Why is this trail called the Hall of Mosses? Well, as you start exploring the Hoh Rainforest more, you'll climb the hill above the Visitors Center and you enter an area that you can't easily explore except on the path. It's very much like a hall: a beautiful hall where the stumps and trees guide the way through the forest.
The best things about this trail are the unusual tree formations and the abundance of the plushest moss in the whole wide world. There are enormous roots winding around stumps like ancient Cambodian temples. There are trees bent across the trail like bridges made by gnomes. Everything is photo-worthy.
Tip: something to think about if you're going hiking with the intent of getting exceptional photos, be sure you understand the concepts of photography in the forest and in low-light situations. The forest is dense in most places and light plays tricks on your eyes…and camera.
Suggested reading: check out this blog post from Udemy regarding the basics of forest photography and helpful equipment recommendations. There are some great tips that are sure to help you hone your low-light photography skills.
The Hall of Mosses trail is super easy but a little longer than the Spruce Trail. It's very rooty in comparison to the Spruce Trail, so it's not going to be doable with a stroller, but it's essential to hike it when you're exploring the Hoh Rainforest.
The combined length of the two loop-trails (Spruce and Hall of Mosses) is only two miles. That's not two in and two out, but a total of two miles. It's the easiest set of trails in the entire National Parks System (maybe). Actually, we can't rightly say as we haven't hiked every single one, but it's easy, fun, beautiful and perfect for kids.
Visitor Centers in Olympic National Park
For us this is a very important part of stopping into a National Park. The Visitor Center is there to provide all kids of information, from hiking suggestions to safety bulletins, history of the area to instructions on identifying animal poop (always a favorite kid-activity). And we can't forget that this is where to do Junior Ranger Programs and National Parks Passport stamps.
The Port Angeles Visitor Center has lots of great information and displays about the history of Olympic National Park. This is also the trail head for the more lengthy back-country hikes. The Hurricane Ridge Visitor Center serves the same purpose and also houses the restrooms for the trail heads and a quick service cafe. Down in the Hoh Rainforest, you'll find the same but with displays specific to this section of the Park.
If you're heading out exploring the Hoh Rainforest, be sure you stop into the Visitors Center first. Because of the diverse life found in the rainforest, the Hoh Visitors Center gives some extra information, including a wonderful display of the fungus you'll encounter in the woods. This is actually a highlight for our family, as nothing is quite so exciting on a hike as finding mushrooms (if you could only hear the sarcasm).
Wildlife at the Hoh Rainforest
As with any National Park, there will be wildlife even if you don't see it right away. If you're a birder, you're in heaven. If you've got a thing for squirrels, you're golden. If you're looking to learn about how an introduced species adapts and acts in a new place, well, study the mountain goats at Hurricane Ridge. They were introduced for sport in the 1920s and are more aggressive than their cousins in other areas. Cougars, aka Mountain Lions, are also prevalent in the Park with frequent sightings. We've never seen one here, but the rangers keep logs of where they've been seen.
The most exciting wildlife in Olympic National Park, at least to us, is the Roosevelt Elk. Elk are one of the largest members of the deer family and are quite majestic. On our most recent visit, we were blessed with a bull elk accompanying us on our drive out of the Park. We could actually hear him and other nearby elk bugling to each other. It was incredible.
Do you see why we love exploring the Hoh Rainforest so much? It's so beautiful and full of interesting sights. The kids feel right at home in these woods and none of us will ever tire of the incredible mosses and crazy trees. Exploring the Hoh Rainforest is great in the summer or fall. We avoid visiting in the winter (so much snow) and spring (so much rain) but find ourselves going back a few times per year June through November. You know, even in the rain it's beautiful and heck, it's the rainforest.
Want to pin this for later when you're plotting out your summer or fall hiking? Go for it!