When the family goes camping, nobody exhibits more enthusiasm, excitement and anticipation than the kids! Children not only see this as an adventure, but they like the idea of spending time with parents who aren't texting, working and otherwise distracted.  Our friend, Paul Turner of TakeOutdoors.com has some great insight to share about camping safety and having fun in the forest.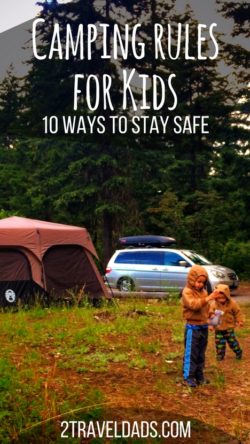 All camping trips require rituals. Whether yours is letting the backseat chorus to sing the same songs over and over until you think you've lost your mind or urging the fam to help unload the car or set up cornhole, having rules that govern your trip is a gift you give to the entire family.
Setting camping rules for the fam
Do you sit the kids down at home to explain camping rules or do you save that lecture for arrival? There's no right answer as long as the territory is covered.  As your source for all-things kid-related, we've taken the liberty of compiling a list of camping rules that serve as a foundation for your trips. You can use all 10 or cherry pick the ones most applicable to your kids' ages and stages of development. And we invite you to add a few of your own.
Tip:  don't forget to check for understanding when you set expectations or rules with kids.  And equally, check in with your kids after the fact about whether your rules were easy or hard to follow so you can adjust them next time you camp.
And now for the camping rules that will make that outdoors adventure even more awesome!
Camping rule #1: no eating in the tent
Why it's important: Because room is tight enough in tents and there's definitely no room for critters in search of food, which is exactly what can happen if Cheetos and cookies find their way to air mattresses. Don't hold back on creepy species when you warn kids about what can happen if bears, raccoons, ticks or ants crave snacks.
Tip:  if you're camping in a National Park, check out their guidelines for overall food storage as well.
Camping rule #2: respect the fire
Why it's important: Being burned at home is disastrous enough. Add the fact that you're in the wilderness where there are no doctors and perhaps no cell service and a crisis of serious proportion can result. Kids are naturally attracted to flames, and it's your job to protect them from consequences so use your most persuasive arguments when you tackle this rule.
Camping rule #3: always wear your whistle
Why it's important: Wandering away and getting lost can happen when parents are busy preparing food or attending to another child. A whistle can be a lifesaver; both for worried parents and kids easily freaked out when they get lost. Welcome kids into "The Order of the Whistle" with a short ceremony.
Camping rule #4: never go barefoot
Why it's important: Apologies to Robert Frost for borrowing his words, "The woods are lovely, dark and deep" to drive home a lesson best learned before an incident takes place. One misstep in a lovely wood can result in cuts and wounds. Your kids' immunizations are up to date, right? Lazy campers don't always clean up after themselves; there could be a minefield of rusted metal lurking beneath vegetation. Stress this point!
Tip:  beaches can also be home to lots of small sharp objects.  We prefer to always have a pair of sandals or beach shoes at the ready, whether camping at the beach or just on a day trip.  Safety first!
Camping rule #5: keep horseplay to a minimum
Why it's important: Kids are exuberant and you don't want them to lose that joy, but potential hazards at camp sites have the potential to turn a fun tussle into an accident. Tents can collapse. Bodies of water can lead to drownings. Campfires are especially dangerous should kids fool around too close to the flames.
Camping rule #6: always stick with a buddy
Why it's important: Wandering away from a campsite into unfamiliar surroundings may seem like no big deal to older kids (they're too smart to get lost, they believe), but it happens–especially when hygiene facilities are located a distance from your spot. Kids won't panic as badly if they have company—-and two whistles are always better than one!
Camping rule #7: no snacking on mushrooms and berries
Why it's important: Kids have no filters when it comes to food.  Red, ripe berries and big white mushrooms may look just like the food in your fridge. Even your lecture about "plants that can make people sick" may not be enough to stop them from sampling Mother Nature's fare, so bring an emetic in your first aid kit, just in case.
Note:  check with Poison Control or your doctor for specific guidelines when dealing with kids and potentially poisonous foods.

Disclaimer:  we do pick berries with our kids in VERY specific places and only the EXACT species we know to be safe and delicious.
Camping rule #8: no petting the wildlife
Why it's important: Skunks are cute but one spray can ruin a trip. Lyme Disease-causing ticks hitchhike on woodland animals. Raccoons may carry rabies. Before you go comping, learn what critters frequent the area you'll visit and instruct the kids to tell you if they encounter anything wearing a fur coat. Make it a game: Anyone who spots an animal gets a quarter. Don't want to schlep coins? Make Critter Credit Cards and mark cards with each discovery.
Tip:  places like Yellowstone National Park and other protected areas may have much more wildlife of all sizes than you realize. It's fun to see, but really keep an eye on the kids at all times.
Camping rule #9: respect the personal property of others
Why it's important: Spontaneity can lead to bad decision making and while even little kids don't always respect property boundaries, they understand how it feels to have their own possessions swiped without permission. If you hear the telltale argument that's sparked by one kid confronting another over a possession, be ready to act and survey the area for the other parent that may also be stepping in too.
Camping rule #10: respect your neighbors
Why it's important: Not every camping experience you take is in the wilderness. Perhaps you like the conveniences of a campsite. While your enclave feels private enough, you may have neighbors. No need to scare kids with tales of what irate campers with short fuses can do if they don't like being "visited" by children. It's a delicate dance, but one that requires intervention if you're on the receiving end of complaints.
As a parent, you walk a line between wanting your kids to respect rules and finding ways to punish infractions that are appropriate. We don't take rule-setting lightly. Rules not only prepare kids for adulthood but teach valuable socialization lessons that give children a sense of order.  Kids who live with rules grow up feeling more competent, secure and loved because they sense their parents' eagerness to keep them safe.
And if you're interested, we've also got a kid-friendly colorful A4-size poster with the list of rules so you can print it out and pin it somewhere at your campsite to remind your kids of what they should and should not do.
Camping Rules for Kids help to keep everybody safe and happy out in the wilderness. From managing energy to keeping pests away from your tent, camping rules make for a great family experience. Courtesy of TakeOutdoors.com
Paul Turner is the founder and writer for TakeOutdoors.com.  
 He's a certified instructor trained in tying various knots and has conducted high rope courses for kids. Being the dad who's all about getting kids outdoors
, his site provides insights on camping and gear guides for the outdoor enthusiasts. Follow him on
Facebook
and
Pinterest
.
Want to pin this for later when it's time for getting the kids out camping?  Go for it!!!