Have you ever been to Acadia National Park? If the answer is no, then you're among the majority of Americans. Located Down East in Maine, Acadia National Park is pretty big and complicated to plan. From where to stay near Acadia to hiking and water activities, there's a lot to consider before your visit.
Don't worry! We've got you covered! If you have questions about Acadia National Park that we don't answer, please let us know so we can help you. Leave a comment or send us a note and we'll get back to you ASAP so you can plan your Acadia trip!
NOTE: this is a long article, but if you look at the Table of Contents below you'll be able to jump to whatever topic you've got questions about. Acadia is a lot to take in, so take your time planning.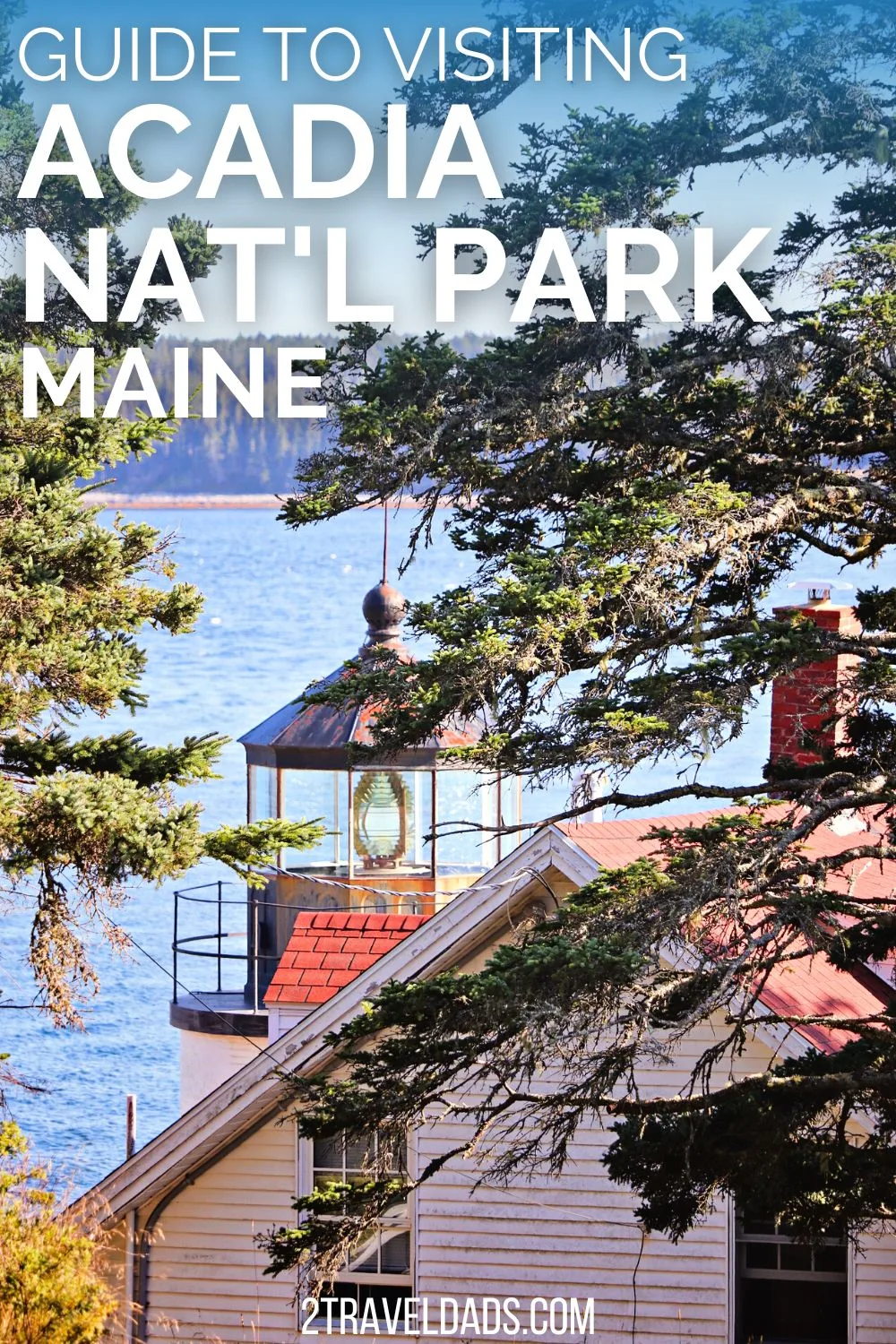 Where is Acadia National Park?
Located in coastal Maine, Acadia National Park is very different from other NPS sites you might visit. Unlike Yellowstone National Park, Acadia is broken into sections with roads, towns and harbors between them. It's more similar to Olympic National Park or John Day Fossil Beds (the Painted Hills) in that there are multiple park units.
Acadia takes up most of Mount Desert Island, which is an island, but looks like a peninsula of peninsulas. The whole landmass is squiggly and full of coves and harbors. It's about a 1 hour drive from Bangor, 2 hours from Rockland, and 3+ hours from Portland, Maine. There are lots of things to do near Acadia, so spend time explore the area in addition to the Park.
They call the area Down East (or "Downeast") because you have to head east and then go down to the south to access the region, hence "Go down east."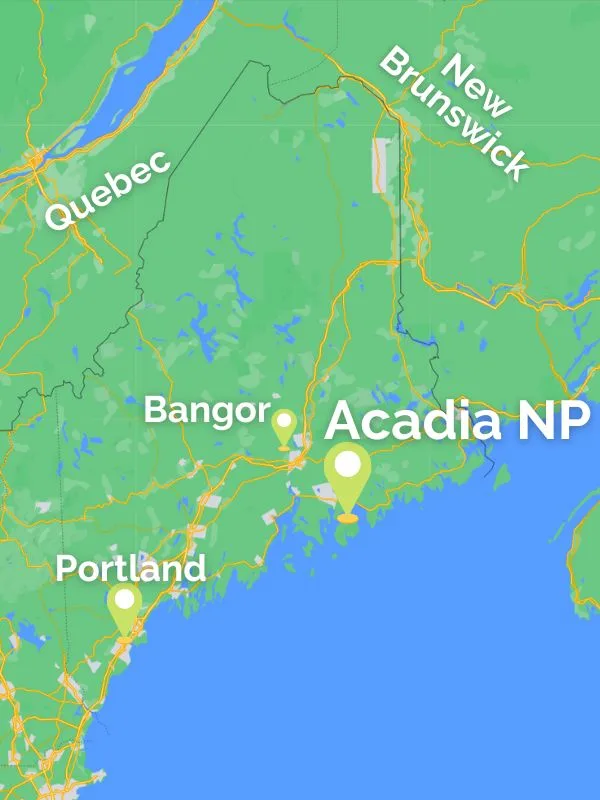 Entering Acadia NP: Paying for Park Entrance and Reservations
Since Acadia is split up quite a bit and there are towns and other parks between its sections, it can be a bit confusing how to pay and get maps. There are a few places to do this, and be sure that you do, as using the National Park roads and facilities without paying is not allowed.
The easiest option is to stop into the Thompson Island Information and Visitor Center. Here you can purchase your Acadia pass and get maps, as well as get all the info you need about the Down East region.
The other places you can get your Acadia pass are at the Hulls Cove Visitor Center (quite the walk from parking to the building) or at the Sieur de Monts Nature Center. If you are a National Parks Passholder, be sure you properly display your valid pass in your vehicle.
As of Fall 2022, you do need a reservation to drive up Cadillac Mountain in the middle of the park, but the rest of the road are open to all visitors.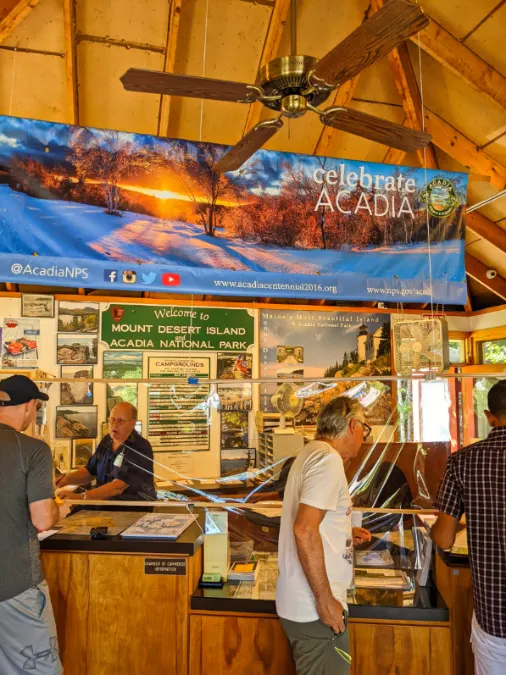 Using the Acadia National Park Shuttle
Like with Zion National Park and Bryce Canyon NPS, there is a free shuttle to get visitors to most of the sights and trails around Acadia National Park, the Island Explorer. There are several different routes, so plan what your things to do and see before just jumping on a bus.
To get familiar with the system and have your questions answered before you catch the shuttle, visit the Hulls Cove Visitor Center and chat with a ranger. They'll get you sorted and pointed in the right direction for your plans.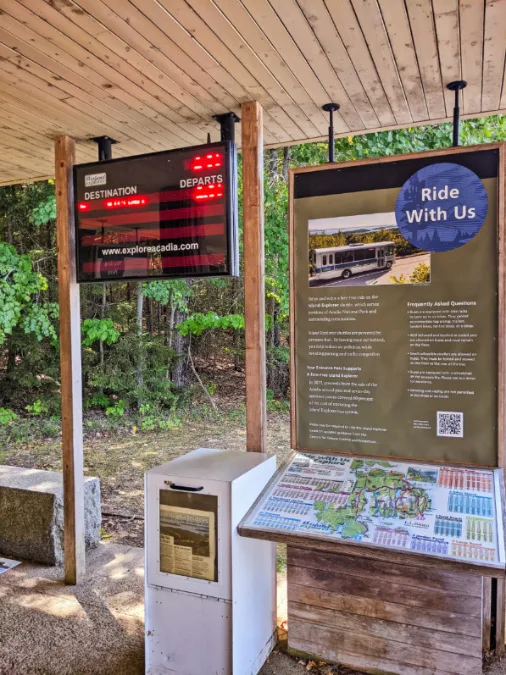 Getting to Acadia NPS
The easiest way to get to Acadia National Park is to drive from either Bangor or Portland, ME. While the drive isn't on large interstates for most of it, the roads are well maintained and there are plenty of towns and services along whichever route you choose to get to Acadia.
If you want to fly to Acadia, you'll need to either fly regional air from Boston into Hancock County Airport, 10 miles from Acadia National Park or arrive via charter seaplane. Bangor is the nearest "major" airport (BGR) with commercial flights from New York, Philadelphia and more.
Did you know you can also get to Bar Harbor (Acadia) via major ferry? It's true! If you're visiting from Nova Scotia, you can take the Cat Ferry boat from Yarmouth, Nova Scotia directly into Bar Harbor. The boat ride is 3.5 hours and you can board either with your vehicle or as a walk-on passenger. PASSPORTS REQUIRED.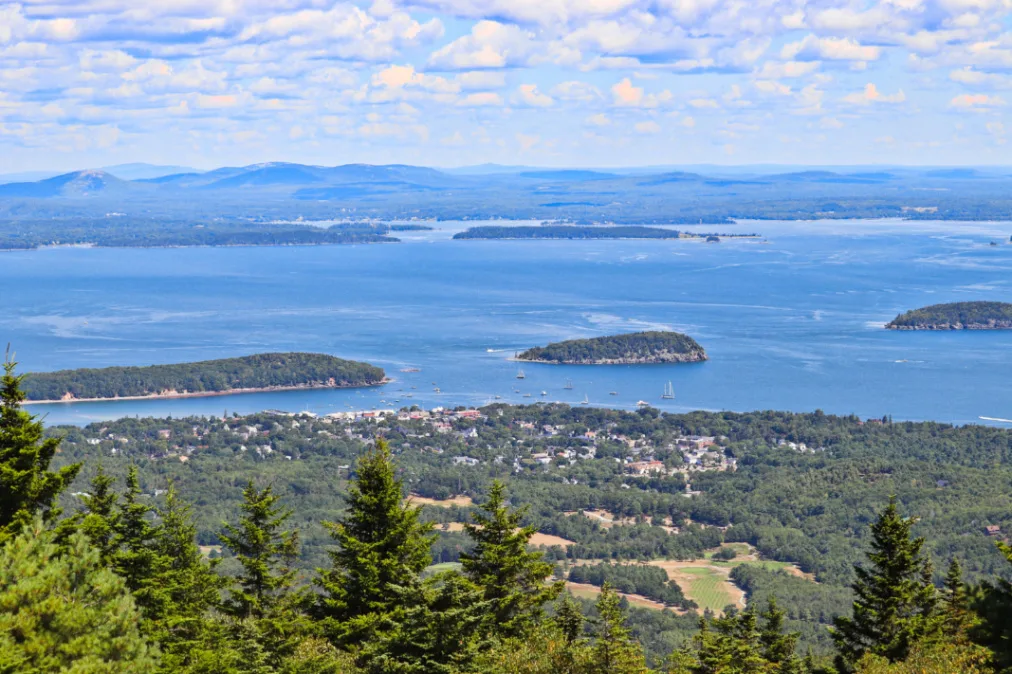 Where to Stay at Acadia National Park
While you could do a day trip to Acadia National Park, multiple days are recommended since the park is so large and spread out. There are quite a few towns both on Mount Desert Island and just north on the mainland. You won't be hard pressed to find a town to stay in, but if you don't plan it properly, you may have a tough time finding affordable accommodations.
Hotels and B&Bs in Bar Harbor
Acadia National Park doesn't have its own lodge, like Sequoia NP or Yosemite National Park does, but it is located directly next to the beautiful town of Bar Harbor, one of the prettiest places in Maine. Here you'll find everything from international travel brands like Holiday Inn or Best Western, to small bed and breakfasts or vintage motels. Bar Harbor has about 5500 year round residents with about 18,000 in summer, so there are plenty of options for where to stay near Acadia National Park.
Camping at Acadia NPS
When it comes to camping at Acadia, there are actually quite a few options. Within the National Park there are 3 campgrounds that can accommodate both tent camping and RVs. Just outside of the Park's boundaries there are both private campgrounds and State Park sites. They even have campfire programs! Here are just a few options for camping near Acadia National Park:
Blackwoods Campground – Acadia NP
Schoodic Woods Campground – Acadia NP
Seawall Campground – Acadia NP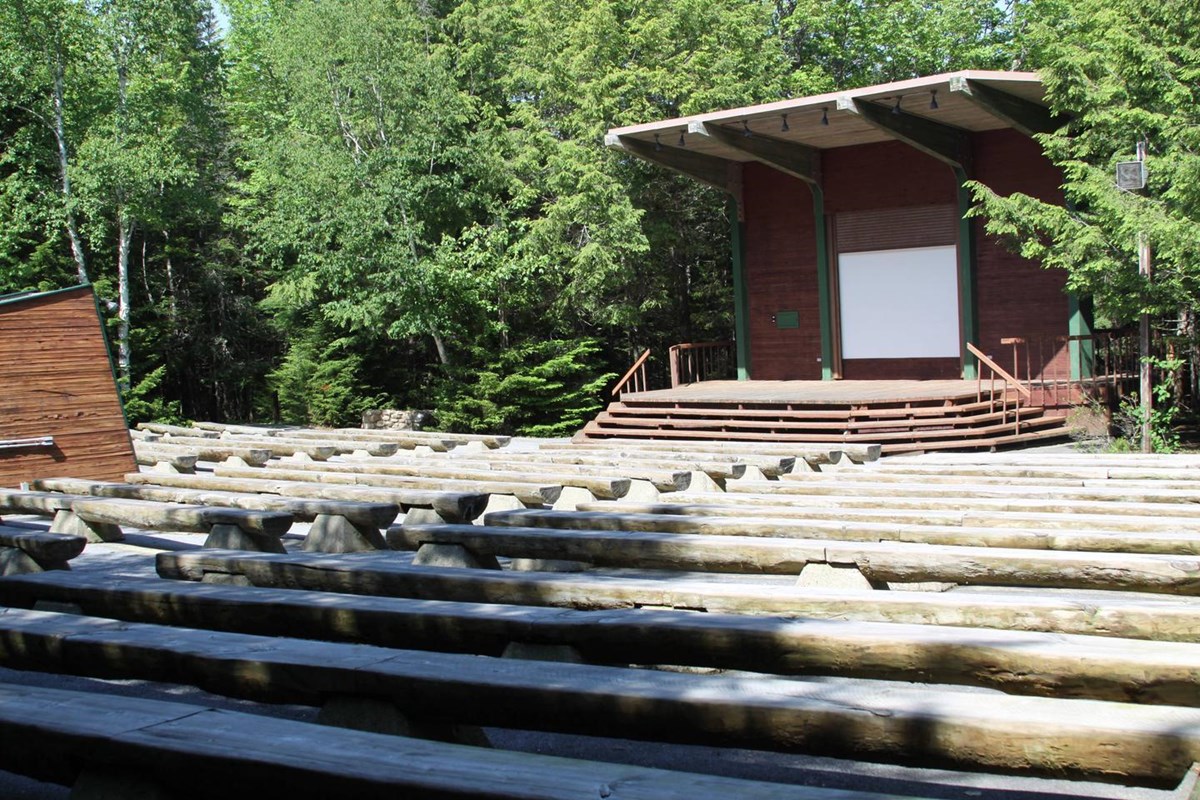 How Many Days Needed for Acadia NPS?
We're talking about staying at or in Acadia National Park, so you're probably wondering just how many days do you need to do Acadia NPS. It's a great question, and before we ever visited it seemed like a 1-day National Park. While you could do some of Acadia in a day, we recommend three days to get the full experience, and even then you won't cover all of the hiking and paddling you can do at the Park.
Here's what we recommend for planning three days in Acadia National Park:
1 day for hiking at Cadillac Mountain and Sandy Beach w/ time in Bar Harbor
1 day for tidepools and kayaking on the eastern side of the park, with hiking in the afternoon
1 day for visiting Bass Harbor Lighthouse, the western side of the park, and having time to explore towns like Southwest Harbor and Mount Desert
If you're strapped for time, cut out one of the days, but whatever activities and sights you do plan, be sure they are in the same part of the park. The Scenic Drive is beautiful, but it takes a long time and you'll end up hurrying your plans due to traffic and distance.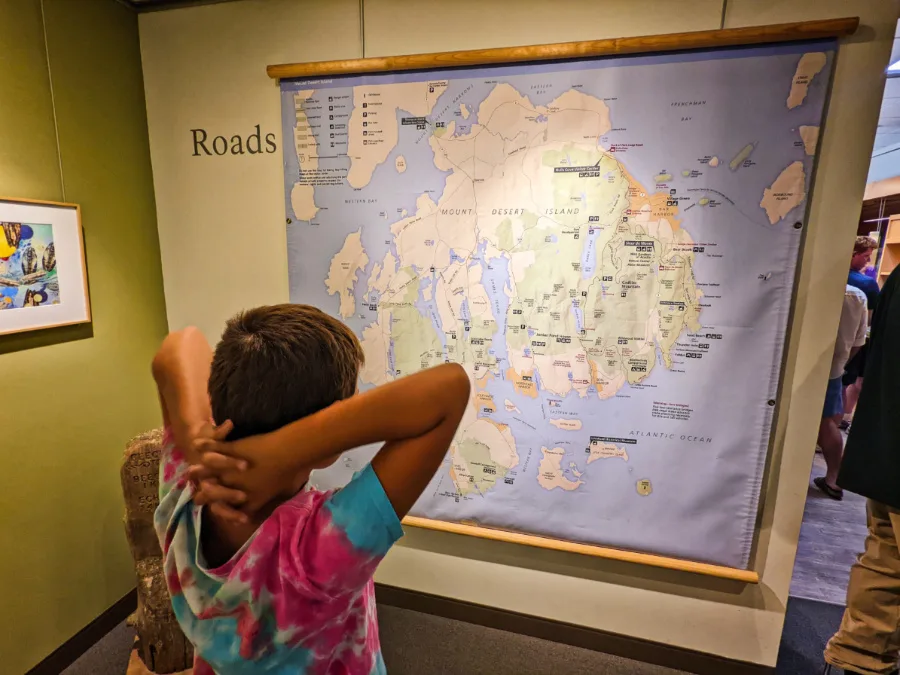 Things to Do in Acadia National Park
This is why you're here! There are so many things to do in Acadia National Park, and not just if you're an avid hiker or paddler. There are visitor centers, gift shops, easy view points and plenty of small towns to fall in love with. Since Acadia is split into different sections, you'll find things to do both in the park and along its boundaries.
Book a guided tour of Acadia National Park here!
Top Sights to See in Acadia NPS and the Scenic Drive
I am such a sucker for a scenic route, and the Acadia Scenic Drive does not disappoint. Yes, there are lots of people and yes, there is traffic, but it's very easy to make stops along the way and there are plenty of things to do and see along the way to break up the drive. Unlike the scenic loop in Big Cypress National Preserve or the Sunrise Road in Mount Rainier National Park, the Acadia Scenic Drive is a one-way road with multiple lanes of traffic. This makes it easier to enjoy the stops without driving dangerously.
The sights not to miss along the Acadia NP Scenic Drive include:
Sieur de Monts area- Nature Center, Wild Gardens, Abbe Museum
Beaver Ponds
Sand Beach
Thunder Hole
Otter Point and Cove
Hunters Beach
Jordan Pond
Cadillac Mountain
If you're just going to do the Scenic Drive without making many stops, the full loop will take you around 90 minutes. Remember that traffic can vary, so plan for two hours just to be safe if you have other things scheduled.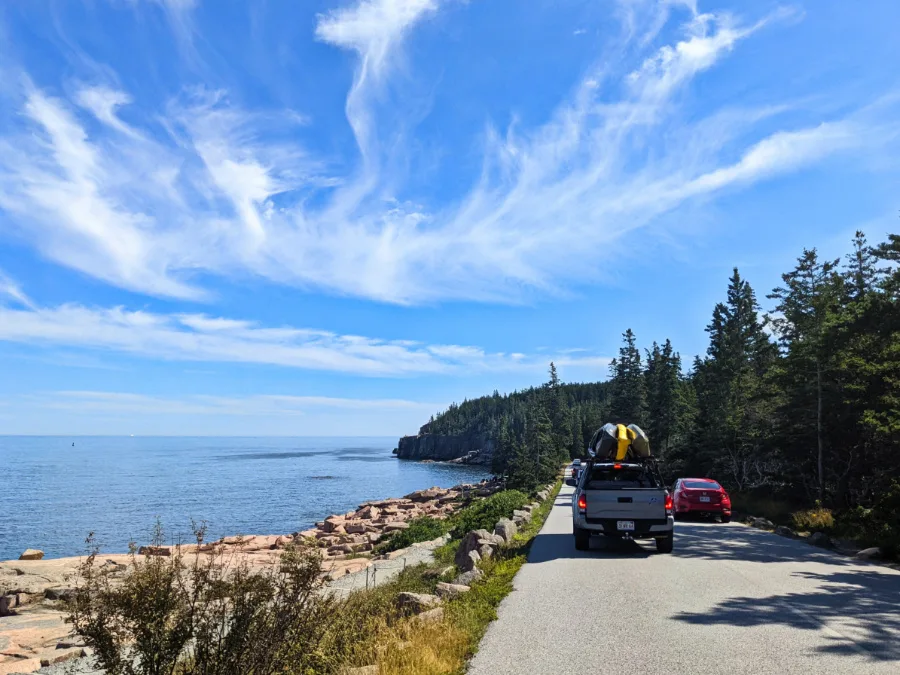 Hiking in Acadia NP
Maine is not short on great hiking trails, and Acadia is no exception. Whether you want to hike up through the woods to beautiful views or you want to traverse the jagged coastline, there's a trail for it!
Cadillac Mountain Hikes
Formed by cooled lava eons ago, the granite domes of Acadia National Park are very reminiscent of Yosemite Country. The mountain rises up among the bays and coves, and as you climb (in your car or on foot) viewpoint after viewpoint gives a broad view of the ruggedness of Down East Maine. 
NOTE: the National Park Service has implemented a reservation system for driving the road to Cadillac Mountain. While you can do the Acadia National Park Scenic Drive without a reservation, you must have one to go to the top of Cadillac Mountain. Parking is VERY limited and if you can't find a spot, you cannot just leave your car on the side of the road, as you WILL BE TICKETED.
At the top of Cadillac Mountain, you'll find several easy trails:
Beehive Loop Trail – 1.4 miles but can be a challenge due to terrain
Gorham Mountain Loop Trail – 3.5 miles with awesome views
Cadillac Mountain Summit Trail – easy loop you can join from parking areas
If you want to get epic with your hiking, the Cadillac North Ridge trail goes from the top of Cadillac Mountain through the forests to viewpoints, or you can do the Gorge Path to the Door-n-Ridge Trail and hike all the way down into Bar Harbor to the northeast. For a different path and different view, take the Cadillac South Ridge trail to the south and end at the Blackwoods Campground by Hunters Beach. These trails are quite long and planning is required, especially if you've driven your car to the top of Cadillac Mountain.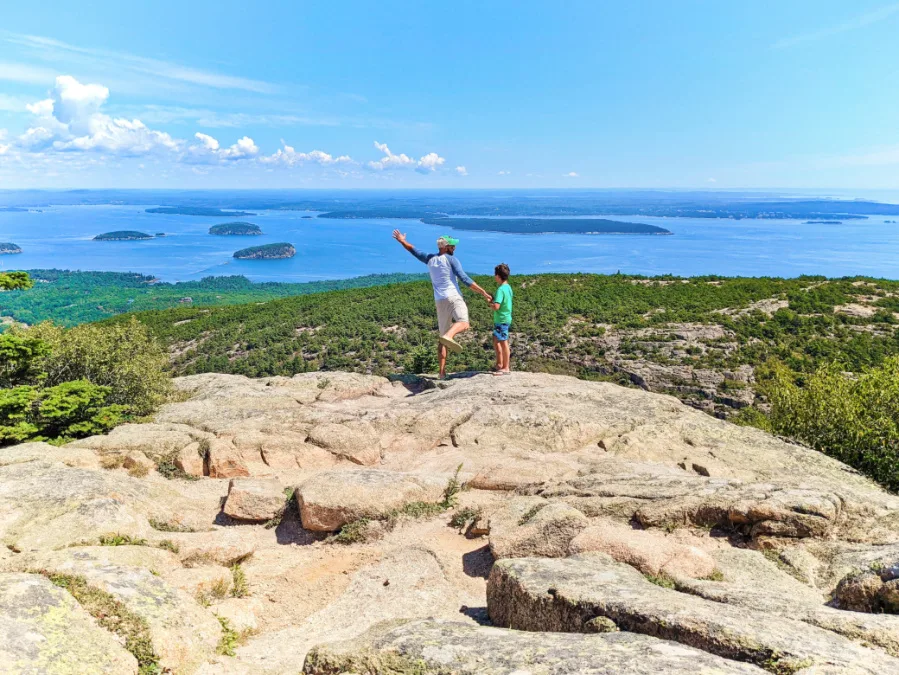 Hiking the Ocean Path Trail
Starting in Bar Harbor hike the Schooner Head Trail along through the forest and along the coves until you hit the Ocean Path. The Ocean Path trail goes along the rocky coastline within the Acadia National Park boundaries. The entire trail is 4 miles round trip from Sand Beach to Otter Point and back, and is very level with almost no elevation gain. You can plan parts or all of this trail without worry, as there are plenty of shuttle stops just off the path and you'll be able to get back to the start without having to back track.
If you plan on doing the entirety of Acadia National Park's Ocean Path trail, plan for at least 3 hours.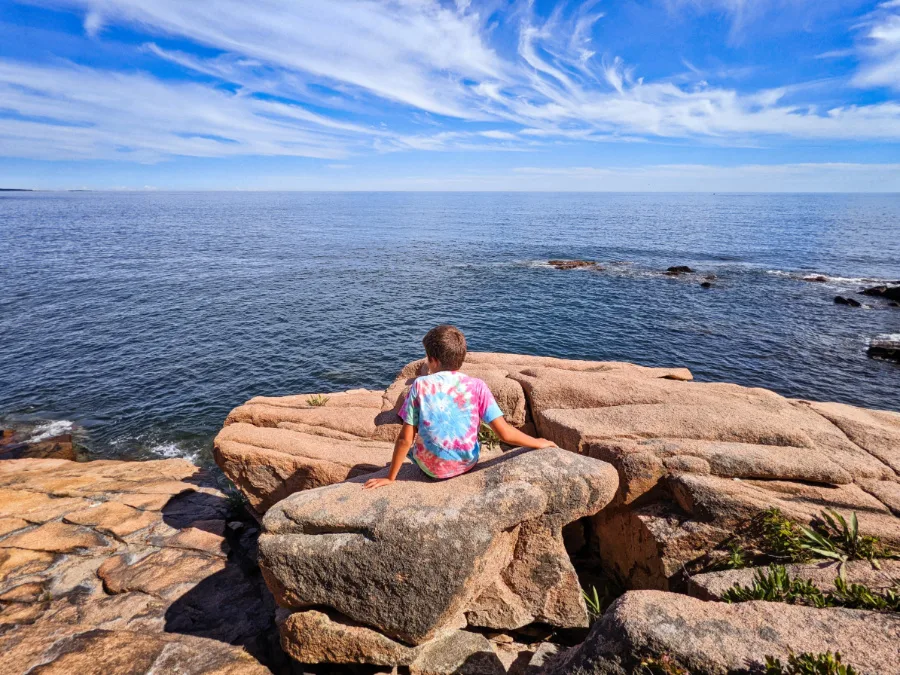 Hiking at the Jordan Cliffs
In the middle of Acadia National Park is an epic hike. The Jordan Cliffs Trail goes from Jordan Pond and climbs up through the forest to the granite mountains of Penobscot Peak. This 5 mile round trip trail is steep, rough and NOT for iffy weather. The National Park Service even states that this trail is NOT for people who are afraid of heights. But it's so pretty!
This trail is like the rock paths at Devil's Lake in Southern Wisconsin meets the backside of Half Dome in Yosemite. If you're in shape and confident in your knees and hiking skills, this is a great hiking plan.
Biking in Acadia National Park
One thing you can do to ensure everyone visiting Acadia National Park has a fun and SAFE time is to watch for bikers in the park. While the Acadia Scenic Drive is a one way for both bikes and cars, other roads are two way and there are lots of blind curves. Drive safely with a special eye to be aware of bicyclists.
Now, if you're biking: I'm totally jealous. You'll find the road up Cadillac Mountain to be quite the challenge, but if you'd like to either bike on the designated paths or along the Scenic Drive you're welcome to. Visiting in winter and spring may mean that certain routes are closed to bikes, but check in with the Park Rangers to confirm where you can safely access.
The Carriage Roads of Acadia are the best place for biking in the park, as they are intended for this sort of recreation and there aren't cars on them.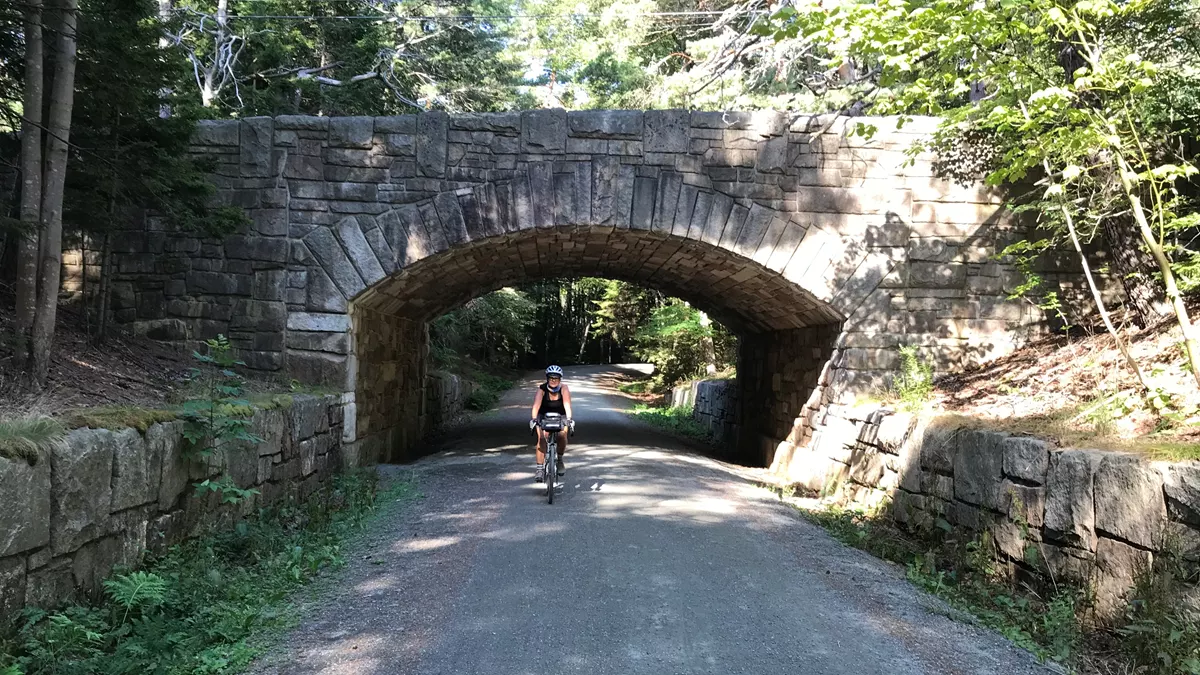 Things to Do on the Shore at Acadia
Whether you're visiting for one or several days, you're going to want to spend time by the water. The coves and tidal areas of Acadia National Park are absolutely beautiful, very reminiscent of the Olympic Peninsula of Washington. Here you can watch for wildlife 
Visiting the Bass Harbor Lighthouse
One of my favorite things about visiting Maine is the number of lighthouses. Everywhere. And how fitting that Acadia National Park has a great one to visit! The Bass Harbor Lighthouse is located in the southwestern section of Mount Desert Island and it's relatively easy to visit. After driving the the adorable town of Southwest Harbor you'll come to a long dirt road that leads to Bass Harbor Light. Parking is limited, so you may have to wait to gain access to the parking area, but it's worth it.
The lighthouse is accessible from an easy path that takes you to the keepers quarters and light tower. You can get really close, which is nice, but it's not the iconic view of the Bass Harbor Lighthouse you expect to get. You have a little hike for that.
Head to the east end of the parking area to the trail into the woods. This short path leads to a staircase towards the water. Clamber across some rocks carefully and get down nearly to water level and you've got the epic view of the Bass Harbor Lighthouse like you've seen on postcards. It really is beautiful!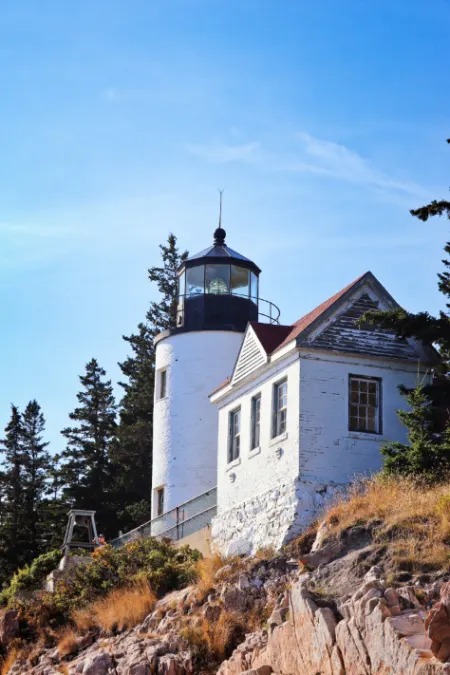 Tidepools and the Thunder Hole
As you do the Acadia National Park Scenic Drive, you'll have lots of opportunities to stop and explore the rocks and tidepools. While they may not be as full of life as Pacific Northwest tidepools or the pools at Cabrillo National Monument in San Diego, they are really cool and great for exploring.
One of the more unique places to get down to water level is at the Thunder Hole. Here the rocks and the water meet just perfectly in a small cove to form a sort of audio blast zone. The water rushes in at mid-tide and crashes into a hollow where the pressure from the air and the water make ocean thunder. There are stair and platforms to viewing. It's neat, but not epic like the Oregon's Coast's water features.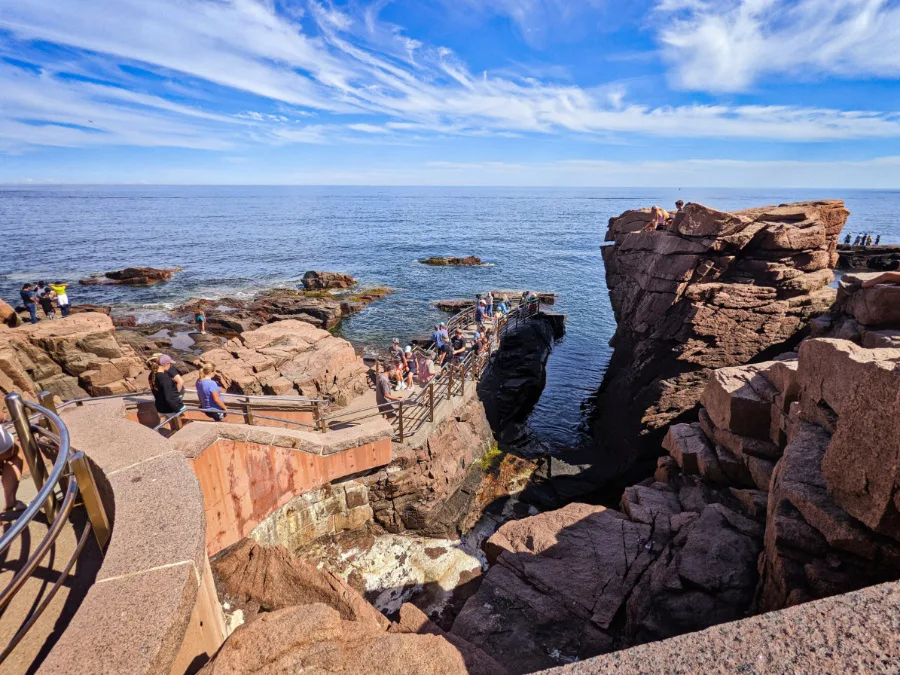 Acadia from the Water
Besides the bulk of the National Park that's on Mount Desert Island, there are two other parts of the Park. The first is the Schoodic Peninsula, which is just east of Bar Harbor, and the other is Isle Au Haut, which is quite a ways southwest of Bass Harbor. Both part of the Park are accessible by passenger ferry. You'll find hiking, kayaking and general sightseeing in both places.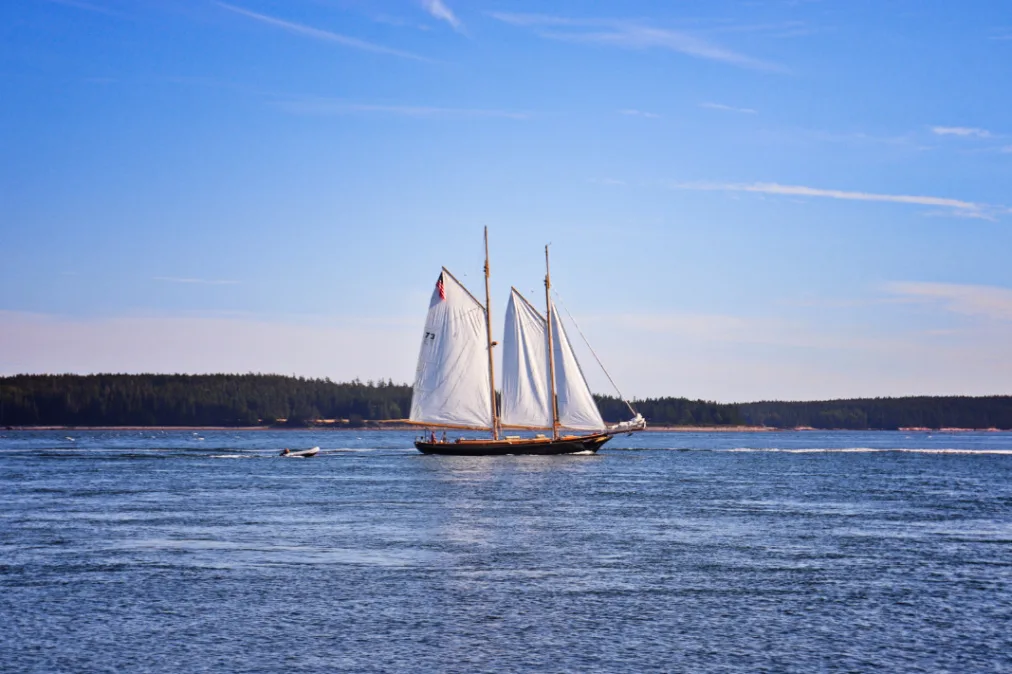 Kayaking at Acadia
Some of my favorite photos of Acadia National Park include kayaks skirting the coastline or in the quiet coves of Somes Sound. There are a variety of options for paddling here, and you don't have to be an avid sea kayaker to be able to get on the water. Kayaking in Maine is as diverse as you can imagine!
Here are four great kayak launches you can go from to experience Acadia National Park from the water:
Check out guided sea kayaking by Maine State Kayak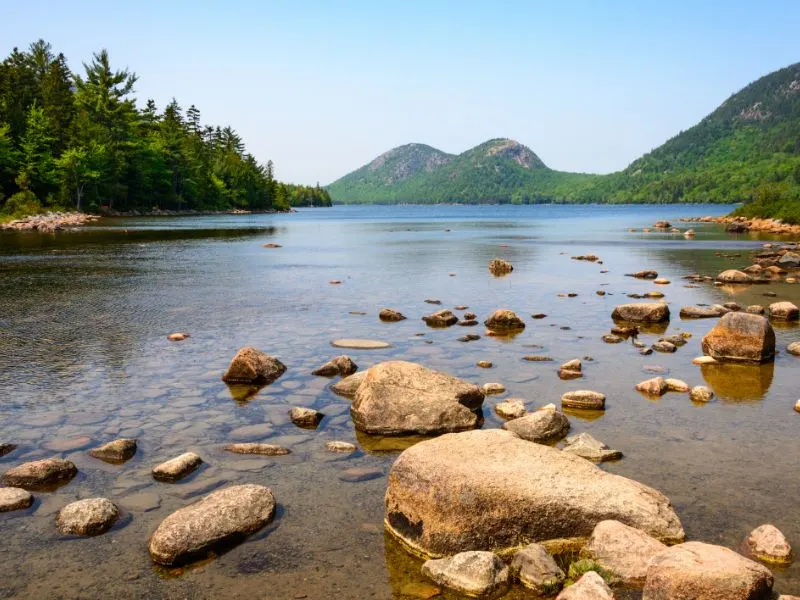 Boat Tours at the Park
Going out of Bar Harbor, boat tours around Acadia National Park are plentiful in summer. Whether you want a small group tour from the water or you want to get out on a schooner like you're a 19th century sailor, you have lots of options out of Bar Harbor.
Keep in mind that if you're booking a boat tour out of Bar Harbor, they are very popular and the schooners that go out can hold a lot of people, so you may find them to be surprising crowded in summer months.
Book a Bar Harbor schooler sailing here!
More Things to do Near Acadia National Park and Bar Harbor
It's quite the trek to get to Acadia National Park, so I know you're going to want to make the most of your time, both Down East and as you head back to your point of origin. Mid Coast Maine has some awesome small towns, tons of lighthouses and lots of great food to enjoy.
Here are our top picks for spots to stop in Mid Coast Maine, either as you head back to Portland or Bangor:
Walk around the town of Belfast
Explore Camden (another good place to go out sailing)
Walk out to the Rockland Breakwater Lighthouse
Go on a puffin wildlife cruise out of Port Clyde or Boothbay
Visit the Coastal Maine Botanical Gardens…
So many things to do, but these are the easiest to add to your drive back to Portland, Maine.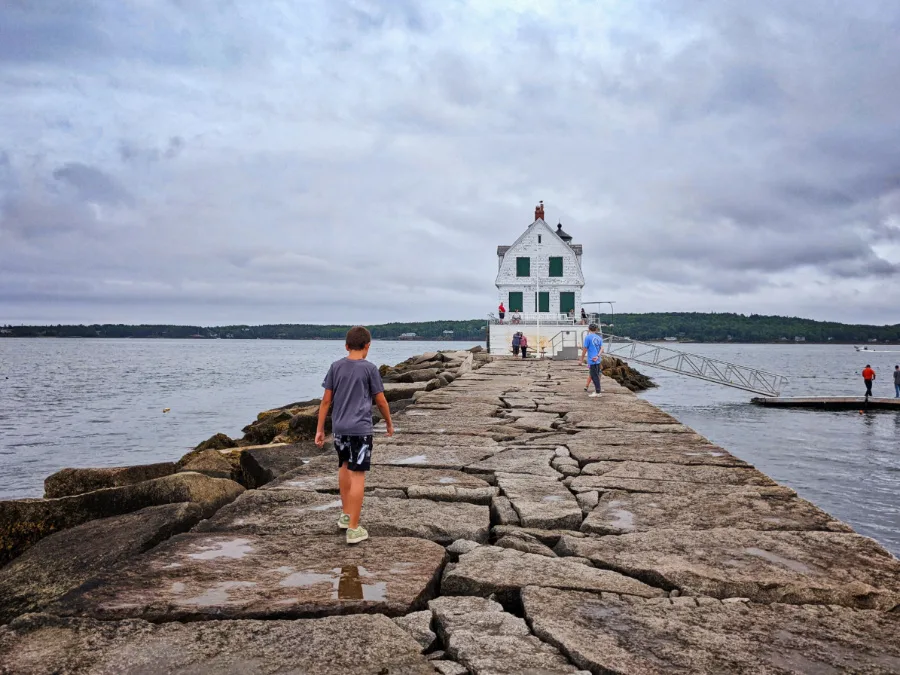 When to Visit Acadia NP and Down East
Summer is the busiest season in Acadia National Park, but then it's also when the weather is the best. You can expect there to be a lot of traffic in both the National Park and in Bar Harbor in summer months. Also, due to the amount of visitors then, reservations are required to drive to the top of Cadillac Mountain.
If you can visit Acadia in the fall, there are fewer visitor, but still a surprising number due to the beautiful fall colors in the National Park. If you can score some nice weather in October at the end of leaf peeping season, you'll find open roads, sparsely populated trails and sleepy towns Down East.
Keep in mind that visiting from late fall to mid-spring many businesses shut down and you will have limited options of services, from dining to tours.
Weather in Down East Maine
Wet wintery weather starts to set in at Acadia National Park in October and continues through to April. Mainers joke that when winter is over they get a second winter, so take it into consideration when you're planning an packing that you may be caught up in rain or snow.
Summer weather in Acadia National Park is dreamy. Yes, rain still rolls in randomly, but breezy days in the 70s and sometimes 80s make it the perfect temperate summer destination.
---
I hope this answers most of your questions about planning a visit to Acadia National Park. There's a lot to consider when you're making your Maine itinerary plans, but if Acadia is the primary destination, you should be good to go.
Please feel free to leave a comment or send us a note if you have additional questions or need help planning a trip to Maine. And don't forget to check out our sister site, MaineExplored.com, for more info!