Maine is an outdoor paradise and with 13% of the state having water coverage and even more shoreline, the kayaking choices are endless. I love kayaking in Maine and each time I get out on the water with friends, it's just such a special, beautiful summer experience.If you are looking for best places to go kayaking in coastal Maine allow us to be your guide!
Beginners will find calm waters to glide through the inland and cove areas of Maine, particularly on the tidal rivers. Those wanting more of an expedition can hit the Maine Island Trail with over 200 islands off the coast populated by harbor seals and eagles soaring high above (too adventurous for us with kids in tow). Multi-day excursions can be done in the open waters with local outfitters. Kayaking in Maine is a New England dream paddling trip!
If you want to share your own kayaking spots or tips for kayaking in Maine, please leave a comment or send us a note. We're always happy to share more and listen to others' advice!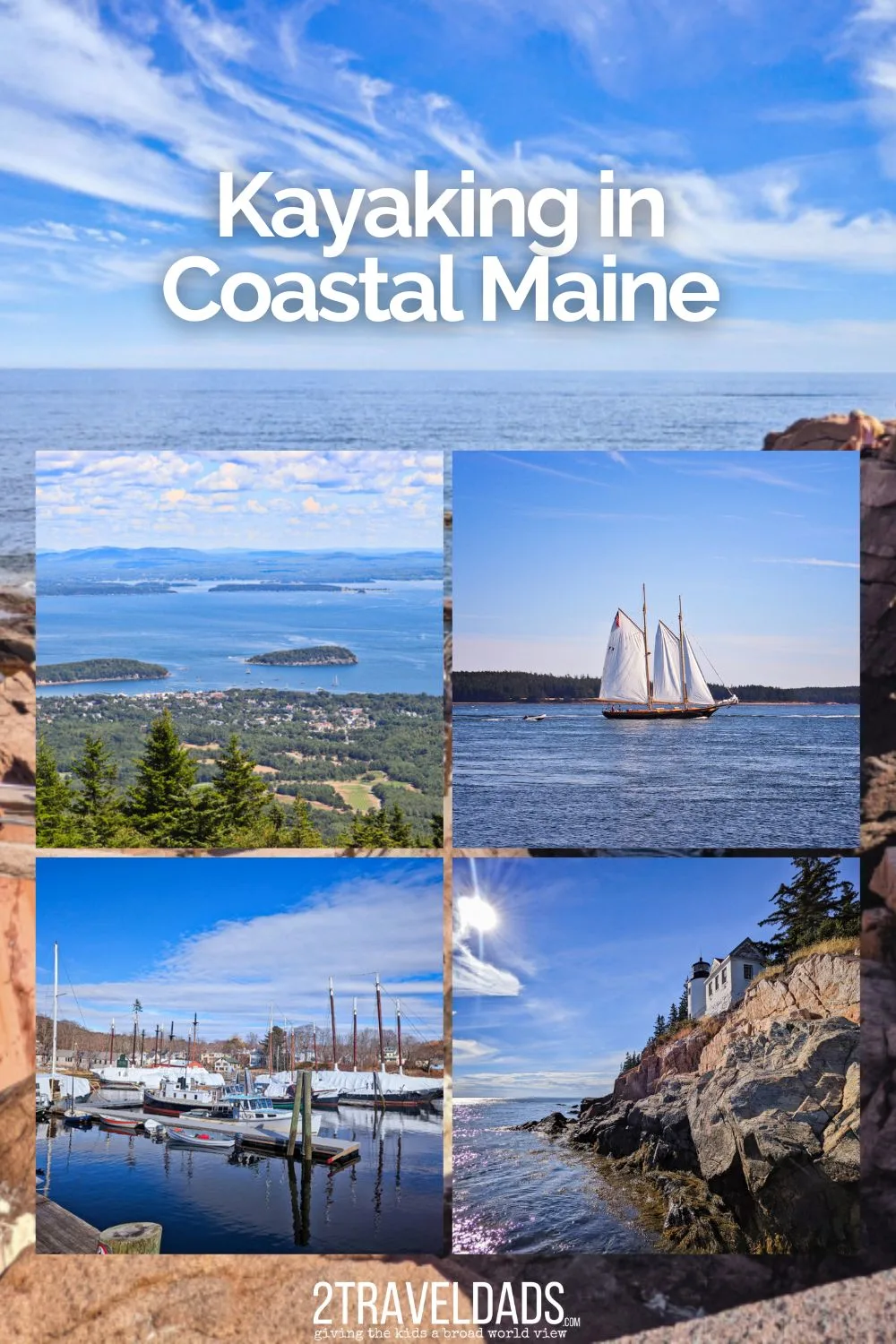 Easy Kayaking Spots on Maine's Coast
The coast of Maine is filled with a rocky coastline which can feel intimidating for inexperienced paddlers. However, there are tons of harbors and coves that are protected from the Atlantic Ocean, making the state a beautiful location for a first-time or leisure paddle.
Boothbay Harbor
Boothbay Harbor, is filled with historic lighthouses dotting the coastline. The wildlife is abundant with seals and puffins frequently seen. Options for taking in the rocky scenic coast vary from half-day trips to multi-day options. Boothbay Harbor is filled with beautiful opportunities for kayaking coastal Maine and exploring from the water.
Note: you can also visit the Coastal Maine Botanical Gardens here!
*SUP friendly
Where to launch: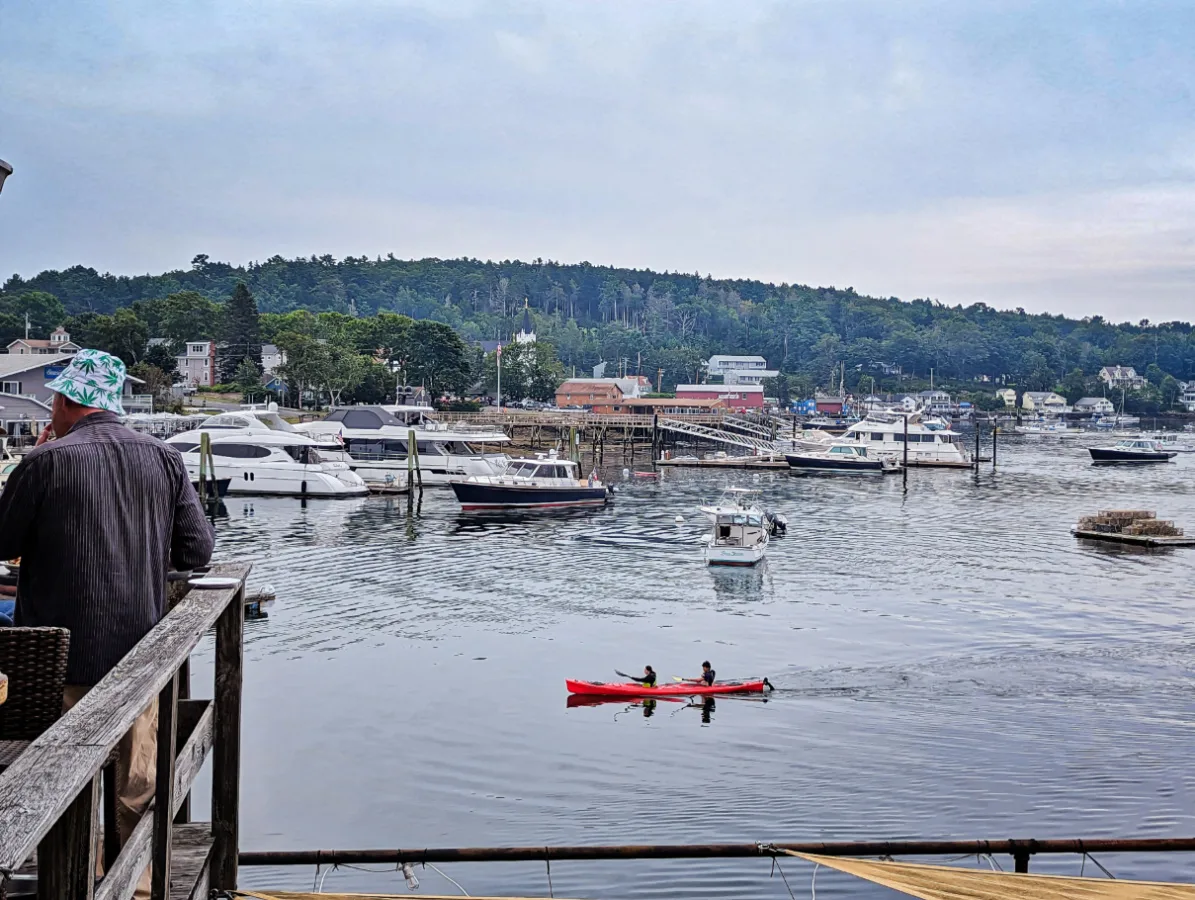 Damariscotta River
The 19-mile-long Damariscotta River runs down Lincoln County before exiting into the Atlantic. The watershed covers over 100 square miles and is home to the world-famous Damariscotta River. Fishing enthusiasts will enjoy the area as the Damariscotta means "river of many fishes," in the Abenaki language.
Where to launch:
Cape Porpoise Harbor
Cape Porpoise Harbor gives paddlers the opportunity to kayak to an island with a lighthouse. The harbor is filled with lobster boats and fishing vessels on one side. On the other section of the harbor, there are islands that welcome paddlers seeking serenity.
*SUP friendly
Where to launchL
Scarborough Marsh
Located in Scarborough Marsh, the Maine Audubon is a great space for outdoor education. With tons of programs in late summer, August and September are the best times for a visit. The program includes regular sunset and full moon paddles perfect for beginners. We like visiting the Scarborough Marsh to watch for Maine wildlife.
Where to launch:
Experienced Kayak Launches on Maine's Coast
For adventurers looking for a challenging sea paddle, the Portland Harbor, Muscongus Bay, and the coastline in general offer numerous opportunities to visit remote islands. Paddlers can even cross international borders and kayak to Canada.
Jewell Island
Jewell Island's just a stone's throw away from the Portland Harbor. The rough coastline makes for a great camping trip for those seeking wilderness. Sea conditions can make the journey difficult and a local guide should accompany you if you're planning a trip as they'll have alternatives if the fog doesn't clear or if the winds are too strong. Portland Paddle gives a great account of what to expect on an overnight trip to Jewell.
Where to launch:
Muscongus Bay, Livermore, ME
Muscongus Bay is a great multi-day trip that takes you through a bay perfect for intermediate or advanced beginners. The picturesque town of Round Pond is a pleasant sight as it gives insight into a state known for its lobster. There you'll see colorful buoys just off the shore.
Where to launch:
Castine Bay, Castine
Those that prefer night paddling and have some experience will enjoy Maine's bioluminescent bay, Castine Bay. Check the tour calendar and book this trip through Castine Kayak Adventures. Castine, Maine itself is a beautiful town and worth staying in! Find a Castine, ME stay here!
Note: if you're looking for bioluminescent kayaking, it really is a very rare occurance, as the waters have to be just right. Yes, it happens, but it needs to be a HOT summer night after several other hot nights before, and you need to be in the more shallow areas. It's the same if you're looking for bioluminescence when kayaking in the San Juan Islands or anywhere else.
Where to launch
Casco Bay, Harpswell
Casco Bay, located in Harpswell has over 200 miles of rocky shoreline with frequent sightings of various animals, a quintessential Maine tide pool, and all-around spectacular landscapes. Be mindful of water conditions as they can vary by specific location. Casco Bay Kayak's is the area's trusted outfitter and has detailed information on how to enjoy a short paddle or an overnight camping trip.
*SUP friendly
Where to launch:
National / State Park Kayaking Spots near Coastal Maine
Maine is filled with tons of recreation areas managed by the national and state park authorities providing clean campsites, tons of launch sites, and a great education at each visitor center. Whales, puffins, eagles, seals, and the numerous other species that call the coast of Maine greatly benefit from the wildlife management. Below are a few ideas for different parks you can explore.
Kayaking at Acadia National Park
Acadia National Park is a large area filled with lakes and ponds on Mount Desert Island. Aside from paddlers, there are sailboats and motorboats that dot the island. With the rich tourism in the region, fishing, eco-tourism cruises, and whale watching are common sightings. There are lots of things to do at Acadia National Park. For a complete list of options for paddling the waterways of this coast check out the National Park Service. https://www.nps.gov/acad/planyourvisit/boating.htm
Where to launch: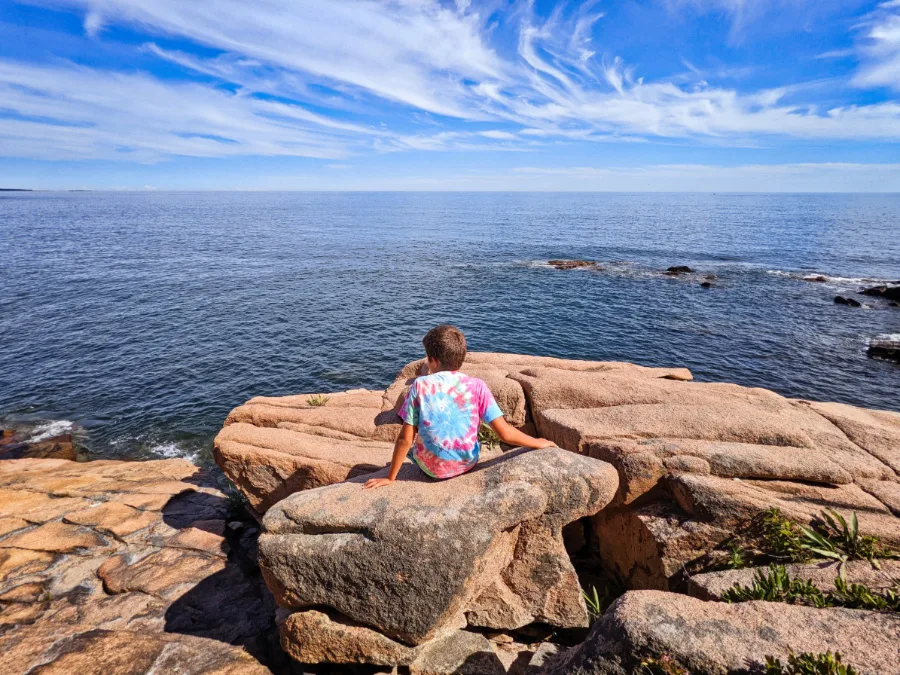 Saint Croix Island International Historic Site
Saint Croix Island is managed by the National Park Service and has the official title of Saint Croix Island International Historic Site. Sharing a boundary with Canada, this area is pretty much free from tourists as there are no formal tours. The site has a visitor center that gives information on historical figures that are part of a 1604 expedition. If you are planning a trip note that the tides range and can be quite strong.
Where to launch:
Katahdin Woods and Waters
Katahdin Woods and Waters is a quintessential Maine kayak or canoe trip that can be filled with activities such as hunting, fishing, biking, and great wildlife viewing while you paddle the waterways of this coast. The area is home to some of Maine's most remote spaces surrounded by thick forest.
FYI, it's said Kah-tahhhh-din like "Caw!" as a crow would say, "tah" like a magician would say in 'tah dah', and then "din" like in the word dinner. Kahhtahhdinn.
Where to launch: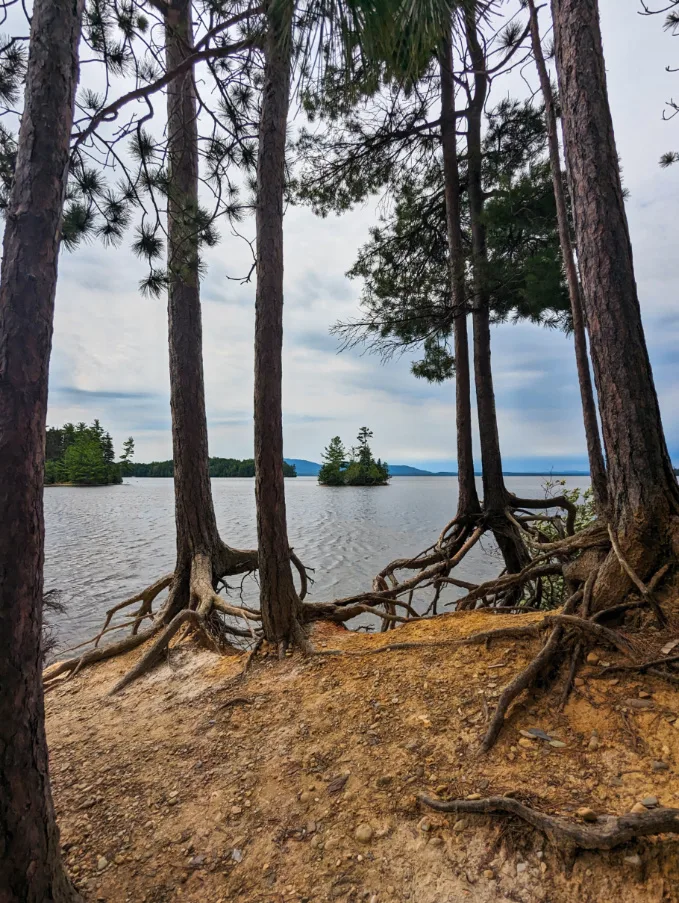 Campobello Island Historical Monument
Former President, Franklin D. Roosevelt spent his summers on Campobello Island, enjoying the beautiful surroundings filled with forests, rugged coastline, beaches, and bogs. The area allows you to explore the summer home of FDR and the surrounding area. Be sure to visit the quaint Easy Quoddy Lighthouse. Be on the lookout for whales as this is an important migration path.
Where to launch
Recommended Kayaking Tours in Coastal Maine
For those unfamiliar with the area or new to kayaking Coastal Maine, a tour will keep you informed, safe, and have a more knowledgeable experience. Check out the following tours for some ideas.
When to Visit Maine
The busiest time of the year to visit Maine in the summer when tourists clock the coastal towns, taking in the long summer days and warm weather. The fall is perfect for those wanting to see the change in colors and fall foliage. Winter is great for snow sports but doesn't expect to paddle. Springtime is still quite cool and for those unprepared, can be characterized as cold. Paddling season typically starts at the end of spring and goes until early fall.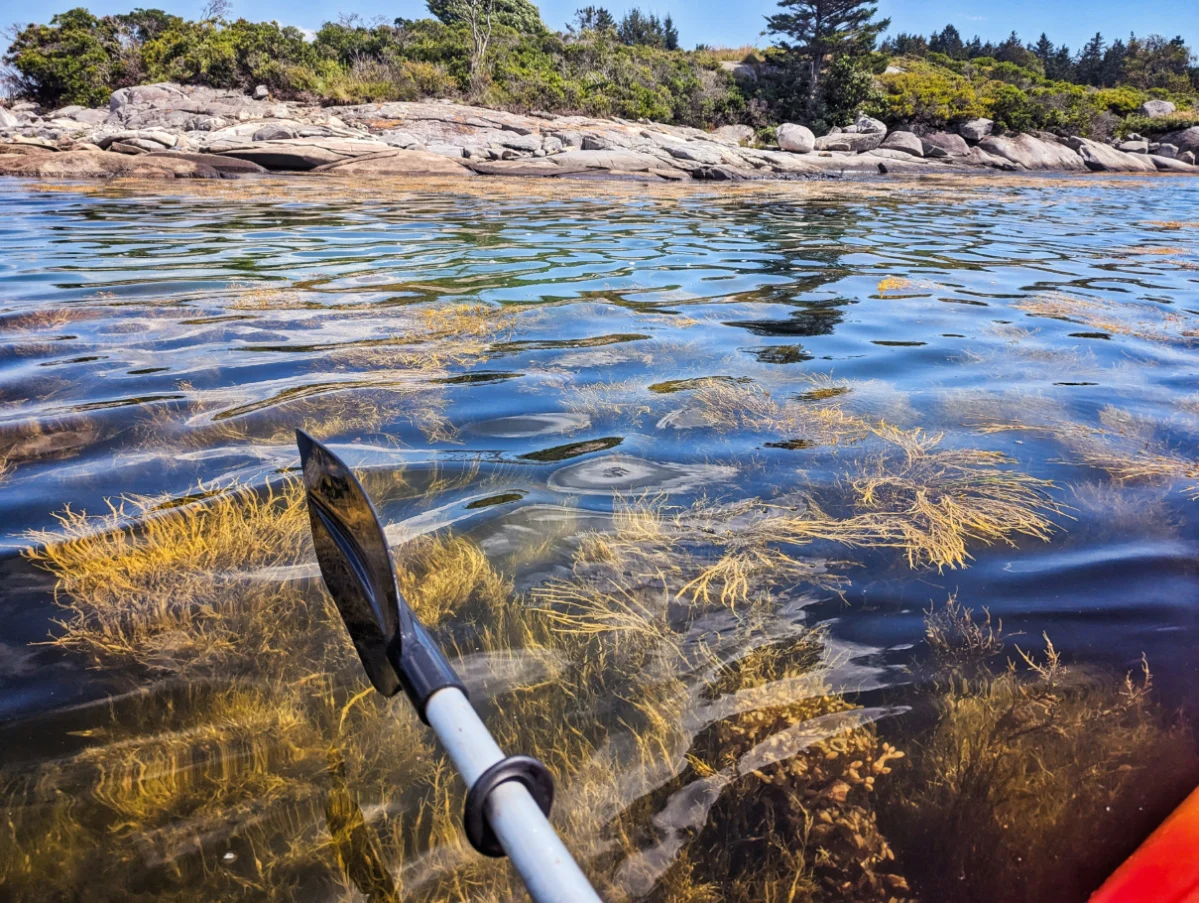 Weather in Maine
Winter in Maine is typically cold and snowy, with temperatures averaging around 20 degrees Fahrenheit. Spring is a bit warmer, with average temperatures in the 40s and 50s. Summer is the warmest season of the year, with average temperatures in the 60s and 70s. Fall is a bit cooler than summer, with average temperatures in the 50s.
Need to Know for Maine
Beyond the spectacular coastline, there are many activities away from the water off a paddle. Maine is a great place for outdoor activities, with miles of scenic coastline and rugged wilderness areas. Some popular activities in Maine include hiking, biking, fishing, and camping.
Whether you're looking for a relaxing day at the beach or an adventurous backpacking trip through the mountains, or to simply get out on the water and go kayaking in coastal Maine you'll find plenty of exciting things to do in Maine. If you're looking for some urban excitement, check out Portland or Bangor – these bustling cities offer plenty of restaurants and cultural attractions to keep you entertained. No matter what kind of activity you enjoy, there's something fun to do in Maine!