We love spending time in Maine and really enjoy visiting in summer months. Winter in Maine is fun and beautiful, but such a different vibe, and if you're not into the cold and snow, may not be for you. So here we have our summer itinerary for spending a week in Maine. This can easily be turned from a week into two weeks, so do what you need to do for your vacation. This Maine road trip includes everything from the iconic coves and lighthouses of the coast to the waterfalls and lakes in the Highlands.
Have you always wanted to visit Coastal Maine and eat lobster every day? Or maybe your ideal summer trip to Maine is being away from it all and picking blueberries every day. Whatever your interest, we've got a great travel plan for visiting Maine in summer.
If you have any additional questions or want to share your own tips, please feel free to leave a comment or send us a note. We're always happy to share more and help others plan their travels!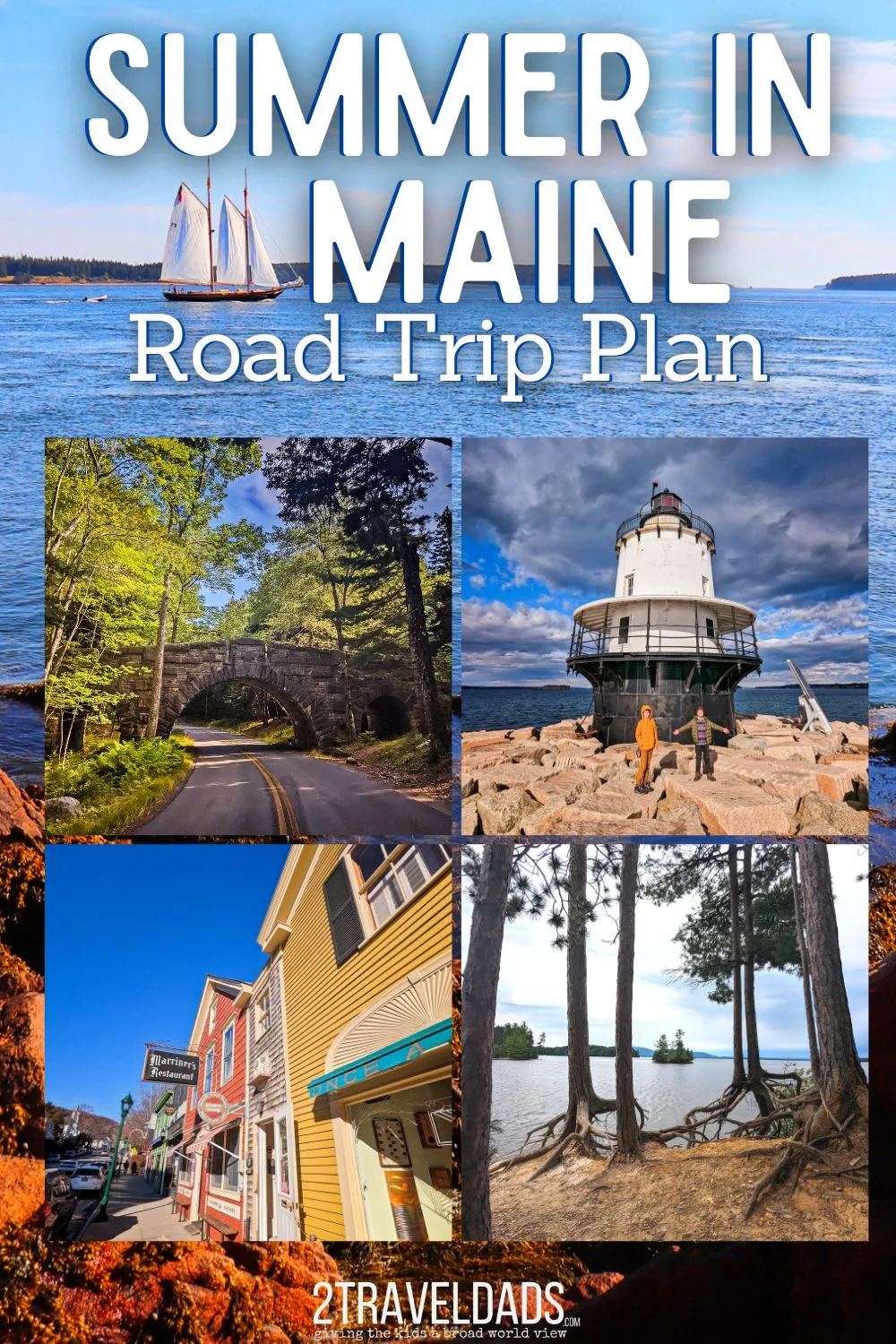 Starting a Maine Road Trip in Summer
Before you take this awesome Maine summer road trip plan and do it exactly, be sure to do your own research to see what works best for your timing and your travel crew. Maine in the summer is usually pretty nice, and with that comes a lot of visitors. It's called "Vacationland" for a reason… While visiting Maine in summer is nothing like visiting Walt Disney World the week school gets out, there are more people than you might expect.
You can fly into either Portland (PWM) or Bangor (BGR) to begin. I think Portland is easier as there are more flights into PWM than BGR, but if you find a great deal into Bangor, take it! You will want to be sure that you fly in and out of the same airport though, as that'll save you $200+ in rental car costs.
Something to think about before you hit the road up here is how the state is actually laid out. The Highlands are all connected with highways and county roads, and it's pretty easy to navigate as the relative distance is accurately suggestive of travel time. When you get out to the coast it's not so simple. Yes, there are highways and roads connecting everything, but nothing is as close as it seems. For example, as the crow flies it's only about twenty-five miles between Rockland and Boothbay Harbor, but if you wanted to go from one to the other and visit the Pemaquid Point Lighthouse between them, that middle stop adds an hour to your drive despite it being only five miles as the crow flies.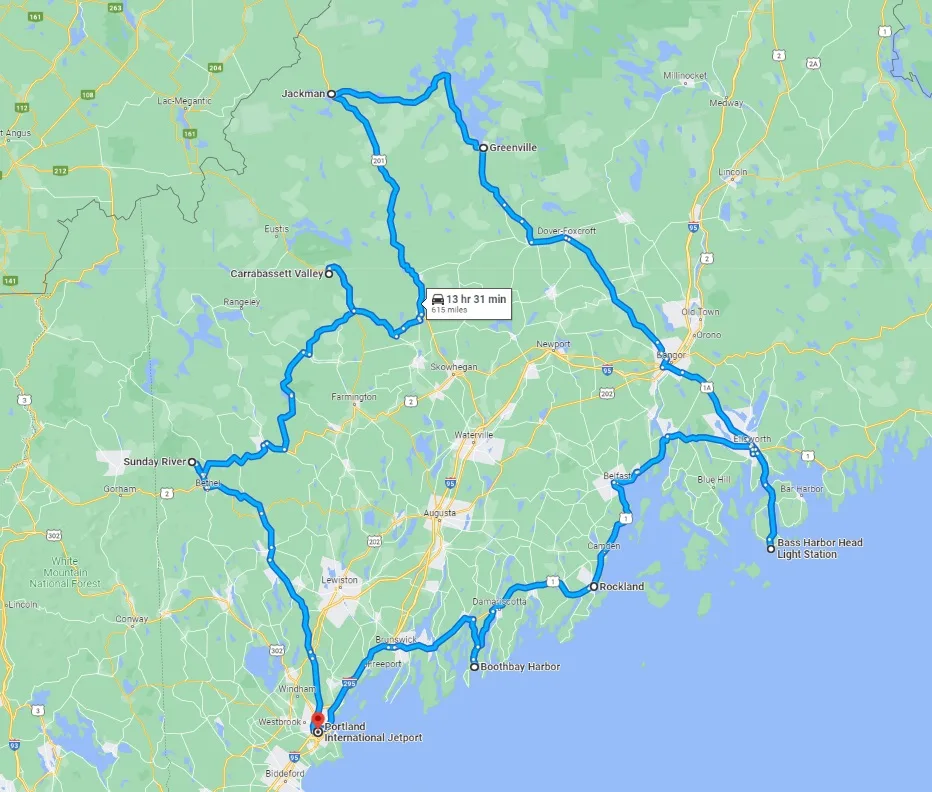 Summer Maine Road Trip Itinerary
Okay, here we go. This Maine summer road trip plan is designed to hit up both the Highlands and Coastal Maine. You can swap the order that you approach the route, or you can cut out whole sections if you want. Some people visit Maine in summer and think that they want to just pop from small town to small town, but they don't realize that the activities to do along the way will be limited. To get the best, fullest experience, this mix of destinations will showcase the best of Maine.
And something to keep in mind when you're in Maine, whether it's peak summer season or when things are quiet, the general vibe of Maine business owners is that they don't really need your money. This means that hours may be weird or not what is posted online or in a shop/restaurant window. You'll still pay a premium price for a lobster roll or a tour, but it will not be when and where it's convenient for you. As our oldest likes to say: "Maine – Closed on Tuesdays." It's all still wonderful, but just try to be flexible with your specific plans.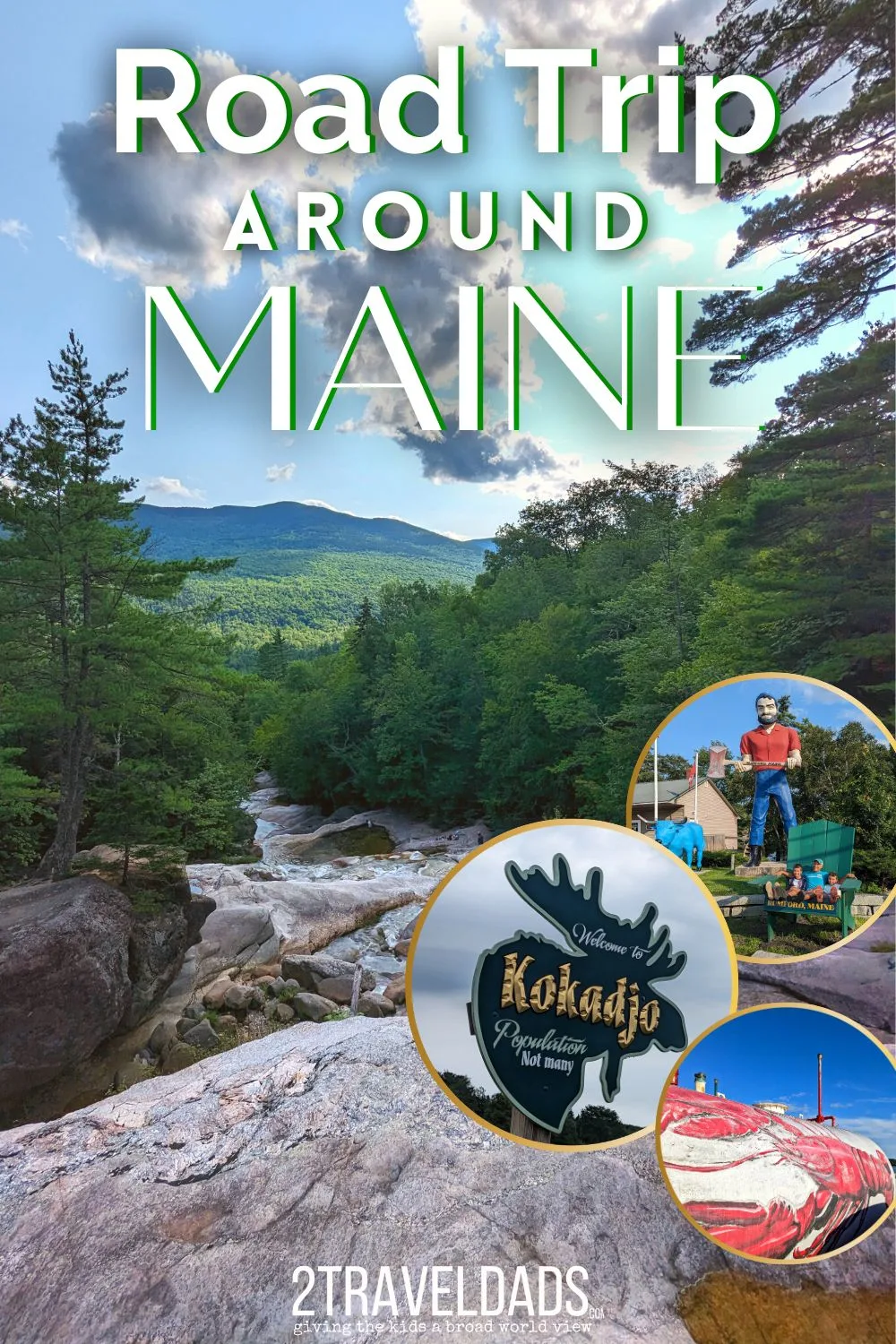 Begin in Portland, Maine
Portland is a quiet city, but a fun one. Here you'll find lot's a great food, some cool museums, lighthouses and a great wharf/waterfront area to explore. Portland is open yearround, unlike much of MidCoast and DownEast Maine. This is a great place to begin your Maine summer road trip to kind of get your bearings and get into the vibe of the state.
A great day in Portland includes a visit to Cape Elizabeth to visit the Portland Head Lighthouse, walking the Spring Point Ledge Light path out into Portland's harbor in Casco Bay. You might as well visit Bug Light too, because it's just five minutes away. It's really cool to visit Portland, Maine if you're into lighthouses like we are. There's actually a point you can stand when you're at the Portland Head Lighthouse where you can see six different lighthouses:
Portland Head Light
Cape Elizabeth Lighthouse
Ram Island Light
Spring Ledge Light
Bug Light (aka Portland Breakwater Light
Halfway Rock Lighthouse (need a telephoto to see it)
While you're in Portland, visit the Portland Museum of Art, the Longfellow House and eat lots of whoopie pies! Coming soon: Fun Things to do in Portland, Maine with Kids
Sunday River and Rangely Lakes Region
Driving out of Portland, take your Maine summer road trip up to the Highlands starting in Sunday River. This is the part of Maine everyone head to for skiing and winter adventures, but in the summertime it's beautiful and full of waterfalls and blueberries. Sunday River, Grafton Notch State Park and all that fun stuff is in an area called Newry, Maine. It's all hills and rivers and fun. During summer you can find plenty of vacation rentals or stay at any of the ski resort lodgings, so there's a wide range of options for a family.
Hiking is the big thing to do at Sunday River in the summer. Grafton Notch State Park has some really cool trails and even swimming holes. We love Screw Auger Falls for a nice, brisk splash! Also nearby is the Step Falls Preserve which is both a beautiful hike in the woods and a gorgeous waterfall.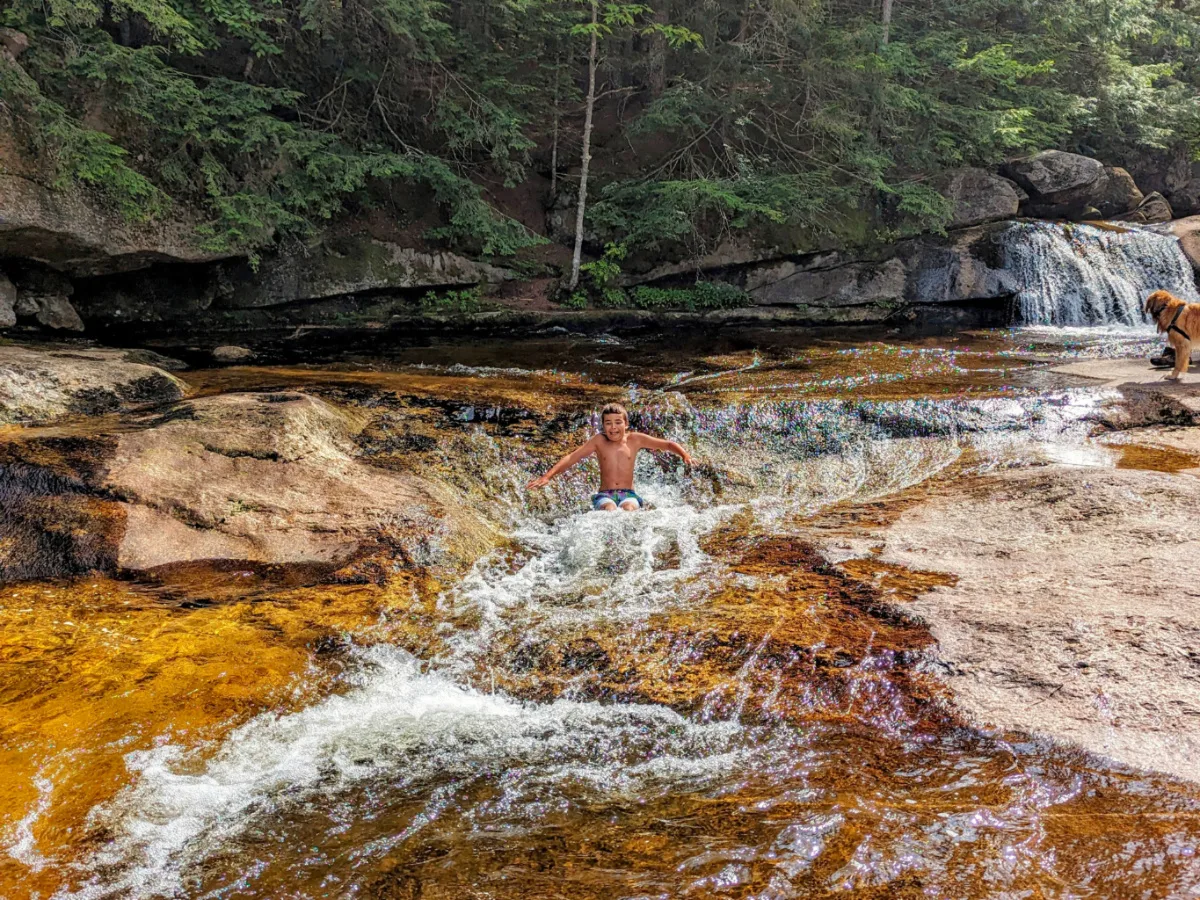 Another fun stop for swimming and seeing an iconic Northeast sight is the Sunday River Covered Bridge. A very well preserved covered bridge, it's one of nine in Maine. Stop for photos or walk along the river and take a dip. It's a great spot to visit with kids.
Continue your Maine summer road trip up to the Rangely Lakes Region. The town of Rangely is charming and there are lots of lakes to enjoy. Watch for wild blueberries when you're hiking or even when you just pull off the main road. Another thing to watch for: MOOSE! Yes, this is a moose-heavy area, and if you're up early or driving the dirt roads at sunset, you may get to see one!
More stops to make:
Lovejoy Covered Bridge
Coos Canyon
Swift River Falls natural pools
the town of Rumford (and Paul Bunyan!)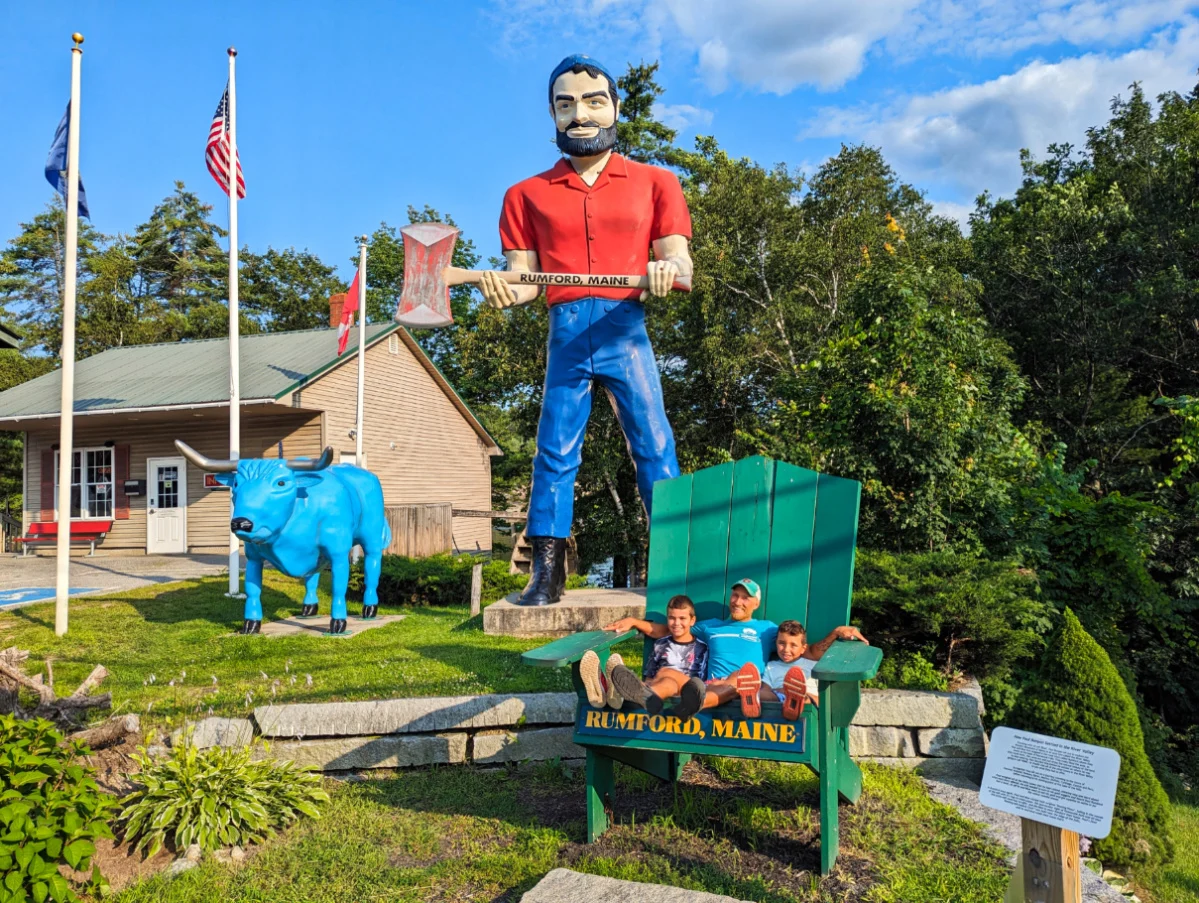 Moosehead Lake and the Highlands
The Highlands of Maine are a collection of forests, mountains and small towns. From Eustis near the Canadian border to Kokadjo and Seboomook, you'll find lots of little spots full of camps Mainers head to for hunting, and then small cabin resorts in the wilderness. Greenville on Moosehead Lake is cute and is rather the hub of the Highlands. This is moose country and even if you don't spot one in the wild, everything has a moose on it.
Check out the bakeries and breweries between Embden and Greenville, and be sure to stop in Abbot along the way. Art shops, cute storefronts and, you guessed it, whoopie pies make it a nice break in driving. In Greeneville, walk around town and have a meal or two on the lake. The highlight of Greeneville is the vintage boat on Moosehead Lake, the Katahdin. Do a cruise around the lake or spend the day at Lily Bay State Park just picnicking, swimming and hiking along the lakeshore.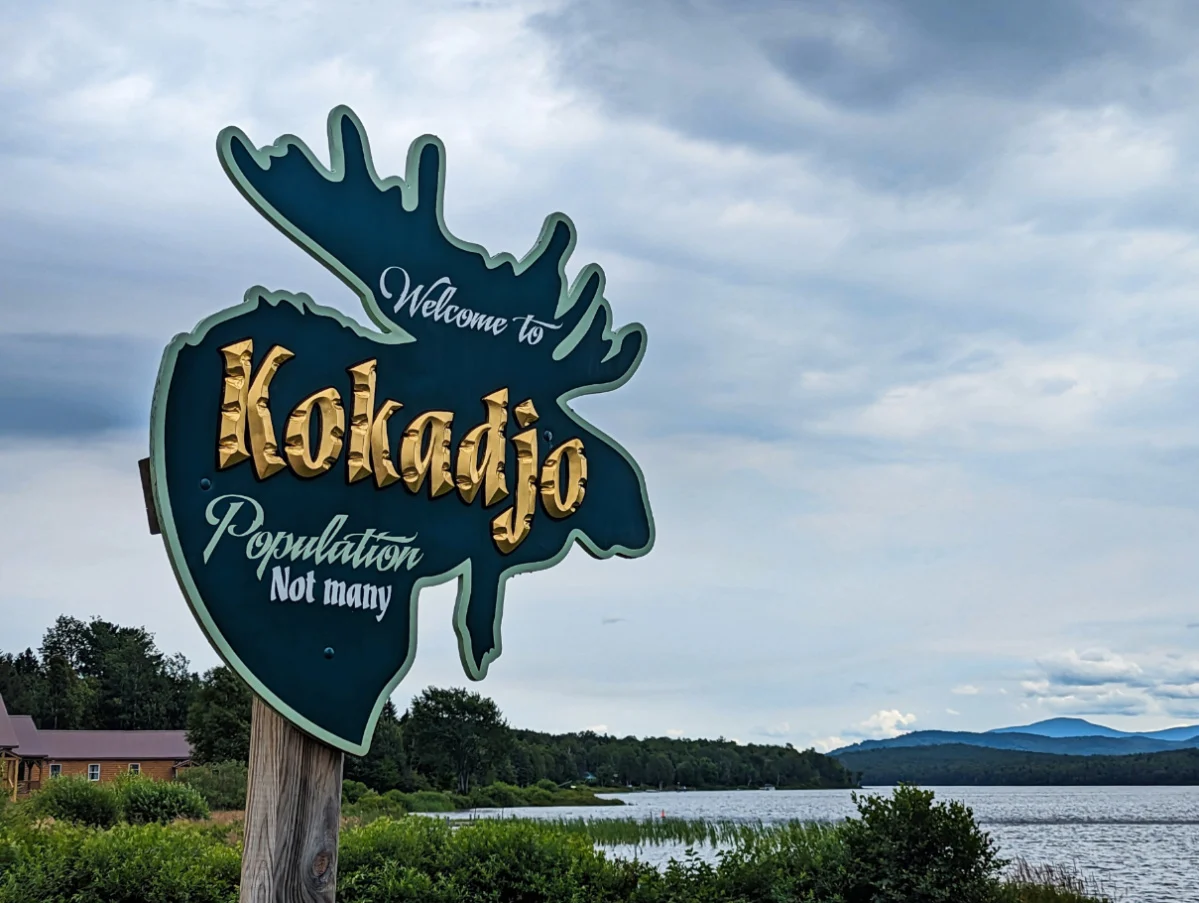 Central Maine Towns to Visit
On your Maine summer road trip from the Highlands to the coast, you'll have plenty of options for where to stop or stay overnight. I personally really like Waterville, which has a good sized downtown and is nicely set on the Kennebec River. From the Bixby Chocolate Café and Colby College Museum of Art to old Fort Halifax State Historic Site on the Kennebec and Sebasticook Rivers, there's plenty to do in a day and then you can wake up in this cute town, go for a walk and head onto your next stop.
Augusta is another city to visit in central Maine. This is the state capital and there's plenty to do here too. You've got the arboretum, Old Fort Western, touring the State Building and more. The Colburn House State Historic Site is cool if you're into Revolutionary War history, as both Aaron Burr and Benedict Arnold stayed here on their travels through Maine (the Massachusetts colony at the time).
Bangor is the last of the bigger towns to plan time in. Don't get me wrong, there are lots and lots of beautiful small towns and villages to visit, but they are very much mostly TINY and stops are typically less than an hour. But Bangor is a good one for a full day or a few hours. The town itself has a lot of structure to it, old storefronts, the Maine Discovery Museum and Zillman Art Museum, and it's set on the Penobscot River, which gives the area just off downtown a fun vibe and cool sights.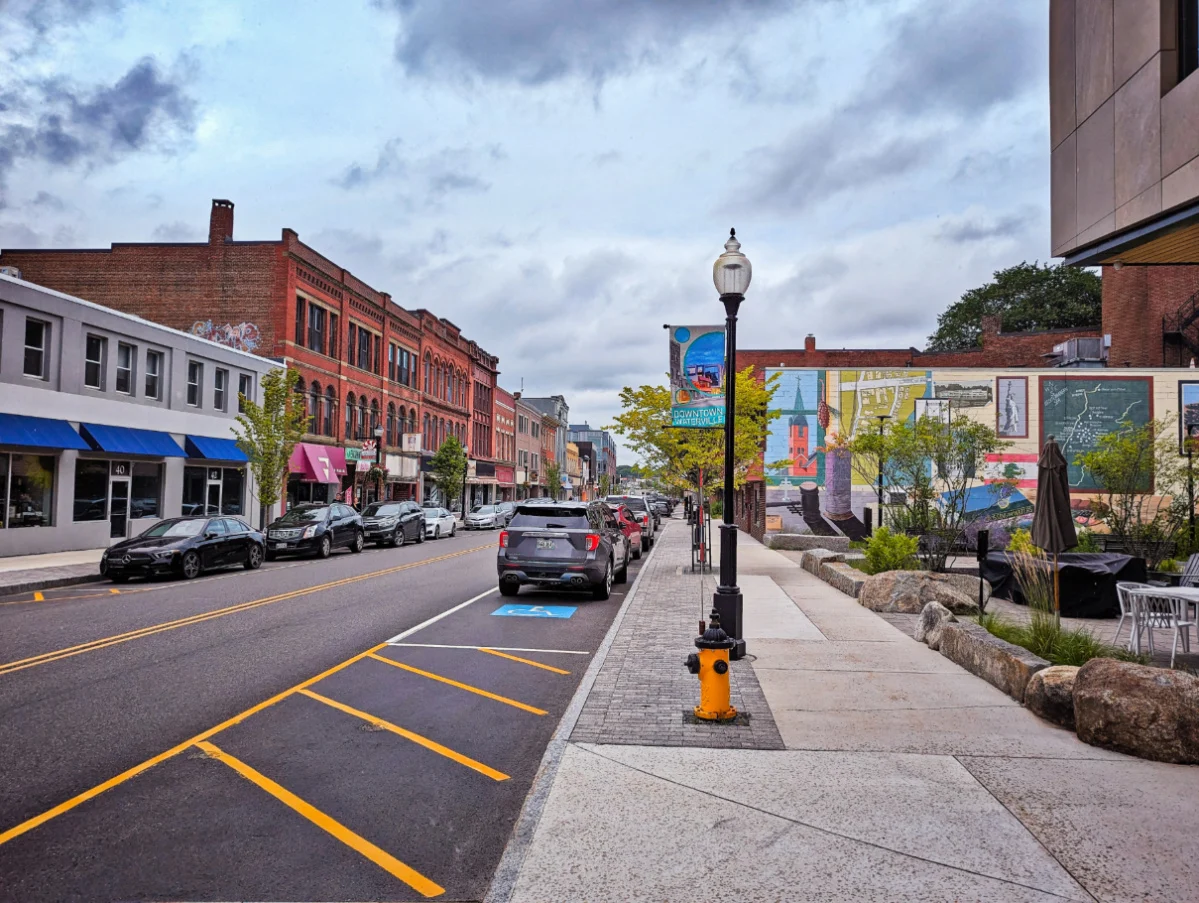 Acadia National Park
I think Acadia National Park is absolutely beautiful, but it's not at the level of epic you get from Olympic National Park or Yellowstone. It is totally worth a visit though, and if you happen to be doing you Maine summer road trip with bikes, then you'll really enjoy visiting Acadia National Park in summer! A lot of people come to Maine just to cross Acadia NP off their bucket list, so expect a lot of delays and lots of people in Bar Harbor. Check out these great tips for visiting Acadia National Park with ease!
At Acadia NP, the Loop Scenic Drive is a must. There are lots of coves and lookout points to stop at. This is also where the bulk of traffic is, so get there early in the day to see the sights and then plan for hiking and driving up Cadillac Mountain in the afternoon.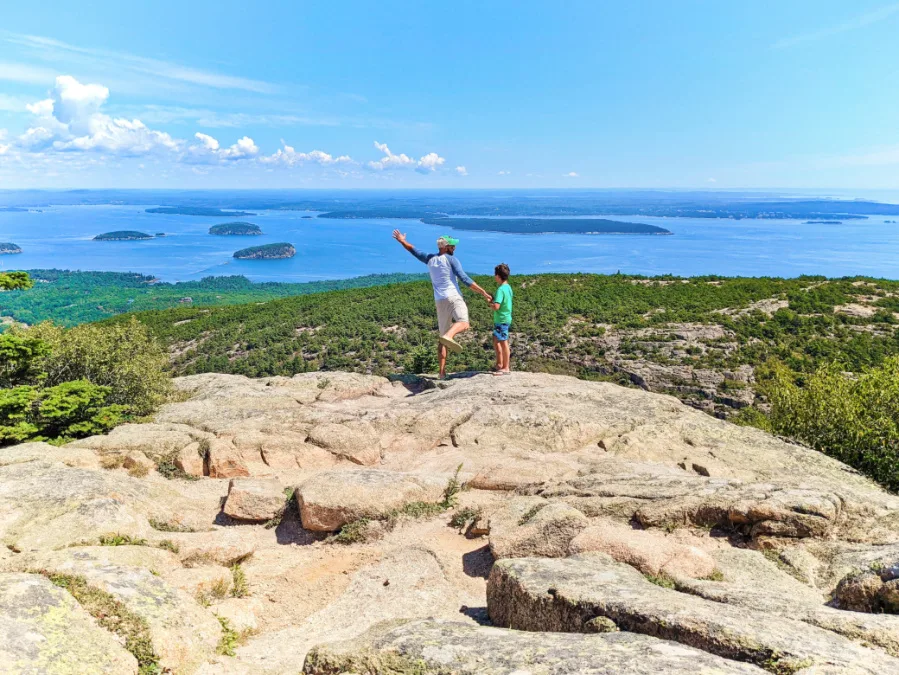 One of the best parts of visiting Acadia is spending time in Southwest Harbor and the more quiet parts of Mount Desert Island. This includes visiting the Bass Harbor Lighthouse, which I think is one of the most iconic of all Maine sights, and not just of all the lighthouses. This unique lighthouse is set on a cliffside and can be visited/seen from a few different angles. It's a great place to watch tall ships sail by, and then end your day with a nice stay in Bar Harbor.
Note: if you are planning LOTS of time in the Northeast, you can actually take the ferry from Bar Harbor over to Yarmouth, Nova Scotia. We love Nova Scotia and if you've ever considered visiting, you can spend just a day or two doing the Nova Scotia Lighthouse Route… or save that for another trip dedicated to Halifax, the Bay of Fundy and more.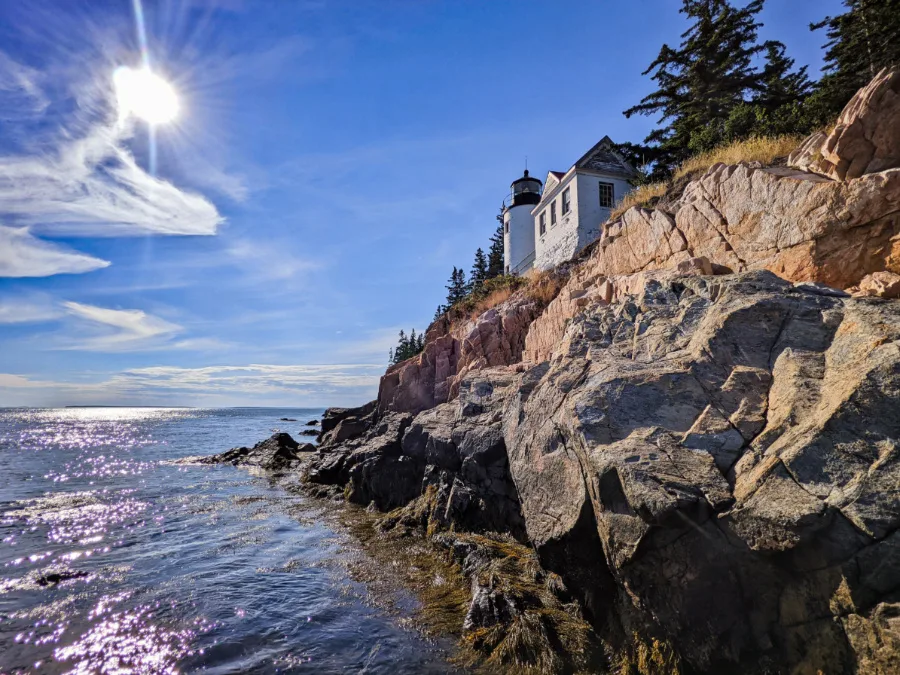 MidCoast Maine Sights to See
Don't worry, we have an article all about MidCoast Maine and all of the cool towns and coves and lighthouses, but if you want to get a simple taste of the MidCoast during your Maine summer road trip, here are our top picks for the best spots to enjoy the lobster and lighthouse culture of the area. Since our road trip plan heads to MidCoast from Acadia, you'll have to drive through Belfast to get to your next destination. Belfast has a great town area to explore (and a fun toy store), and this is actually a good spot to hire a fishing charter if you wanted to do that while you're in Maine.
Camden and Rockland, Maine are both beautiful and really fun towns to stop in or stay in when you're doing a Maine summer road trip. We have done a few different cabins in Camden, stayed at the Samoset Resort and LOVED staying at the 250 Main Hotel in Rockland. This is the hub we usually choose for exploring MidCoast Maine since it's so central and has so many wonderful restaurants and things to do. In Camden, stroll through town, go sailing, go for a hike at Camden Hills State Park or pick blueberries atop Beech Hill Preserve.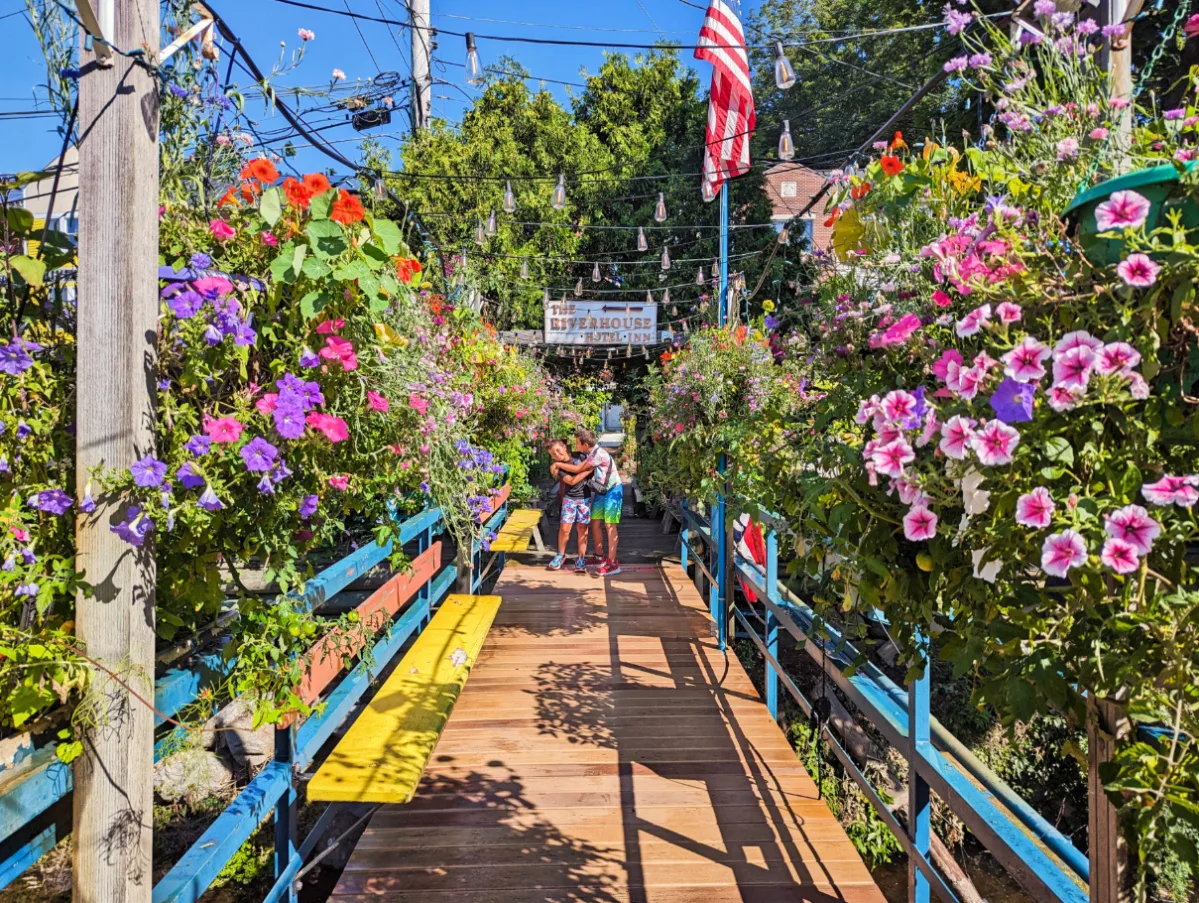 In Rockland, pay a visit to the Farnsworth Art Museum (lots of Wyeth paintings!), do the mile walk out to the Rockland Breakwater Lighthouse (technically Rockport), catch a ferry out to Vinalhaven Island (1.5 hours), do the Maine Lighthouse Museum or visit Owls Head for the lighthouse and transportation museum. There's tons to do in Rockland!
If you haven't been out on the water yet during your trip, drive down to Port Clyde to jump on Monhegan Boat Lines' puffin tour. You'll get to ride on an active lobster boat to check traps and then continue onto Easter Egg Rock to see puffins in the wild! Yes, Maine has puffins and they're adorable!
I could go on and on about all of the fun things to do in MidCoast Maine, specifically around Camden and Rockland, but that's a whole other blog post. You'll love this area and want to spend several days of your Maine summer road trip here.
TIP: If you want to really get into the lobster of it all, Maine Lobsterfest happens in Rockland on the first weekend of August. Yes, it's crazy busy in Camden and Rockland during Lobsterfest, but it's really fun and there's lots of good food and fun events.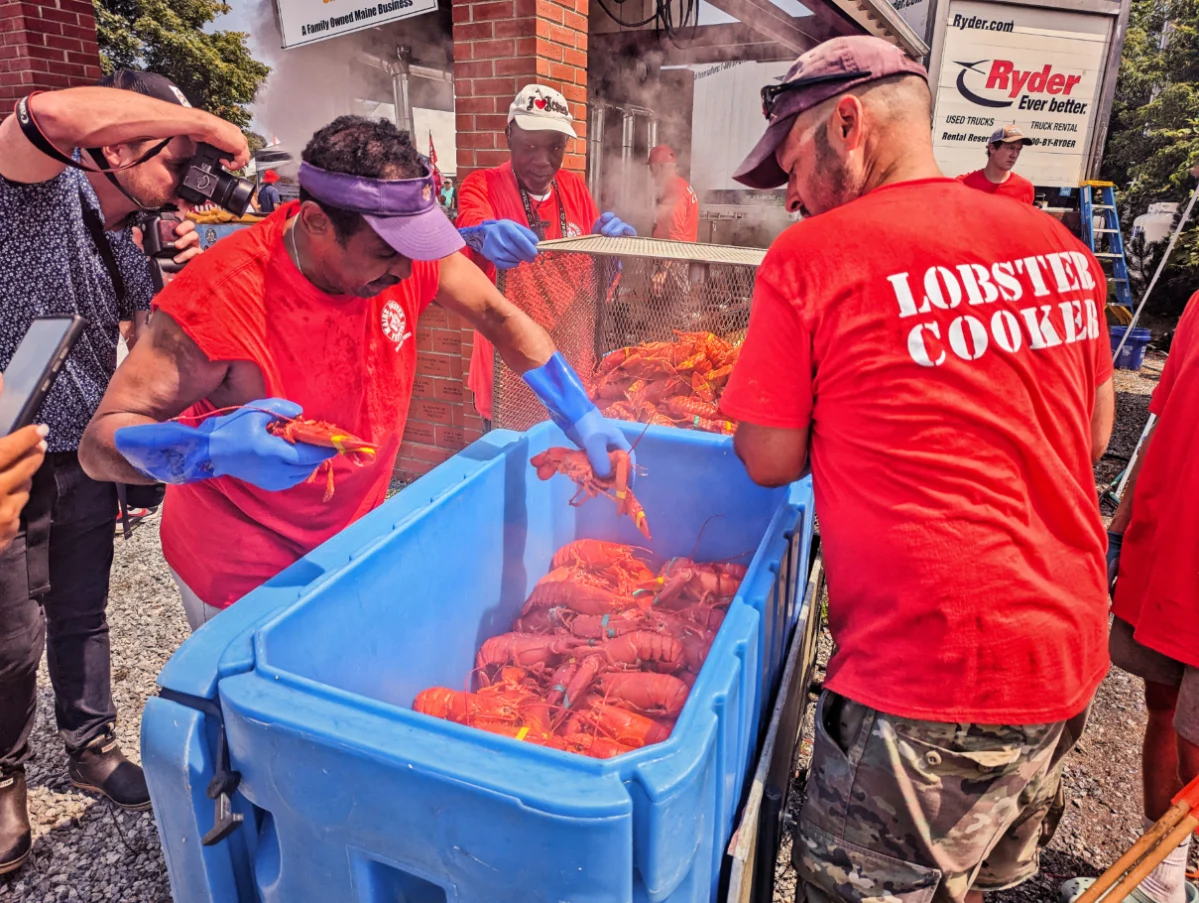 Gardens, Puffins and Whale Watching in Boothbay Harbor
I feel like I'm saving the best for last, and that's okay. For your final day on your Maine summer road trip, head to the Boothbay Peninsula. Here you'll find the Coastal Maine Botanical Gardens and the world famous trolls by artist Thomas Dambo. The gardens themselves are really cool and fun to explore with kids, especially the bee exhibits, but the highlight that really draws people are the enormous trolls. It's a great way to enjoy the outdoors in any weather and the sights along the way are just beautiful.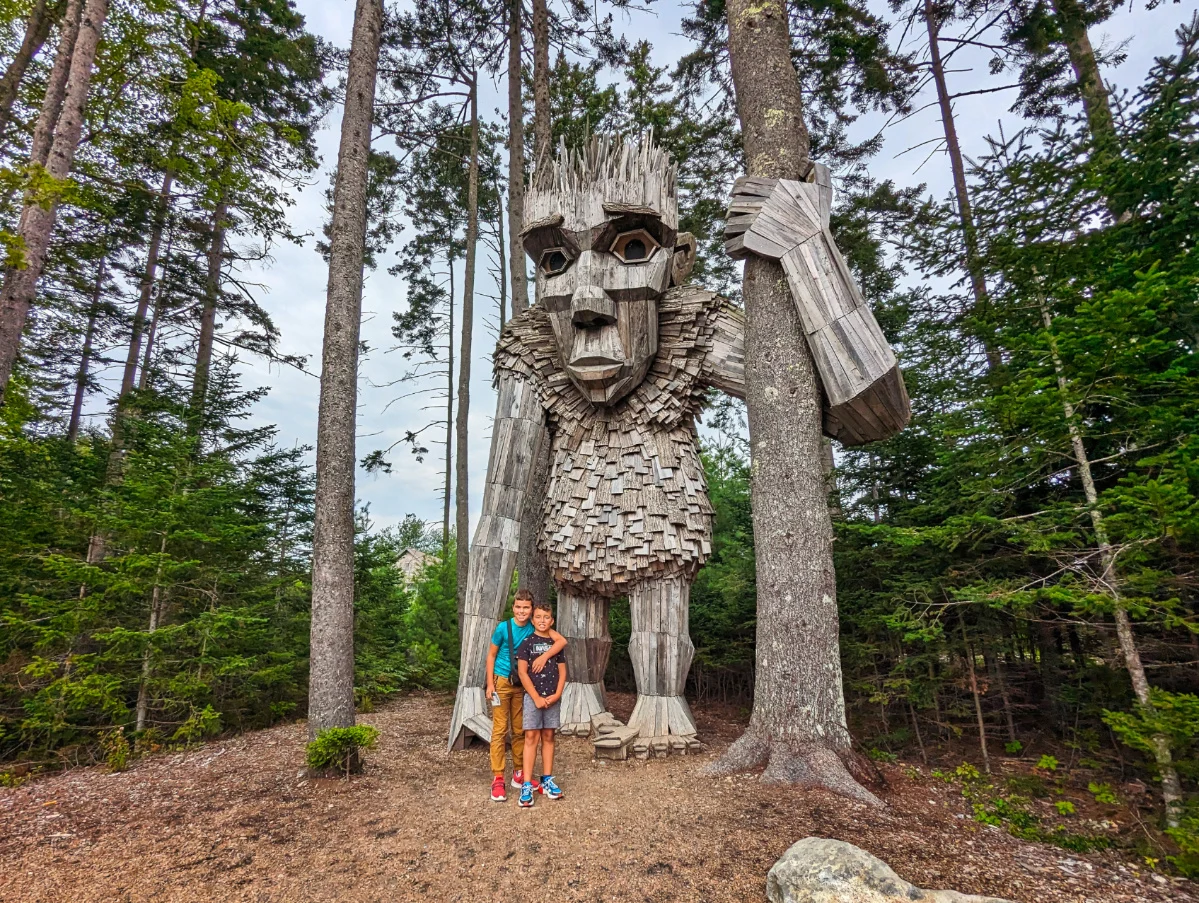 After a morning at the gardens, head into the town of Boothbay Harbor. This is a great end to your Maine road trip, as the town is quaint, full of restaurants and shops, and this is where you get to board a small ship for some of the best whale watching I've experienced. I used to live in Alaska and have done lots of whale watching off Vancouver Island and the Olympic Peninsula, and this experience is at the top of my favorites list. Go out with Cap'n Fish's Cruises to look for whales and puffins (make sure you confirm which tour you're on) and who knows what you'll see. We saw a fin whale, several humpbacks and minke whales. And then we also got to see five lighthouses and a bunch of puffins.
This is such a great Maine day! To end your trip, stay the night here or head back to Portland for your departure. Really, this summer road trip around Maine includes so many different experiences, it's simply unforgettable.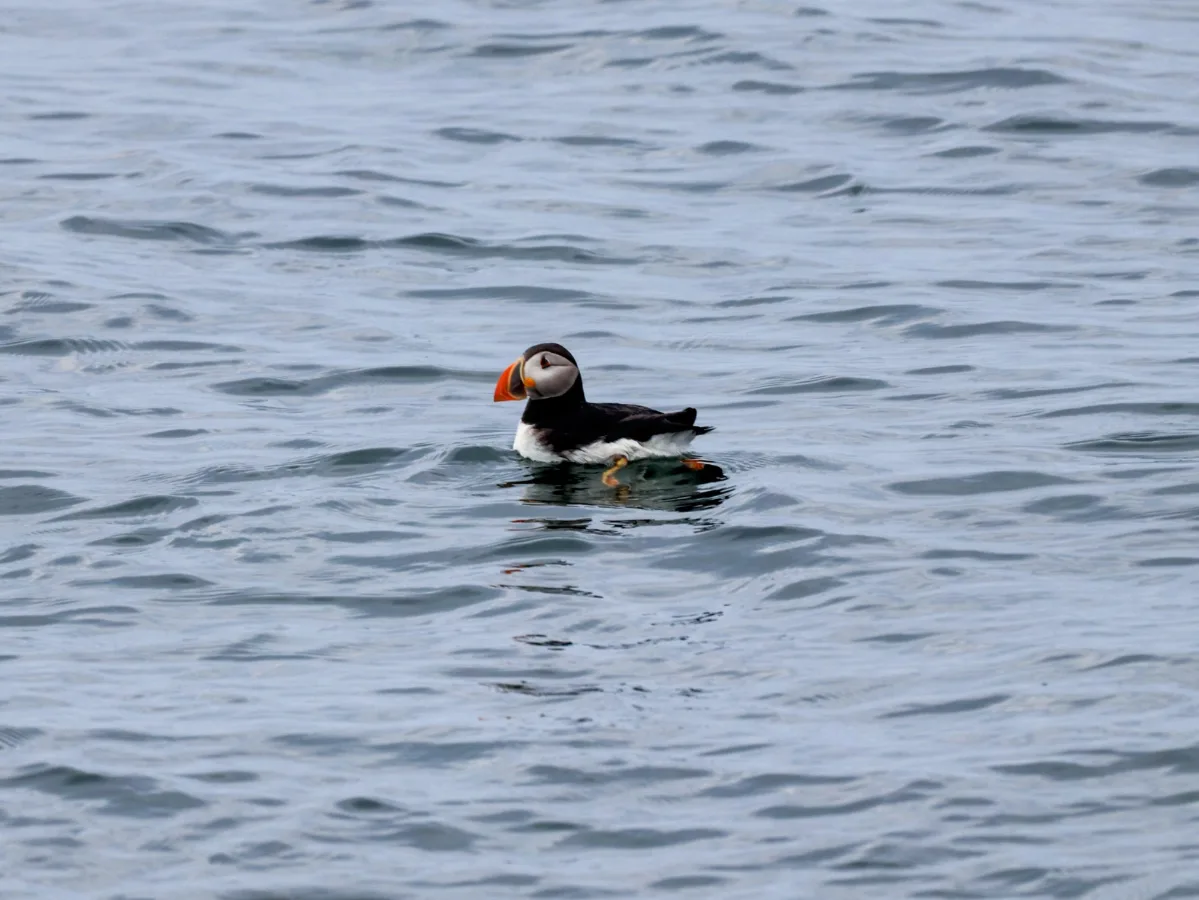 Summer in Maine Favorites
There is so much to do in Maine in summer, but thinking about our top favorite things to do, we were able to narrow it down to these activities. Don't let our list limit you though, as Maine is a treasure trove of fun, both on the water and on the land.
do a sailing experience on a tall ship – Portland, Camden, Waldoboro, Bar Harbor…
visit the Maine Botanical Gardens – Boothbay
go out on a Lobster boat tour – limited availability but you can find them in Port Clyde, Bar Harbor and Belfast
pick blueberries – this requires a little hiking usually, but they're all around the state, with Camden Hills SP, Beech Hill Preserve and the Rangely Lake Region parks all having lots
waterfall hiking – the Maine Highlands have more than 20 waterfall trails for all skill levels
do college campus visits – this is a great way to plan a Maine summer road trip with older kids; give them a look into the smaller schools of the Northeast
visit lobster pounds and lobster shacks – you'll find these from Ogunquit to Lubec, Maine and this is where you'll have the freshest lobster in the state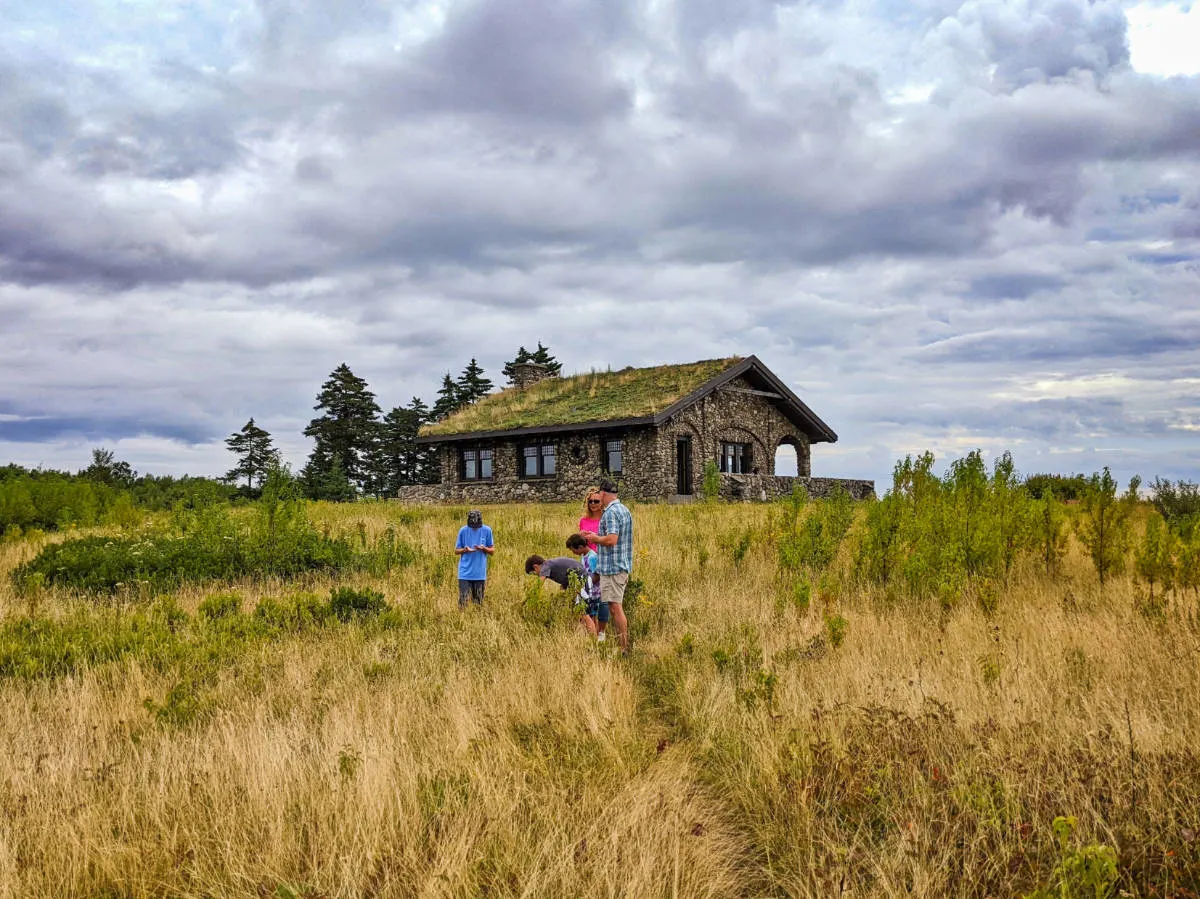 Doing a Maine road trip in summer is such a unique, fun sort of vacation to plan. Yes, you'll face busy areas, but if you mix it up with not just visiting the quaint towns of coastal Maine, you'll have an awesome, relaxing trip. Please be sure to check out our sister site, MaineExplored.com, which we run in conjunction with our friends from around Maine.
If you have any questions or want to make some suggestions for more stops or tips for doing a Maine summer road trip, please feel free to leave a comment or send us a note. We're always happy to share more!