Olympic National Park has world class hiking all year long so don't let the rain and darker, shorter days stop you from exploring this magical place. Fewer crowds and moodier weather bring gorgeous photography opportunities and solitude, so pack that rain gear and those rubber boots and enjoy the best hikes in Olympic National Park any time of year!  
Understanding how the park is setup is important as you're planning your hikes, so take a minute to review our Guide to Olympic National Park so you can pick some good trails. Visiting the Olympic Peninsula is one of the best choices for planning a trip to Washington, so if you have any questions that our guide or this article don't answer, leave a comment or send us a note!
Check out more kid-friendly hikes in Western Washington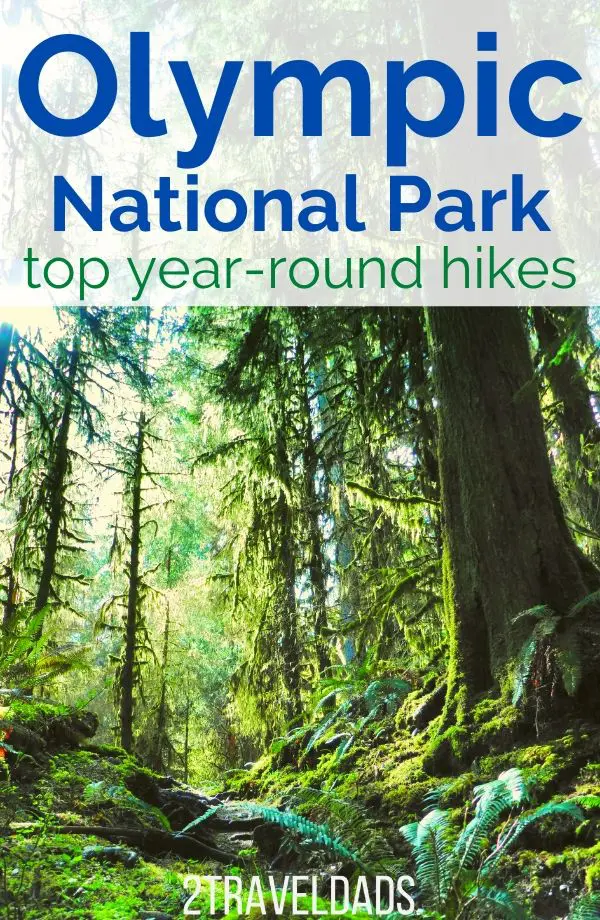 Thanks to Jennie of Ordinary Adventures for sharing her top picks for the best year-round hikes in Olympic National Park!
Year Round Olympic National Park Beach Hiking
When you're in Washington State, a beach day is more often an active walking adventure than a relaxing sunbathing experience. The beaches of Olympic National Park are awesome for beach hiking, both because of the unique landscapes and for the wildlife you'll encounter.
Kalaloch Beach Hiking
Kalaloch is one of the very few dog friendly areas in Olympic National Park, and a beautiful sandy beach to walk for humans too. Park at the Kalaloch Campground day use area and walk down to the beach. Once there, you can wander north for a couple of miles before the rocky headlands block your way.
You can also explore the tree root cave, also known as the Tree of Life, a tree whose roots are barely holding on to the hillside as erosion slowly does its work, located on the beach near the campground.  Check out our Olympic Peninsula Bucket List for more information on the hanging tree at Kalaloch.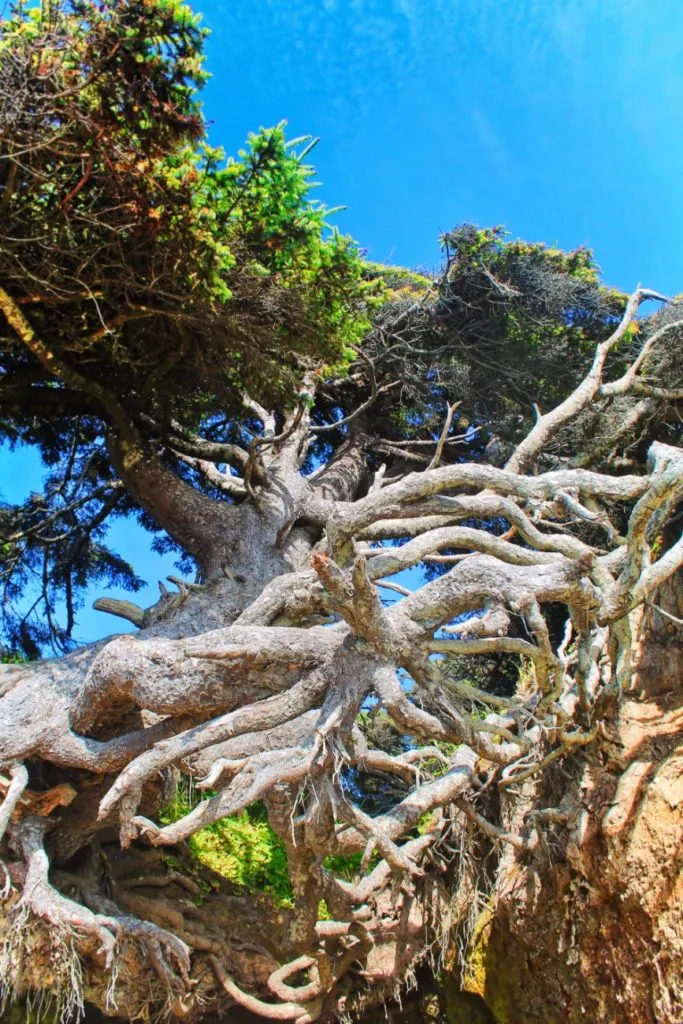 Wander the other direction towards the Kalaloch Lodge, you can go until you reach the creek. If you want to explore even further, check out the Kalaloch creek nature trail, a one mile loop through the old growth forest on the other side of the highway from the campground.
After your hike, warm up at the lodge grabbing a drink or a meal with an impressive view of the Pacific Ocean. Book the the Kalaloch lodge here!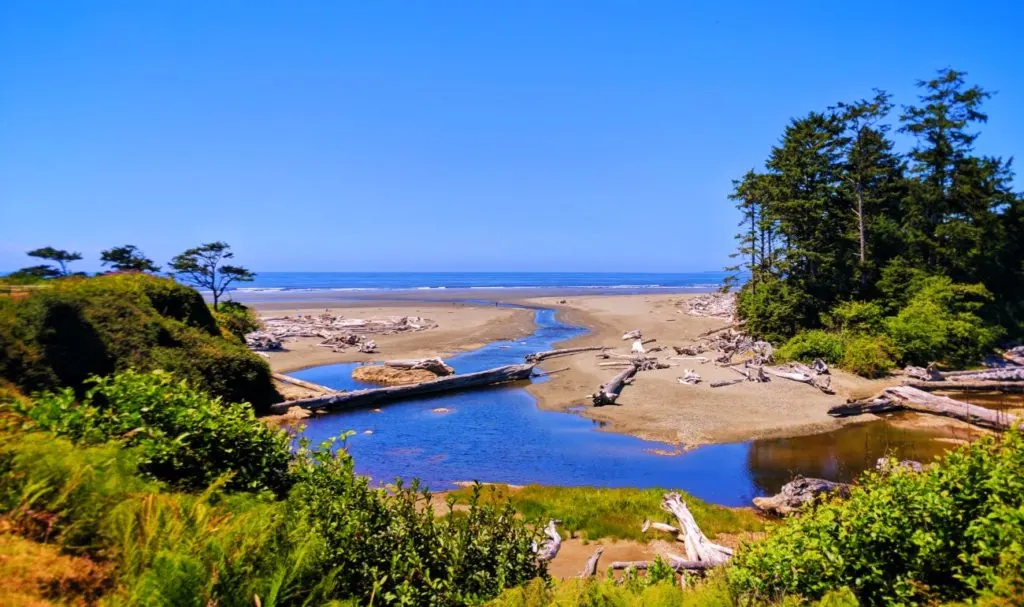 Second Beach Hike: Epics Rocks and Sunsets
Another of the Olympic National Park beaches, Second Beach features a walk through the old growth forest while the sound of the ocean grows ever closer. In just under a mile you'll arrive at the beach which features rocky headlands, sea stacks, incredible tidepools and spectacular sunsets.
You can go up to a mile further to the south from the trail along the beach before a headland stops you. Here you can camp after securing a permit from the Wilderness Information Center in Port Angeles. Second beach is also one of our favorite springtime destinations in Olympic National Park.
After your hike, warm up at the River's Edge Restaurant in La Push, enjoy tasty seafood while you take in the view which is likely to include eagles as well as various shorebirds. Google map link to River's Edge here.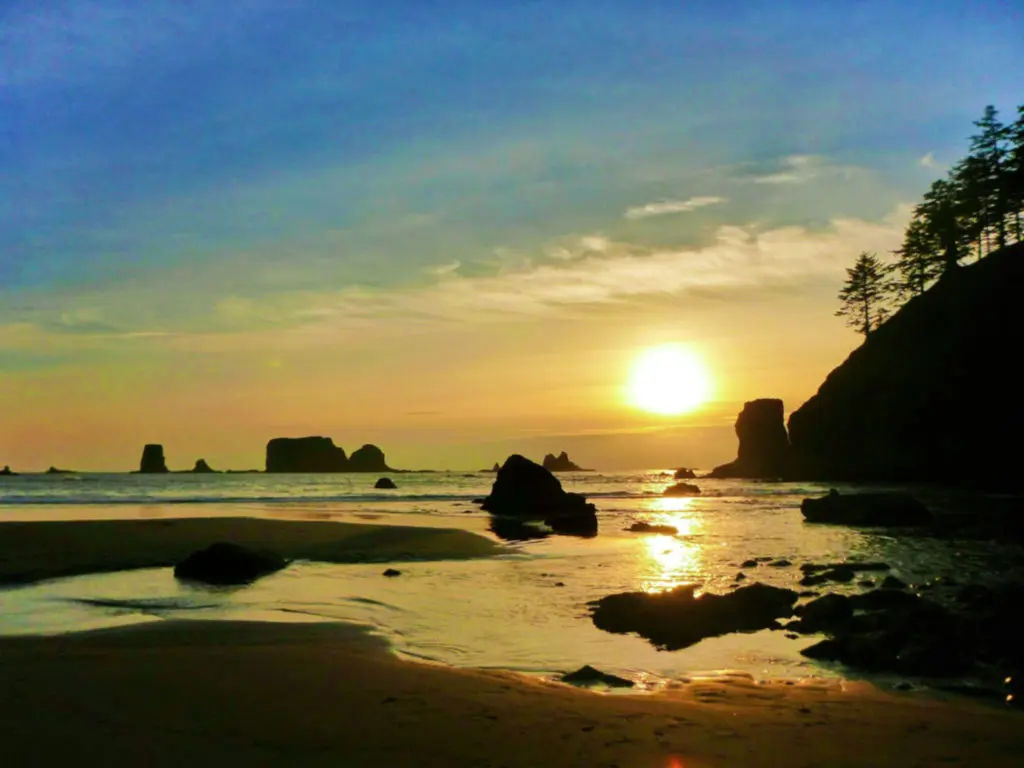 Waterfall Hikes in Olympic National Park
Besides the epic views across the Olympic Mountains up at Hurricane Ridge, the waterfalls of Olympic National Park are some of the most iconic views you'll find. Located in dense forests, these aren't the waterfalls like you'll find in Yosemite or on Georgia's waterfall trail. These falls are lush and fairy-like, almost like what you find in the jungles of Oahu, Hawaii.
Hiking at Sol Duc Falls for raging waters
Sol Duc Falls is considered one of the best fall hikes in Olympic National Park for both its colors and its calm. There are a few different ways to do this hike, one is to hike the Lover's Lane trail from Sol Duc Hot springs up to Sol Duc Falls for a 6 mile round trip loop with 500 feet of elevation gain. It's a beautiful forest hike ending at one of Olympic National Park's best waterfalls! Crossing the bridge, you can return on the opposite side of the river for a loop.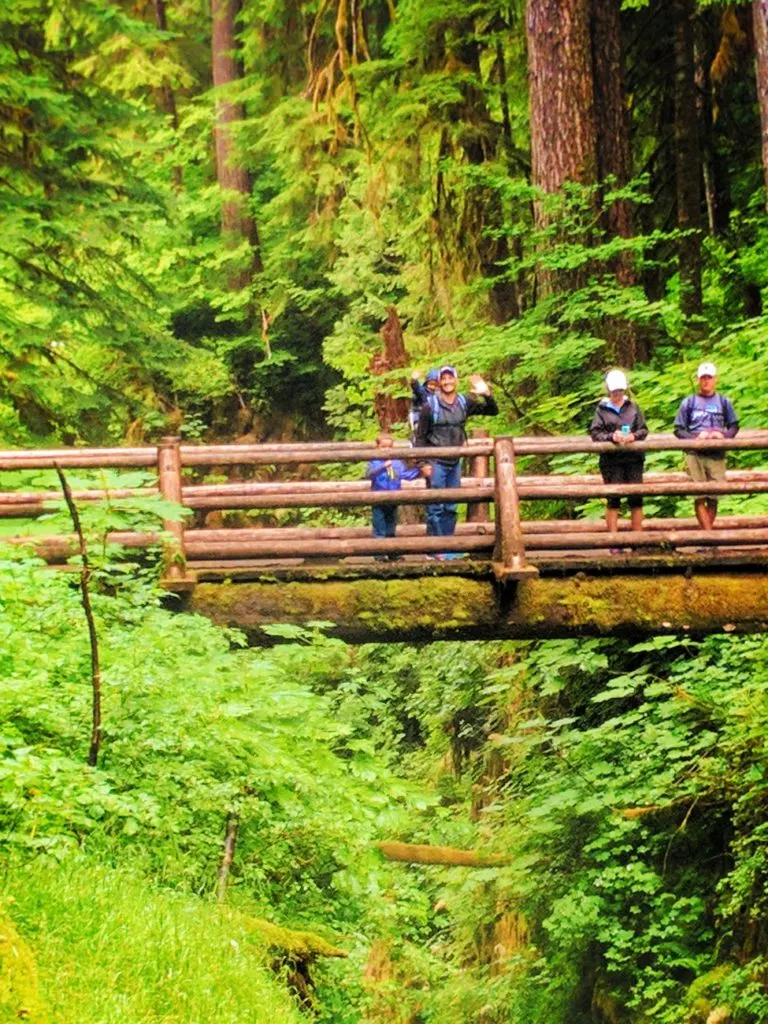 If you'd like a shorter way to get there, continue past the campground to the parking lot at the end of the road. From here, you'll go a mere 1.5 miles round trip with 200 feet of elevation gain to reach the same waterfall. After your hike, warm up at Sol Duc Hot Springs! What could be better on a crisp or rainy fall day than a forest and waterfall hike followed by a hot springs soak? Another great place to stay near Sol Duc Falls is Domaine Madeleine in Port Angeles. 
Note: Sol Duc Hot Springs and the Sol Duc Road are closed in winter, open from late March to late October. Check the Olympic National Park website before venturing to Sol Duc in fall.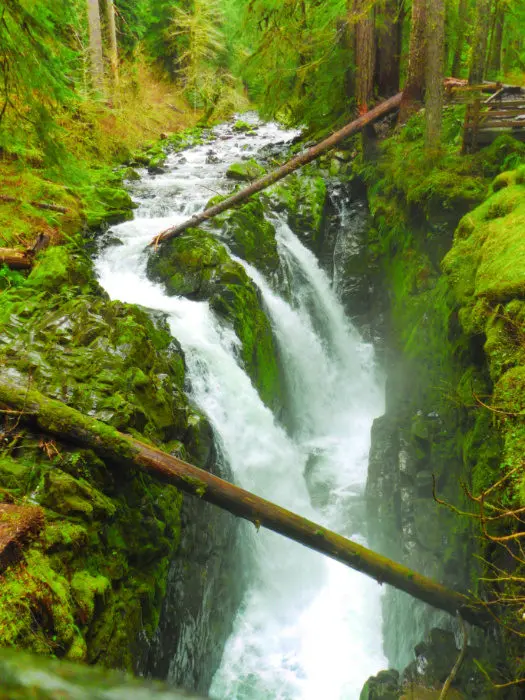 Staircase Rapids in Southeast Olympic NP
Located near Lake Cushman and Hoodsport, Washington, the Staircase area of Olympic National Park is just as beautiful as the further reaches on the western side. Here you'll find some really difficult trails leading you up Mount Rose or Mount Elenore, but then there are also really wonderful hikes that you can enjoy even when the snow starts.
The Staircase Rapids trail is one of the best year-round hikes in Olympic National Park. It's fairly level and goes through densely forested old growth areas, providing views of the river and waterfalls all the way. There's a suspension bridge to cross, which is seasonally open, so plan accordingly and be safe.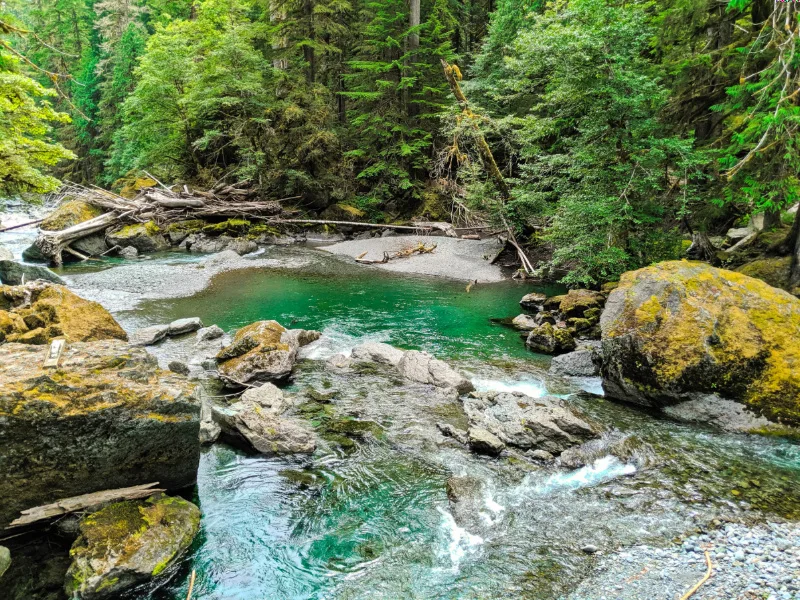 Rainforest Trails in Olympic National Park
Hiking in the temperate rainforests at Olympic National Park is dreamy, even in the fall and winter when the clouds are thick in the forest. There are several places to access the rainforest, and each offers a different hiking adventure.
Hoh River Trail: Rainforest Hiking in Olympic NP
Without question, another of the best hikes year-round in Olympic National Park is the Hoh River Trail through the world famous Hoh Rainforest. Summer crowds are gone, the famous rain returns and ancient trees tower over you while the ferns cover the forest floor. Keep your eyes out for multiple kinds of mushrooms and your ears open for bugling elk (on the OP bucket list)!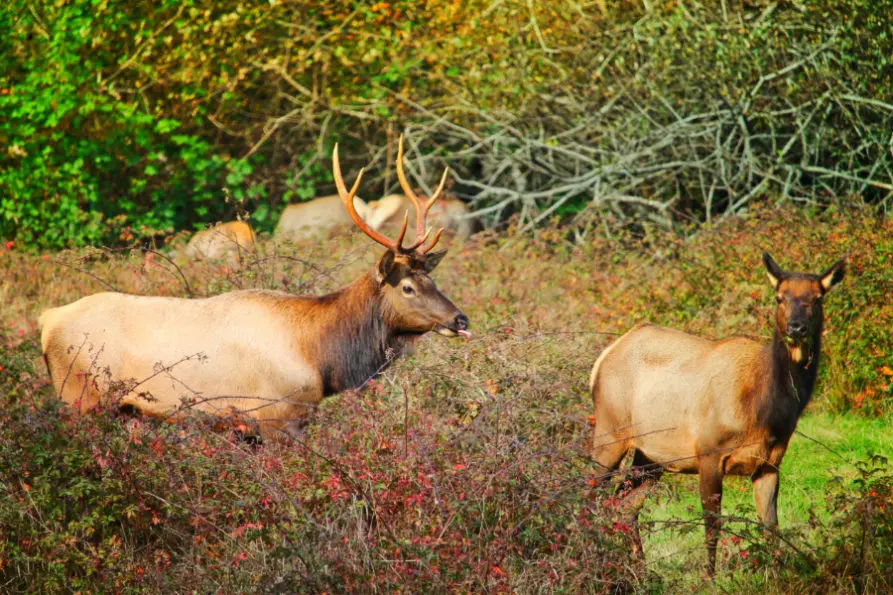 The trail goes for many mostly flat miles, so make sure to set a turnaround time and stick to it so you're not caught in this remote area after dark (unless you're camping! The campground is open year round).
There's not much in the way of services near this trail, so make sure to bring along plenty of food and water. Warm up options after the hike are at least an hour away in Forks, or down at Kalaloch or even Lake Quinault.
Be sure to check out other great hiking options in the Hoh Rainforest here!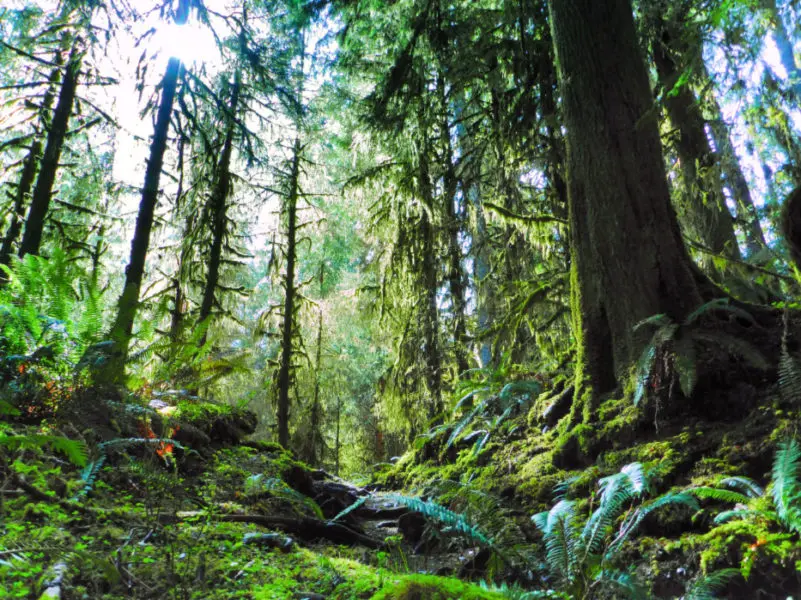 Barnes Creek Trail/Marymere Falls
Rounding out the best year round hikes in Olympic National Park is another gorgeous waterfall / temperate rainforest combination: Marymere Falls. Returning rain brings lots of water to this picturesque waterfall located near Lake Crescent and Port Angeles. In addition to the waterfall, you'll be treated to ancient old growth trees towards the end of the trail.
A two mile mostly flat round trip starts at the Storm King Ranger Station at Lake Crescent, goes through the forest, along Barnes Creek and then there's a short steep climb up to the waterfall. Kids love this hike for both the small challenge AND the interesting sights along the way. It's gorgeous. We have this listed as one of the best kid-friendly hikes in Washington State!
After your hike, warm up at the Lake Crescent Lodge (late April through November) or in Port Angeles. Book the Lake Crescent Lodge here!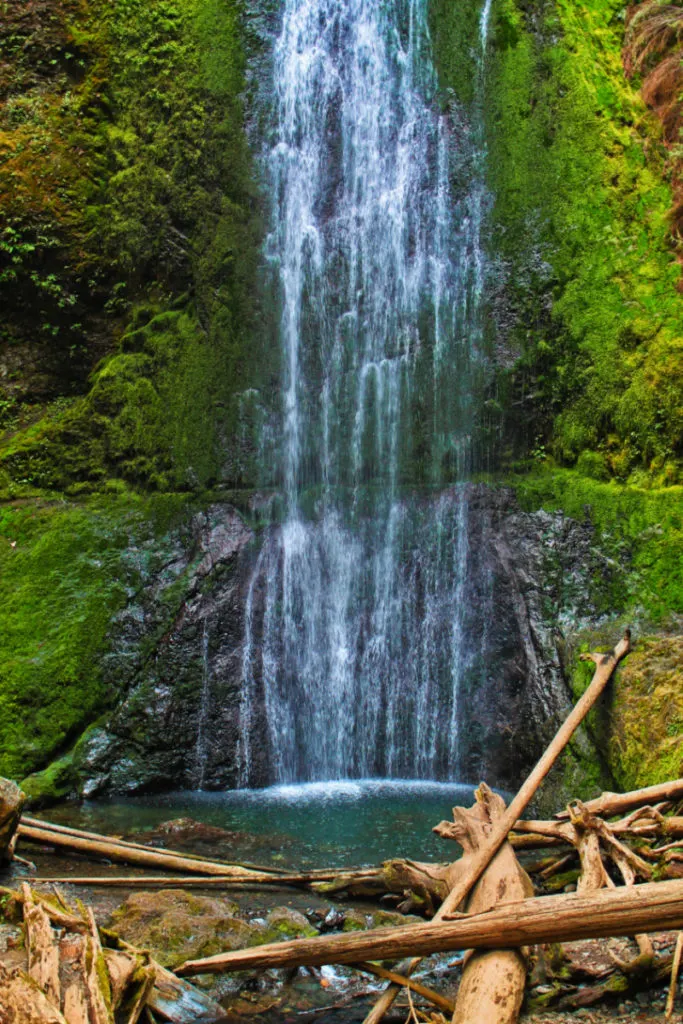 Winter Hiking in Olympic National Park
In the lowlands of the Olympic Mountains, there are lots of great hikes and trails to enjoy, even in the winter. Did you know though, that you can also hit Hurricane Ridge in the winter? It's true! Whether you want to just see the epicness of the snow storms or if you want to go snowshoeing on a sunny winter day, there are options.
If you are planning some winter hiking, here's what to do before visiting Olympic National Park:
Pack for the coldest, wettest weather you can imagine
Bring FOOD and WATER – services are very limited in the park year round, especially in winter though
Have appropriate gear in your car (chains, emergency kit…)
Create a backup plan in the event roads close or the weather is too severe.
You'll have an awesome time, no doubt. And if things just don't pan out, there are plenty of options for wine tasting and breweries around the Olympic Peninsula that you can enjoy. Or head into Port Townsend to enjoy the historic seaport instead of a blizzard on the mountain. Lot's of options!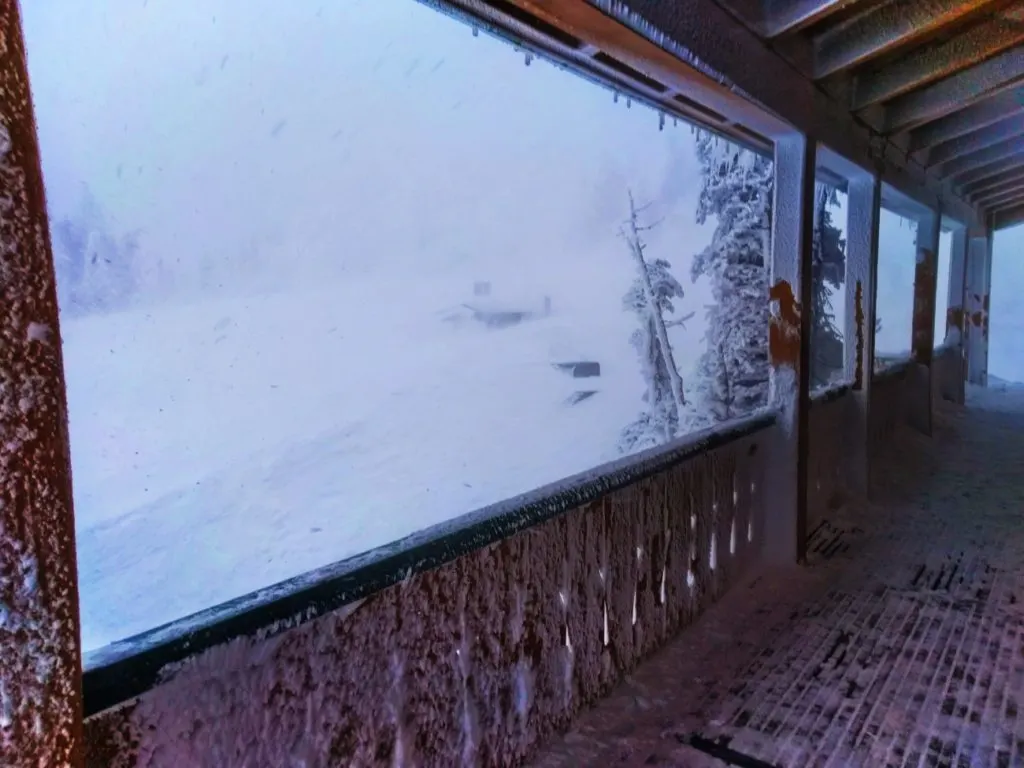 Such beautiful sights to hike to and enjoy! Fall hiking is one of the best activities on the Olympic Peninsula, and particularly in Olympic National Park. Remember, fall and winter storms can be unpredictable and even bring in unplanned snow. Always exercise caution around wildlife and be sure to stay on the trail.
If you have any questions about these trails or other year round hiking in Olympic National Park, please send us a note or leave a comment!