Before we started our North Georgia road trip this last time, we were picturing a lot of farm country and Civil War sites, as that's what we'd experienced around Atlanta and to the south. Sure, there are farms, but the natural wonders of northern Georgia are its true draw. So many waterfalls in North Georgia! We plotted them out and had an incredible time on the Georgia Waterfall Trail.
Even if it's not official we're going to call this route the Georgia Waterfall Trail. Part of our Georgia waterfall trail is the Georgia Mountain Parkway and another is the Appalachian Parkway and yet another is the Georgia Wine Trail, but we like Waterfall Trail as an all-encompassing term. Actually, leading up to the area we're going to cover is an incredible wine country, full of wineries, vineyards and other farms that are open to the public, including honey farms.
Tip: you can add this road trip plan to a Georgia Coast road trip to see a whole other side of the state.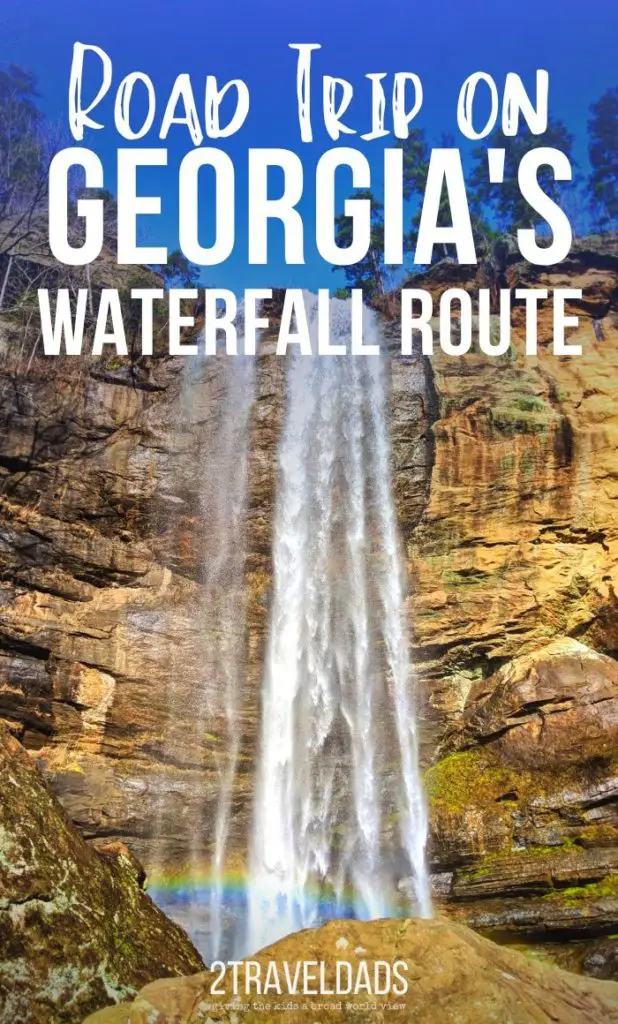 Georgia Waterfalls Road trip (or day trips)
Okay, we made this name up, but it's a thing now. There are so many breathtaking waterfalls in North Georgia, we need to share how you can easily visit as many waterfalls as fit into your travel schedule. We'll start in the east and head west as we go, but you can plan your adventure however you like.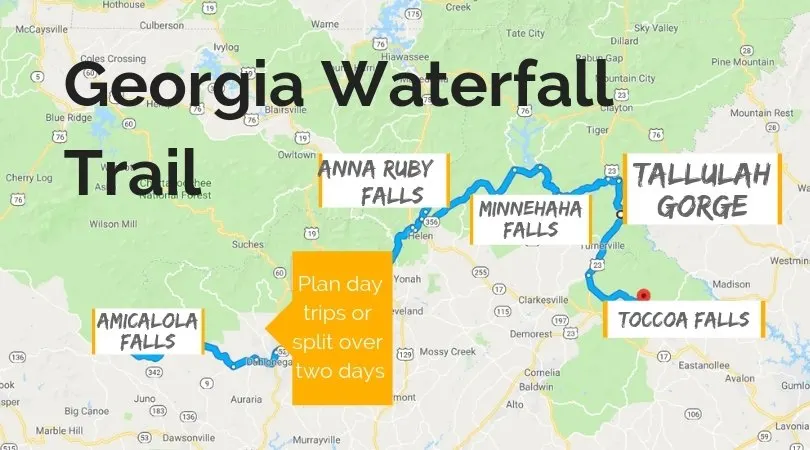 How to visit Toccoa Falls
We stayed in Clarksville, Georgia for our most recent trip around North Georgia. It's a cute town right at the edge of the Appalachians and is perfect for a home base for a North Georgia outdoors adventure.
The first of the Georgia waterfall trail that we're directing you to is Toccoa Falls. About twenty minutes from Clarksville, the town is small, but cute. Toccoa Falls itself is actually located on the campus of an evangelical Christian college, but all are welcome to visit the falls. There is an entry fee for non-students and non-alumni, but it's only a few dollars and to get to do a nice, short hike and enjoy the falls, it's worth it.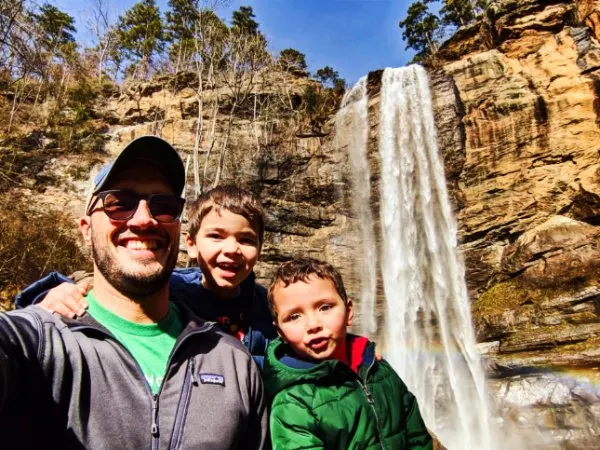 Where to access Toccoa Falls
The map below shows exactly where the falls is. The reason we're explaining this so much is because when you just put "Toccoa Falls" into your Google Maps it doesn't take you to the falls, but to a parking lot far from the falls. To actually get there, you need to input "Gate Cottage Toccoa Falls." Google Maps link here. This brings you to the actual waterfall parking lot and access point to the trail.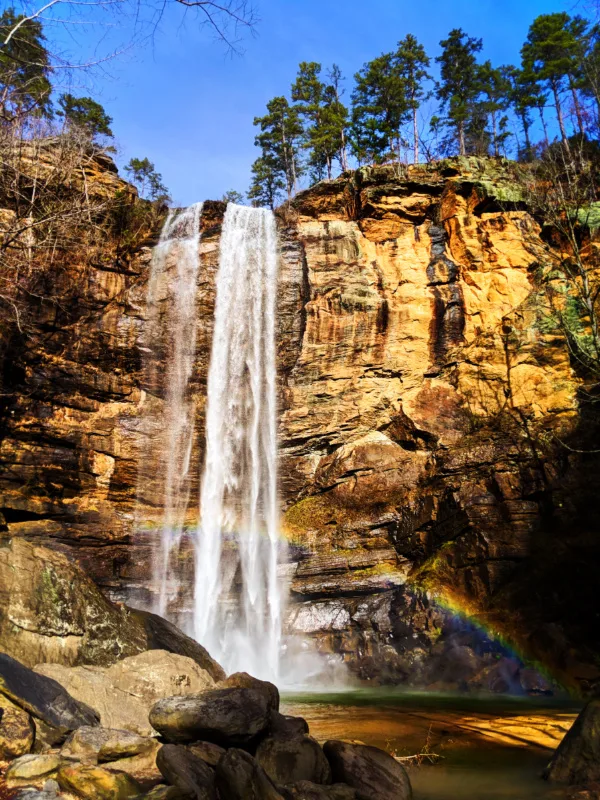 Other points of interest near Toccoa Falls
It's a very quiet town in a beautiful part of the mountains. There are lots of hiking trails all around, including the Dead Man Branch trail (includes a waterfall too!). Also, Lake Toccoa is really beautiful and perfect for a nice lunch. It's set at the edge of a golf course, so it's well manicured and peaceful.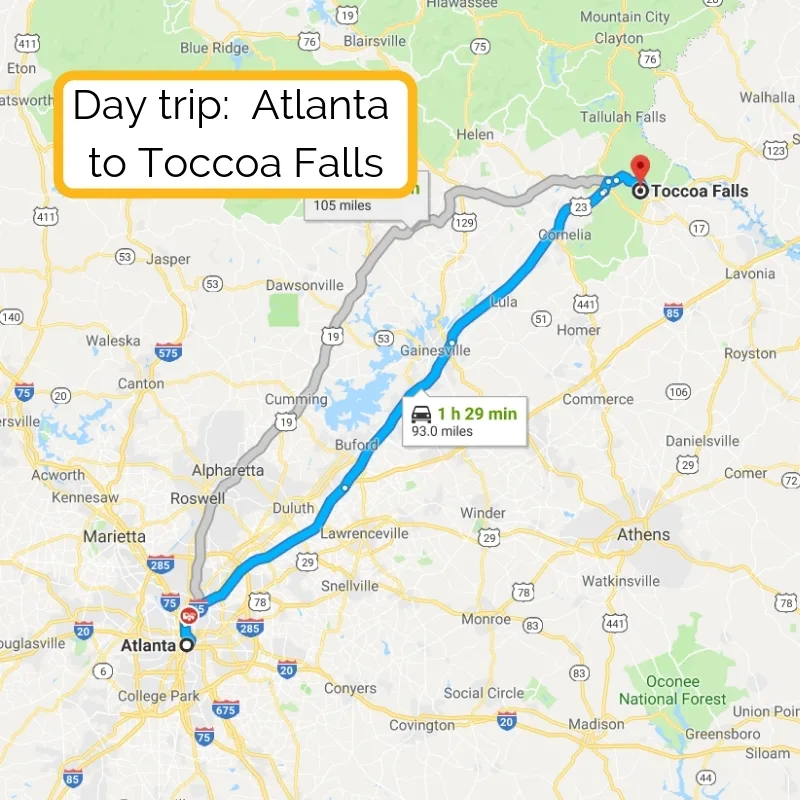 Exploring Tallulah Gorge State Park
When we first told a local that we were heading to Tallulah Gorge for hiking, she looked at us with a crazy face. You know, hiking with two small kids often makes people think we're bonkers, but in reality, hiking with kids is usually pretty easy. Yeah, I understood as we arrived at Tallulah Gorge State Park.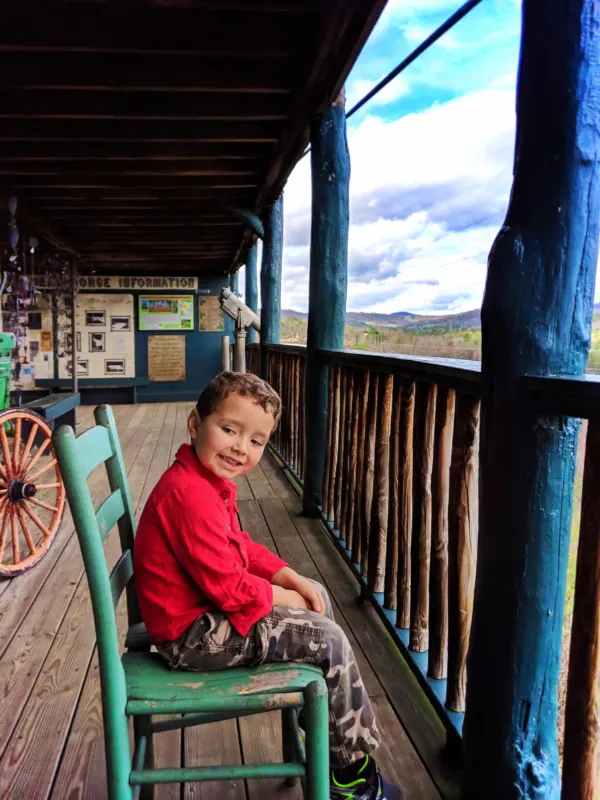 Located just northeast of the town of Tallulah Falls, the state park is set all along Tallulah Creek which has spent thousands of years cutting deep into the rock. When you're hiking at Tallulah Gorge State Park, you're actually climbing the most epic set of stairs ever. The only time I can recall doing this many stairs was when I climbed Huashan (the Death Planks) in Shaanxi, China. Wow.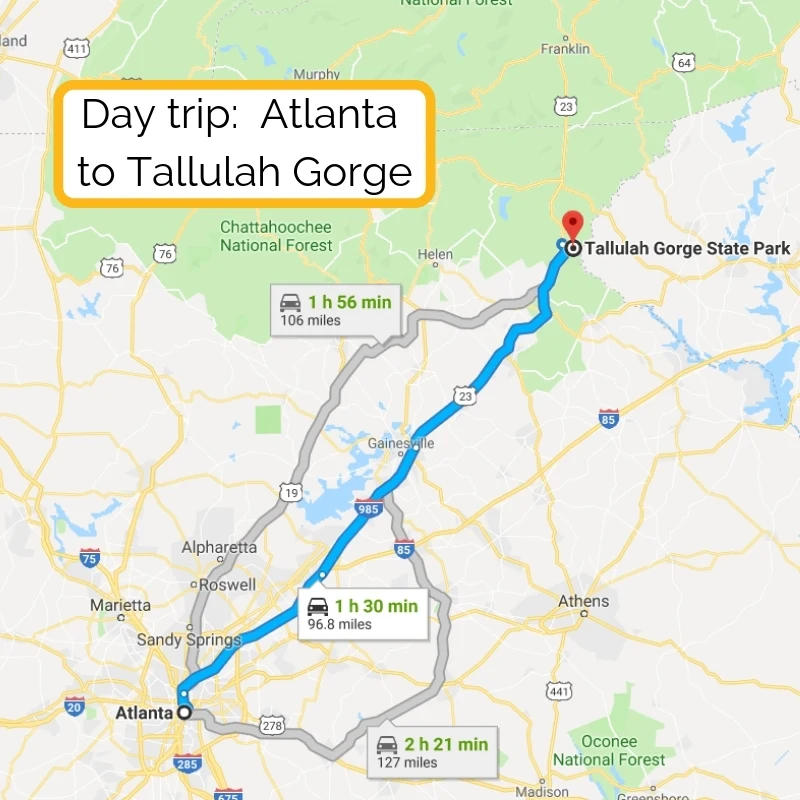 Tips for climbing 1000+ stairs
The hiking trails begin at the visitors center. You'll have to pay the Georgia State Parks Fee to access the parking lot, which is only $5 or so for a standard vehicle. Be sure to check out the visitors center and its many exhibits before heading into the gorge, and also fill your water bottles.
First thing to know is that when you start your hike in Tallulah Gorge, you're starting from the top. The hike immediately starts downward to the first overlook. It's several hundred feet to the bottom of the canyon, so staying on the trails is extremely important. There are plenty of great photo spots from the trail.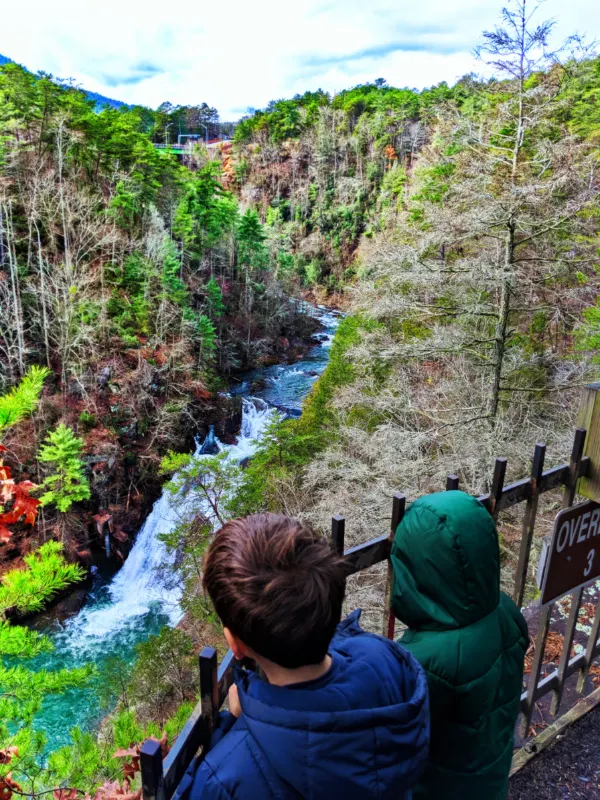 Continuing down, you begin the descent on the stairs. If you're not in good shape or if you have very bad knees, this may be tough. There are benches every 50 to 100 stairs (estimate) so be sure to take advantage of those recovery areas. You'll love the views along the way and the sounds of nature make the work totally worth it.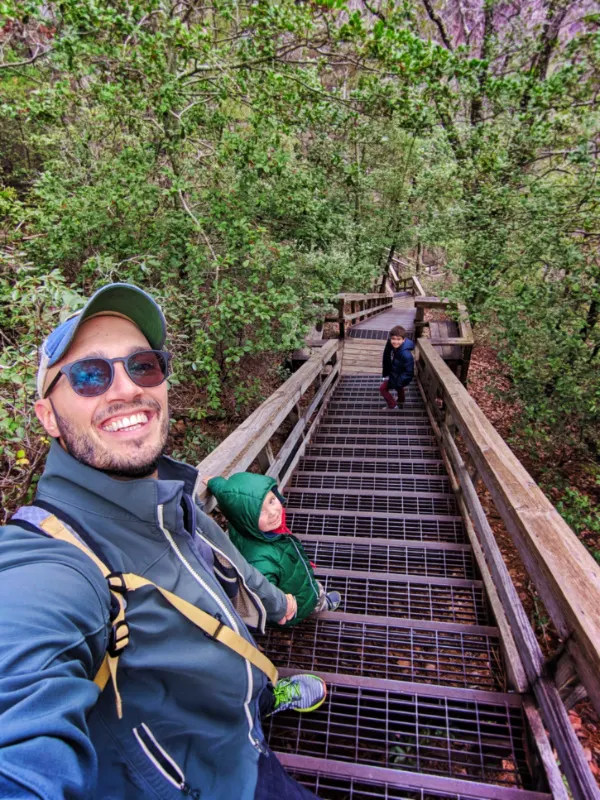 About halfway down into the Tallulah Gorge, you'll come to a suspension bridge. I have to say, it's the most solid suspension bridge I've ever crossed. Sure, you can feel other people walking and there's a very gentle sway to it, but at no point did we every feel unsafe or like we were being super brave by crossing it.
Tip: if you are genuinely afraid of crossing bridges over rushing water, don't do it. It's better to relax and wait for the rest of your party than to force yourself to cross.
Once across, you have another few hundred stairs to descend until you come to the end of the standard trail. At the bottom, there is a large viewing platform for the final waterfall. This is the perfect place to relax, recover and get ready to climb back up.
Note: going down the stairs is tough on the knees, but going up is the big workout. Again, if you need to, take advantage of the many benches on the hike.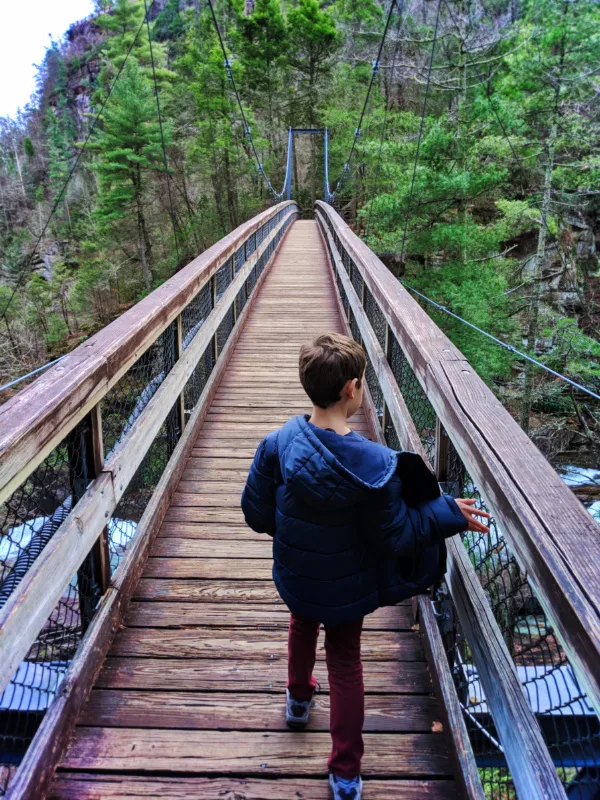 Hiking the Tallulah Gorge Loop and beyond
We did not do the complete Tallulah Gorge Loop, as it is 2.5 miles in addition to all of the stairs. Since we were hiking with small kids, we opted for just the down and back. The benefit of doing the complete loop is getting a different perspective of the whole gorge, seeing everything in a different light, and getting to check out additional waterfalls and bridges. If you want to do the complete trail, plan for about 3+ hours of hiking.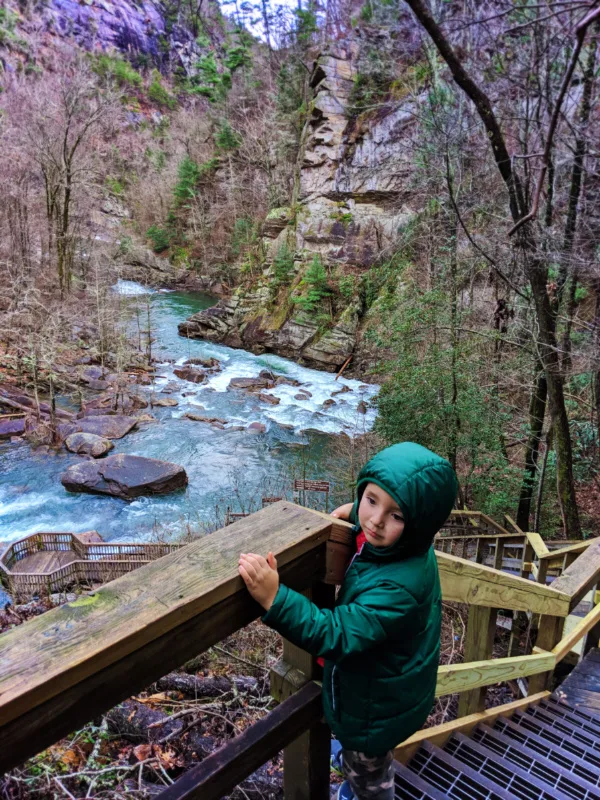 In high season and when the water level is lower, you can get a special permit to continue off the trail and downstream through Tallulah Gorge State Park. There is much more to explore, including climbing routes, so if you have the skills and the time, getting the Tallulah Gorge permit is recommended. When we're there in August we'll be doing it without the kids, most likely.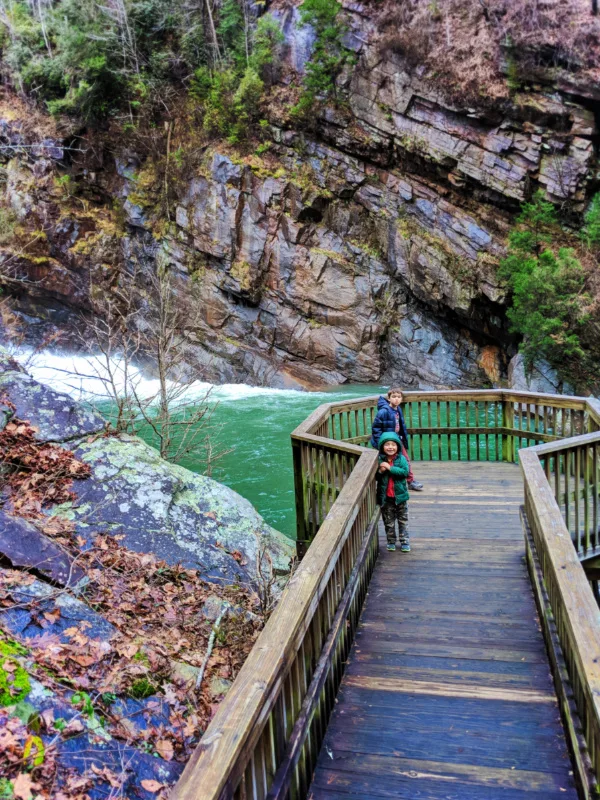 Minnehaha Falls: a Hawaiian waterfall in Georgia
I absolutely fell in love with Minnehaha Falls the moment we came around the corner and saw it. Wow! Such a gorgeous sight! The hike to the falls was really easy in terms of elevation gain, but man-oh-man, the trail was rough. Between the roots and puddles, it was quite the feat to conquer.
What makes Minnehaha Falls so awesome? Have you been to Hawaii? There is something about the cascading falls that is wonderfully relaxing and beautiful. Sure, great plunging waterfalls are awesome, but Minnehaha Falls is downright pretty.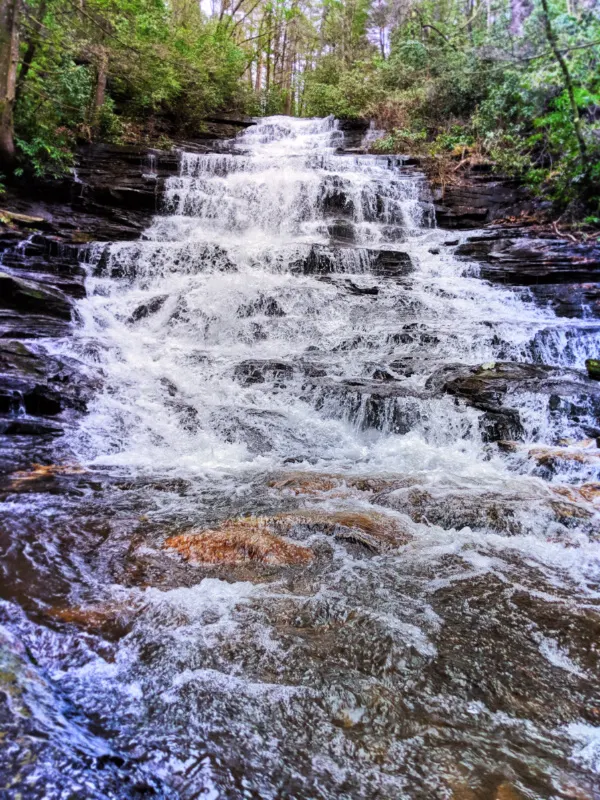 How to get to Minnehaha Falls
Before you start your drive to Minnehaha Falls, be sure that you've downloaded an offline map of the area. As you get into the hills and start around Lake Rabun you'll lose all trace of cell reception. Download the map, start your directions, go have fun!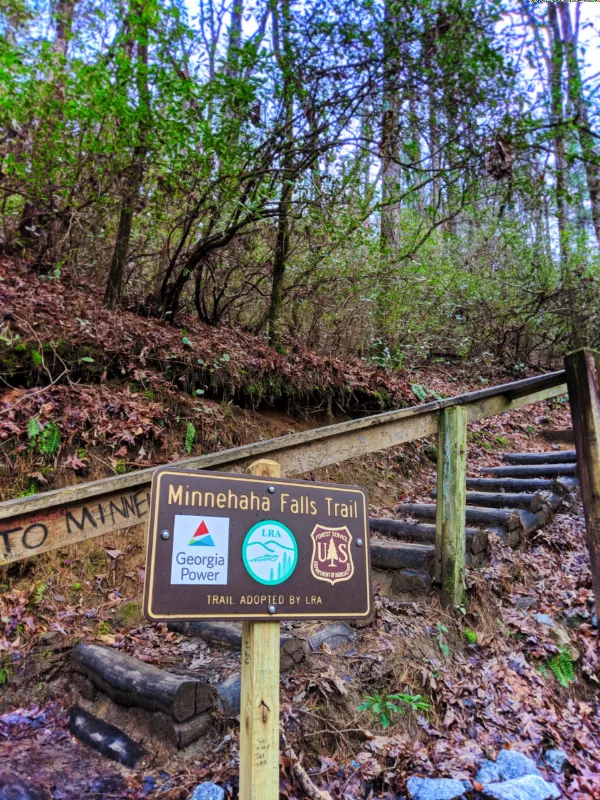 Once you're in the approximate area, you'll want to safely park your car on the side of the road. There is a very small parking area at the base of the trail head, but if there are more than two cars, street parking will be required. Be sure that you're far enough off the road, but also keep in mind that you're in the forest and every shoulder of the road is soft. DO NOT GET STUCK.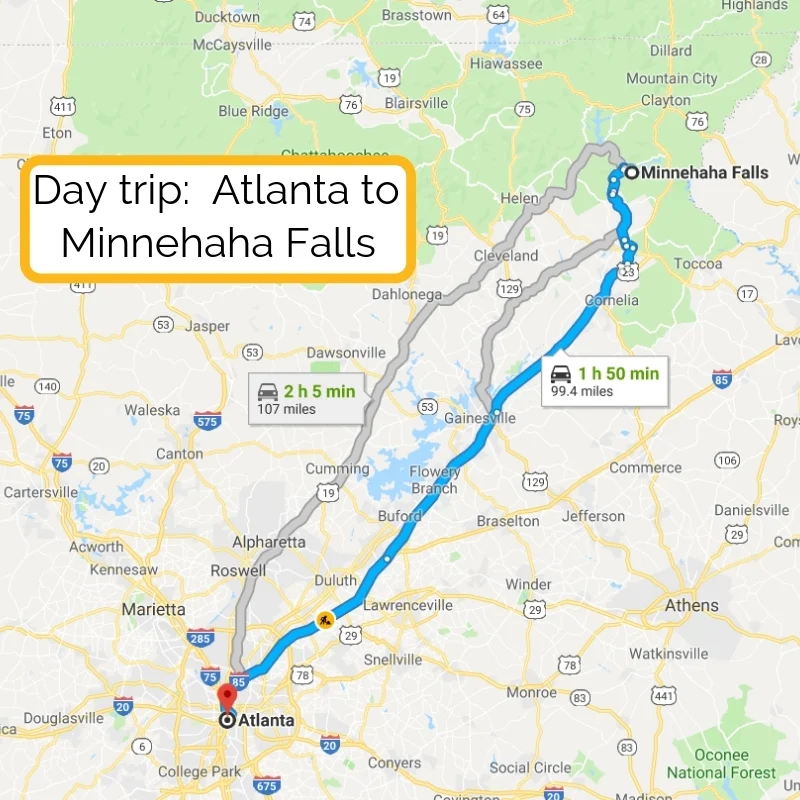 Hiking Anna Ruby Falls
After we explored the picturesque small town of Alpine Helen (check out our article on small towns in northern Georgia) we headed across the Chattahoochee River to Anna Ruby Falls. Also part of Georgia State Parks, Anna Ruby Falls is a pretty popular spot. We were there on a crazy rainy day and there were tons of hikers. Note: this is NOT to be confused with Ruby Falls in Chattanooga. Very different place!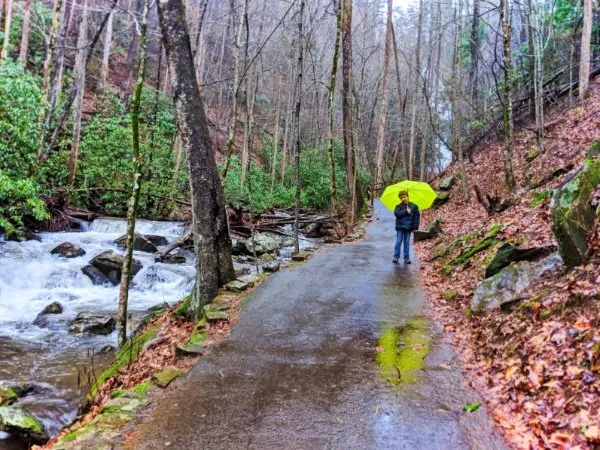 Like with Tallulah Gorge State Park, expect to pay an entrance fee to Anna Ruby Falls. This fee gives you access to the main parking area, very well maintained trails, a visitors center with rangers, and restroom facilities. State Park fees are important and really do go to making the parks better. Anna Ruby Falls is a testament to that.
Bonus: on the way to Anna Ruby Falls from Tallulah and Minnehaha you'll pass a Goats on the Roof spot where you can enjoy farm fun AND nitro ice cream (there is a spot like this in Tennessee too!)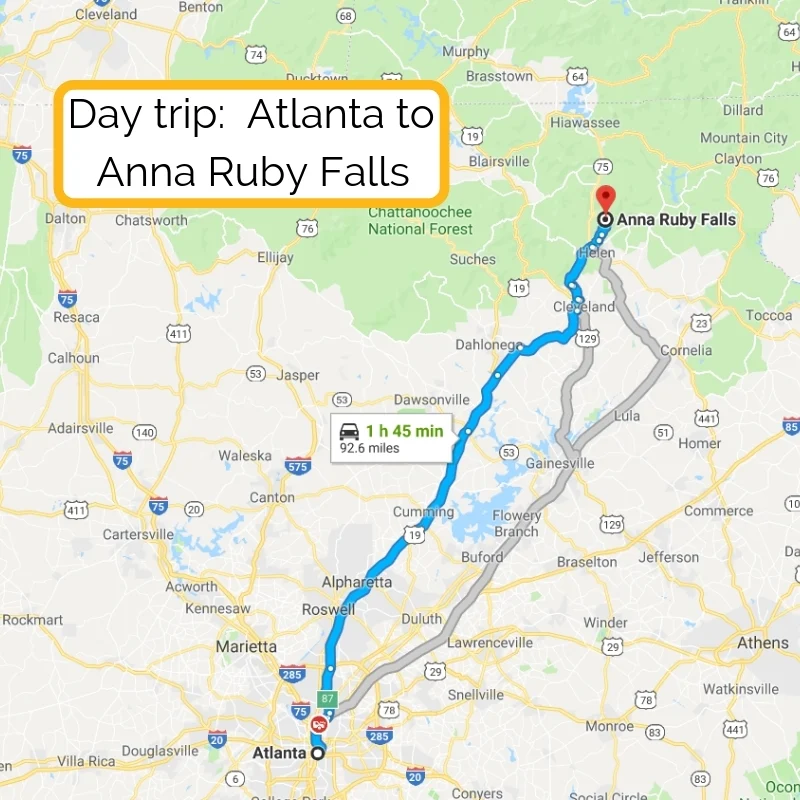 For hiking, the trail is actually extremely easy. At just over a half mile to the waterfalls, the trail is fully paved. It's stroller and wheelchair accessible all the way to the falls.
Anna Ruby Falls itself is really beautiful. Multiple cascades converge into one stream, but not before making countless smaller waterfalls. If you want an easy hike with a big bang for your buck/hiking energy, this is it! It's one of the most beautiful natural sights in northern Georgia.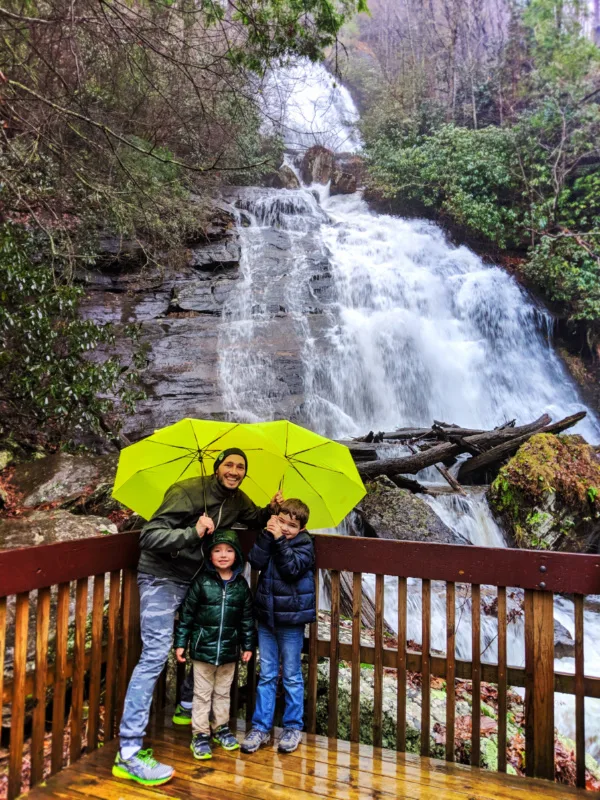 Easy addition to hiking Anna Ruby Falls
All around the town of Helen, Georgia there are mountain adventures. As tourism has grown, so have the outdoor opportunities. From zip lines to a soon-to-open mountain roller coaster, there's a wide variety of things to do.
The most popular outdoor adventure in the Helen area is, by far, tubing on the Chattahoochee River. Rent a tube or bring your own for a fun float down a really unique, gorgeous river. There are plenty of options for renting a tube and securing transportation back to your vehicle, or reverse depending on your rental location. Floating the Chattahoochee is an ideal activity for nearly all ages.
Tip: if you are floating on your own, be sure that you've brought appropriate safety equipment. Even though the river is mild, you still need to follow laws around PFDs (life jackets) and child safety.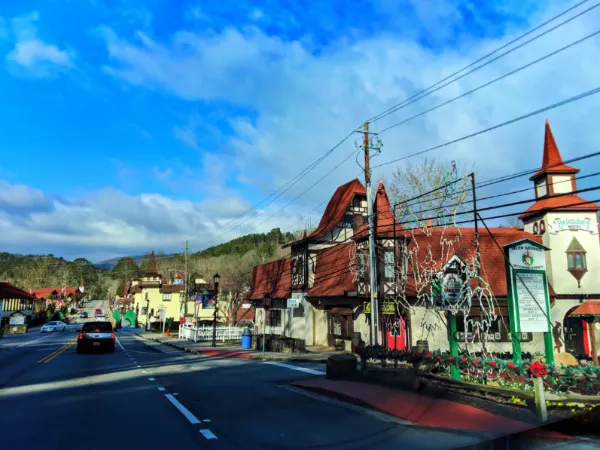 Enjoying Amicalola Falls State Park
Wow. Just wow. We are saving this for last as it's really breathtaking, really accessible and is one of the most surprising finds along the North Georgia waterfall trail. Located about two hours north of Atlanta, it's an easy day trip on its own or can be turned into a weekend getaway, as there is both a lodge and campground.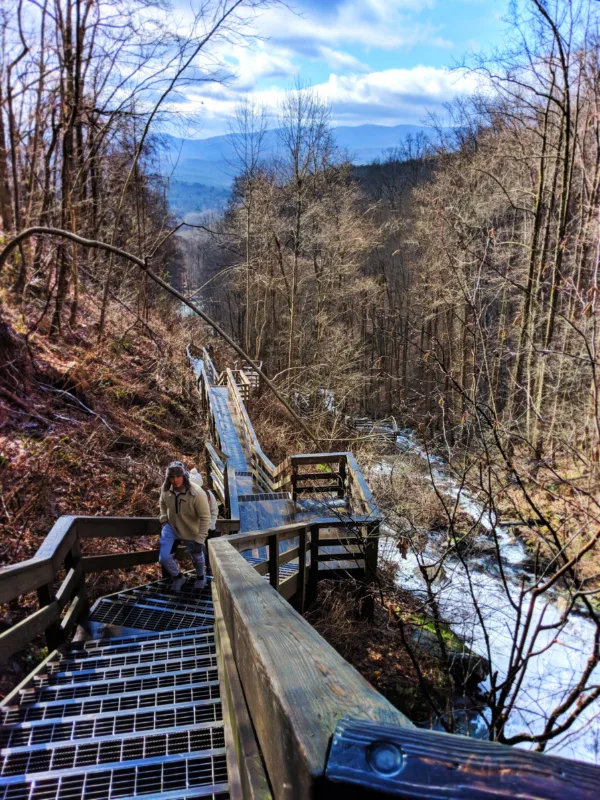 Begin your visit by stopping into the ranger station for a map and chat with the park staff. They will be happy to make recommendations for forest hiking trails, summer activities, and interesting sights besides Amicalola Falls.
Note: visiting in summer vs winter is a completely different experience. If you're looking for more adventures than waterfall hiking, you'll find much more of the park open and accessible in summer.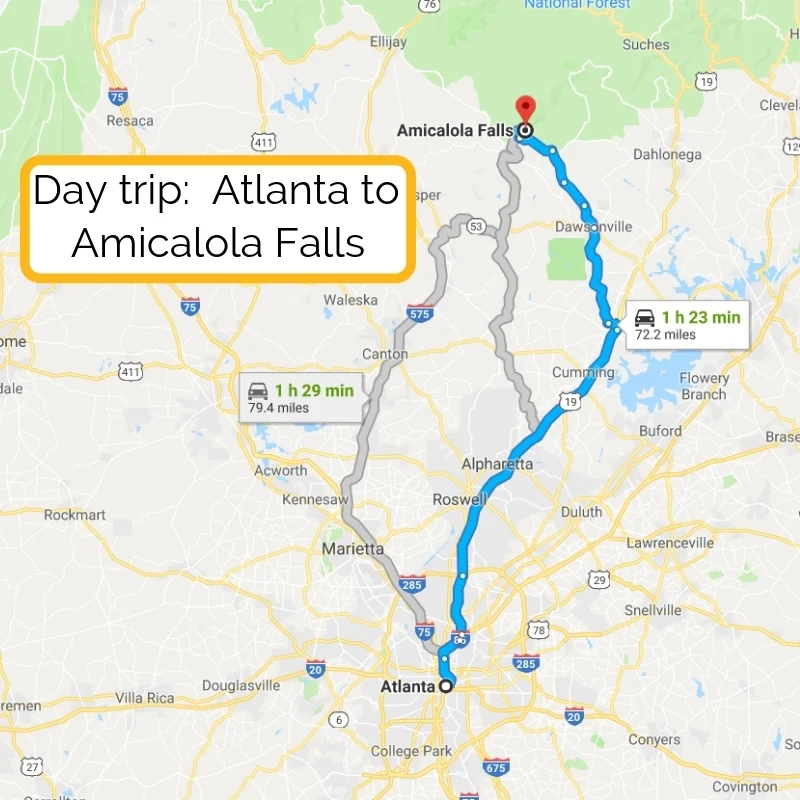 Hiking up Amicalola Falls
From the visitors center, it's a short drive to the parking area at the reflection pond at the base of Amicalola Falls. Whether you plan to hike the whole way up or just enjoy the view, this is a must-stop. There is ample parking (except when the park is busy) and the photo op is wonderful.
From here, you can begin your ascent up the epic staircase to the top of Amicalola Falls. Much like Tallulah Gorge State Park, Amicalola has built out both hiking trails and stairs to make the many views of the falls and the Appalachians accessible. From the bottom to the top, it is 604 steps. It's for sure a workout and not for the faint of heart, but it's doable.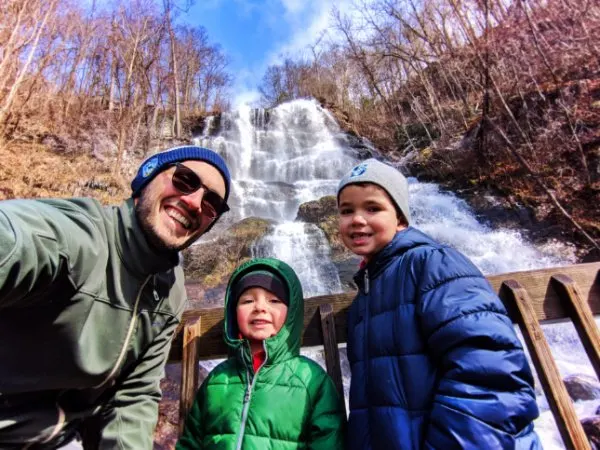 If you aren't in the mood for an epic stair climb, you can drive to several view points of Amicalola Falls. The first is the West Ridge Falls access spot. From the parking area, you'll find a wheelchair accessible path leading along the valley wall all of the way across the waterfalls. Depending on water level and wind, you run the risk of getting a bit wet from the mist, but it's worth it.
Tip: this is our top recommendation for getting the best waterfall experience with small kids. The trail is easy at just a ¼ mile and the experience will wow them.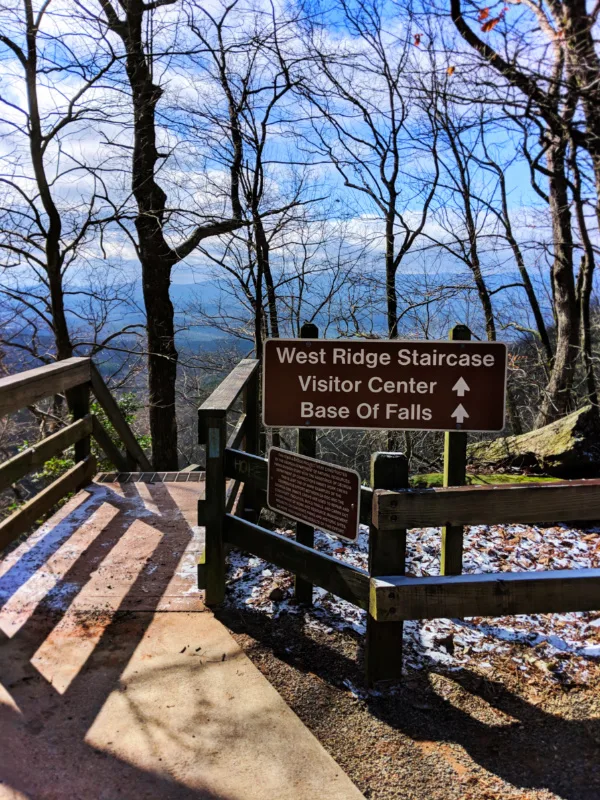 If you're driving to the views, there's one more great stop: the top of Amicalola Falls. Again, a nice parking area and a simple, wheelchair accessible path make this stop very easy. Even though you're directly on top of the falls, the view of the valley beyond and the Appalachians is incredible. We visited in winter and the way the smoke and clouds settled between the hills was beautiful.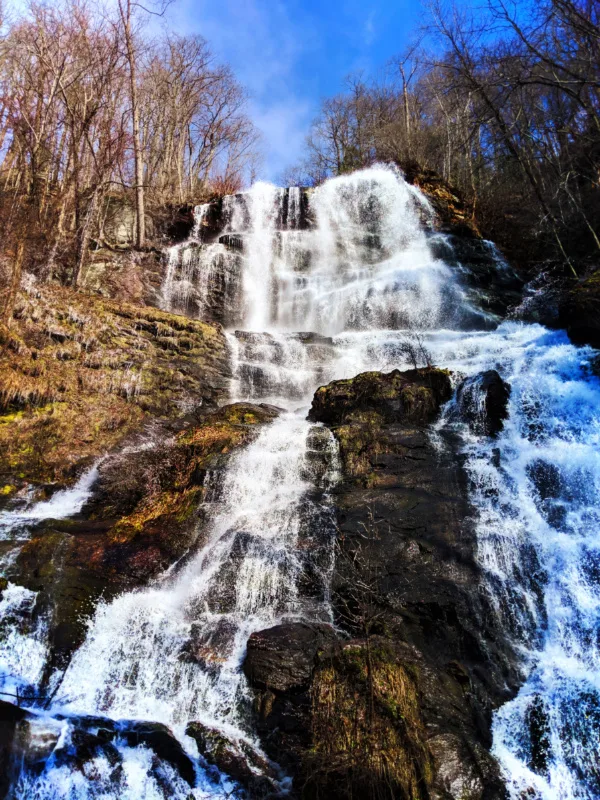 Visiting the Amicalola Falls Lodge
In Washington we have the Salish Lodge which sits atop Snoqualmie Falls, and in Georgia they have the Amicalola Lodge. A four star hotel, the Amicalola Lodge is open year round. The views from the rooms are primarily of the Appalachian Mountains and valley below, but staying in the heart of the park surrounded by outdoor activities is idea. There is also a dining room open to the public at the lodge with breakfast, lunch and dinner buffet.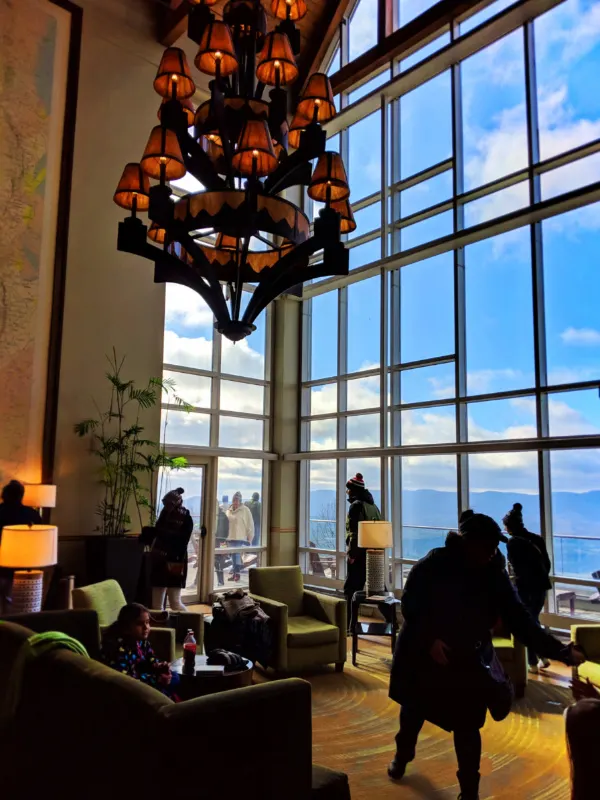 The big highlight of the Amicalola Falls Lodge is the ranger program. After having lunch in the dining room, we stopped into the lobby where the Amicalola Falls State Park ranger team had a collection of skeletons, skins, and like reptiles to teach visitors about. We got to hear a really great ranger talk and then actually hold a turtle and a huge black rat snake. It was the best surprise! We love getting to participate in ranger programs and the partnership with the State Park rangers and the lodge is really special, providing programs for guests every weekend.
Also at the lodge, they have outdoor activities, zip lines, campfires and more. Check it out for the full scope of fun available through the Amicalola Falls Lodge.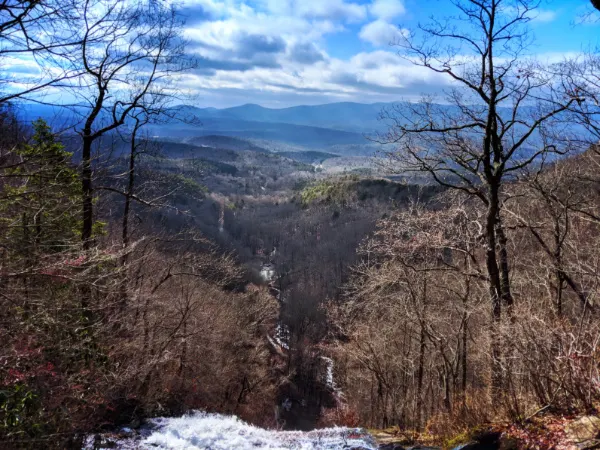 Other notable waterfalls in North Georgia
You know that since the Appalachian Mountains end in Georgia there are more waterfalls than what we covered here. For the truly epic waterfall seeker, check these other great waterfalls, most of which include hikes and solid planning.
For more great waterfall recommendations in North Georgia, check out Blue Ridge Mountains' site. And they have lots of additional ideas for exploring the area.
As you can see, northern Georgia waterfalls are gorgeous and ample. It's easy to add them to nearly any sort of trip, either to the small towns of the area or by just planning day trips out of Atlanta. And if you have other favorite sites, we'd love to know about them and add them. If you've been exploring Savannah or Atlanta, this waterfall road trip will be an amazing change of scenery for you!
Feel free to pin this for planning your own trip to visit the northern Georgia waterfalls!