Are you looking for fun outdoor things to do around Phoenix? Don't worry! This wonderful city, also commonly known as the Valley of the Sun, will never make your to-do lists dry with its exciting outdoor activities and distinctive destinations. We've been several times and love the combination of hot sun and fun things to do.
Phoenix draws visitors from around the USA with its collection of scenic landscapes and world-class tourist activities. With lots of nature parks, restaurants, resorts with waterparks and even lakes around Phoenix, Arizona, you won't run out of things to do to enjoy your sunny escape.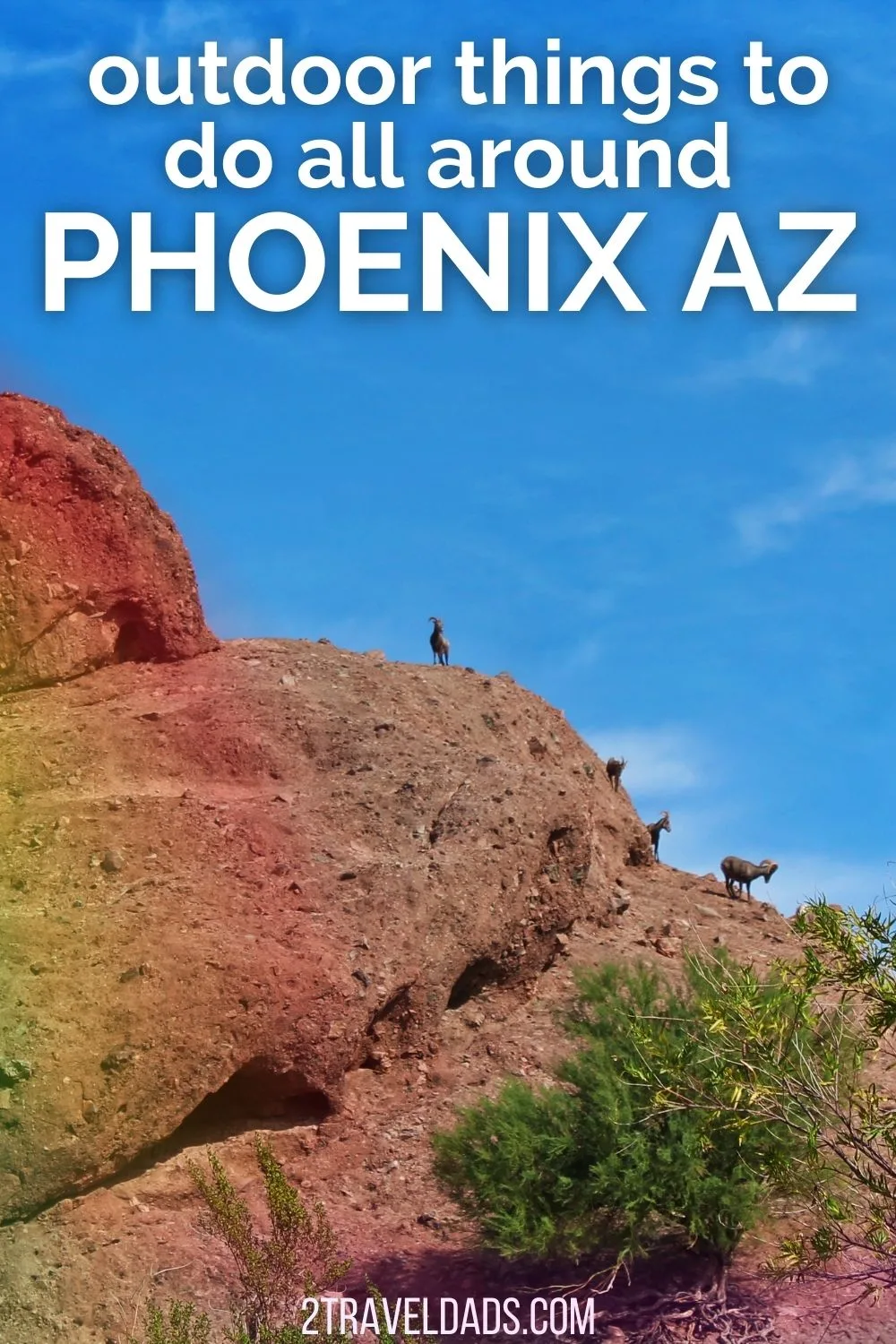 Boating Around the Phoenix Area
Although Phoenix is known for its sunny climate and deserts, it also has its share of sparkling lakes that are great for a change of scenery and a boating experience. Some of the best tourist destinations for this outdoor activity are Lake Pleasant, Saguaro Lake, Canyon Lake, Apache Lake, Roosevelt Lake, and Bartlett Lake.
Boating at Lake Pleasant, AZ – North of Phoenix
Located at Castle Hot Springs Road Morristown, Lake Pleasant is known for its water sports, including boating in Lake Pleasant, sailing, windsurfing, and fishing. You can reach this just within a 45-minute drive from downtown Phoenix.
Water Activities in Tonto National Forest – Northeast of Phoenix
For a scenic view of the canyon walls, Saguaro Lake can offer tour-boat trips as you indulge in the exciting sight of the canyon and the Four Peaks. This spot is situated in the Tonto National Forest. If you seek a thrilling water experience and a relaxing sight, add this to your list. This is one of the most beautiful spots of SUP in the Sonoran Desert. They also have GoCar rentals (super cool!) at Saguaro Lake.
Aside from the Saguaro Lake, Tonto National Forest also has another lake perfect for water enthusiasts. The Apache lake is also known for its scenic canyons and exciting activities, including trout fishing, boating, and camping. This area is a great alternative to Flagstaff for outdoor fun closer to Phoenix.
Cooling Off in the Superstition Wilderness – East of Phoenix
Located in this national forest's Superstition Wilderness area, Canyon Lake is a 950-acre destination that is one of the top tourist destinations in Phoenix. Since the day-use area offers a wide range of activities, it is easily crammed by tourists, so you have to reserve a spot beforehand.
Roosevelt Lake, the largest lake outside the Greater Phoenix region, is also one of the best boating spots in Phoenix. But more than the fun watersports, you can also spend a relaxing and peaceful day by the shore and coves.
Take advantage of the boat rentals available so you can leisurely bask in the summer sun and enjoy the calming view that the lake offers.
Wildlife Things To Do around Phoenix
The desert is bustling with life, especially at night. But since not too many visitors plan on roaming the hills at night, there are a few cool things to do in Phoenix that get you close to or at least teach you about the wildlife of Arizona.
Wildlife Adventures in Gilbert, Arizona
With an extensive offering of Arizona wildlife, you can visit various parks and wildlife conservation centers to help you appreciate the beauty of nature and animals. Arizona may be hot and dry in many areas, but it's full of wildlife. Spotting animals in the desert is one of our favorite things to do in the Phoenix area.
One of the best places you can visit to do bird-watching is the Riparian Preserve at Water Ranch in Gilbert. Known as a premier recreation resource and education in Arizona, you can enjoy the solace of nature while also learning about and understanding the importance of wildlife conservation.
Riparian Preserve consists of seven water recharge basins, which is the reason why it attracts over 300 species of birds. You can also watch for bobcats, prairie dogs, and other animals as you explore the wilderness.
You can also experience the same rush while aboard the Dolly Steamboat cruise on Canyon Lake. Within one-and-a-half hours of cruising, you can encounter different animals like bald eagles, desert bighorn sheep, and other local wildlife.
Phoenix Zoo and Wildlife Centers
If you want to check for other animals without breaking a sweat, you can head to the Liberty Wildlife, a non-profit rehabilitation center for wildlife in Arizona. It is located north of Broadway in Phoenix and is open from 8 am to 6 pm daily. Just note that public hours are currently closed for August and will return in September.
You might also want to visit Phoenix Zoo to directly see animals from their monkey village, animal presentations, giraffe encounter, stingray bay, and camel rides!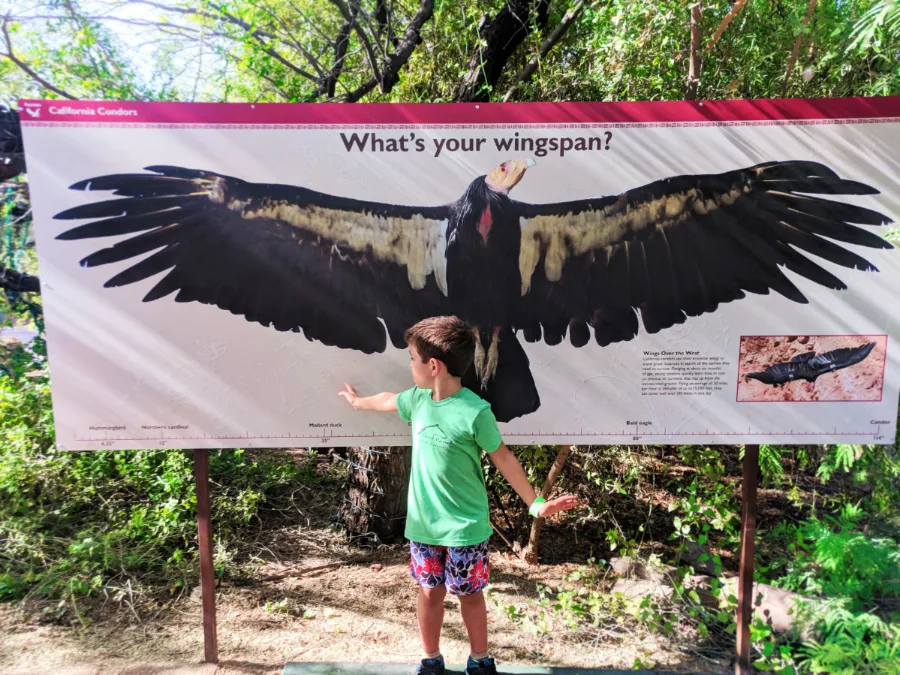 Outdoor Dining Around Phoenix
If you just want to eat outside and relax but want a scenic view for a great ambiance, then you can dine al fresco anytime you like. Although almost all parks and restaurants in Phoenix offer outdoor dining, there are a few places worth noting.
Queen Creek Olive Mill offers an al fresco experience with olive trees to give you shade. If you want to dine at night, the place has elegant lights that provide a soothing ambiance, perfect for a date night. The food is also top-notch with their fire-roasted pizzas and pasta that will surely leave you craving for more.
Another great restaurant is the San Tan Flat, which offers a camping-like experience without sleeping on the ground. Aside from the mouth-watering burgers and steaks, you can also enjoy live music or gaze in the night sky as you sit near the campfire: an experience comparable to real camping.
If you want to eat and do some work, you can opt to go to Riverview Park in Mesa, as you can reel and catch trout and other fish to fry up. Chula Seafood Uptown is another place you can visit if you are craving fresh fish, scallops, black bass to satisfy your taste buds. The swordfish available is also caught right from the San Diego coast!
For a brunch and breakfast overlooking a canal, you can visit Chelsea's Kitchen and dine in their patio shaded by trees and chic umbrellas. The color scheme is quirky for a fun outdoor dining experience as you eat traditional Southwestern cuisines.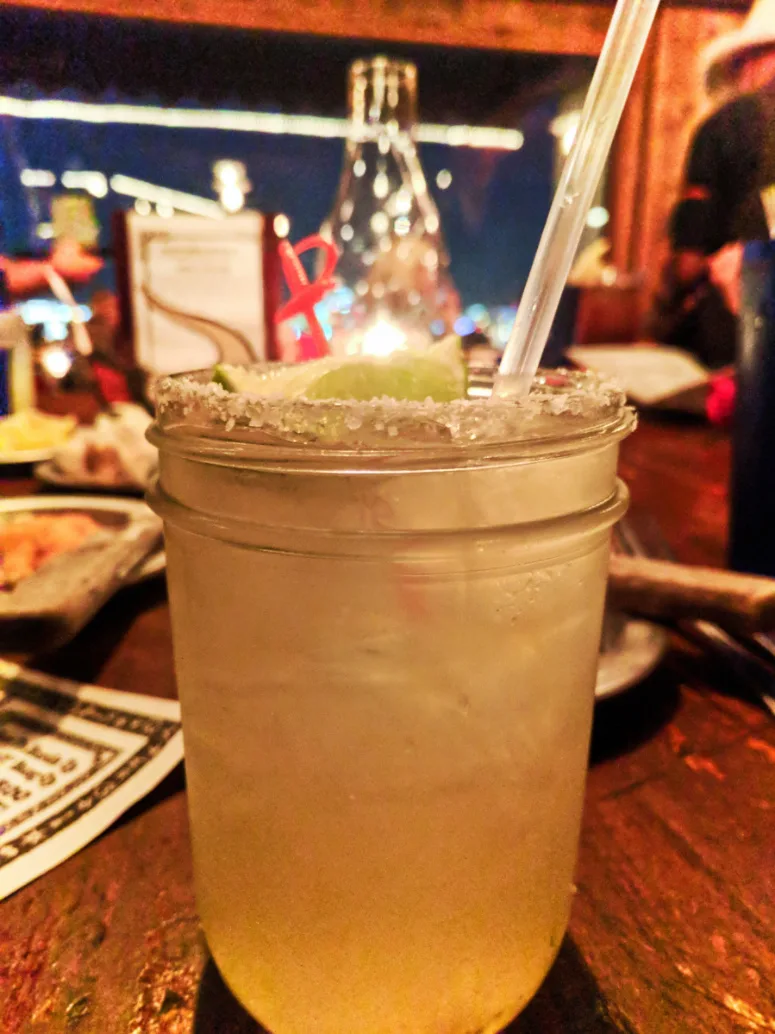 Tour the Arizona Desert and Parks
Phoenix has an abundance of things to do at regional parks that make for great activities and sightseeing. With how scenic the area is, you will never run out of things to look at. If you want to visit the top spots without missing a thing, then you can opt to do guided tours so you can spend your time well.
Phoenix Area ATV Adventures
With just a 50-minute drive away from Phoenix, you can reach Black Canyon City and experience the two-hour Arizona Desert tour aboard a single-rider ATV! With this exhilarating tour in the Sonoran Desert, you can have both the eye-pleasing view and fun off-road riding adventure.
You don't have to worry because there is safety training included before starting off the tour. They will also provide helmets, gloves, goggles, and bottled water to ensure a fun but safe journey.
If you don't want to get far away from Phoenix, you can also have a one to two-hour guided mountain bike tour in the Sonoran Desert. The tour guides are skilled bike riders to ensure that the adventure will be thrilling but safe. They will also provide bikes and other essentials like helmets, gloves, water bottles, and sunscreen.
Hot Air Ballooning Around Phoenix, AZ
If you have more budget, you can enjoy the Arizona sky with a one-hour hot-air balloon flight in the Sonoran desert. Seeing the picturesque view of the desert and its surrounding landscape from above is a once-in-a-lifetime breathtaking experience. We loved hot air ballooning in New Mexico!
You can have a champagne toast and catered food after mounting on the hot-air balloon and even receive a commemorative flight certificate after. Go further up and away and enjoy the view as the sunset turns the scene into a vivid landscape.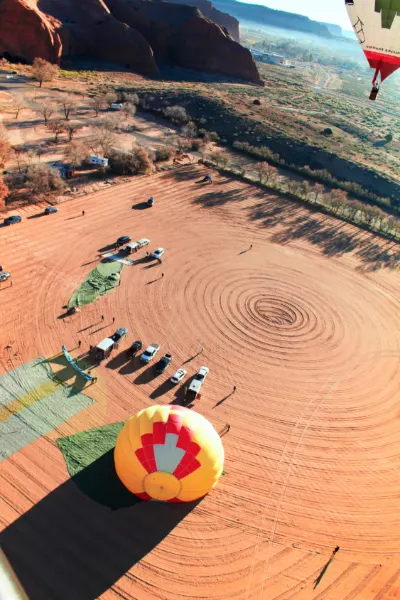 Hiking In the Phoenix Area
Phoenix is perfect for adventurers and thrill-seekers. No matter where you are staying, there is at least one great trail to visit for the best hike. Even staying downtown Tempe, Arizona you've got A-Mountain RIGHT THERE!
Depending on the difficulty level you're up to take, Phoenix has recreational parks that offer different hiking activities. You can try the Blevins Trail in Usery Mountain Regional Park with a 3-mile loop distance if you are a beginner. The park has flat trails that will let you enjoy the ridgeline view of the Pass Mountain and other exotic plants that you can see along the way.
Another easy hike is the Waterfall Trail in White Tank Mountain Regional Park. Its distance is 1.8 miles out and back, perfect for hikers who do not want tricky paths but like to experience hiking fun.
You can try steep trails like the Mormon Trail in South Mountain Park for those who want a more challenging path. It has a longer distance of 4 miles out and back but is worth the hassle because of its desert flora and unique rock formations.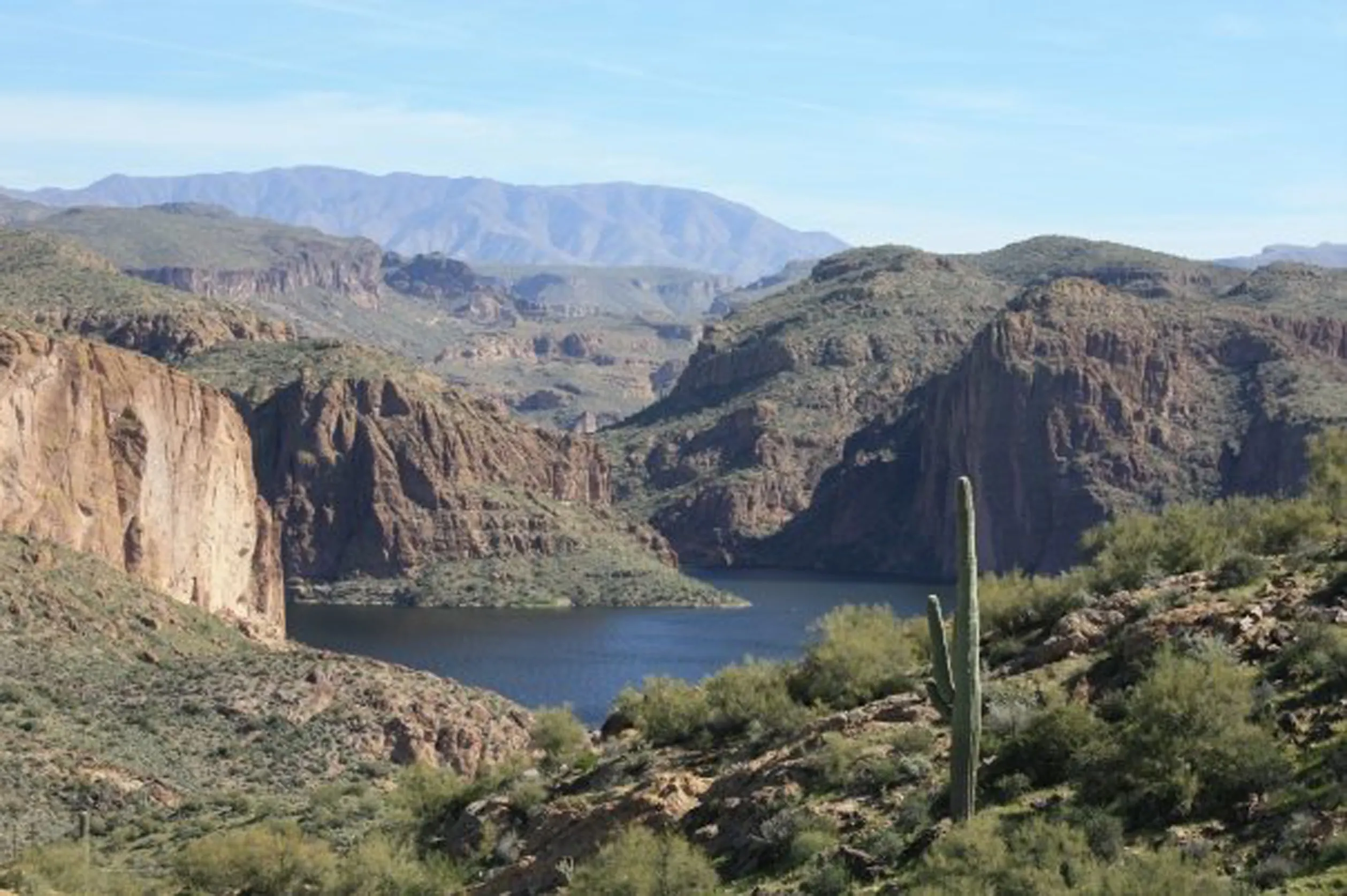 If you want a shorter hike, check out the Lookout Mountain Summit Trail in Phoenix Mountains Reserve, with a 1.2 miles distance. The ragged path may leave you breathless, but the view once you reach the summit is worth it.
If you want a harder one, the Echo Canyon Trail on Camelback Mountain is the best trail for you. Before you get to enjoy the relaxing view from the summit, you have to climb to around 2,704 feet and scramble up the slope and boulders present near the peak.
As one of the highest hikes in Phoenix, the view at Echo Canyon Trail is truly breathtaking—figuratively and literally with its steep path and hardcore hiking experience.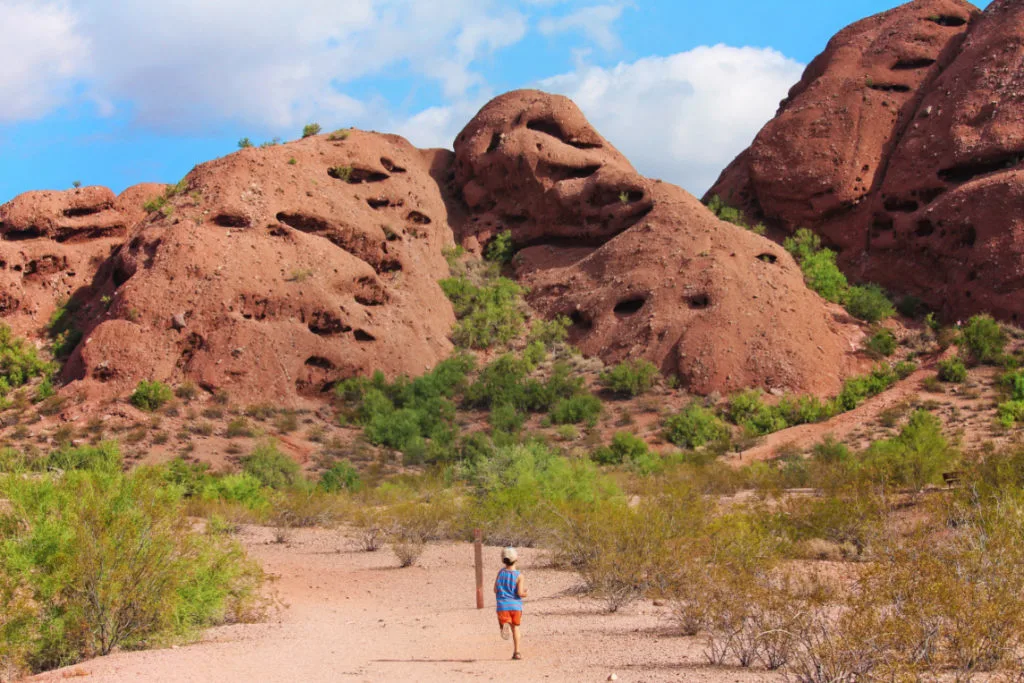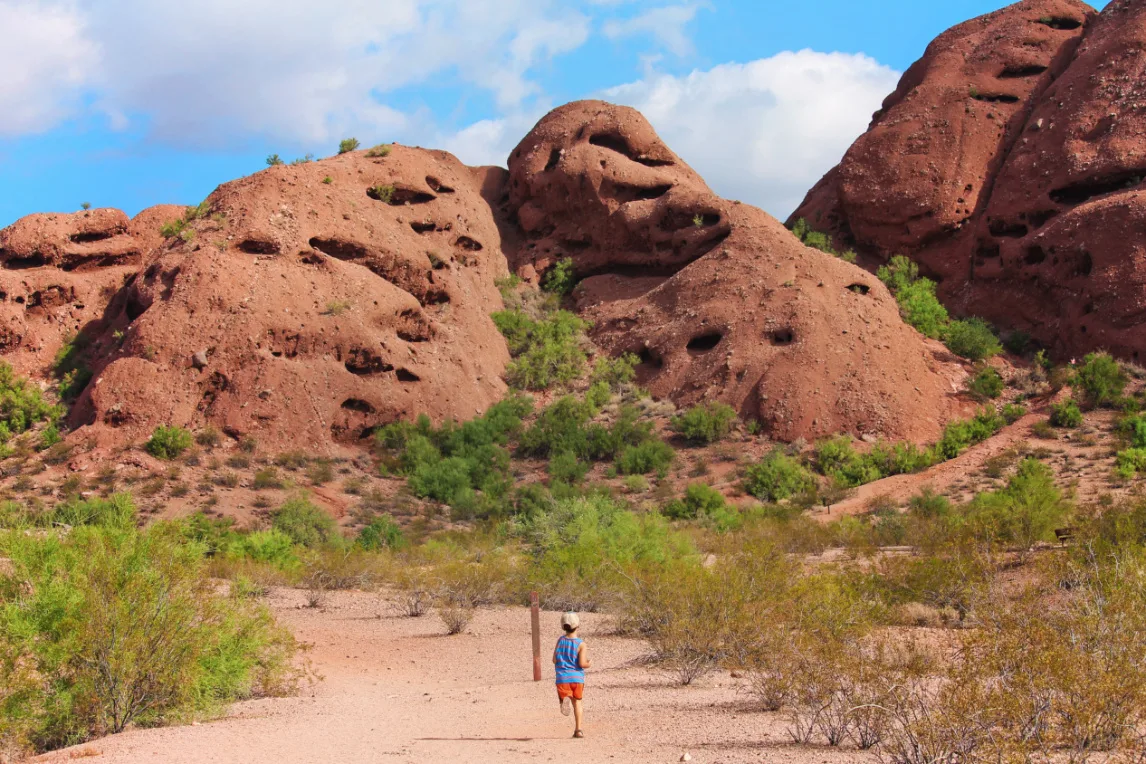 There's nothing more recharging than stepping out of the house to breathe in some fresh air and take in the nature that surrounds you. So take a break from your usual binge-watching sessions or at-home relaxation and experience the great outdoors around the incredible Phoenix urban area.
If you have questions about what else to do around Phoenix, or have your own recommendations, leave a comment or send us a note!