Arizona offers rivers and lakes in the low deserts, as well as the high deserts and the mountains, for a variety of kayaking and paddling experiences year-round. These are some of the best places to kayak in Arizona, no matter your skill level, from kayaking spots near Sedona to rafting adventures just outside of Phoenix.
Whether you're venturing far into the wilderness or staying close to your kayak launch site, always be prepared. Kayaking in Arizona is amazing, but it can also be fierce with hot sun and strong winds. Pay attention to conditions and remember, safety first. As you plan out your paddling places in Arizona, feel confident booking guided tours where available, as professional, local knowledge can really make for a great experience.
Also, kayaking in Arizona often can lead you to wonderful trail heads for hikes. Some of the best places to go hiking in Arizona are very nearby our kayaking suggestions, so enjoy the full AZ outdoors experience!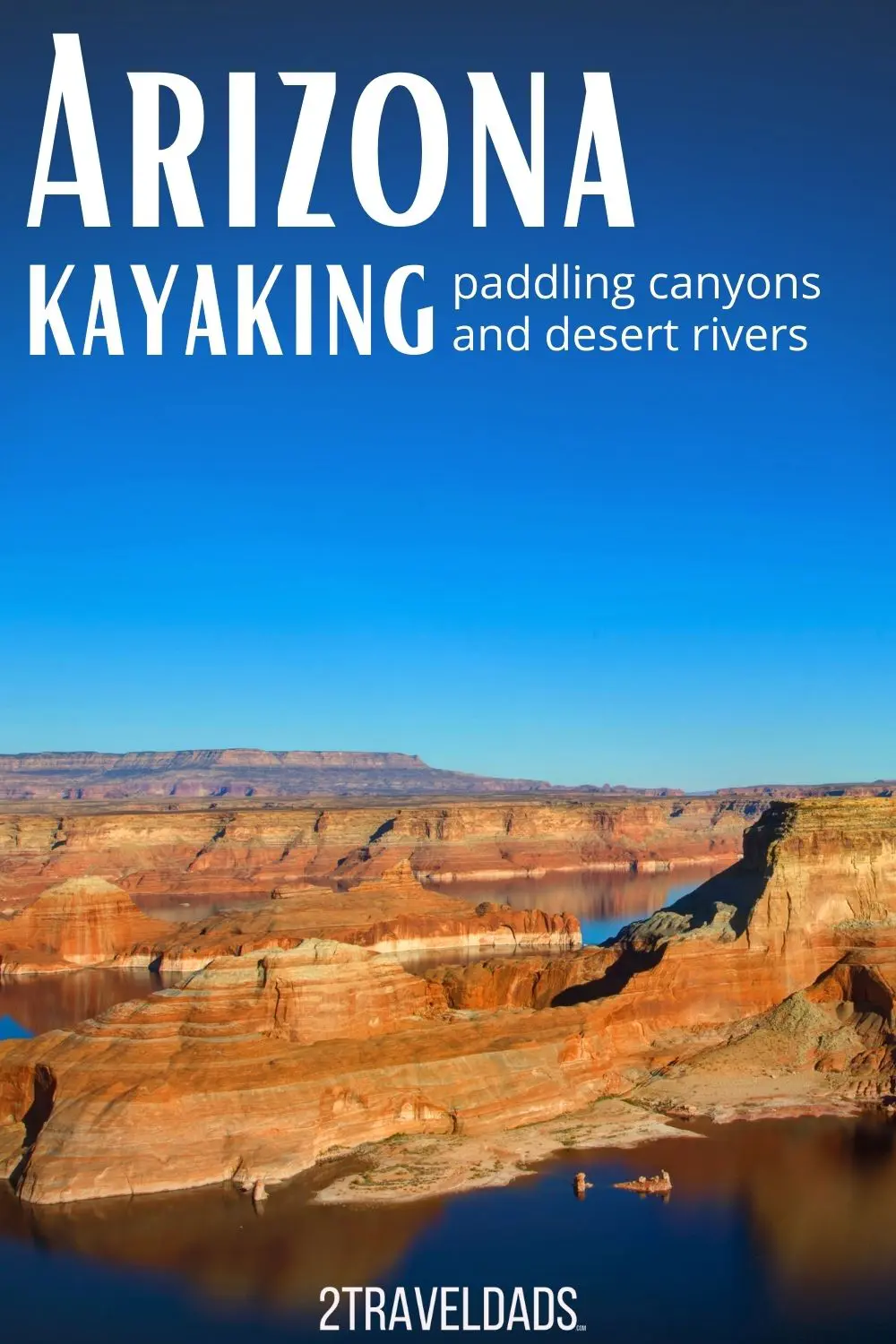 Kayaking in Northern Arizona
Northern Arizona is famous for its otherworldly canyons and red sandstone formations. This is where Arizona meets Utah, so think Grand Canyon meets Zion National Park. Here you'll find the Glen Canyon National Recreation Area, Monument Valley and Antelope Canyon. This is also the gateway to the Grand Canyon. There are several amazing National Parks and BLM sites to explore in this part of Arizona, and some of the best places to kayak in the state! If you're doing a road trip to the Grand Canyon and beyond, add this AZ kayaking spots to your travel plan!
Kayaking on Lake Powell, Page AZ
As the Colorado River flows from Utah towards Arizona, the water hits Glen Canyon Dam and creates Lake Powell, the second largest man-made lake in the nation and a fascinating place. The lake is more than 180 miles long and has 1960 miles (3,161 km) of shoreline, including more than 96 major side canyons. Bring your own watercraft or rent something from Kayak Powell, WAZUP Kayaks, Lake Powell Paddleboards and Kayaks or Hidden Canyon Kayak. Some of these outfitters conduct water tours to help you navigate a few of the canyons, or you can kayak the canyons on your own.
Another fun option in Page, Arizona is to rent a house boat from Lake Powell Resorts or Antelope Point Marina, load up the SUP or boats and explore additional side canyons. The wide-open spaces of this red, white and blue playground (red and white rocks and blue water) provide endless exploration.
Fun-fact: There are only two natural lakes in Arizona, and sometimes they dry out a bit, but Arizona has the nation's two largest man-made lakes within its borders and numerous water recreation areas along other lakes and rivers. The Lake Powell is one of these two enormous lakes and is open year-round. Truly, Lake Powell is one of the best places to kayak in Arizona. Remember that summer is high season, so plan appropriately both for potential crowds in popular areas as well as for the extreme heat.
Where to launch: Antelope Point Marina, Stateline Launch Ramp (for Ice Cream Canyon) and Lone Rock Beach. For more information, check out the National Park Service launch and safety recommendations.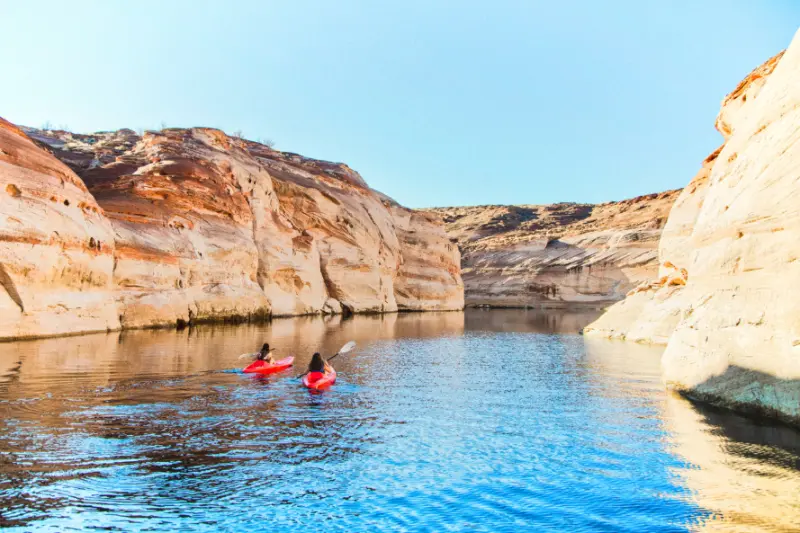 Nearby hiking recommendation: Hanging Gardens trail, Rim View Trails, Antelope Canyon. Bucket list hike: hiking the Havasupai Trail to Havasu Falls. Havasu Creek is such an unusual, magical place!
Note: Antelope Canyon is famous for its amazing corkscrew canyon features and colors. It's located within the Navajo Nation so is managed by Navajo National Parks. There are several ways to visit, but a guided tour is our top recommendation for the best experience. This is NOT a kayaking expedition, but is accessing Antelope Canyon on foot.
---
---
Kayaking on the Colorado River: Glen Canyon, Horseshoe Bend and Marble Canyon
At the bottom of the Glen Canyon dam, the Colorado River continues through Glen Canyon and then flows on into the Grand Canyon. Kayaking in Glen Canyon includes several famous sights, including Horseshoe Bend and Six Mile Bend, but soon after these, at Lees Ferry, the river begins to get more rough. (see NPS kayaking map here)
Depending on the water level, you may safely continue down beyond Lees Ferry through Marble Canyon, and beyond the Navajo Bridge to Badger Canyon, but kayaking past this point is quite dangerous. If the current is strong, be sure that you've made a plan to be picked up or towed upstream so you don't get stranded.
Where to launch: at Lees Ferry you can launch kayaks and then paddle upstream or down (arrange a tow if needed). As you kayak on the Colorado River, watch for Anasazi petroglyphs, interesting rock formations and wash beaches you can stop and relax on.
Note: if you don't want to be on the water, even though this is one of the best places to kayak in Arizona, you can view the Horse Bend and Marble Canyon areas from above. There is a parking area for the Horseshoe Bend hike (1.5 miles roundtrip, easy hike) and there is a visitors center at the Old Navajo Bridge over Marble Canyon. Great options to take in the area without being on the river.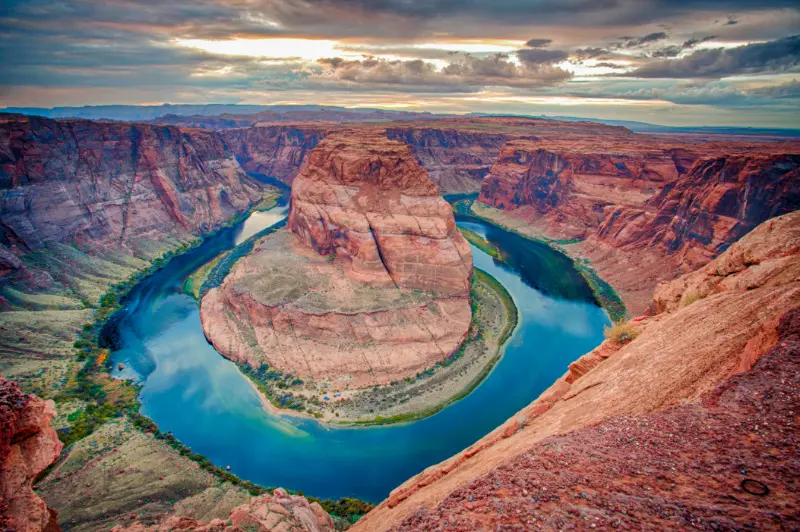 Rafting the Colorado River
Beyond Glen and Marble Canyons, the Colorado River thrills paddlers and is considered a Class IV with a few Class V rapids and of course, Classes I – III as well. Kayaking on this part of the Colorado River is for extremely skilled paddlers only. It's intense.
It's possible to make arrangements (through a lottery system) to take your own kayak down the river, but, keep in mind the Colorado in the Grand Canyon is a highly technical river, not something for the inexperienced to try. At least one member of each trip must have the experience and skills required by the National Park Service. Another option to consider (and probably a faster way to get a spot on the river) is to go with a commercial company. Although many of the companies take motorized rafts, some still use oars.
The Colorado River hits the next dam on its journey: Hoover dam. Hoover Dam holds the water in the largest man-made lake in the nation, Lake Mead, which forms the border of Arizona and Nevada. At the bottom of the Hoover Dam, the river turns south and becomes the border of Arizona and California. Luckily for us, the water is backed up again, by Davis dam forming Lake Mohave and then by Parker Dam forming the popular water playground at Lake Havasu City.
If you're looking for a big adventure that is the ultimate bucket list paddling experience, Rafting the Colorado River is seasonal, generally April – October, and is a once in a lifetime experience. This is best done with a guide company, as the Colorado River is rough and difficult to safely navigate without lots of specific knowledge and experience.
---
---
Kayaking and Boating at Lake Mead National Recreation Area
The first National Recreation Area, Lake Mead is an enormous lake created by the Hoover Dam being built on the Colorado River, and it includes the Black Canyon National Water Trail. While most of the access points are on the Nevada side of the lake, some of the most beautiful places to kayak are on the Arizona side of the river (not all directly on the Lake Mead itself). The most notable of these launch sites is from Willow Beach, south of Hoover Dam. Here you can paddle upriver through the deep canyon to all sorts of fascinating geological formations, including the Emerald Cave.
Temple Bar Marina is about mid-point on Lake Mead and is great to launch for near-shore paddling. This is also a motorized boat launch, so proceed with caution and safety in mind. If kayaking on Lake Mead is important to you, this launch or any number on the Nevada side are you best options.
Best Places to Kayak out of Lake Havasu City
Lake Havasu City is a favorite for all types of water sports and the lake is large enough to accommodate them all. The Arizona side of Lake Havasu has some of the best places to kayak due to countless bays and beaches. Kayaking, canoeing, and standup paddle boarding are all great ways to view Arizona desert wildlife, and explore hidden coves, without having to deal with pesky currents or waves.
There are even kayaks that have been especially equipped for fishing, with foot pedals, rod holders, and fish finders. If you aren't bringing your own craft, there are several Lake Havasu kayak, canoe and paddleboard rental companies. Many shops deliver in the local area, or you can pick up the equipment and take it where you want. Kayak tours are available if you're not familiar with the area. Western Arizona Canoe & Kayak Outfitters has a variety of trips, even a Full Moon tour that goes all night once a month.
Fun fact: The London Bridge at Lake Havasu City is Arizona's oldest antique… and it's central to make kayak launch sites and beaches on Lake Havasu.
Lake Havasu is popular year-round. Spring breakers love to visit in March-April, then the summer crowd likes to spend their time in the cool water through September. Fall sees big events such as the World Jet Ski Championship and other racing sports on the lake, and then winter has its fans though much less crowded than any other time of year.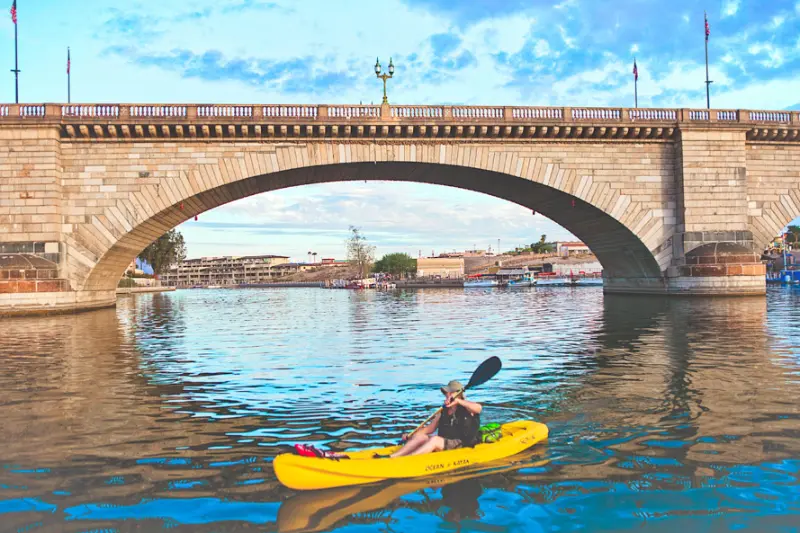 Great Kayaking Places in Southern Arizona
It may sound strange that there are good places to kayak in southern Arizona, but because of snowmelt in nearby mountains and the monsoons of late spring and summer, there are actually quite a few opportunities for paddling between Tucson and Yuma. More so in the southern part of the state than the north, the best places for paddling are going to vary greatly depending on recent weather events, so take seasons into account as you plan your AZ outdoor adventures.
The Colorado River through Yuma
Follow the Colorado River to Arizona's border with Mexico and you find more paddling companies in Yuma such as Yuma River Tubing or Leto's Rentals. The river is very lush on this part of the river. The green and verdant scenery is such a difference from the canyon walls of the Colorado River farther north.
Fun fact: Yuma grows and supplies 85% of the United States' winter vegetables and lettuce. And, with it's proximity to Mexico, you'll also find great Mexican food. No going hungry with all the fresh meals you'll find before or after a paddle. Kayaking and paddling around Yuma are open year round. Fall through Spring may be the most comfortable time on the water due to more mellow temperatures, but you can't go wrong with sunshine and water the rest of the year.
Particularly as you head south, make sure that you're taking proper precautions from the sun. Sun protection is really important when you spend a lot of time on the water due to the reflecting rays, so a combination of sunblock, a hat, and UV protective clothing are recommended year-round.
Where to launch: Riverside Park in Yuma is a great place to put kayaks into the Colorado River. With the current, you'll head through the town and may even cross between California and Arizona as you paddle.
Note: if you are going with the flow of the river and not paying attention YOU'LL ENTER MEXICO. You need to be mindful of the border, although you won't just float across it due to border patrol, you don't want to go farther than you can navigate back without complications.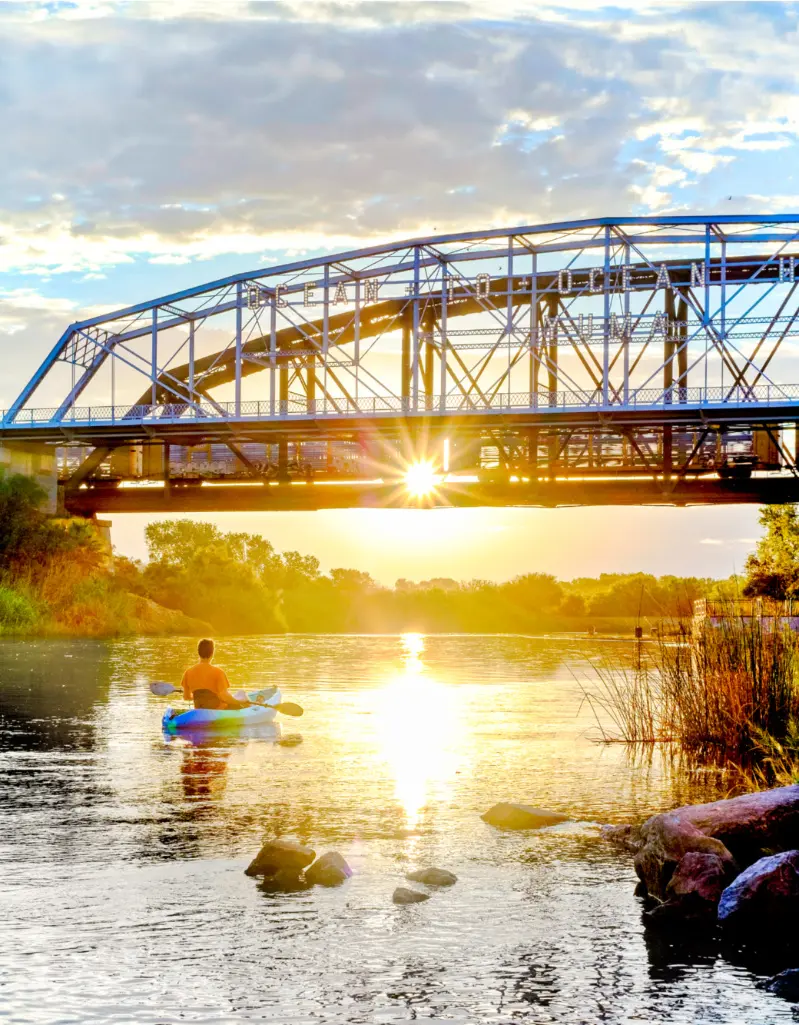 Seasonal Kayaking on the Gila River
If you are in southern Arizona after a fair amount of rain, the Gila River flows from eastern AZ and then joins the Colorado River in Yuma. While much of the year the Gila River is very low or even dry in places, after the snows melt up in the mountains and the monsoons begin in June, there are several unique places to kayak on the Gila, including wetlands.
Because rain happens fast, pay attention to flash flood warnings and be mindful of where you kayak. The Gila River has small stretches for paddling, so you can't get too far from your vehicle, but when the river is running higher, you may be able to paddle for several miles without hauling out.
Where to launch: Near Yuma, you can put in near the McPhaul Bridge, just northeast off Rte 95 (turn off from 95 here, MAP LINK). As you head east, launch spots are few and far between and are purely dependent on recent rainfall and snowmelt. (pictured during dry season, not kidding about dried up river – very seasonal)
Best Places to Kayak around Phoenix
Even though Phoenix is a major city and, on the surface, it seems like it's surrounded by the desert, there are actually several great places to kayak very nearby. Between Tempe, Peoria, and the towns just east of the suburbs, there are quite a few opportunities to get out on the water around Phoenix, Arizona. Some of the best outdoor things to do in Phoenix are on the water.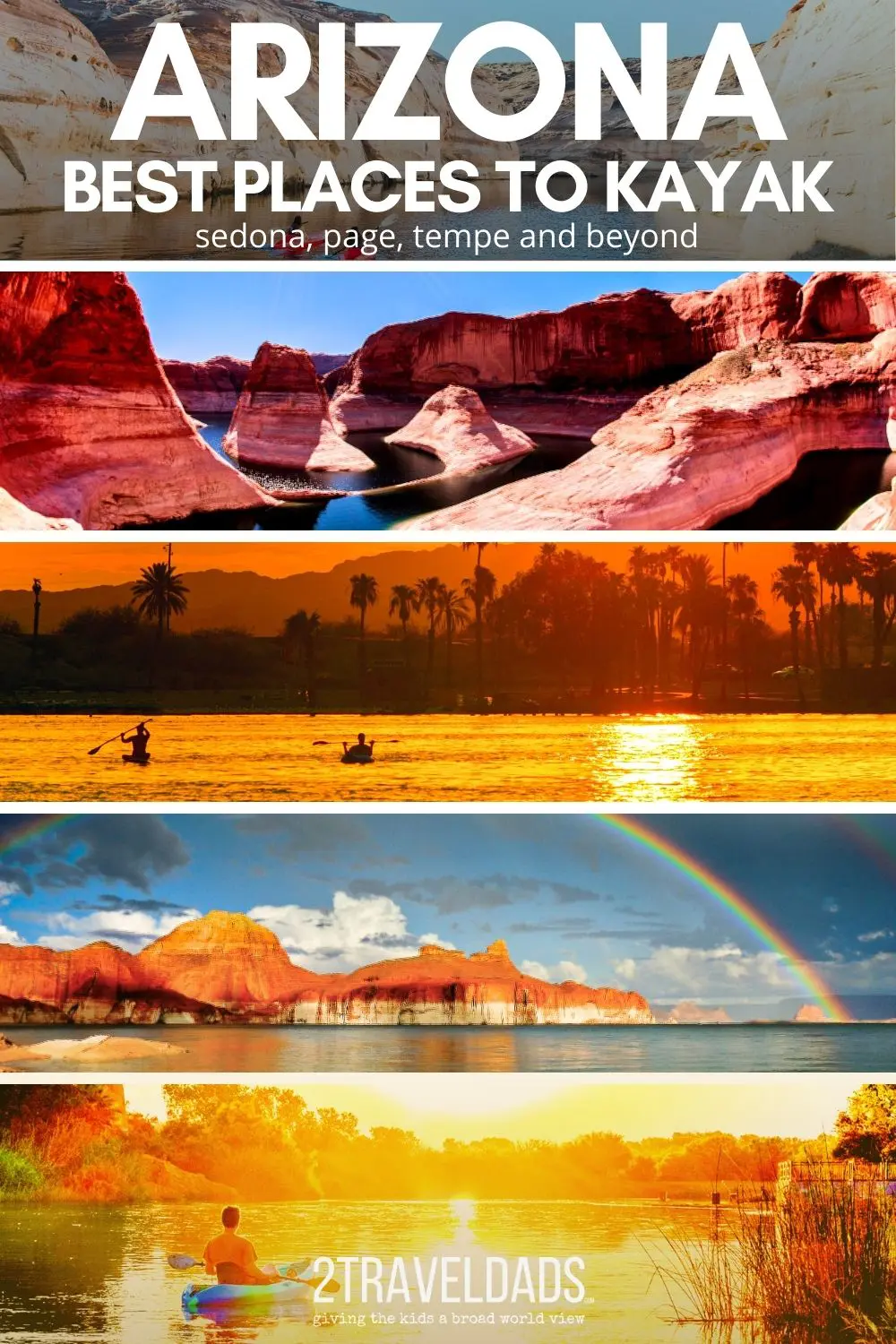 Kayaking in Tempe on the Salt River
In the center of the Phoenix metropolitan area, Tempe created a desert oasis. Building the Tempe Town Lake in the middle of the dry Salt River bed, the town has boomed around the lake. There are now parks, pathways and boat rental facilities to allow people to play outdoors year-round and still be close to shopping, dining, luxury accommodations, events and the museums, sports, science and performing arts facilities of one of the largest universities in the nation – Arizona State University.
If you are traveling without your own watercraft, Boat Rentals of America – Tempe, offers kayaks and SUPs as well as a few other vehicles for experiencing the lake such as pedal boats (the kids will love the dragon or swan shaped ones), electric boats and bikes. They also rent boats on Kiwanis Lake, a smaller and more intimate urban lake. Riverbound Sports can also assist with rentals (and lessons) at Tempe Town Lake and additional lakes in the area and the lower Salt River.
Fun fact: The more than 2-mile long lake was created by damming a portion of the dry Salt River and adding water. Today, the lake continues to act like a river to convey rainwater and snow run-off by lowering the dam when needed and raising it again to maintain the water within the lake. (Popular year-round with high season in the spring and fall.) Hanging around Tempe Town lake is one of the most relaxing things to do in Tempe.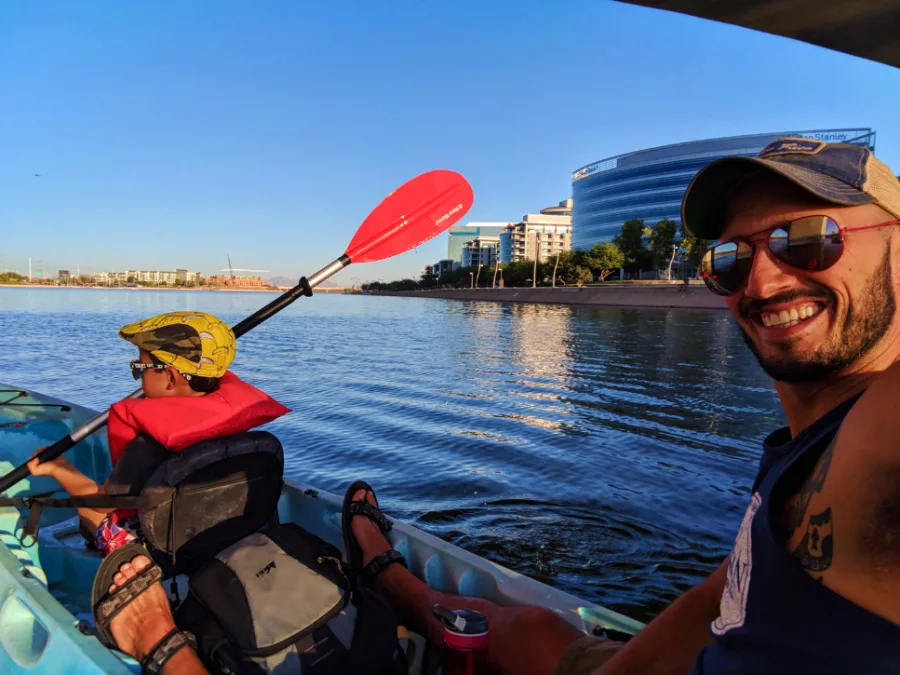 Mesa AZ for Mellow Kayaking or Rafting Class IV Rapids
Also in the heart of the desert, and the Phoenix metropolitan area, Mesa visitors can take advantage of the city's close proximity to a water recreation paradise. There are three lakes and two rivers near Mesa that allow for desert boating, fishing, rafting (see below), kayaking, water skiing, wake boarding and jet skiing. Or, partake in the ever-popular activity of "tubing", a leisurely float along the cool waters of the Salt River via inner-tube! If a leisurely float is your style, then plan an outing with Salt River Recreation – Arizona's floating picnic! Mother Nature's pool provides a cool retreat from the summer heat and it's an experience you'll never forget.
The closest river to Mesa is the mighty Salt River – mighty as it is the only commercially run class III & IV whitewater raft trip in the Sonoran Desert. Other water activities on the Salt include fly-fishing, birdwatching and SUP (stand up paddleboarding).The Salt River within the Tonto National Forest offer some of the best escapes with nearby offshoots like Granite Reef Recreation Area with riverbank trails and outposts. Adventurers can kayak along towering canyon walls at Canyon Lake, take a relaxing float along the flowing river, soak up sun at Butcher Jones Beach, and paddle down Saguaro Lake alley in the shadow or majestic cliffs. Several outfitters such as Desert Paddleboards, Desert Voyagers, No Snow Stand Up Paddleboards, Redline Rentals & Sales, Saguaro Lake Ranch and Salt River Recreation, offer everything you need.
Fun fact: Mesa is also home to the Fresh Foodie Trail. The neighboring farms and Agritourism attractions in and around Mesa provide a continuous bounty of seasonal goods to enjoy.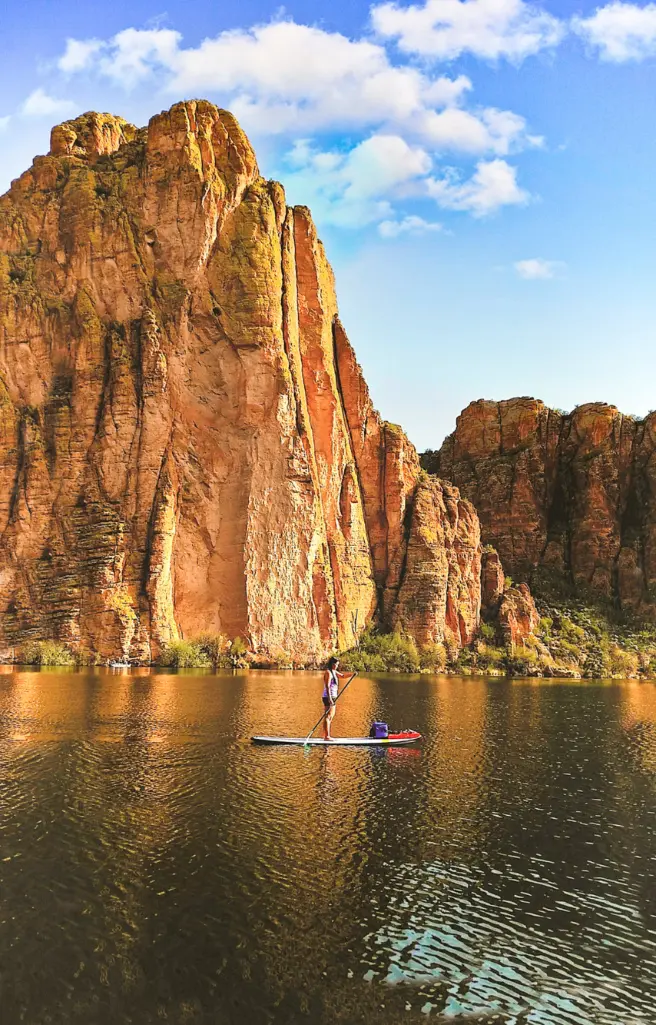 If you are more of a whitewater rafting sort of person, depending on water level, the Salt River actually has some pretty incredible rapids and green stretches to the east. Head to Whitewater, Arizona for more intense paddling adventures (but it's not all rapids). Check locally (forest service office or Apache administration) for kayaking restrictions and recommendations on the Salt River here, or you can do a rafting adventure with a guide. This is an area where we would opt for a guide vs exploring on our own due to the variance of water levels and obstacles in the rapids.
---
Book Salt River Whitewater Rafting here!
---
Note: Rafting on the upper Salt River is dependent on the snowfall in the mountains. It is generally available March-April. The lower Salt River is popular for tubing in the summer. Paddle boarding and kayaking is popular year round.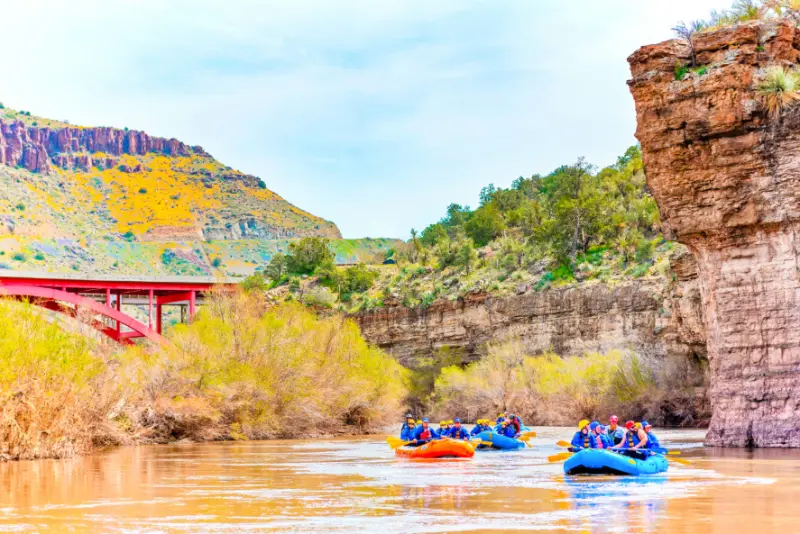 Peoria, Arizona Kayaking
On the northwestern edge of the Phoenix metropolitan area, Peoria offers more paddling opportunities at Lake Pleasant. Go Paddle Arizona rents SUPs and kayaks at the Lake Pleasant Marina, the closest entrance to Lake Pleasant. The marina at Scorpion Bay not only rents motorized boats, but kayaks and paddleboards too. Or, rent in town from Peoria Kayak Rental and have your crafts delivered to the lake. When it comes to calm and desert beauty, this is one of the best places for kayaking in Arizona.
If you want to be on the lake even longer, but you are "paddled-out" for the day, you can take a narrated cruise around the lake (on select dates), and learn or the history and formation of the lake and maybe see some wildlife. Wildlife in the area includes wild burros, mule dear, blue herons, bald eagles and other birds. Perhaps you will discover a new part of the Lake's 10,000 acres to paddle on your next visit.
Fun fact: Peoria is home to the World's Tallest Floating Waterslide at Lake Pleasant. No, you cannot go down it in a kayak.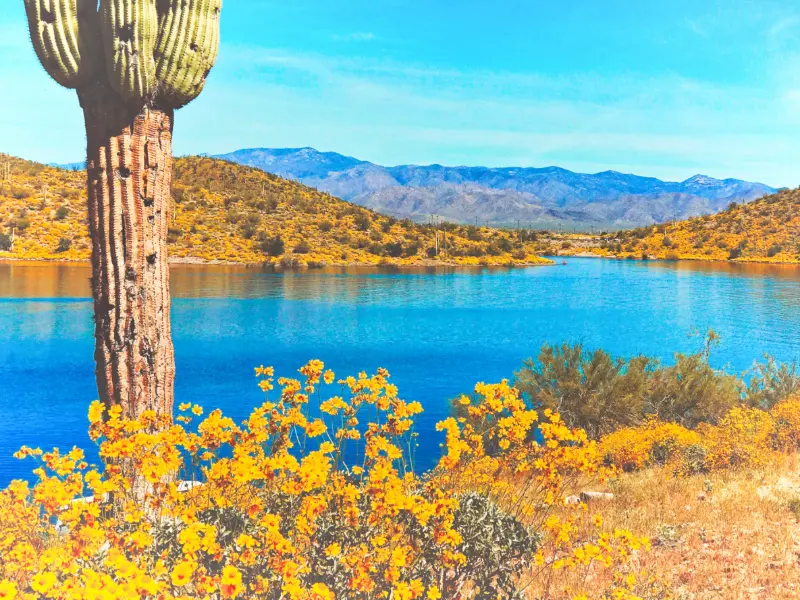 Central Arizona Mountain Kayaking Places
Not quite Phoenix, but not exactly eastern AZ, the mountains just north and to the east of Phoenix are full of great kayaking places. This area includes kayaking spots near Sedona, Prescott and Show Low. There are lots of hiking and jeep expeditions you can enjoy in the Sedona area, including experiencing the metaphysical vortex the region is known for, so between your kayak adventures and sunsets, be sure to check out the other fun things to do!
Sedona Kayaking Spots Not to Miss
Sedona, Arizona is known for its amazing rock formations and sunsets. The town itself if beautiful and quirky, and it makes for a fun getaway for outdoors enthusiasts and hippies alike. There aren't any kayak launch sites directly in Sedona, but the nearby areas of Mormon Lake and the Verde River are both beautiful and great for getting out on the water between hikes. Like with any waterways in Arizona, their depth and presence is directly related to recent rain or snowfall.
And since Sedona itself isn't known as a kayaking destination per se, the Verde Valley isn't too far away. The Verde River brings water to the vineyards in Arizona's newest wine area. Here you can take a kayak tour to a winery on Arizona's Water to Wine Tour. The Classic Water to Wine tour begins with an approximately 1 1/2 hour Kayak trip on a scenic stretch of the Verde River with just enough chutes and riffles to add a bit of excitement without ruffling any feathers. Your river trip ends in the shade of giant Cottonwood trees at the confluence of Oak Creek and the Verde River. Here you will take the gravel path up through the vineyards to the Tuscan farmhouse at the Alcantara Vineyards for your wine tasting delight.
---
Book the Cottonwood Water to Wine tour here!
---
Kayaking and SUP in the Mountains of Prescott
Nestled at an elevation of 5,200 feet above sea level amongst the largest stand of ponderosa pine forests in the U.S., Prescott's breathtaking landscapes are complete with granite mountains, lakes, streams, and rolling meadows. With three lakes to choose from, options for paddling on the water are found in Prescott. (Prescott is located in central Arizona about two hours north of Phoenix.) Rent a canoe, kayak, paddleboard, or tandem float and get out there with wildlife and views. Plan a ride around a full moon and enjoy the glow on the water, peaceful surroundings, and nighttime views.
Prescott is home to the true West, real adventure, both on and off the water. Born to Be Wild Adventures offers drop-off and pick-ups rentals for kayaks, canoes and paddleboards at Watson (an open lake with boulders), Willow or Goldwater Lakes (cool mountain lakes with pine trees). Prescott Outdoors offers reservations or walk up rentals on Watson and Goldwater Lakes with tandem kayak, canoe and standup paddleboards. When not on the lakes, you can go horseback riding, golfing, hiking, mountain biking, shopping or visit the local breweries and restaurants.
Fun fact: Once the territorial capital of the state, Prescott is rich with Western history embodied in its world famous Whiskey Row and abundant historical landmarks and home of the "World's Oldest Rodeo." Why not honor that and create your own water rodeo? Prescott is one of the best places to kayak in Arizona!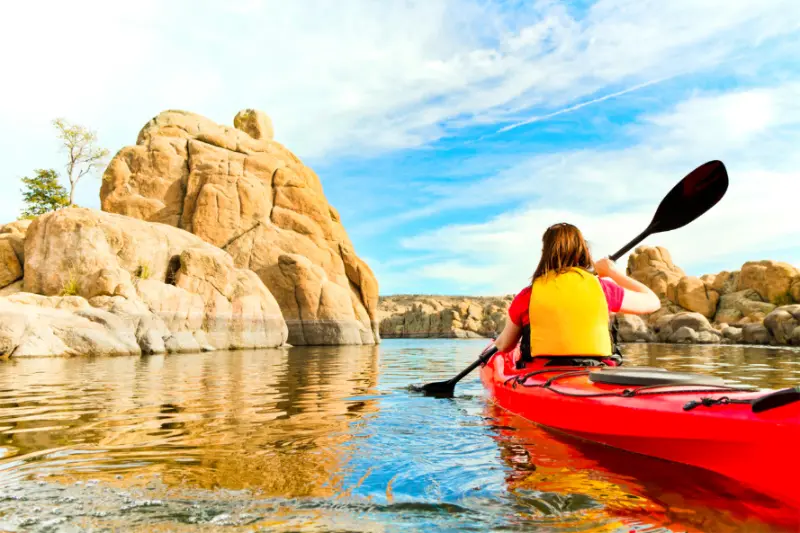 Pinetop-Lakeside Kayaking Spots and Rentals
High above the deserts, in the Ponderosa Pine Forest, the White Mountains offer clean crisp air, a mesmerizing star-filled sky, miles of trails and more than 50 alpine lakes and 800 miles of cold, crystal-clear rivers and springs, and wonderful AZ mountain towns. At an elevation of 7,000 feet, there are plenty of adventures on offer year-round in Pinetop-Lakeside. Paddlers will find summer the best time to get out on the water, especially down at Hawley Lake.
White Mountain Outdoor Rentals will deliver a kayak, canoe or SUP to your lake of choice and M&M Kayaks will insure that you get a boat for fishing or pleasure paddling with the proper license if you will be using a kayak on the White Mountain Apache Reservation. Rainbow Lake Resort has rentals on Rainbow Lake for guests and the public including, canoes, kayaks, paddleboats, aqua cycles or a pontoon boat.
Fun fact: In the winter, you can go skiing at nearby Sunrise Ski Resort, one of the largest ski areas in Arizona. COVID-19 has closed the ski areas for the 2020/2021 season, but there are still snow-play opportunities if you're in the area. Check out the Snover Lodge and Stables for an interesting stay.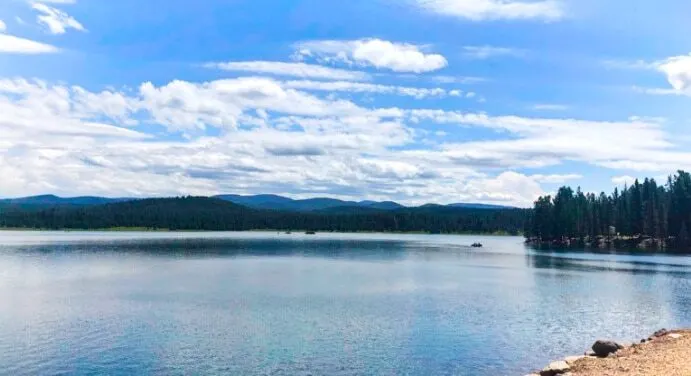 Show Low Paddling
Near Pinetop-Lakeside at a slightly lower elevation, but still a cool place in the summer, Show Low is home to Fool Hollow Lake State Park. At the edge of the lake, visitors can rent canoes, kayaks and paddleboards from J&T's Wild-Life Outdoors, the concessionaire located near the east boat launch ramp. You don't have to bring your own craft, you can rent on the spot, but reservations are always a good idea. Watercraft rental is seasonal and is currently only available in summer.
Fun fact: Show Low traces its name to a card game between two ranchers who needed to decide who would stay and who would go (clearly, the town wasn't big enough for them both). The one who could "show low" would win. The main street in town is "Deuce of Clubs" – the winning card. What a perfect example of the Arizona old West.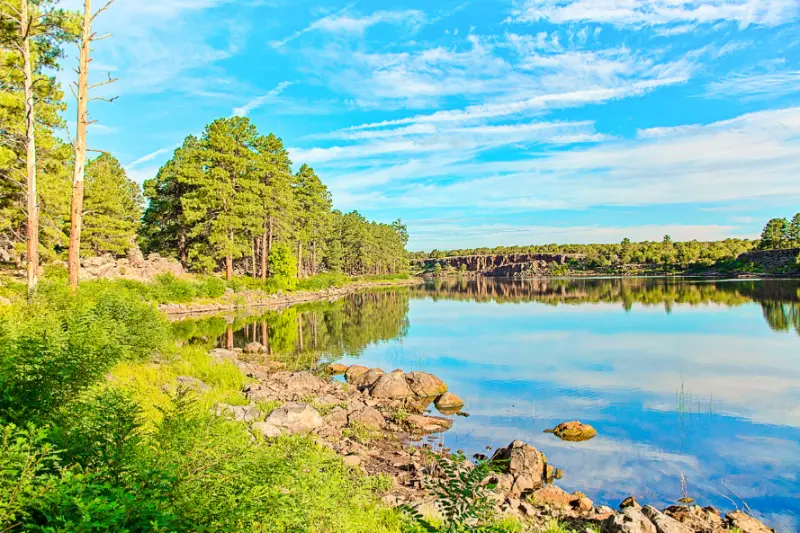 Did you even know that there were so many great places to kayak in Arizona? Remember, if kayaking isn't your thing but canoeing or SUP are, most of these locations are also good for other activities beyond kayaking.
As you plot and plan, always consider weather patterns and geology to ensure you have a safe and memorable visit. And if you have other great kayak launch sites around Arizona to share, feel free to send us a note or leave a comment.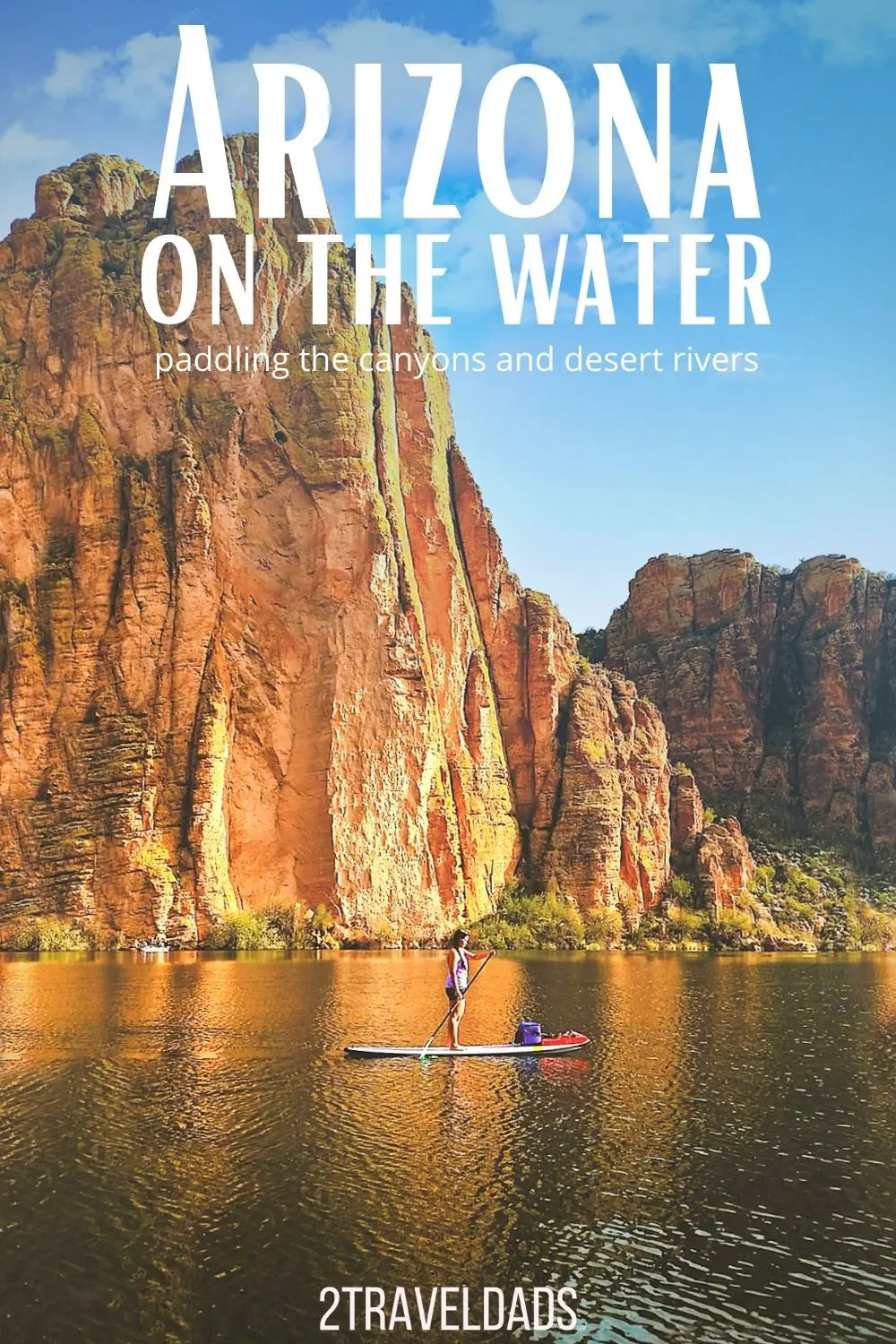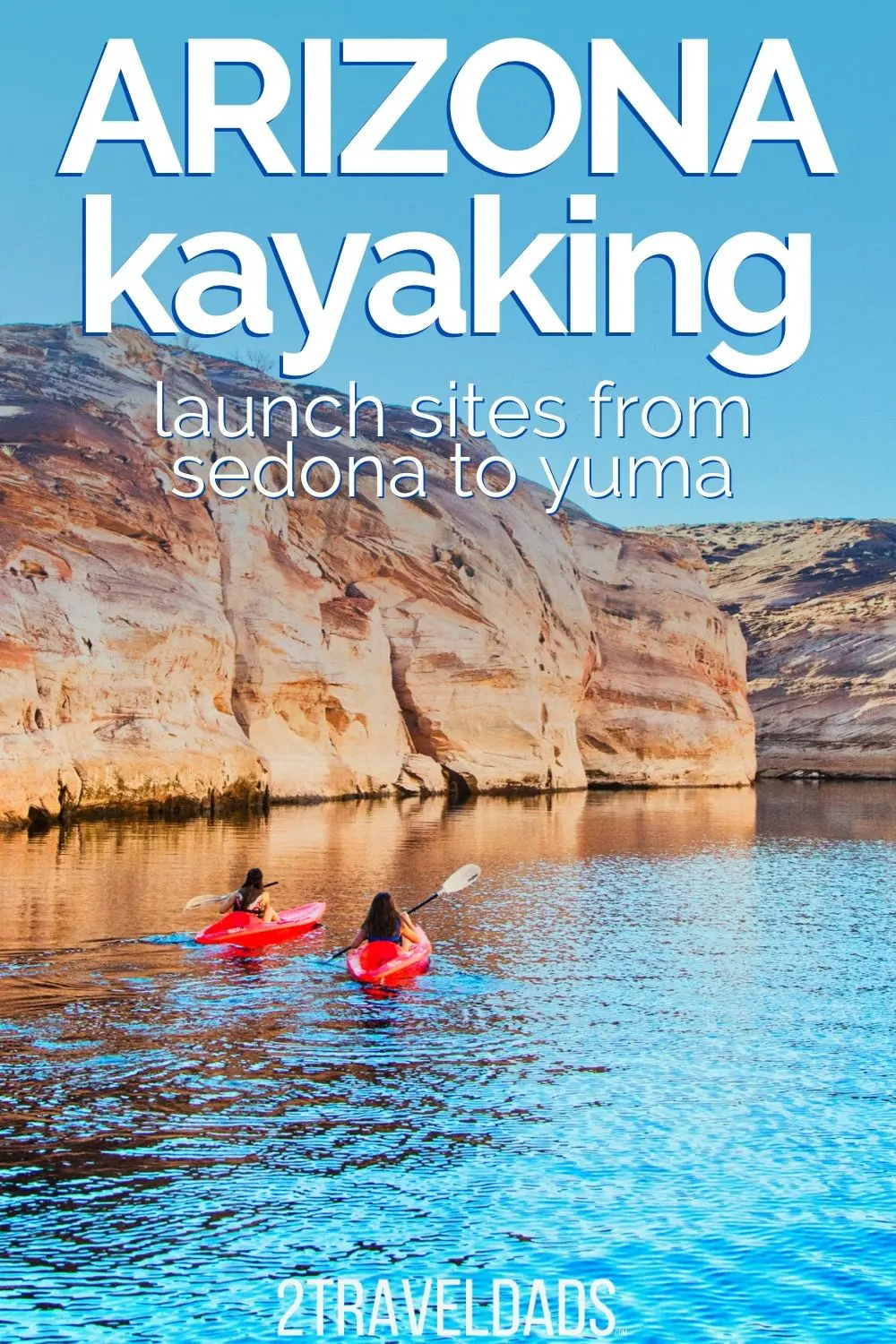 This post was created in partnership with Visit Arizona, office of tourism. It is not sponsored but was a joint effort to provide informative, inspiring kayaking information for those looking for the best places to kayak in Arizona. All images provided by the Arizona Office of Tourism, Viator, or are property of 2TravelDads. Image credit noted where required.