Yes, you can totally get a good sense of Zion National Park in just one day, but believe me when I say that you'll leave wanting more. Between the unique, red and yellow and white canyon walls to the waterfalls that appear out of nowhere, it's remarkable. This is our complete family guide to Zion National Park, basically giving a high level overview and drilling down into our more detailed posts. We've written a ton about Zion because it's awesome and we love it, so get all the goods.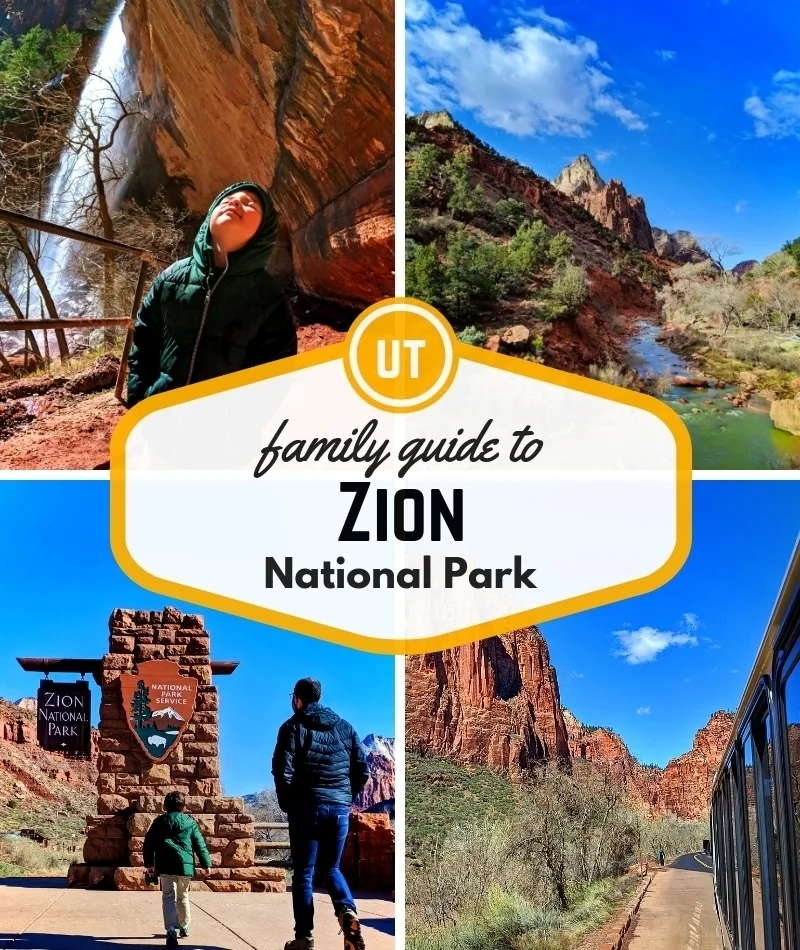 ---
---
Complete guide to Zion National Park for families (and everyone else too)
The first time I planned a trip to Zion National Park as an adult I didn't even know where to begin. I had visited as a kid and remembered everything we did… including hikes that I'd never take my four year old on. I ended up spending hours Googling hiking guides, travel blogs about Zion with kids, the National Park website itself and couldn't find all of the information I needed in one place, so I decided then and there that following our trip I would make something super easy that was exactly what I needed. And that's what this is: your one stop shop resource for all things family-friendly at Zion National Park.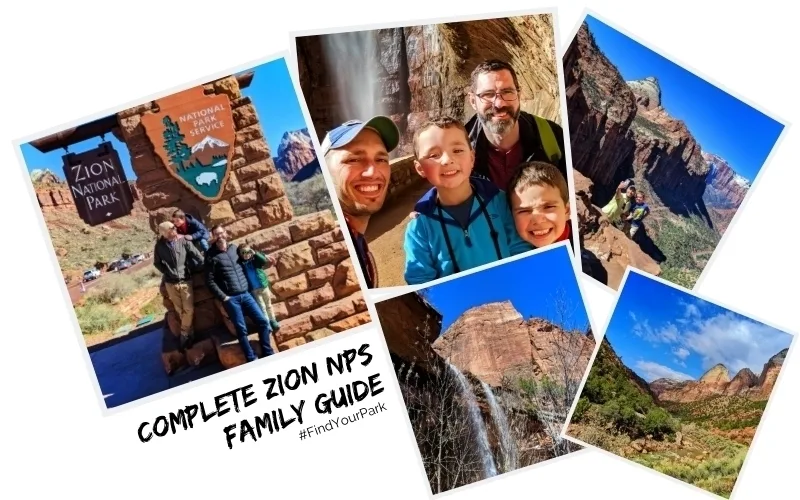 When to visit Zion National Park
If you're in Southern Utah, you should visit Zion National Park, no matter the time of year, but just know that it won't all be accessible. The absolute best time to visit Zion is early to mid Spring or early Fall. Being such a popular National Park, Zion is very busy and trails can be exceptionally crowded in the summer. Whatever season you choose to visit, you always need to be prepared. The weather can change in a heartbeat, although the summer months are pretty consistent with hot days and random cloud bursts. A guide to Zion National Park wouldn't be complete without data to back up a weather warning: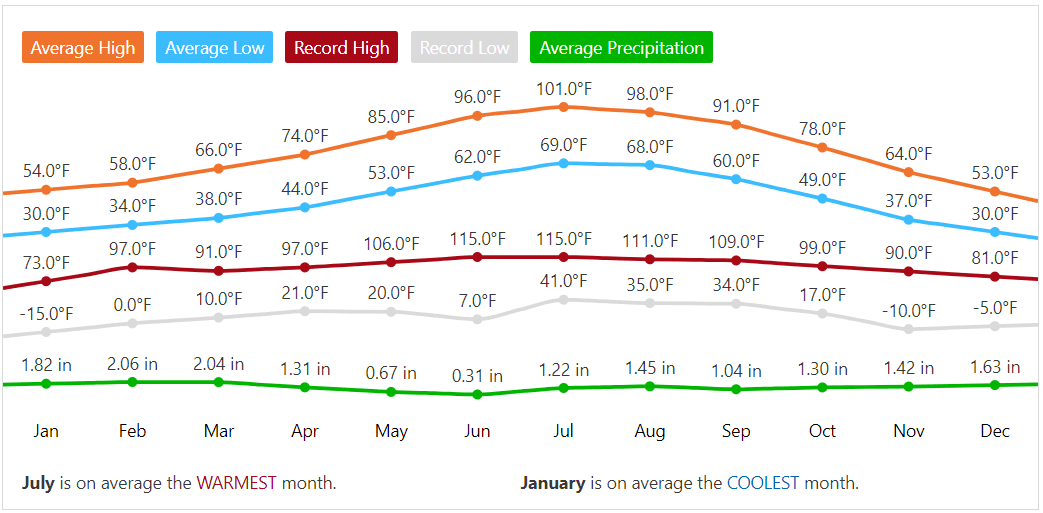 Accessing Zion: the shuttle system
You probably have heard or read that you can only access Zion National Park via shuttle. That's not completely true. Yes, Spring through Fall, the main Zion Canyon area is ONLY accessible via the provided shuttle, but in low season you can actually drive to certain areas. Check out our complete Zion Shuttle information here! And a big tip, if the shuttle is running, that's a key sign that you should be taking it because the park is busy. Even if the main canyon road is open before high season, if there's a shuttle running, take it.
Note: the shuttle from pick-up points in Springdale is free and saves you the pain of having to park INSIDE the Park. Be smart. Click the link above for more guide to Zion National Park info around shuttles.
Driving in Zion National Park – yes, you can!
It's true, there is a road that goes through the park. It's important to know where it goes and what to expect. Not unlike Going to the Sun Road in Glacier National Park or the General's Highway in Sequoia National Park, the Mount Carmel Highway and Kolob Canyon Road are both masterpieces of engineering. The views are incredible and, thank goodness, they come with roadside pull-outs so you can safely take pictures and enjoy the view. Be sure to familiarize yourself with driving routes before you visit and think you'll be hiking the Narrows until 7pm and hopping back in your car… That's why we've made this guide to Zion National Park: to keep you from being stranded.
Where to stay at Zion, in and outside of the park
Everybody travels in their own way. Understanding where to stay at Zion is important to make exploring each day easier. Also, if you want to do day-trips from your home base at Zion, you'll nee to be properly stationed. If you require staying within the boundaries of the park, check out the Zion Lodge and camping options. These will have you squarely placed inside Zion National Park, but believe me when I say it' NOT REQUIRED.
We recommend staying outside of Zion so you have better access to services AND optional day trips. Staying outside the park is also good for your budget. If you're on the Springdale side, there are loads of restaurants directly in town, which is nice, and you can easily drive out to Kolob Canyons in northern Zion or Snow Canyon State Park in nearby St George. On the east side, at Mt Carmel Junction you can enjoy easy access to Zion, Kanab (OMG, the landscape!), and Bryce Canyon National Park. Lot's of reasons to stay outside the Park boundaries.
Dining and Picnicking at Zion National Park
Another reason you've found the perfect family guide to Zion National Park. While Zion is one of the most famous and popular National Parks, it is remarkably limited when it comes to services within the Park, particularly food. You cannot happen into Zion without a plan or you will be up a creek (or up the Virgin River) without a snack. If you have prepared for a day in the park, you'll know that there are some great picnicking spots in Zion. If you haven't, you need to carve out time at the Zion Lodge.
Outside of the Park, after a long and awesome day of hiking in Zion, you'll find that Springdale has some great restaurants, catering to all dietary needs and tastes. Our dining guide has our recommendations for meals and super import info on understanding Utah beer. That's right: have have answered all your questions about beer in Utah, because it's complicated.
Activities in Zion
If you read our full post about hiking in Zion, you'll note that there are kid-friendly hikes and then EPIC hikes. There's no reason that you can't do both, with or without kids, as long as you're wise and plan your time appropriately. Our family guide to Zion National Park is all about making sure visitors of all ages can enjoy this incredible place, so be sure to check out each of our hiking recommendations: ♦ Zion Canyon ♦ East Side ♦ Kolob Canyons. If you don't have time and want to ensure the best hiking experience possible, our FAVORITE hike in the park is Canyon Overlook, but really, there are so many awesome trails!
In addition to hiking, there are great opportunities for Ranger Walks, educational programs, and even a wonderful museum within Zion National Park. We try to incorporate learning into every trip we take with our kids, so be sure to set aside a little time to learn about this unique, jaw dropping area you're visiting.
We visited Zion National Park as part of a larger Southwest road trip. Zion is really fun, beautiful and interesting on its own, but we strongly encourage visiting along a more grand, all encompassing trip. Do what you gotta do to make a visit happen, and hopefully our family guide to Zion National Park is just what you need to make that happen. If you have additional questions or suggestions, please let us know. Leave us a comment or send us a note!
And want to pin this guide to Zion National Park for your own travel planning? Go for it!!!