If I say "Orange County" you most likely think of the beaches or Disneyland, and that makes sense, but did you know there in another really fun destination in Orange County? There are so many things to do in Buena Park, just to the north of Anaheim, that it's both a great home base for Orange County and a wonderful destination in itself.
Here's a fun fact: we used to live in Buena Park! When we lived just off Knott in the mid 2000s the neighborhood was nothing exciting. Today, Buena Park has become a bustling, colorful city that's the entertainment capital of Orange County. We had three days and enjoyed tons of things to do in Buena Park.
Note:  we were engaged by Visit Buena Park to explore and share our favorite things about the area. We hope you enjoy and find your own favs!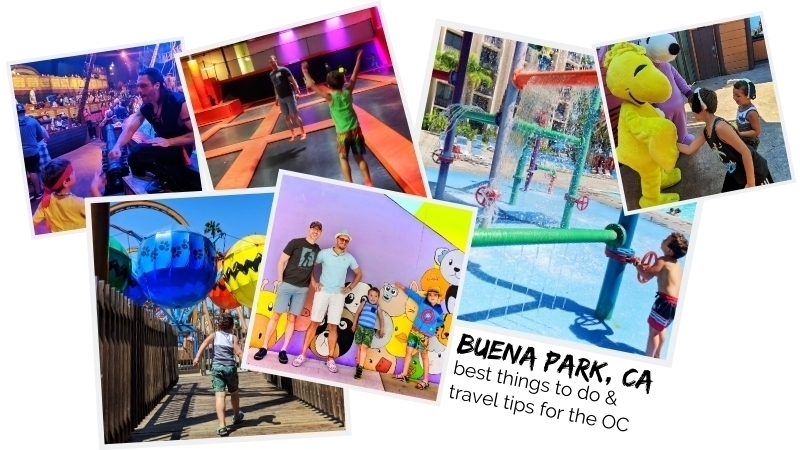 Why choose Buena Park
Buena Park is located in northern Orange County, bordering Anaheim and Cerritos. A large part of the city is residential, but then the rest is all about the fun. The city has become a hub for really good food in addition to fun and activities. 
Check out our full article on the awesome food scene and a bunch of the best places to eat in Buena Park!
Buena Park is ideal for both hanging out and being a home base for all things SoCal. If you're staying in Buena Park, it's an easy hop onto the 91 to LAX, the 5 to SNA or Beach Blvd down to Huntington Beach. Also super close is Disneyland: just a quick zigzag down into Anaheim. Really, anywhere you may want to go in SoCal is easy to access from Buena Park because it's situated between so many highways.
Best things to do in Buena Park
The city of Buena Park is very active with lots of choices for how to spend the weekend or afternoon. As we mentioned above, it's a great home-base for an Orange County trip, but you can stay in Buena Park, never leave, and still not be bored.
Knott's Berry Farm with small kids
We just have to start here because Knott's Berry Farm is the reason most people head to Buena Park. It's really an amazing place. You know how much we love taking the kids to Disneyland and Universal Orlando, but Knott's Berry Farm is DIFFERENT in every way. We'll be sharing a full article on planning a great Knott's Berry Farm adventure, but here are our top tips:
Do Knott's for the whole day, not just part of it

Plan your day to include down-time at the many shows within the park

Give the kids plenty of time to be in charge of the schedule

Plan one or two grown up (level 5) attractions that the adults can alternate enjoying
Knott's Berry Farm is the perfect combo of rides and attractions for small kids AND crazy intense roller coasters for big kids and adults. Depending on who you're visiting with, your itinerary in the park will vary greatly. Knott's is for sure at the top of our list of things to do in Buena Park because it's so perfect for any age group.
Note: Knott's Soak City is a waterslide theme park directly next door to Knott's Berry Farm. If the weather permits and you have time, spend a day there enjoying the slides and waves!  Get Knott's Soak City tickets here.
Full Knott's Berry Farm article to come soon!
The Pirate Dinner Adventure
We did not know what to expect of the Pirate Dinner Adventure. Knowing that the Los Angeles area is full of performers of all sorts and that Buena Park is a hub of entertainment, we knew it would be fun…. And it really was! The kids were a bit nervous about going initially because you know, pirates can be iffy characters, but they loved it.
Without giving away the details of the show, the combination of singing, acrobatics, stunts and audience participation made it a really special event for us. And we get to do a lot of really cool things, so you have to know that this was great.
Tips for experiencing the Pirates Dinner Adventure
Since the Pirates Dinner is one of the coolest things to do in Buena Park, it's also one of the most popular things to do. We recommend booking your dinner as soon as you know you're going to be in the area. Here are the main tips to have a fun, family experience at the Pirates Dinner Adventure:
Choose the evening show if there are multiple showtimes when you're going – great way to end the day

Arrive plenty early to enjoy the pre-show mingle w/ appetizers (complimentary)

If you plan on drinking alcohol, purchase the souvenir glass vs bottled drinks

For kids who are sensitive to loud places, ear plugs or headphones can make it easier for them

Don't be shocked if there are loud bangs and explosions.
It's a really fun experience and something everyone will enjoy!
Note:  the Pirates Dinner Adventure is about 2.5 hours from arrival to departure. Plan appropriately if you have small kids with earlier bedtimes.
Medieval Times dinner show
Similar to the Pirate Dinner Adventure in some ways, Medieval Times is also a grand theatrical dinner show. A combination of sword fighting, jousting (with horses even!), and all the royal pageantry you can drum up, it's a fun family event you can add to your list of things to do in Buena Park.
While you could do both Pirates Dinner and Medieval Times, we would recommend picking just one if you don't have a lot of time. Both show experiences are fun and great with kids, but doing multiple shows in one trip may be pricey for a family.
Note:  inquire with Medieval Times regarding vegetarian options and preparation, as the meal that's served is rather meat-centric.
Big Air Buena Park: OMG trampolines
I don't know how we managed to never visit a trampoline park until coming to Buena Park, but it's one of our new favorite activities. Big Air Buena Park was crazy fun… and the kids liked it too. Seriously, as an active adult I had an absolute blast. I also don't understand how in the world I was able to jump on trampolines for so long as a child. Us dads got WORN OUT! The boys could've stayed forever.
Within Big Air Buena Park, you'll find basic trampoline zones, slam dunk cages (to feel like a basketball star), gladiator fighting beams over foam pits, rock walls for climbing, dodge-ball, a mechanical bull and more. It is the most fun workout you can imagine.
Tip:  arrive early in the day for the smaller crowds, as afternoons can be a very popular time.
Things to know before visiting a trampoline park
You really should be prepared for visiting a trampoline park. While the fun is all provided, you'll want to be ready for a few aspects of trampolining:
Make sure everyone has a refillable water bottle, as it's a workout no matter your age

Bring clothes for kids to change into afterwards – our kids sweated a ton

Be alert for how your kids are playing and of your own bubble in a trampoline zone – being aware of others is key to everyone's safety

Set ground rules about checking in with you so nobody gets lost or confused
There are a lot of staff members present in all areas of Big Air Buena Park, but they aren't there to be all the people's parents or guardians. The very nature of trampolining is being elastically bounced beyond your normal physical skills, and this can give some kids a boost of crazy energy. Help your kiddos manage that and be aware of their surroundings.
The Source OC for food and fun
I know, I said that you'll need to check out our dining in Buena Park article for food info, but just as a quick note, hitting up the new Source OC complex is a must. It's not a mall even though I'm calling it a complex. It's a multi-level complex full of really interesting international restaurants, bakeries, K-Pop stores and totally Instagramable murals. It's a great stop to grab some breakfast or lunch and take fun photos! They do events too, so if you're looking for free fun, check out their website for outdoor movies, Lunar New Year celebrations and other happenings.
Pool time and relaxation
What's a trip to SoCal without pool time and relaxation. We make sure to always book a hotel that has a nice pool, no matter what the weather report says or the itinerary dictates. If there's one thing we've learned in our years of traveling with kids it's that down time to simply play does more good for tiny travelers than constant stimulation.
There are so many things to do in Buena Park that require a lot of energy and also that play off of all the senses, finding time for kids (and yourself) to relax without expectations really will help make the trip more fun.
Hotel Suggestion:  we stayed at the Knott's Berry Farm Hotel and thoroughly loved the pool area, the connection to the theme park, and the actual Snoopy rooms with a visit from Snoopy himself. A great choice for staying in Buena Park.
Fun beyond Buena Park: BP as a home base
On most trips we take, we look for accommodations or a town that is central to most of our activities. We like to have a home base to return to and yet explore far beyond. For exploring Orange and Los Angeles counties, Buena Park is a great place to stay.
Visiting Disneyland from Buena Park
Like I said, the city of Buena Park is on the border of Anaheim, which is where you'll find Disneyland. Staying in BP for a Disney trip is a great idea because you'll be super close, yet you can easily escape the crazy hustle of the Anaheim resort area. Staying so close, you can use Lyft/Uber to get back and forth from Disneyland and not have to worry about parking and walking crazy far and taking the tram to the park and then walking through DTD to the entry plaza. Costs will be about the same as paying for parking but the time savings is huge!
Note:  this is a strong recommendation if you're only doing Disneyland for a day or two. Even though it's one of the things to do IN Buena Park, adding a quick Disneyland trip is easy and worth doing.
Los Angeles day trips
And even though Los Angeles is a totally different (don't say that Orange County is LA!) staying in Buena Park and doing a Los Angeles day trip or two is a good plan. As long as you're traveling outside of the primary rush hours, traffic moves better than everybody says and visiting places like the Getty Center, Farmers Market, Silver Lake and other spots is actually pretty easy.  Check out our article on fun FREE things to do in LA!
Orange County beach days
What is talking about SoCal without mentioning spending some time at the beach? While the most beautiful, nuture-type beaches of the OC may be down at Laguna Beach, including Crystal Cove, Huntington Beach and Seal Beach are our two favorites to visit with the kids. Huntington Beach lies at the end of Knott Ave (turns into Goldenwest) and  Seal Beach is at the end of Westminster Blvd (via Seal Beach Blvd). Both beaches are about 30 minutes from Buena Park, and both are great with kids. 
Day trip to Palm Springs
A little farther away, about a two hour drive, lies the city of Palm Springs. We love Palm Springs for its hiking and restaurants. It's a blast and provides a welcome change to city life. It's a great day trip from Buena Park as you can just hop on the 91 and head east. What do you do once you get to Palm Springs? Visit the ACTUAL springs. The city is surrounded by palm oases with some of the most beautiful, unique hikes around. Seriously, Indian Canyons and the Coachella Valley Preserve are two of the most fascinating places in California.
Clearly, we loved getting to spend time finding all the best things to do in Buena Park. It was nice to be reminded how much we love Orange County and being immersed in fun opportunities. If you have any questions about Buena Park, exploring Orange County, or any of our other favorite SoCal day trips, please let us know! We are here to be a resource and encourage exploring new places full of fun and excitement!
And if you'd like to pin this post for your own travel planning to visit the OC, go for it!