What does it take to have a perfect Palm Springs weekend getaway? A few things: great hotel, fun and relaxing plan, somebody wonderful to escape with (even if it's just yourself). We had all three of these things and enjoyed a much needed dads three day weekend away to Palm Springs.
We have partnered with Best Western Hotels & Resorts to do all sorts of trips and exploring this year, and Palm Springs was one of those trips. Our opinions, suggestions and itinerary are our own and we know that all together it really does make for the perfect Palm Springs weekend getaway.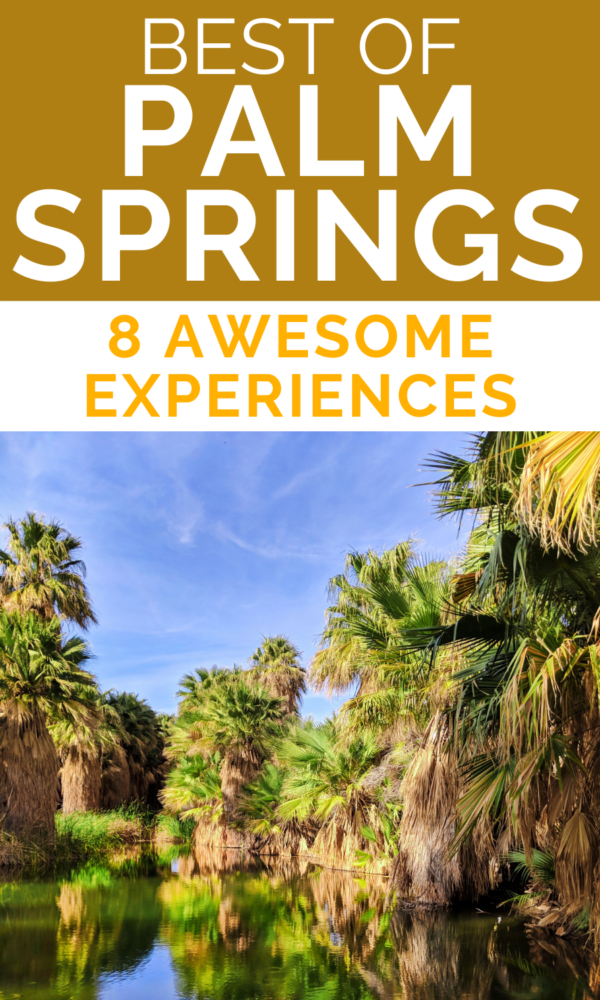 Getting to Palm Springs
Palm Springs is one of our favorite SoCal day trip recommendations. You can drive there from Los Angeles and the OC on a whim, or if you're in Las Vegas or Phoenix, you would want to plan your drive a little more. Either way, desert driving is easy and beautiful, so no worries.
Drive times to Palm Springs are as follows:
| | | |
| --- | --- | --- |
| Los Angeles | 1:40 | Via I-10 |
| San Diego | 2:10 | Via I-15 to I-10 |
| Las Vegas | 4:00 | Via I-15 |
| Phoenix | 4:00 | Via I-10 |
You can fly there from nearly every west coast airport. It's a breeze.  Flying into Palm Springs (PSP) is not cheap most of the time, but if you pay close attention to promotional emails, particularly from Alaska Airlines, you can find some good deals. West coast flights to PSP are pretty short, which makes a Palm Springs weekend getaway totally doable with limited time.
Tip:  if you search for flights into Ontario (ONT) you'll find even better deals than Palm Springs. Yes, it's an hour's drive from ONT into Palm Springs, but you can save $200-$300 per ticket by doing the drive. Also, rental cars are less expensive out of ONT.
Where to stay in Palm Springs
As I said, we've partnered with Best Western Hotels & Resorts this year, so our weekend getaway to Palm Springs brought us to the Best Western Plus Las Brisas Hotel. Located downtown Palm Springs, it was centrally located for both getting out of town during the day and walking to dinner or drinks at night.
We always look for a hotel that's going to be nice but also make our overall travels easier, so for a Palm Springs getaway, the BW Plus Las Brisas was ideal. A bonus to staying here was the pool and patio areas. Sure, most hotels have a pool, but this one also has a pool bar and full outdoor patio for relaxing all day long. Ample lounge chairs and umbrellas made it easy to return to the hotel in the afternoons and just chill.
Other suggestions for where to stay in Palm Springs include the other Best Western property, the BW Inn at Palm Springs (not downtown, but great pool area), the Caliente Tropics Resort (fun theme), and a variety of other resorts catering to the Instagram-going crowds (think Saguaro or Ace). And there are some INCREDIBLE AirBNBs in Palm Springs! Really, there are lots of options, but we always recommend going with a brand you are familiar with to me the be weekend away.
Perfect Palm Springs getaway plan
Of course you need to create a plan that fits with your travel style and interests, but since we're energetic outdoors people, we are going to tell you all the awesome ways to explore the Palm Springs area and see why it's such a cool, beautiful, natural wonder of California.  For more California winter getaways check out this great post!
Here's the video we created with the Best Western team capturing a bunch of our activities and itinerary. It was really fun to shoot with them!
Fun in nature around Palm Springs
We're starting here because this is why we love the Palm Springs area. Despite the city itself being a fun destination full of restaurants, art and culture, the nature that surrounds Palm Springs is really incredible and makes for a perfect nature escape.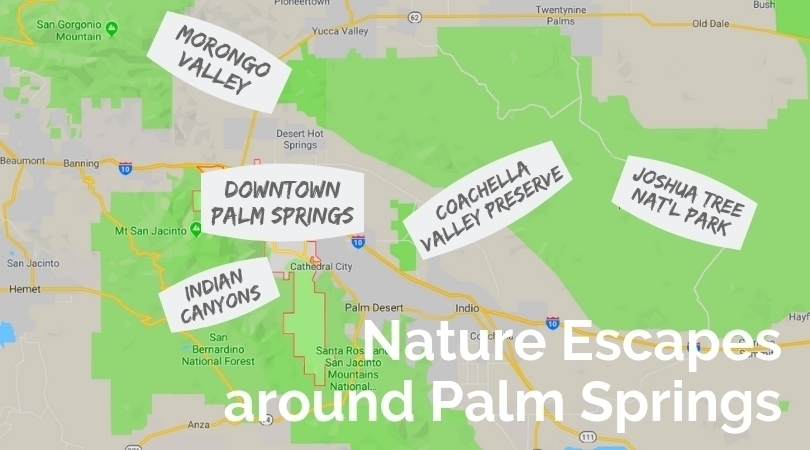 Day trip to Joshua Tree National Park
Just north of Palm Springs in Joshua Tree National Park. It's a really unusual place and not at all like any other National Park we've visited. Whether you're a rock climber, bird watcher, hiker or nature lover in general, Joshua Tree offers all kinds of experiences. Without giving up all the details of our favorite spots, let's just say that packing in a picnic and lots of water is the best way to explore and enjoy the park. We recommend visiting in spring for the best temperatures and abundance of flowers. Coming soon:  Joshua Tree National Park day trips
Hiking at Palm Springs Indian Canyons
We've long been big fans of hiking at the Indian Canyons just outside of downtown Palm Springs. It's the reason Palm Springs has its name. Truly, the palm oases surrounding the city are out of this world and magical. Picture it: desert all around you and then in the canyon below there are streams and waterfalls and palm jungles. Until you visit, it's difficult to understand how special this place it.
The rugged terrain is very unusual and one of the most unique hiking experiences in California. Check out our full article on hiking the palm canyons, because it's one of the must-do activities on any Palm Springs weekend getaway.
Tip: make sure to bring plenty of water, as it gets hot above the canyon rim and you don't want to dehydrate.  For more information about hours and trail conditions at the palm canyons, visit the website for the canyons.
If you're looking to experience the canyons and desert with a guide for both education and safety purposes (or if you don't have a car), you can book a tour to the Indian Canyons. It will be more expensive than exploring on your own, but also will be a much different experience.
Horseback riding in the Morongo Valley
Chris and I have differing opinions about horseback riding. I love it, he could skip it. We had the best experience though at the Crazy Horse Ranch in the Morongo Valley, just north of Palm Springs. Our guide, owner Jacklyn, was the most gentle and intuitive horsewoman I've ever met, and I used to be a trail guide myself. Working the horses only with reigns, no bits or hackamores, we all got a fresh, new, extremely respectful training on horsemanship.
Once we were ready to hit the trail, the scenery was gorgeous, particularly because we visited during the super bloom. Birds, jack rabbits and more desert flowers than we could've imagined made for a beautiful morning riding. Horseback riding in the desert was what we didn't know our previous Palm Springs weekend getaways were missing.
Tip:  if you're able to book a morning horseback ride, we recommend that. The sun will still be low making it not too hot and ideal for photography.
Things to know before desert horseback riding
Like with any experience out in the desert or and environment, you want to be appropriately prepared.  Even though horseback riding is much less exhausting that hiking in the heat, you'll still want to bring your own refillable water bottle. I think we remind everybody of this in every article we write, but you don't want your Palm Springs weekend getaway to be ruined by ending up with heat exhaustion or in the hospital. So here are our tips for a great day of riding in the desert:
Drink lots of water and bring it with you on the trail

Wear close-toed shoes

Wear long pants even though it's hot out (save your legs)

Only bring a small camera unless you're a skilled rider/good listener
That last note is for reals. Even though having a good DSLR is wonderful for desert photography, it's actually more important that you pay attention to the terrain and riding your horse than taking photos. If you need to stop for pictures, communicate that with your trail guide. Safety first.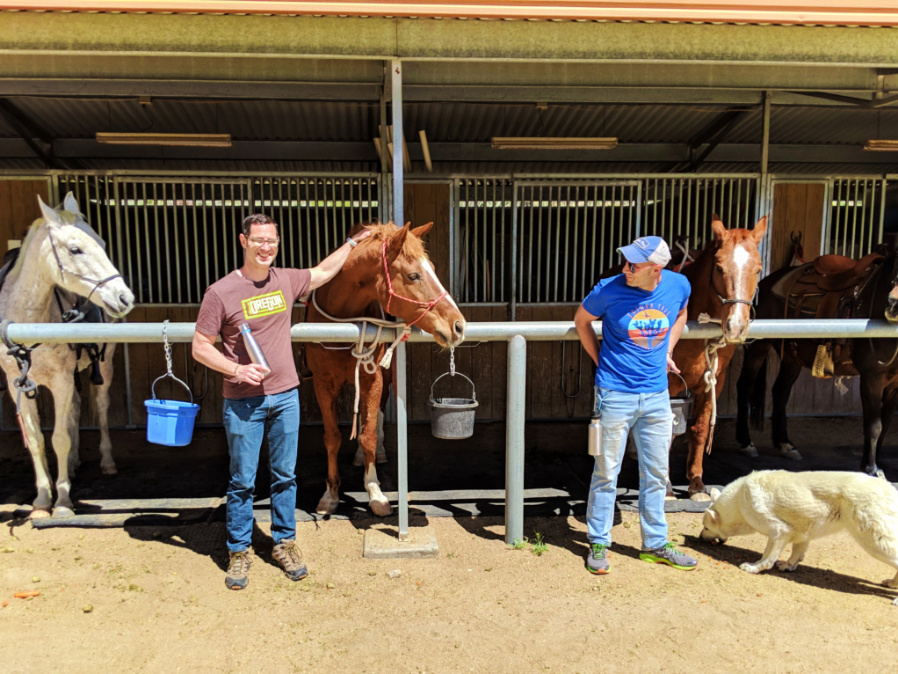 Exploring the Coachella Valley Preserve
Another incredible palm oasis just outside of Palm Springs, the Coachella Valley Preserve is a very special place. Imagine a spring in the desert where an intense, interwoven grove of palms has sprouted up, fill it with wildlife and you have the Coachella Valley Preserve. We're suckers for unique natural wonderful, so a weekend in Palm Springs is like a treasure hunt for us, and this oasis was just that.
The stroll into the oasis is easy and perfect to get an understanding of why the Coachella Valley Preserve is so special. The visitor center is full of specimen drawers and historical photos. It's built of palm logs and is unlike any other cabin in a palm forest we've visited… it's the only remote palm cabin we've visited actually.
Beyond exploring the dense palms, a short half mile hike on the McCallum Trail to the McCallum Pond will give you another cool experience. The reflections were remarkable, but the wildlife was really amazing. From bunnies to desert iguanas, fish to birds, it was constant. The highlight though was encountering a family of owls in the palms. Wow! Really amazing and unforgettable. Who knew that a weekend getaway to Palm Springs would be so full of nature?!
Tip:  visit the Coachella Valley Preserve early in the day as they lock the gates for the main parking area at 5pm year round. Make sure you can hike, and make sure your car isn't locked within the gates.
Fun in downtown Palm Springs
Besides all of the wonderful nature all around Palm Springs, the other side of the fun lies in exploring the actual city. Palm Springs is more than golf courses and hotels. It's got its own scene and events, and lots to do within walking distance of the downtown city area.
Moorten Botanical Garden
We visited the Moorten Botanical Garden and immediately wished that we lived in SoCal. Not only is it an interesting botanical garden full of every type of cactus you can imagine, but it's home to the original cactarium: a conservatory full of only cactus from around the world, some are so strange there is a docent on hand to explain what you're looking at.
Why did our visit make us wish we lived in SoCal? Because it's also a really amazing plant shop! While you cannot purchase every type of cactus you see, they do provide all sorts in pots ready for you to start your own collection. We actually were able to carry-on small cactus assortments to bring home to the kids.
Palm Springs Art Museum and Vintage PS
Located just blocks from our hotel, the BW Plus Las Brisas, the Palm Springs Art Museum brings in all sorts of exhibitions. Photography, sculpture, the desert: all are frequent features at the art museum. And then there are the galleries along Palm Canyon Drive. There are lots of opportunities to check out (and maybe purchase) lots of great California artists' work. A surefire place to find art, both ready for purchase and happening all around you is at the Thursday evening street fair, Village Fest, that goes all year. Really fun and always busy!
Basically, a Palm Springs weekend getaway is going to have some sort of art working its way in. And let's put Vintage Palm Springs on the table as part of that. Even if you're not in the market, there are lots of shops for you to spy the golden era of PS. Vintage cars, antique shops and the galleries are perfect for getting you that vintage weekend.
Tip:  if your Palm Springs weekend getaway is the first weekend of the month, the Palm Springs Vintage Market happens on the first Sunday. This is the perfect spot to see what sort of treasures are hiding out in the desert.
Something else you can do for exploring vintage Palm Springs is a mid-century and movie star tour. Since the 1940s the city has been an escape for Hollywood with many famous actors having homes and estates around PS. Book a tour of the best vintage homes to see what Palm Springs was link in its golden years.
Dining around Palm Springs
I didn't include dining around Palm Springs as a great way to get the vintage vibe from Palm Springs because it's its own topic; restaurants should be their own article. To say that there is some good food in this city would be a gross understatement.  We've enjoyed our share of great meals here but only have a few solid recommendations based on our most recent trip. The first is the Tropicale. Located a bit off from the main downtown core (but still walkable), it's exactly what you'd want vintage dining to be: loungy, loud, fancy cocktails, good food.
Tip:  check out the Yelp! reviews for a good laugh about the Tropicale.  My favorite review: "…Great physiques on all the wait staff!…"
Our next vintage dining recommendation is the Reef Palm Springs tiki bar. Located at the south end of downtown, very near the Moorten Botanical Gardens, the Reef is a part of the historic Caliente Tropics resort. It's open to the public and is totally vintage. When we arrived I half expected Jeanie and Major Nelson to walk out with their astronaut friends (you better know that I'm referencing I Dream of Jeanie). The menu is good too, including lots of Polynesian influence in their burgers and drinks.
There are many other spots you can check out, but these two places really speak to the fun and feel of the city. We consider them "musts" for a Palm Springs weekend getaway.
We thoroughly enjoy visiting Palm Springs and exploring the whole area. We're never at a loss for things to do and always are moments away from some sort of thrill or relaxation. If you have any questions about activities, hiking, or the surrounding towns of Indio, 29 Palms, or the Coachella Valley, we're happy to chat!
And want to pin this for planning your own Palm Springs weekend getaway? Go for it!!!