I hate to be that guy but I'm going to share with you the best secret spot in California for Instagram worthy pictures. I know, you've seen it a thousand times but this you want to check out for sure. Guadalupe is the best surprise of a town and it's the most Instagramable town in California, or at least the Central Coast.
There are some places that have been ruined by Instagram and people over running things in an effort to get a cute picture or something. That's not the case here. Guadalupe, CA is cool and would only benefit from people sharing its awesomeness.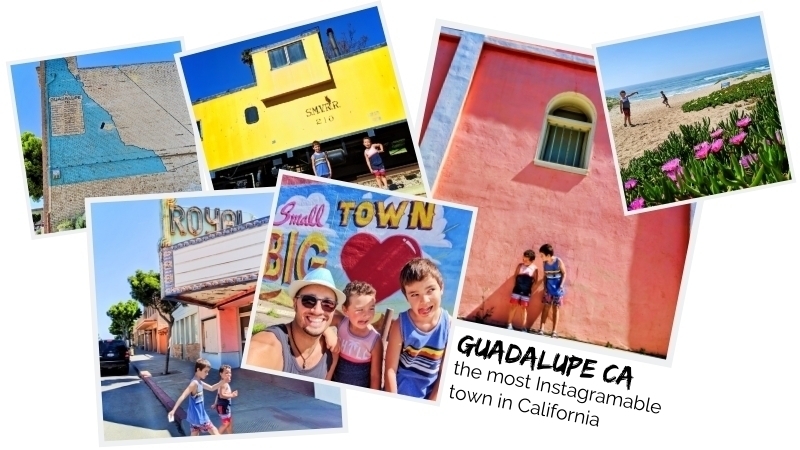 Locale of Guadalupe, CA
A party of the Santa Maria Valley, Guadalupe is nestled between wine country, artichoke fields, and the sand dunes of the Guadalupe Nipomo Dunes Preserve. It's about three hours north of Los Angeles and 40 minutes south of San Luis Obispo. It's a short jaunt off the 101 and totally easy to add to a California Coast road trip. It's one of the less visited towns off the 101 and is absolutely worth your stop.
Tip:  check out the Santa Maria Valley tourism's site for a great itinerary that takes you through Guadalupe on a heritage tour of the area. It's very similar to our own SMV travel plan but with a couple different stops.
Why is Guadalupe the most Instagramable town in CA?
Every day, more and more people are turning to Instagram to plan their vacations and day trips, and why not? True, you're seeing something that's typically very curated and often sponsored, but it's also likely that the destination you're looking at is actually pretty cool. Guadalupe is that: totally cool but also unpolished and real California. I'm calling it the most Instagramable town in California because without trying it is colorful, artistic, full of interesting architecture, and surrounded by epic landscapes.
One visit to Guadalupe and you'll agree that it's the most Instagram worthy town in California. It stole my photographer-heart.
Colorful downtown Guadalupe
The town of Guadalupe was first founded in the 1780s as part of a mission (it's just off El Camino Real) and grew and became its own incorporated city in the 1940s. Growing so much in the early twentieth century there downtown area has some wonderful Deco buildings, albeit a few need a face-lift.
The old performing theater, former home of the Far Western Tavern, is in the process of getting an update and becoming home to the Dunes Center. There's an old Royal Theater with some great neon. Pastel storefronts and brick buildings are the perfect backdrop for imagining vintage Guadalupe in its heyday. It's really adorable and picturesque.
Bonus Instagram spot: the Amtrak station is great! Pink stucco, pink flowers, pink columns: perfect. And there's an old Santa Maria Valley Railroad caboose you can check out (interior open with limited availability).
One last vintage California Instagram spot is the barber shop. Big windows, checkered floor, peach and aqua exterior, it's a slice of yesteryear. But don't just take a pic and move on, hang out and wait for a trim. It's a popular spot, so you may be waiting a while, but how better to connect with the locals and hear more about Guadalupe than hanging out with them?
Guadalupe's growing Street Art sites
Keeping with the vintage feel off the rest of the town, most of the murals in Guadalupe are very large, advertisement style murals that take up full sides of buildings. They're a combination of actual old mural ads and current street art additions.
Our favorite was the Small Town Big Heart mural. That message is exactly why we love Guadalupe and it's totally accurate. They people of the town love to share the history and also current culture and happenings. For being a city on the edge of resurgence, its citizens have the town pride of New Yorkers or Bostonians ready to tell you all about why they love Guadalupe.
Tip: check it the town's calendar if events to experience this genuine town pride in talking about. Between tamale rolling classes to festivals, they're all about celebrating the people that make up Guadalupe.
Nature and Outdoors around Guadalupe
Before we even knew that Guadalupe was the most Instagramable town in California we knew that it was the gateway to the dunes. Just beyond the town, past the fields of artichokes and cabbages (Instagram worthy themselves) is the Guadalupe Nipomo Dunes Preserve. Stretching along the coast, the preserve offers dramatic backdrops of rolling sands and perfect beaches.
When to visit the Guadalupe dunes
While any time off year is great for exploring and appreciating the beaches, the sand dunes are only open to hiking mid-fall through early spring. This is because the plovers and other seabirds nest in the dunes and they're quite crafty with their camouflage. So when are the Guadalupe Nipomo Dunes best to visit?
For the best weather and photogenic light, we recommend exploring the dunes as soon as they open in the fall, and get there in late afternoon.
Tip: east coast beach photography is best in the morning when the sun is low over the ocean. When you visit the Guadalupe Nipomo Dunes (or any west coast beach) the late afternoon gives you the best light.
For a bonus stop, visit the Dunes Center in downtown Guadalupe to check out the bizarre history of the area. Did you know that back in the 1920s Guadalupe was actually the set for golden-era Hollywood movies, and in particular, Egyptian classics? It's true, and at the Dunes center you can actually see many of the set pieces that were archaeologically dug up, like with real archaeologists. It's totally random and wonderfully cool. Oh, Guadalupe…
Why share this secret Instagramable town?
Sometimes when we travel we visit places that are all tourism and chain restaurants and very few local businesses. Places like that are wonderful for providing jobs to locals, but still so much of the money from visitors leaves the community. Besides Guadalupe being photogenic, it has lots of wonderful small businesses and restaurants. In any town, whether it's a village in Croatia or a farming town in California, we try to put our tourism dollars right back into the community. One of the best ways to be a low impact traveler is to shop local and spend consciously.
We're sharing Guadalupe and encouraging people to visit because we love this town and would love to see others enjoy it the way we have. Watch Guadalupe in the coming years as they continue to spruce up some of the old buildings in town and as the community grows. We can't wait to return and enjoy the most Instagramable town in California once more!
Want to pin this for your own travel planning for the Central Coast? Go for it!