Buena Park is known for being the home of Knott's Berry Farm, but it's so much more than that! It's actually full of restaurants and culture that make visiting and hanging around BP really fun for the whole family. If you want some guaranteed good food experiences, here's your guide to where to eat in Buena Park. We're all about being family friendly and unique, so that's what we've included here.
True, we like to use Buena Park as a home base for exploring more of the OC, but if you want to stick close to your hotel and the attractions on your itinerary, might as well enjoy some great Buena Park dining too. We were surprised by some of the establishments we visited, and we know you will be too!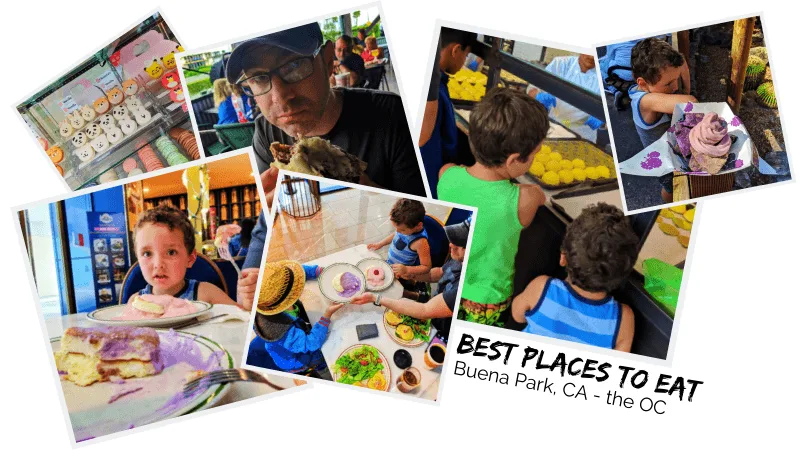 The Source OC: go-to spot for fun and food
Who knew that we'd find a new favorite hangout in Buena Park? A little back story: we used to live an work in Buena Park long before the kids were born, so it's always been a bit of a second home for us. The Source OC is a new and awesome spot that I wish was around when we lived there. It's full of restaurants, sure, but it also has some really fun murals and shops. If you need something K-Pop they've got you covered. If you are too hot and need to escape with kids for an hour or two, there's an amazing indoor play space: Play Pie.
Basilur Tea
This is our #1 recommendation for where to eat in Buena Park. For realz. So much more than a tea shop, Basilur Tea has the coolest breakfast menu in Orange County. Yeah, the variety of benedicts was good and I loved the vegetarian options, but the real show stopper was actually the souffle pancakes. You didn't know you needed to try souffle pancakes until now. Wow.
Yeah, I'm writing a whole section on pancakes because they are so much more than that. First of all, a souffle is the epitome of successful fluffy cooking. Pancakes are the ultimate diverse breakfast food, able to be dressed up in infinite ways. Combine the two and you have the most delicate, beautiful, delicious menu items you've ever had. We tried the ube, strawberry, and banana caramel souffle pancakes and each was remarkable, the ube being the best. Even though there are lots of things to do in Buena Park, you need to carve out time for souffle pancakes.
Tip: if you like tea, they also have their own line of teas, including bottled milk teas, so bonus for the tea lover. Basilur Tea is not just one of the coolest places to eat in Buena Park, but it's the USA counterpart to the Sri Lankan tea exporter of the same name. What a special shop to visit!
International dining options at The Source OC
Beyond Basilur Tea, there are more cool options to check out in The Source OC. You'll find a variety of bakeries for everything from fluffy cream puffs to macrons and fancy animal shaped cookies. You can find pho, poke, sushi, dim sum, shave ice, poutine, cheesecakes, hot pot, modern Mexican cuisine and so much more. I'm excited for our next trip to the OC because we have made a list of spots in The Source OC to have lunch and dinner. It's THE destination for where to eat in Buena Park and the whole of the OC.
Portillo's Hotdogs and more
I was so excited that we had time to take the kids to Portillo's. When we lived in Buena Park it was our favorite place to eat and today it still is. Coming from Chicago, Portillo's offers a wide variety to hot dogs and sausages, as well as Italian style sandwiches and salads. The atmosphere is fun and it's perfect for families of all sizes.
Our favorite menu items from Portillo's are the Italian Beef Sandwich with spicy peppers and the Maxwell Street Polish Sausage. Both of these are unique to Portillo's and are really flavorful. Probably not the healthiest options available, both both are delicious and totally worth the points (or however you manage your healthy eating). It's a fun and easy option and is hands down one of the best places to eat in Buena Park
Knott's Berry Farm Boysenberry Festival
Even without the Boysenberry Festival, Knott's Berry Farm is a really fun place. We all enjoyed the rides, all of the Charlie Brown/Snoopy/Peanuts characters, and the shows. The highlight for us dads though did end up being the food at the Boysenberry Festival.
The first thing we tried was the Boysenberry dry rubbed flank steak, then the salmon with Boysenberry sauce, then the pot roast, jerk chicken, ice cream, waffles, Boysenberry tortilla chips… We were genuinely impressed with the variety of choices and quality of food prepared at the Boysenberry Festival.
Tip: if you're visiting Knott's Berry Farm June through August, check out the Knott's Summer Nights. Much like the Boysenberry Festival, it has a tasting card with lots of unique food options that will surpass any theme park dining experience you might expect.
Other notable events at Knott's Berry Farm include Knott's Merry Farm (Christmas), Knott's Scary Farm (Halloween at night – it it truly terrifying and I'll never do it again), and the Peanuts Celebration (bonus Charlie Brown and Snoopy happenings!). Knott's Berry Farm is a really cool place for all kinds of experiences, but really, if you're there in the Spring and can do the Boysenberry Festival, you'll love it. You can thank us later.
Note: if you're in Orange County in the spring, Disneyland, which is a close neighbor to Knott's, does the California Food and Wine Festival. It's held in California Adventure and is a cool showcase of California cuisine and wines.
The Porto's Bakery experience
When we're recommended to visit bakeries and cookie shops, we are always down for it and it's typically a pretty standard experience. The first time we tried to visit Porto's Bakery in Buena Park, we couldn't find parking and were a little confused about the massive number of people coming and going with boxes and boxes of pastries. On our second attempt to visit Porto's we finally understood what the fuss and crowd was about.
Porto's is one of the best places to eat in Buena Park for a few reasons: the breads, the sandwiches, the cakes, and the meat pies. Much like empanadas, Porto's meat pies are flakes dough stuffed with potatoes, spices, cheese and meat. They're delicious and they transport really well.
Tip: make Porto's one of your last stops and you'll be able to get some pastries for your flight home.
We recommend visiting Porto's Bakery in the mid-afternoon on a weekday. The weekend is a madhouse and you'll most likely wait in a long line that could very well wrap around out the door. Just be patient and when you finally get to order, make sure you make it worthwhile and stock up.
Dinner theater at its best
We love taking the kids to shows of all sorts, and dinner theater is at the top of that list. If you hadn't consider carving out time for one of the many shows in Buena Park, consider this our recommendation. You'll be glad you did.
Pirates Dinner Adventure
We had such a great time at the Pirates Dinner Adventure. It was perfect for our family and broke up our SoCal trip nicely. The food was fine, not the best we've ever had, but the show was awesome which is why we're including this in the best places to eat in Buena Park. With a fun story line, acrobatics, songs, and lots of audience participation, the Pirates Dinner Adventure was a wonderfully unique option for family entertainment.
There were appetizers in the tavern showroom before we entered the theater, along with beverages. The apps are complimentary, but the drinks are an additional cost. We recommend buying the souvenir glass for adult beverages as it will be less expensive in the long run if you have two or more drinks.
Note: you can specify if you would like a vegetarian, vegan, or gluten-free meal at the Pirates Dinner Adventure. They want to be sure that everybody is able to enjoy both dinner and the show.
Medieval Times dinner show
If a dinner set to sword fighting doesn't sound like one of the best places to eat in Buena Park, I joust don't know what to tell you. Get it? I have most cheesy jokes than a grand dinner theater production, and that's just what Medieval Times is! Located on Beach Boulevard, in maybe what should be called the Dinnner Theater District, knights, jesters and horses make for a family-friendly show experience. What kid (or adult) wouldn't have fun?
Like with Pirates noted above, vegetarian meals are available upon request, but the main course at Medival Times is multi-dish meal centered around roast chicken. If that's not your thing, just go for the vegetarian option and enjoy the tapas style setup for your meal. You're there for the show, the food is the bonus.
Teatro Martini
We also haven't been to this show, but the reviews and personal recommendations we have been given to include this in our next trip speak for the quality and fun of the show. Located right next to the Pirates Dinner Adventure, Teatro Martini is a more intimate event geared more towards adults. Shows are only Friday through Sunday in the evening, so if you can save one of those nights in your Orange County itinerary, a night out in Buena Park should be a hit!
As you can see, there is every type of dining and fun available and you'll not have any trouble finding the best places to eat in Buena Park. The city really is the entertainment capitol of Orange County and they've got the food to match it. If you feel like there are any restaurants in Buena Park that we should've included, please send us a note or leave a comment. We're always open to adding great recommendations for tasty places to eat.
And feel free to pin this for your own travel planning for an OC trip!!!