Before we went hiking at Valley of Fire with kids it just looked like an Instagram heaven. That's all that we knew about it, all from photos that people had taken and posted to Instagram. And then we visited and hiked and had up close wildlife encounters and fell in love. Valley of Fire State Park is the best Las Vegas day trip you didn't know you need to do.
We're going to help you plan and have the best visit possible, seeing some of the most amazing geology Nevada has to offer, and so close to Las Vegas. And you can do it all on a trip to Las Vegas or as part of a southwest road trip.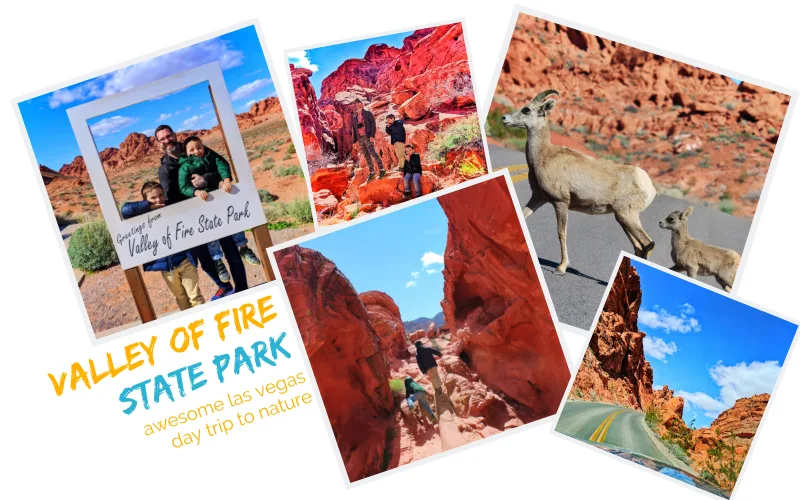 Where is Valley of Fire State Park?
Located less than an hour northeast of Las Vegas, Valley of Fire State Park is an easy drive to take you into another world off the Vegas Strip. In the Moapa Valley (park area), you will find all kinds of unique sites. You might not find pyramids or waterfalls flowing off the tops of hotels, but there are windswept hoodoos, carved out caves and passages, and petroglyphs that predate any sort of pirate display in Las Vegas. 
Tip: if you're looking for things to do with kids in Las Vegas, there are lots. While the natural sites of the Valley of Fire are incredible, there are tons of fun options in the city itself.
The geology and formations of Valley of Fire State Park are very different from what you might find in Utah, and if you are on a trip to Las Vegas and want to do a day trip into some of the most incredible nature around, this is an easier option than driving the two and a half hours up to Zion.
Don't get me wrong, we absolutely love Zion National Park but for business travelers or people without enough time to go that far north, Valley of Fire State Park will wow you and fill the need to connect with the earth.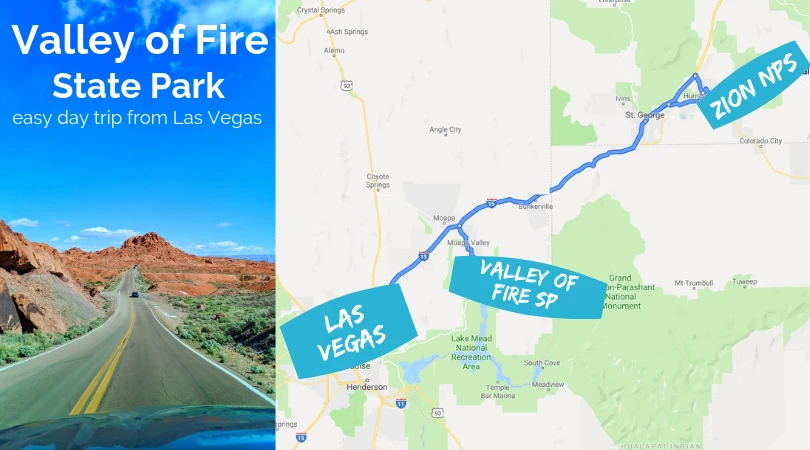 Need to Know before visiting Valley of Fire
If you read a lot of our blog posts then you know that we like to constantly remind people to stay hydrated, whether you're visiting Lake Tahoe or enjoying Vegas. Out in the Nevada desert this is especially true. Valley of Fire State Park is located in a basin that both attracts the heat and the wind. If ever you wanted to get dehydrated really quickly you could just spend an afternoon at any of the hiking trails without water then you would be in the hospital.
Before visiting make sure that you bring lots of water with you. You will be able to refill water bottles at the visitor center, but make sure that you have extra water with you for any hiking in Valley of Fire that you're going to do. While the basic recommendation for any sort of desert tourism is a half gallon of water per person per day trip, that is the bare minimum. Even just driving around and making stops you are going to want to have more than that available.
Also, within Valley of Fire State Park there are no food services available. Make sure that you pack a picnic lunch or bring plenty of snacks so that you can stay happy and healthy while you are exploring the canyons and geologic formations.
Visit the Nevada State Parks website for more safety recommendations.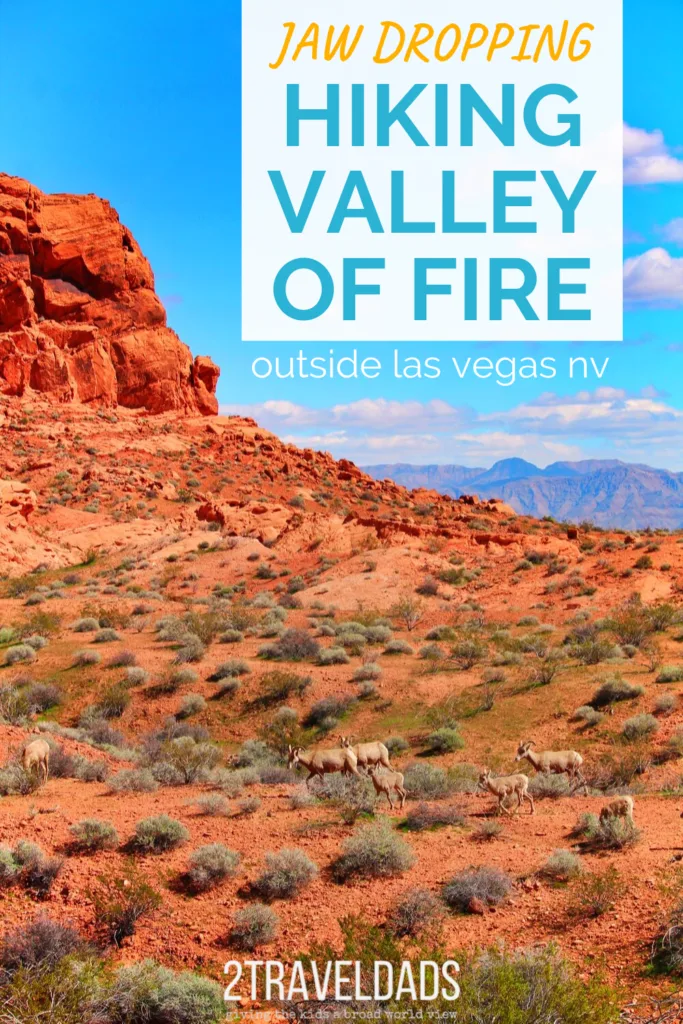 Be Prepared for Weather in Valley of Fire State Park
Lastly, sun protection is extremely important, particularly in summer months. While you might not feel the same sort of reflection that happens when you are on the snow on a sunny day, the sun is bouncing off the red rocks just as much and going beyond your regular tanning expectations. Make sure that you bring appropriate sun protection, whether that be sunblock and a parasol or fully covering yourself to keep the sun's rays away.
Tip:  if you are visiting November through March, you may experience extreme cold despite the sunny weather. The combination of wind and crisp, clear nights can make for very chilly mornings in the Valley of Fire.

Best Hikes in Valley of Fire with kids
Visiting valley of fire state park with kids is probably a very different experience than exploring the desert rocks on your own as an adult. When you were hiking with kids in the desert you do need to exercise more caution, not just for yourself, but as a supplement to the awareness of children. The following hikes are recommended for both their ease and level of interest when it comes to teaching inspiring kids to enjoy nature. Here's a map from Nevada State Parks. Super helpful to DOWNLOAD before you arrive.
Petrified Logs loop
Who doesn't love a good petrified Forest? We really enjoyed exploring Petrified Forest State Park up in Utah and some of the petrified log specimens here in valley of fire State Park are quite interesting too. This trail is short and can be done in 15 to 20 minutes.
We recommend doing the petrified logs loop before venturing out on any longer hikes. This will give you a great opportunity to test the kids desert hiking skills and hardiness. And you get to science it up along the way. The trail itself isn't thrilling and the petrified logs are behind fencing for their protection, but it's still cool.
Reminder: do not remove any fossils or petrified wood that you might find. The state park is a protected area and if everybody who saw a piece of petrified wood took a little chunk of it, there would never be any for other visitors to see. And it's against the law.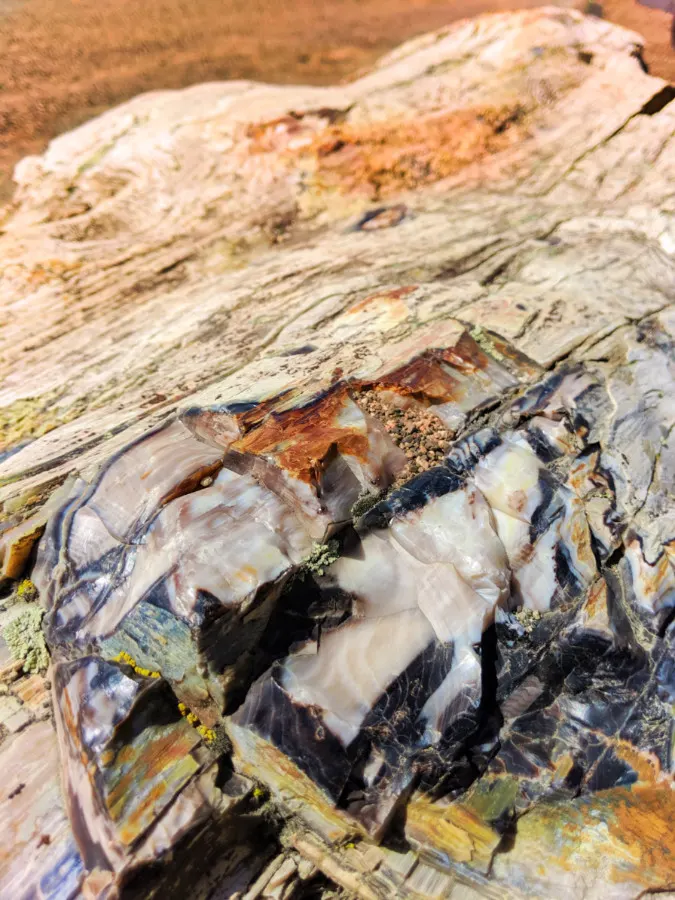 The Beehives: Sandstone Up-close
The beehives are one of the first stops that you will make in valley of fire State Park oh, and if you got kids with you they are a must. formed from some of the reddest sandstone we've ever seen, the beehives are amazed of fat hoodoos and wind caves nestled among the desert vegetation.
There are ample opportunities to examine the red sandstone up close as well as to do some bouldering. just like with any other natural landscape though, you need to exercise caution both for your own safety and to preserve the natural state for others. There are several trails that wind through the beehives area we recommend sticking to those trails.
Tip: if you are into bouldering you should definitely plan a trip to Joshua tree National Park. That is some of the best bouldering and rock scaling we've done and it's super close to Palm Springs.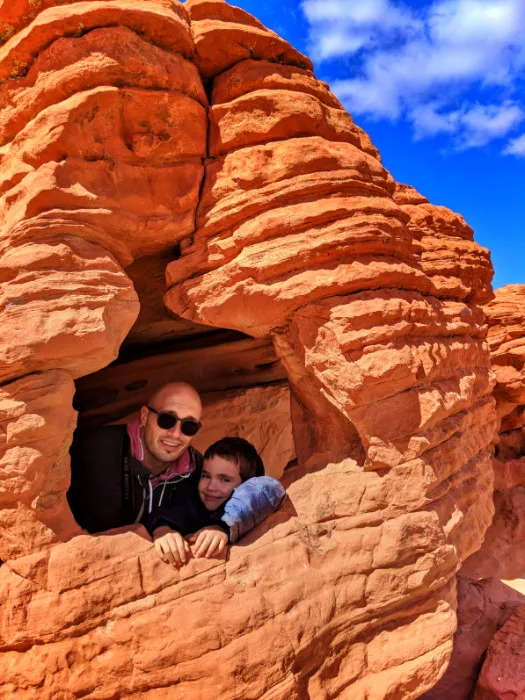 Arch Rock: Easy, Awesome Geology Viewing
The many arches of the sandstone deserts of the Southwest are a huge attraction for visitors from all over the world. And Valley of Fire State Park has its own arches. Arch rock isn't a hike, but is an easy way to show kids how fascinating the sandstone really is.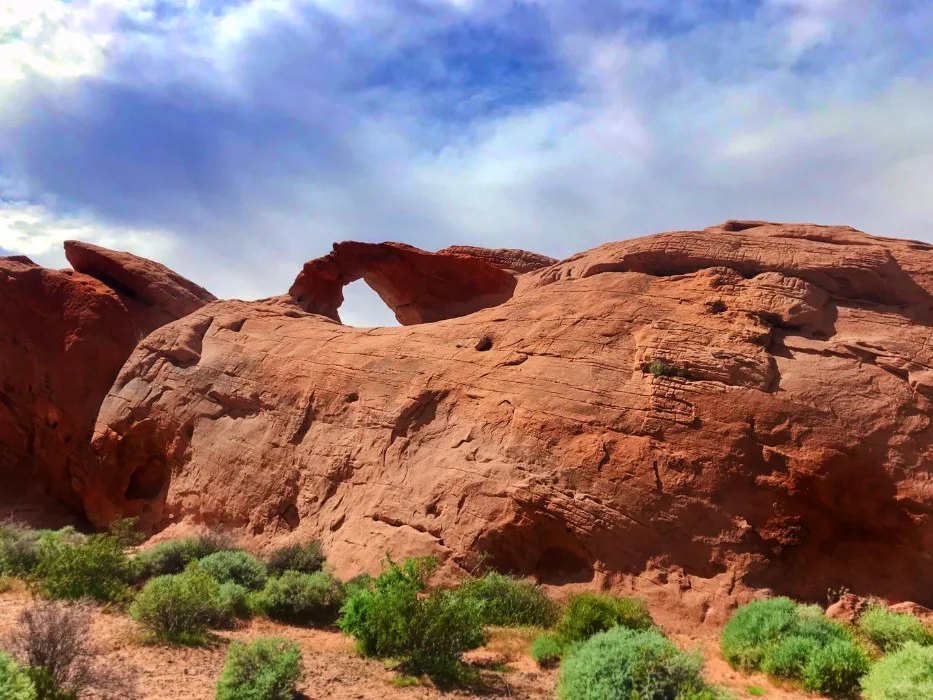 Balancing Rock Trail
A fun and easy trail right out of the visitor center, the short half mile round-trip hike to and from Balancing Rock is easy-peasy. This is an area with lots of bighorn sheep so that is both one of the perks of the trail and one of the primary dangers.
Whenever you are hiking with kids in Valley of Fire State Park you will want to be sure that an adult is going first to be placed between any potential wildlife and small children. And that is definitely the case here. With the bighorn sheep not being scared of humans, hiking the Balancing Rock Trail could very well bring you face-to-face with a small herd.
Mouse Tank and Petroglyphs Canyon
We have seen a lot of petroglyphs in our day but these ones take the cake. The first time that we got to see petroglyphs on a hike with actually up in Banff, Alberta. While we were on our ecotour with Earth and Pine Outdoors, we learned about some of the different anthropological studies going on across North America in relation to petroglyphs.
The petroglyphs in Valley of Fire State Park have been correlated to have a similar history or a crossover with the petroglyphs found in the Canadian Rockies of Alberta. Fascinating, huh?!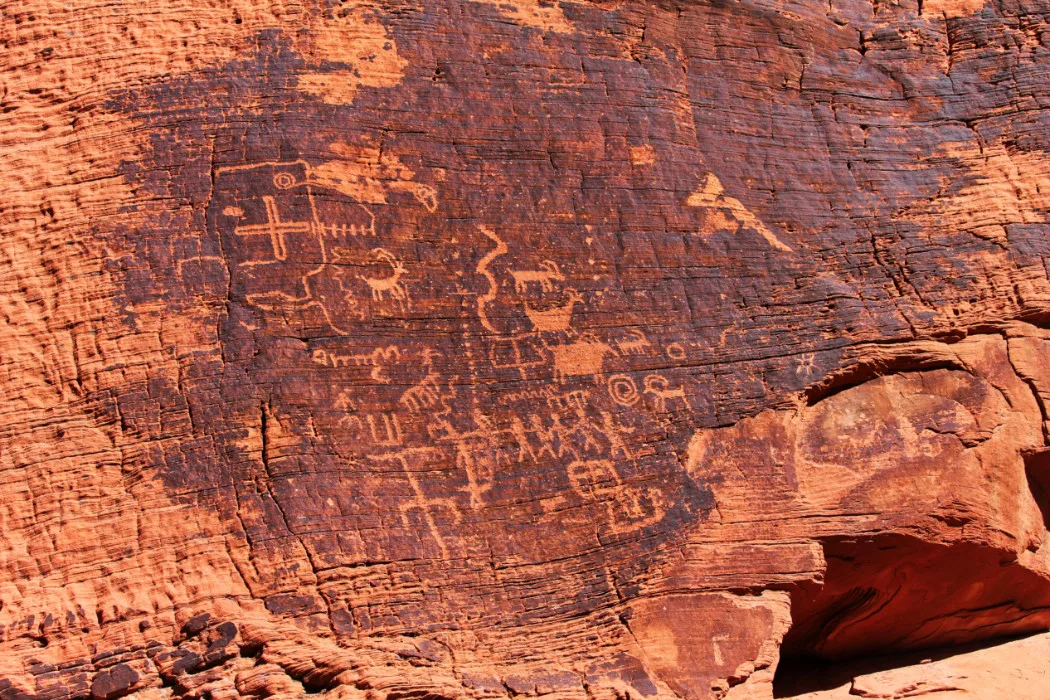 The mouse tank trail is pretty easy for a sure-footed hiker. It is definitely not a wheelchair accessible or mobility friendly trail, but for somebody without any walking struggles, it is an easy in and back trail. If you are doing the complete trip, it is a mile and a half from the start to the end and back.
Highlights on the mouse tank trail include different colors and textures of sandstone on each side of the trail, a lot of different desert vegetation due to the crack that forms during a rainstorm, and then of course the petroglyphs.
In all of our travels we have not seen this intense a concentration of petroglyphs. I think this specific area is what makes Valley of Fire State Park with kids so fun and interesting.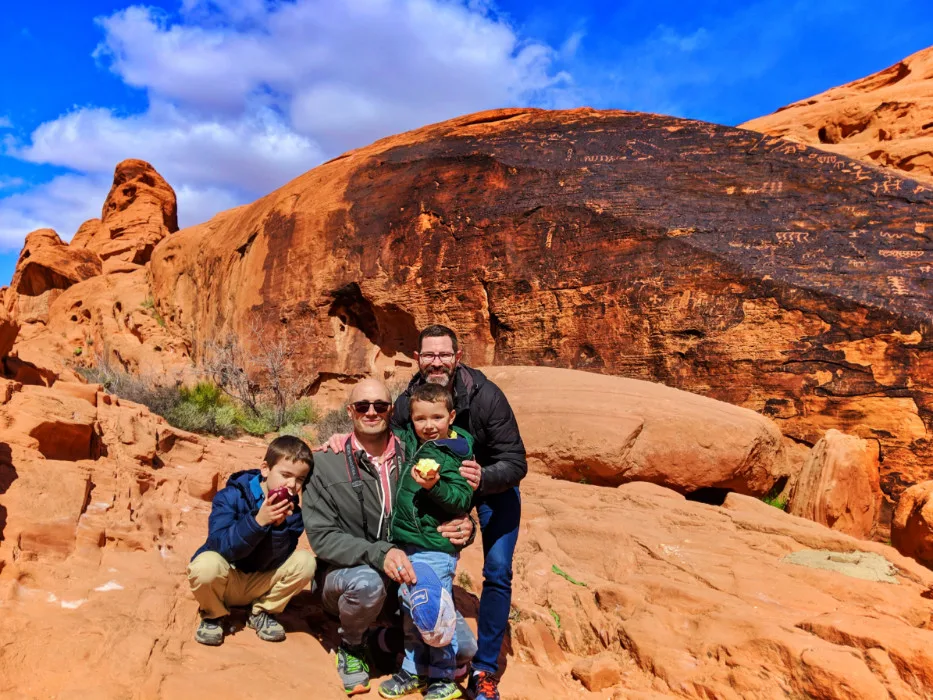 Hiking the Rainbow Vista Trail
As we noted above, the Rainbow Vista Trail is an easy one mile track. The view shows the different types of sandstone and other desert colors directly against each other. Truly, Rainbow Vista is the perfect name for this trail and the view. The trail head is located just past the Mouse Tank Trailhead so if you have already checked out the petroglyphs and want to do another quick trail this is it.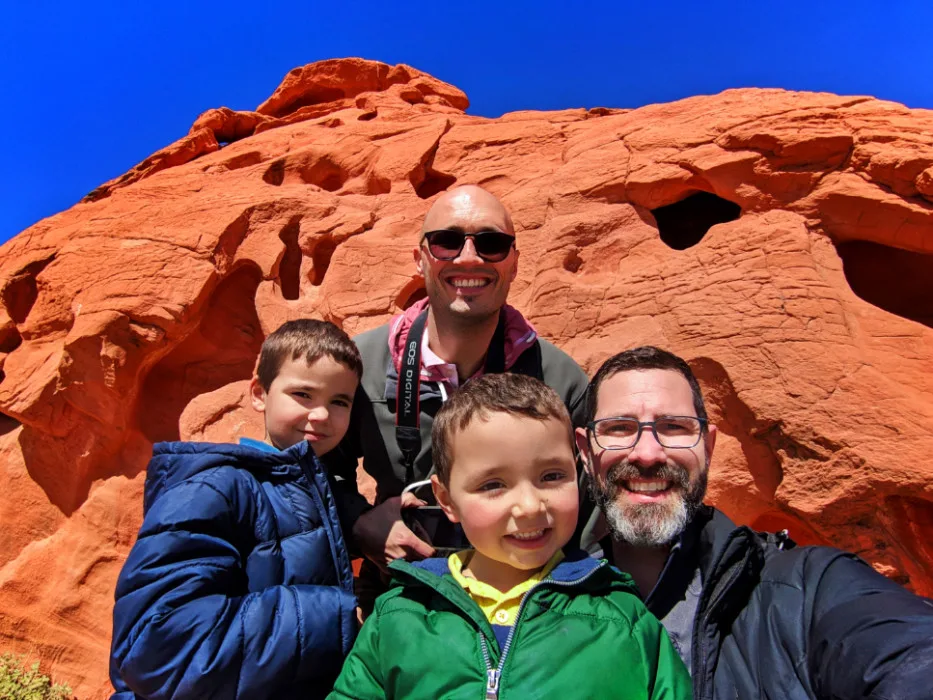 White Domes Loop
I just love all of these short and beautiful trails in Valley of Fire State Park.
At just one mile for the loop, it is one of the steeper trails within the park. I say that but it is still very doable and pretty easy. The White Domes Trail offers a great variety to add to your time in the Valley of Fire. Being both jagged and worn down by the wind, the valley that leads to the White Domes is very unique.
This is a great trail to do with bigger kids just because the terrain is a little more rough than the Mouse Tank or Rainbow Vista trails. Again though, not super tough.
Tip: if you are able to do this trail in the early to mid morning, you'll have some of the best lighting for photography. As the sun gets higher, the contrast of the rock formations might wash out a bit so the lower the sun is in the sky the better.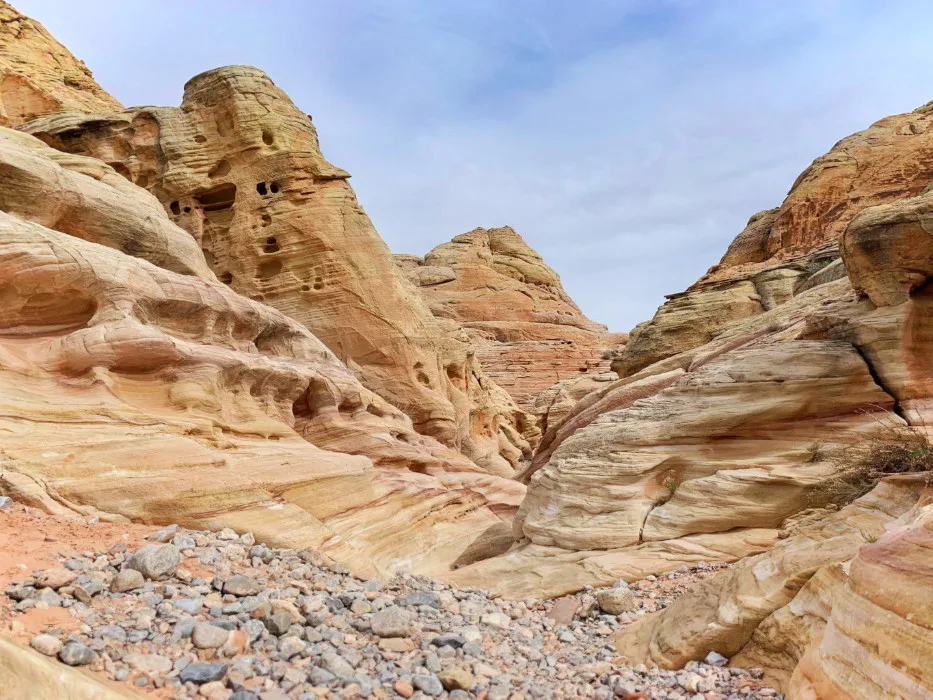 Natural Arch Trail
This is one of the tougher trails in Valley of Fire State Park if you're hiking with kids. It's 2.5 miles in and then the same back, and most of the trail is on gravel or even sand. This is a tough hike to do if you have children with you because it is exceptionally hot and the trail will wear you out.
If you do want to conquer it though, the sites are pretty cool and the next closest place that you can find something similar is up in the Kolob Canyons of Zion National Park. 
While there is just the one main arch, along the hike you will find lots of holes and cavities in the rock formations… witch someday will turn into arches. The landscape is very much like Devils Garden in Grand Staircase-Escalante National Monument.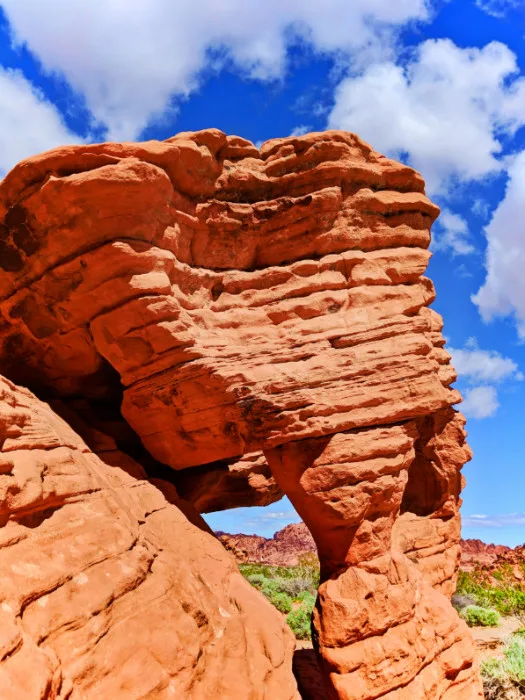 Hiking the Elephant Rock Loop
This is a fantastic way to end your time in Valley of Fire State Park with kids. From the trailhead parking area it's a simple quarter mile to Elephant Rock and then a quarter mile back. There are a couple ways that you can get to the Rock, but the main key is to look for markers along whichever trail you choose.
Elephant Rock is so called because it is shaped like an elephant with a very long trunk. I actually didn't even realize that it looks like an elephant until our oldest pointed it out and then it dawned on me why it's called that. It's actually super obvious.
The Elephant Rock Trail is another one that would be very easy to go off of and start bouldering. There are some delicate formations beyond the rock so we want to encourage you to stick to the trail but for your safety and to preserve the area.
Tip: visiting Joshua Tree National Park is a great idea if you're into bouldering. Amazing place to explore and very close to Palm Springs.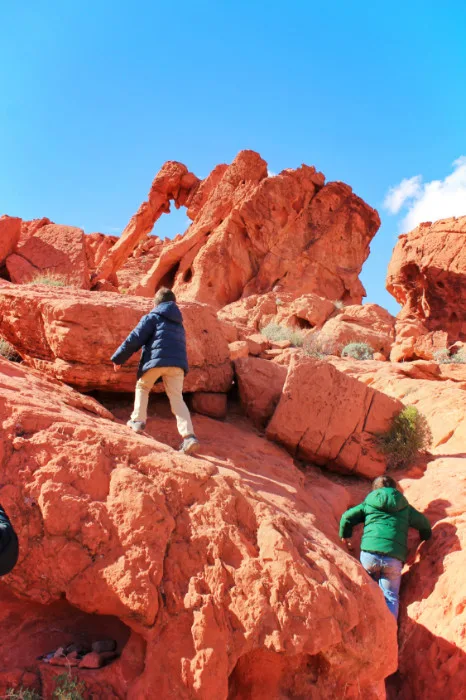 Things to See in Valley of Fire State Park
If you know me then you know that I am a geology geek. Seriously, geology rocks. Get it? The best things to see in the Valley of Fire with kids in particular are going to be the weird rock formations and petroglyphs. You can see canyons and hoodoos in lots of places but some of the sights here are genuinely unique. Similar to Badlands National Park in areas, hiking in Valley of Fire is wild!
Wildlife at Valley of Fire to Watch For
Also, there is a fair amount of wildlife to observe here in the Nevada desert. We spend a lot of time in National Parks but we have had no encounters or observation of bighorn sheep to compare with what we have experienced in Valley of Fire State Park. Glacier National Park is pretty cool for bighorn, but Valley of Fire wins. In several different places the bighorn population was very present and curious.
Note: do not approach wildlife. The ideal distance is to be able to hold your thumb out in front of your face and in your line of sight cover the animal completely. If you can't do that then you are too close.
Check out our complete article on wildlife safety for more recommendations on how you can enjoy the wildlife and still be respectful and safe.
Other wildlife to watch for are snakes, bobcats, vultures and other small animals. As long as you're staying on the designated paths and watching where you step, you shouldn't have any problems with wildlife encounters. Keep in mind though that wildlife can be unpredictable and they are not on your schedule so many be anywhere at any moment.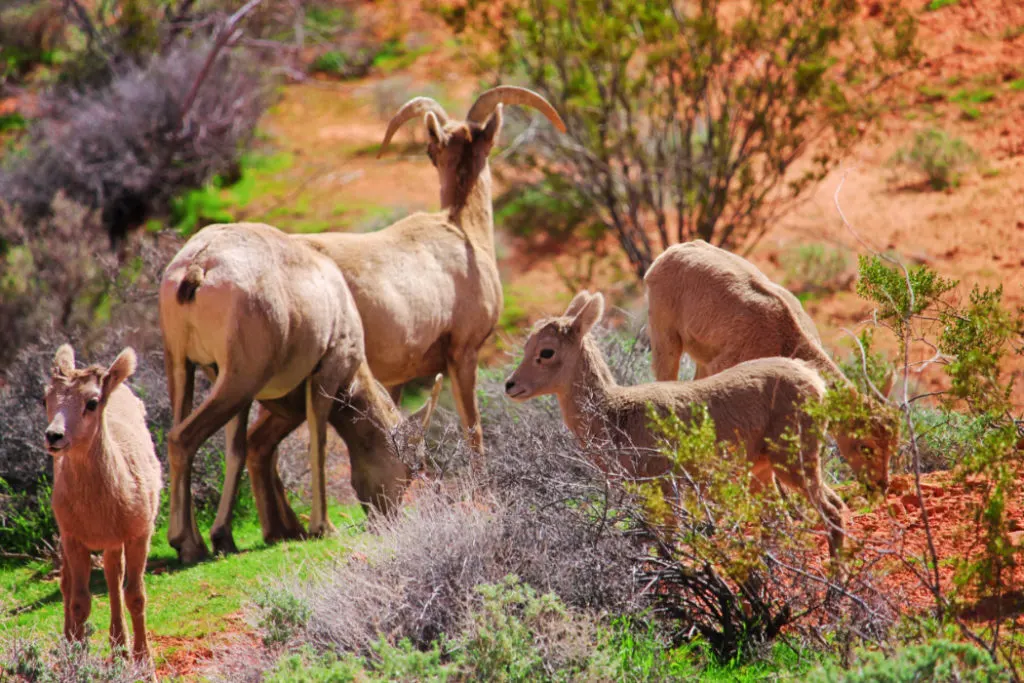 The Visitors Center
Whether visiting a National Park or a State Park we are always sure to stop in to the Visitor Center. When visiting Valley of Fire State Park with kids this is a must. With lots of unique desert flora and fauna, as well as some of the most interesting landscapes in Nevada, spending a few minutes at the Visitor Center is worth your time.
If you're able to, stop in and listen to a ranger talk or watch on of the videos of the area. Particularly on weekends when there is a full staff, the rangers have lots of great information for you all about how Valley of Fire State Park was formed as well as the interesting biodiversity of the desert.
Tip: refill your water bottles here at the Visitors Center before heading out on your next hike or further into the park.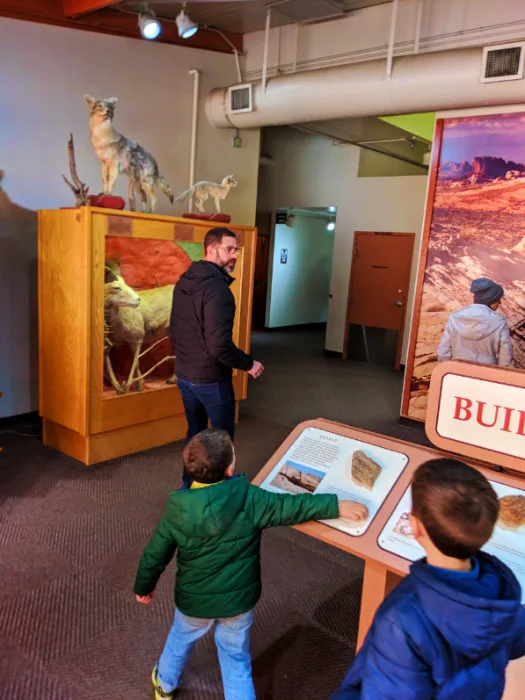 Best Views in Valley of Fire State Park
When you approach from the Las Vegas side, it is very obvious why valley of fire state park has its name. Coming down around a corner and winding into an epic view of the basin, it's not difficult to see the flaming rock landscapes and understand why you are visiting.
Besides the basic approach into the park another great way to get some unique views is to head north on the White Domes Road. Not only is there an easy hiking loop at the end of the road, but you will get to drive through a fascinating Canyon with several different pull outs.
It's true that the views here are very close to where you will be standing and not sweeping across desert valleys, but some of the formations along this road in particular will have you out of your car and wowing the rocks as you walk along.
At the east end of the park, the old Arrowhead Road Trail it's fairly simple to access and you can catch some more of the sweeping desert views from just off the road. On the east side you will get both the sandstone formations and the basin as it flattens out and heads towards Arizona. Really, it's gorgeous everywhere you turn.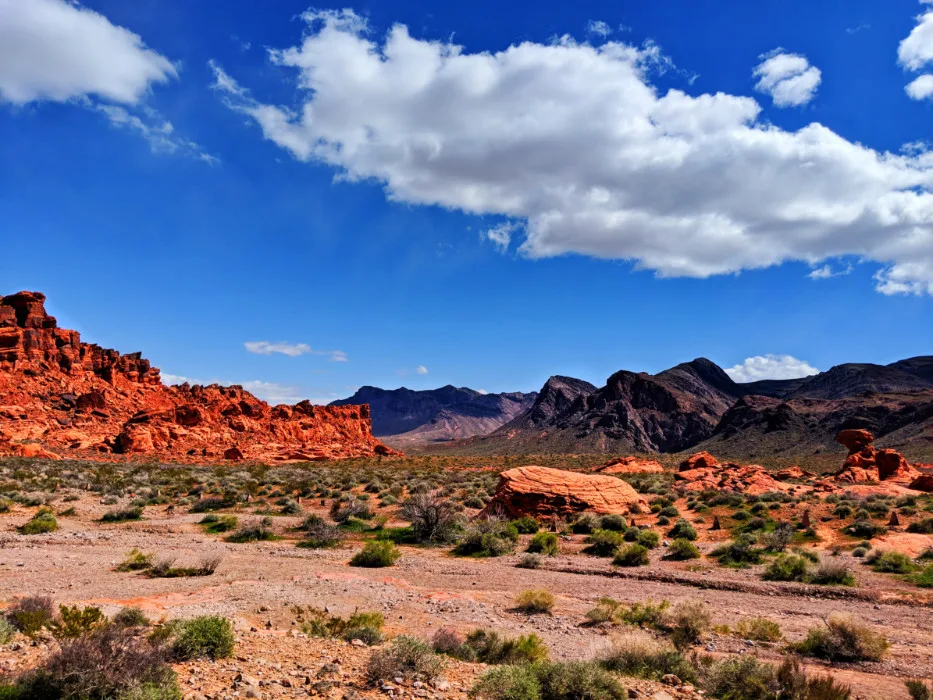 Valley view spots
The rainbow Vista is the way to go. While the trail itself is rather long, to get a nice view across the valley you don't have to do too much of the hike. Just passed the trail head you will catch some remarkable views of the colorful valley of fire. If you are so inspired, continue on along the trail for the whole 1 mile. It's not a crazy hike at all.
One other spot to catch an interesting view is at fire Canyon. It's just past the rainbow Vista trail and is accessible via car. Basically, in valley of fire State Park you want to check out anything that has either the word fire or implies rainbow colors. You can't go wrong.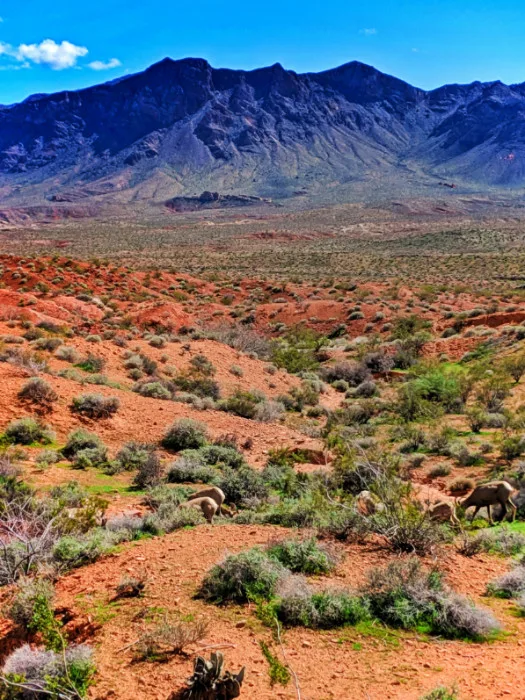 Video guide to Valley of Fire – 2:46 duration
So what do you think? Are you ready to explore and go hiking in Valley of Fire with kids? I can't wait to return and do a couple more trails. And hopefully next time we'll be there just after the rain so we can see all of the beautiful red layers of sandstone with even more vibrant colors.
If you have some additional tips please leave us a comment or send us a note.
Want to pin this for your own travel planning for Las Vegas and picking some fun day trips? Or even adding this to a road trip between Las Vegas and Bryce Canyon National Park? Go for it!!!