THIS POST IS UNDER CONSTRUCTION – Update coming May 2023
A Canadian bucket list item for many is an adventure to Banff and Canmore in Alberta. It's the perfect place to experience everything the Canadian Rockies have to offer. From hiking and canoeing to rafting and rock climbing, caving and everything else, these are the best things to do in Canmore and Banff without the crowds.
After this you're going to want to plan a trip to visit Canmore or plan a Banff vacation for next spring/summer. If snow is your thing, go for a winter trip, but know that most of our recommendations won't be available during the snows. But if snow and apres ski is your thing, this is the spot!  
Planning our Banff and Canmore Itinerary
When we found out that we were heading to Banff and Canmore we weren't exactly sure what to do. We knew that Lake Louise was beautiful and that there would be lots of hiking but we didn't know anything else. When researching exciting opportunities we found Canmore Cave Tours and thought that would be fun. Then we found out that they are part of Adventure Hub and they partner with all kinds of really amazing ecotour operators in the Banff and Canmore area. Couple hours later and we had a full-blown, jam-packed, super fun and kid-friendly itinerary for 5 days in the Canadian Rockies.
Easy addition to a trip to Canmore:  a few days in Calgary or up in Edmonton, Alberta!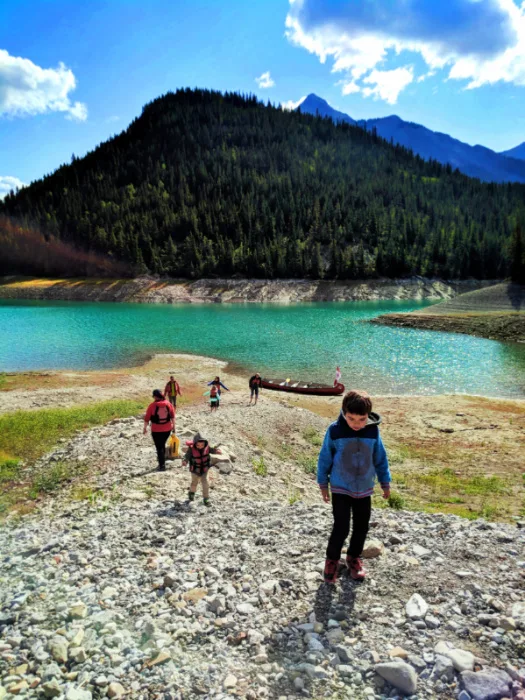 Canoeing on Barrier Lake with Kananaskis Outfitters
For all the kayaking we do we never have done canoes with the kids. Wow, it is so much easier than kayaking when it comes to small kids activities out in nature. We went around Barrier Lake to the start of it and loved the beautiful views and the turquoise waters. We even got to try our have at using a strike fire starter.
Kananaskis Outfitters was really great to go out with. The tour we did was very kid-friendly, both in tour length and ease, and we'd for sure recommend it to anyone with kids of nearly any age.
The kids (and dads) loved it!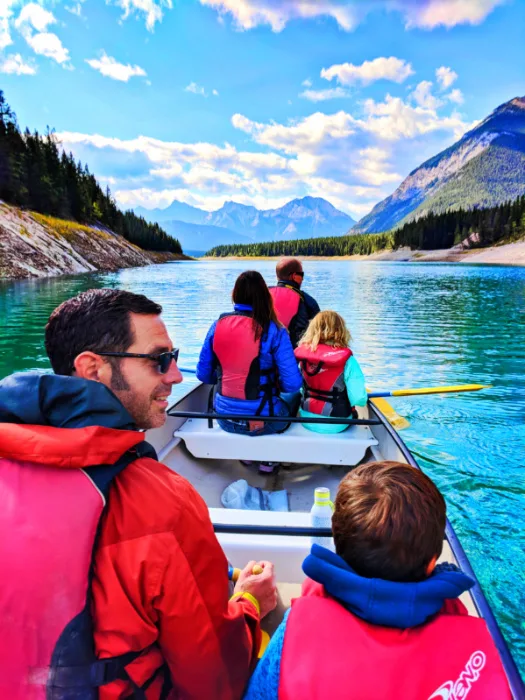 Discovery Hike with Canmore Cave Tours
Our kids love hiking and they love caves… in theory… and then you tell them you get to visit one and they're like "Uhhhh…." So, we actually had an amazing time with Canmore Cave Tours. We hiked up through the valley and the hills, looking for fossils and listening for wildlife until we made it to Rat's Nest Cave. Yep, it's called Rat's Nest Cave. It's really cool though!
The highlight of the hike was getting to put on our helmets and harnesses and scale the wall to access the cave. We didn't go deep into the Rat's Nest Cave, but just into the entrance. The layers of history, both geologic and human (pictographs even) were really cool to experience and share with the kids.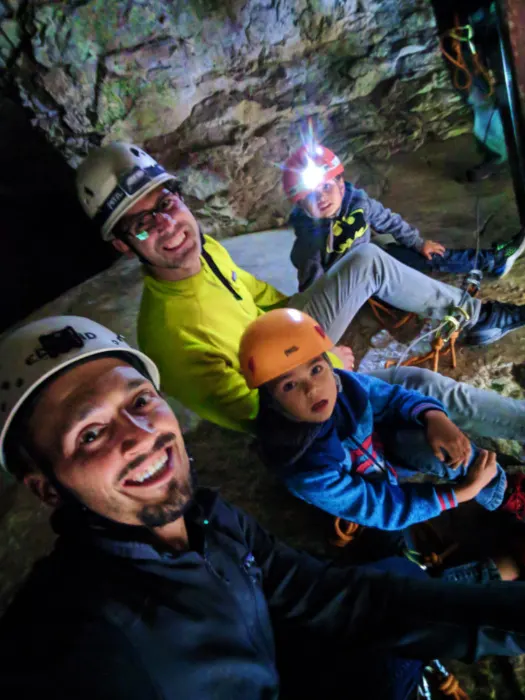 Awesome Geology Hike with Earth & Pine Outdoor Inc
Our guide for both our cave adventure AND our geology hike was the most incredible woman. Gabrielle is brilliant, passionate, and amazing with kids. For our geology hiking in Canmore, she represented her own company, Earth & Pine Outdoor Inc (operations currently suspended), where she's able to focus on sharing the science of the area unlike any tour guide we've ever worked with.
She took us up into the Grotto Creek Canyon and it was basically the best worldschooling day ever. Every step was another geologic wonder, and every rock we overturned had a fossil or crystal that was cooler than the last. We hiked all the way back to the waterfall where we relaxed, found EVEN MORE fossils and had snacks. Our guide, Gabrielle, made the hike just as fascinating for the kids as for the adults, and visa versa.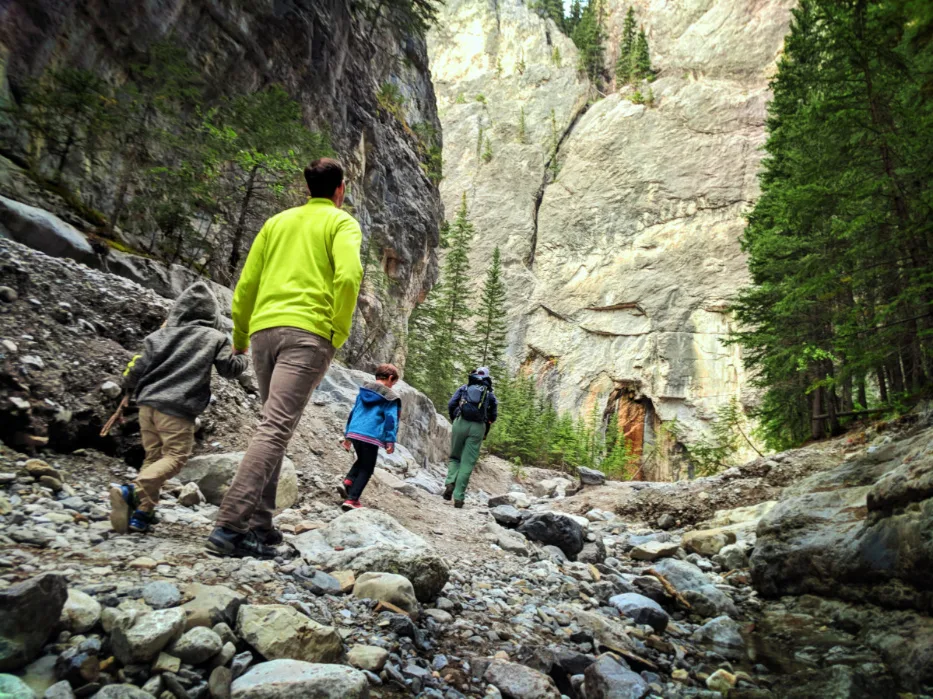 Fun around Canmore and Banff
We love exploring small towns and Canmore is the perfect alternative to Banff. Don't get me wrong, Banff is gorgeous and adorable, but Canmore is a fully functioning livable town. We had a great time seeking out tasty meals and relaxing between activities… and we even lost a tooth. Yep, Oliver lost the second of his top two front teeth at dinner. He was enjoying his poutine (how Canadian) when it came out.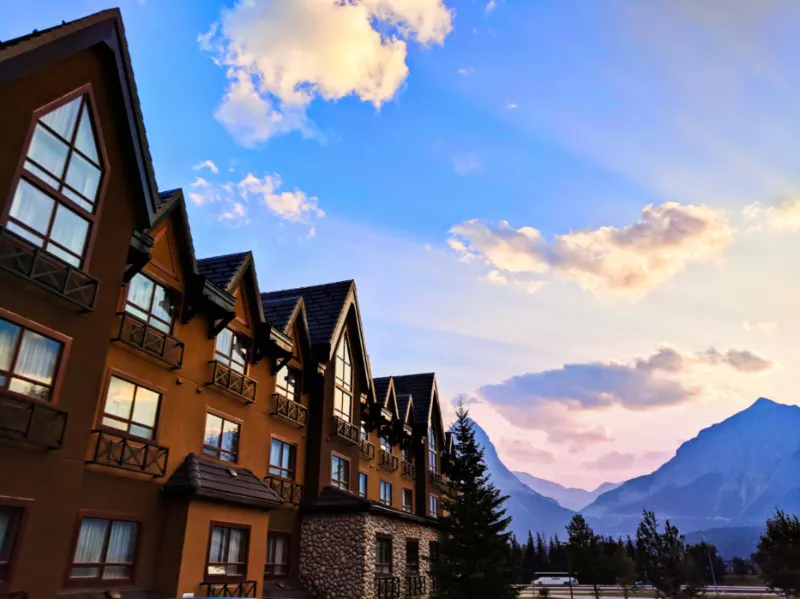 Family Rock Climbing in Banff National Park
When Adventure Hub said that they were adding some family rock climbing to our itinerary we really were shocked and didn't even know what to make of it. We're tough dudes though and knew that we could make it work together, and it did! We went up to Rundle Rock with Ridgeline Guiding to both learn the basics and actually go rock climbing. Success!
Patrick, the owner of Ridgeline Guiding was amazing at both teaching us dads the technical and safety side of climbing and showing the kids how to scale the rocks safely and have fun. We had an awesome time, all four of us, doing a completely new activity and getting some sweeping views from atop the rocks. Really amazing! Thank you Ridgeline Guiding!!!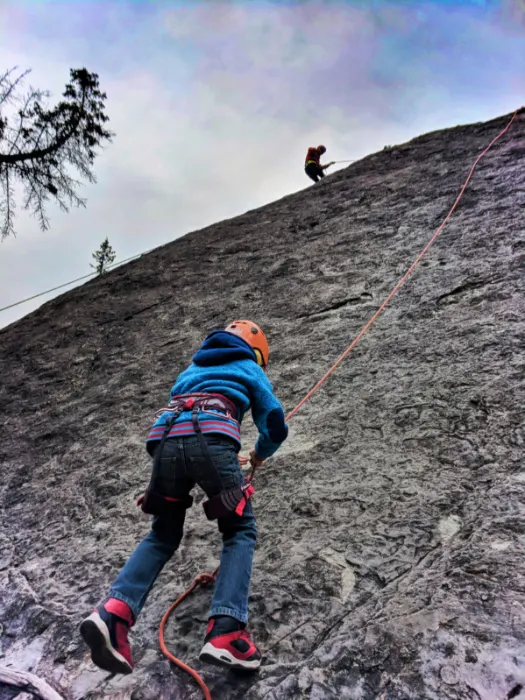 Exploring the town of Banff via Pedi-Cab
After a busy morning of rock climbing, we grabbed some lunch from Waldhaus Pub above Bow Falls, a part of the Banff Springs Hotel. This is where we met our tour guide to check out the town of Banff and go out to the Vermillion Lakes.  Banff Pedicabs is a really cool, really unusual way to experience Banff (check for current operations). Starting in town, rolling through the neighborhoods and then heading out to one of the natural wonders of Banff, it was great to experience with the kids. The Vermillion Lakes were gorgeous and the ducks everywhere were a highlight for the boys.
Our tour guide, David, was a wealth of information about Banff, about nature, and loved to share his Canadian stories with us. I don't know why we haven't done more pedicab tours in all of our travels. It was a great family activity and was wonderfully relaxing after a day of rock climbing.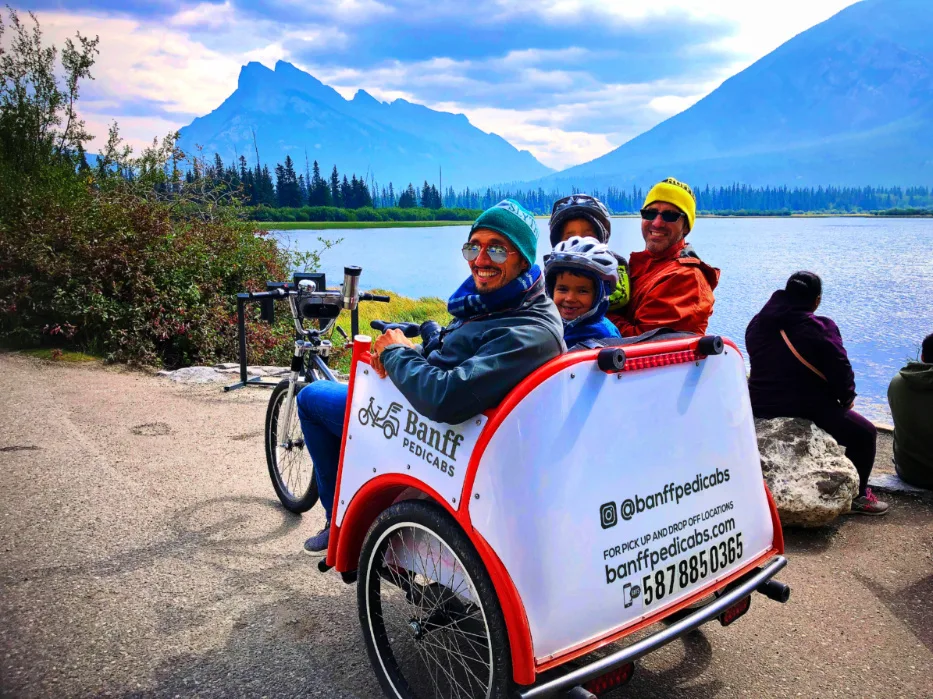 Check back soon (May 2023) for a whole lot more information about visiting Banff and planning your time, both in the town and throughout the national park!