The Mount Royal Hotel in downtown Banff is an amazing option if you are doing a Canadian Rockies road trip and want to stay in the actual town of Banff. It's set in a collection of historic buildings and has been wonderfully updated to be comfortable hotel rooms with some pretty great amenities. We tend to stay in Canmore when we do trips to Banff, but after this visit I feel like I can't stay anywhere except downtown for this sort of Canadian Rockies experience.
I've got the full scoop on staying at the Mount Royal Hotel in Banff as well as ideas for things to do directly in town and the surrounding area. The whole of Banff National Park is pretty great, but spending time in the town really is quite fun so having a hotel that supports that is important.
If you have any questions about the Mount Royal Hotel or things to do in Banff, please leave a comment or send us a note. We are happy to share more and help you plan an amazing trip to the Canadian Rockies.
What Are the Accommodation Options at the Mount Royal Hotel?
When we arrived at the Mount Royal Hotel in Banff, we had just come from the Fairmont Chateau Lake Louise at the end of our Rocky Mountaineer journey doing the First Passage to the West route. After spending several days in such luxurious accommodations, it was nice to be in another hotel that was also very clean and well maintained, even if it wasn't as opulent as the Fairmont.
The décor in the rooms is very simple and reminds me of a modern European mountain resort. I think the mix of plaids and geometric shapes is a fun reflection of the eclectic lobby that is both very mountain-style and modern.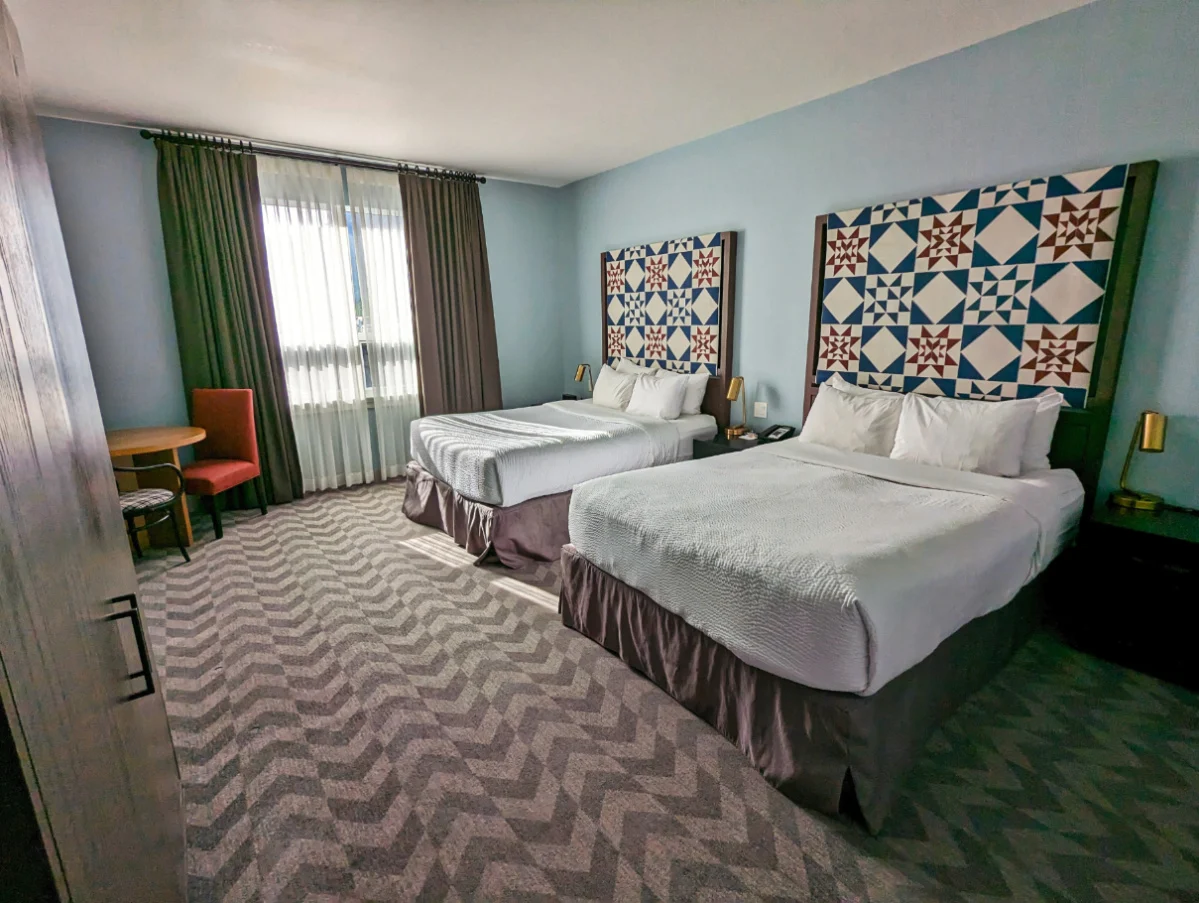 Top Pick: Banff View Room
For our stay at the Mount Royal Hotel we had deluxe view double rooms. With ample space for relaxing and working, because we actually were there for a work trip and had to spend some time doing computer stuff, the rooms at the Mount Royal were ideal for having down time and space to recover after busy days in the mountains. It was great to wake up in the morning and look out to see the sun shining on the Canadian Rockies and through the picturesque town of Banff.
Something else that I appreciate about it the Mount Royal Hotel rooms is that we actually had bathtubs. I've noticed the bathtubs are becoming increasingly rare in hotels after they do updates. So having a very nice spacious bathroom with a tub with a welcome surprise.
Already know you want to stay here? Book it here!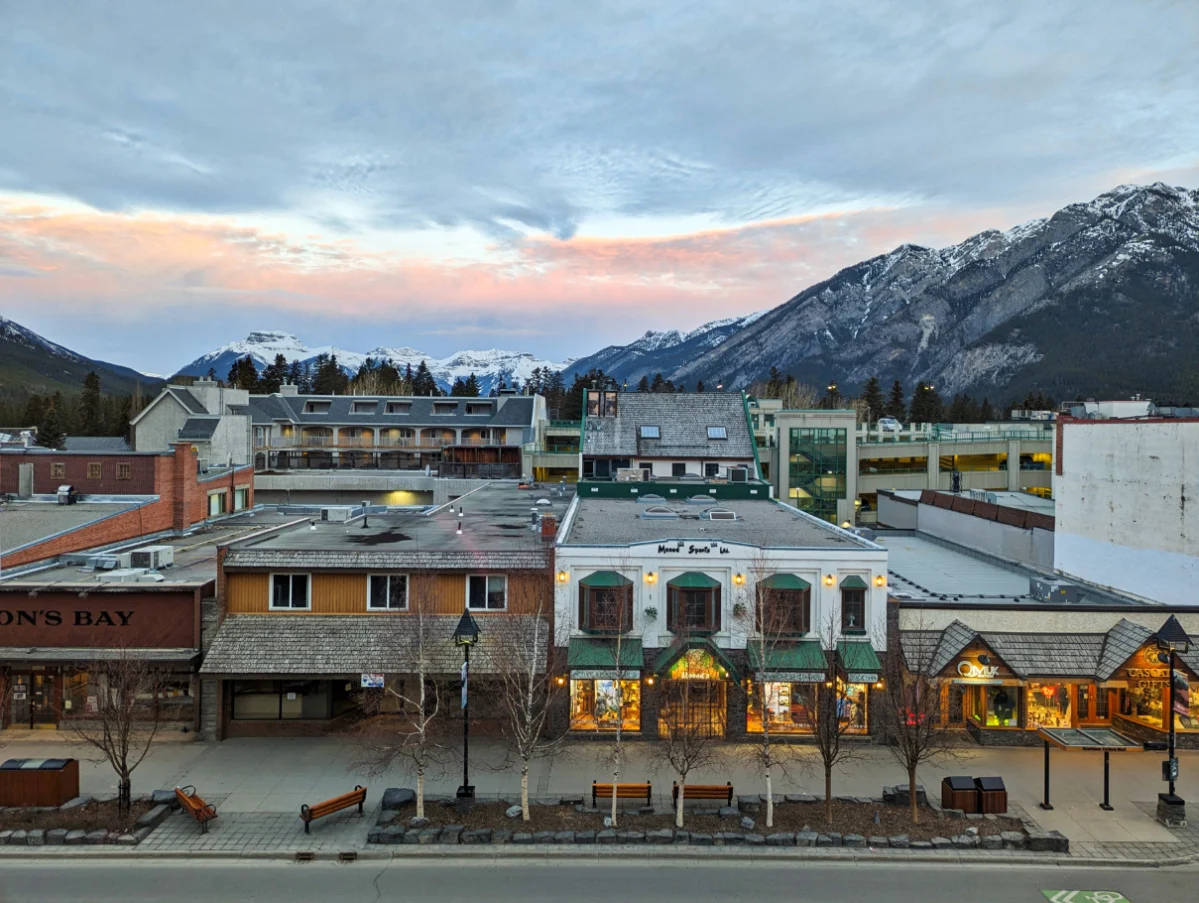 Check in / Check Out at the Mount Royal Hotel in Banff
When you arrive at the Mount Royal Hotel, you can either park in the load/unload zone in front of the hotel on Banff Ave or you can pull through to the covered entry on the backside of the hotel. Check in is easy and there are plenty of elevators to get you up to your floor quickly.
A bonus of checking into the Mount Royal Hotel is that you get drink tokens to use at Brazen, the restaurant. These are good for house wine or draft beer, or a non-alcoholic drink. It's just a nice touch to encourage guests to enjoy time in the hotel instead of just sleeping there.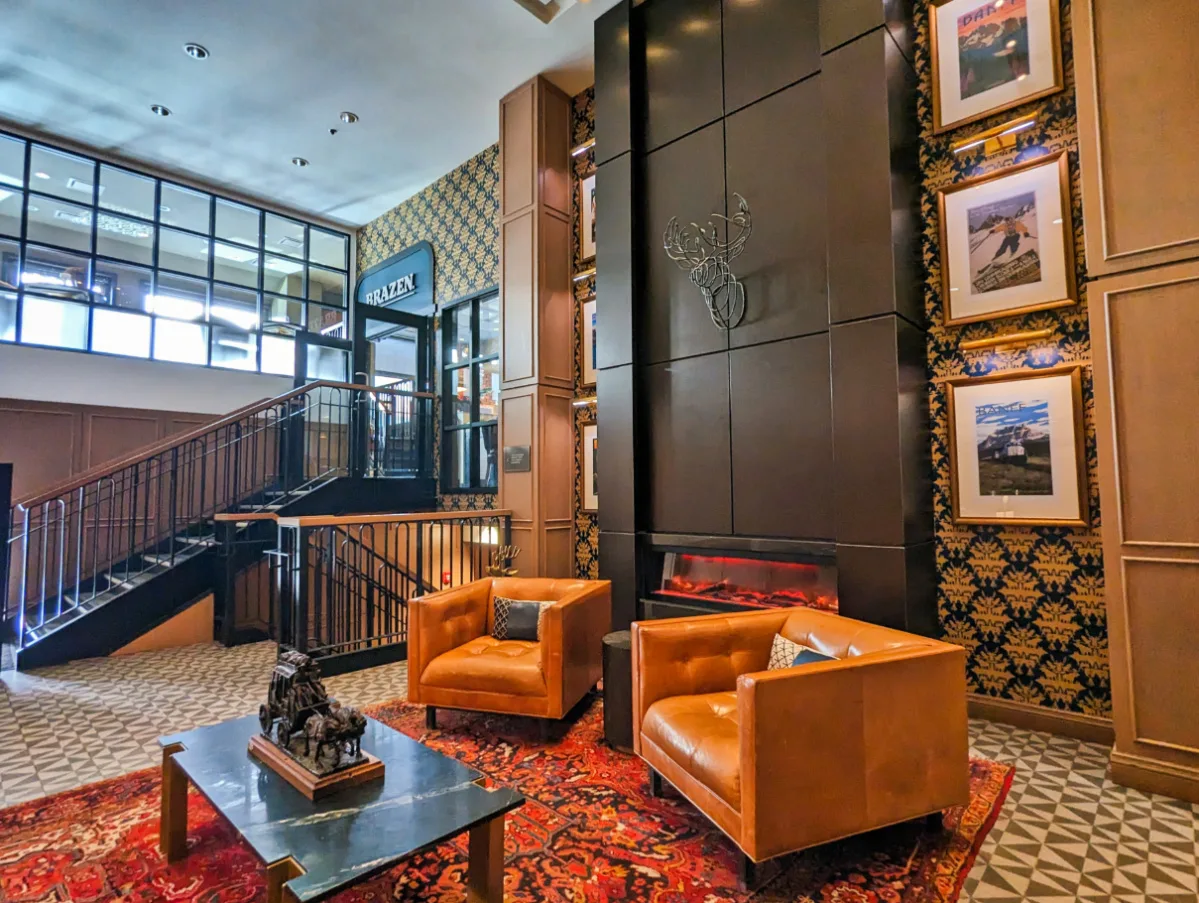 Mount Royal Hotel Amenities
The Mount Royal Hotel is delightful and low key, making it a great option when you want to stay in downtown Banff, but it's not bursting at the seams with amenities and hotel services. It's very nice, but you won't find a full service staff ready and waiting at all times. Don't let that turn you off from it though, because the finishes, the vibe and the rooftop ALL make it very worthwhile! And yes, there are in-room coffee makers (don't worry).
A perk / delightful amenity for guests at Banff's Mount Royal Hotel is actually the top floor Columbia Lounge. Here you can relax and play games or read, there are snacks, there's an evening happy hour, and there's an honor bar if you'd like to grab a drink on your own. It's a beautiful space, and ideal for a relaxing afternoon. This is also a great option if you have to break away from your travel group to get some work done.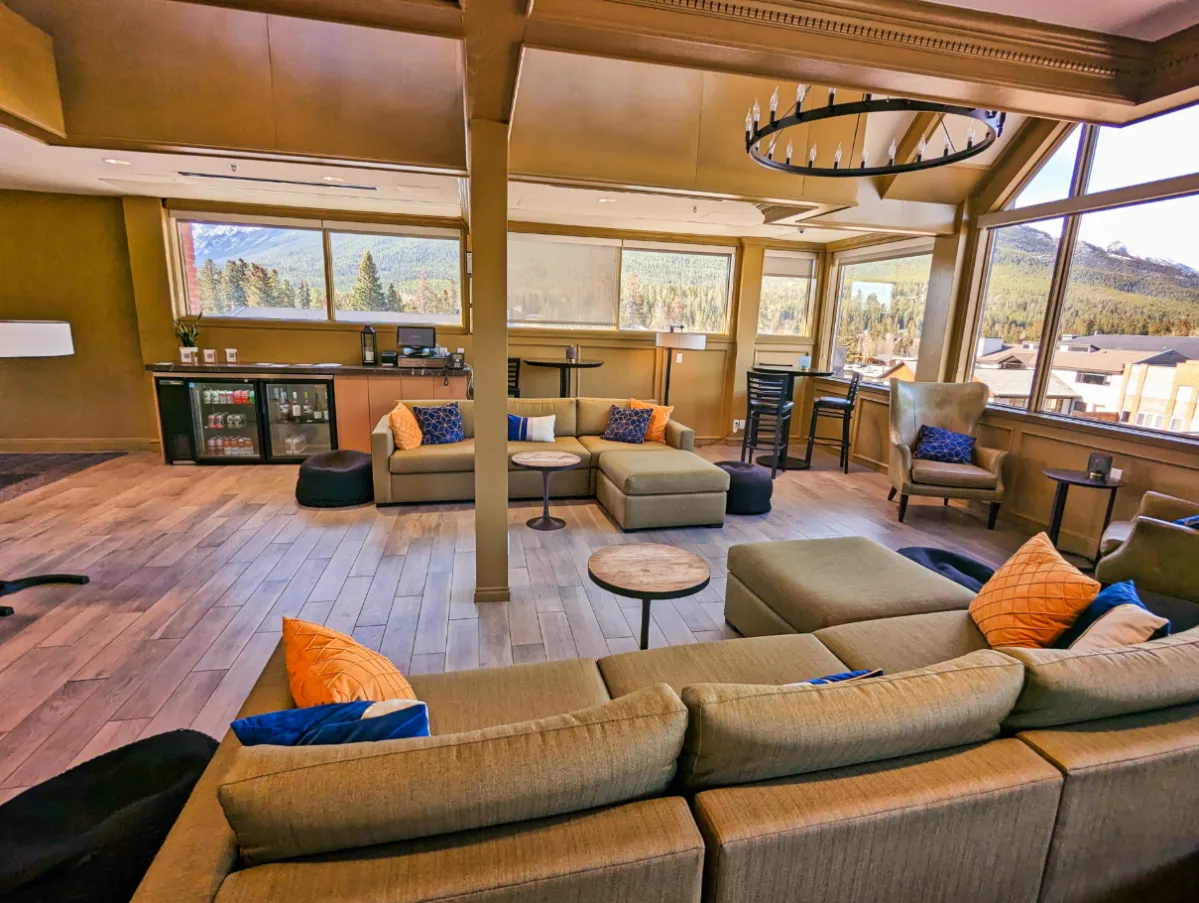 Rooftop Hot Tubs at the Mount Royal Hotel
THIS is why you choose the Mount Royal Hotel in Banff for your trip to this charming town in the Canadian Rockies. Rooftop hot tubs are something I didn't know I needed in my travels, and they absolutely make for an awesome time at the hotel. Here at the Mount Royal Hotel you'll find two rooftop hot tubs, rooftop lounge space with heaters and gorgeous views of the Canadian Rockies. If there were hikes to conquer and moose to see, we would've spent all day up here.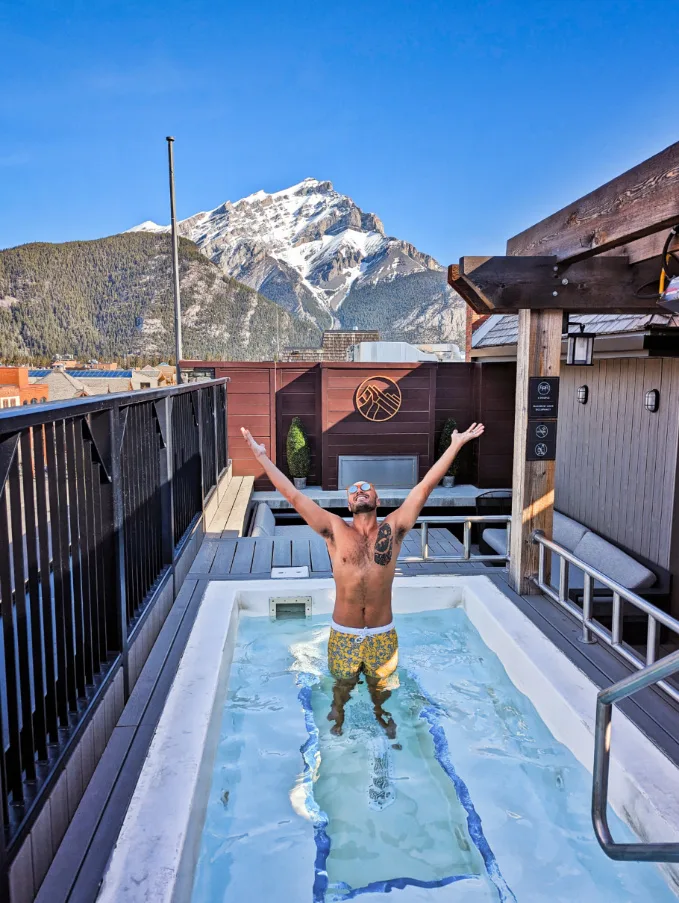 Fitness Center and Spa Info
If there is no fitness center or spa on property at the Mount Royal Hotel. The only option is to get a day pass for the Sally Borden Rec Centre and Fitness. They actually have quite the setup here, so if you want to use the gym, swim laps or even use the climbing wall, there are options. You can purchase day passes, punch cards (if you'll be in Banff for a while) or get a membership. Check the Sally Borden Rec site for all the details.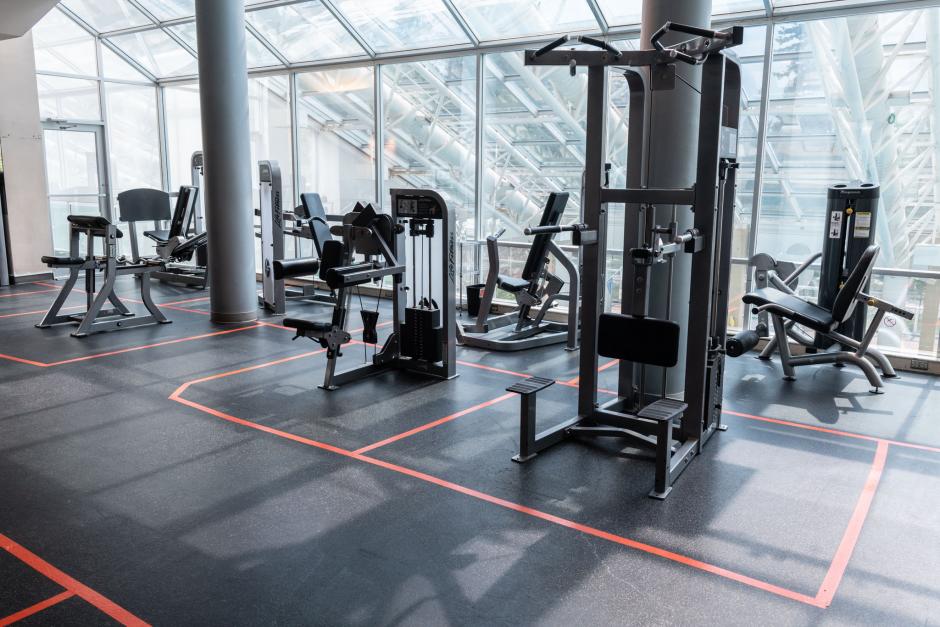 Dining at Brazen at the Mount Royal
There is one restaurant onsite at the Mount Royal Hotel: Brazen. Offering breakfast, lunch, dinner and happy hour, it's a great spot for starting your day or unwinding. The décor is fun and mountain-fancy with a great menu. The cocktails are delightful and I really loved all their glassware. Don't forget to bring your drink tokens when you visit Brazen!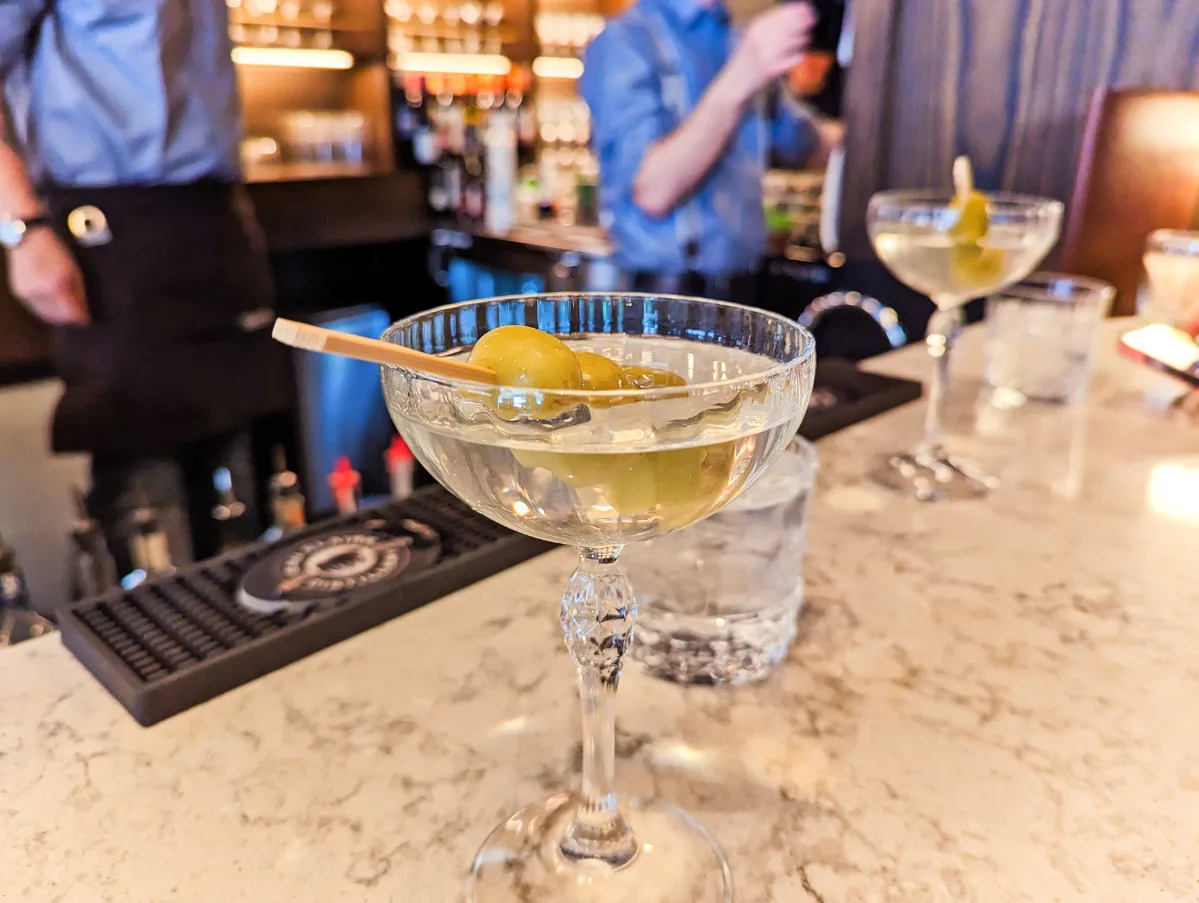 Where is the Mount Royal Hotel?
When you roll into Banff, Alberta, you'll see that it's actually a surprisingly large town. People actually live in Banff year-round and it's more than just a tourist town. There is a main drag to the city through, and that's Banff Avenue. Here you'll find lots of restaurants, outfitters, gear shops and other sorts of Canadian Rockies type shopping. The Mount Royal Hotel is located directly in the middle of it. It's not hard to find and once you're there, it's walking distance to most places in downtown Banff.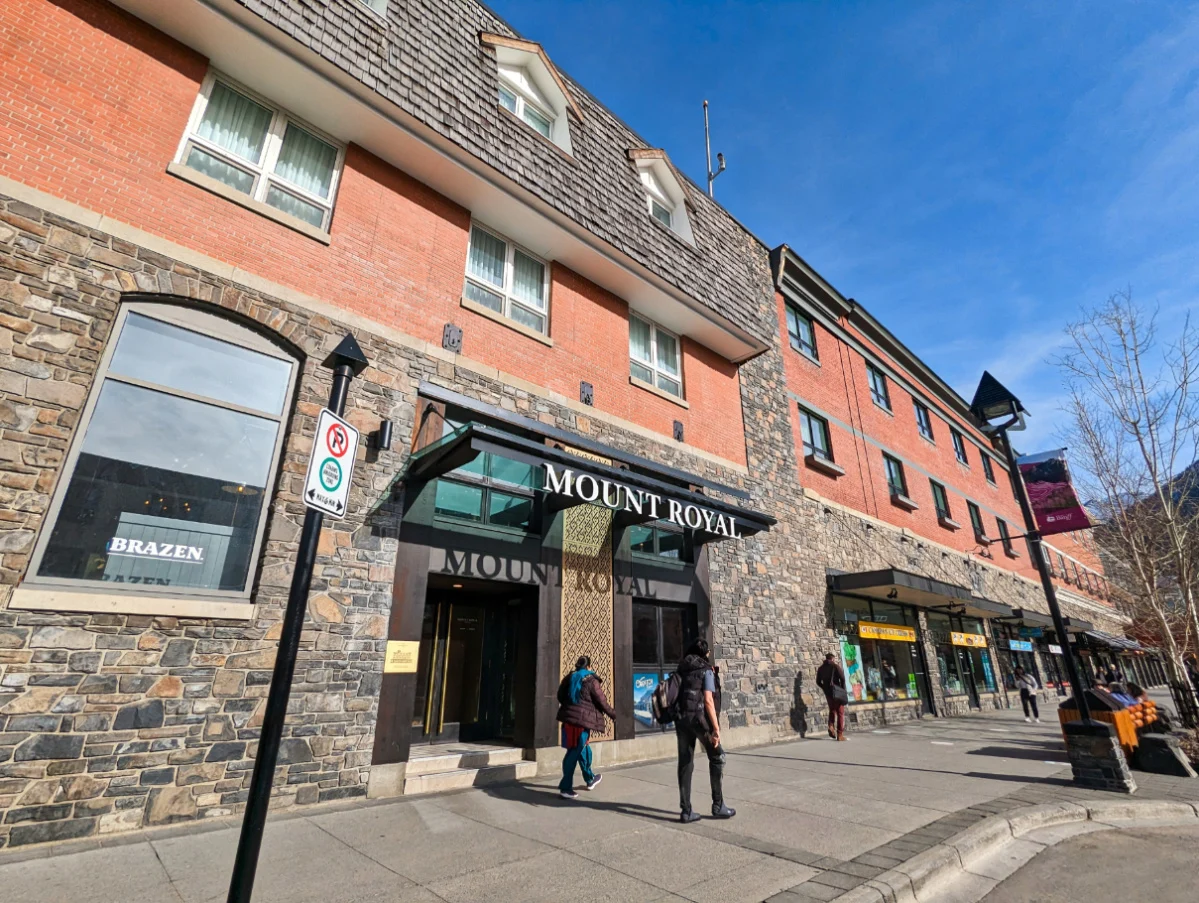 Transportation To and From Calgary to Banff
We prefer to have our own car when we travel to Banff and the Canadian Rockies. There are lots of tours that take you to the highlights of Banff or even up to Jasper National Park, but having your own car is best. The drive from Calgary to Banff is only an hour and a half, and there are lots of wonderful stops to make along the way, including Canmore and Kananaskis.
If you do want to fly into Calgary International Airport (YYC) and then do a motorcoach to Banff, ABest Transport or the Brewster Express can be booked in advance and they'll get you right to your hotel door.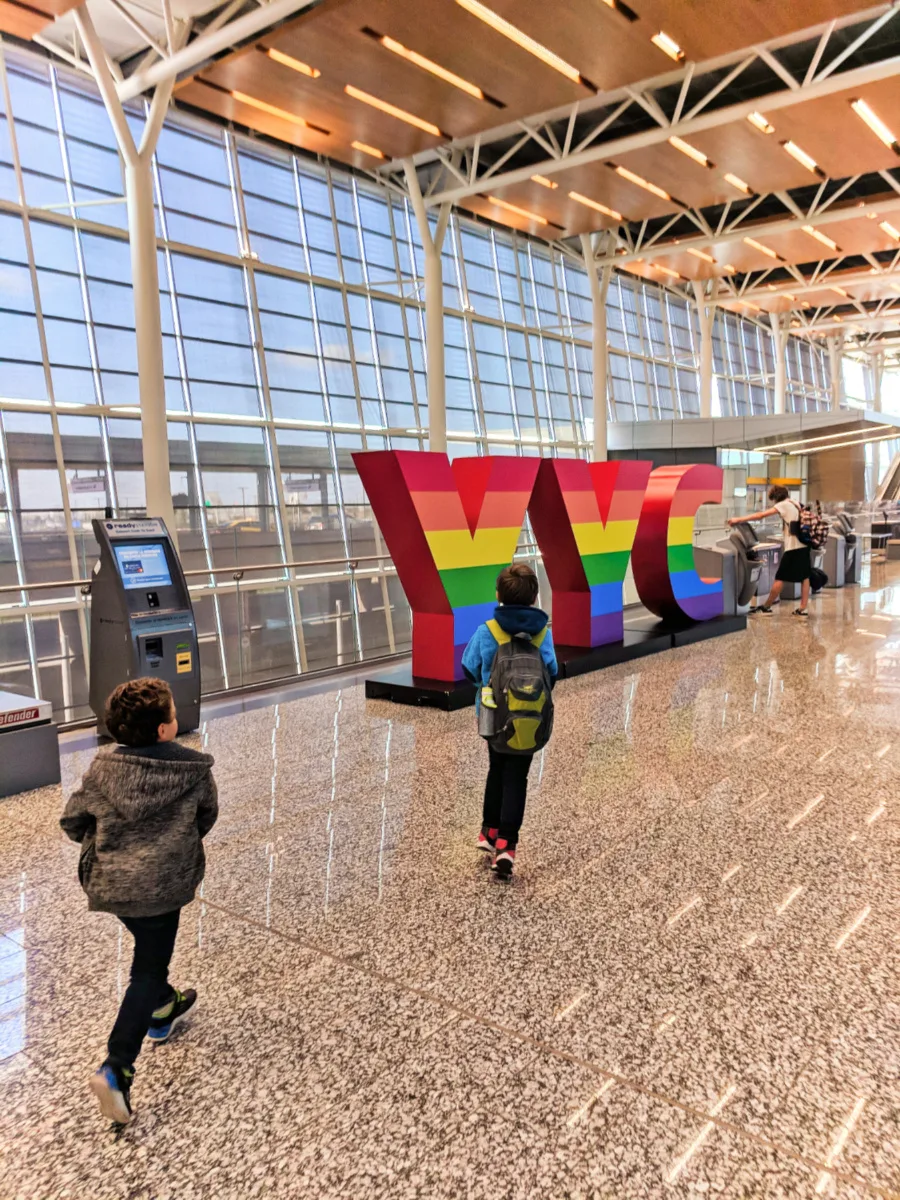 Can I Walk from the Mount Royal Hotel to Bow Falls?
One of the most beautiful sights in the town of Banff is Bow Falls on the Bow River. This is located just below the Fairmont Banff Springs Hotel. It is an easy walk from downtown, taking about twenty minutes. You'll get to cross the Bow River, see the historic parks admin building (iconic stone structure) and wind your way down to the falls. There is a walking path, so you don't actually have to walk along the street once you cross the river.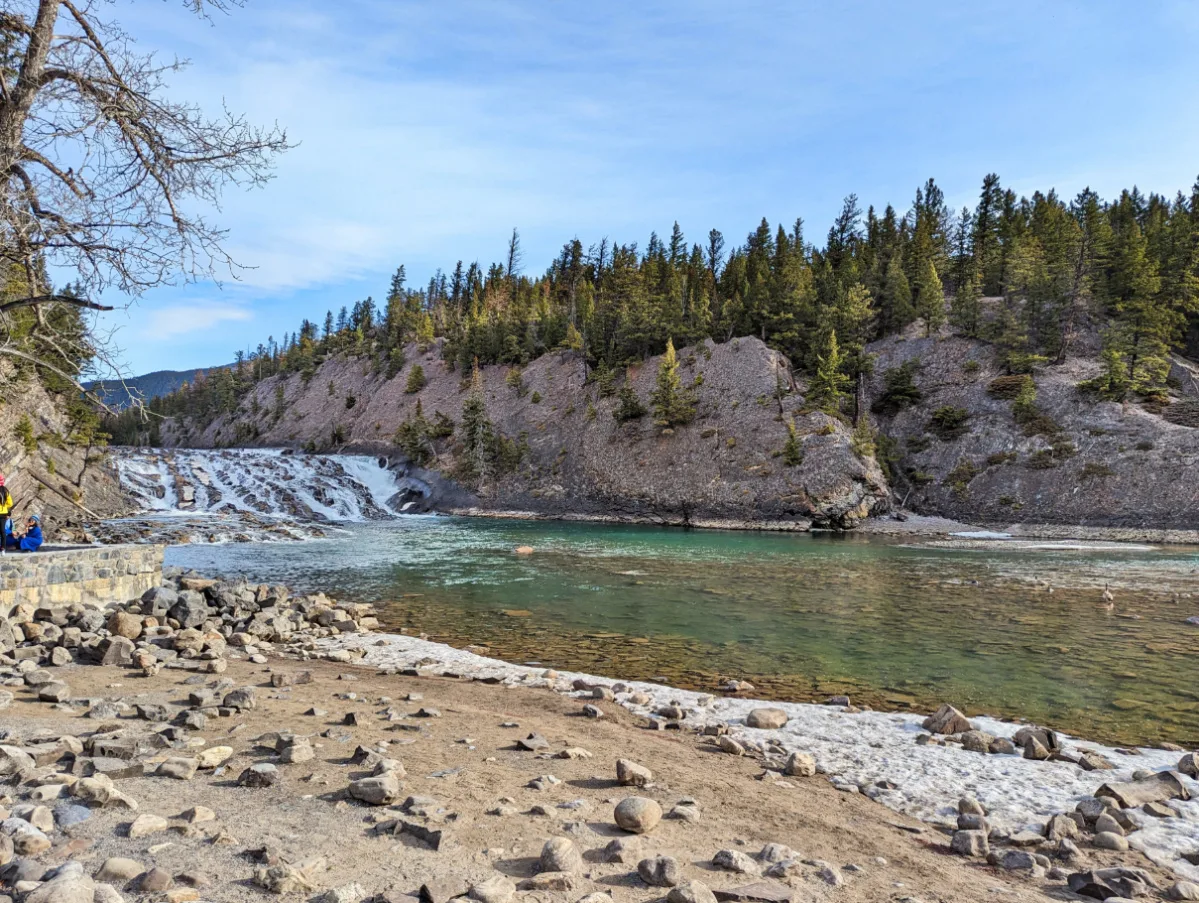 Parking Details at the Mount Royal Hotel
Parking is plentiful at the Mount Royal Hotel. You can valet it or just park it yourself for $5 CAD per night (2023). There is a small lot directly behind the hotel and then overflow parking thirty feet away from that across the alley. You'll get a parking pass, so in and out privileges are easy to take advantage of.
Already know you want to stay here? Book it here!
Ten Fun Things to do near the Mount Royal Hotel in Banff
Simple list of 10 things to do near the property or in the relative area of the property. This may include outdoor activities, museums, parks, famous sites or neighborhoods known for being an interesting place to visit.
explore as much of Banff National Park as you can!
rent EBikes or do a guided tour on EBikes to see the sights of Banff National Park
hike the Tunnel Mountain trail (three minutes from the hotel) for an awesome view of the town
ride the Banff Gondola up to another amazing view and patio restaurant
visit Cave and Basin National Historic Site nearby for geothermal activity and birdwatching
head to Vermillion Lakes at sunset to watch for moose and loons, or to just see the sunset reflections
watch sunrise on the Canadian Rockies from the Hoodoo Viewpoint just outside of town
enjoy a Banff food tour – that's right! Banff is kind of awesome for foodies.
Banff is such a fun place to visit. It's such a beautiful setting and is a wonderful hub for exploring the Canadian Rockies. I would for sure stay at the Mount Royal Hotel in downtown Banff again for its location, comfort, and of course, the rooftop hot tubs.
If you have any questions about or have your own recommendations for visiting Banff, please leave a comment or send us a note. We're always happy to share more!