Calgary is such a fun city to visit, full of good food and wonderful public spaces. The Fairmont Palliser Hotel is set right in the heart of downtown Calgary, next door to Calgary Tower and blocks from High Park and so much more. I've got the full scoop on staying at the Fairmont Palliser Hotel, details about the historic hotel, and great suggestions for things to do in Calgary.
If you have any questions about staying at the Fairmont Palliser Hotel or any of the other beautiful hotels we've enjoyed across Canada, please leave a comment or send us a note. We're happy to help plan travel and with spending so much time in the Canadian Rockies and British Columbia, we've got lots of experience and tips.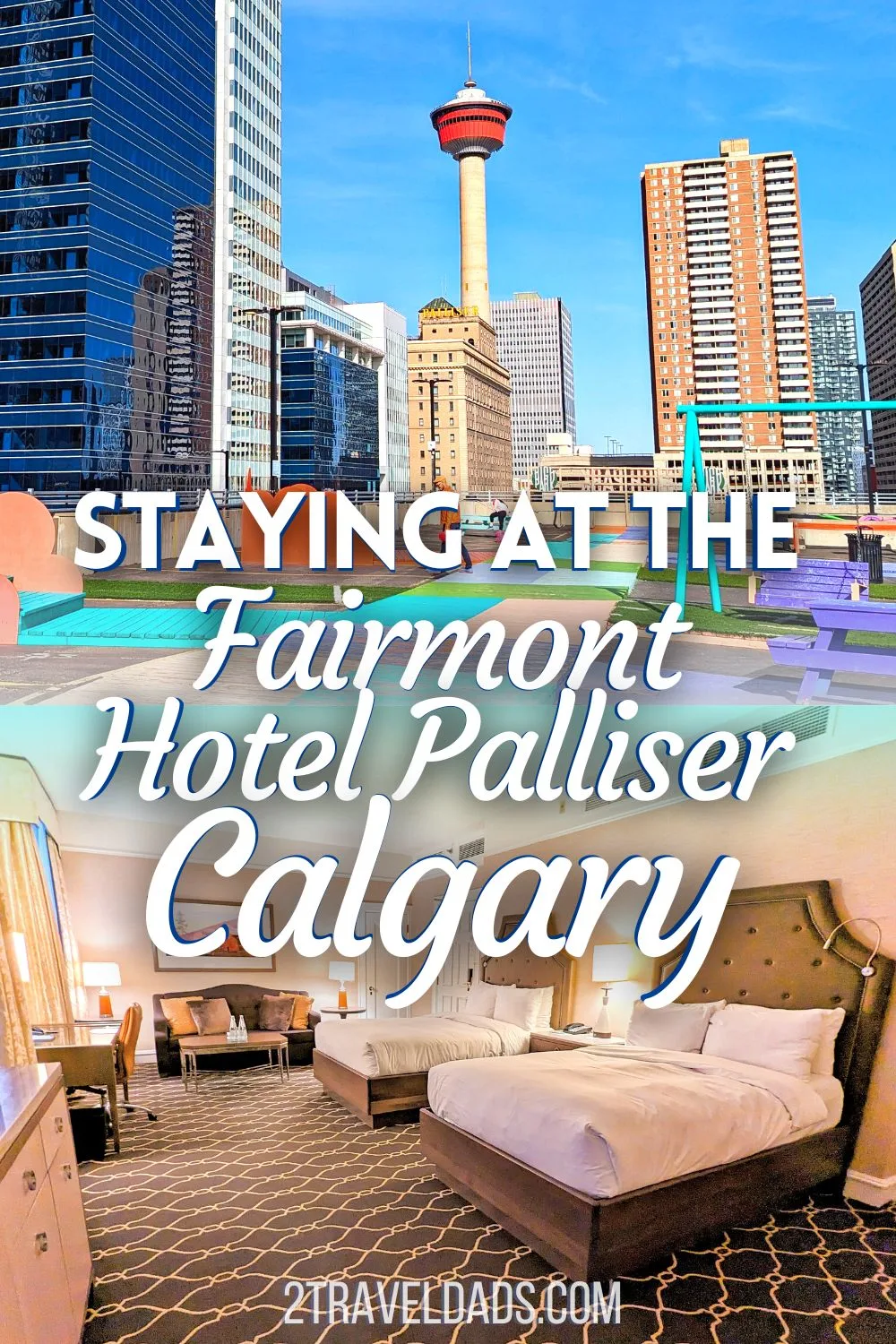 Room Types at the Fairmont Palliser Hotel in Calgary
Everybody has different ideas of what they need for a great hotel stay. We're pretty flexible with our room requirements, but when we know that we'll have a lot of time in the hotel room, either because of the weather or work that we have to do, we like to have a larger room. The Fairmont Palliser Hotel in Calgary has actually quite a few room types to choose from depending on your needs:
Fairmont Room / Deluxe Room – the standard and a slightly larger version
Signature Room – a larger room with a dedicated seating area
Junior Suite – even larger with a spacious seating area
One Bedroom Suite – large room with separate sleeping room
For a lot of travelers the room type they book usually comes down to price. In general the steps from Fairmont to Delux to Signature are in $50 segments, and then $100 more to go to the Junior and then $150 to the One Bedroom. These are approximate prices and fully subject to availability and occupancy.
Access to all rooms is through the main elevators from the lobby. These are keyed elevators, so security is maintained from the lobby to your room.
Book the Fairmont Palliser Hotel here!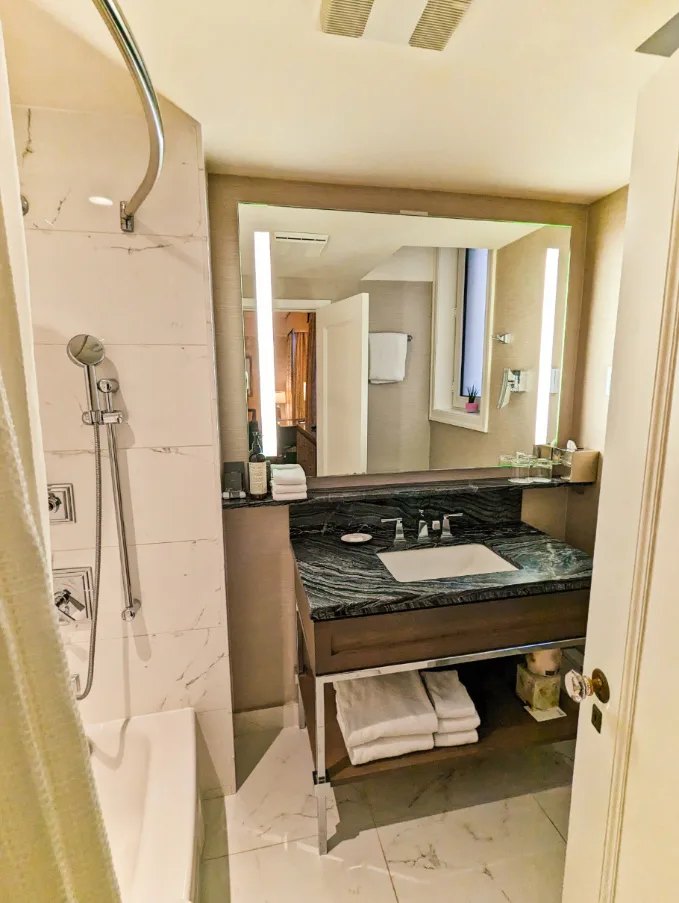 Top Pick: Signature Room
We had a Signature Two Doubles at the Fairmont Palliser in Calgary. It was super spacious, from the extra seating area to having two closets even. Multiple windows kept things nice and light inside, and there were plenty of plugs for charging all of our devices. Since we are gone from the room so much when we travel, normally we don't tend to hang out… but we did end up actually taking time to relax here and even enjoyed in-room dining because there was enough space. The Signature rooms at the Fairmont Palliser Hotel really are the ideal solution for a family or friends traveling together.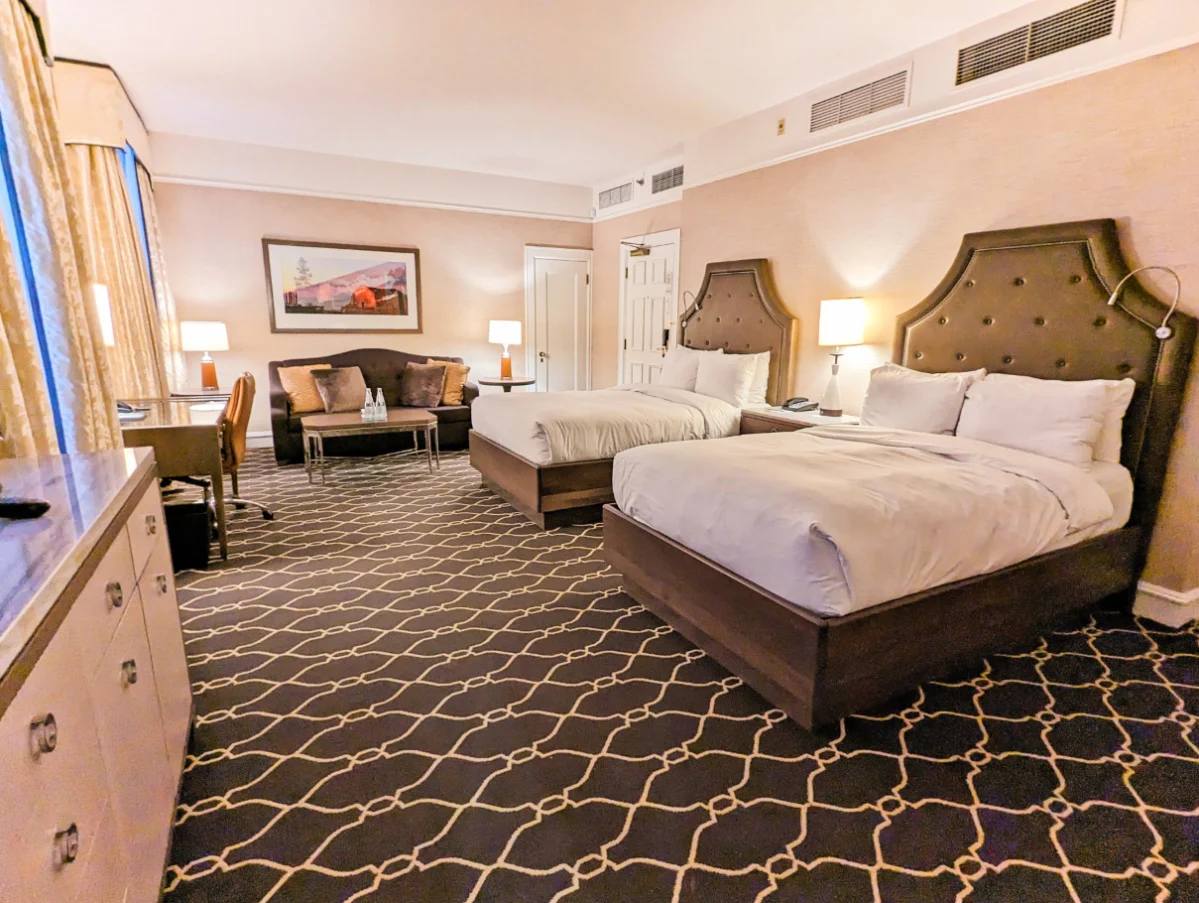 Check in / Check Out at the Fairmont Palliser
When you arrive at the Fairmont Palliser in Calgary, you pull up to the beautiful historic portico and enter through the rotating doors into a beautiful, grand lobby. The front desk is split into two spaces, and you can check-in wherever is faster. The concierge is also here at the front desk, so asking for recommendations is easy and you can conquer both getting your keys AND making a dinner plan at the same time.
I've been a concierge in a hotel before, so I understand the need to have solid recommendations for guests, and not just whatever is the most popular. The Fairmont concierge staff was ON IT for us. They provided suggestions for where to go walking, where to find unique Calgary things to do and see, and had really wonderful restaurant recommendations which we're so glad we followed (more on that below).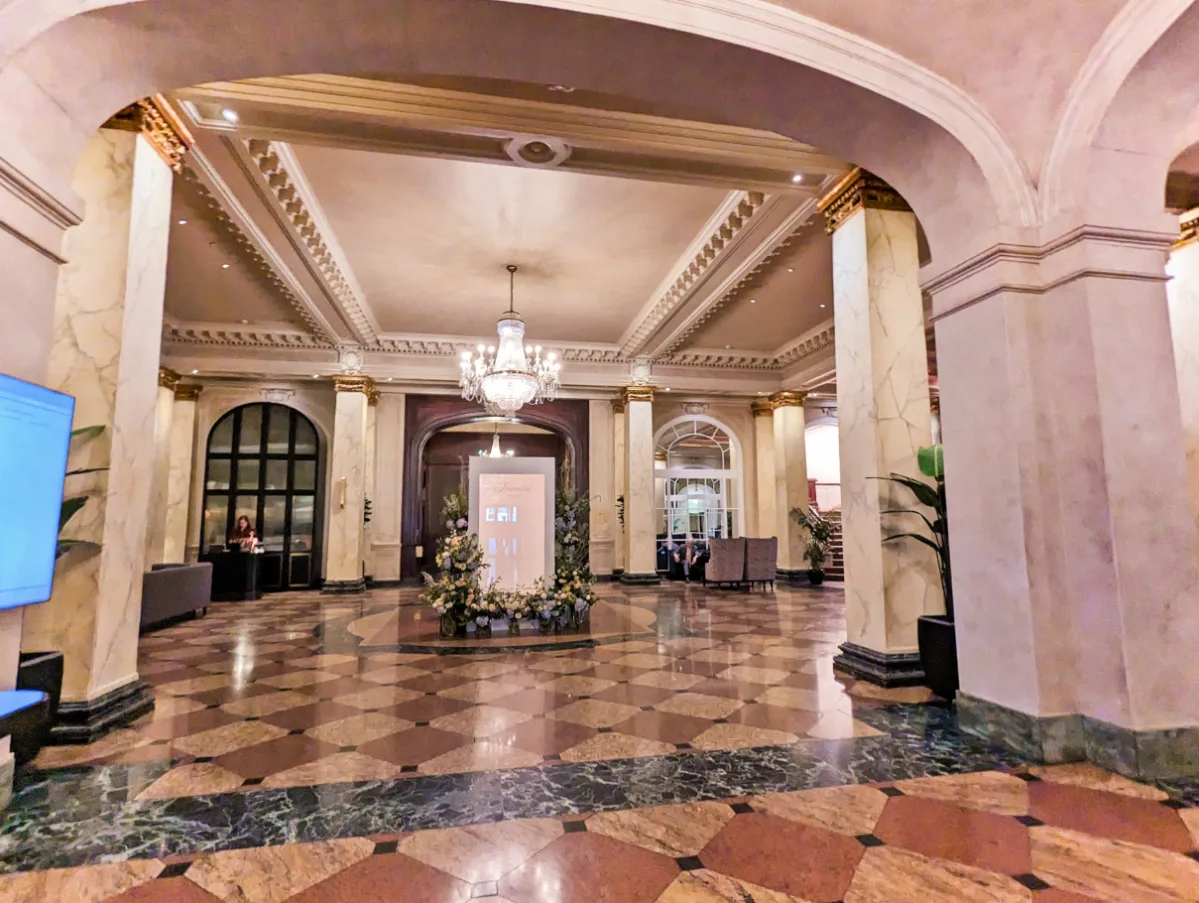 Fairmont Palliser Hotel Amenities
I really love the consistency of Fairmont properties. From the Fairmont Hotel Vancouver to Chateau Lake Louise, and now to the Palliser Hotel, I know that I'll have access to things like a fitness center, pool and basically anything else I might need. And I know that the shared amenity spaces will be clean and well maintained, which is so important. When you're staying at a historic hotel, there tend to be general upkeep issues, but we found none here!
Pools at Calgary's Fairmont Palliser
The swimming pool at the Palliser is my favorite indoor hotel pool ever. I loved the atrium style pool at the Samoset Resort in Rockport, Maine, but the Palliser's Romanesque column-lined pool was just perfect. Tranquil, warm and spacious, we paid several visits to the swimming pool during our stay. There is also a hot tub in the swimming area, so we took advantage of that too.
Something I have discovered that I really like, and I've seen them at several Fairmont properties now, are the swimsuit dryers. They are a funny contraption you'll find in the changing room, and you place your swimsuit into the top and close the lid. It spins the water out of your suit with a vengeance and allows you to pack your fully (or nearly) dry swimsuit when you check out without soaking your luggage.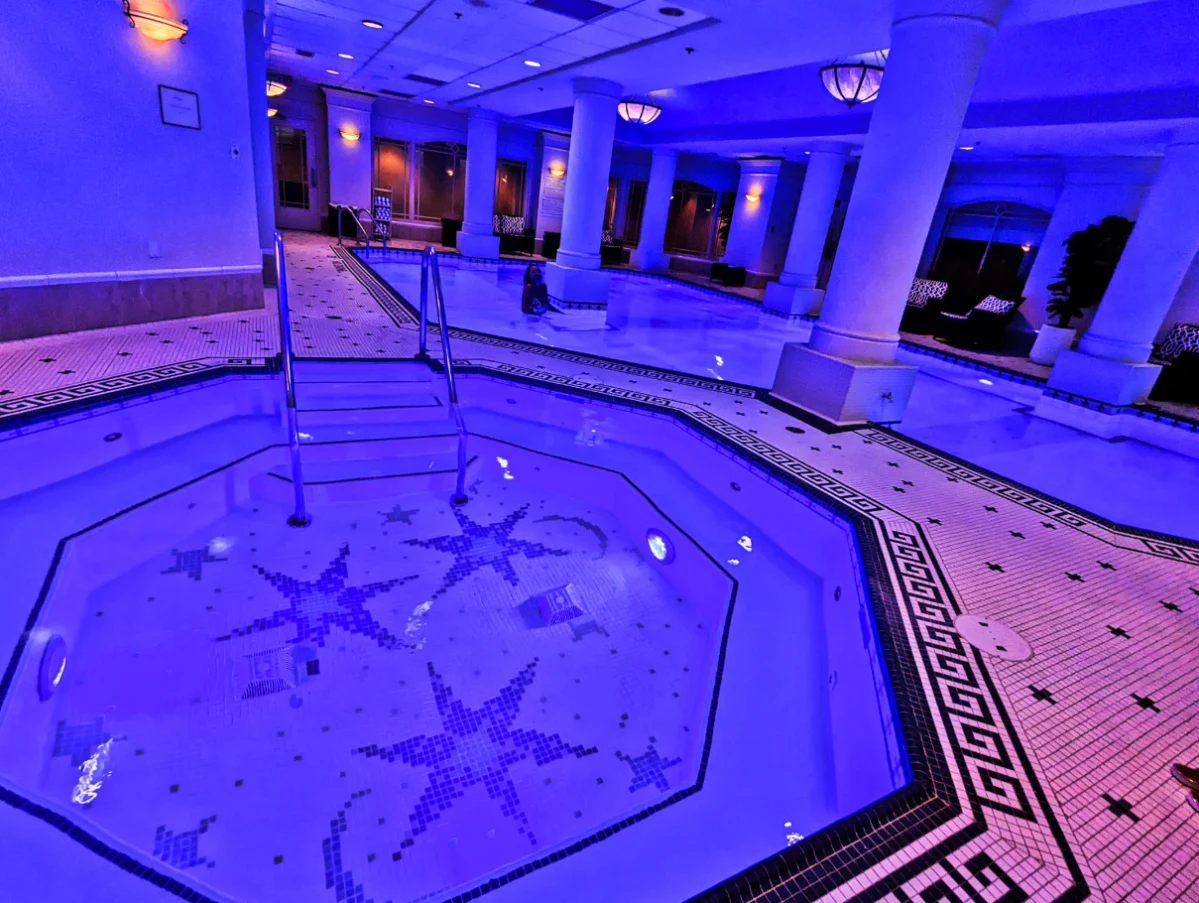 Fitness Center and Spa
Ahh, another hotel with a great fitness space! While not as spacious as the gym at EVEN Hotels NYC or the Coast Coal Harbour Hotel in Vancouver, the Fairmont Palliser provides ample room for many guests to be able to workout without disturbing each other. There is plenty of cardio equipment and both free and machine weights.
You get to the fitness center and the pool area via the spa entrance. With several treatment rooms and relaxation spaces, the spa at the Fairmont Palliser is wonderfully set up to be a part of the healthy side of your trip to Calgary.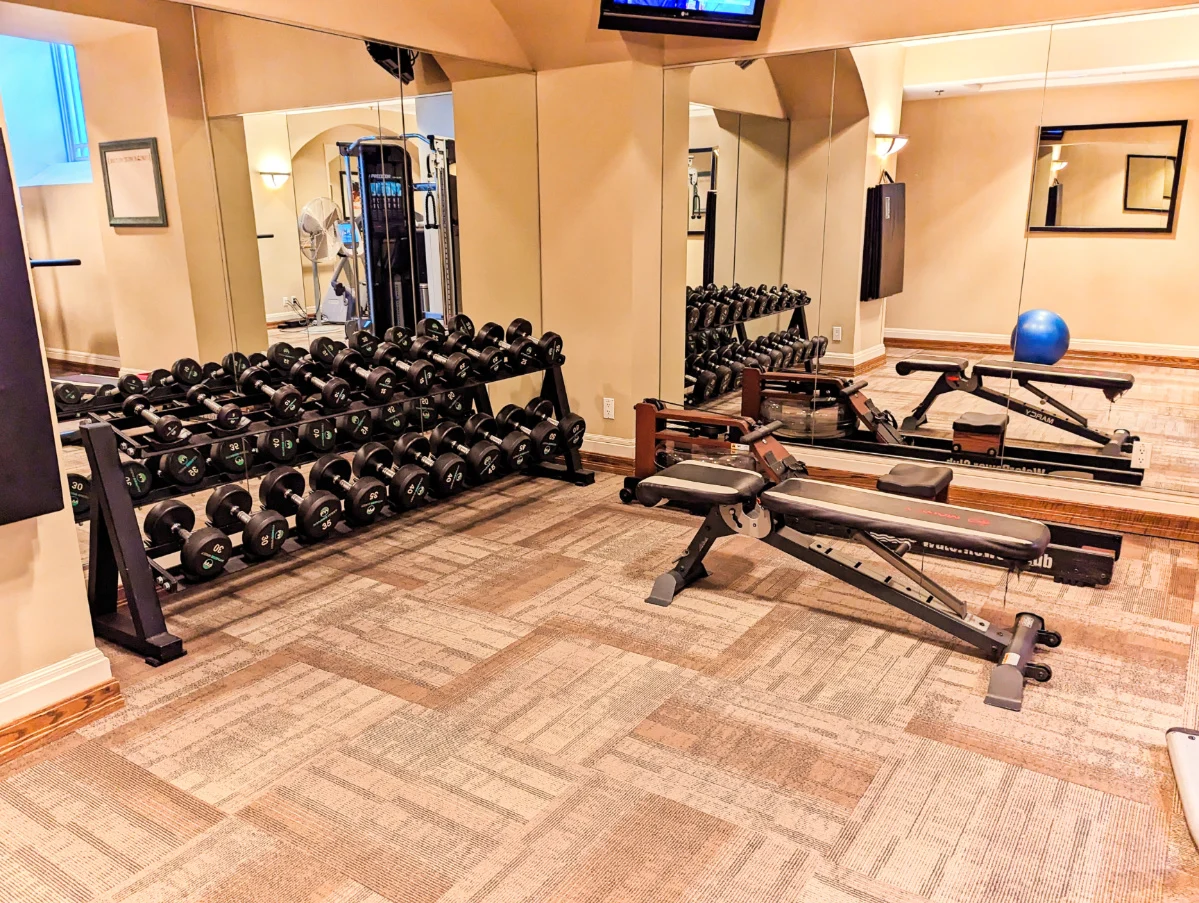 Dining at the Hawthorn Dining Room
Yes, the Fairmonts are all quite grand and fancy and lovely, but I think the Hawthorne Dining Room is one of the coolest Fairmont restaurants I've been to. I love the large arched mirrors and the beautiful bar set in the center of it. During our stay we enjoyed both cocktails and breakfast here at the Hawthorn Dining Room.
Starting with breakfast, the menu is both healthy and indulgent. I enjoyed having both fresh pressed juice and one of the hardiest benedicts I've ever had. For cocktails, they have a beautiful specialized drink menu, but also, you can never go wrong with a perfectly prepared dirty martini. The staff during both visits was wonderful and attentive, which I always appreciate.
Note: depending on the day of the week, there may be either live music in the Hawthorn Dining Room or a large event happening in the lobby space opposite the restaurant. The noise level can be a bit louder than you might expect, but not so much that it's obnoxious. Just a heads-up to share.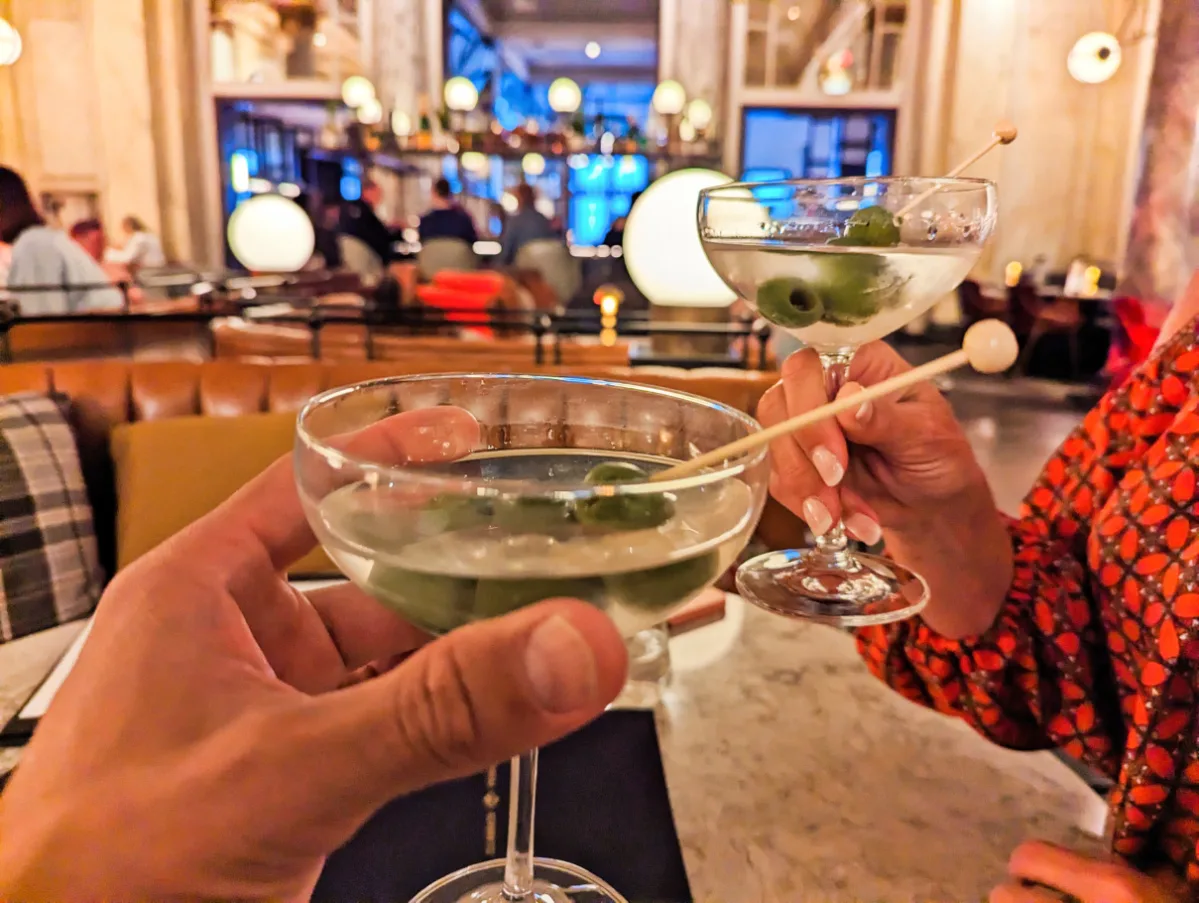 In-Room Dining at the Palliser
I am always nervous when I actually do in-room dining. I'm nervous about putting the timed breakfast request outside the door. I'm nervous about making a mess in a hotel room. I'm nervous about not having enough space to actually eat my breakfast. None of this was a worry during this visit to the Fairmont Palliser Hotel.
In-Room Dining delivered breakfast promptly at 6:15 am and the presentation was beautiful, even early in the morning. The order was correct (gluten free) and well put together, including the fresh pressed juice. If this were how all In-Room Dining experiences happened for me, I would do it more often. Well done!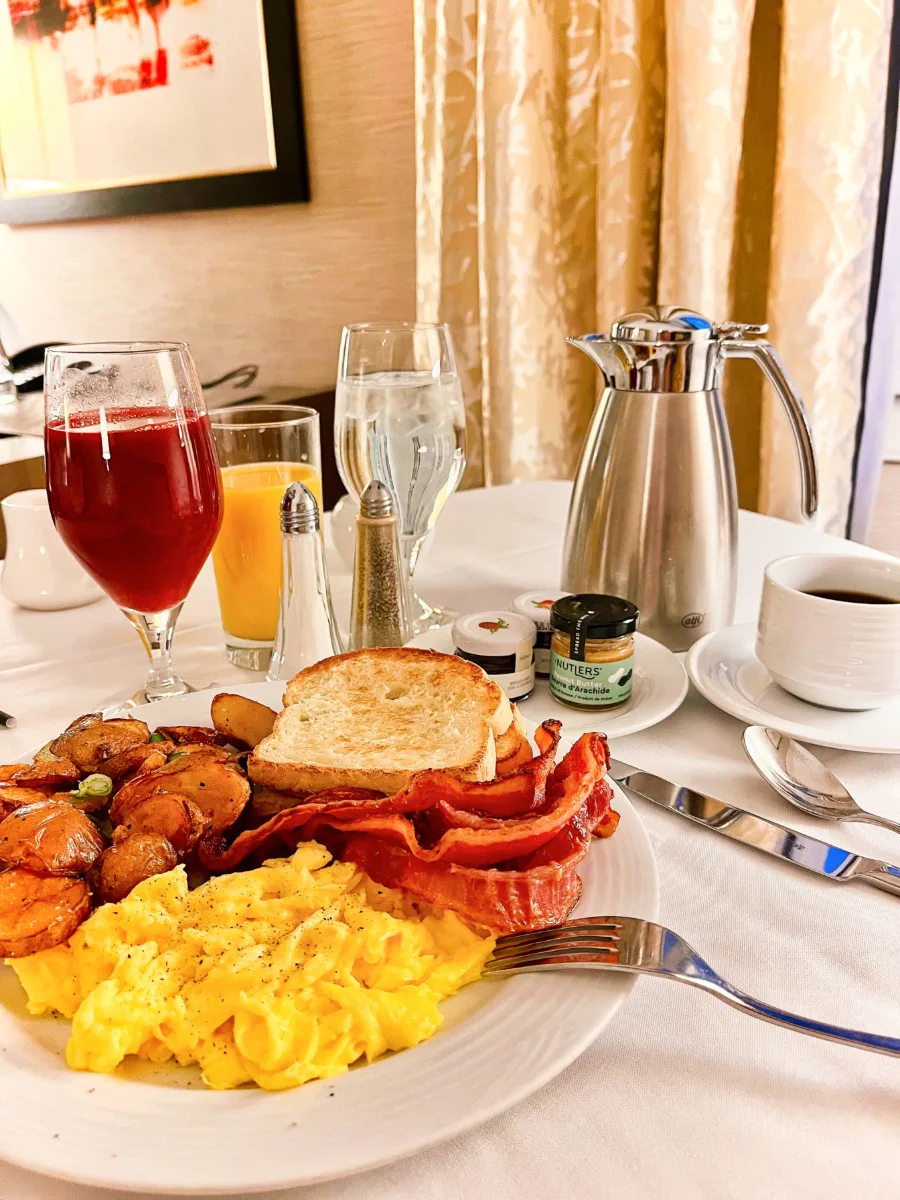 Where is the Fairmont Palliser Hotel in Calgary?
Landmarks are how I decide where to book a hotel. I want to be walking distance to the majority of my plans, and when visiting Calgary, that means being close to sights and restaurants. The Fairmont Palliser Hotel is located directly next door to the famous Calgary Tower, two blocks from the innovative High Park, and just one block from Stephen Street, which is the hub of patio dining and fun in downtown Calgary.
Shopping and dining is so easy when you're based here. Calgary's Chinatown is a few blocks away too. There's no need to have a car to explore most of the city from the Palliser.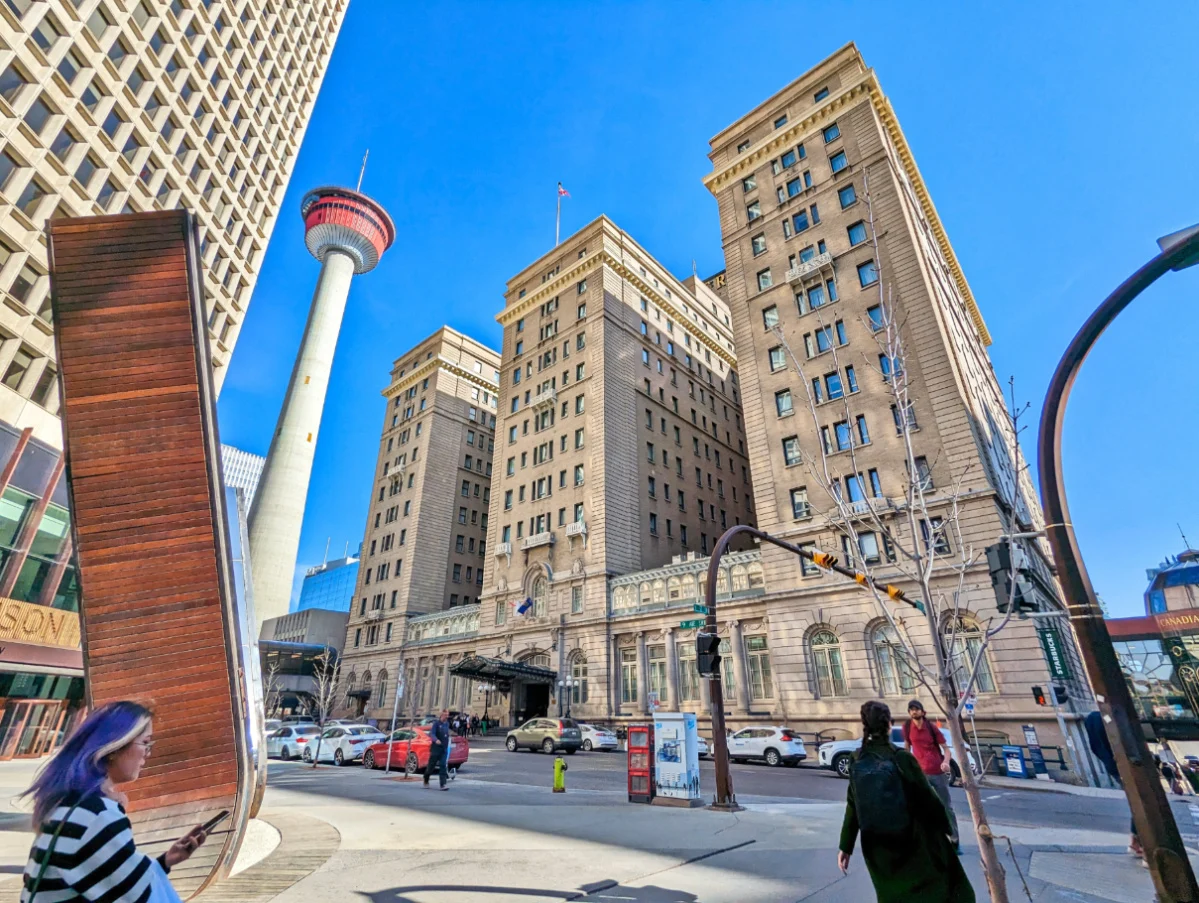 Transportation To and From Calgary International Airport YYC
I wish every city was as easy to get into from their airport at Calgary. It's only about a 20 minute drive from YYC to downtown Calgary, or a half hour in traffic. You also can take the light rail from 7th Street downtown to the airport. The closest light rail stop to the Palliser Hotel is just three blocks away. There is also a bus that goes from downtown to YYC. So easy!
Tip: when it's departure time, pay attention to the signs at the check-in counters at YYC. This is the only airport where my Gold Status with American ever made it so I got to fully cut to the front of the line. I feel like not a ton of people flying on US based airlines have status when departing from Canadian airports, so it's an easy hack for faster service.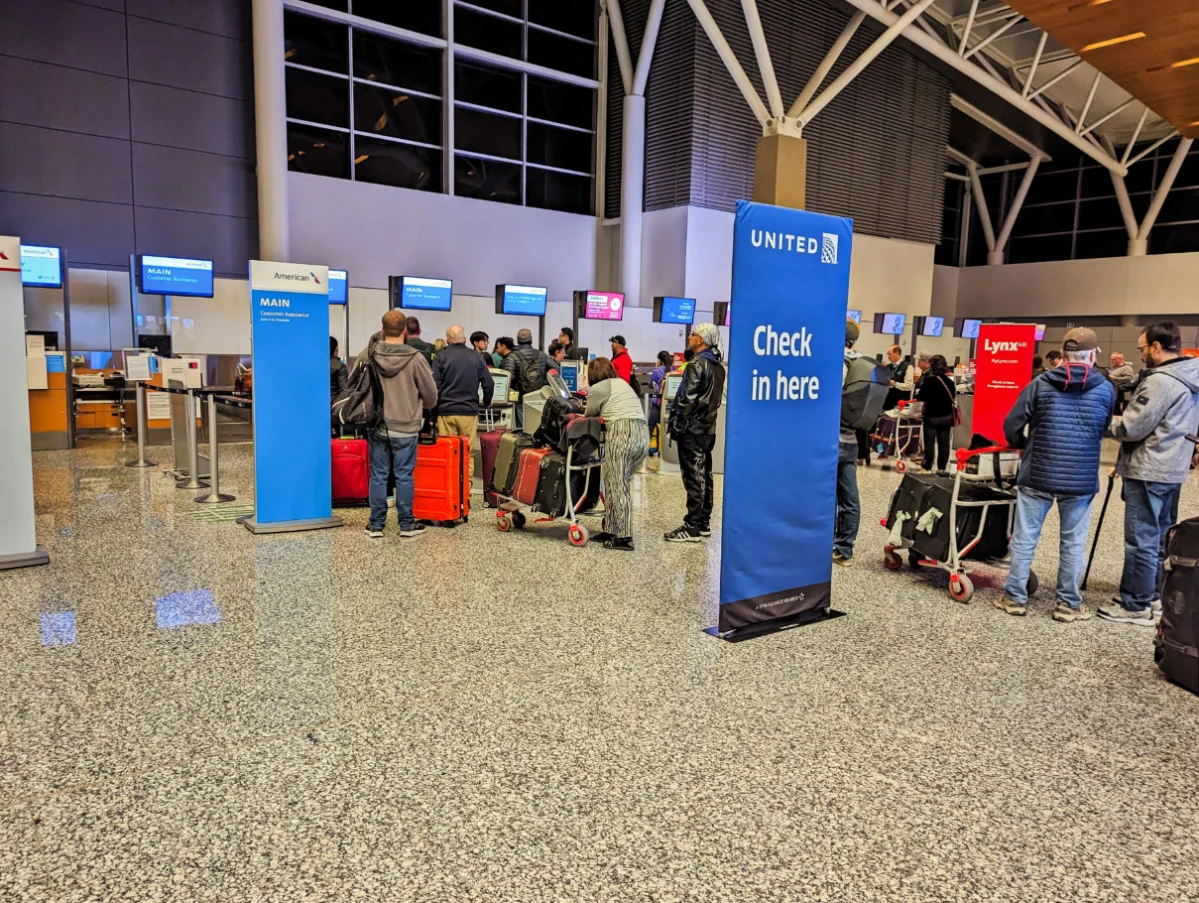 Can I Walk from the Fairmont Palliser to Prince's Island Park?
Every big city has their signature public park, and for Calgary that's Prince's Island Park. Located directly on the Bow River that flows from Banff National Park through Calgary, Prince's Island Park is a wonderful place to walk, sit and relax on the river, or see public concerts in the summer. It's huge and is full of bridges and walking trails. About a fifteen minute walk down 1st Street SW to the river, it's a wonderful morning or afternoon activity. Walking to the river from the hotel demonstrates how walkable Calgary is.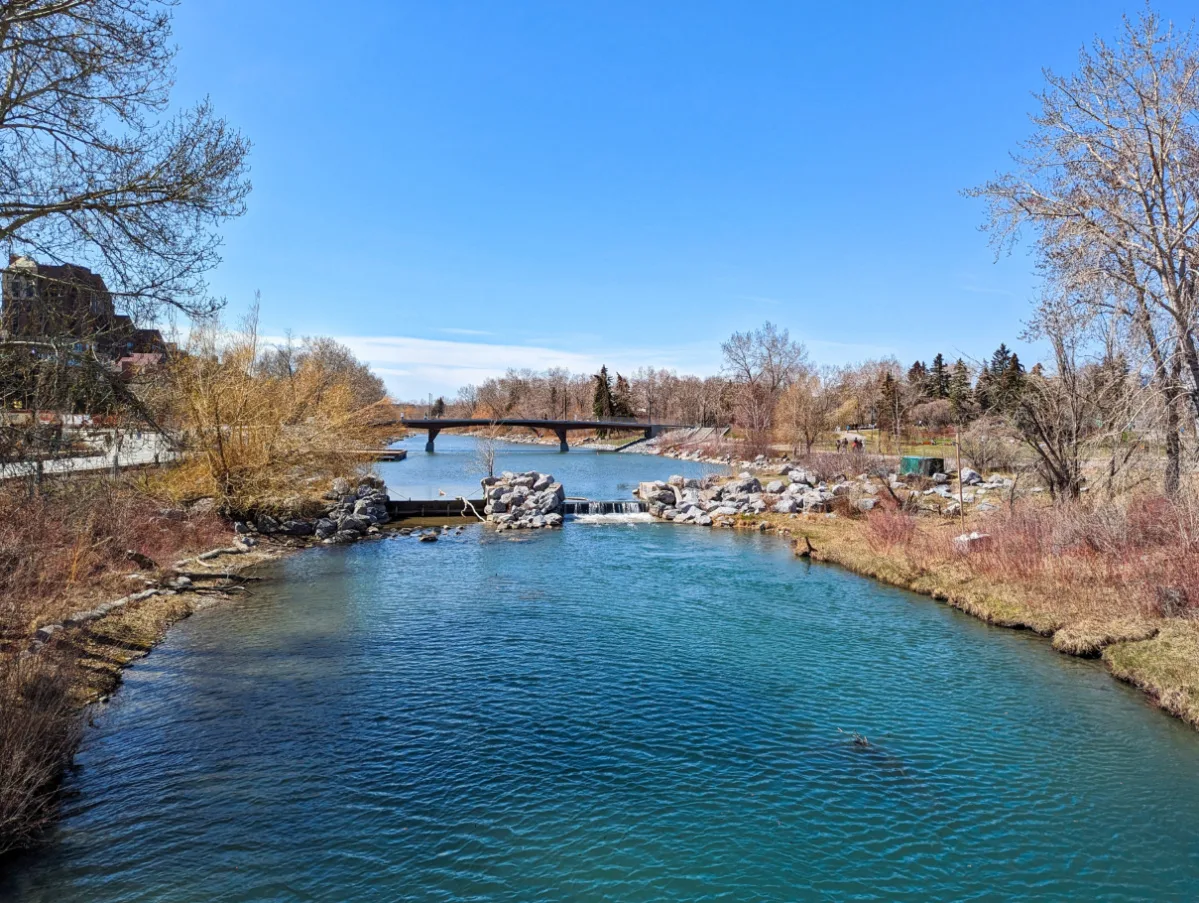 Parking Details at the Fairmont Palliser Calgary
If you do have a vehicle with you for your stay at the Fairmont Palliser Hotel, there are several parking options. There are a number of public garages, or you can park in the garage adjacent to the hotel. The cost for self-parking is $27 CAD (as of 2023). There is also valet parking available with in and out privileges for $55 CAD (2023).
I've got to say it again though, you really do NOT need a car for exploring downtown Calgary, and even just getting an Uber or Lyft is very easy here. You do you, but that's my thought.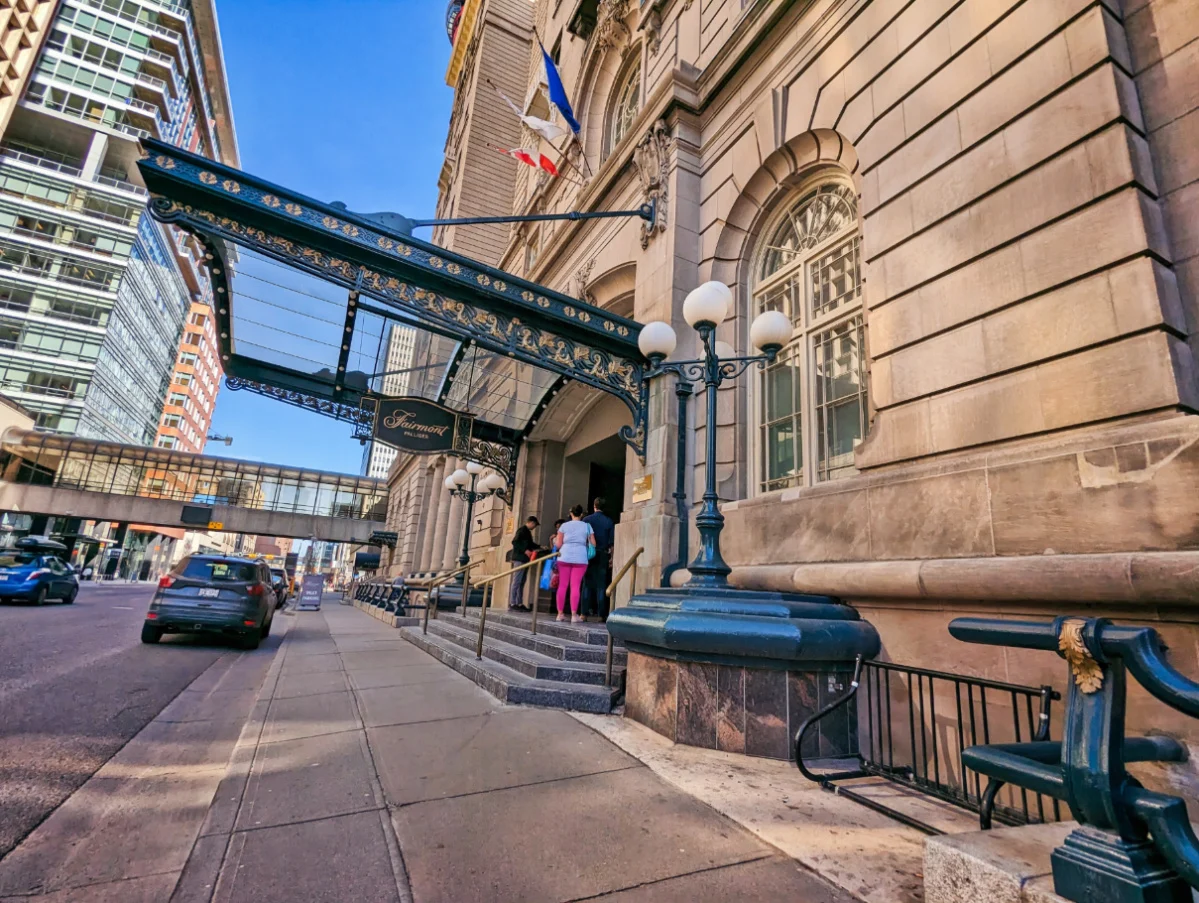 Ten Fun Things to in Downtown Calgary
Whether you're planning a weekend trip to Calgary or you've decided to include it in a much more grand tour of Canada, we've got some great ideas for fun things to do in Calgary. All of these picks are walking distance from Fairmont Palliser Hotel, and if you're not a big walker, they're a super short Uber ride away.
Tip: if you're visiting Calgary for work and can add an extra day, there are lots of great tour options that can get you out into nature, including visiting Kananaskis Country, Banff and even Jasper National Park!
Visit High Park for relaxing and cool city photos
Walk to Prince's Island Park
Explore, dine and shop your way through Calgary's Chinatown
Go up Calgary Tower for views all the way to the Canadian Rockies
Rent scooters for a fun ride around the city (Neuron app download required)
Check out the art installations in the Devonian Gardens
Shopping at the CORE Shopping Centre (really good stores)
Visit the really modern Central Library
In winter go ice skating at Olympic Park
Visit the National Music Centre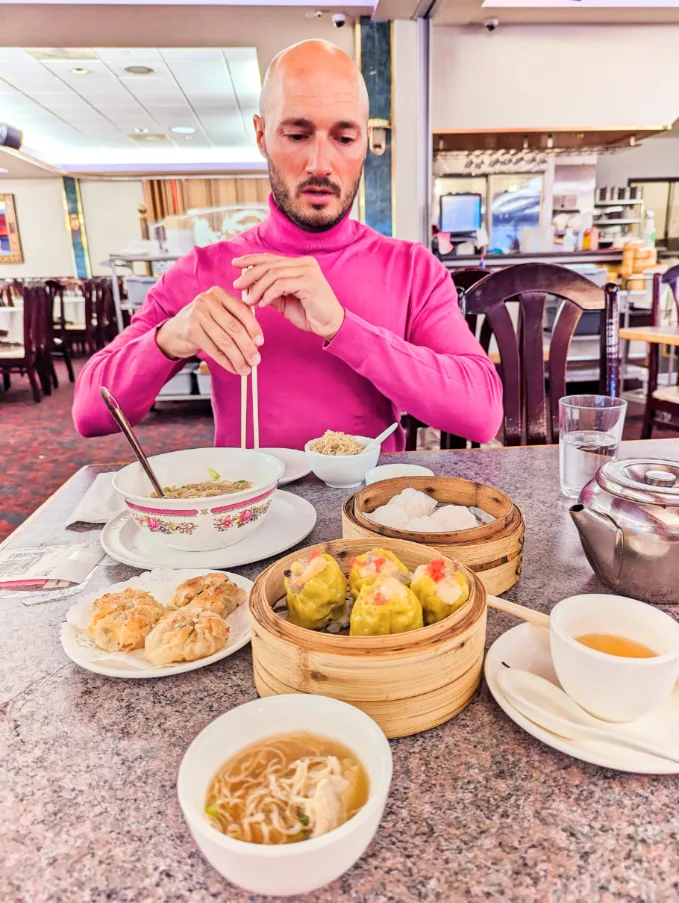 I absolutely love visiting Calgary and we enjoyed our stay at the Fairmont Palliser Hotel very much. We added time in Calgary onto our Rocky Mountaineer train trip from Vancouver to Banff on the First Passage to the West route. Whether you're riding the train or just looking to check out Calgary, having a luxe stay at the Palliser is a wonderful way to elevate your Alberta adventure.
If you have any questions or want to share additional tips for a visit to Calgary, please leave a comment or send us a note. We're always happy to help plan travels and really love sharing about the Canadian Rockies.