Staying fit while traveling has always been important to us. We make sure that wherever we go we stay active and when available, we take advantage of hotel fitness centers or go running. We've found a hotel brand that is the best hotel for fitness, particularly for the frequent traveler: Even Hotels, an IHG brand.
We talk a lot about our favorite brands for frequent travel and Intercontinental Hotel Group is usually at the top of our list. Even though we recently have found some other awesome hotels (loving the new concepts in Best Westerns), Even Hotels are the brand that we've been looking for when it comes to hotel convenience and fitness.
Note: this is NOT a sponsored post. We discovered EVEN Hotels outside of any work we've done in partnership with IHG and are sharing of our own desire to spread fitness to frequent travelers.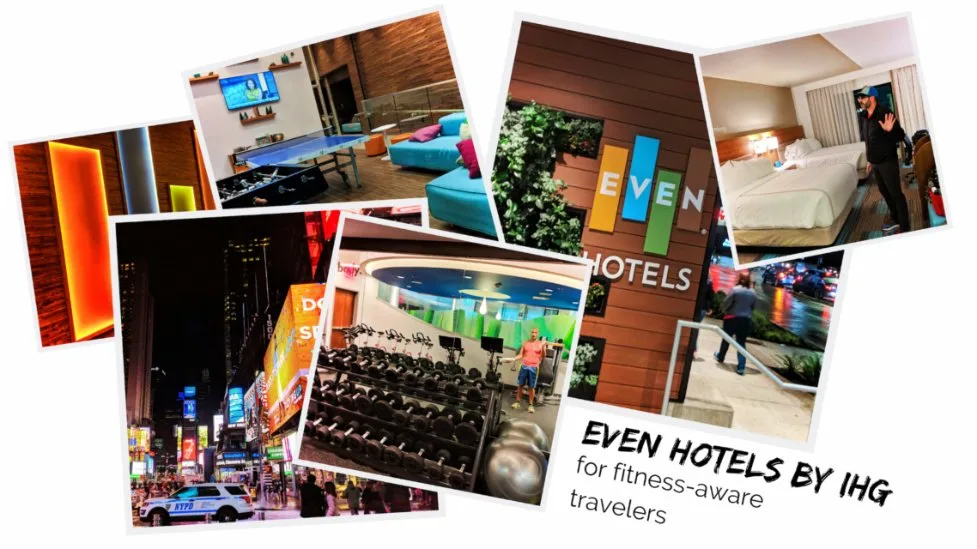 Why EVEN Hotels for frequent travel?
Something we look for when we're traveling as a family or without the kids is a hotel that matches our needs both for space and amenities. The reason we're writing this whole piece about the best hotel for fitness is because EVEN Hotels has cracked the code for making in-room and on-property fitness doable.
Search for an EVEN Hotels location here!
We often sacrifice our workouts when we're traveling because we can't leave the kids alone in a hotel room, and EVEN has a solution to it. After a few days of missing workouts, I start to lose energy. After dining out continually and not getting to workout, I start to feel like my fitness is slipping. Being a frequent traveler, if I had a solution to both accessible workout space/equipment and easy, healthy food solutions, I'd be ahead of the fitness game as a frequent traveler. EVEN Hotels provides the space, equipment, exercise instruction and on-site healthy food options. That's why it's the best hotel for fitness.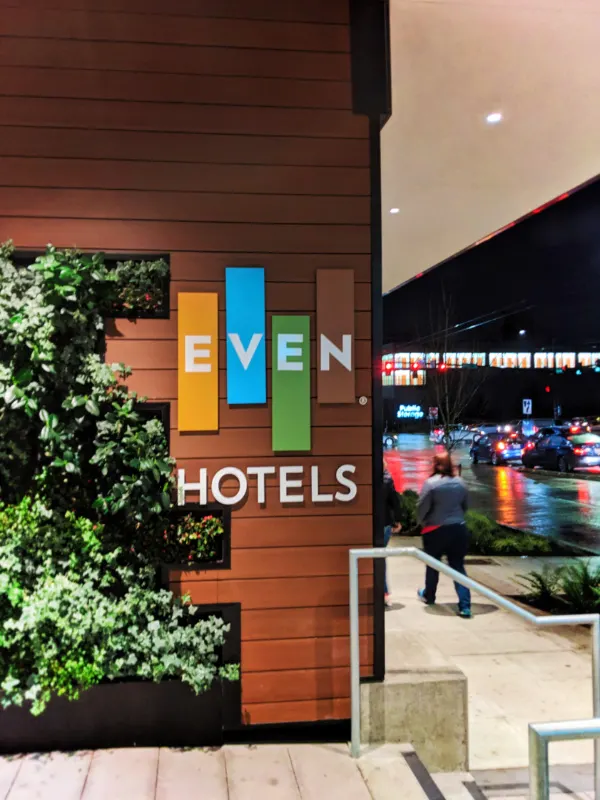 Best hotel for fitness, even in your room
When I checked into my first EVEN Hotels experience, I was surprised to find exercise equipment in my room. As a standard a yoga mat and block are available and there is enough space, even in a New York City hotel room, to do a complete workout. Add to that the strength training bar on the wall for the provided resistance bands, and you're all set. Also, many rooms are equipped with exercise balls for additional activities.
Also in the rooms at EVEN Hotels: an exercise binder. Binders full of exercises! If you're frequently in the gym or are used to finding ways to work out in your hotel room, you probably already know some great body-weight exercises, yoga practices or simple fitness solutions, but if not the exercise binder is your new best friend. Inside you'll find instructions for the basics, but then also a full regime for working out with the strength bar and resistance bands as well.
Don't forget in-room television programming. For the fitness conscious traveler that also likes to have live instruction, there are televised fitness programs on the hotel channel with some very good, well produced workout programs.
If you're more into going to the gym, EVEN hotels proves they're the best hotel for fitness with their onsite gyms/fitness studios. Although the fitness centers are not 100% of what you'll find at your local 24 Hour Fitness in terms of machines, TRX and classes, they are well stocked with many options:
Spin bikes

Stair Climbers

Treadmills

Rowing machines

Ellipticals

Free weights

Benches

Cable weight station…
EVEN Hotels seriously sold me on their overall concept when I first walked into the fitness studio and I felt inspired, just like when I go to my favorite gym. That's why EVEN Hotels is the best hotel for health and fitness conscious travelers.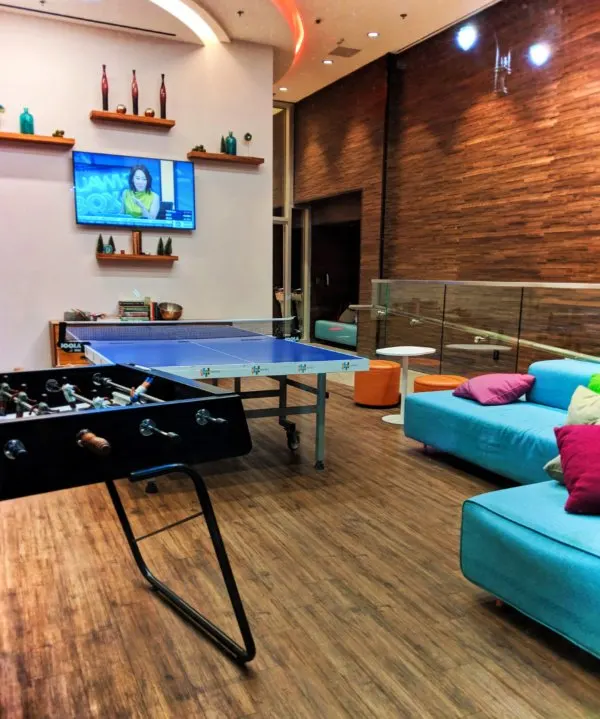 Additional health considerations at EVEN Hotels
We travel a ton, for fun and business, so more often than not we rely on our hotel to have a good breakfast option, particularly with healthy choices to start our day. Cork & Kale Market and Bar is a well executed concept for food in EVEN Hotels. They consistently offer freshly made breakfast options, gluten free choices, fresh juices, natural and organic foods, and even health conscious cocktails.
Note: as a welcome amenity guests might even be offered vouchers for smoothies or cocktails. I love EVEN Hotels!
Something else that's very important to us is being environmentally friendly and EVEN Hotels gets that. Thank you for not putting bottles of water in the rooms! Thank you for not doing individual shampoo/soap bottles that just create plastic trash! Thank you for having a very simple and visible recycling program!
While each hotel is constructed differently, lots of considerations are taken to be green and or relaxing. Cork flooring in some properties makes for a really quiet sleeping experience. A variety of lighting, both soft and energizing makes the room an ideal workspace (when you're not sleeping or working out). The bedding is soft and eco friendly being made from eucalyptus.
Lastly, EVEN Hotels even does a wellness newsletter for their guests. You know it's the best hotel for fitness when they're caring about their guests even after they've left.
Tip: you can actually sign up for their healthy traveler newsletter even if you haven't stayed with EVEN Hotels.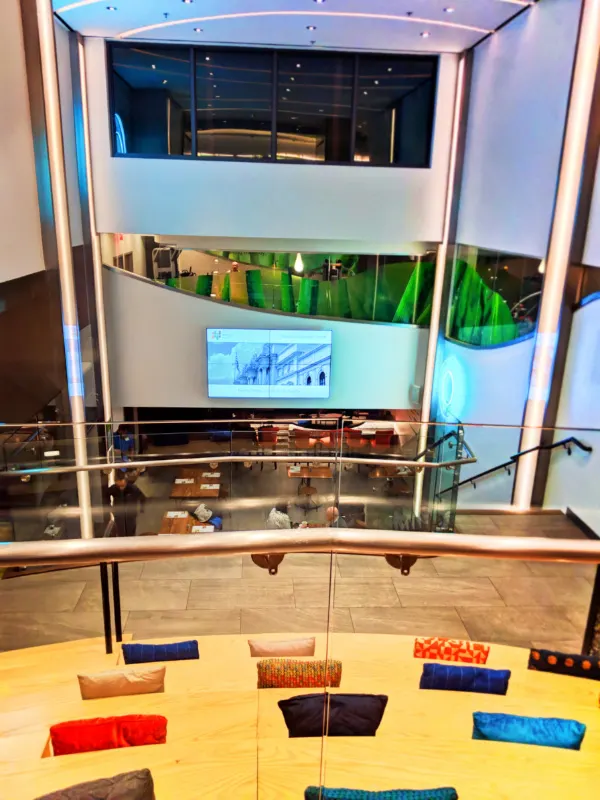 Two case studies of EVEN Hotels
Nobody just wants to hear about a brand without real life recommendations, even though everything above is genuine and why we love EVEN Hotels, so here are two great examples of why EVEN is so great for fitness and frequent travelers.
Review of EVEN Hotels Seattle
We stayed at EVEN Hotels South Lake Union (SLU) in Seattle for a weekend getaway and to do a race. We were running in the Tunnel to Viaduct 8K which started near the Space Needle. The location of South Lake Union was ideal, both for dining out and being close to activities.
Location of EVEN Hotels SLU Seattle
Nestled in the Amazon neighborhood, I feel like the majority of guests are probably staying because they have business with Amazon, but there is much more to it. South Lake Union has turned into a really cool neighborhood to visit and explore. With lots of cafes, interesting bakeries, dinner hot spots, a beer house, it's got everything a foodie would want. For activities, it's very close to Seattle Center for the Space Needle, Pacific Science Center, MoPop, Chihuly Garden of Glass and more. Directly on Lake Union, you'll find kayak rentals, Kenmore Air (think of seaplane trips to the San Juans), Museum of History and Industry (MOHAI) and more. Also, there are really great biking routes out of the SLU area.
Tip: check out our article about some great biking routes in Seattle.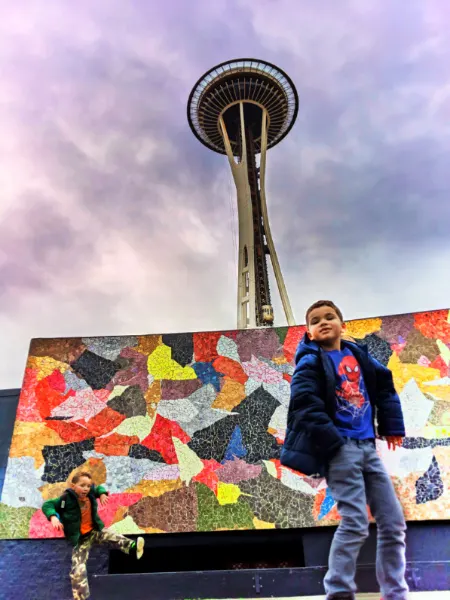 What we loved about EVEN Hotels SLU
The public spaces and rooms were very clean and minimalist. There was plenty of staff present and the three times we called the front desk, somebody answered within two rings. Our view was a city view towards Lake Union and of western Capitol Hill. It was fine, nice actually for being surrounded by taller buildings on a hill.
There was ample space for in-room exercise (why EVEN is such a great hotel for fitness) and we were able to do use it for stretching before and after our 8k race. The fitness studio was very spacious as well, with a separate space for weight lifting. And of course the ping pong lounge was nice.
Our room: We stayed in a Two Queens Fitness Deluxe. It was perfect for the three of us (us and a friend). It would also be good with kids.
Parking: there is some street parking available. We did the garage self-parking for $35 per night. Yes, that's highway robbery, but it's actually cheaper parking than most Seattle hotels.
Booking tip: join IHG Rewards Club prior to staying to ensure you get welcome points or your welcome smoothie. Also, EVEN Hotels is great with adhering to stay preferences.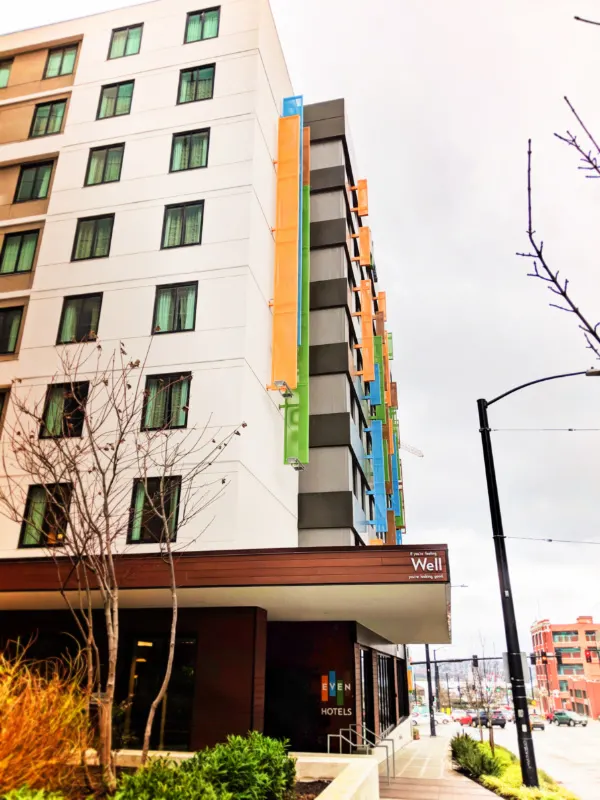 Review of EVEN Hotels Times Square NYC
If you know me personally, you know that I have a love/hate relationship with New York City. I really don't like visiting NYC and only will do so under dire circumstances. The city stresses me out, from its filth to the noise. Even before I discovered that it was the best hotel for fitness EVEN Hotels Times Square became my favorite NYC hotel that I've ever stayed in.
Book EVEN Hotel NYC Times Square here!
Location of EVEN Hotels Times Square NYC
Location is everything in New York City. It makes or breaks a trip sometimes, depending on how crunched you are for time. EVEN Hotels Times Square South is two blocks from Madison Square Garden and Penn Station. It's about three blocks from Times Square and only a 10-15 minute walk to Javits Center (convention center).
Whether you're taking advantage of the healthy breakfast options at Cork & Kale in the hotel or hitting up Pret a few blocks away, it's easy to find snacks and coffee if you have to spend a lot of time at the hotel. There is also a subways entrance ON the same block, so transportation to/from EVEN Hotels Times Square South is super simple.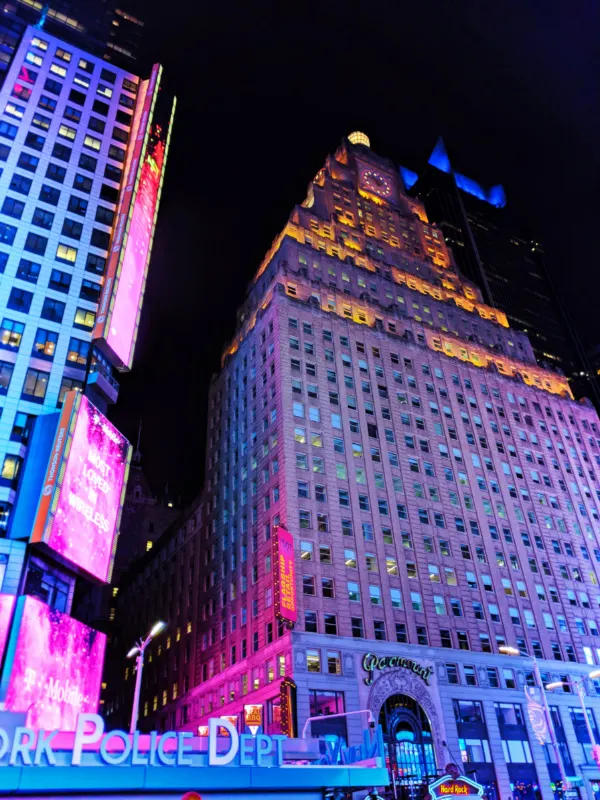 What I loved about EVEN Hotels Times Square NYC
The lobby and lounge areas were clean and quiet. My room was a soundproof haven from the city. After a long flight from Seattle, my hotel room prompted me to spend some time doing yoga and getting my blood flowing again. I actually had turned on my TV to relax and the default fitness station got me moving. I loved it!
I also really appreciated having normal sized desk space. Many hotels in NYC compromise desk space and seating areas due to lack of room in general. EVEN Hotels Times Square South provided plenty of workspace, plenty of work out space, floor to ceiling windows for light, and several mirrors to make the room feel larger.
My room: I stayed in a Two Queens Fitness room. It was perfect for just me, but would've been good for up to three people (sleeps four). There is not a ton of closet space, but the beds had drawers under them to maximize storage.
Transportation: Penn Station is a block away with an entrance to the subway just outside the hotel to the left. You can get to almost anywhere in Manhattan from this station, including exiting the city.
Booking tip: ask for a courtyard/interior room for the best view and most light. Street facing rooms look directly at the building across the street without a lot of light unless they're higher and it's summertime.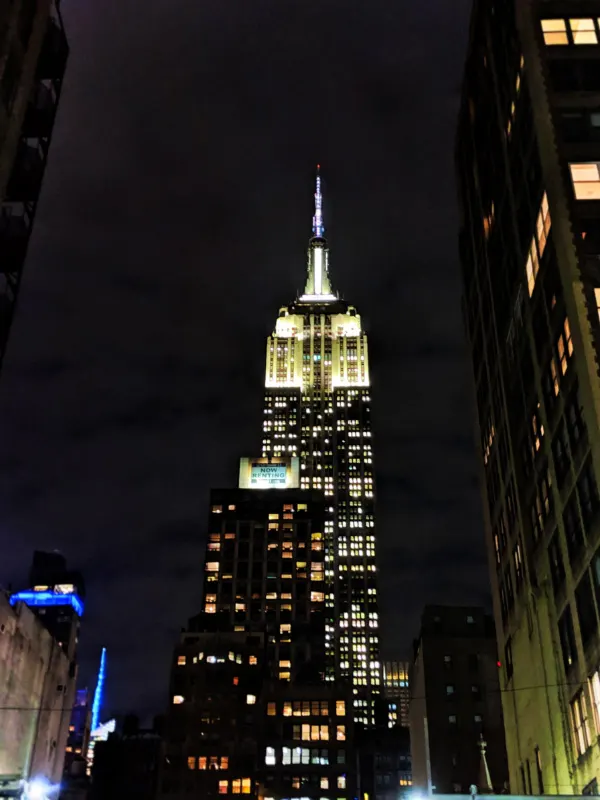 I'm so glad that EVEN Hotels have become a part of our frequent travel recommendations. The combination of fitness, comfort and quality is really well executed and comes at a good price point. We recommend giving EVEN Hotels a chance on your next urban adventure! It's for sure the best hotel for fitness and is an ideal respite in any city.
Want to pin this to remind yourself of the best hotel for fitness? Of course you do, that way you can always stay on track with your health while traveling!