New York City with kids is both a dream and stressful idea. I mean, it's New York. It's the Big Apple and the ultimate American experience. We learned a lot about doing NYC with kids and can say that it is worth the effort and can be unforgettable in the best ways. Through our partnership with IHG Rewards Club, we were able to plan a trip, book a great hotel and have our first family experience in New York and it was even over the holidays.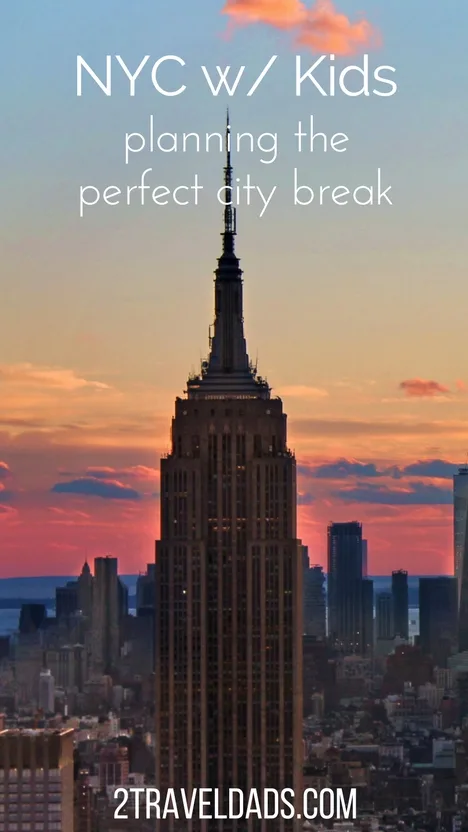 So how do you even approach NYC with kids or plan a New York itinerary? Well, you need to decide what's important to you for your visit from big ticket sights to where you want to wake up each morning. We knew we wanted to see the sights the kids would recognize or remember, and also to get the feel of Christmas in New York (visited during December). We picked our top travel goals and plotted out our time, and you can do it too!
NYC with kids and planning a successful family adventure
What does your family want to check out in NYC? Wanting to experience New York City is so often influenced by the movies and shows that we watch and have seen all our lives. So, do you want to hit NYC and hang like a local (or like your favorite sitcom character) for a few days or do you want to see the iconic sights and relive classic movie moments? For our family, we wanted food, views, history and ice skating, but not in that order. Here's how to make NYC with kids a success. And check out this great guide to New York for even more understanding of visiting NYC.
Where to stay in NYC
We aren't big on the crowds, so New York City had us a bit anxious, especially for visiting during the holidays. We partnered up with IHG Rewards Club and looked at the available IHG properties around Manhattan. We found what would work well for us and our travel goals: Holiday Inn Manhattan Financial District.
Top selling points for booking this particular IHG property:
location – away from the crowds
dining on property – even though we are all about experiencing the food of a destination, you MUST have on-site food options
room style – getting the right bedding arrangement for a family of four can be tricky in NYC
the Holiday Inn Manhattan Financial District is the tallest of its brand, making our view from the 44th floor incredible
We really liked having the Holiday Inn Manhattan Financial District as our home base because it's located away from the hustle and bustle of the city during the holidays. Located just off Wall Street, the neighborhood was shockingly peaceful when you consider that Manhattan is so densely populated. NYC with kids needs to be a trip where you can escape from Times Square and recharge for your next outing. Our hotel was in an ideal, quiet neighborhood perfect to explore between our big ticket sightseeing, as well as a stress-free place to sleep each night.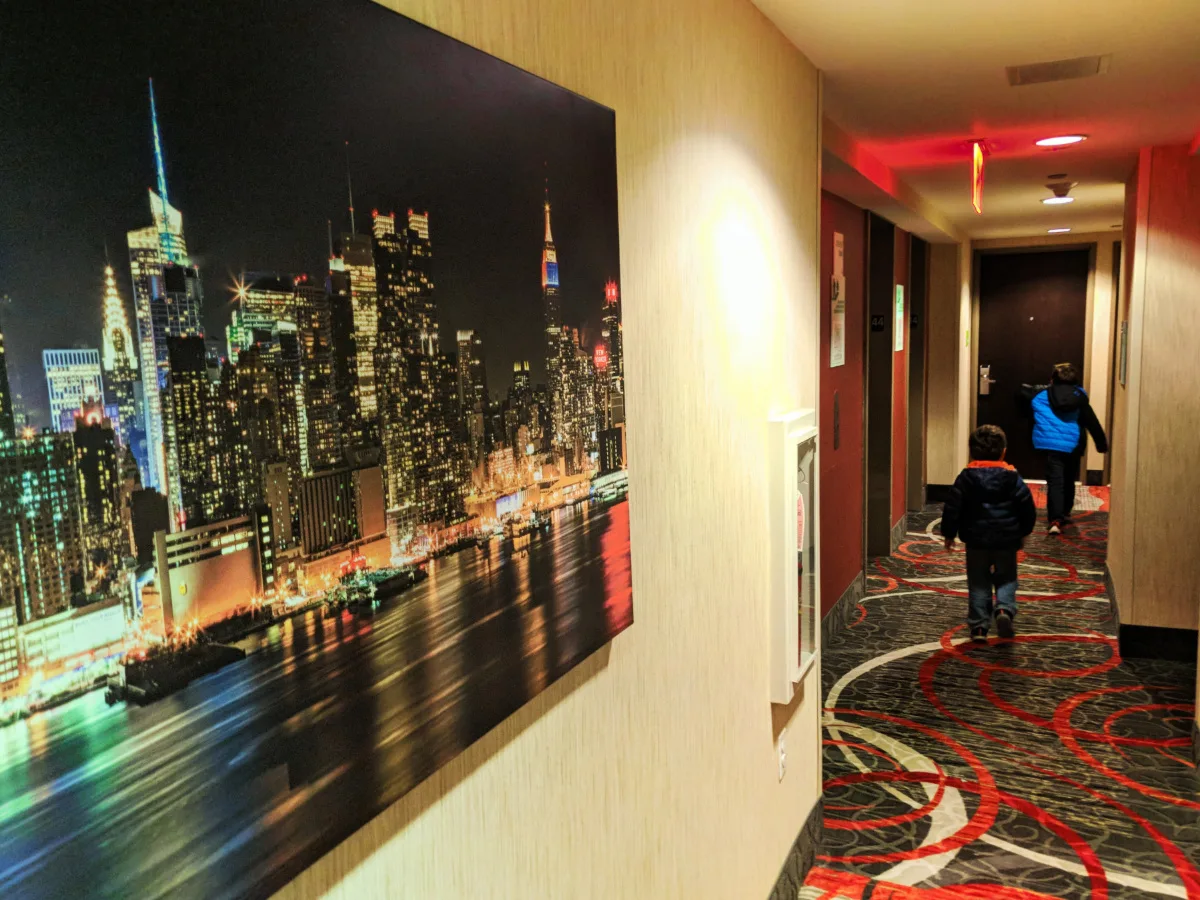 True, our room was by no means huge, but it's NYC! What do you expect?! The hotel was very clean and the housekeeping service was consistent and timely. The staff was very helpful throughout the duration of our stay, including providing us with the necessary supplies to wrap Christmas presents (traveling over Christmas). It was ideal.
Booking via IHG Rewards Club
Booking using IHG Rewards Club points was a simple process to get through. Because IHG Rewards Club points have so few restrictions we had tons of hotel choices all over Manhattan, from Kimpton properties or Intercontinental Hotels, to Holiday Inn. We opted for the super family-friendly brand we've stayed with many times before (recently on an impromptu Disneyland adventure) because we knew it would fit all of our requirements. After about two minutes of perusing the site and making sure our dates and location we correct, we booked it and were good to go.
We had the option of paying with points, currency and points, or just straight up out-of-pocket. If you have the points… USE THEM! IHG Rewards Club points go pretty far, and when you travel as much as we do, accruing and using points makes family travel less stressful and more cost efficient.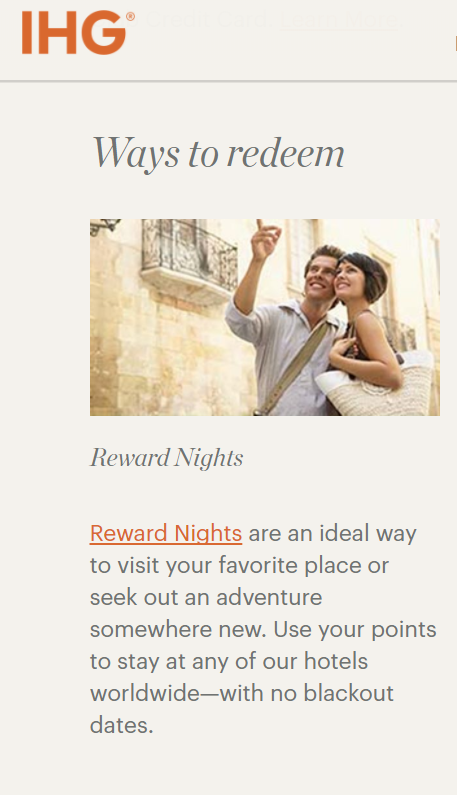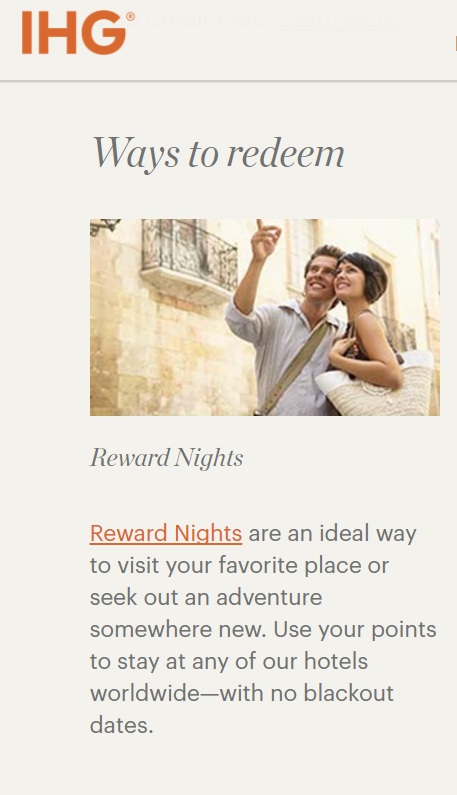 *our trip was in partnership with IHG Rewards Club so that we could share the full experience, from booking to Broadway, with you. All opinions and written content are our own.
Choosing activities for NYC with kids
New York City is full of excitement and iconic places to visit, but it's also, as Chris says, the "hurry up and wait" city. It's true. NYC with kids can be perfect with the right planning and pre-thought when it comes to managing kids' energy levels.
Here's the criteria we measured all of our activities against before adding them to our NYC itinerary:
will all four of us enjoy some aspect of the experience?
is there something to learn or is the experience truly a new one for us?
will the activity be less than three hours from start to finish?
if we end up having to cut it short, will anybody be totally upset?

Using these guidelines we were able to create a great family-friendly itinerary that took us five days to complete. We could've done it in four days, but five worked perfectly. Want to see what we actually got to do in five days of NYC with kids?
Wall Street sites; Times Square; The Lion King on Broadway; National Museum of Natural History; 5th Ave, Grand Central, Rockefeller Center and all things Christmas in NYC; Top of the Rock; Historic Lower Manhattan; Central Park; Ice Skating in Bryant Park; Statue of Liberty and Ellis Island National Monuments; Little Italy…
Isn't it crazy to think that we covered this much ground in five days? And we have our next trip already planned out to include some other sites and museums that we didn't have time for. NYC with kids can be incredible, but it took planning to be able to execute it successfully.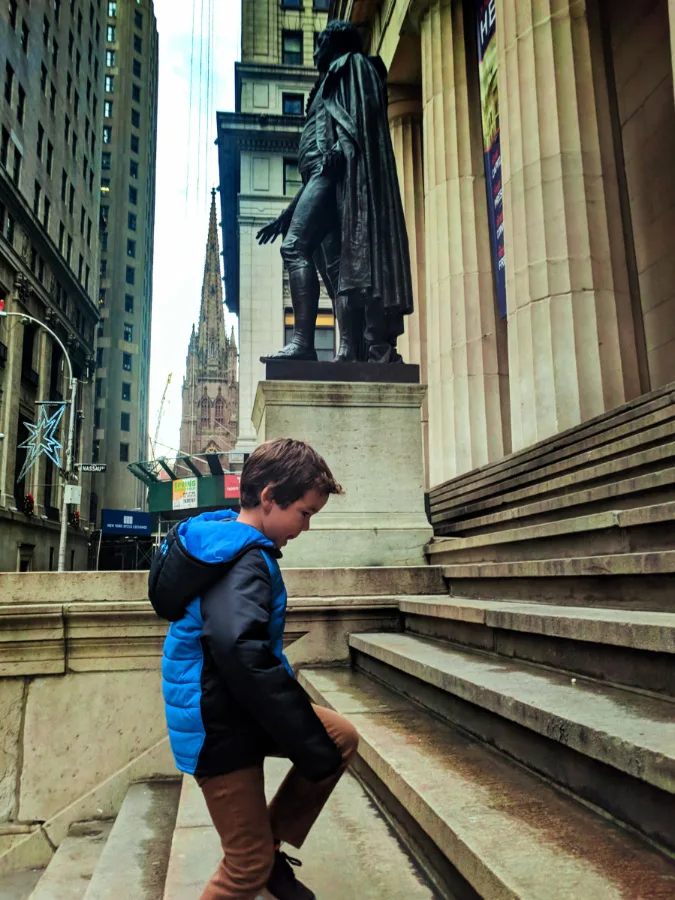 Top tips for building your NYC itinerary
This is your to-do list for planning NYC with kids. Do these four things and you'll have a stress-free adventure!
familiarize yourself with the layout of Manhattan and the subway system, particularly understanding your hotel in relation to sites and subway lines
determine a daily start and end time for activities so you can plan your meals appropriately (there are actually lots of affordable places to eat in New York)
if booking a Broadway show, consider matinees or early evening shows if you have kids with you (check TodayTix for deals) or use a loyalty program for booking. (Thanks IHG Rewards Club concierge!)
when planning museum visits, check for current exhibits to know what you MUST SEE when there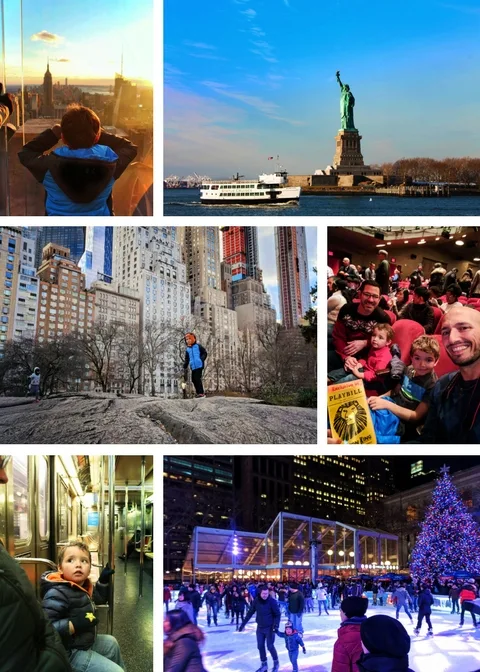 Dining in NYC with kids
When you think about dining in NYC with kids, you probably are picturing trying to keep them calm in a Michelin starred restaurant or some over the top place you saw on the Food Network, but dining in NYC is much easier than that.
The main foods we wanted to be sure to experience were New York pizza, lox, bagels, authentic Jewish delicatessen cuisine, cheesecake, Italian food and street food. Done. Boom. We did it. Again, it's all about the planning and how you make things a priority.
Bagels and lox were super easy to come by in nearly every neighborhood, and we were able to tackle them as both breakfast and dinner. New York pizza was also a breeze once we figured out where to look. Pizza can go for fancy or basic and once you know what you want, just look up and it's there. Cheesecake was also easy to find in Lower Manhattan, as each small deli would have a good selection of pastries and desserts. And street food: everywhere (even if it was just hot dogs out in the cold).

Here are the places we went, aka Our Top Picks for dining in NYC with kids, but remember that NYC is huge and full of great food; go explore and find your own faves!:
Bagels and Lox – Leo's Bagels in the FiDi OR Katz's Delicatessen in the East Village
New York style pizza – Pomodoro for fast and easy pizzas OR Sauce and Barrel for and elevated menu
Pastrami and Delicatessen dining – Katz's Delicatessen in the East Village
Authentic Italian – Ciao Vineria con Cucina at Mulberry + Broome in Little Italy
Of the many places we ate during our five days in NYC, these ones stood out as either being the most delicious, the most kid-friendly, or the most New York (particularly Katz's). If you want to seek out your own NYC food discoveries, do what we always recommend wherever you are: ask a local for their favorite spot for a good meal, not necessarily where to get a nice dinner, but just a good meal and you'll usually be directed to someplace that's down-to-earth and tasty.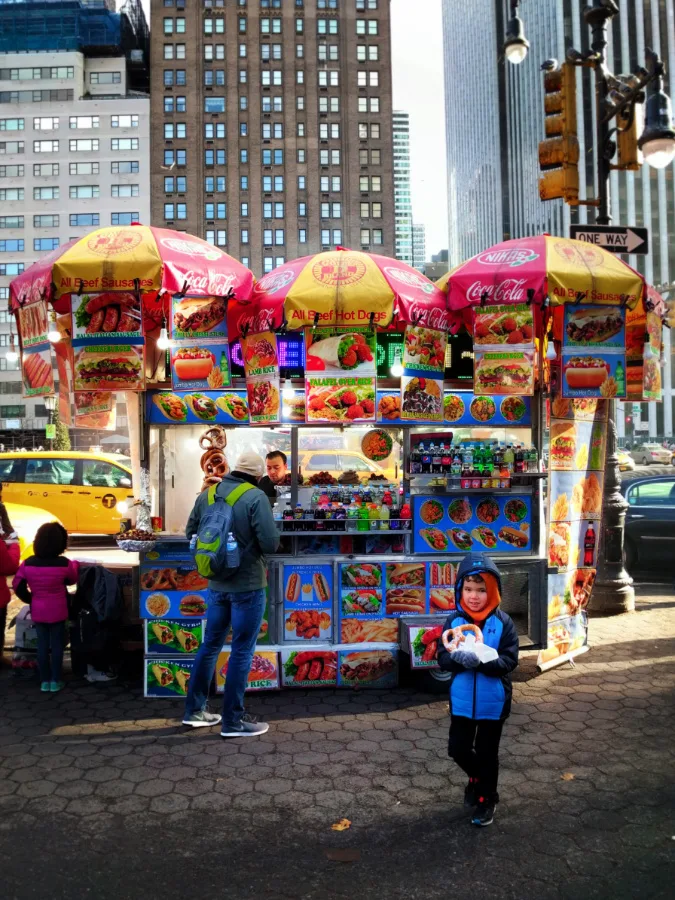 Transportation in New York City
We only took the train for all of our transportation in NYC with kids. Why? Because we have little people that still require a car seat or a booster, and if you order an Uber that isn't equipped, they don't have to honor your ride request (and you want to be safe anyways). NYC has some strong laws around child safety and the drivers are good about following them.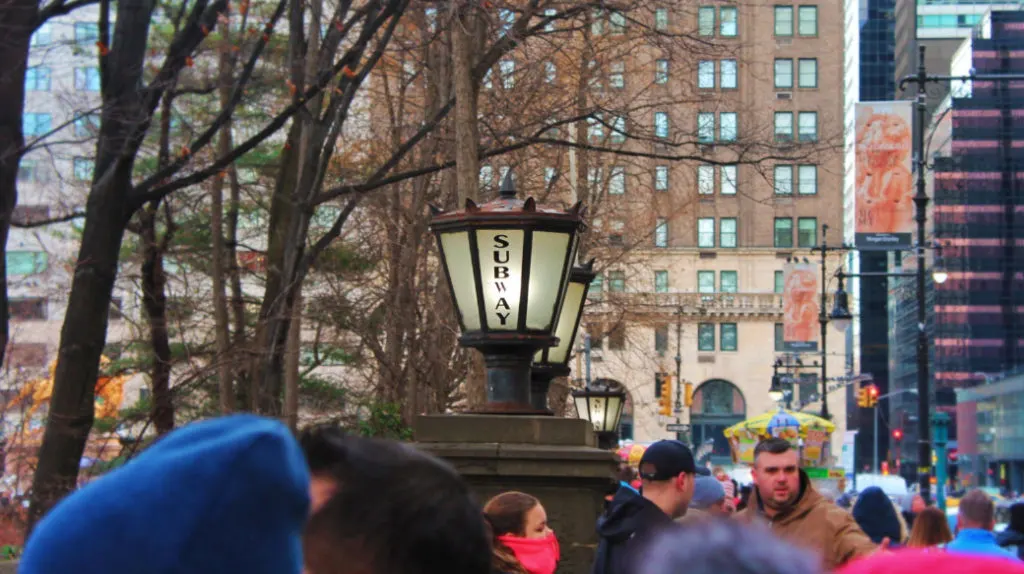 Also, the subway is SO EASY. Nearly everywhere you'll want to go in Manhattan is within a few blocks of a subway station. If you don't live in a place with a great public transportation system or just no subway, riding the subway is a tourist attraction in itself. It's fun to watch the performances, to make quick train transfers, and in general to just pop out of the subway in a totally different place.
Tip: for subway riders who will be getting on/off 13 times or more during a one week period, the unlimited ride pass is the best option for cost and ease of use. Even if you won't be riding 13 times, if you'll be using it a good number of times during your NYC trip, it's much easier than buying single ride tickets and will save you time.
Our biggest recommendation when it comes to mastering the subway is to download Google Maps (including offline) and NYC Subway Map (for Android). Even trained New Yorkers still need to check subway route maps to make sure their transfers and plans are correct. Don't forget, you can do Uber, Lyft, taxis, the bus, CitiBike, walk… but the subways is the easiest and most consistent method of transportation we can recommend.
Tip: if you're in a station with an MTA employee around and you're concerned about catching the right train ALWAYS ask for help. There are some stations that are completely confusing even when you feel really confident with your map. Ask for help.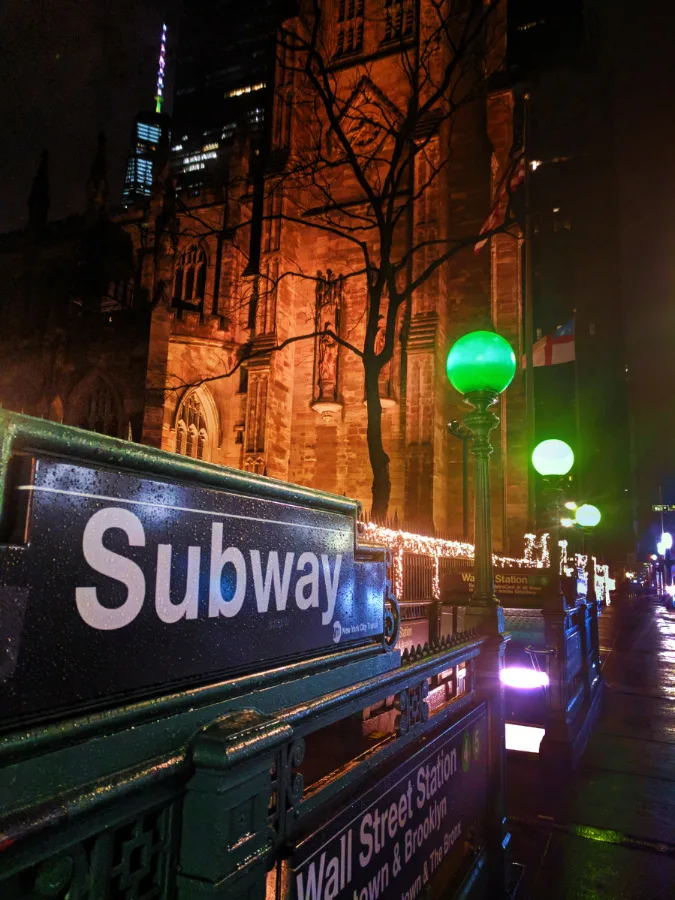 Now aren't you excited to plan and book a trip to NYC with kids? While our hearts will always lean towards adventures in the wilderness, our family trip to New York City was really fun and unforgettable. We learned a lot about doing a city break and earned our chops on the subway. Next time, we'll probably venture to NYC in the spring for some warmer weather, but in the meantime, we're still riding high off our awesome moments exploring the chilly city as a family.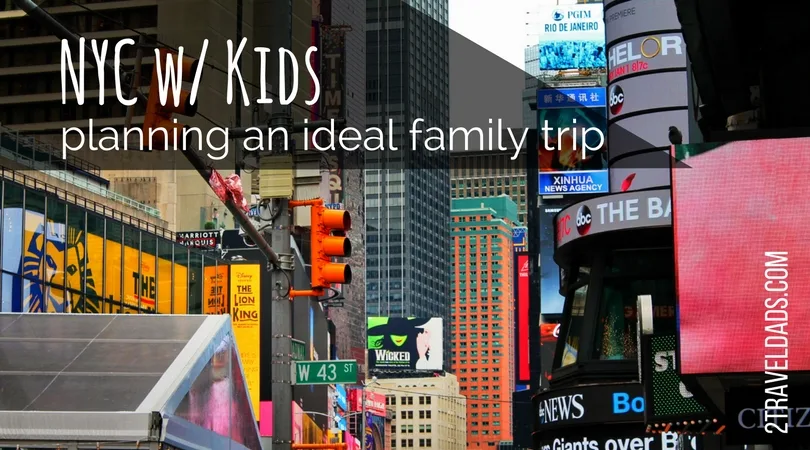 Want to pin this for later and for planning your own NYC (or other city) adventure? Go for it! And remember, the same rules/tips we suggest can be applied to any sort of family travel, so get out there and see the world!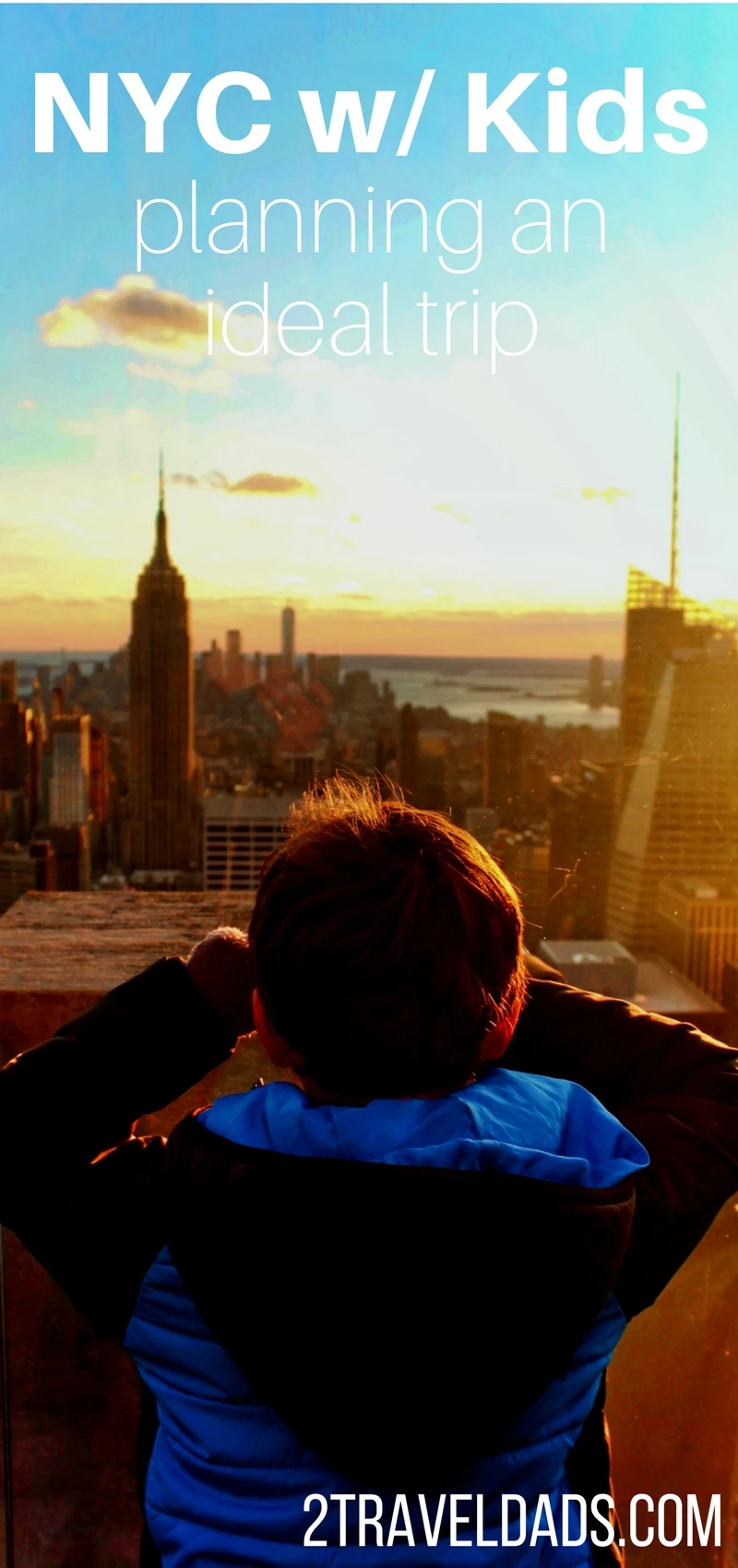 This is a sponsored conversation written by me on behalf of IHG Rewards Club. The opinions and text are all mine.