Okay, new favorite thing to do on a Thursday afternoon: destination dining. Whaaaaa? Yep, it's the coolest and most unusual, but most Pacific Northwest thing you can possibly do. The Pretty Fork, a local Seattle progressive dining tour operator, has got the concept of destination dining down.
I heard about destination dining with the Pretty Fork through some friends and then got to join them for an event. It was a mystery from start to finish what we were going to do… except we all knew there was a seaplane flight involved. But then the destination and then the food… and then we headed to yet another place for the next part… Check it:
What is the Pretty Fork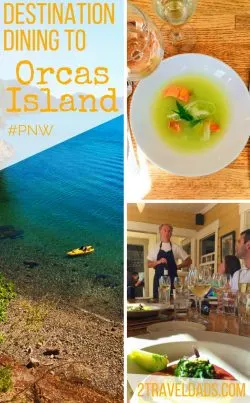 Seattle is a city that's whole culture centers around food. Well, maybe not completely, but each neighborhood you visit is going to have oodles of restaurants to choose from. The Pretty Fork brings small groups of diners to one of these neighborhoods and then takes them from spot to spot, hitting a few different places and getting a feel of the food scene, as well as tasting some great bites (meals).
Guests of the Pretty Fork don't know where they're headed, but are up for trying new places and probably some new foods. I like control and sticking to my old faves, so heading out with the Pretty Fork was a bit of a stretch for me, but it was awesome. Progressive dining is a great way to get a little out of your comfort zone and have a new type of fun.
How does Destination Dining work
So, destination dining takes the same concept of progressive dining and moves it to an unknown locale. If you're doing an event with the Pretty Fork in Seattle, you'll know where to meet and then will visit three or so restaurants in the area. Same idea with destination dining… but you only know when you have to check in for your seaplane flight. You only know what time you're supposed to return. Where you'll land and what you'll eat you have no clue of.
Where did WE go?
Flying out of Seattle on Kenmore Air, there are a number of places you could end up via seaplane, including all of the way up in Victoria, BC. Since we didn't have instructions to bring passports, it was pretty solid that we were staying in the USA, but anywhere in the Puget Sound area was an option. Port Ludlow? San Juan Islands? Olympia? No idea where we were heading.
Well, it turned out that our Kenmore Air pilot knew and he landed us in front of the Rosario Resort on Orcas Island. If you're looking from way above, Orcas Island is north of Victoria and South of Vancouver, but still within the USA. Rosario is on the East Sound, which is a perfect island bay surrounded by madrona trees and wooded cabins. It was the perfect setting for an amazing destination dining experience.
Destination #1: champagne and appetizers at Rosario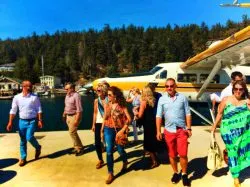 Since our Kenmore Air seaplane brought us into the harbor right by the Rosario Resort on Orcas Island, it was only fitting that this be our first stop on our destination dining afternoon. We were told to walk out of the marina and into the lobby of the beautiful hotel. Here we had champagne poured for us as we exited to the lawn.
This sealed the deal for me. Flying on a seaplane is always an adventure with an incredible view and, well, it's just so very PNW, which is my favorite type of experience, but champagne in the sunshine while we watched sailboats and seaplanes? Yes, please. Oh, and we were also served fresh local oysters with a variety of accoutrements: horseradish, cocktail sauce, and red onion mignonette.
Tip: this was my second time ever trying oysters and they were actually surprisingly good. I found that the smaller oysters weren't weird at all and really had a great flavor, but the one large oyster I tried was a bit too much and I couldn't talk myself into enjoying it. Thank goodness for champagne.
Destination #2: a perfect farm on a perfect cove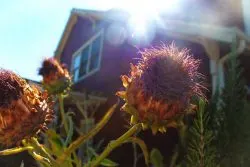 When we'd all had our fill of oysters and champagne overlooking the water (the fanciest hour of my life) we then were whisked away to another unknown destination. If you've not been to Orcas Island, know that it's like most fault-line islands in that it's hilly and wild. When we left the Rosario Resort we wound our way along the East Sound and turned into the Inn at Ship Bay. It is the most perfect farm you could picture.
While the chef prepared our first courses, we got to wander around the property, through an orchard, around the gardens (which supplied most of our upcoming meal) and to the cliffs. The whole destination dining experience could've been considered complete after we were treated to a pair of bald eagles and a deer just hanging out with us while we watched kayakers in the crystal clear cove below. Seriously perfect.
Tip: if you're not from the Pacific Northwest really look around and appreciate the amazing place you're in. From the colorful and unusual trees to tropical-looking waters, it's really beyond beautiful. This makes a dining experience even better.
The six course meal of amazingness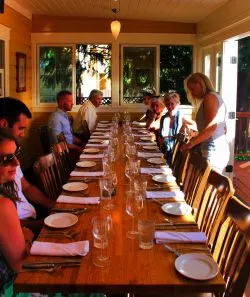 When you say it out loud, "six course meal," it sounds like a ridiculous amount of food, but it's just dinner deconstructed and with bonuses. Oh, and with each course was a perfectly paired wine. With the pour and delivery of each dish, our chef gave us the details of the course and answered questions. It was unlike any dining I'd done before. Bravo, Pretty Fork, for creating such a cool and different activity!
Dinner
We started with locally raised Wagyu beef served with fresh yellow watermelon and nasturtium leaves. I don't do beef, let alone tartare, but this was really eye-opening. The thinly sliced piece was tender and not what I would've expected of any beef dish. That was the general consensus at the table, as the watermelon/beef combo surprised everyone.
Note: I would never ever have ordered this on my own. Doing destination dining with the Pretty Fork sold me on two new things (oysters and raw beef) before we were even a third of the way through dinner.
Following our first course came the prettiest soup I ever did saw: a cold melon soup with shaved cucumber and smoked salmon. And it was more than pretty, it was delicious. If you've read any of our other food articles you know that we love to call out regional stereotypes. In the Pacific Northwest, we're all about salmon and can fit it into any meal, any time of year. Destination dining fit in salmon too. Totally PNW.
Next up on our table were perfect heirloom tomato salads created with fruits all grown at the Inn at Ship Bay. Each type of tomato offered a different taste and texture. It was wonderful to try them all side by side and get to understand how amazing Washington State's locally grown produce is.
And here's where I looked to my fellow diners and told them that I cannot cook my standard meals at home again: house-made gnocchi with oyster mushrooms, artichokes and zucchini. My gnocchi is blah in comparison… and I always thought it was my strong suit. Oh well, I'm not the professional but was wowed by one.
Idea: if the chef is approachable and you really love a dish, ask about its preparation and maybe you can attempt it at home… Sometimes it works…
For the meat course the local Wagyu beef showed back up, but this time in the form of a wonderfully glazed and braised short rib. Since I don't cook beef I don't understand how to create amazing flavors with it. Was it sherry and thyme with something else rather? Who knows, but it was the perfect end to a beautiful meal.
Wait! There was dessert! As we were wrapping up and trying to make it back to our seaplane on time our final course was brought to us: an olive oil matcha cake served with fruits from the orchard at the Inn at Ship Bay. Dense but perfectly balanced, it was the ideal way to end our destination dining experience, especially when paired with a mellow dessert wine.
Tip: if you have food allergies and you're dining out, tell the server or chef and they may set you up with an alternative option that's pretty great. I'm allergic to stone fruits and the chef had prepared poached pears to accompany my dessert instead of plums. Thoughtful and delicious!
Ending my Pretty Fork destination dining experience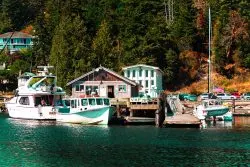 Nobody likes a good thing to end. Nobody. And certainly not any of us. If we had been staying on Orcas Island, perhaps at the Inn at Ship Bay, I know that we all would've kept on going with the amazing experience all evening long, but alas we had to leave since seaplanes can't fly at night.
Something I really appreciated about the destination dining experience with the Pretty Fork was spending several hours trying new foods and talking to people that I'd never tried or met before. Since I'm typically traveling with kids and husband in tow, it was really refreshing to get to chat it up with other adults from a variety of walks that I might never have crossed paths with. The situation of nobody knowing anything about the plan really created a common bond and made for an incredible time.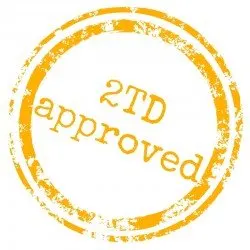 Would I do destination dining with the Pretty Fork again? Ohemgeeyes!! When I got home Chris asked how it was and if I enjoyed it, and my response was that the two of us need to do a dining event together, and then I couldn't stop blabbing about the food, flight and fun.
Whether you're local to the Seattle area or visiting for a few days, check out the Pretty Fork to see if you can jump on a destination dining event or one of their progressive dinners. What better way to experience Pacific Northwest culture, food and hospitality than by trusting a local with your meals?!