We always are traveling with friends or family, internationally and locally.  Not everything we do is a group activity, but a lot of things are.  Hiking as a group is always fun and usually is uneventful, but every now and then something happens and that's when you have to think about hiking safety.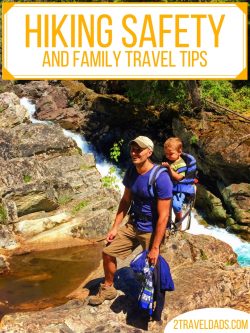 Hiking in the woods is one of our favorite activities and the kids are great at being good sports and enjoying it just as much as we do.  It's rare that we ever have injuries but I'll tell you, Oliver, our oldest, falls a lot on the trail. When a kid falls, usually it's just a bounce-up-and-go; when an adult falls, that does typically come with an actual boo boo.  Hence why we're sharing our tips about hiking safety.
Choosing a good hike
If you're heading out on a hike, how do you decide where you're going to go, or do you just head up the hill?  You can always look at hiking guides or ask other hikers, but keeping hiking safety in mind, do you know how to pick a hike that's right for your group's energy and hiking experience?  
That's something we've learned to be careful about:  picking a hike that we're going to be able to complete safely.  It's so easy to hear that the view at the end of the five mile trail is just to die for… or that the elevation gain is only 500 feet.  Here are the things to keep in mind with these aspects of picking a trail: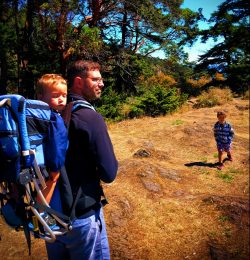 Distance is a round trip consideration – five miles isn't bad, but ten is really tough

Elevation gain can happen gradually or in one treacherous climb – what are you and your group capable of doing safely?
The other thing to consider when you're picking a hike, especially when I comes to family travel, is motivation along the way.  Kids don't always want to just walk in the woods or being climbing constantly.  A hike that has some known points of interest along the way will keep kids and adults motivated to keep going.
Trail tip:  a great hike in Mt Rainier National Park that has great sights and variations along the trail is Comet Falls on the southern side.  The terrain is varied and there are other falls and bridges to see along the way.  Check out our hiking in Mt Rainier Nat'l Park post for more ideas!
Splitting up a hiking group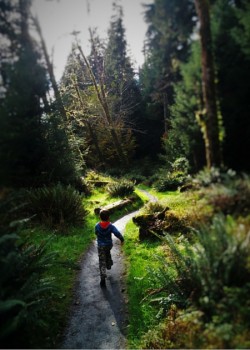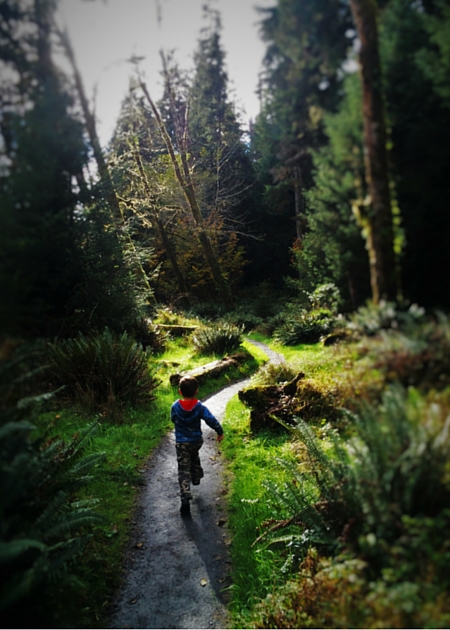 Our family is pretty good about sticking together when we're hiking.  Nobody wants to hike alone and we don't want the kids running off and getting hurt or something.  Sticking together is a cardinal rule in hiking safety.  True, sometimes half the family or group will want to see what's beyond the trail or past the goal at the end, and that's okay, but be smart about it.
Tip:  even in the woods on a busy trail, have a clear rendezvous point and time to be there.
When you're hiking with kids, you should also think about who's best to handle the kids if they get wild, tired or hurt.  Splitting up a group and giving one adult more responsibility for the kids than they can handle isn't using your hiking safety skills.  Keep an even split of kids and adults, and be sure each group has the right supplies for their hikers.
Tip:  if you've got a little person, make sure that their necessities go with them.  Example:  the pack with the Epi-pens and Benadryl needs to go with the kids with allergies.
Cautionary hiking safety tale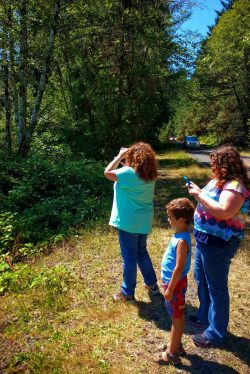 We got to host some travel blogger friends, the Trippin Twins, when they visited Seattle.  We played tourist, explored Olympic National Park and went hiking in the Hoh Rain Forest.  We had picked our trail in advance, the Spruce Trail loop.  Immediately upon starting our hike, we had a double kid-poop emergency.  I took the kids back to the Visitors Center since we had only just left on the hike, we took care of business and then headed back onto the trail.
Prior to splitting up, I told the girls which trail to follow and that we'd meet them on it, as we wouldn't be gone too long.  Yeah, they had some confusion and headed up the Hoh River Trail instead of the Spruce Trail.  The Hoh River Trail is a 17 mile one-way up into the Olympic mountains.  We headed back onto the Spruce Trail, sure that we'd be hiking with our friends in just a few minutes.  Nope, we did the whole loop, which was beautiful, and never saw them.  We went back to the start of the trail and sat.  
After more than two hours, we were pretty concerned about the girls.  We started asking other hikers as they came off the trails "Did you see some twins hiking on the trail?"  All we got were no's.  As we approached the three hour mark, I headed to the Visitors Center with the kids and we made an official missing hikers report.  The rangers got their equipment together, we completed the paperwork and were just heading out to search for the Trippin Twins.  A couple saw the commotion and heard us talking and ran up, stating that they'd just seen them on the Hoh River Trail and they were heading back down.
In pure joy, the boys and I ran to the trail head and started back up the path.  Right then, the girls came around the corner, tired, hot and thirsty.  We all hugged, figured out where we went wrong, and headed out of Olympic National Park, thankful to have all survived.
Tip:  learn from our experience and be very clear in communicating plans… or just don't split up.
Hiking safety:  snacks and water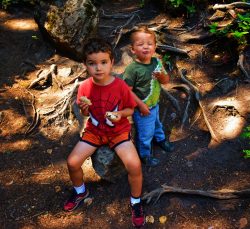 If you're a parent, you already know that you don't go anywhere without snacks.  Well, when you're heading out on a trail with kids or adults, you need snacks AND drinks.  No conversation about hiking safety can go without talking about water. There are a few option for bringing H2O with you on the trail, but our favorite is using a Camelback or similar product.  We like to load our water pouches with ice so that they're continually refreshing and since we wear them, they act like DIY air conditioning units.
Tip:  pack more water than you think you'll need.  It may be heavier at first, but it adds to your workout and you won't need to ration your water.
Snacks on the trail, especially for kids, should always be more healthy than you want to bring.  You can't go wrong packing apples and carrots.  Bananas, peaches and pear are NOT good hiking snacks.  "Squish…"
Tip:  trail mix and nut bars are great snacks too, but remember that whatever you pack onto the trail, you need to pack out.  There are no trash cans in the woods.
Focus and fun are parts of hiking safety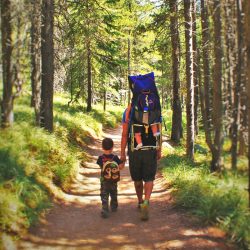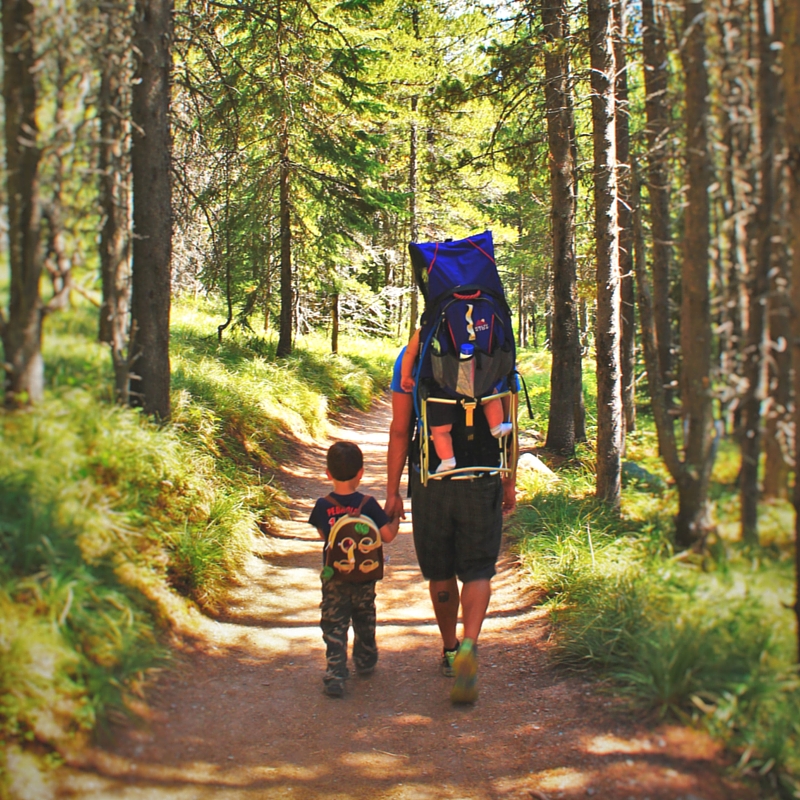 If you know me, you know that my role in life is to manage the fun.  It's true.  Everything should be fun, but when you're someplace like a beach or on a trail, you need to be cautiously enjoying yourself.  Watching where you're going and not running down a trail covered in roots and rocks are the easiest ways to stay safe while hiking.  You can still have fun while hiking responsibly.  
Tip:  look for cool wildlife or insects as you hike.  While we were hiking to Silver Falls in Mt Rainier National Park with our friends Dave and Angela, the Dang Travelers, we saw the coolest spiderwebs that were enormous and woven like domes.  We would've missed them if we were going too fast.
One last tip to make family hiking fun and safe is to have something fun to share with kids following the hike.  For us, it usually means a treat in the car or getting to watch a show for the drive home, but that's not always the case.  Sometimes we have to motivate a little farther in the future… like something fun when we get home.  Basically, there's nothing wrong with rewarding an awesome day on the trail.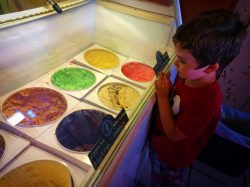 Tip:  have a plan for what to do after your adventure so kids can stay motivated and keep their attitudes up.
We realize that a bunch of our tips are pretty common sense, but you know, it's easy to forget to be prepared or to get caught up in the hiking moment and then find yourself in a pickle.  Do you have any good family travel or hiking safety tips to share?  Leave us a comment or send us a note.  We'd love to hear from you!