We recently put out an itinerary for doing a road trip loop around the Puget Sound here in Washington State. With that, we got a few emails and questions about where to find the prettiest spots in Washington. We thought "Um, that's such an opinion piece and is going to vary for everyone," but we'll indulge, so here is our list of the prettiest spots in Washington.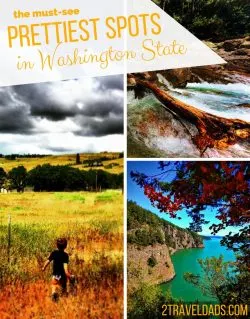 If you go through our list and think we've missed something amazing or if you want to challenge one of our decisions, by all means, leave us a note or email us. We're not above reproach and are always looking for a new destination to scope out… but know that this list is 100% fact and 0% opinion. These are really the best, prettiest spots in Washington State, no questions asked.
The Prettiest Spots in Washington State
We love where we live so very much and are sure to show the kids everything that our awesome state has to offer. These are just the sights that strike us and the must-see or must-do if you're in Washington, but there are many more…
Waterfall – Silver Falls, Mt Rainier National Park
When you think about a waterfall in Washington, you probably jump right to Snoqualmie Falls just east of Seattle, and rightly so; it's beautiful and really impressive after a rainy spell. But did you know that the most beautiful falls is actually to the south in Mt Rainier National Park? It's true. Just under two hours away from Seattle you'll enter the Park on the east side and park at the Ohanapecosh Visitors Center. The hike is an easy 1.25 miles in, crossing mossy footbridges and strolling past fungi growing out of fallen tree. The sound of the water grows as you approach and then BOOM! Silver Falls!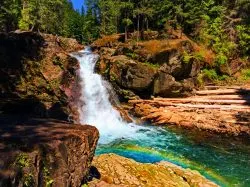 The reasons that we KNOW Silver Falls to be the most beautiful waterfall in Washington State are because the rocks are colorful, the water crystal blue, and accessibility to the water for a relaxing sit or dip is easy. On a warm summer day, there's no better place to relax and feel one with nature than here at Silver Falls. That's why this waterfall is one of the prettiest spots in Washington.
Tip: if you want to camp close to Silver Falls, Ohanapecosh has a campground and accepts reservations. Silver Falls is also an easy addition to a more grand visit to Mt Rainier National Park or the Puget Sound area in general.
Trees – Hoh Rain Forest, Olympic National Park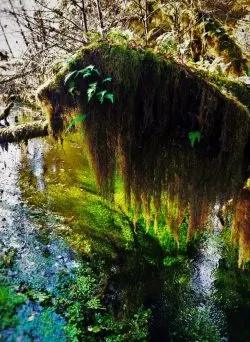 Sure, the Redwoods are beautiful and towering and the setting of Return of the Jedi (Muir Woods was the filming location), but the Hoh Rain Forest is so so so much better. The Hoh Rain Forest is located on the Olympic Peninsula, which is the westernmost portion of Washington State. If you know anything about weather systems, you probably have heard of the rain-shadow effect, which is when clouds dump their rain to be able to cross mountains, making the base on one side extremely moist. That's Forks, Washington.
All of this rain makes the cedars, firs and maples grow and grow, and they get overwhelmed with moss and ferns, and at the end of the day the Hoh Rain Forest has turned into a lush paradise only rivaled by cartoons. Really, it's the most beautiful forest, making it one of the prettiest spots in Washington.
Tip: the Hoh Rain Forest is always beautiful, but if you go in late October you'll get to experience the amazing fall colors deep in the rain forest contrasting with the evergreens. It's really spectacular.

Note: this is about five hours from Seattle, so if you're going to visit, make it a weekend trip.
Dramatic Landscape – Columbia River Gorge, Klickitat County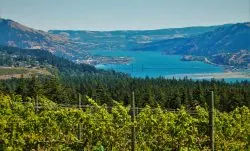 The West is known for being rugged and unforgiving. Dust, winds and rocks make it wild and beautiful. There is no better place to experience the dramatic landscape of Washington State than in the Columbia River Gorge. On the southern side of the Gorge is Oregon… and it's lush and green and full of waterfalls. On the northern side in Washington though, it's breakneck cliffs and the high prairie. It's wine country meets wind farming. So beautiful and so dramatic.
Lyle is one of our favorite spots for getting the most beautiful sunsets and appreciating the diverse landscape all in one area. Spend a day or two exploring and you'll see why we say that the dramatic scenes of the Columbia River Gorge really are some of the prettiest spots in Washington.
Tip: the Columbia River Gorge is an easy day trip out of Portland, Oregon. Be sure you have a few dollar bills though, as there are two toll bridges crossing the Columbia River and you'll need to pay the piper.
Flowers – Skagit Valley Bulb Fields, La Conner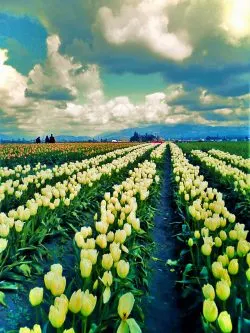 There are many great places to appreciate flowers, right? I mean, just go to your local nursery. If you want to be overwhelmed with flowers and colors and wow, you need to visit the Skagit Valley in mid to late spring. The tulip and daffodil fields of La Conner, Washington will leave you saying "Woah, this is for sure one of the prettiest spots in Washington… or the world!" Totally not exaggerating.
If you're visiting Seattle, you can head north a little over an hour to get to the Skagit. If you want, you can even catch a tour with Grey Lines. They'll take you to a variety of bulb farms at the peak of their bloom. You'll love it! You can also just drive yourself and then you can add a fun lunch in La Conner or wine tasting in a number of places. A glass of wine and warm spring air and you'll be planning your next trip to the Skagit.
Tip: go on a weekday if you can. EVERYBODY in the Seattle and Bellingham areas flock to the tulip fields and traffic becomes terrible and a headache. The traffic can take the fun out of the trip if you're not careful.

Note: there are only a few organized gardens in the Skagit, as the attractions truly are the bulb fields. If you want gardens, hit up the Bloedel Reserve on Bainbridge Island or Butchart Gardens in Victoria, BC.
Small Town – Uhhhh, pick one!
Well dang! People ask us what the prettiest town in Washington is and we cannot pick. Sorry. Here are three and you can visit each of them and choose for yourself:
Roslyn – It's just what you'd want of a yesteryear mining town in the mountains, but knows that the 21st century is hip and fun and awesome. The filming locale of Northern Exposure, it's pretty quaint and perfect for a summer or winter weekend away.
Port Townsend – besides being our hometown and a favorite place to meet up with family, it's a picturesque Victorian seaport and is unmatched in the Puget Sound area. There are lots of outdoor activities, such as Fort Worden, but then also it's just nice to visit and take in the feel of the artsy town.
Anacortes – most people in the Pacific Northwest think of Anacortes as a launch point for their San Juan Islands vacation, but it's so much more than that. We've found that its parks, great restaurants in its downtown and its proximity to water (located between Fidalgo Bay and the Strait of Juan de Fuca) make it perfect for a diverse getaway that includes boating, hiking and much more.
See? We could never pick between one of these amazing small towns, all of which could easily fall into the most charming or prettiest spots in Washington.
Tip: it's easy to hit two of the three we listed if you do our Puget Sound loop road trip. Port Townsend and Anacortes are both on it.
Lighthouse – Point No Point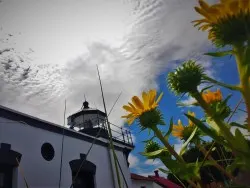 So, by no means is Point No Point the tallest or most cliched of lighthouses, but it's for sure the prettiest lighthouse in Washington State. In the spring and summer there are tons of native flowers that bloom all around the lighthouse. In fall and winter it's the home to some amazing high tides that bring some incredible drift wood floats ashore.
Also, you can stay at the Keeper's Quarters at the lighthouse. If you're looking for your quintessential nautical experience in the Puget Sound area, a day or weekend at Point No Point lighthouse is ideal. Yes, it's a stubby structure and it's a bit windy, but it is for sure the prettiest lighthouse in Washington.
Tip: get there early in the day for parking, as it's limited. If you're not early, you may have to park a quarter mile away and take a long walk on the beach, which is actually totally fine and a beautiful thing to do.
Swimming Spot – Lake Cushman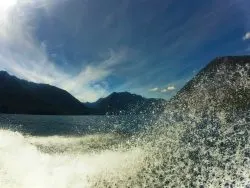 Most Washington residents would point you towards the nearest community pool if you asked where the best swimming spot it. Not us! Lake Cushman on the Olympic Peninsula is for sure the best spot for a good swim and it's beautiful. Even if the water were cold, it would still be one of the prettiest spots in Washington due to its proximity to the steep Olympic Mountains.
Lake Cushman is at the base of Olympic National Park. It's a man-made lake and has the stumps in the shallow areas to prove it. These shallow areas both help to keep the lake wonderfully warm and the water perfectly beautiful. There are a few spots along Lake Cushman's shore that look and feel a bit tropical and not at all like a mountain lake.
We enjoy doing Lake Cushman for either a day or week. It's where we have our annual family reunion and where we head for family time on the boat. Just two hours from Seattle, it's a world away.
Tip: for a great stay up at Lake Cushman, book a vacation rental through VRBO. We normally camp, which is also great, but having a house to go to after a long day at the prettiest swimmin' hole in the state is wonderful.
So yeah, these are all of the places that we think any visitor to Washington State needs to see. They're the prettiest spots in Washington and for sure will make a visit to the Pacific Northwest a great one. Want info or our educated opinion of other must-see sights? Leave us a note or shoot us an email. We're happy to help!