Want to have an awesome day hiking Cape Flattery?  Where?  Oh, I see.  You've never head of Cape Flattery.  Well, let us enlighten you about one of the most beautiful places in all of the Pacific Northwest.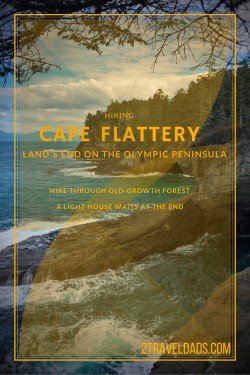 About four hours, maybe a little more, from Seattle is the Makah Indian Reservation.  If you watch the news in the US, you usually see the tribe on TV at least once a year when they do their controversial whale hunt.  If you go past the tribal headquarters and the town of Neah Bay you'll start winding through the hills.  After a few miles the road stops and you see an old, weathered wooden sign directing you into the woods.  That's when it's time to start hiking Cape Flattery.
Hiking Cape Flattery is a really wonderful family travel activity because of the trail's diverse sights, amazing vegetation and sweeping views that literally leave you speechless.  We will be the first to tell you that it is REALLLLY a long drive to get there, but it's so very worth it.  Take a look at why we think hiking Cape Flattery is an ideal Pacific Northwest experience for families.
How to get to Cape Flattery
From Seattle, cross the Puget sound and head through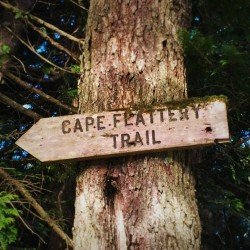 Suquamish and Poulsbo and Sequim and Port Angeles and Sekiu and Neah Bay…  Basically it's really far and you need to plan this day in advance.  It would be worthwhile to stay on the Olympic Peninsula because it's so far out.  From
Victoria
, take the ferry (drive on) and make a right…and keep driving.  From
Portland
, head north on the 101…and keep driving.  Cape Flattery is the northwestern-most point of the lower 48 states, so it's just way out there.
Disclaimer:  The reason we stress the distance to Cape Flattery so much is because while it is ABSOLUTELY WORTH IT, the trek is long and winding.  Like, winding around the most ridiculous hairpin corners ever.

Once at Cape Flattery
Cape Flattery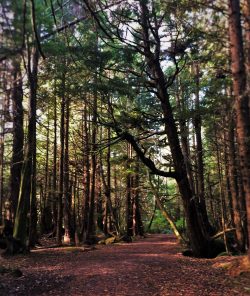 isn't a state or national park, although it's just as amazing as one.  It's owned by the Makah Tribe and maintained by them.  Although the bathroom facilities at the trail-head are, um, in existence, the trail itself is very well taken care of.  Starting in the small parking lot, you immediately head into the cape forest.  This is unlike any other forest we've hiked in.  The trees are battered, branches dangling all about.  There's a mixture of forest floor and swamp grass stands.  It's dark.  It's light.  It's windy.  It's unusual.  Every few feet is another nature photo-op.  At the end is a sight to leave you breathless.
Tip:  read up on low-light photography before shooting tons of shots in the forest at Cape Flattery, as the light is rather dim in places and constantly shifting in others.
The trail heads downhill from the get-go, so know that your trek back is all uphill, but it's not bad at all.  It's a wide trail…initially.  And then it turns into narrow plank bridges and stump hopping.  Ultimately, it's easy, but the ever changing pathway keeps you on your toes.  One thing we faced was the horizontal plank path messing with our depth perception.  As you're walking, it's difficult to tell what is a step down and what is just another plank.  Again, it's not actually bad but it's something to be aware of.
As you reach the end of the land, you'll find perfect little lookouts.  On both the north and west sides of the cape's end are platforms above rocky outcroppings and sea caves.
Looking to the north is Vancouver Island (Canada) and the Strait of Juan de Fuca.  Looking to the west… is Japan, I guess?
The Cape Flattery Lighthouse
Continuing onto the end of the trail there is one final platform.  This one has a small ladder to climb, but once you're there, you really are at the end of the United States.  The waves come in from every angle.  Directly in front of the platform, a few hundred yards off the cliff, is the Cape Flattery Lighthouse.  Built in 1857 on Tatoosh Island, the lighthouse is one of the oldest in the area.  You cannot visit it, but it's a nifty sight at the end of the hike.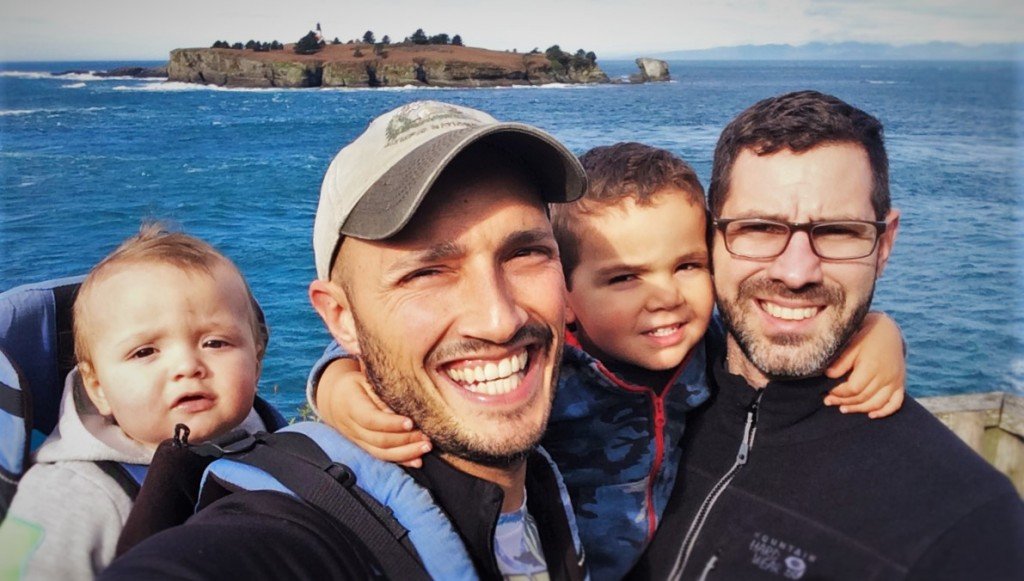 Wildlife and Picnics at Cape Flattery
Although we didn't see any on this visit, tufted puffins make their home along the cliffs below the lookout.  Sea lions and seals have rookeries on the rocks below.  Grey, humpback, orca whales and more migrate past Cape Flattery.  We've seen several greys traveling together here, swimming back and forth just into the Strait of Juan de Fuca.  On this visit, we got to watch a bald eagle flying in and out of the cliff areas, just above the sea caves.  Really, everything you'll encounter or see on this hike is beyond beautiful.
The hike back, like we said, is all uphill, but it's a mellow walk.  The total elevation gain is only about 200 feet, and that's spread across the three quarters of a mile back to the parking area.  Seriously, this is an easy hike that is worth the drive and time.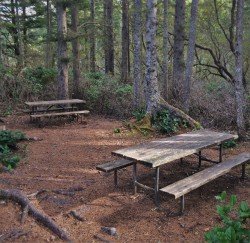 Also, to make the most of your time there, you'll find a picnic area with tables just a half mile into the trail.  There aren't trash cans except in the parking area, so pack out what you pack in.
Kid rating:  5 stars – the trail is easy.  There is something interesting around every corner, from bent trees to stands of mushrooms, wildlife to crashing waves.  "Everything is awesommmme."

SAFETY TIP:  there are rails at each of the lookout areas, but the gaps are large and the rocks below are sharp.  The end of the trail is not a play area to let the kids run wild.  The picnic area is great for that, as it's far from the cliffs, but that last stretch of trail requires some firm hand-holding.
We highly recommend taking a day to experience Cape Flattery.  The drive is long, but worth it.  There are plenty of accommodations close by in Sekiu, Joyce, Forks or Port Angeles.  Check out our post about the Olympic Peninsula for more information.  If you've got a day in the Pacific Northwest and no plan, this is a great investment of time for a once in a lifetime view at the end of the world.
One final tip:  we always travel with a hiking pack to carry our youngest.  We love the Kelty Kids adjustable pack and swear by both its durability and its usefulness.  It's the backpack pictured in this article and many others.  Like I said, we don't go anywhere without it.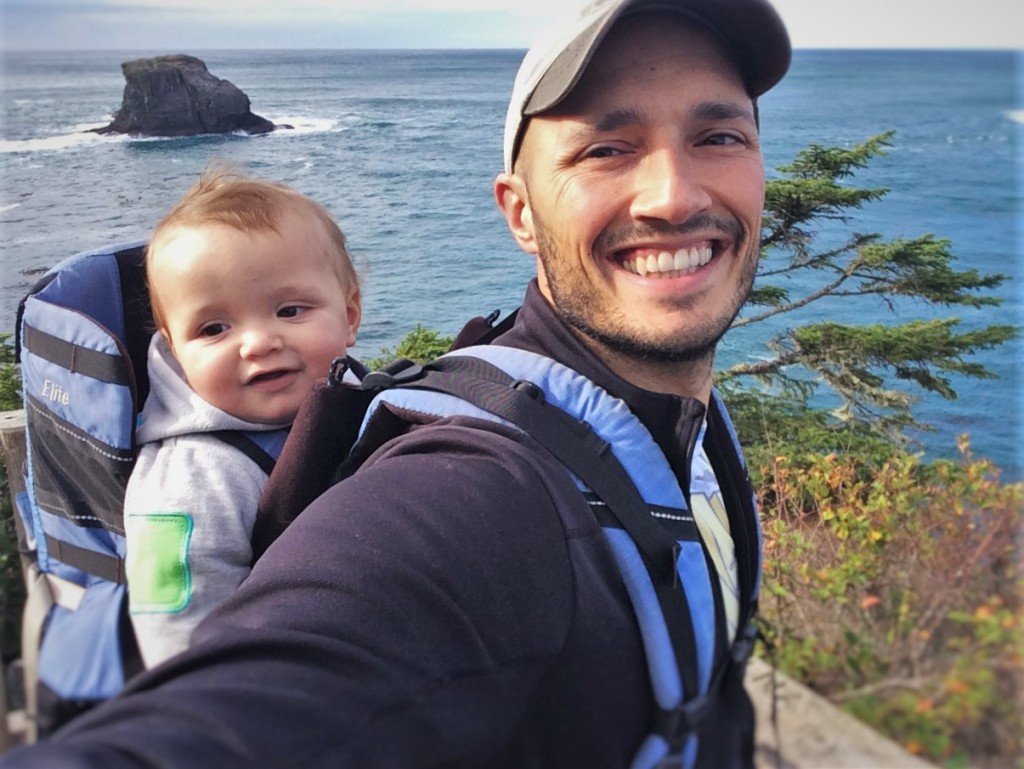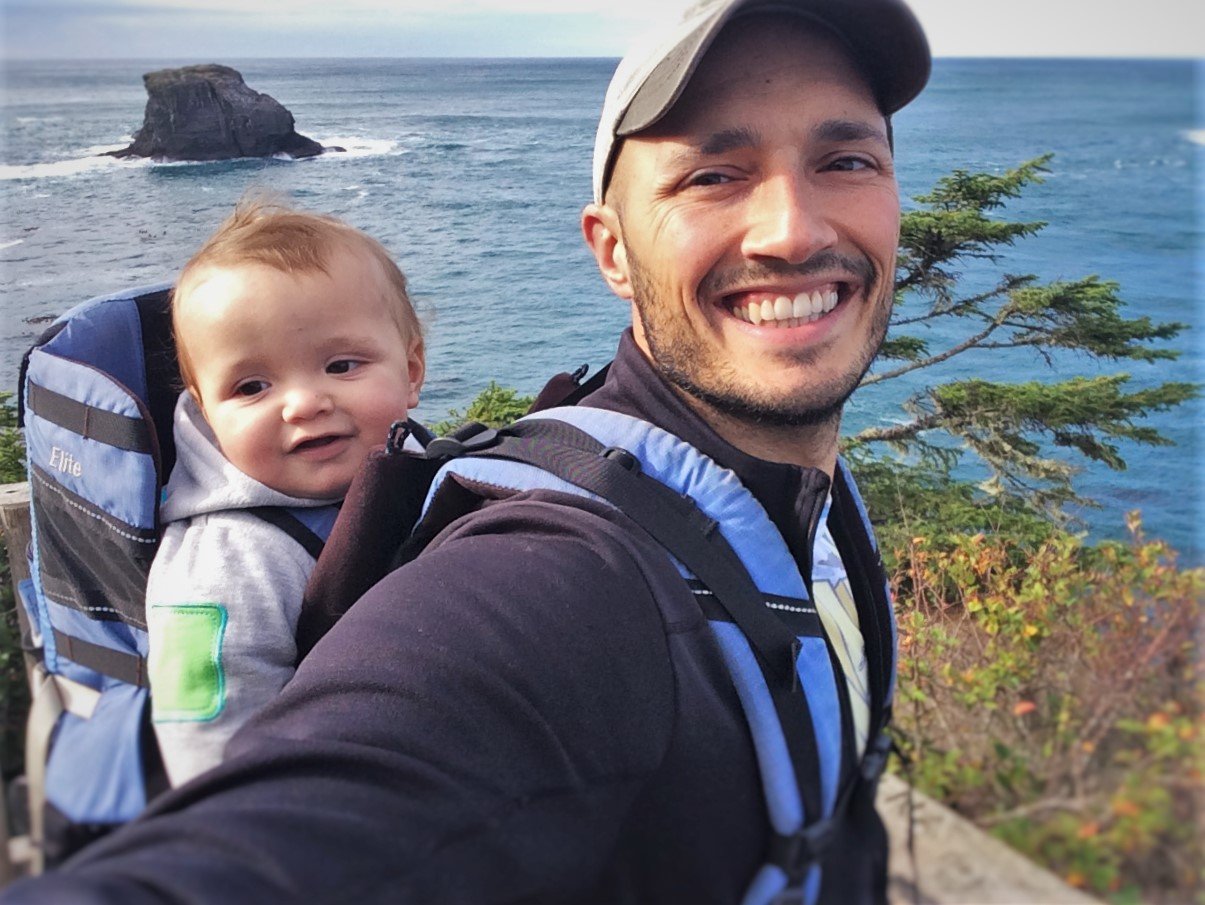 This post contains affiliate links which means that we may earn commission if you listen to our advice.