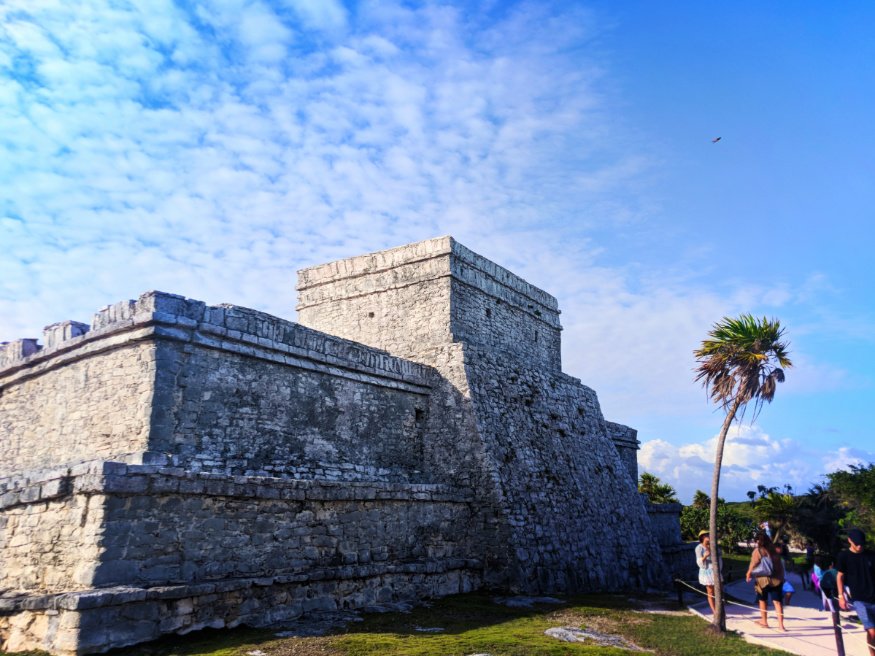 Best Mayan Ruins in Mexico: Tulum, el Rey and two more you CAN'T MISS
One of the most cool and unique aspects of touring the Yucatan Peninsula of Mexico is the abundance of Mayan ruins. The Mayans were spread all across the Yucatan and down into Belize, Guatemala and beyond. They left behind thousands of small and large structures on the beaches and in the jungles. I spent several days exploring the Yucatan Peninsula and can recommend, what I'm confident are, the four best Mayan ruins sites on the Yucatan and each is completely worth the visit.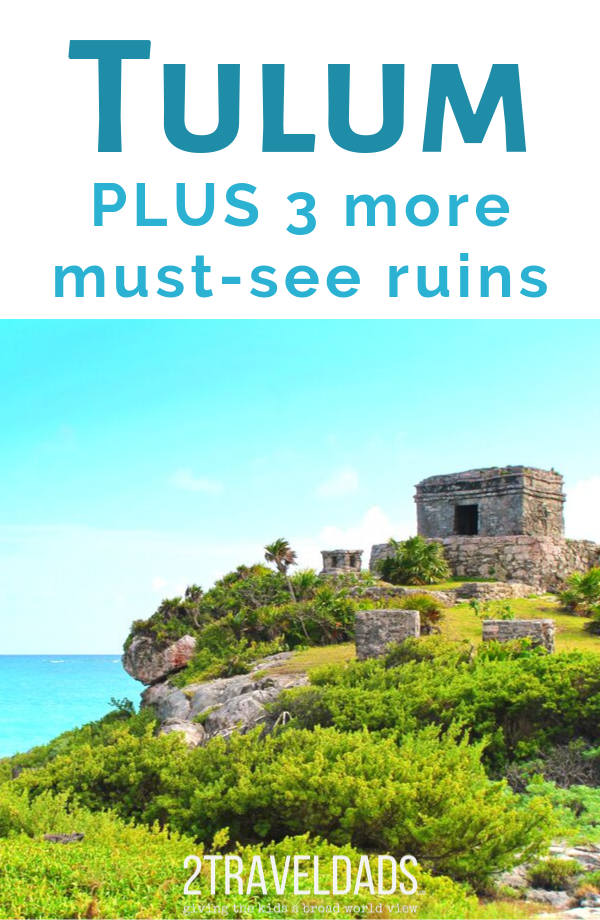 Planning your visit to the Yucatan Mayan Ruins
Most people visiting the Yucatan will be staying in one of the larger tourist areas, such as Cancun, Playa del Carmen or Tulum. As you make your decision about where to stay, consider the following activities that you'll want to be close to: the Yucatan Mayan ruins of Mexico, the beaches, or the cenotes. There are spots that all three intersect or are very close, so choosing what's most important to you will help determine where you'll stay. If you don't have a car, check out this great article explaining how to get from Cancun to Tulum.
You'll find beaches all along the Caribbean side of the Yucatan and most are picture perfect, but to find the ideal spot that puts you close to endless opportunities for exploring ruins and more is tricky. Playa del Carmen is the most centrally located place to stay and there is plenty of fun and wonderful food to be had there, so that's my top pick for a home base when you're touring the Peninsula, particularly if you're planning to visit the best Yucatan ruins.
Tip: I stayed at the Club Yebo Hotel in downtown Playa del Carmen and really enjoyed both the accommodations and the location of the hotel. With kitchenettes and plenty of quiet relaxation space, it's a great find.
I recommend planning an itinerary that allows you to have ample beach time, including at Akumal where you're nearly guaranteed to see sea turtles, as well as where you can easily do a day trip to the Mayan ruins of your choice. You'll find cenotes everywhere, so research which ones you want to visit to be sure you're not wasting your time at a lame one when you can swim at an awesome cenote.
Photographing Mexico's Mayan Ruins: tips for awesome shots
Spending a whole day going from ruins to ruins is tiring, so it's best to plan your days visiting just one per day. This is where you have the opportunity to plan your itineraries to get the best lighting at each of the archaeological sites. Low light, meaning light coming from a lower point in the sky, will give the best shadows and prevent each of the Yucatan Mayan ruins sites from being completely washed out in your photographs.
No, I'm not talking about shooting with 35mm film, but with a basic digital camera or even a camera phone. Strong direct light from above will do two things:
reflect bright white light directly off the ruins causing unbalanced photos
make the site a hot one and all of the iguanas will be in hiding
Photographing ruins is a real treat and planning your visit to ensure the best lighting, temperatures and crowds is all to your benefit. The best of the Yucatan is waiting and we all owe it genuinely good photography to preserve it through the years.
El Rey Mayan Ruins, Cancun
Before arriving in Mexico I had asked several friends about my itinerary and they'd given ample feedback. One note was to skip El Rey Archaeological Zone in Cancun. They said that since it's in the hotel zone it'll be crowded and not very impressive. Not true. And nope: don't skip it.
Note: parking at El Rey is complicated, as there is only a small lot on the side of the road just north of the entrance. The lot isn't well marked, so if you miss the entrance drive a bit and do a U-Turn to get back to it.
Yes, the El Rey Mayan Ruins are directly in the hotel zone of Cancun, but it's actually wonderful. I was THE ONLY ONE THERE when I arrived and for most of my visit. Well, it was me and a hundred iguanas. As far as a photography paradise goes, El Rey is a perfect 10.
While the overall structures weren't towering and impressive like you think of when you hear the term "Mayan Ruins" the site was beautiful and ideal for a calming, relaxing stroll and taking beautiful pictures of wildlife and small-scale structures.
Tip: arriving first thing in the morning you'll get the best light for photographing the ruins. Also, the iguanas haven't been scared away by any tourists yet, so there'll be lots out!
Cost: El Rey is about $5 USD for entry (as of Feb 2017). It's well worth it, particularly if you can be there when nobody else is.
Also in Cancun: Ruinas San Miguel is another, smaller archaeological site directly in the hotel zone of Cancun. It's not as comprehensive or withdrawn as the El Rey ruins, but if you're staying in Cancun, you might as well pay them a visit.
Book a hotel in Cancun here!
Tulum National Park Archaeological Zone
A little over an hour south of Cancun, past Playa del Carmen, is the town of Tulum. The Mayan ruins of Tulum are very different from what I saw at El Rey in Cancun. Tulum is an enormous site with many well preserved and strong standing structures. They're exceptionally beautiful, particularly set against the Caribbean Sea.
Arriving, you'll park your car and then have the option of renting bikes or walking to the ruins. It's a twenty minute walk from the parking area to the start of the Mayan ruins, so be prepared. Once at the actual national park entrance you can head directly into the compound or walk to the right and do the loop through the Mayan ruins backwards. There's no wrong way.
The majority of the structures are small, but clearly set up in the layout of a community. There are broad lawns between the structures and lot's of benches for sitting and taking it all in.
Tip: be sure that you do all of the trails along the bluff, as you'll get to enjoy both the gorgeous Caribbean view as well as snap some cool photos of the ruins juxtaposed against the sea. Really something to behold!
Tour option: If you're staying in Cancun, this tour is a great option to visit Tulum.
In addition to the ruins of Tulum, there is also beach access. Upon completing the loop through the ruins, head south (to the left). The beach is a long stretch and it's got several sandy restaurants along it. It's quite the walk from the ruins though, so be prepared for the walk there are back.
Tulum National Park is a beautiful and fascinating place, so take your time to enjoy it, but it's not worth an entire day. I would recommend three hours tops if you're including beach time.
Tip: rent the bikes at the entrance to the Tulum National Park site. It's well worth it due to the distance from the parking area to the actual ruins and then the beach. You'll be glad you did, especially when you've been walking for a long while with sand in your shoes.

Tip 2: while we are usually about doing activities early in the day, Tulum National Park is best in the afternoon. The glow of the golden hour is gorgeous and makes for unforgettable views.
Cost: the Mayan ruins at Tulum are about $10 per person to visit. This can be paid just before you enter the actual ruins site or as part of a tour if you are not visiting on your own.
Also in Tulum: Muyil Archaeological Site has some very impressive structures and it's not as well known as Tulum. If you have extra time and cannot get enough of the other Yucatan Mayan ruins, plan a morning visit to Muyil for a different sort of Mayan site.
Visiting the Ruins of Coba
After visiting El Rey in Cancun and then the National Park in Tulum, I was really excited to visit the Mayan ruins at Coba. I'd heard that they were really different from Tulum's ruins and it was true. They were amazing. Much different than the other two sights I had visited this week, as Coba had several pyramids a very different layout… and the site was HUGE.
Without giving away the farm, let's just say that the site at Coba was incredible and I would recommend it to anybody visiting Cancun, Playa del Carmen or Tulum. And I can't say for myself, but several friends have recommended Coba over Chichen Itza, and I think I know why. For a more detailed account of what to expect at Coba, check out this article and video from my visit.
Tip: get to Coba as early in the day as possible. If you're climbing the great pyramid, it gets hot and if you're out of shape, you'll be extra glad to climb it in cooler temperatures.

Note: if you're heading to Coba and don't want to read the full article I published, take heed – rent a bike at the start of the park or jump on a bicitaxi. From the entrance back to the Great Pyramid is much much farther than you expect.
Visiting Chichen Itza
Of all the Yucatan Mayan ruins, Chichen Itza may be the most famous, and also it's one of the best sites. Being an enormous temple and structure complex, visiting Chichen Itza is a half-day activity. It does get a TON of tourist traffic, but it is famous for a reason. Being very grand, well manicured and full of tourist friendly exhibits, Chichen Itza is a very good option.
While it is incredible, it's the last of the recommendations due to its location. It can indeed be a Yucatan day trip, but heading so far inland, it would make sense to visit Chichen Itza as part of a larger tour plan and to include some wonderful Mexican towns and natural beauty, such as the many cenotes you'll pass on your way to the grandest of all Mayan ruins.
Travel tip: If Chichen Itza is on your bucket list and you want as much time there as possible, consider staying in Valladolid or Merida overnight. Valladolid is very close and is itself a beautiful town with lots of great sights to see. Merida is much larger and is more of the picturesque Spanish colonial city, but it's also more touristy, so you pick.
Did you know there were so many Mayan ruins to explore on the Yucatan Peninsula? I know! Crazy and so cool! Exploring the ruins is a very unique experience if you've not traveled to Greece or Italy, so be sure to plan a visit to at least one of the sites, as these are the best around and ideal to add some history to your Cancun vacation.
If you have any questions or suggestions, leave a comment below so others can hear your advice or inquiry. And you can always send us a note with your own Mayan ruins ideas too!
Want to pin this for later when it's time to plan your own Yucatan road trip? Go for it!