There's this small window in being a parent when it seems okay to do really cool things without your kids. Examples include dinner in a Michelin star restaurant, getting a tattoo when you're traveling for work, swimming with sea turtles in the Caribbean… Swimming with sea turtles in Akumal is incredible and one of the most unique wildlife experiences I've had.
Having gone swimming with sea turtles in Akumal twice, I can say it's both magical and in danger of not happening in the future. In this article I've got everything you need to know about swimming with sea turtles in Akumal, how to observe wildlife responsibly, and how to ensure you're participating in a sustainable wildlife activity.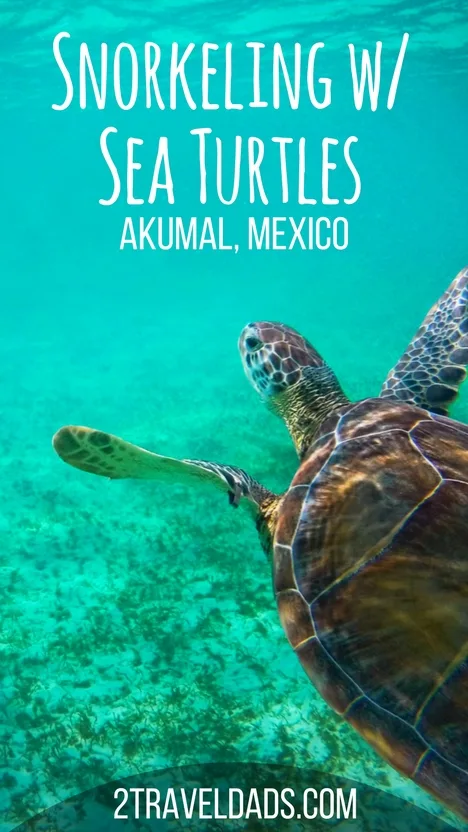 Where is Akumal?
Akumal is a small, colorful beach town located between Cancun and Tulum. It's about an hour and twenty minute drive to the south from the main tourist resort areas of Cancun, and only about a half hour drive north from Tulum. Ultimately, unless you're just staying at your resort in Cancun and doing nothing else, you'll be driving past Akumal. This is a great stop if you're doing a road trip around the Yucatan Peninsula.
Getting to Akumal for Swimming with Sea Turtles
If you arrive in the area via the cruise port in Cozumel, there will be a passenger ferry required to get to the actual Yucatan Peninsula, making port in Playa del Carmen. The ride is fast and rocky. Like, so rocky they sometimes pass out barf bags if anybody wants one. I was fine when I did this crossing… but had a moment where I thought I could've fully utilized the bag. Anyways…
If you're doing an Akumal tour from a cruise ship, once to the dock in Playa del Carmen, you'll meet your tour guide who will escort you through the tourist area just off the beach area. On your walk, watch for huge tropical rodent things, called agouti, scurrying about the ruins and through the lush vegetation.
It is only about 20 minutes from town of Playa del Carmen to Akumal beach. If you've never driven or been a passenger in Mexico, the ride might be thought of as… thrilling, perhaps, but really people drive fairly skillfully.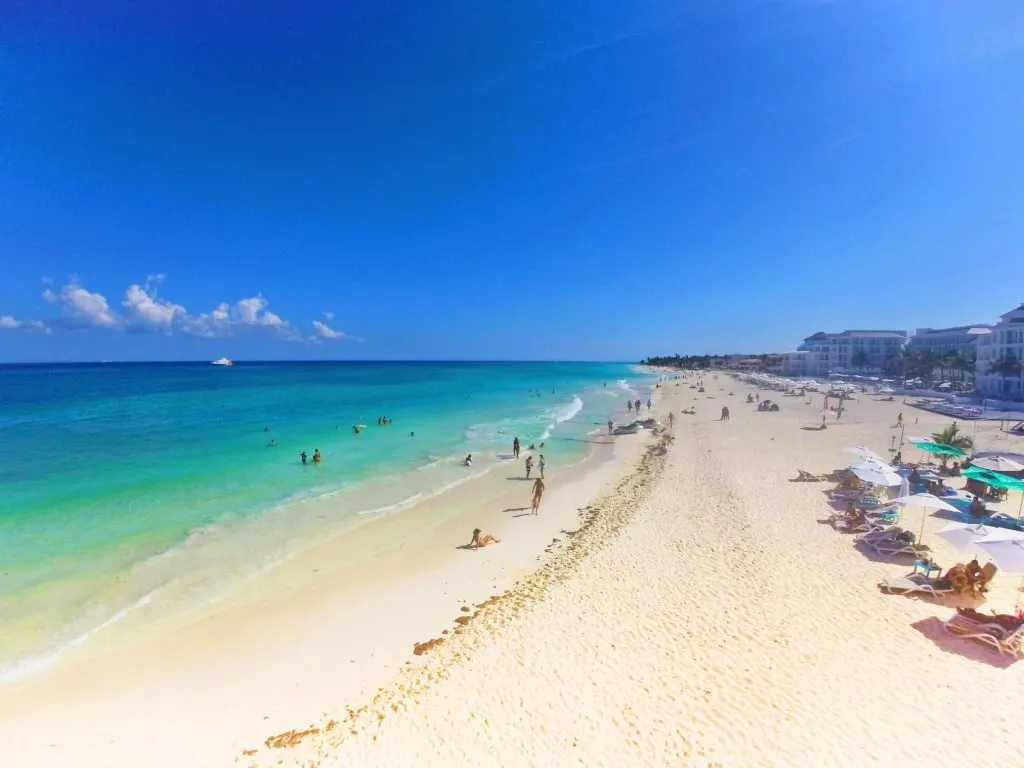 What to Expect for an Akumal Sea Turtle Swim
Swimming with sea turtles in Akumal really is a unique experience, but let's be clear about what you will and won't be doing. It's important to have realistic and RESPONSIBLE expectations before you venture into the water.
For a sea turtle swim in Akumal, you WILL:
You will be snorkeling and observing sea turtles in their natural habitat
You may experience a curious turtle coming towards you or even touching you
You'll have the opportunity for awesome underwater photography
You will have to swim yourself about 50+ yards from the beach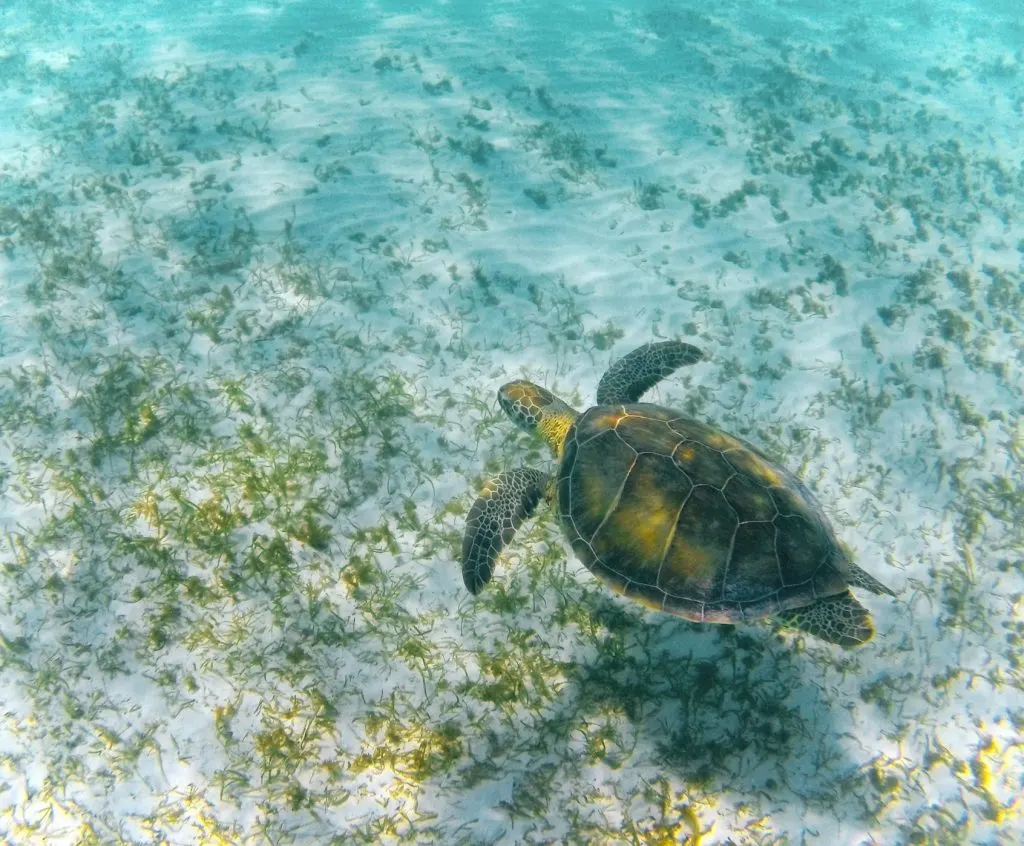 Things you WON'T or SHOULDN'T experience when you're swimming with sea turtles in Akumal:
You should not chase or try to touch the wildlife
Your guide should not touch or approach sea turtles
You should not put your feet down on the sandy bottom (sting rays and stirs up the water)
You should NOT EVER surround a sea turtle with other people
Having visited Akumal several times, with and without a guided tour, I've seen both responsible tourists and guides, and people I wanted to yell at or impose fines on. Be respectful, smart and safe when you're swimming with sea turtles.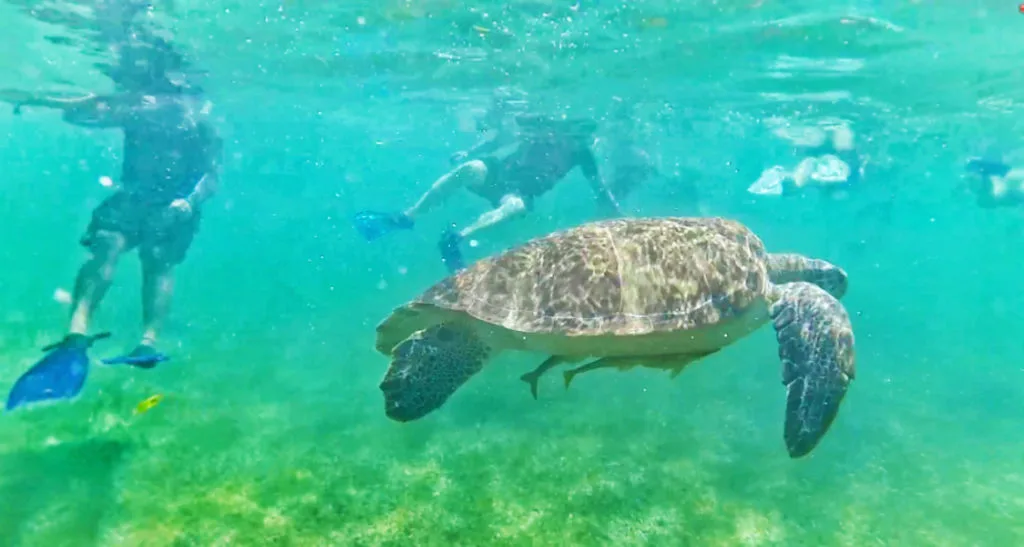 Preparing for Swimming with Sea Turtles
While you could always go without flippers, swimming with sea turtles is easiest with the fins and snorkel. Not that you'll be chasing anything in the water, but it's helpful to be able to get out away from the shore quickly to maximize your snorkeling time.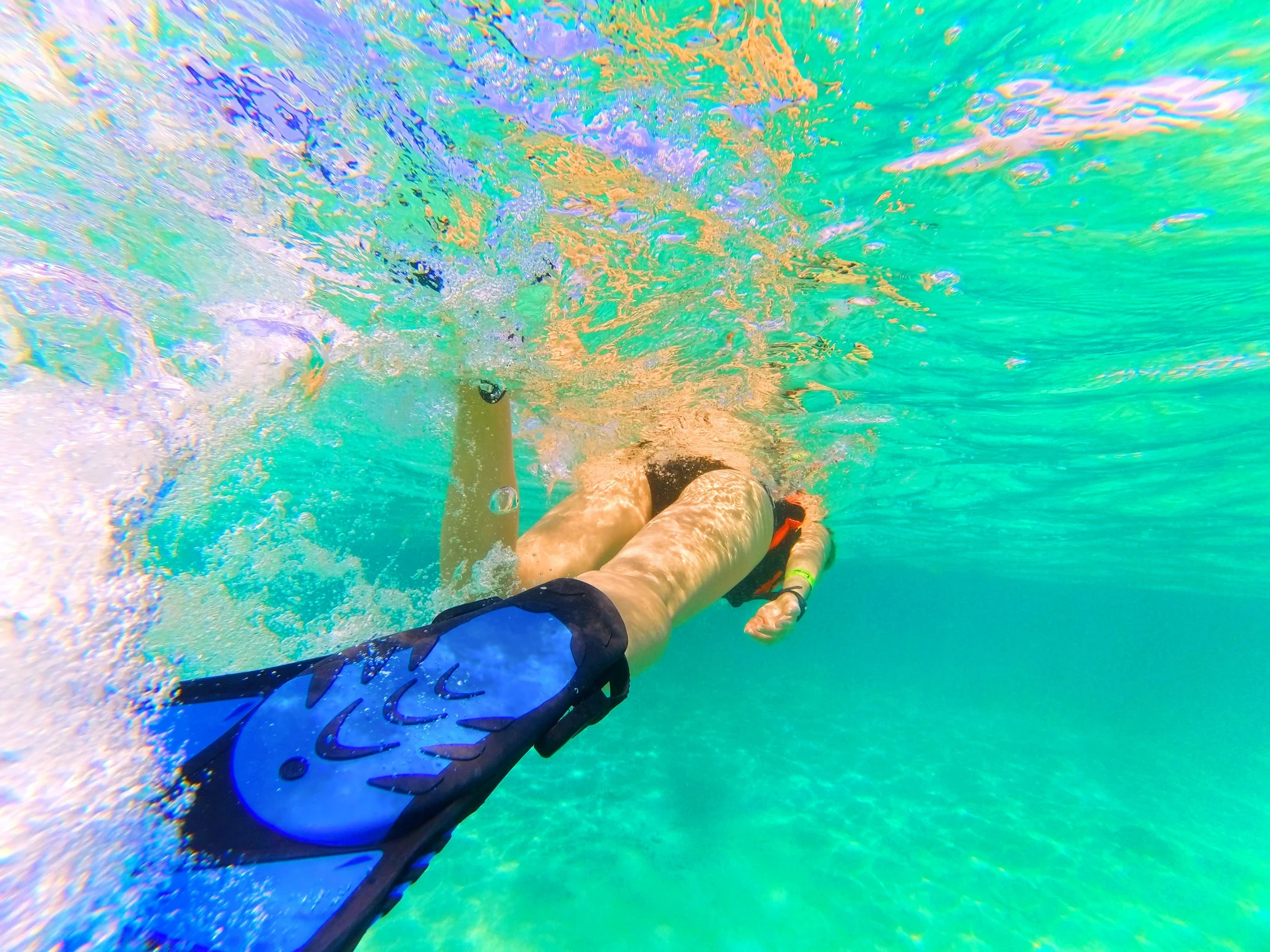 If you do a tour, you'll be fitted with flippers and snorkel masks, and then, for our tour, we left the rest of our stuff in the locked van. There is no need for anything else once down at the water, except sunblock for your back and shoulders. And the back of your legs. And top of your head.
Note: the driver stayed with the van for the duration of our visit when we did the tour. I would expect this with any guided sea turtle tour.
Tip: put on your sunblock way before you arrive at the beach so that it has time to cure and doesn't just wash off. You want it to be effective AND you don't want the excess washing into the water with all the animals. That said, you should also ALWAYS get a "coral safe sunscreen" as the chemicals in sunblock damage the undersea life.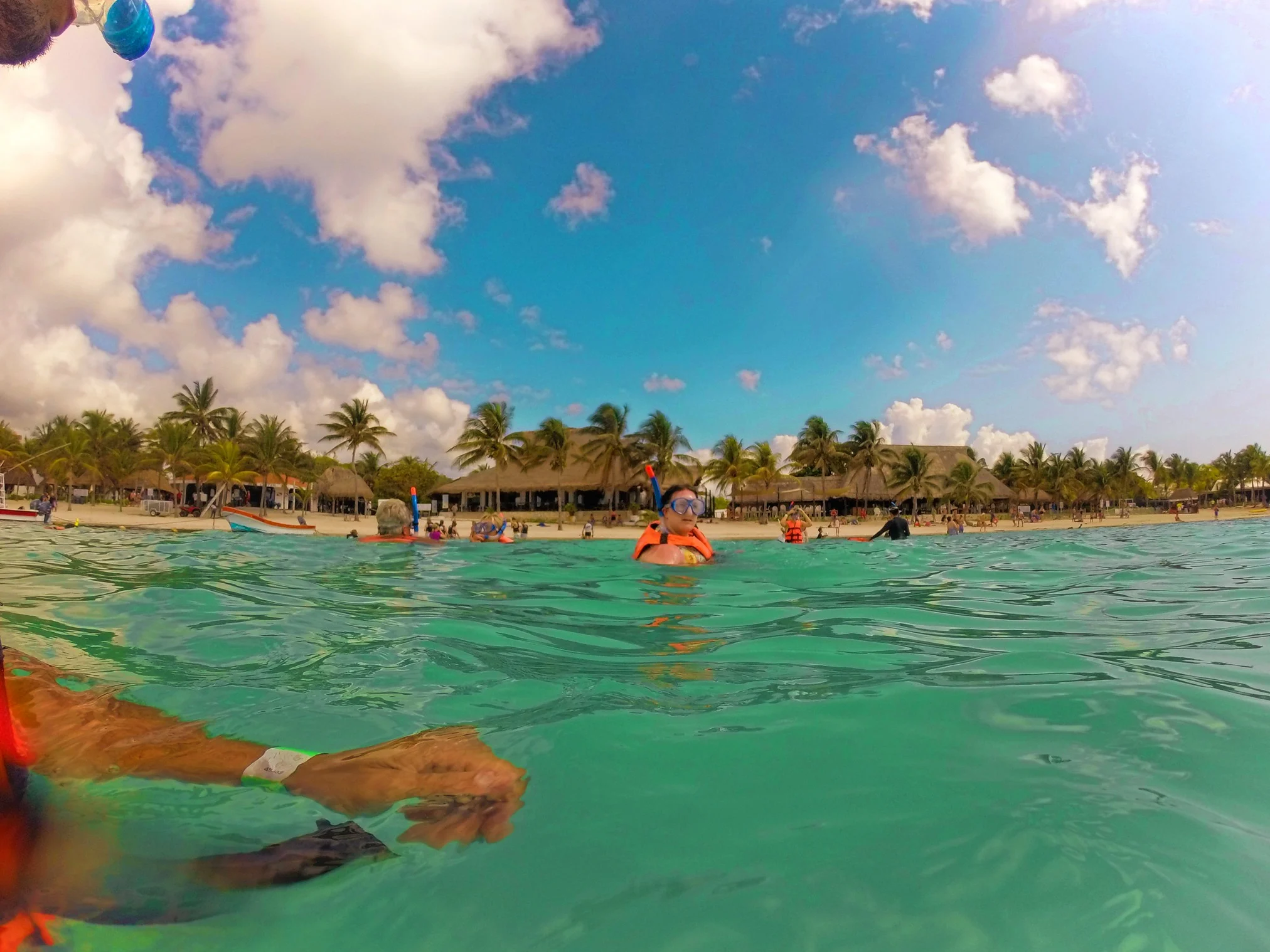 Rules for swimming with sea turtles
When you're swimming with sea turtles, you're a guest in their home. You may find yourself enchanted with the sea turtles' beauty and amazing movements, but you need to keep your distance. The following rules are for THEIR safety and yours (provided by NOAA and Sea Turtle Conservancy):
Observe turtles from a distance

, may vary from 10 feet to 50 yards depending on the environment and circumstances

Do not attempt to touch, ride, or feed turtles

Limit your time observing an animal to 1/2 hour

Sea turtles should not be encircled or trapped between boats or shore
This all seems very logical and like "Duh. Why would you even need to call this stuff out?" Well, like with any sort of attraction or wildlife viewing, people do stupid things and endanger themselves and the creatures. Sometimes calling out the obvious is helpful to just one random person and that's enough. People do ridiculous things sometimes.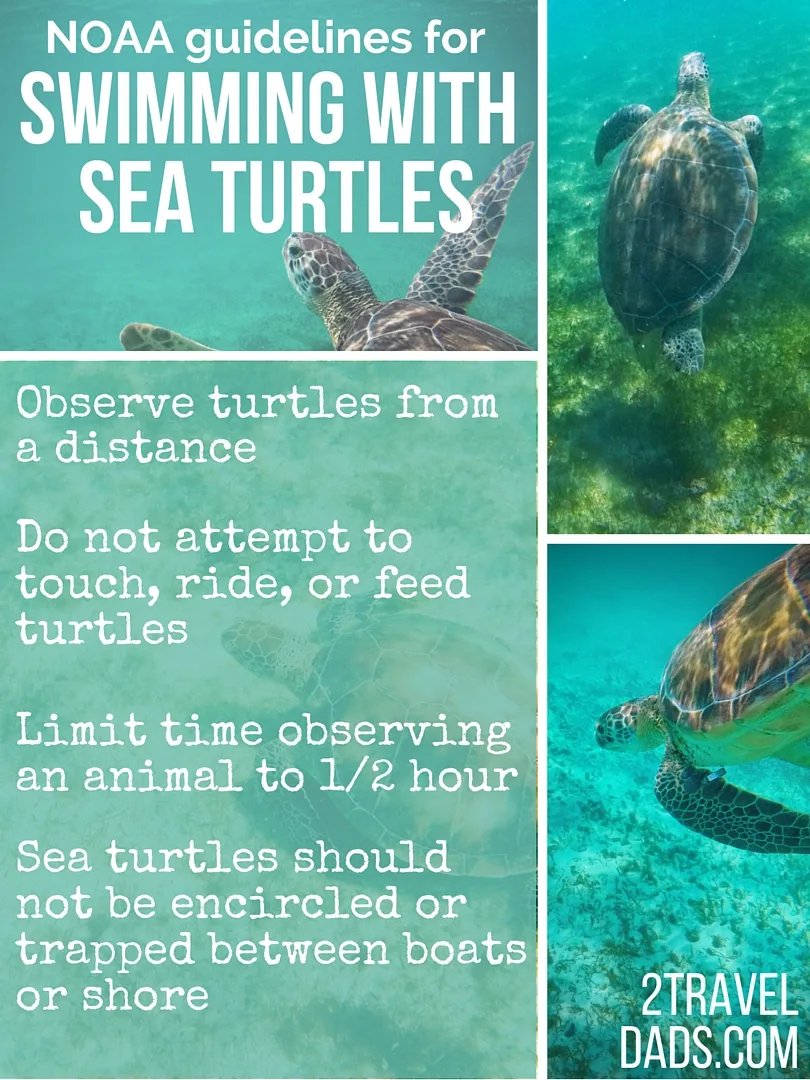 Why I Love Akumal for Sea Turtles
Even without trying to seek them out, the huge sea turtles were all around with each of my visits to Akumal. I was spooked by one who was all of the sudden swimming next to me as if out of nowhere. Others were just hanging out five to ten feet below the surface having lunch. With each visit, I'm just in awe of how they move and navigate the sea grass buffet.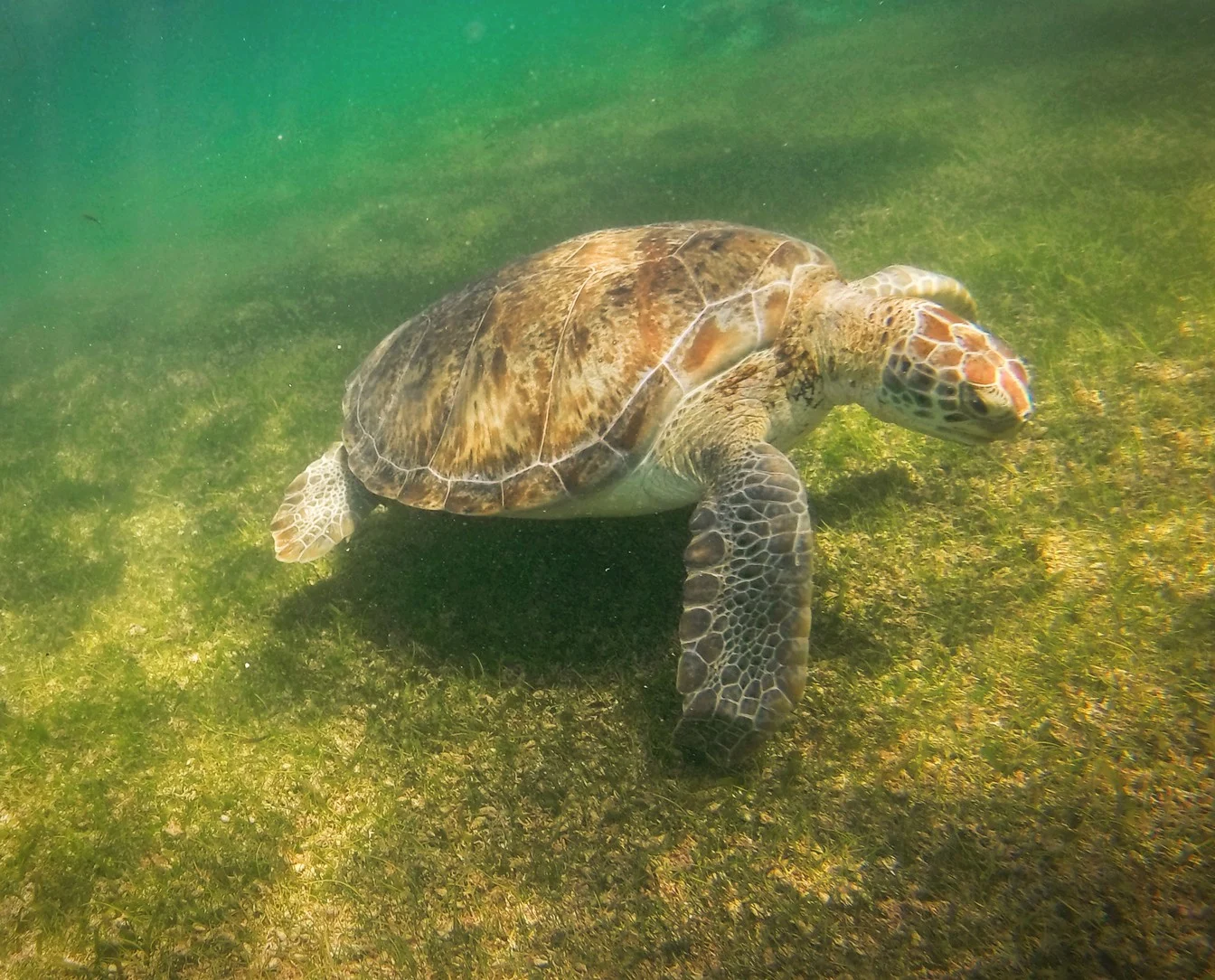 If you are floating out away from the beach and observing the sea turtles, you may notice that the larger ones have fish swimming with them, or actually attached to them cleaning their shells. These fish are called remoras. They are pretty cool and have a great symbiotic relationship with the turtles. Such a cool example of nature science!
Tip: the best way to enjoy swimming with sea turtles is just to float above them and take in their movements. They'll look at you and say "hey" and "sup?" and "nice weather we're havin'." They're really chill.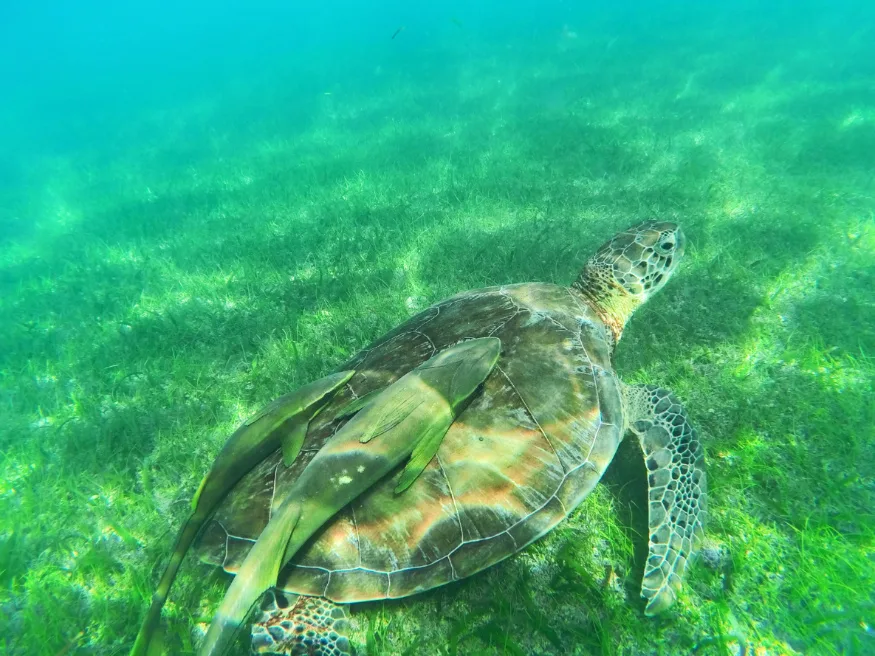 And because swimming with sea turtles is too incredible to not share, please enjoy this short video of my encounters. In general, all of my interactions and distance was per the guidelines. Due to drifting and the unpredictable patterns of wildlife, sometimes I was closer than is acceptable (my apologies):
[adthrive-in-post-video-player video-id="Pci4o4bl" upload-date="2022-10-19T18:38:57.000Z" name="Swimming with Sea Turtles in Akumal, Quintana Roo, Mexico" description="Snorkeling with sea turtles in Akumal, Mexico, between Cancun and Tulum." player-type="default" override-embed="default"]
More Highlights to Snorkeling and Visiting Akumal
The cove at Akumal is very mellow and would be amazing to hang out in even if I hadn't been swimming with sea turtles. The shore is clean and the sand is really soft. There is some undersea vegetation, but not too much. It's enough that the sea turtles know that this is a good place to eat. The rocks are teaming with life and as you swim you must be wary of the coral. The sea fans are plentiful enough, as are the urchins, that your fins can easily kick them and cause damage, so like with any other snorkeling, you'll want to be very careful.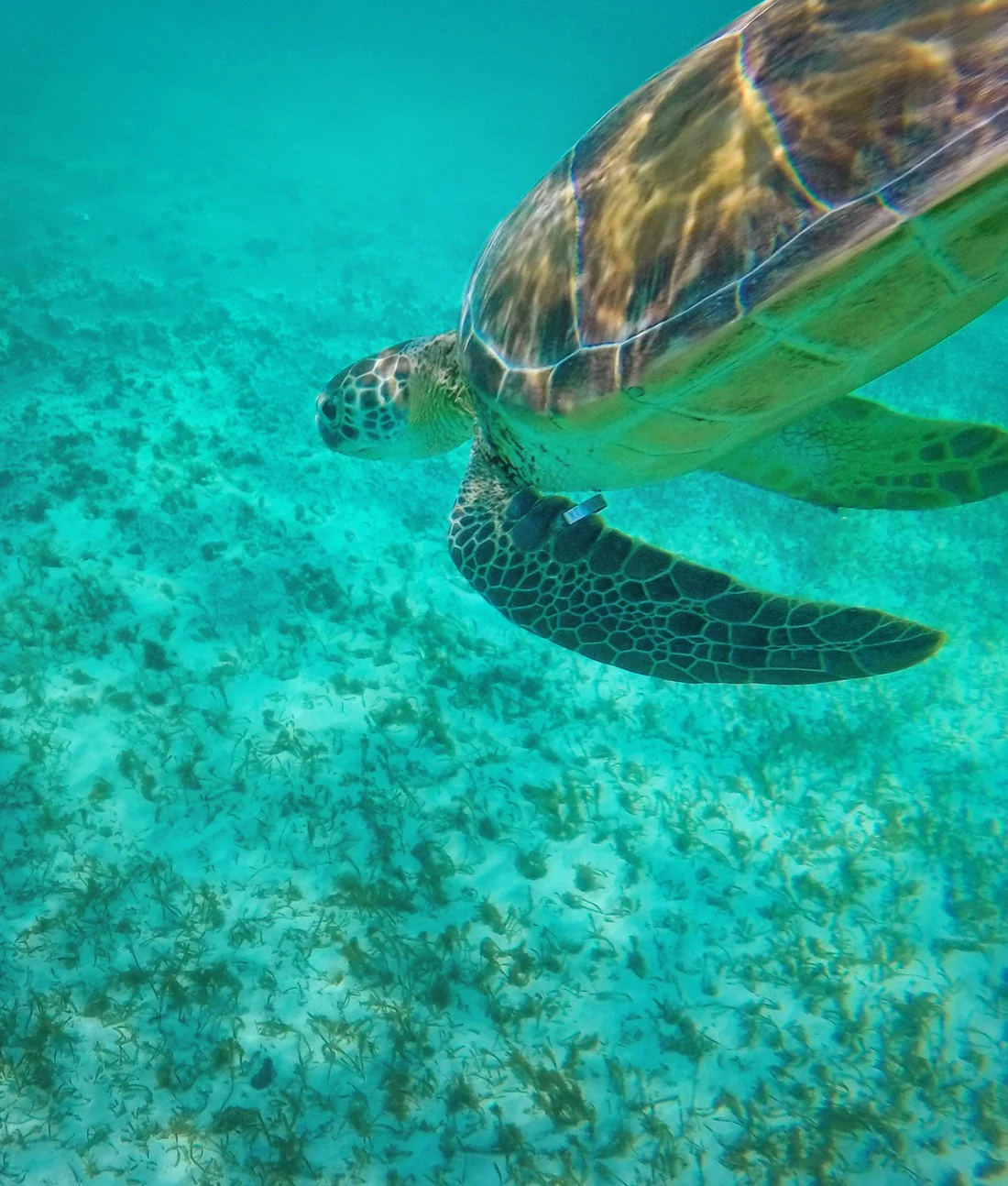 Besides swimming with sea turtles, you'll see much more in Akumal. The colorful fish, sea fans, coral, and urchins are really beautiful and quite abundant. There are also stingrays in the waters at Akumal. I thought I'd be lucky just to be swimming with sea turtles, but I got to watch a few sting rays too, including catching one on video… which was cool despite my poor filming.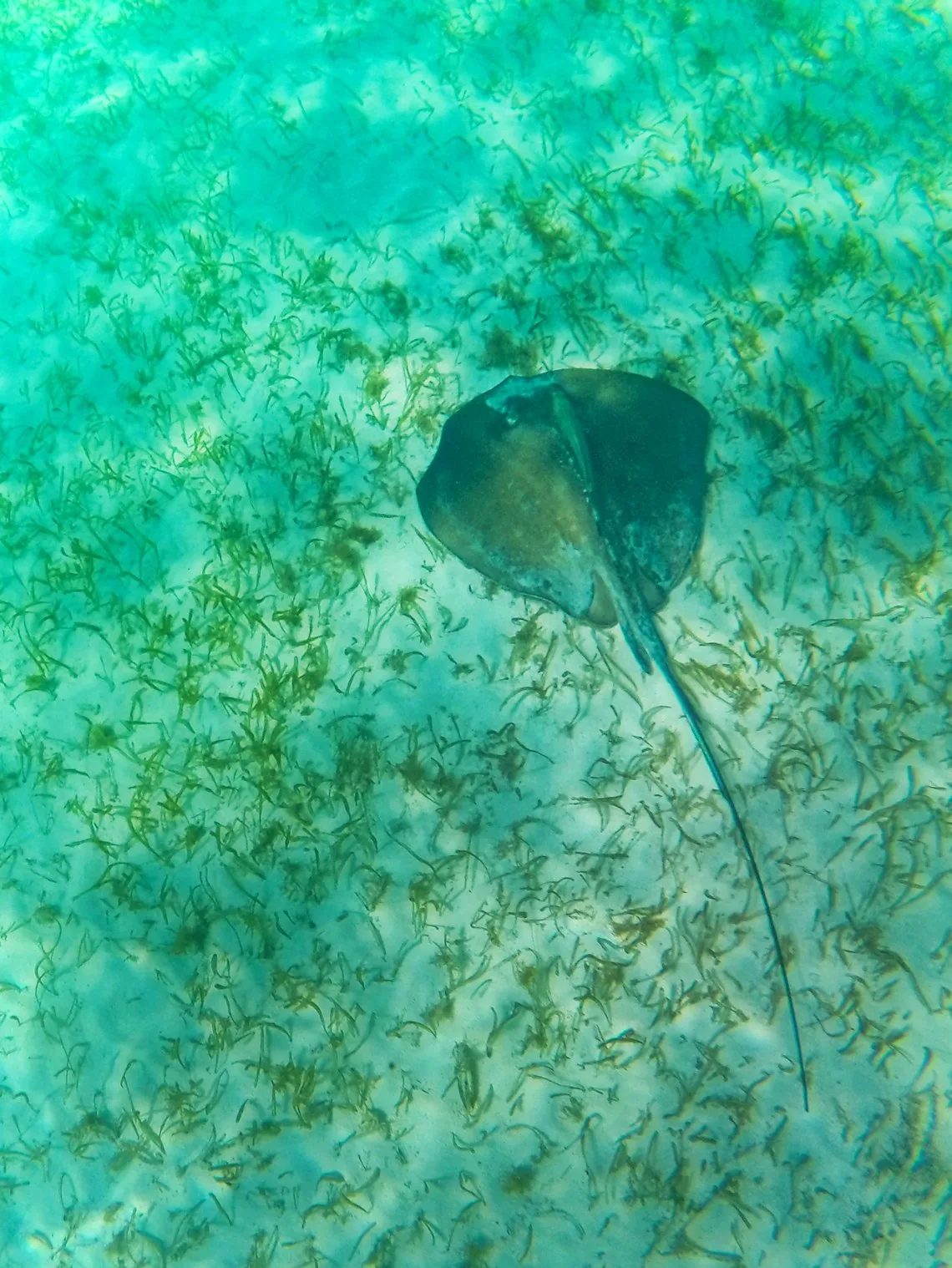 Note: as docile as a stingray may seem, remember that they're wild and dangerous and you need to be super cautious when you're around them. If you're wading in sting ray territory, be sure to shuffle your feet as you walk so you don't step on a sting ray. There are plenty of them in Akumal, so be careful.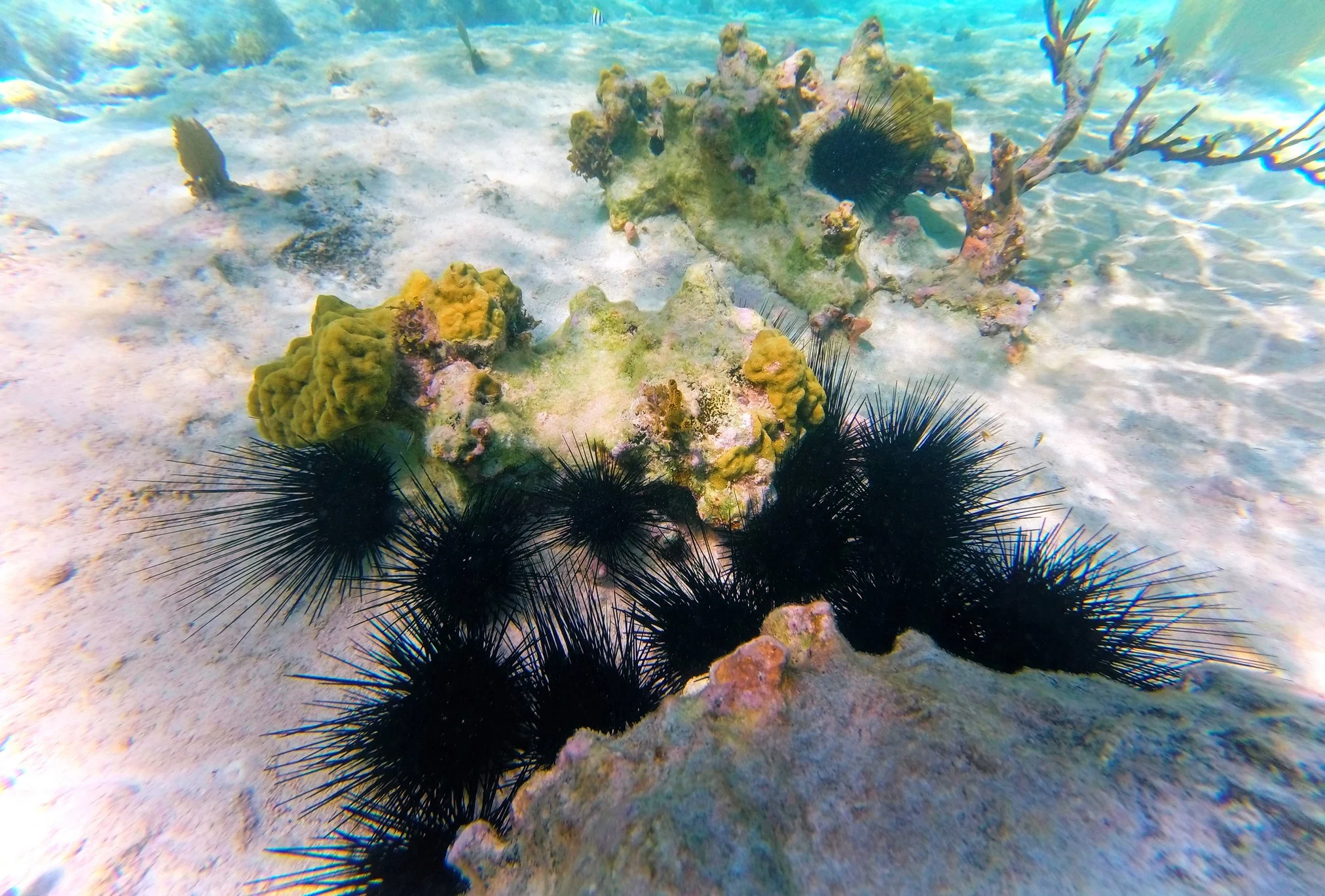 Here's just a quick preview of the snorkeling in Akumal besides the sea turtles. There is a lot of life in the water here and it's beautiful! Swimming with sea turtles was for sure the highlight though.
[adthrive-in-post-video-player video-id="9zgkwoqA" upload-date="2022-10-19T18:29:50.000Z" name="Snorkeling with stingray and coral in Akumal, Quintana Roo, Mexico.mp4″ description="Snorkeling with Sting rays and coral in Akumal, Yucatan Peninsula, Mexico." player-type="default" override-embed="default"]
Overall thoughts on Swimming with Sea Turtles in Akumal
My initial impression of swimming with sea turtles was nothing but "Woah!" As I explored underwater more and more, I continued to feel overwhelmed with the amazing creatures and their environment. It was beyond amazing and when the kids are older, they'll love it.
The downside of this activity in Akumal was the number of people. My tour group was very aware of how swimming with sea turtles could impact the creatures and they were all good about keeping distance being safely respectful. We did see another tour group that completely circled a very large turtle in a rather shallow area and you could easily tell that it wasn't the proper way to either appreciate or be respectful of the sea turtle. She didn't have a clear waterway to escape if she got stressed and people were close enough to touch her, which is not okay to do.
Note: this was the only instance I saw of this and I did see the snorkel group leader working to disband the participants, but the situation looked unhealthy for the sea turtle in the middle of it.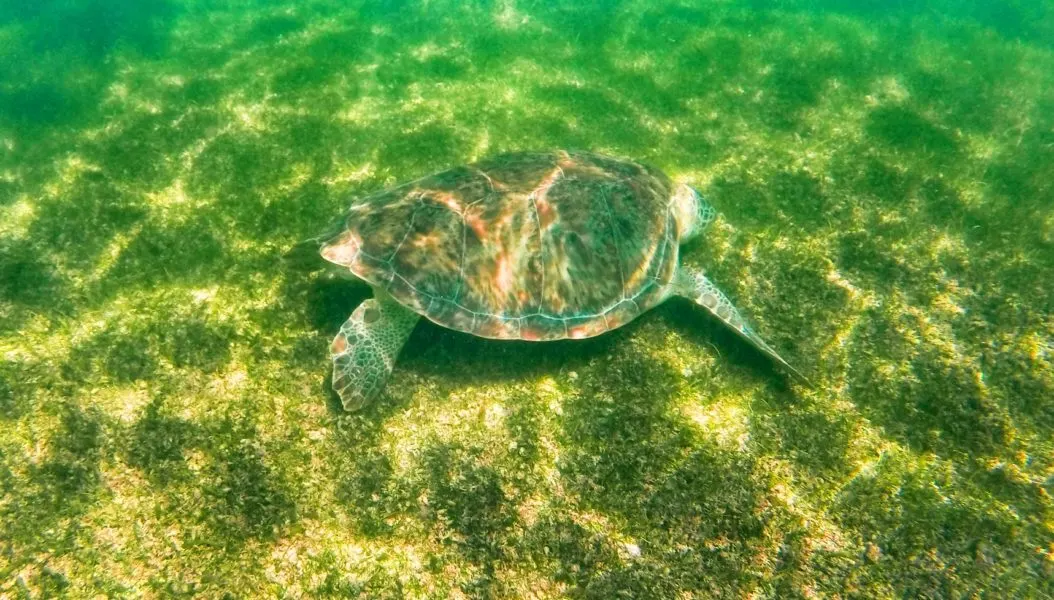 Would I go back with the kids for more swimming with sea turtles? Yes, I would as it's an unforgettable experience and an opportunity to see an incredible, beautiful, alien-like creature in their own environment. Having said that, I think it's very important to be selective about the tour we would do this with or if we'd be doing it on our own.
Cancun Adventures was who I went with, and my guide specifically, was wise and aware of the animals and environment. She was thoughtful about the participant experience, but much more so was thoughtful about not impacting the sea turtles we saw.
Going on my own without a guide or other participant was a better experience as I was able to manage myself much better and I also felt more safe than having other, uncertain swimmers around me. I cannot wait to return to Akumal for more swimming with sea turtles. I know the kids (and Chris) will enjoy the whole experience and I look forward to sharing it with them!
If you have any questions about this activity or planning a trip to the Yucatan Peninsula, please let us know. Leave a comment or send us a note, as we're happy to help you have an awesome Mexican vacation!