What could be more perfect any time of year than a California Central Coast road trip? Nothing. Leaving the SoCal area out of Los Angeles and heading north up the Pacific Coast Highway (PCH), you're bound to find beautiful, quirky, delicious, and captivating stops. A road trip up the Central Coast fits nearly any budget and can last a few days or two weeks. There's never a dull moment with or without kids, and we've done it both ways.
Looking back (and as we plan to do a Central Coast road trip again soon) I think next time we'll eat more ice cream, spend some time hiking in Los Padres National Forest and schedule our trip around either Spring Barrel or Crush in the Fall.  We only just started to get into the amazing, diverse world of wine on the Central Coast and it could be the focus of its own trip. Was that too much much of a hint of what's in store? Oops. Having said that, prepare yourself for fun with the family any time of year on a PCH road trip.
Priceless advice:  take note as you plan and start out on your own trip, as there are lots of hidden beaches and vista hikes along this route, so give into the desire to wander off track a bit and to let the schedule relax. You'll be so glad you did!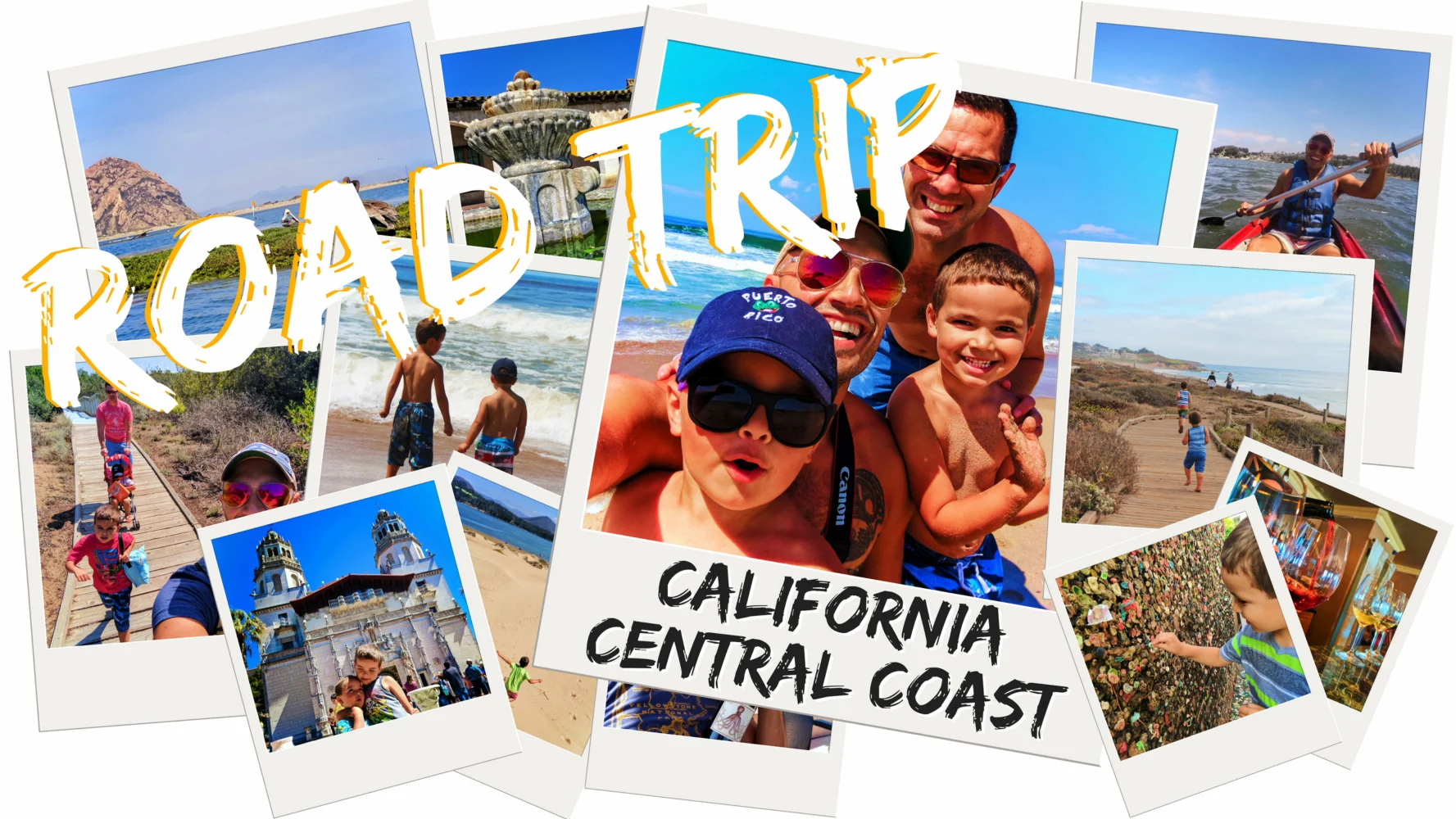 Planning your California Central Coast road trip
It's so much fun to throw some bags and supplies in the car and hit the road, but when you're talking about family travel to a popular destination, particularly in the summer months, you need to plan things out a bit more than this.  Here's how to plan your perfect California Central Coast road trip (or any similar trip for that matter).
Perfect California Road Trip Activities along the PCH
We always like to start our road trip planning with making a list of sights and activities we know both the kids and adults will love. When we're talking about California we know that we can almost always mix beach time with hiking and even some family friendly wine tasting. The California Central Coast is perfect for all of those activities. Add in our love for history and we've got endless opportunities to enjoy a perfect road trip along the PCH together.
Activities to watch for and add to your plan along your Central Coast route include:
Beaches and coves – swimming is ideal late spring through early fall and  and beach combing is good any time
Wine tasting and agritourism – the California Central Coast is home to loads of wineries, farms, and other artisan industries
Dining and playing foodie – just try to do a California road trip without finding amazing food off the beaten path
California history and culture – from El Camino Real to escapes of yesteryear, the Central Coast is peppered with historic sites and attractions
Hiking – the mountainous parts of the California coast make for interesting hikes in unexpected places
Kayaking – a variety of coastal State Parks along the Central Coast route have inexpensive kayak rentals to get out on the water
See? No matter who you're doing the California Central Coast road trip up the PCH with, you'll have lots of choices for fun activities for nearly any type of interest.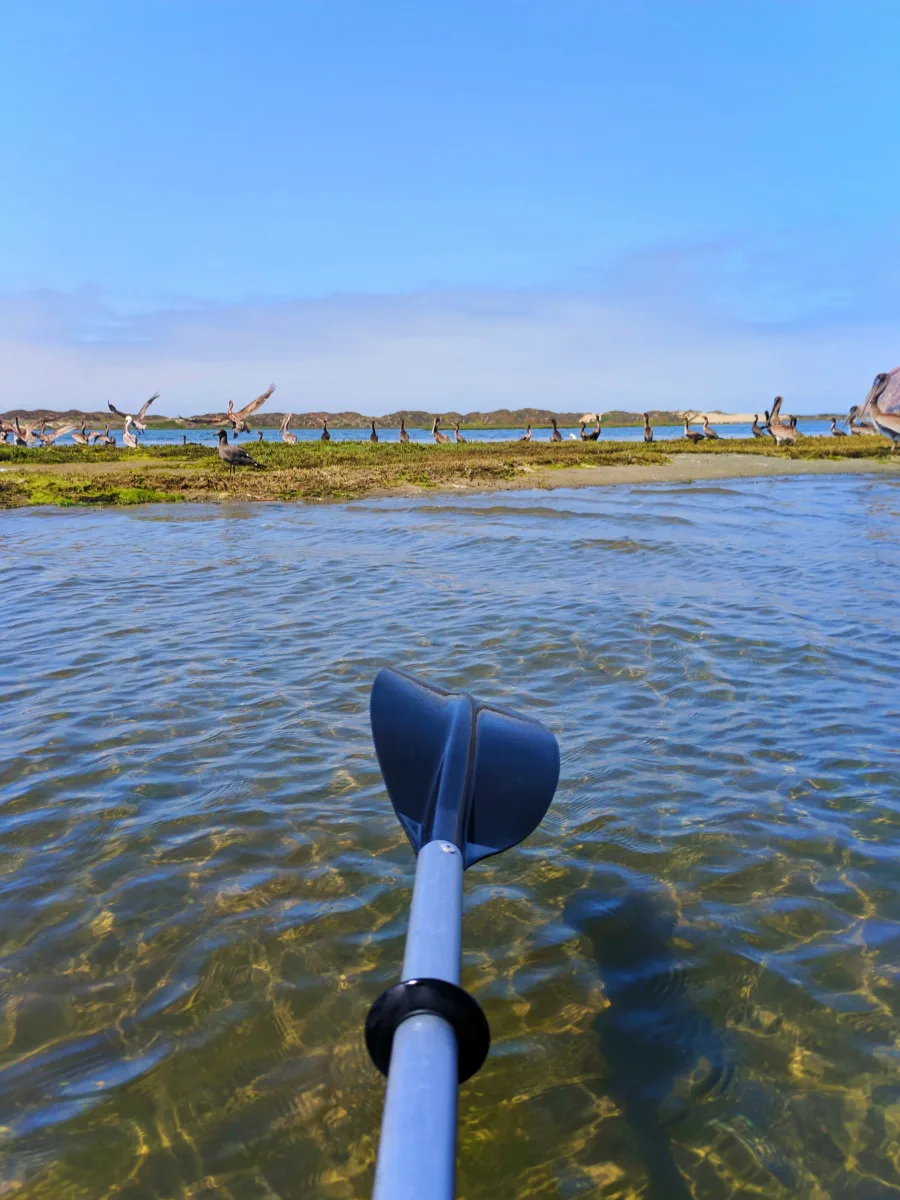 Planning lodging and accommodations on the Central Coast
In addition to planning your PCH road trip activities, you'll want to plan out where you'll stay in advance. A lot of families attempt road trips without a solid plan or just figure they can find a mid-range hotel on the fly, but this just isn't the way to ensure you have an enjoyable and successful road trip.
Tip:  if you're able to book your accommodations at least one month in advance you have the luxury of price comparison and more flexible cancellation policies.
We like to stay in IHG properties when we can (think Holiday Inn or Kimptons), as we love to accumulate and use our points for stays, but often in smaller towns you won't have a lot of these larger brand options. Small hotels or inns can be just a nice as a trusted brand, but be sure to read reviews on Trip Advisor or Expedia before committing yourself to an unknown property. The same advice applies to booking a vacation rental or AirBNB: read the customer reviews so you are prepared for your accommodations.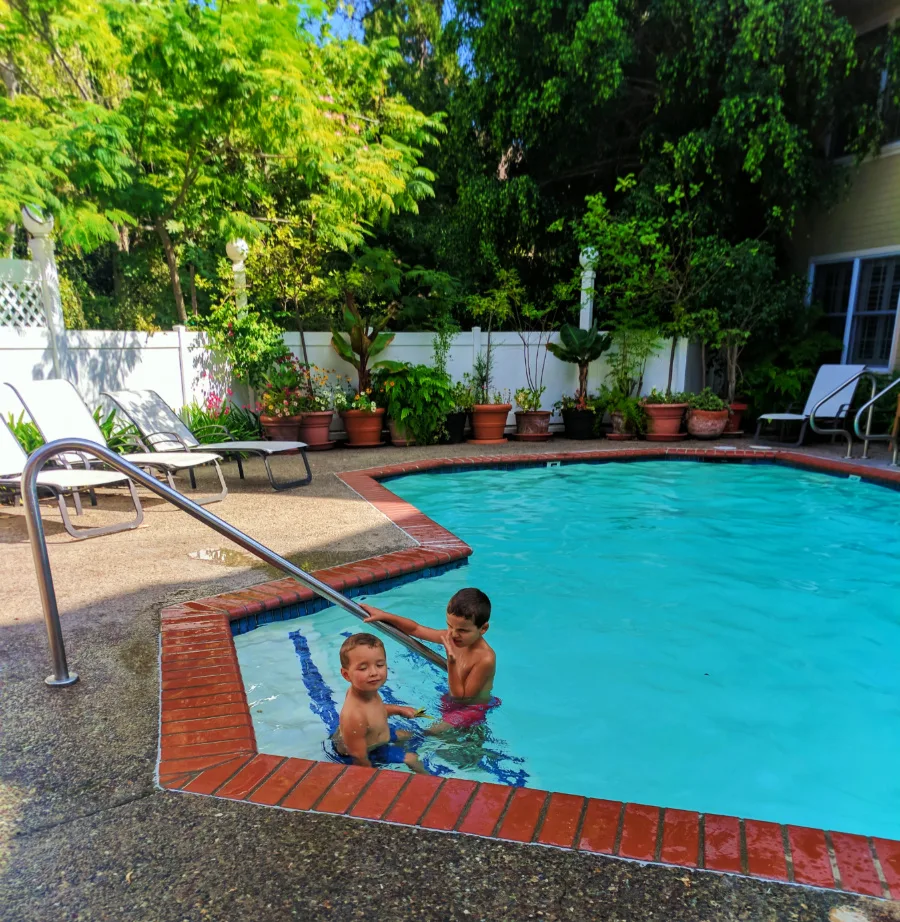 Hotel and Private listing booking tips
These are our general rules for booking hotels or private accommodations (VRBO or AirBNB):
read most recent reviews of the property to be sure guests are happy and felt safe
get familiar with the lay of the town you'll be in – are you close to dining or activities?
consider if having a kitchenette is needed or if just a simple room will do
be clear on the deposit and cancellation policies in the event you have a change of plans
If you play attention to our tips, you should be able to plan for and book ideal accommodations in advance of your road trip. You'll feel good about hitting the pavement and confident in traveling each day knowing you'll have a great place to spend the night.  And check out our thoughts on how to pick which style of accommodation is right for you!


California Central Coast Road Trip itinerary
Our California Central Coast road trip itinerary starts in Los Angeles and ends in the San Francisco Bay Area. We built this itinerary to be a great mix of kid fun and adult interest. We also try to give the kids as many learning opportunities as possible, so know that when we mix in the history stops, they are really cool and will be worth while for kids.
Tip: if you're not sure about traveling with your own car seat or renting one at the airport, check out this link about car seat travel from our friends at the Family Voyage. We, ourselves, prefer to bring our own 90% of the time.
First stop: Santa Barbara, California
The perfect little city of Santa Barbara is a great destination on its own with wine and art and shopping and Channel Islands National Park just off the coast, it's ideal for a getaway along the PCH. It's also where we'll find Mission Santa Barbara.
Founded in 1786, Santa Barbara is one of the most picturesque of the California missions. Its pale pink facade, small cemetery, flower-filled courtyard, colorful chapel and extensive museum make it fit for travelers young and old(er). We have been to a lot of the California Missions and this one is for sure one of the most visitor-friendly options.
Tip: try to visit outside of mass times as it's still an active mission with regular services. Parking is limited, so visiting in off-hours is a strong recommendation.
Don't forget, Santa Barbara is a stop on our California Central Coast road trip itinerary… so it's got some beaches just off the PCH! From city to county parks, you've got lots of options for scoring a beach day either during your stay in Santa Barbara or on your drive through. You'll need to plan a stop vs hoping to find an easy pullout, as most beaches aren't directly off Highway 101, but you'll be glad to start your road trip on the right foot… and left foot. Both in the sand.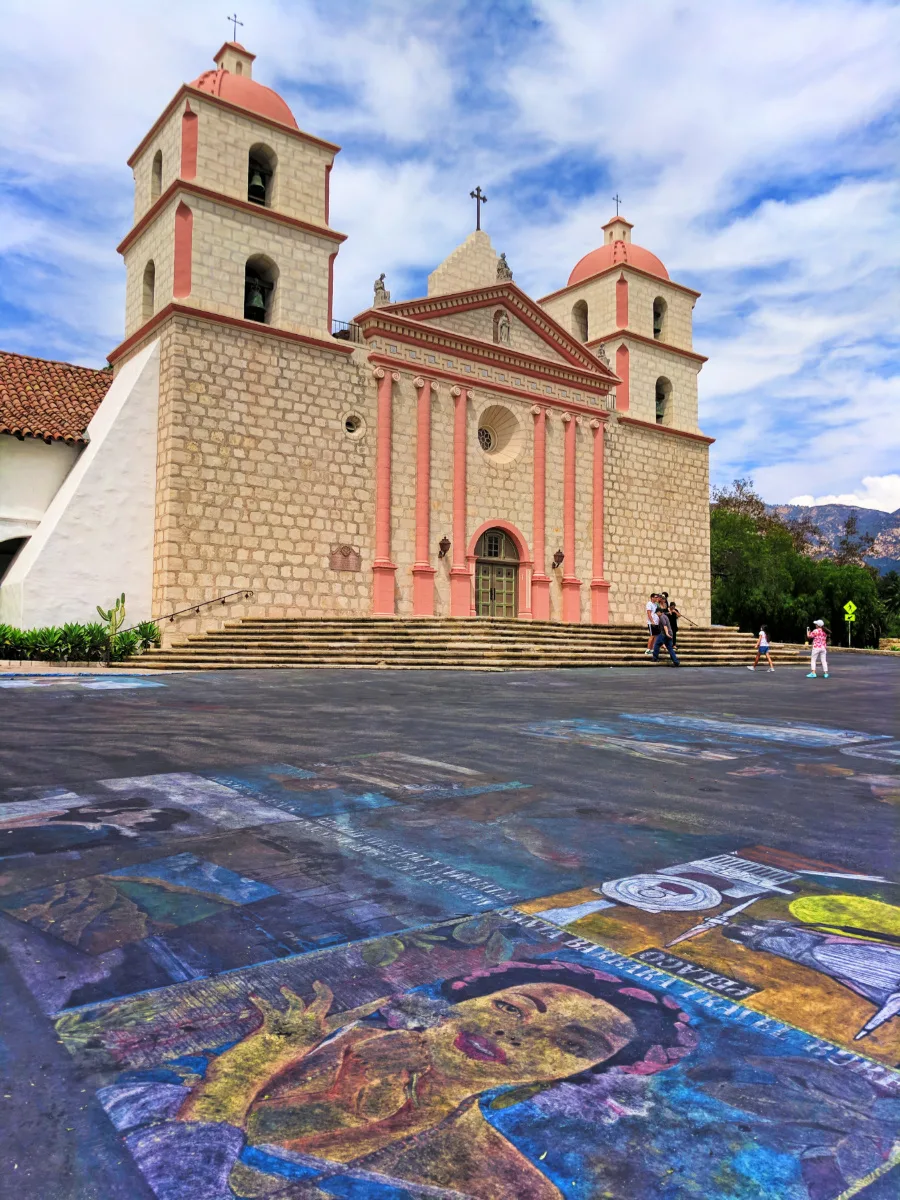 Lodging recommendation:  if you're able to stay two or more nights, our top recommendation for Santa Barbara would be to get a vacation rental. You'll be able to save money by doing some of your meals in and chances of finding an option with a hot tub or pool are great.
Second stop: the Santa Maria Valley
.  
On the dissent from the Los Padres National Forest down into the Santa Maria Valley we drove past student vineyards, loads of wineries and endless rows of grapes.  Eating our way through Nipomo, Lompoc and Santa Maria, each meal was accompanied by unique hyper-local wines. And OMG, if you buy wines based on wine labels (like I often do) you'll be in trouble. There are some severely cool graphic designers in the employ of the Santa Maria Valley wine industry.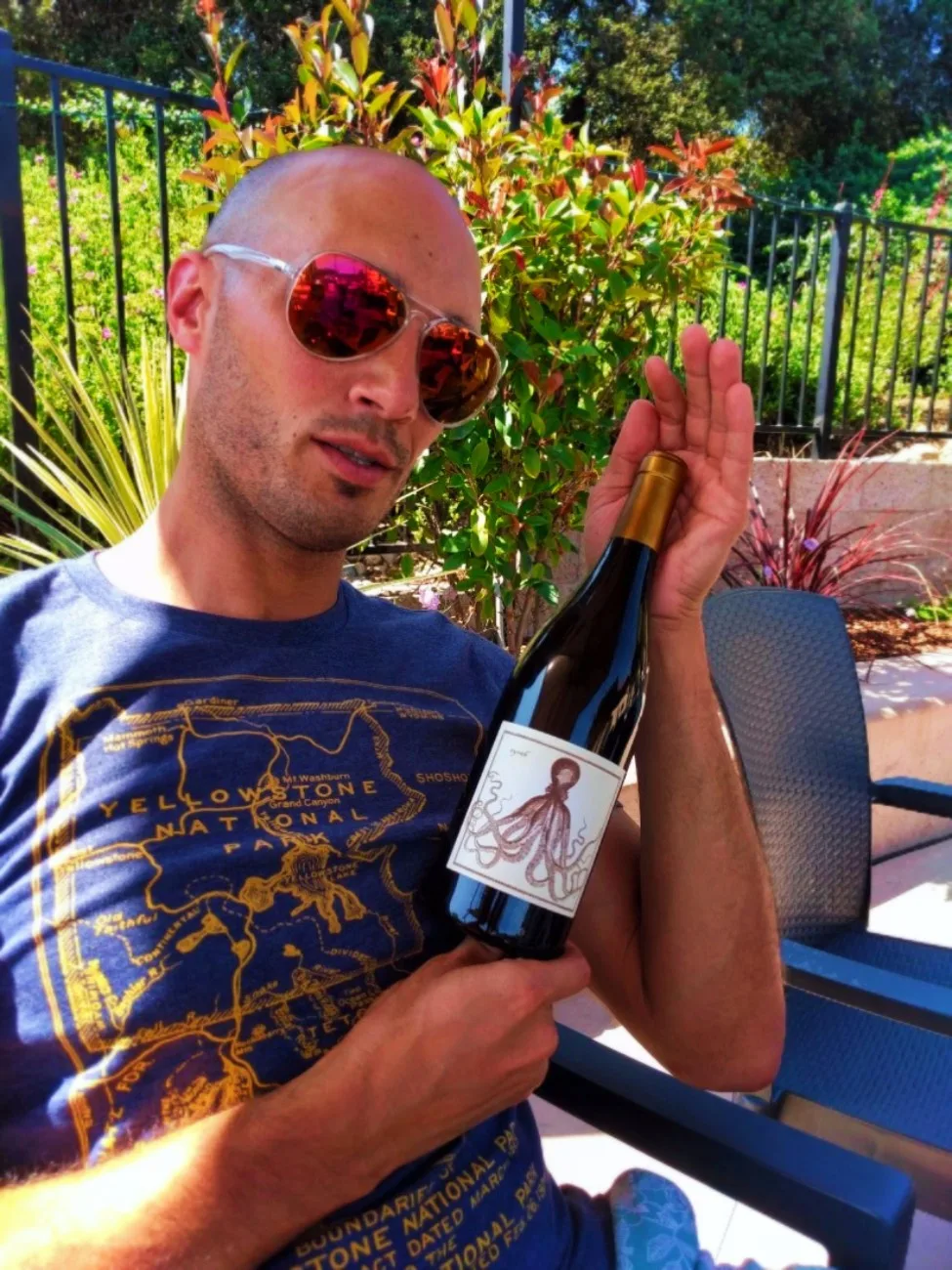 Our afternoon at Ca' del Grevino Winery in Orcutt really showcased what we love about being in any wine country: knowledge, pride, and a heavy pour. Whenever we roll through Oregon we get to try all kinds of great Pinot Noirs, so digging into a complex California pinot from CDG was delightful. Finish off that day with some epic California style BBQ and you've created an epicurean day of awesomeness.
Tip: exploring wine country means the most small stores of all sorts double as wine shops… staffed with PASSIONATE local wine connoisseurs. If you're serious about building your own wine collection, take time to chat with the shop owners and winemakers. You'll no doubt find some great bottles to bring home.
Of course there's more to the Santa Maria Valley than wine and steak. There are farms and nature and great people. The town of Santa Maria has a really strong Mexican culture that comes with awesome hole-in-the-wall food stops as well as wonderful, friendly people everywhere. We met all kinds of people hiking out at the Oso Flaco Preserve just outside of town, all enjoying the dunes and beach and all ready to welcome us to their home. And the town of Guadalupe, CA was adorable and fun. Loved our three days here!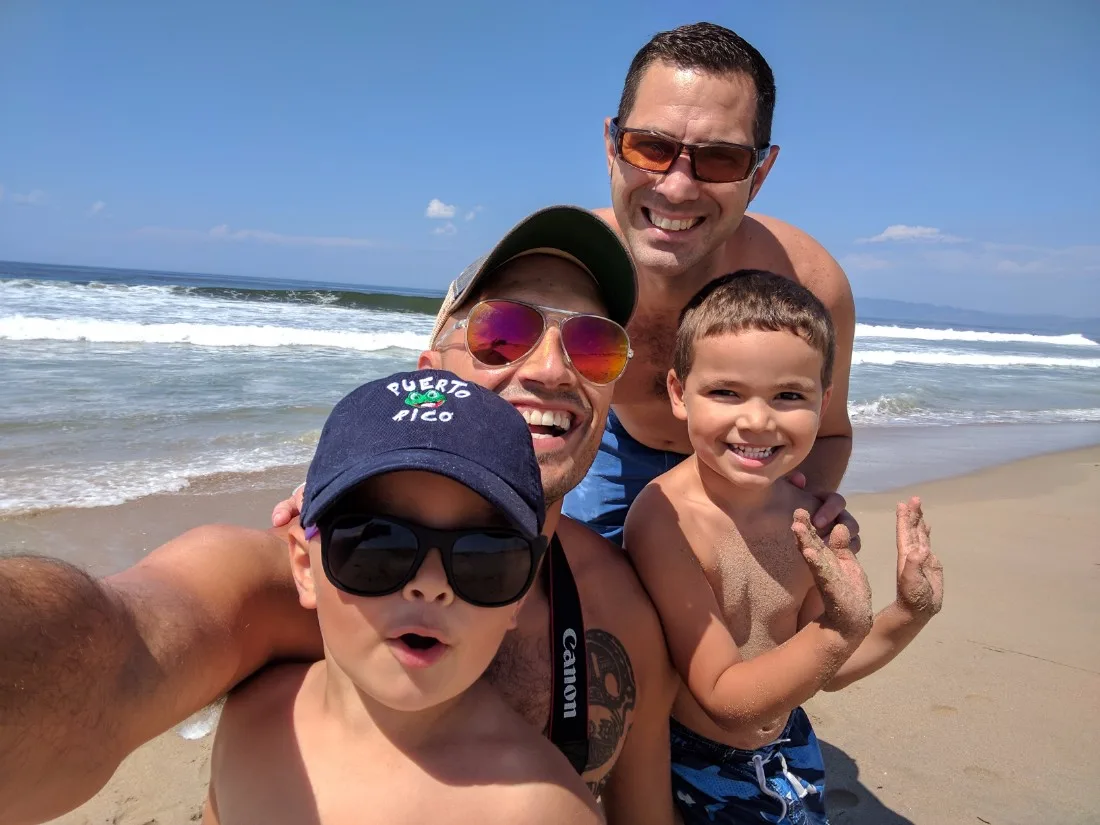 Third stop:  Kayaking in Morro Bay
There are lots of picturesque stops along a PCH road trip through the Central Coast, but Morro Bay is one of the prettiest. With Morro Rock and the sand dunes, it's really unique and a must-stop.
Morro Bay State Park was the perfect spot for kayaking.  Renting kayaks at the Morro Bay State Park marina at the Kayak Shack to head out into the bay in search of sea otters is easy. Spotting otters is another story… but we did see sea lions, osprey and a pelican nesting ground.  The wildlife was a hit with the kids and rivaled the excitement they found kayaking through the mangroves of Florida (check out our paddling site, Paddle Your State for ideas!)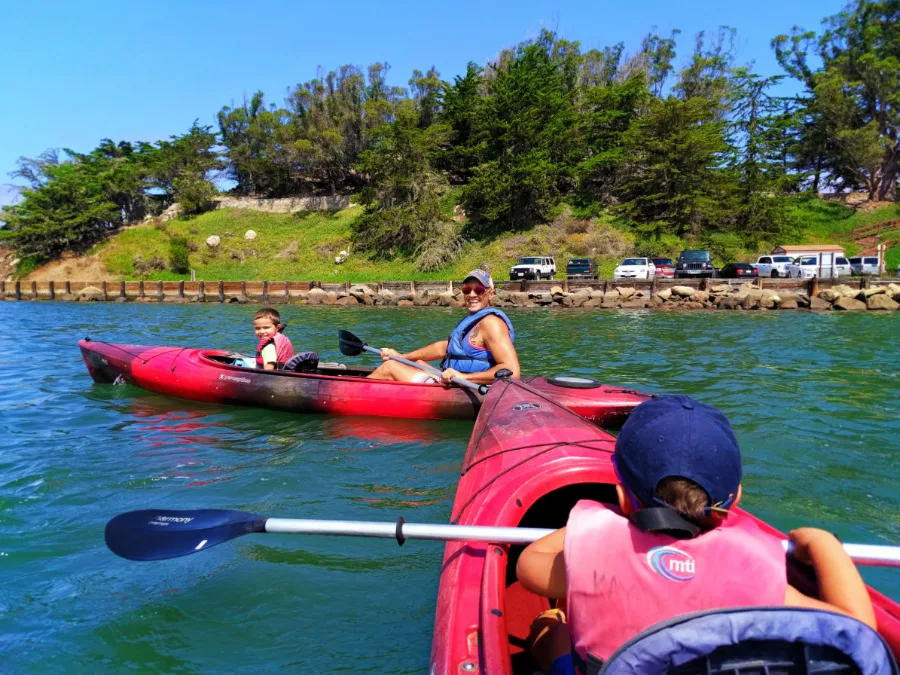 For the second part of our kayaking adventure, we moved from the center of Morro Bay onto the dunes area, also part of the State Park.  If you've never experienced them, sand dunes are very unusual and tons of fun! We paddled across the Morro Bay State Marine Reserve and ran our kayaks ashore at the base of the dunes. After crossing the sand flat, which felt like walking on marshmallows, we scaled the dunes. The kids enjoyed running up and down the dunes and crashing into the soft, hot sand.  A perfect morning activity.
Tip:  set some ground rules with kids before letting them loose on sand dunes. The sand is exhausting to hike across and it can be hot, so be wise about the amount of time on the dunes.
After a fun day down in Morro Bay (we skipped the town of Morro Bay) we headed up the hill into the bustling college town of San Luis Obispo.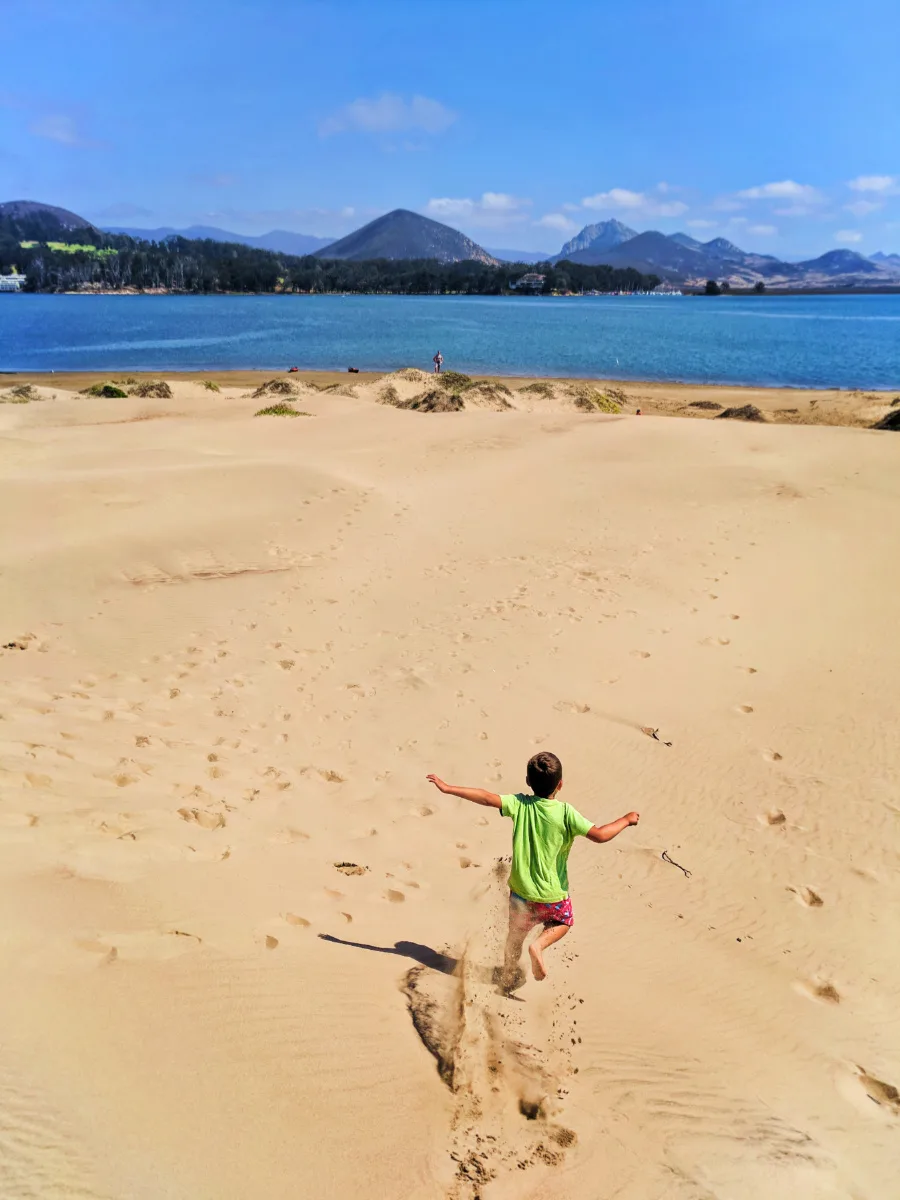 Fourth stop: San Luis Obispo and lots of kid fun
Just up the hill from Morro Bay is San Luis Obispo, aka SLO. The town itself has a great vibe due to Cal Poly SLO bringing lots of students and great minds to the area. Pair that up with an historic mission (Mission San Luis Obispo), vintage candy stores, the Gum Alley and the ever-so-epic Madonna Inn and you've got a cool spot to spend a couple of days on your California Central Coast road trip.
Confession: following our time in SLO we had some serious discussions about moving to the area. We fell in love with San Luis Obispo.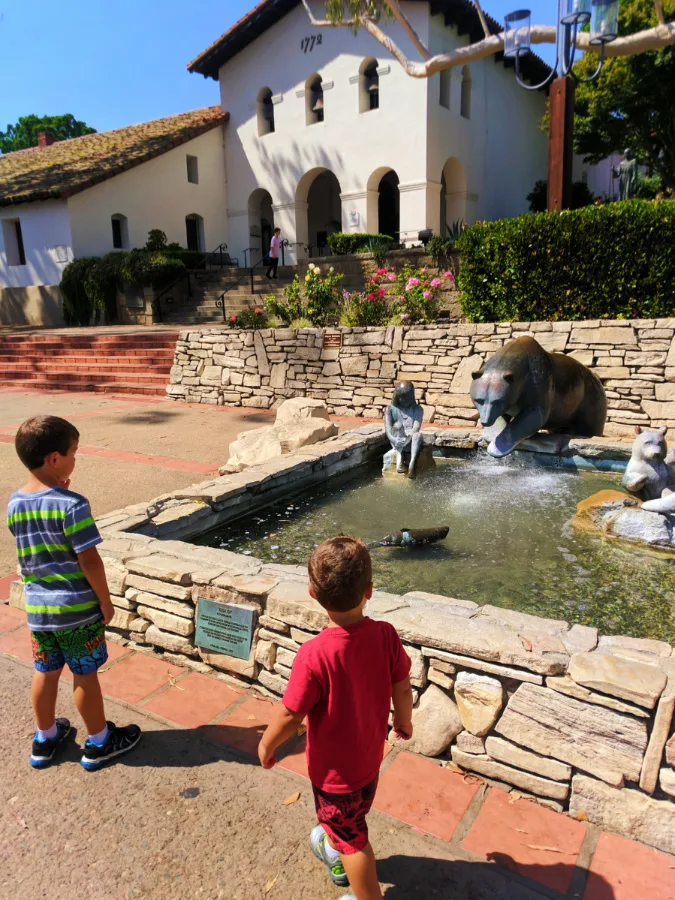 When you're in the main town area, you can either wander the streets window shopping and eating great food, or follow the Riverwalk path the winds through the middle of town. Both will give you a great afternoon activity and are perfect snapshots of SLO life. For getting some nature, go hiking up on Cerro San Luis Obsipo to get sweeping views of the area and enjoy the fresh California Central Coast air. Another great idea for getting some nature is just outside of San Luis Obispo: Montaña de Oro State Park. Right on the coast, it's got beaches, hiking, swimming coves and more. It's not an over-developed park area so is still all about nature and the Central Coast beauty.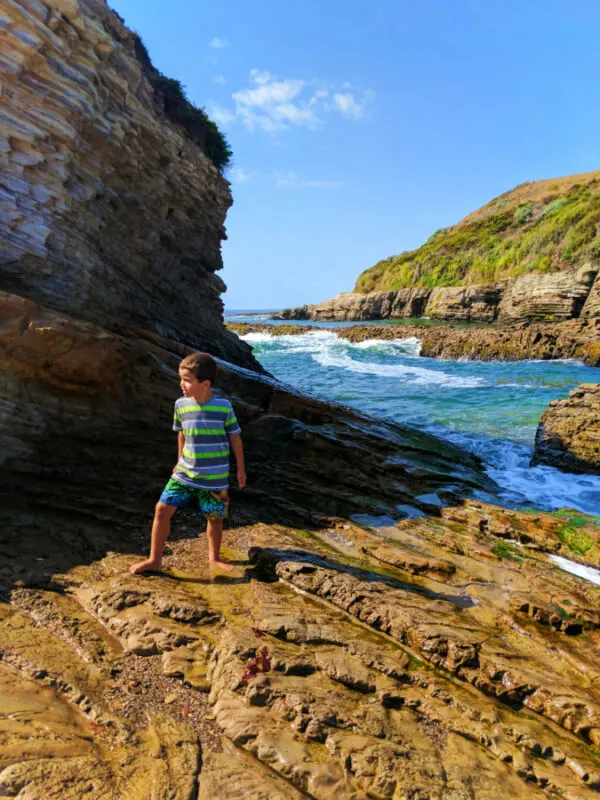 Where to Stay in San Luis Obispo: the Apple Farm Inn
We enjoyed our stay at the Apple Farm Inn. It was quaint and decorated like… an apple farm. They were really welcoming to our family and we got some great sleep there. Also, their pool and hot tub area are kind of hidden away, making it a relaxing afternoon spot too.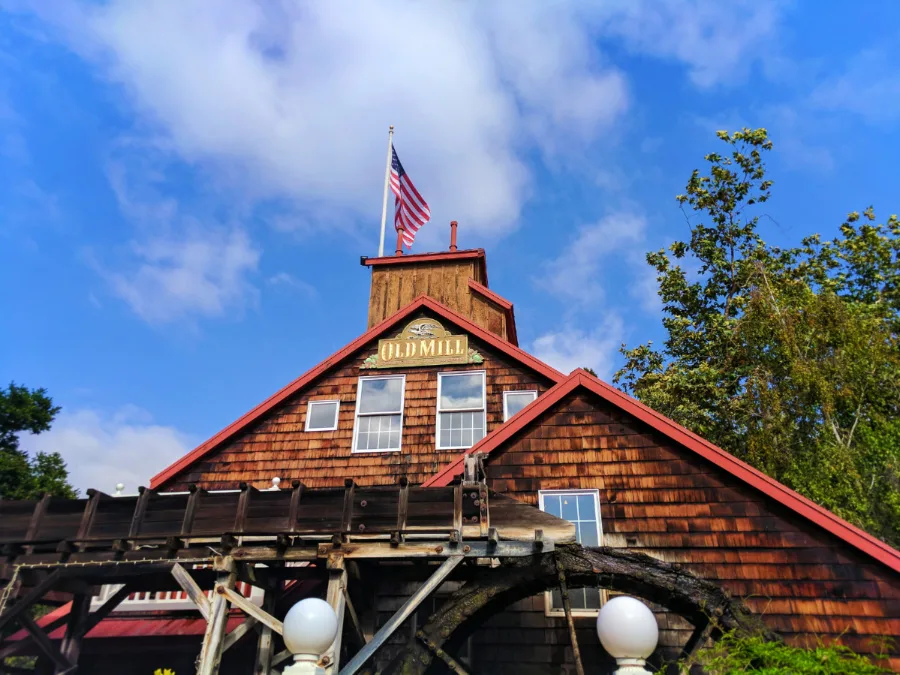 Fifth stop: strolling and dining in Cambria
The town of Cambria is wicked cute. Like, it's cuter than most coastal settlements we happen across or visit or a regular basis. Split into the East and West Villages, and with Nit Witt Ridge looming above and Moonstone beach just beyond, Cambria is one of a kind.  It's loaded with artisans and restaurateurs who've made the California Central Coast lifestyle their full on MO. Such wonderful and welcoming community pride, and rightly so.
We strolled the East Village with the boys and had a mouth watering meal at Robins.  While each course was top-notch, the best thing was the roasted Brussels sprouts with blue cheese and radishes.  A really interesting and delicious take on a dish that we make a few times a month at home. This is the type of cooking that keeps wowing us and it's found in small town America.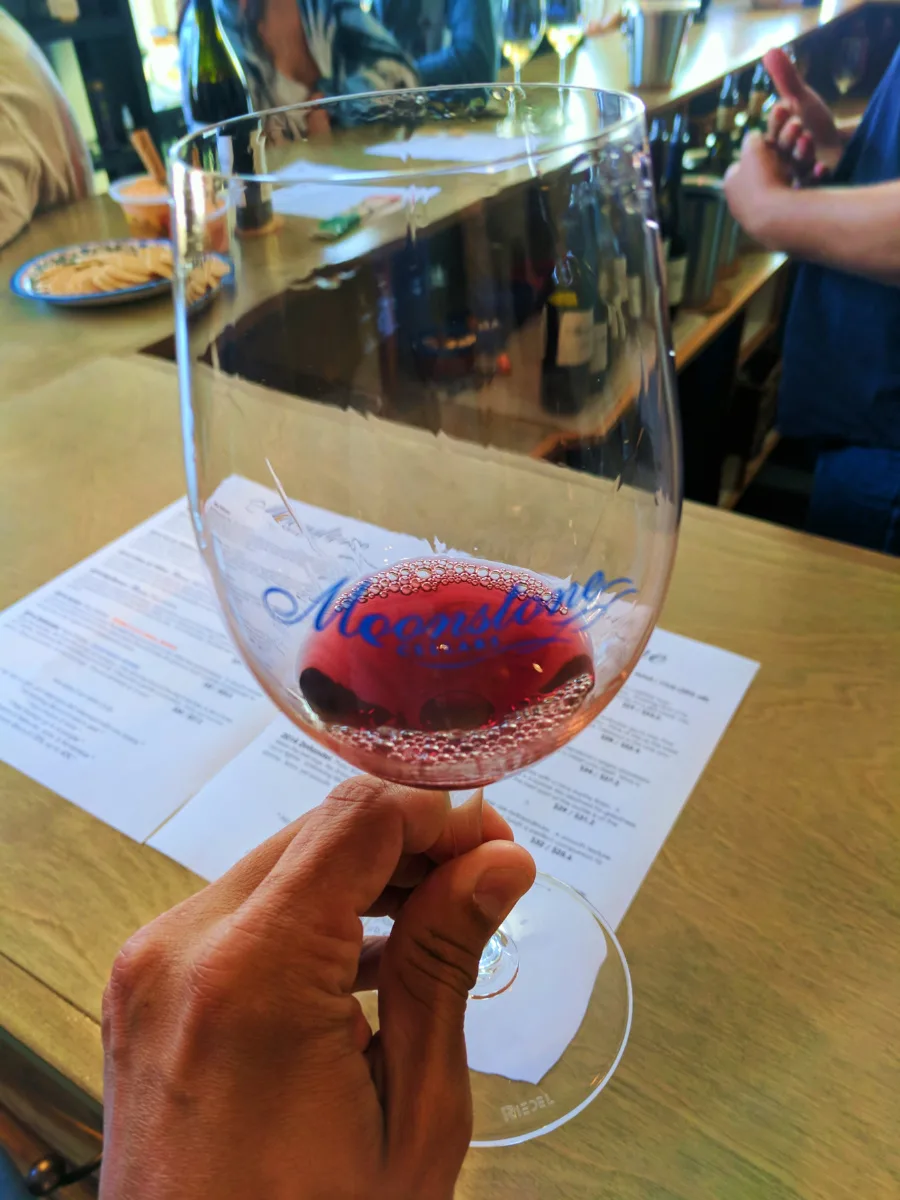 Tip: seek out some olallieberry desserts while you're in Cambria. The berry is the local delicacy, like an interesting marionberry, and pie is just always a good idea anyways. 
The other side of Cambria is everything "Moonstone". Moonstone Beach, Moonstone Cellars…. Cambria has a gorgeous strip of coastline with a boardwalk above the bluff that's perfect for whale watching or accessing the beach. After that, head to Moonstone Cellars in the West Village for the most lively wine tasting we've ever come across. Seriously, in the afternoon the whole town shows up for community snacks and wine. Amazing place and really warm people.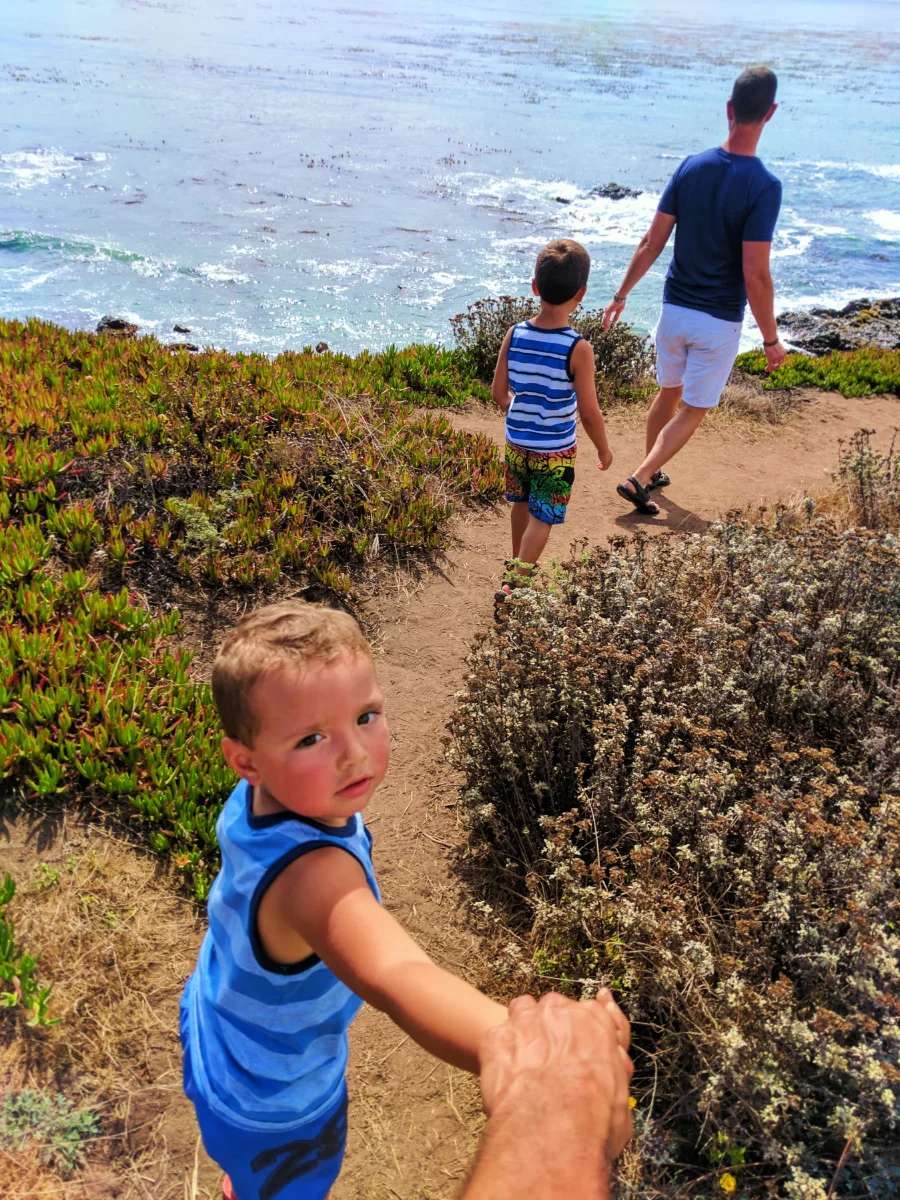 Where to Stay in Cambria, California
We loved staying at the Cambria Pines Lodge. The staff was great, our cottage was spacious and beautiful, and the location was perfect! It's a pretty good sized property while still feeling very cozy. It's very well maintained and SO QUIET. Totally recommend it. Check it out!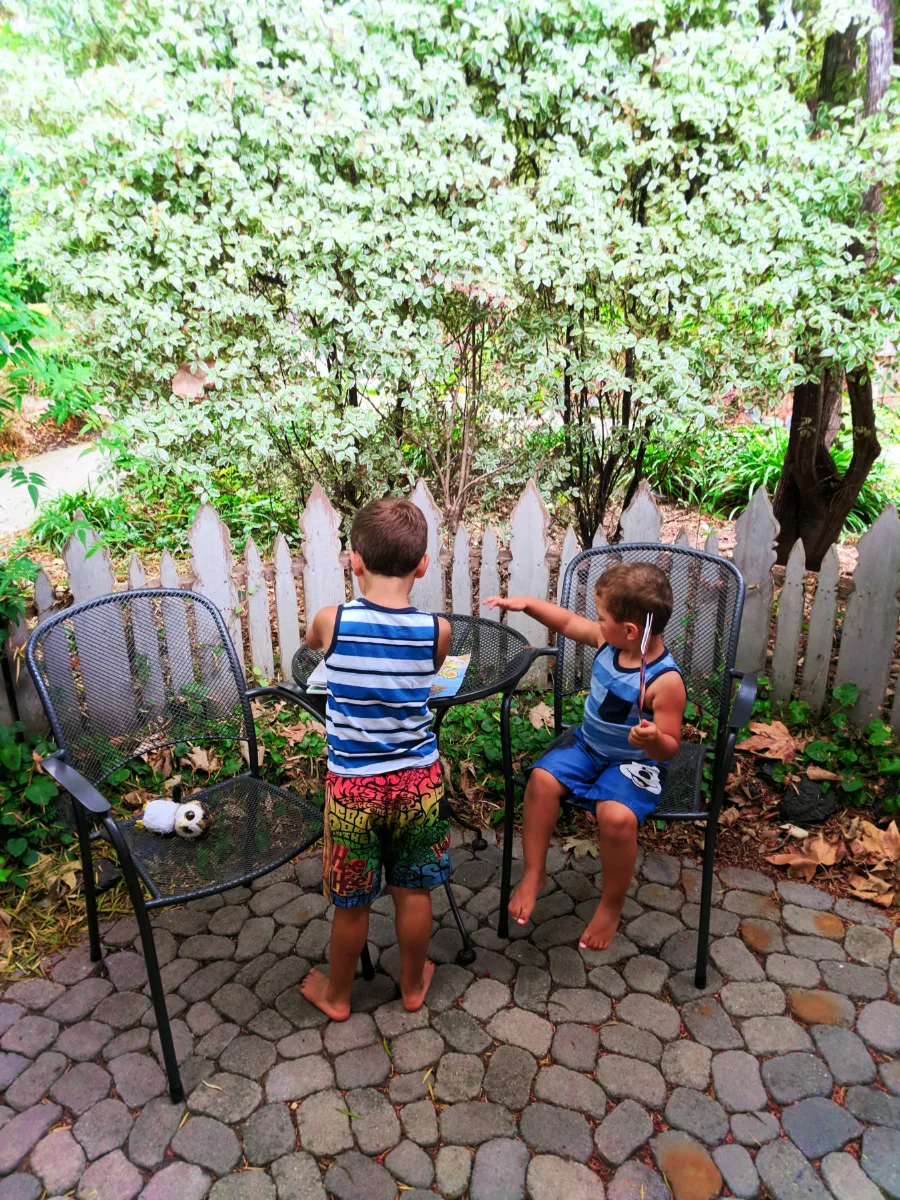 Sixth stop: San Simeon and Hearst Castle
Just north of  Cambria is the small town of San Simeon. Spend the morning at the beach or kayaking at San Simeon Cove, visit the elephant seals at their beach rookery, and then head to Hearst Castle! The former vacation home of William Randolph Hearst, it's kind of an overwhelming place.  Picture all of your favorite aspects of town squares, castles, churches and villas that you might see in Europe and then transplant them into one enormous estate on a California hillside overlooking the ocean. Beautiful.
We were iffy about taking a two and five year old to Hearst Castle, but success! They did very well and even enjoyed it.  We built it up as a castle like they've seen in movies and they bought into it. They listened intently; they paid attention to the details and stories.  We parents enjoyed getting to do an adult activity that fed our need for a little history. Hearst Castle with kids was a win all around.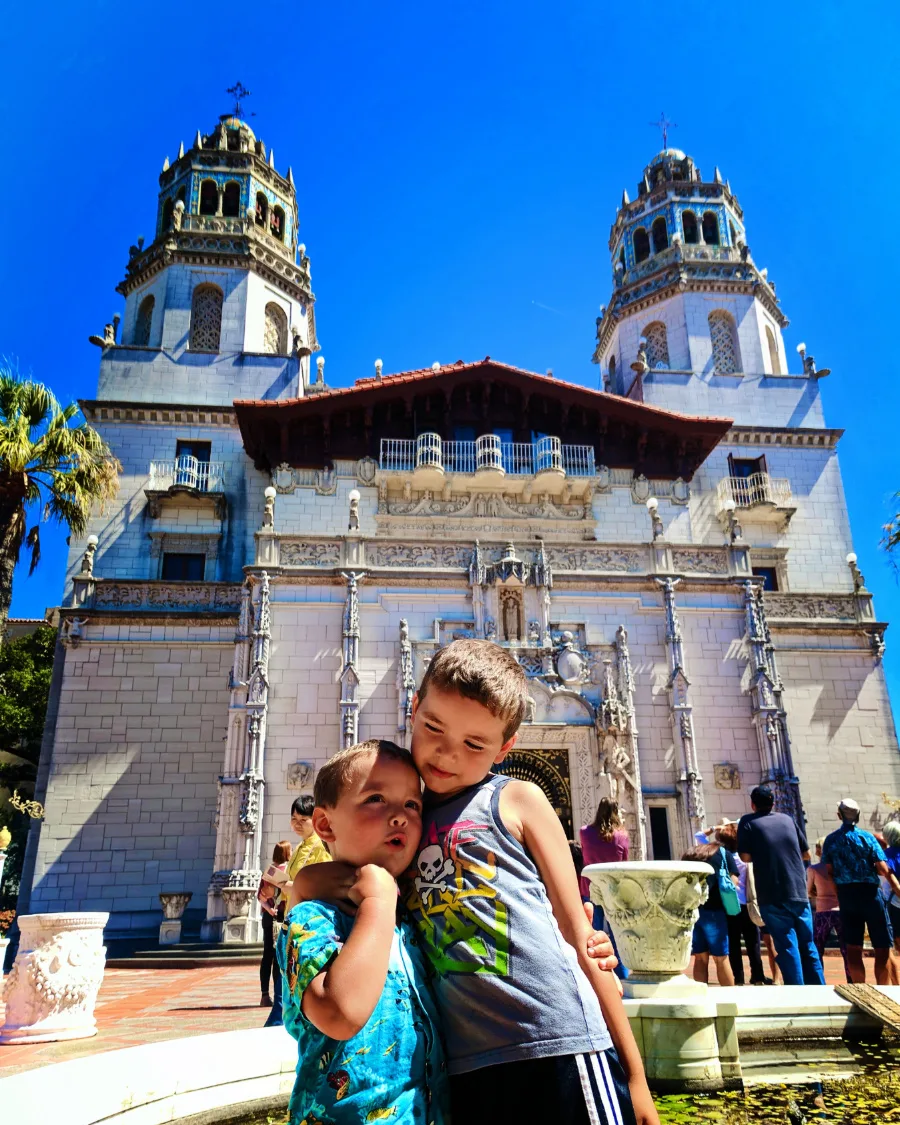 Tip:  we did the Grand Rooms Tour.  It was stated to be an hour, but between the bus ride up, the tour, and the bus ride down it was two solid hours.  We've done other tours without the kids in the past, but this tour is great for anybody visiting with little people.
A bonus when you visit Hearst Castle is to also spend time at the ocean in San Simeon. You can rent kayaks and paddle at the pier, visit the elephant seal colony, hike… There's much more to a day in San Simeon than just the fanciness of Hearst Castle, but it's cool if that's all you're interested in too because it's amazing.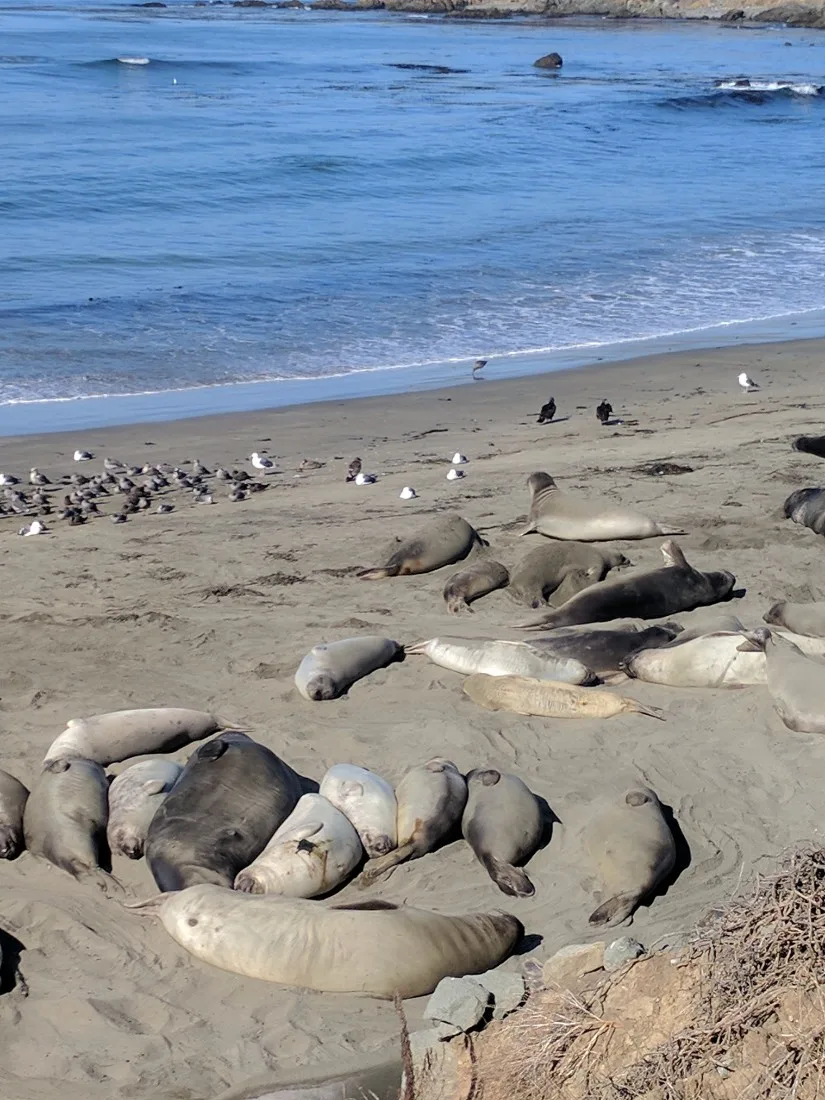 Final Central Coast Road Trip day: inland El Camino Real to the Bay Area
On your California Central Coast road trip you could either continue up the coast through Monterey and Carmel (really pretty) or you could head inland for a shorter drive up to the Bay Area. Following Highway 101 along El Camino Real (the King's Road) you'll go through one of the major farming valleys of California. Home to vineyards, massive crops, and missions, it's the final piece coastal California before you are surrounded by the millions of people in the Bay Area.
Why are we leaving the coast?: heading through Carmel and such is fun, but doing the 101 provides some variety to a very coast-centric trip. Additionally, the valley running parallel to the coast has some really cool nature you won't find if you stay on the PCH.
Spending a day touring the valley north of Paso Robles is easy and you'll be so glad you're doing it. Start with a quick visit to Mission San Miguel Archangel just off Highway 101 (not the PCH). You can tour the chapel and cemetery and then check out the mission museum too. Allot an hour early in your day and you'll have plenty of time for more fun later. Between San Miguel Archangel and your next stop, there are lots of opportunities to pull off for wine tasting.
Tip: once you are at the end of this leg, there's another mission, just south of San Jose, Mission San Juan de Bautista, that's also really cool. If you have time to stop there too, do it.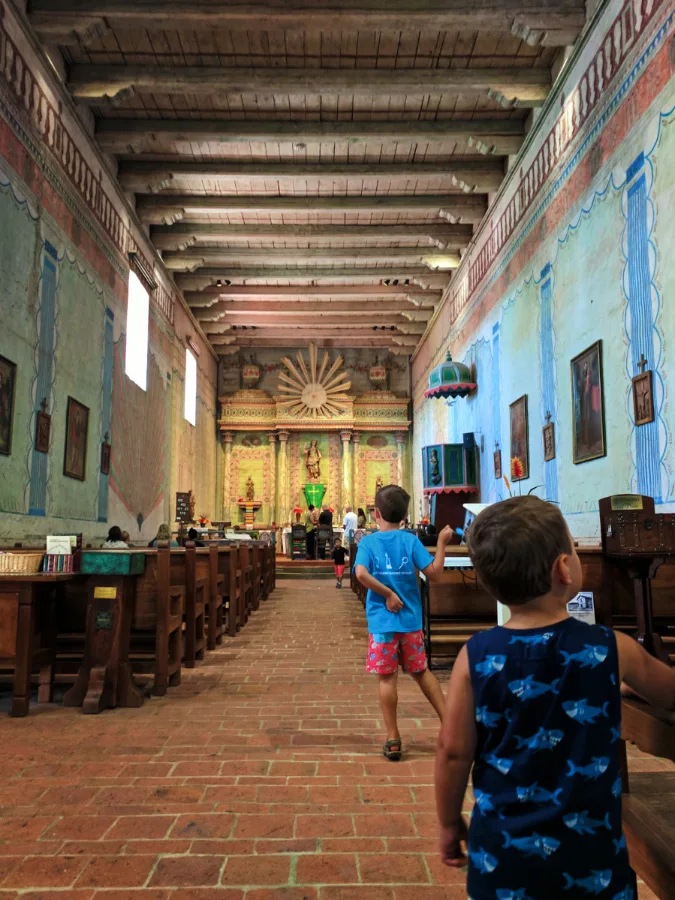 Bonus: Visit Pinnacles National Park
Get to Pinnacles National Park before noon and you'll have the perfect chance for some hiking! Pinnacles NPS is a fairly new National Park and it's still relatively quiet. It's home to caves, high chaparral and the California Condor. Check out our full article on hiking at Pinnacles for some good ideas and MUST DO hiking safety tips (it's hot in the desert).
Note: there are minimal services as you get closer to Pinnacles NPS, so be sure you've packed a lunch, have lots of water available and that you're ready with the sunscreen. It's a beautiful place, but a visit is pretty intense.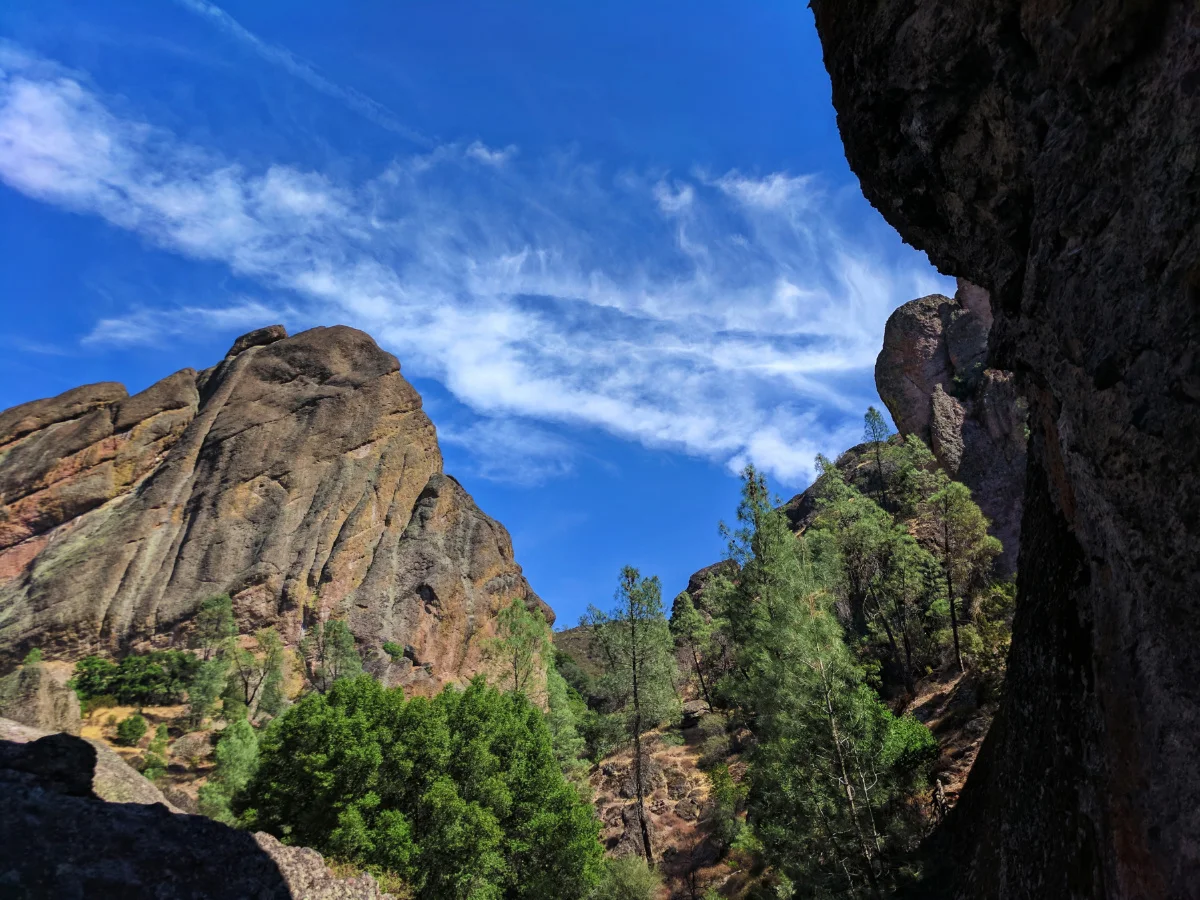 Ending your California Central Coast Road Trip
Once you're at the end of our California Central Coast road trip itinerary, you've got some decisions to make. "Do I head to San Francisco for a few days? Should I explore the Bay Area National Parks? Should I head to Yosemite to explore the California's Sierras and kayak in the mountains?" Seriously, you have so many options.  You can also just end your trip by flying out of San Jose (SJC), Oakland (OAK) or San Francisco (SFO) which is totally fine too.
Here are some of our plans that you could use to extend your trip or for planning your next epic California road trip.:
Are you ready to set out on a California Central Coast road trip adventure now? We could make that journey again any day! Go ahead and pin this for your own travel planning and, as always, let us know what questions and other suggestions you might have!